A unique combination of price action, divergence analysis, and pattern recognition what will change the way you view the Forex market.
For the first time ever Chris Mathis is making his complete Divergence trading methodology available to retail Forex traders.
Now you can learn the powerful trading methods that propelled Chris from the retail trading world to managing funds for high net worth clients!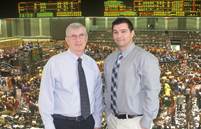 His unique combination of price action, divergence analysis, and pattern recognition will change the way you view the Forex market and give you the confidence you need to become consistently profitable.
Fully scalable - Divergence can be used by any type of trader, on any time frame, in any market session. It doesn't matter if you trade 5 minute charts during London, 15 minute charts during New York, or even daily charts for medium to longer term trading, this method will work for you.
A dynamic method you can trade forever– we all know the market changes over time and volatility increases and decreases rendering some trading methods obsolete. You will never have to worry about that when you learn to trade price patterns and divergence because they naturally adapt to the volatility of the market. In other words you can be confident this is the only method you will ever need.
A true understanding of the method – We utilize the tools that have been around the market for a long time and are freely available for everyone to use. No proprietary indicators with protected source code here. You can fully understand why you are making trading decisions with the confidence that is needed to properly manage the emotional aspects of the trading business.
A true methodology not just another system - This is not your everyday rigid trading system or just another simple strategy, but a dynamic and robust trading methodology that can be used to trade very objectively, or more discretionary depending on your own trading needs or preference.
But that is not all, you will also get a complete trading education from A-Z covering all the essential components of successful trading.
HERE ARE SOME SKILLS YOU WILL LEARN...
Divergence Explained
What Is Divergence
Why Trade Divergence
How Divergence Will Help Improve Your Trading
Does Divergence Work on All Time Frames
What Trading Style is the Best Fit For Divergence Trading
Divergence Trading is a Dynamic Approach for a Dynamic Market
Divergence Trading Applied
Divergence Trading in a Nutshell
Regular Divergence
Hidden Divergence
Slope Divergence
Setting Up Your Charts for Divergence Trading
Preparing Your Trading Day for Divergence Trading
Identifying Levels of Support and Resistance to Create Trading Zones
How to Spot a Divergence Setup
Advanced Divergence Techniques
How to Use Trend Lines for More Aggressive Divergence Trade Entries
How to Use Candles for More Aggressive Divergence Trade Entries
Divergence Trade Targets
Simple Objective Divergence Trading Strategy
The Stacked Limit Order Entry
The Extension Entry Method
Real World Divergence Trade Examples
After Completing The course, you will know how to..
Apply my unique divergence and pattern trading methodology to extract consistent profits from the market.
Spot and take advantage of objective low risk high reward divergence setups
Use smaller time frame divergence and extension setups to enter in larger time frame swing trades
Dynamically set your stop losses to account for the dynamic and volatile nature of the Forex
Set your profit targets for maximum profitability
Properly manage your divergence trades and positions
Avoid the common pitfalls that the majority of traders fail to see
Understand the basic macro and micro fundamental data that we see from day to day and how it effects our trading
Apply inter-market analysis to understand the scope of the market, and how commodities and equities can effect specific currencies.
The Ultimate Divergence Course is much more than just a basic strategy course, you have at your disposal a highly comprehensive and complete Forex training trading course that offer you a complete array of resources to make you into a professional trader.
YOU WILL ALSO LEARN...
Laying The Foundation
Trading Principles
Technical Toolbox
Trade Analysis Basics
Basic Fundamentals
Inter-Market Analysis
Price Patterns

...and much more...
» Click here to see full course content.
The Ultimate Divergence Trading course represents many months of development and is a culmination of the trading knowledge I have gained in both trading funds and in coaching students over the past 6 years.
This course will offer you access to everything you need to be successful trading the Forex market. You will not only learn to make consistent Forex profits with my powerful Divergence & Pattern methodology, but you will also gain a solid understanding of the basic fundamentals that drive currency valuations and what to look for. I will teach you how to attain consistent success by teaching you how to look at the scope of the market by using inter-market analysis so you have a good understanding of the big market picture.
I look forward to your participation,

Chris Mathis
& the ForexMentor Team
ORDER COURSE NOW!
Complete Course Content & Previews »
Disclaimer: Past performance of this and any trading methodology is not necessarily indicative of future results. There's no profitability promises nor claims being made. Individual trader's result will be different.
Risk Disclosure: Trading currencies on margin involves a high level of risk which may not be suitable for all investors. Leverage can work against you just as easily as it can work for you. Before deciding to trade currencies you should carefully consider your trading and financial objectives, level of experience, and appetite for risk. The possibility exists that you could sustain a loss of some, or possibly all of your trading capital. Therefore, you should not fund a trading account with money that you cannot afford to lose. It is recommended that you seek advice from an accredited financial advisor if you have any doubts as to whether currency trading is right for you. No representation or guarantee is offered or implied as to the trading results that may be attained by applying concepts presented herein. Any losses incurred by traders unsuccessful in applying these ideas or methods are the sole responsibility of the trader and Currex Investment Services Inc (d.b.a Forexmentor) and its principals, contractors and assigns will be held safe from prosecution in any form.