SEEING IS BELIEVING!
Real Money Forex Trades Using The Simple 1-2-3 Forex Trader Strategy: Below are actual, live, real-money (not demo or practice trading) Simple 1-2-3 Forex trades Lennox recently traded in his own personal account (actual screenshots of Lennox's live account).
We strive to be transparent because we are so confident of the S123 System. THESE ARE REAL TRADES and they demonstrate the power and accuracy of the Simple 1-2-3 system when used properly. Watch also sample real trade videos. These videos are made available to members throughout the trading week.
NOTE We are NOT implying that you can achieve these results. This is simply an illustration of how Lennox trades his personal account using the Simple 1-2-3 system. We highly recommend traders to practice trading the system on demo accounts before trading with real money. REMEMBER: Forex Trading is highly risky! Learn to manage your risk before trading with your real, hard-earned money. Do not trade with money you cannot afford to lose.
2023-11-30 NAS100 M1 S123 Bottom 2 Lots
+$1,195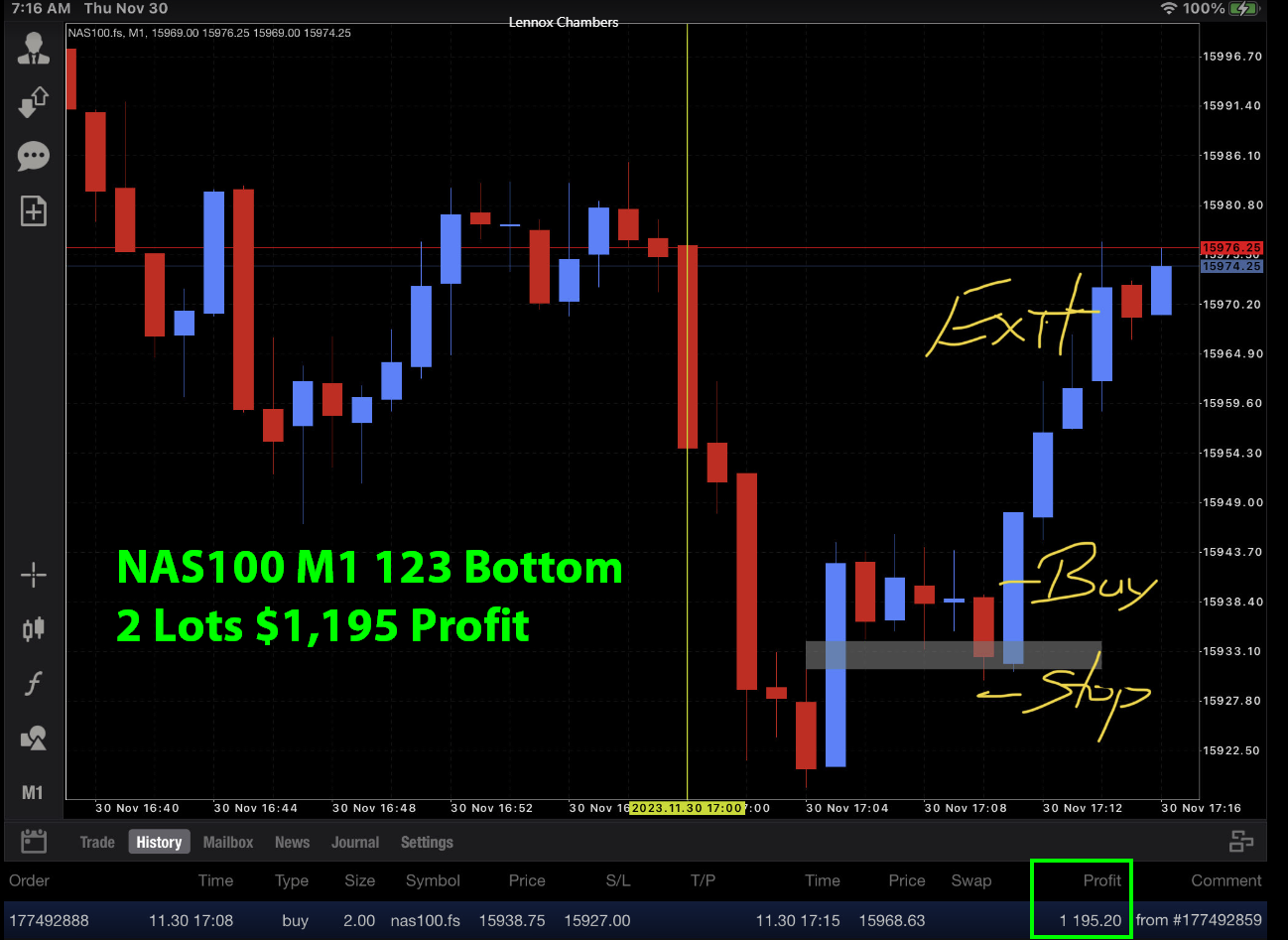 2023-11-29 NAS100 M1 S123 Bottom 2 Lots
+$1,024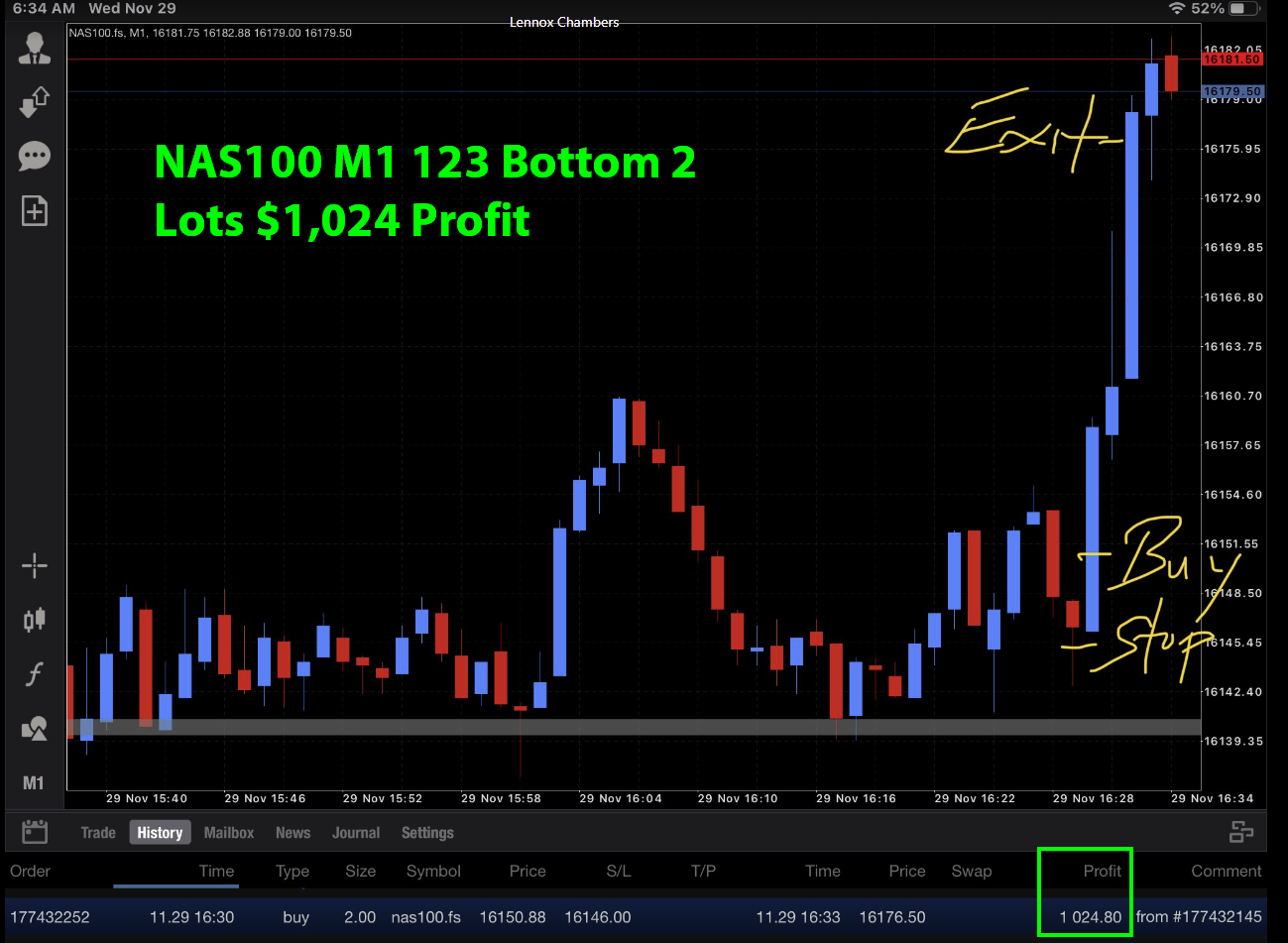 2023-11-28 NAS100 M1 S123 Bottom 2 Lots
+$1,220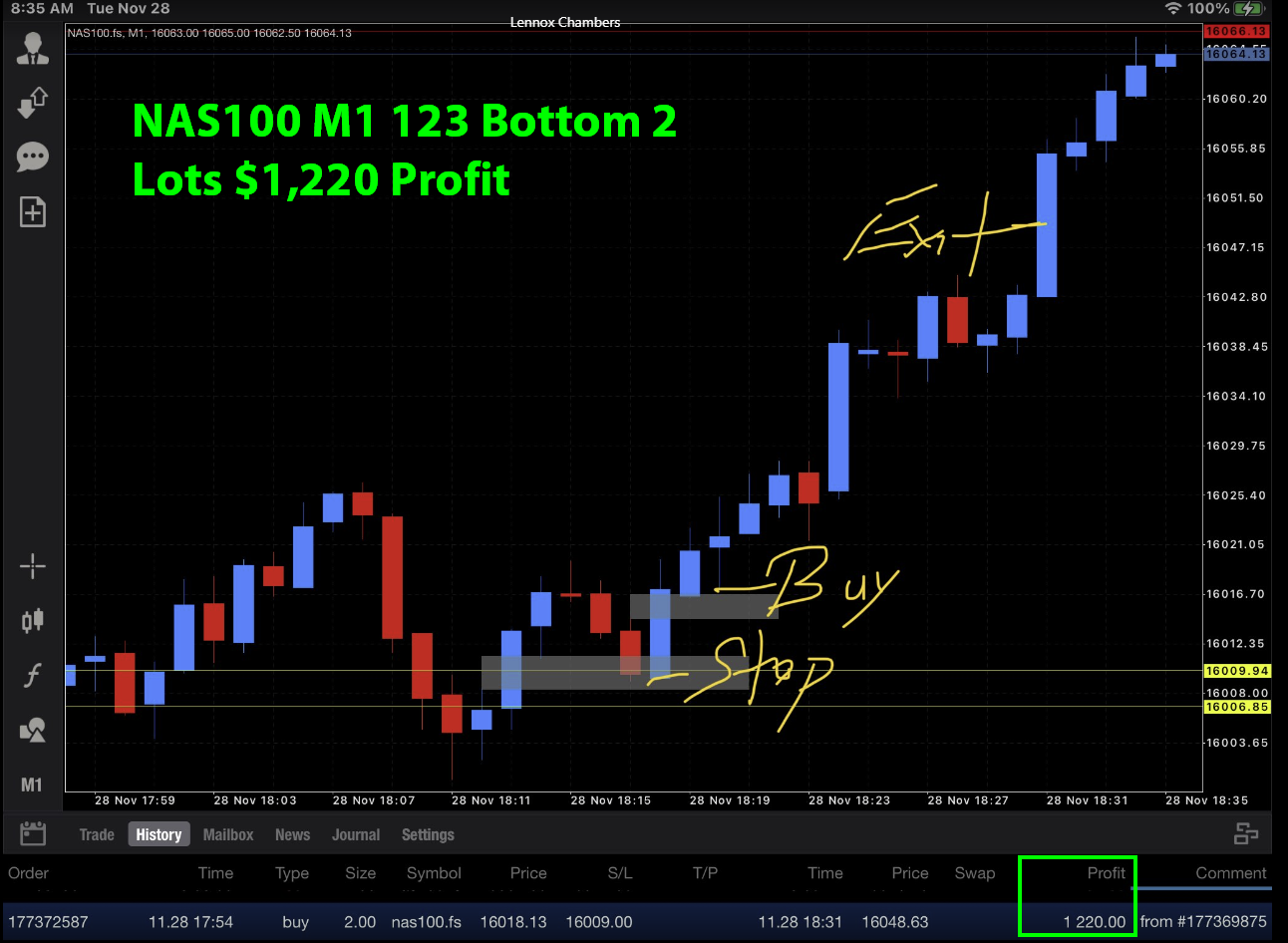 2023-11-27 NAS100 M1 S123 Bottom 2 Lots
+$1,020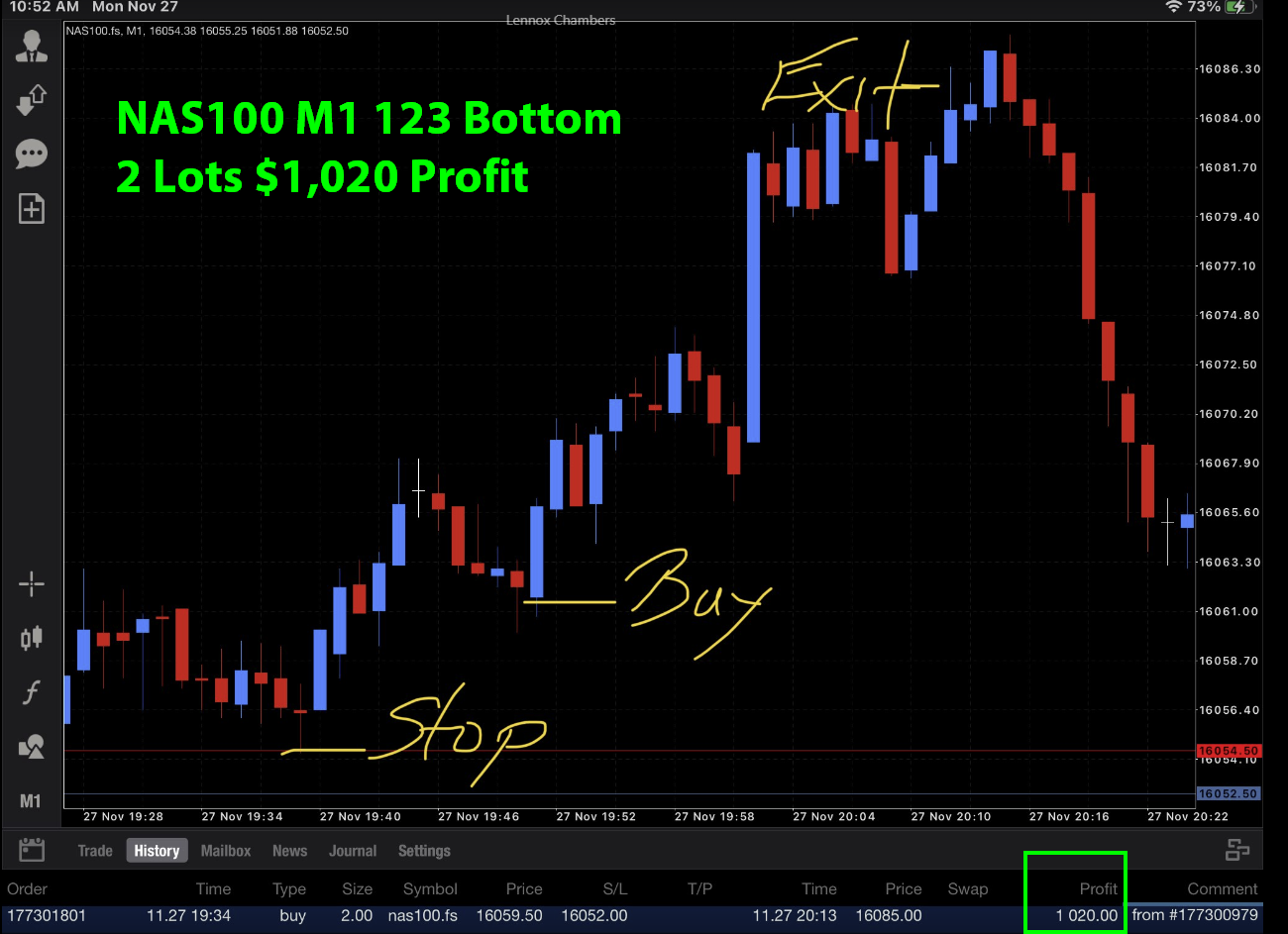 2023-11-20 NAS100 M1 S123 Top 2 Lots
+$1,060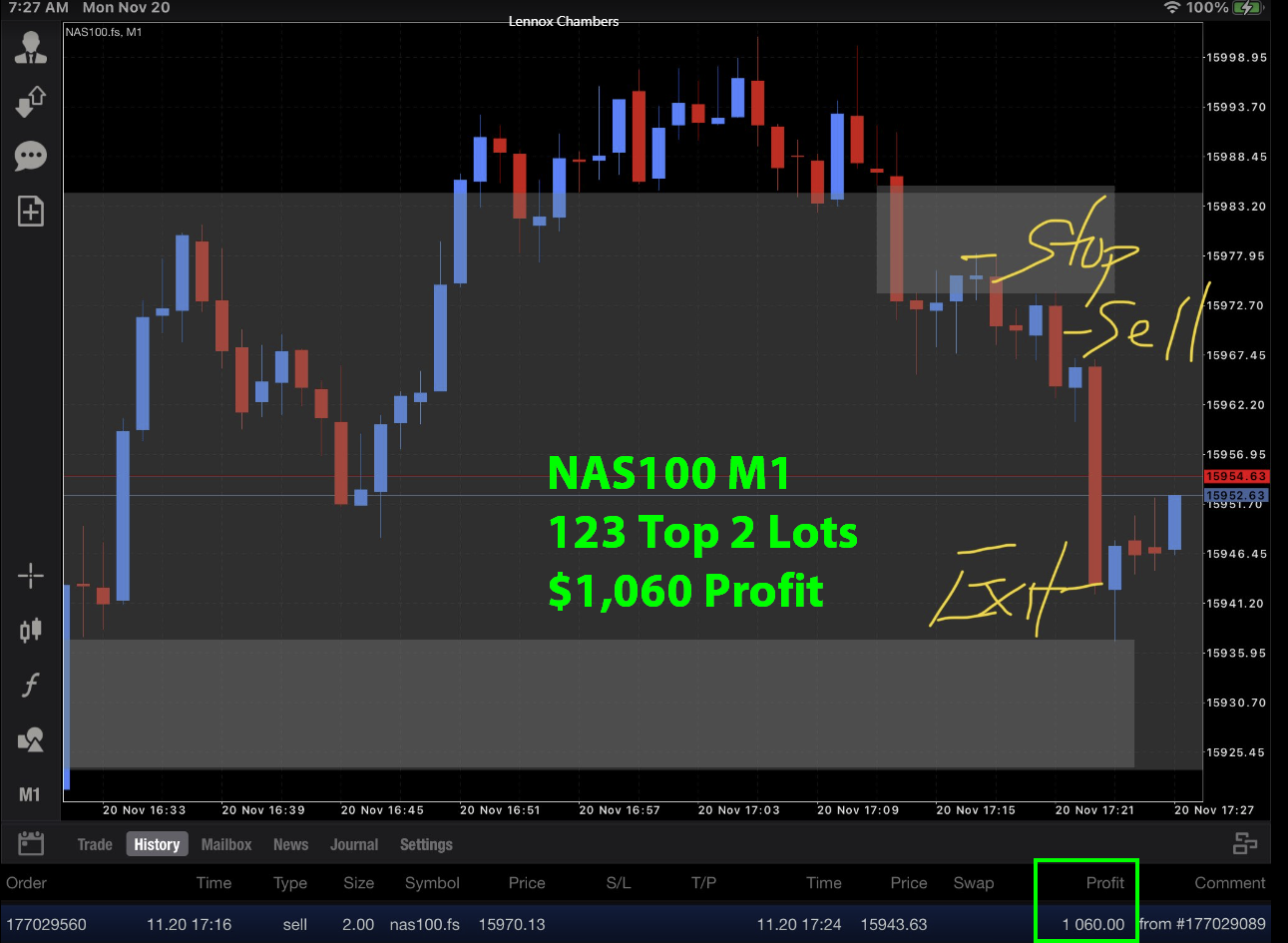 2023-11-20 NAS100 M1 S123 Bottom 2 Lots
+$1,424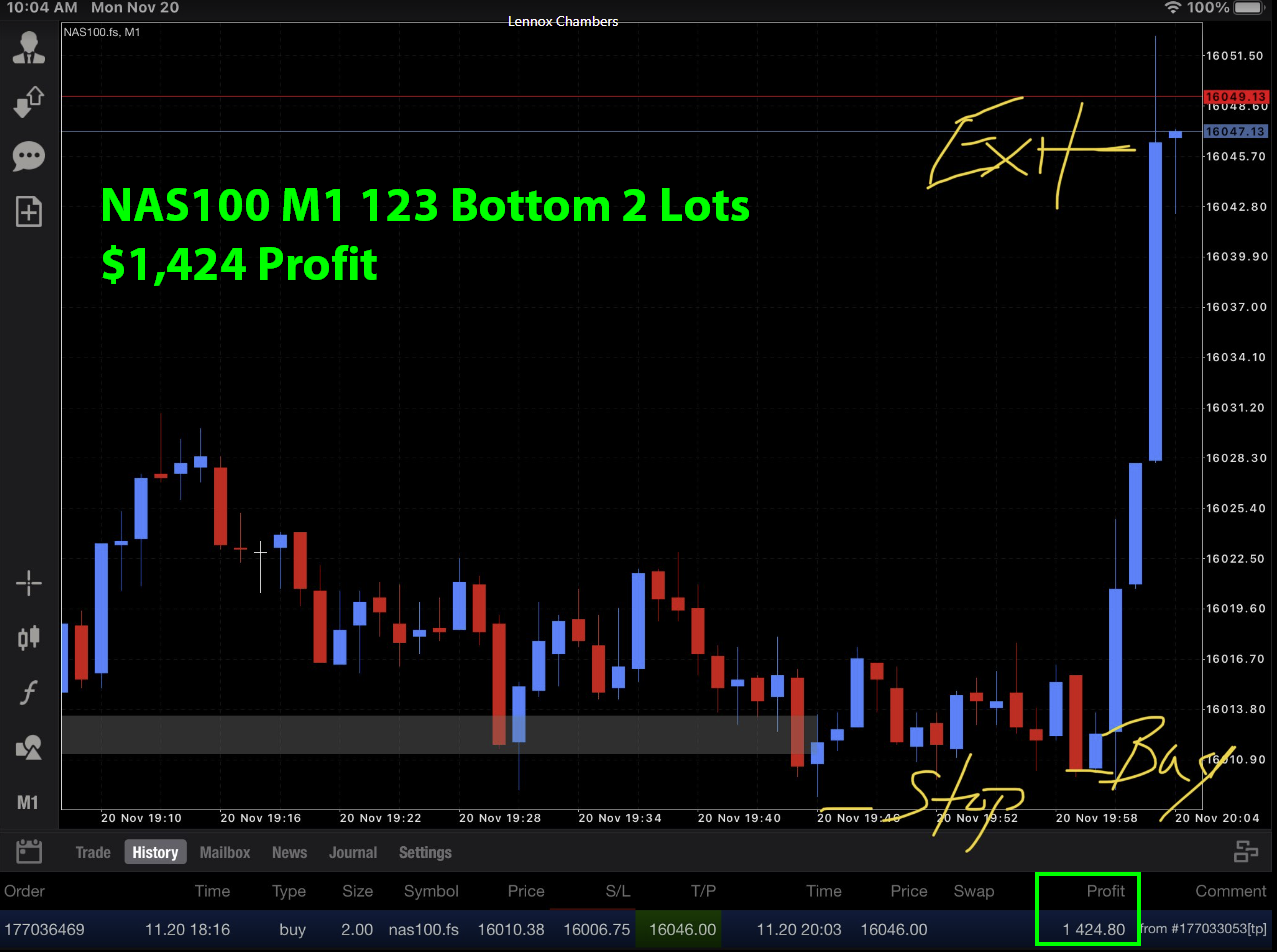 2023-11-17 NAS100 M1 S123 Bottom 2 Lots
+$1,560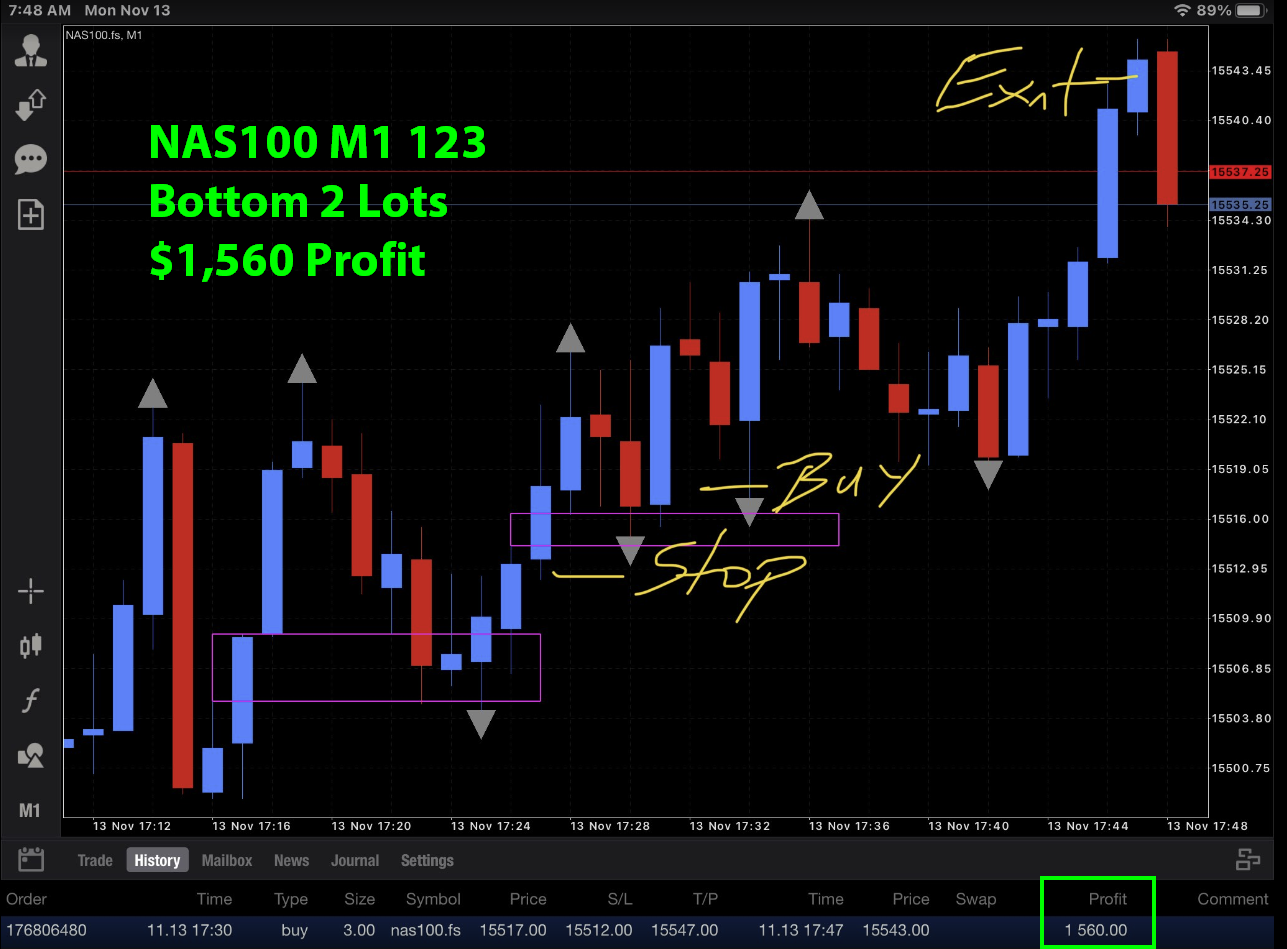 2023-11-10 NAS100 M1 S123 Bottom 2 Lots
+$1,100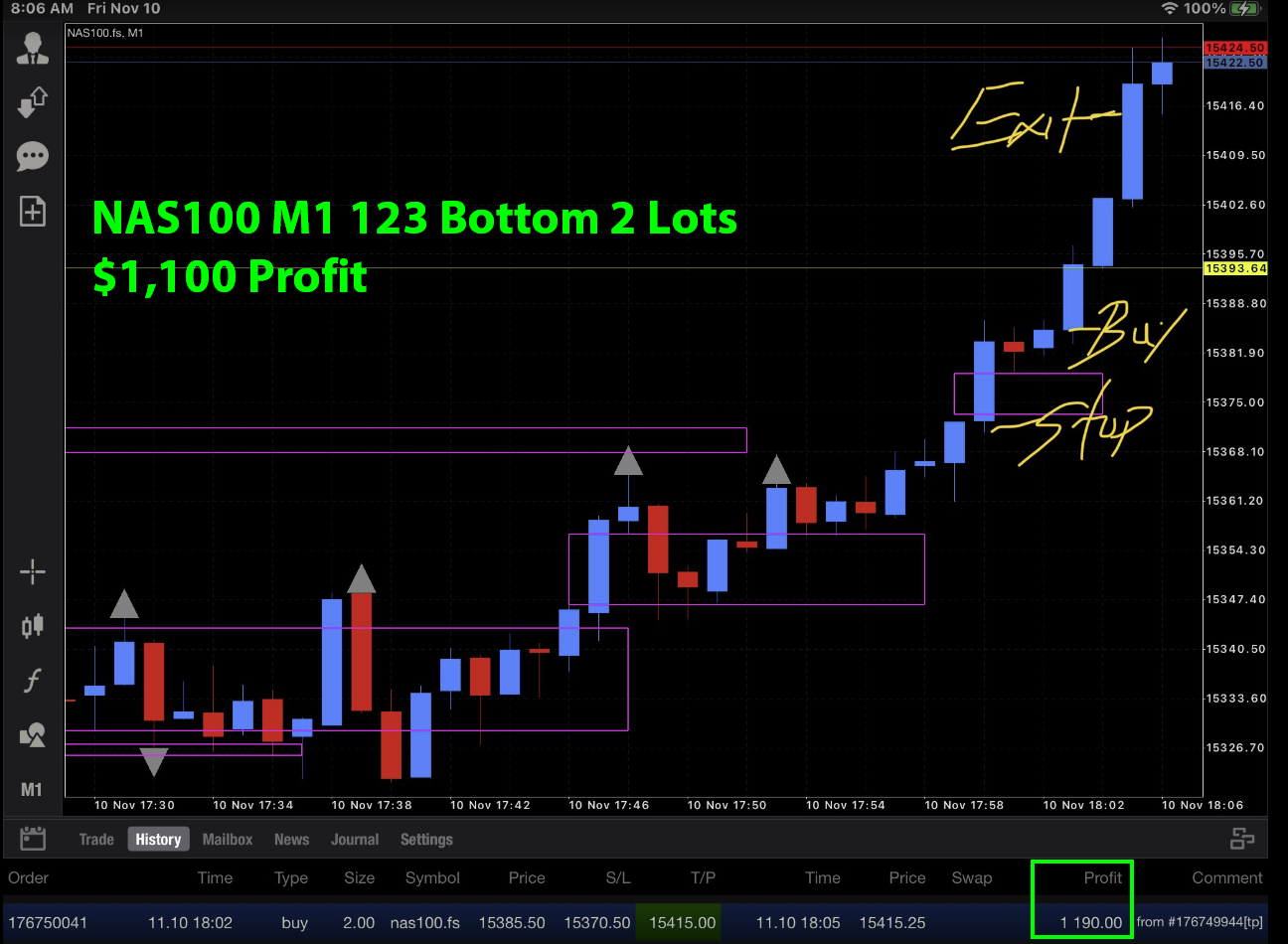 2023-11-09 NAS100 M1 S123 Bottom 2 Lots
+$1,335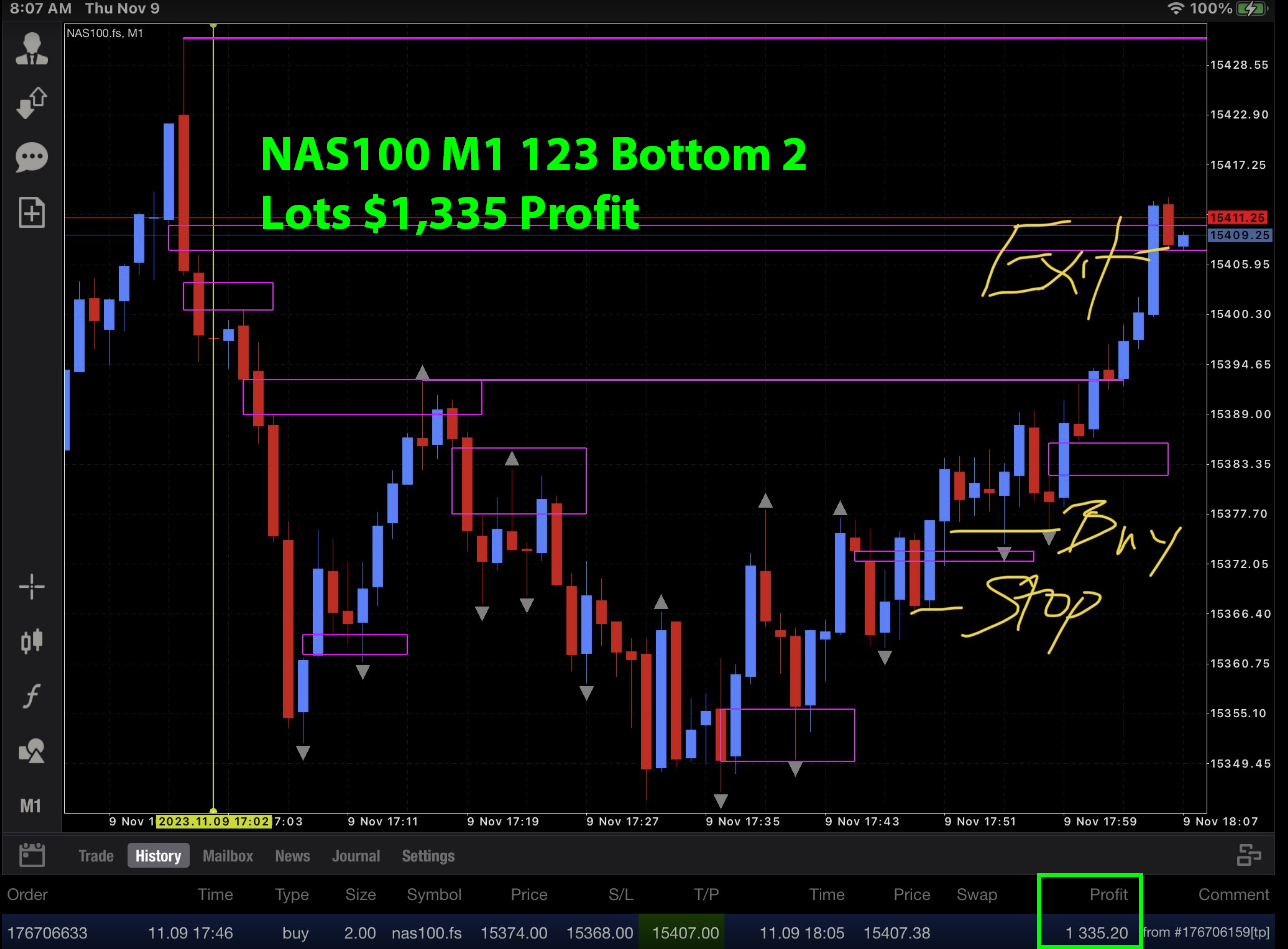 2023-11-08 NAS100 M1 S123 Top 2 Lots
+$1,095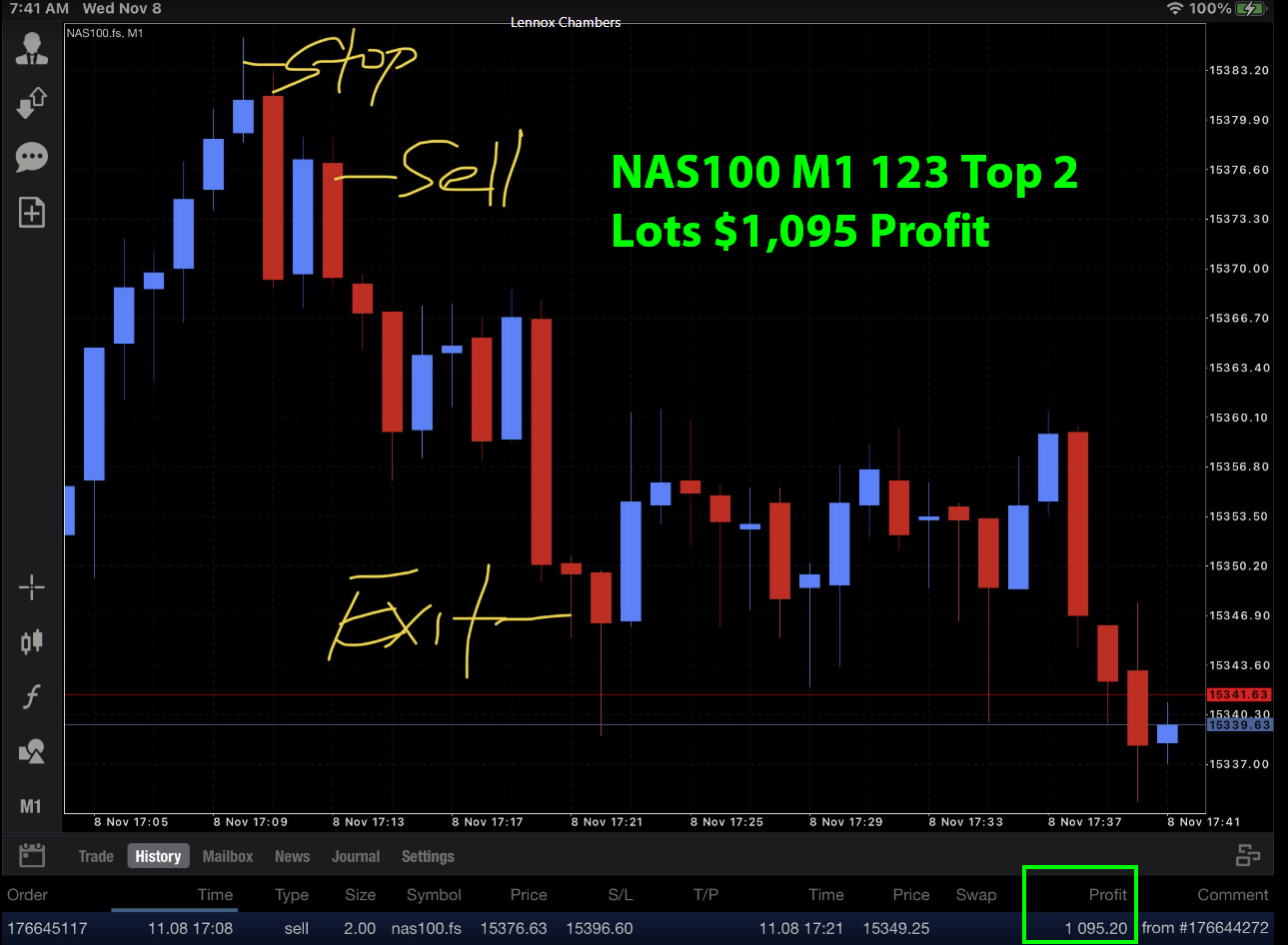 2023-11-07 NAS100 M1 S123 Bottom 2 Lots
+$1,270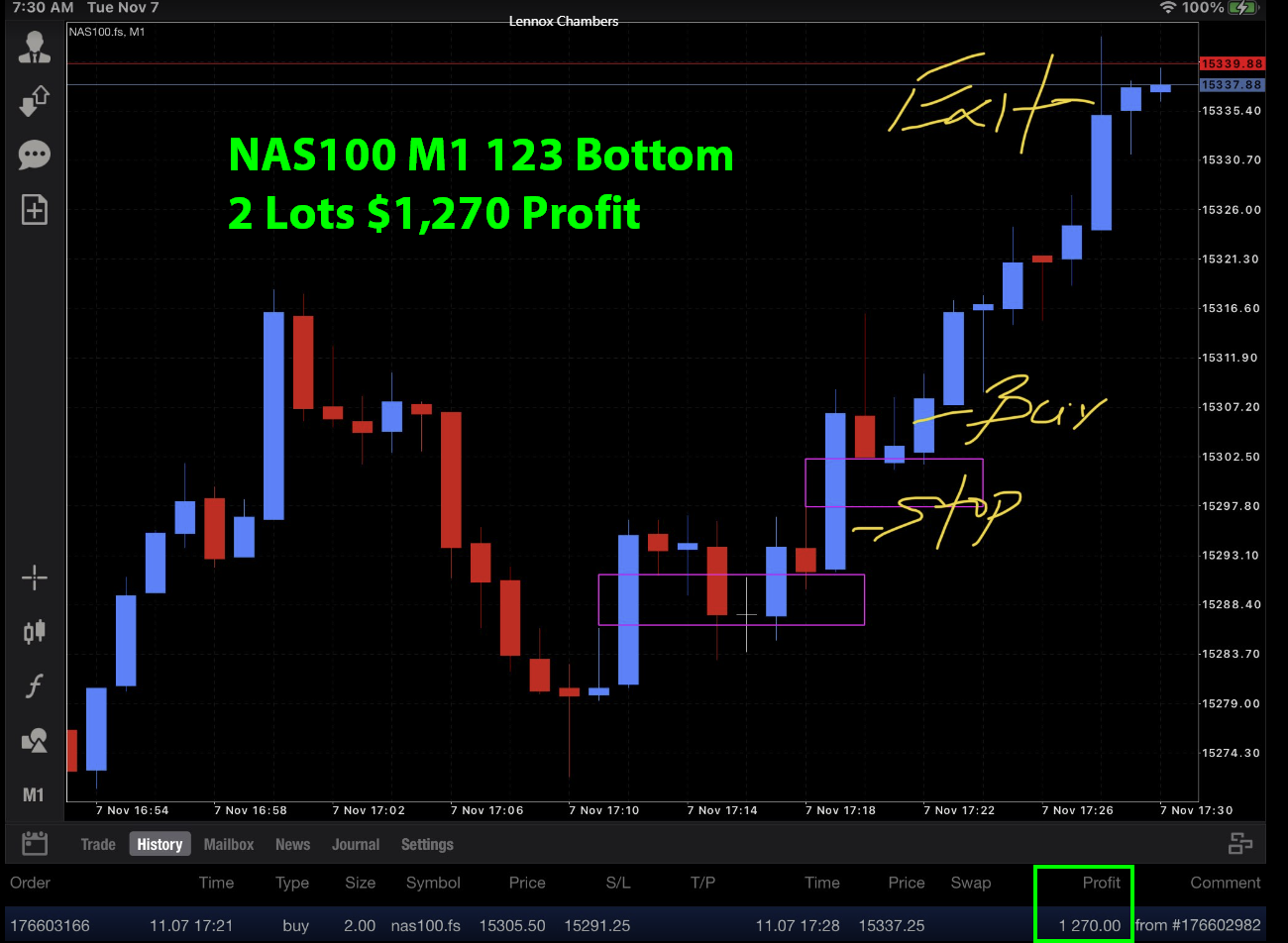 2023-11-03 NAS100 M1 S123 Bottom 2 Lots
+$1,640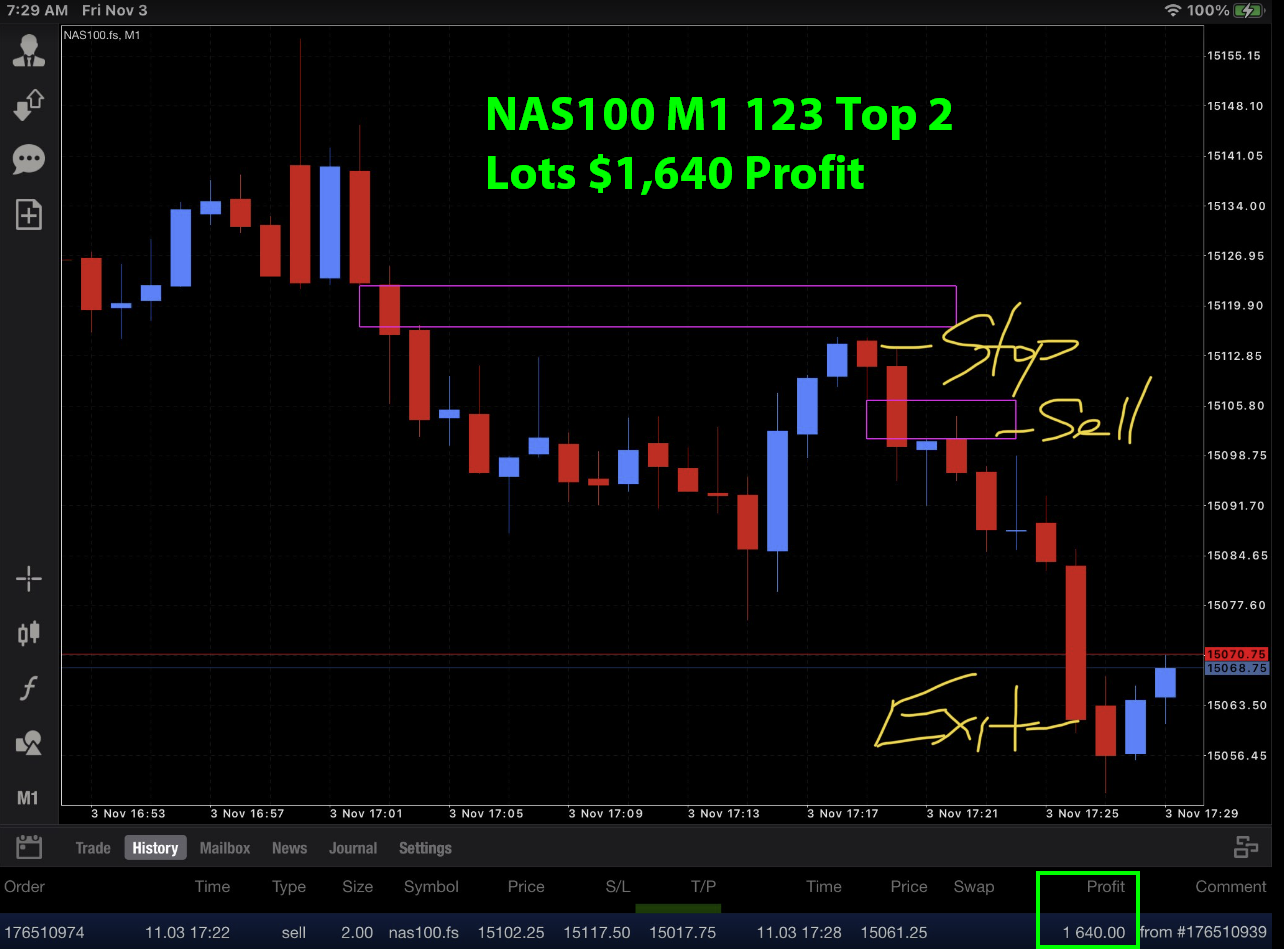 2023-11-02 NAS100 M1 S123 Bottom 2 Lots
+$1,230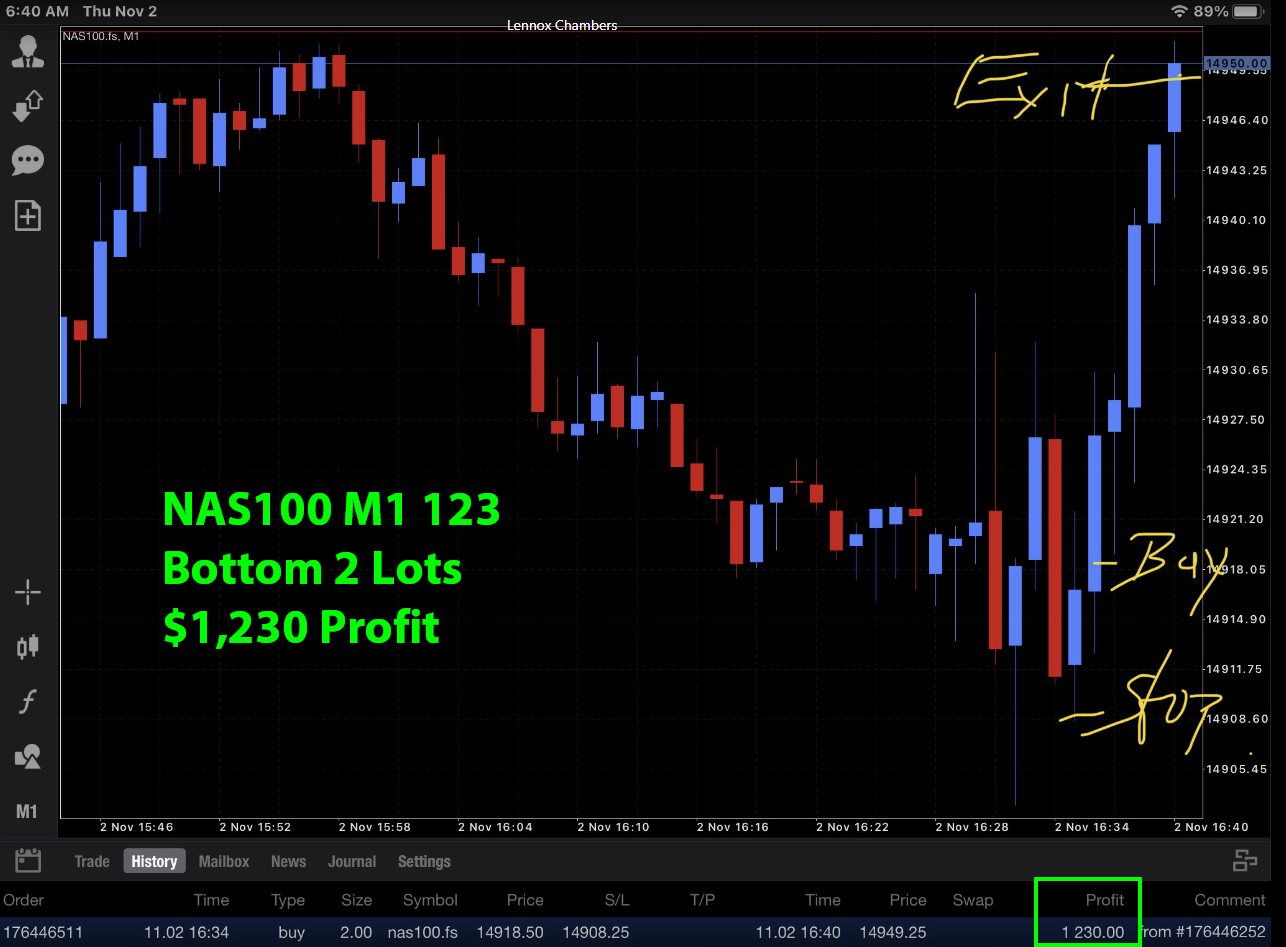 2023-11-01 NAS100 M1 S123 Bottom 2 Lots
+$1,020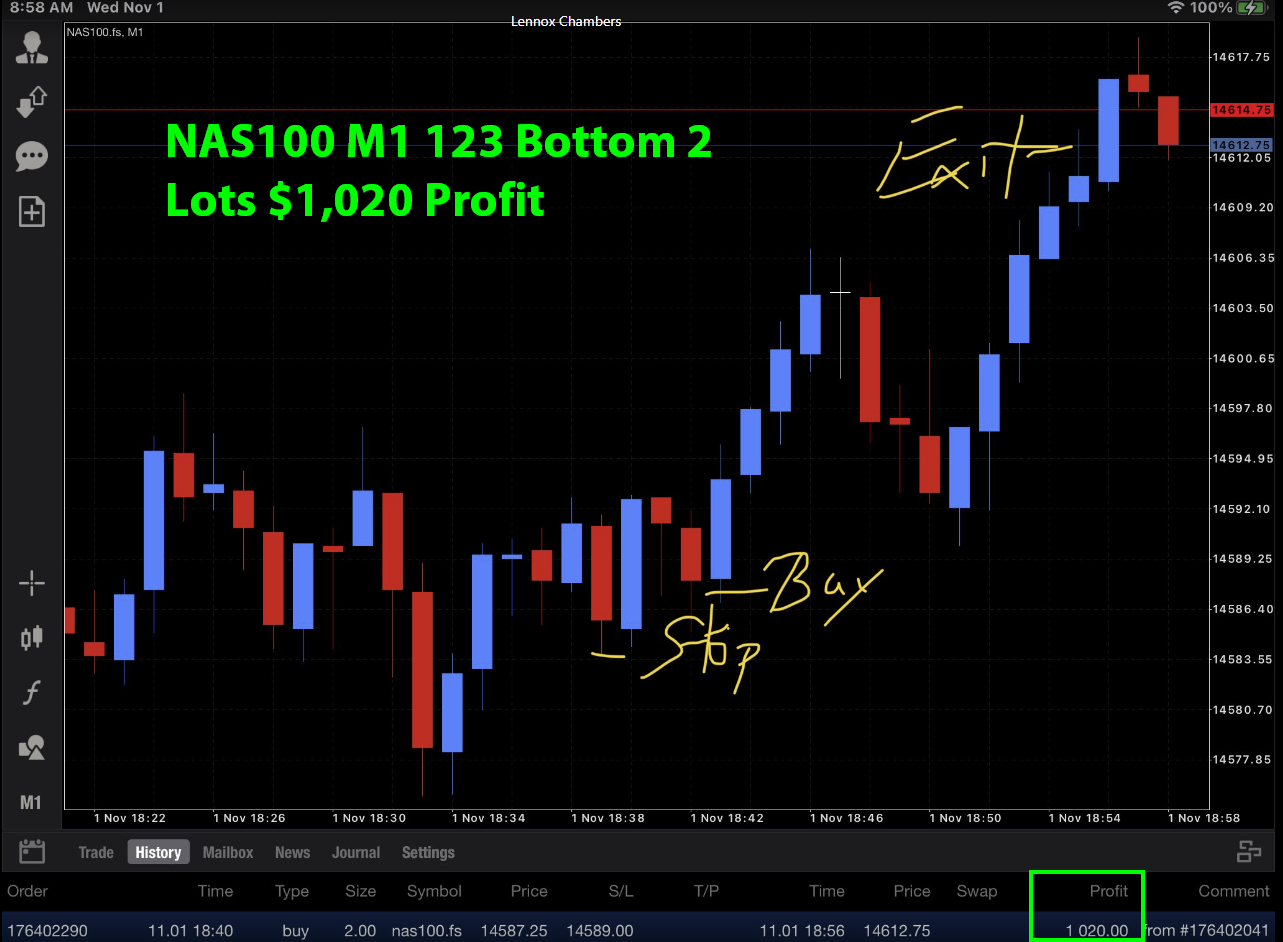 2023-10-31 NAS100 M1 S123 Bottom 2 Lots
+$1,234
2023-10-27 NAS100 M1 S123 Top 2 Lots
+$1,010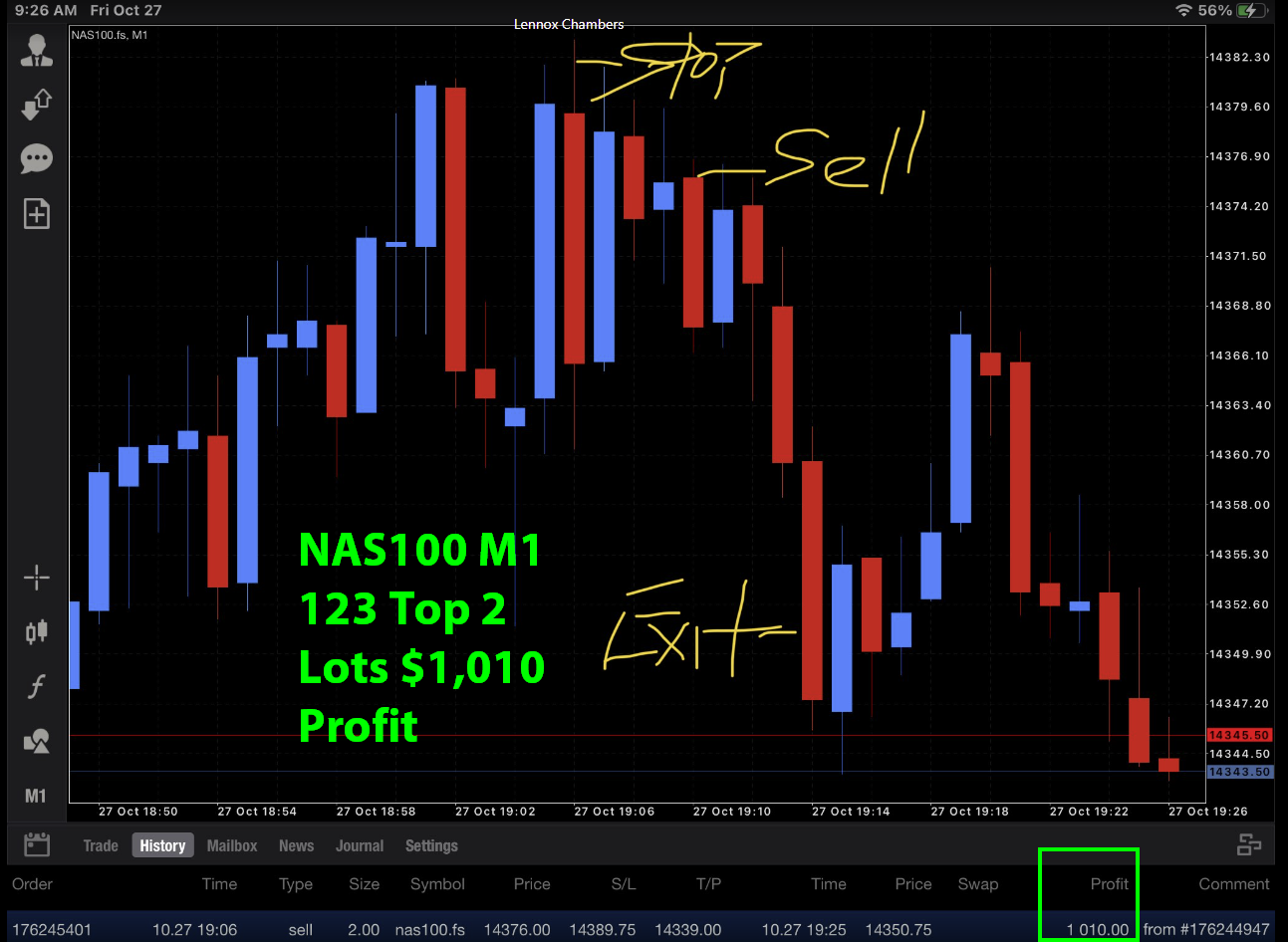 2023-10-24 NAS100 M1 S123 Bottom 2 Lots
+$1,030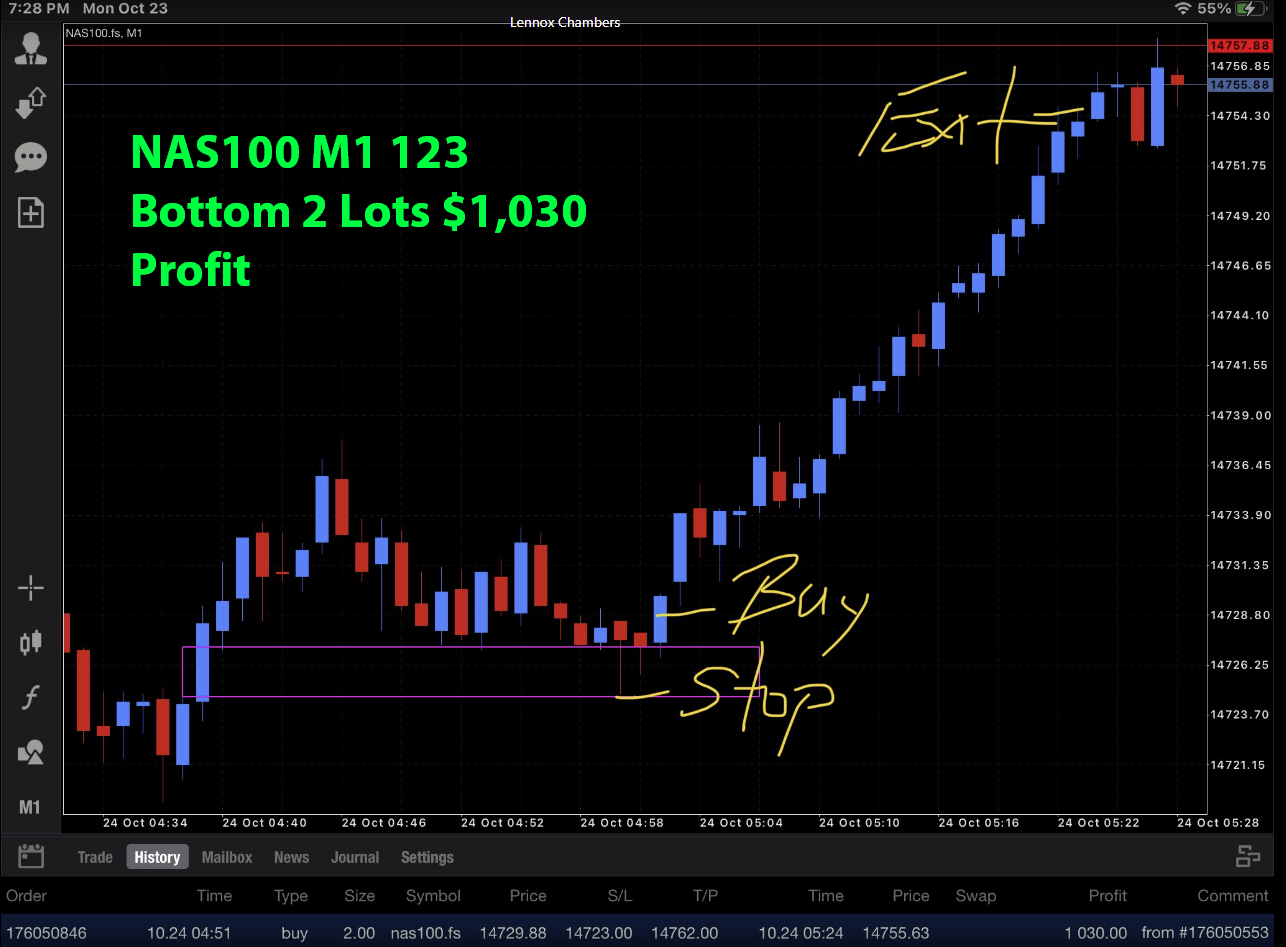 2023-10-23 NAS100 M1 S123 Top 2 Lots
+$1,010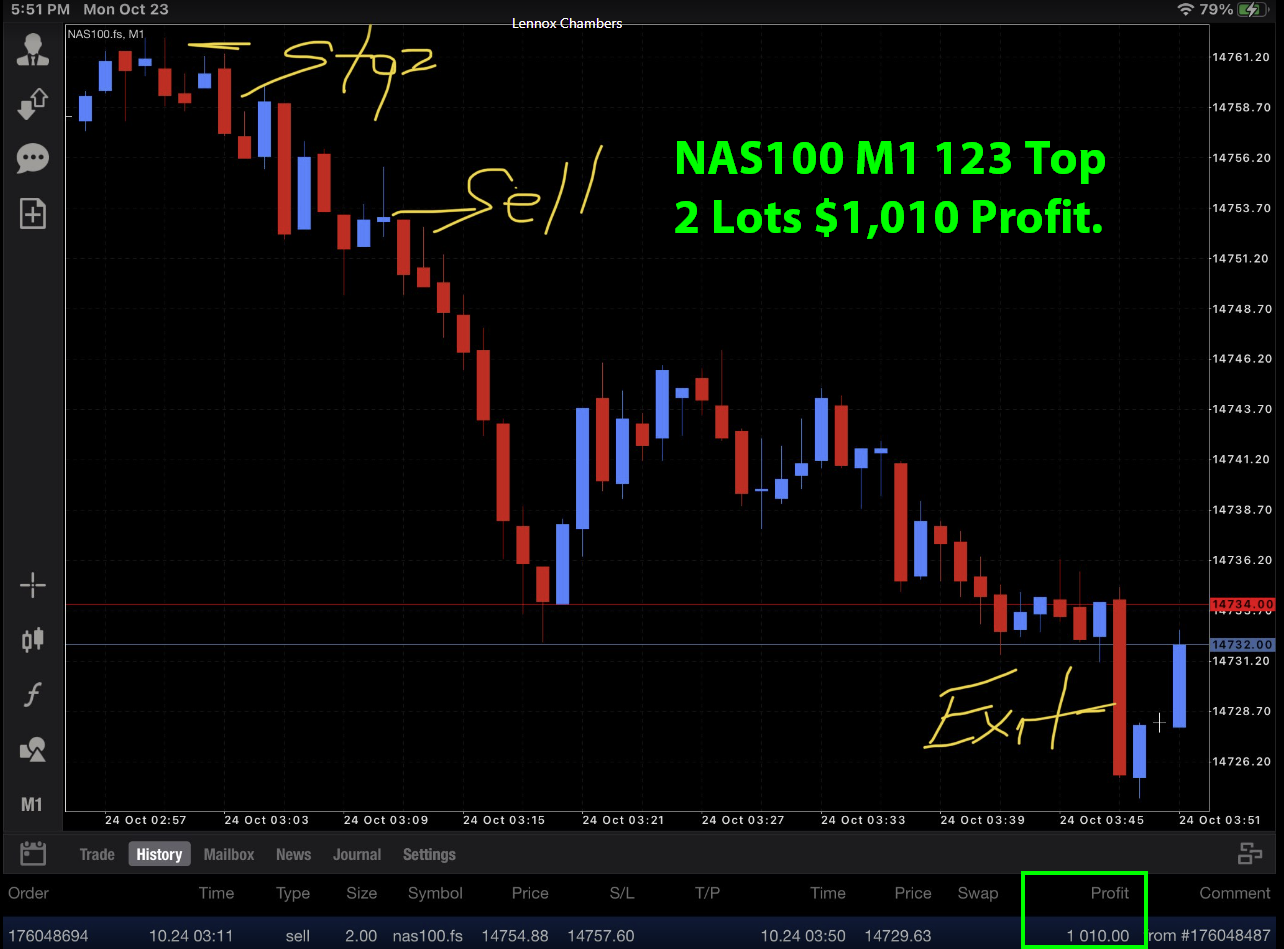 2023-08-16 NAS100 M1 S123 Top 2 Lots
+$1,070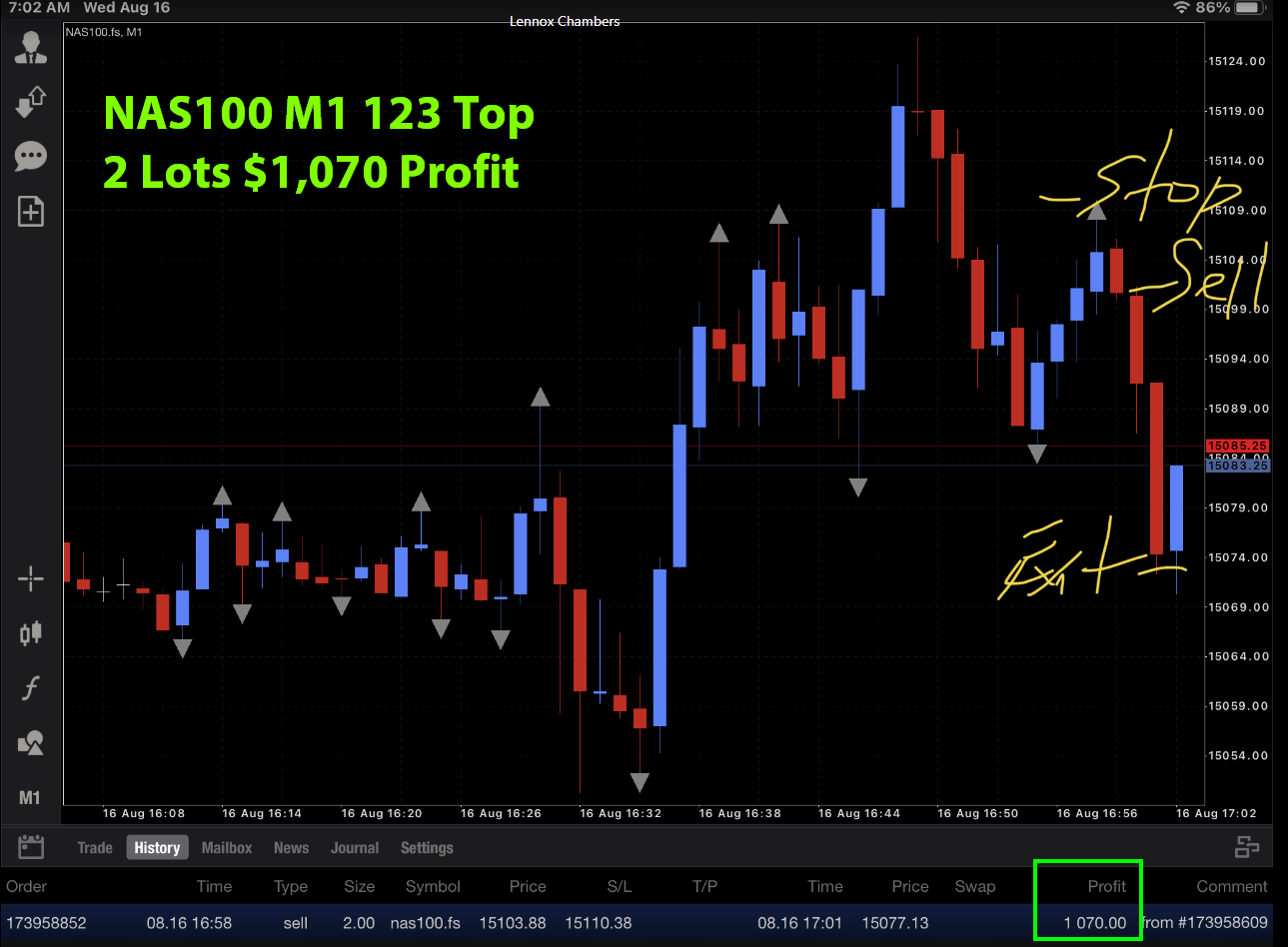 2023-07-07 NAS100 M1 S123 Bottom 3 Lots
+$967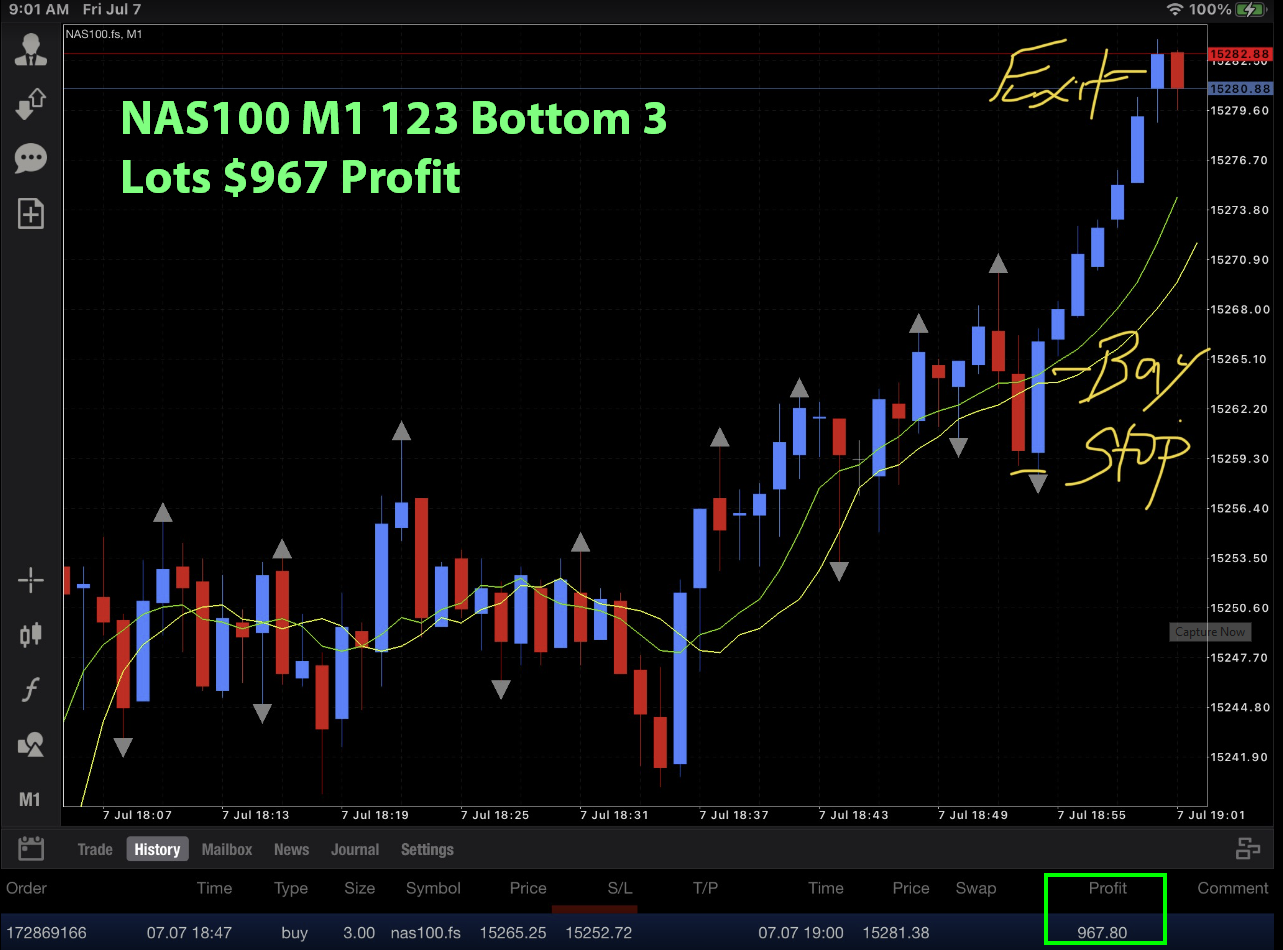 2023-07-07 NAS100 M1 S123 Bottom 2 Lots
+$1,115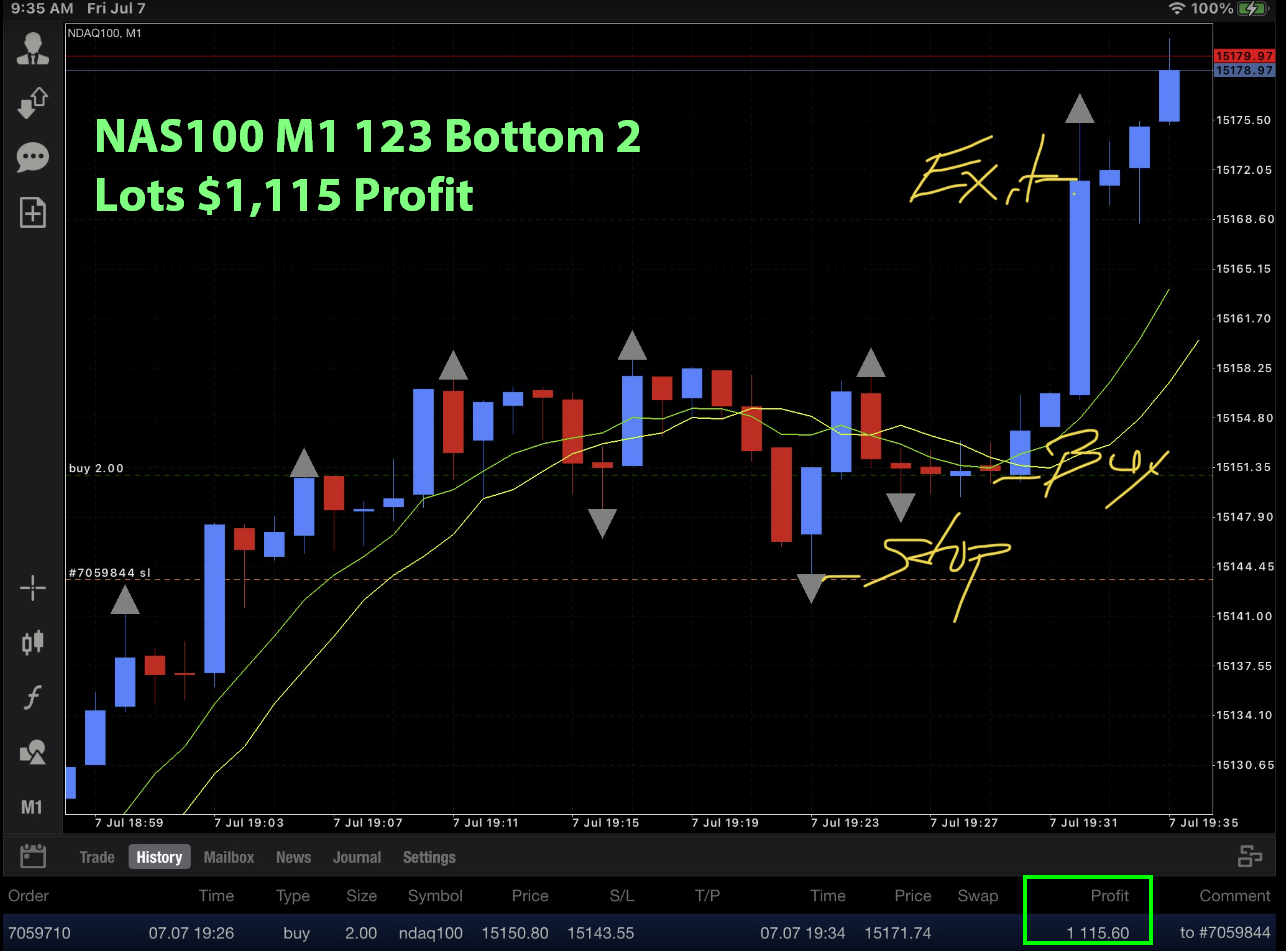 2023-05-26 SP500 M1 S123 Bottom 2 Lots
+$860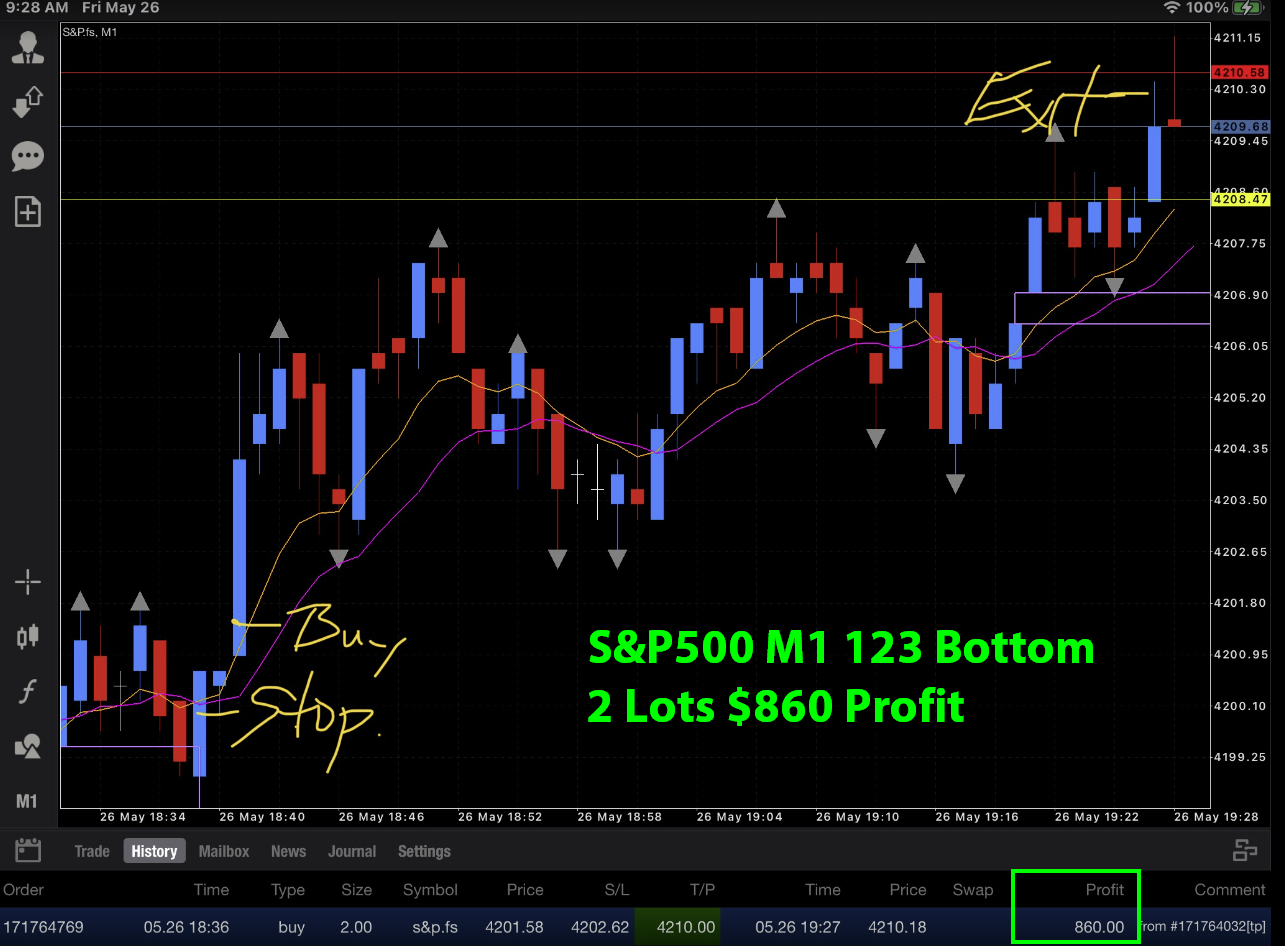 2023-05-24 NAS100 M1 S123 Top 2 Lots
+$944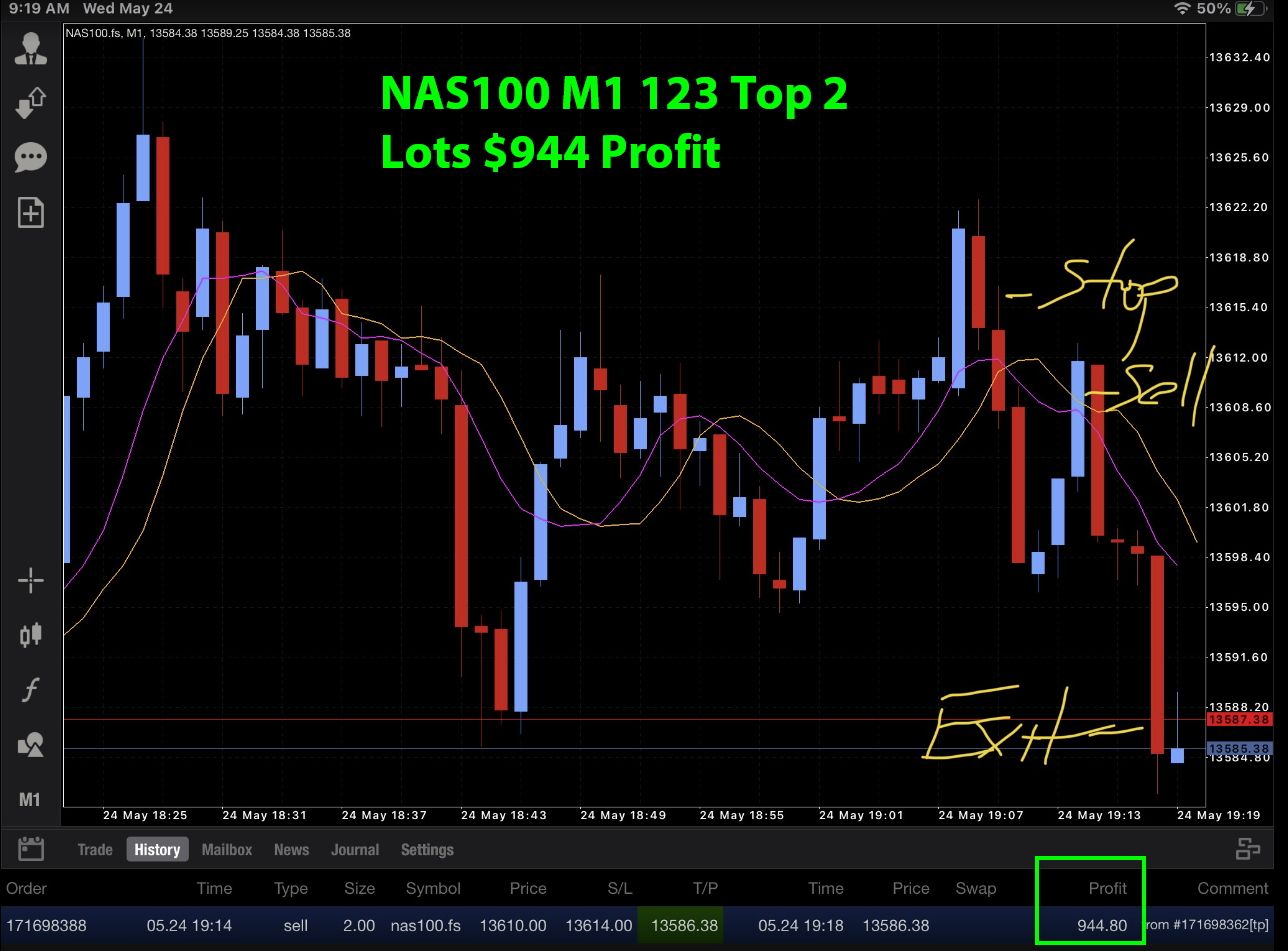 2023-05-19 SP500 M1 S123 Top 2 Lots
+$1,060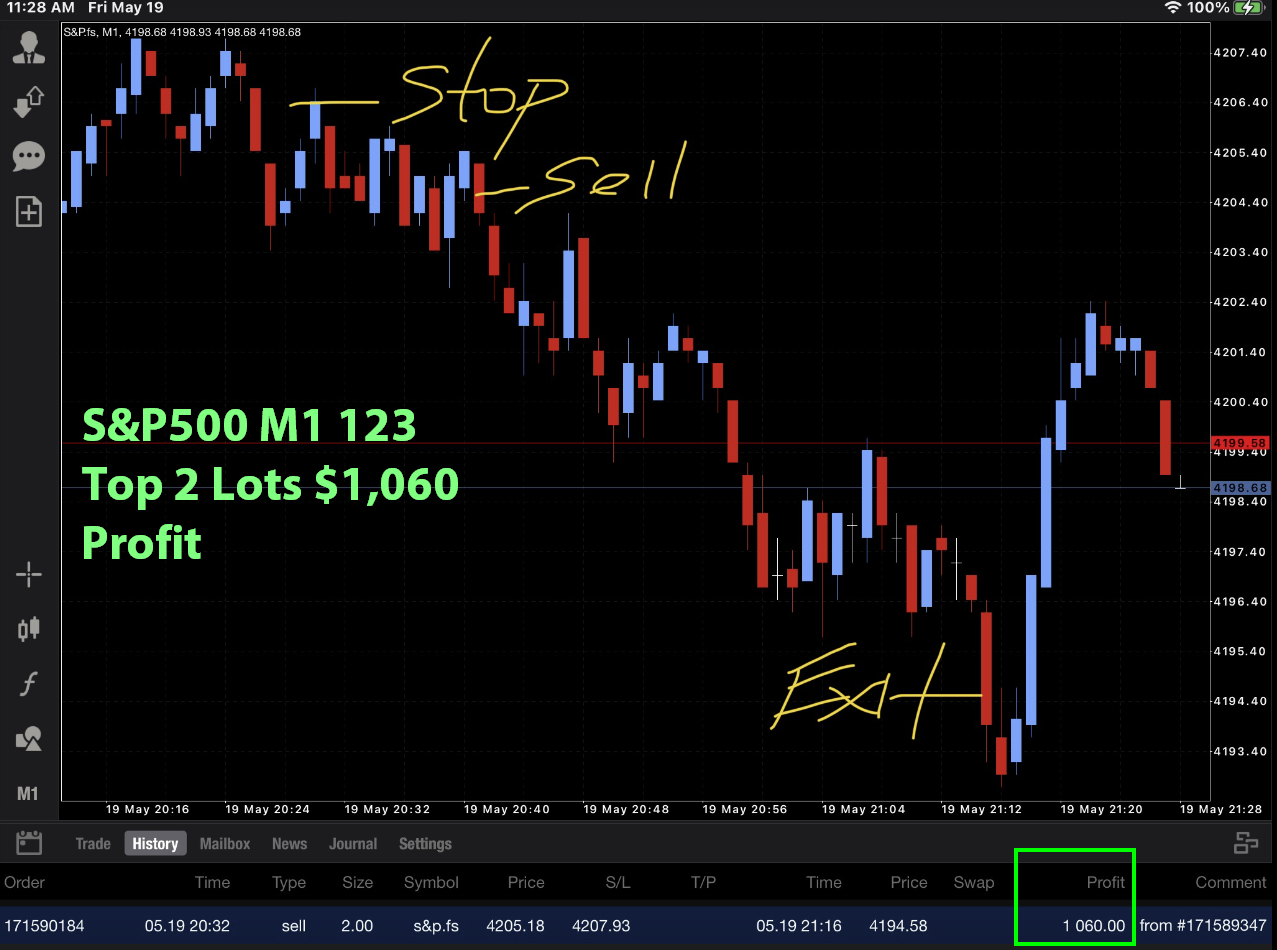 2023-04-12 SP500 M1 S123 Bottom 2 Lots
+$910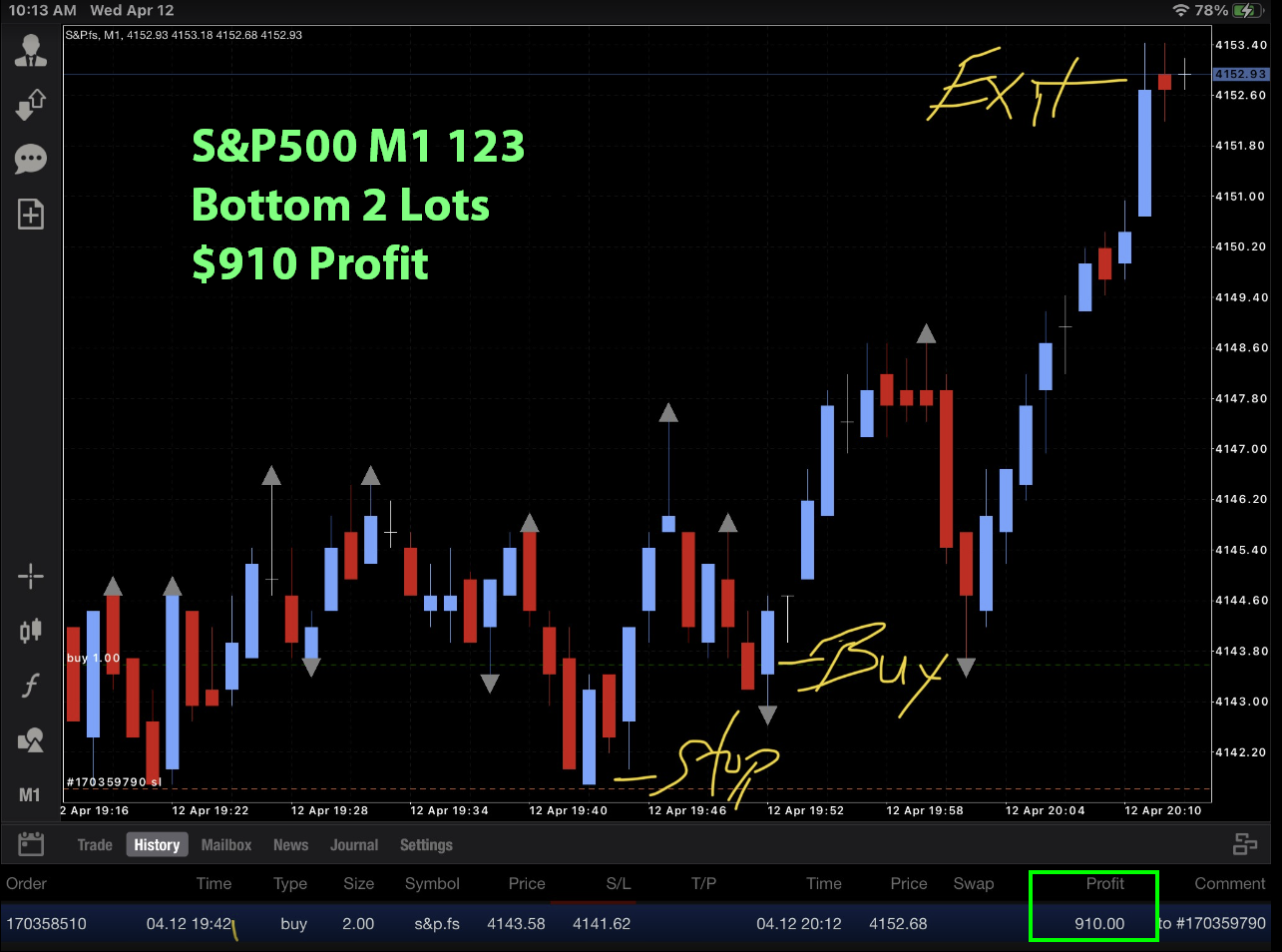 2023-03-28 SP500 M5 S123 Top 2 Lots
+$1,110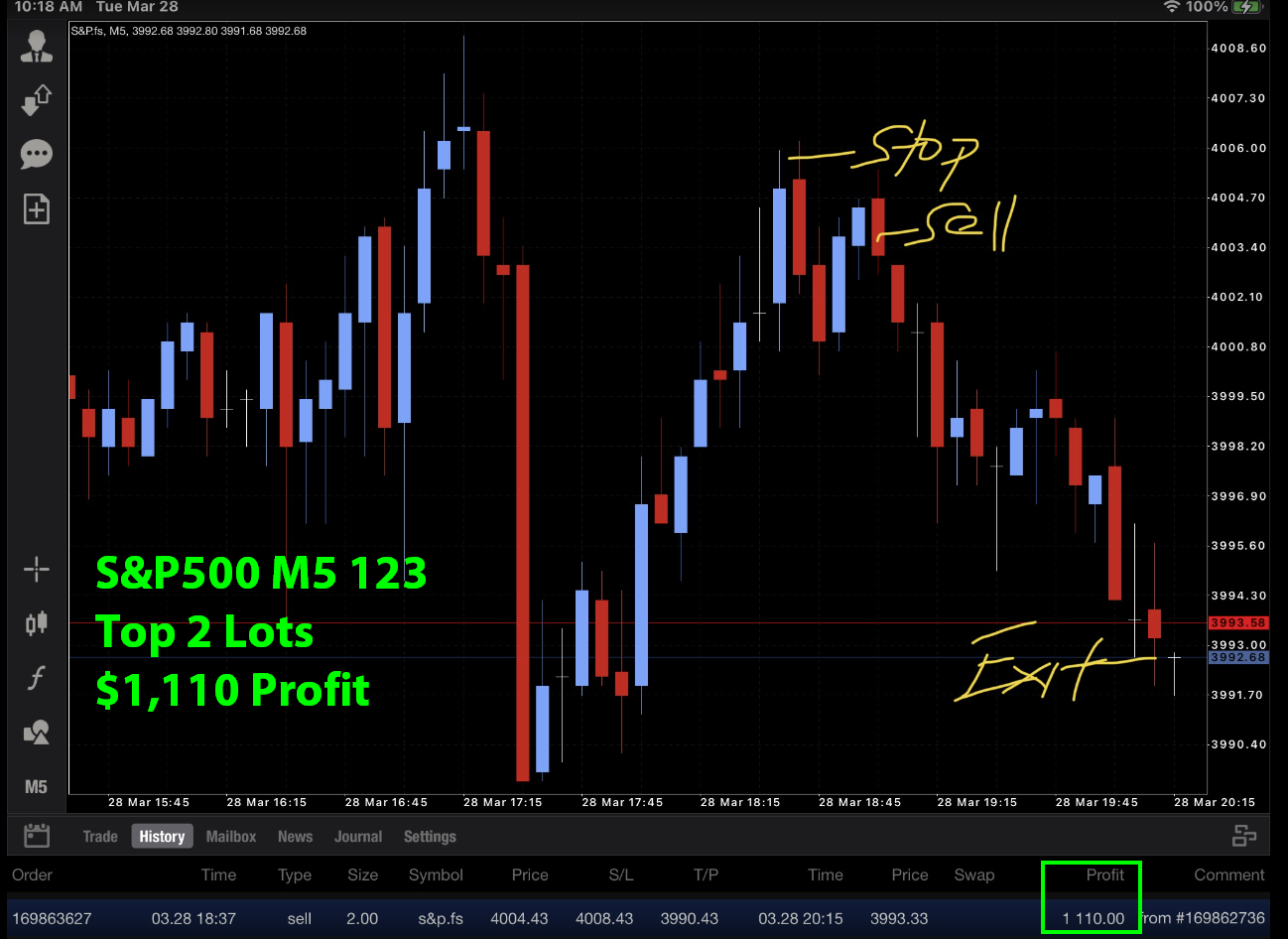 2023-03-27 SP500 M1 S123 Top 2 Lots
+$1,360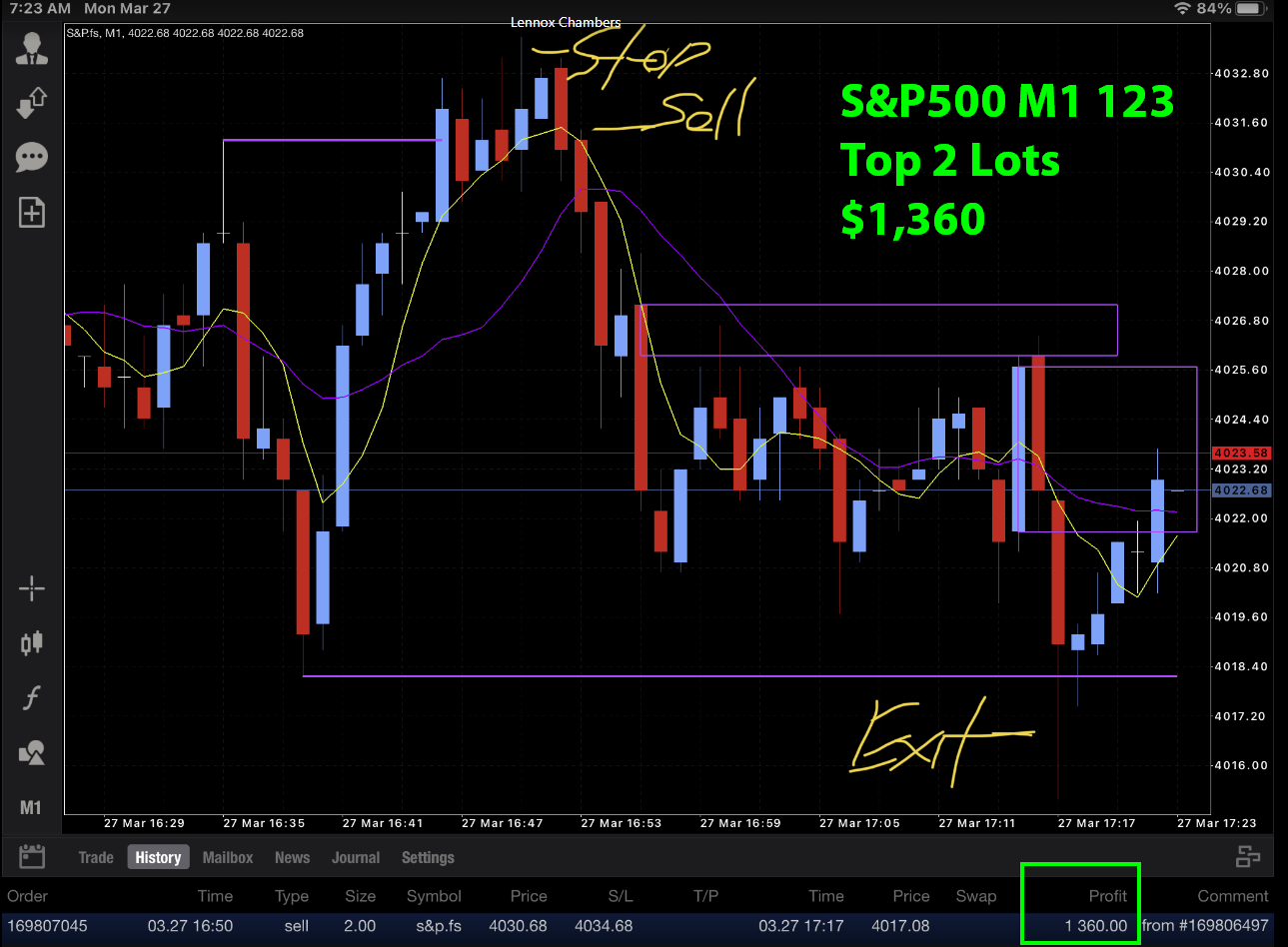 2023-02-23 SP500 M1 S123 Top 3 Lots
+$1,027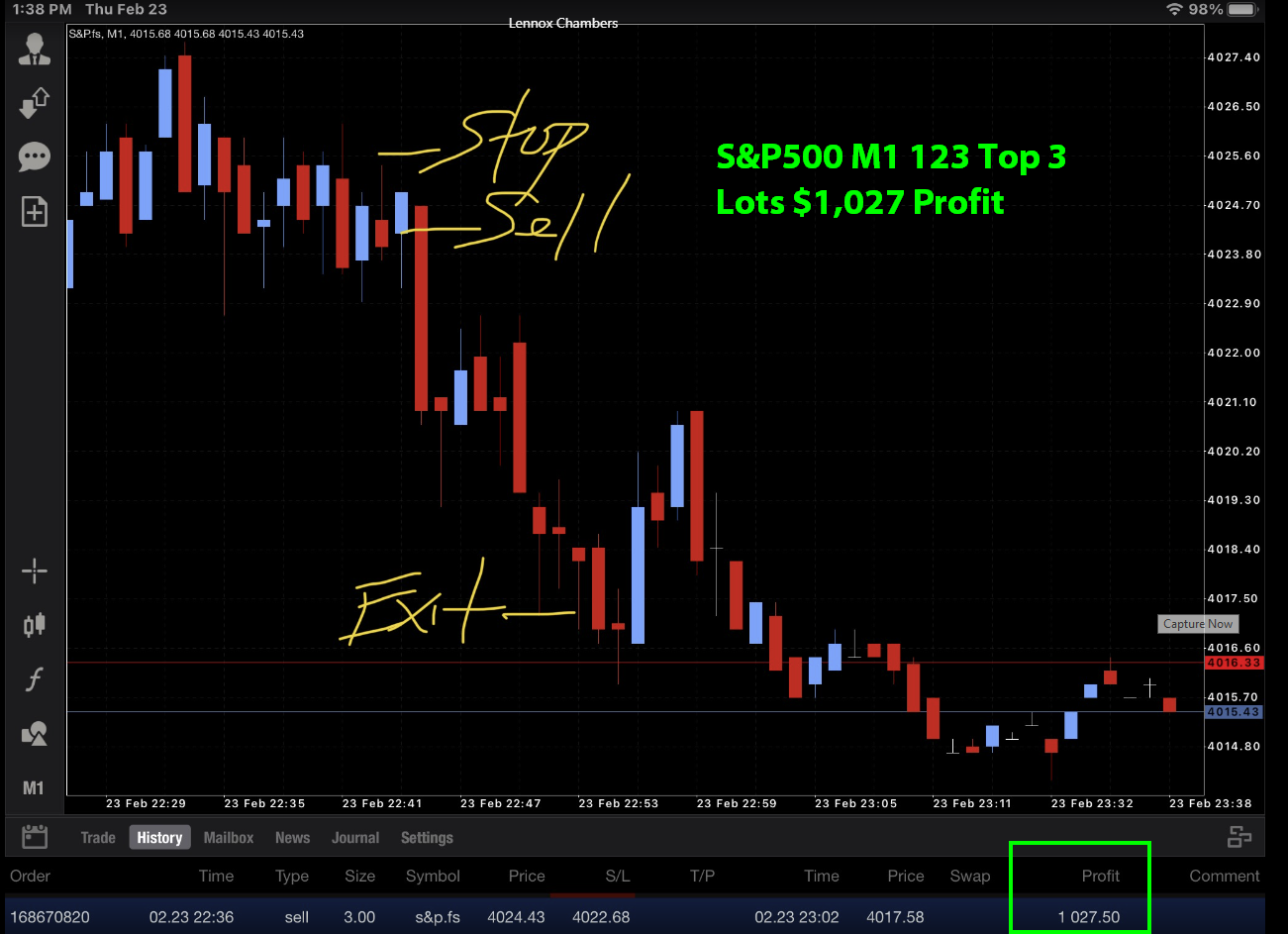 2023-02-09 SP500 M1 S123 Top 2 Lots
+$1,160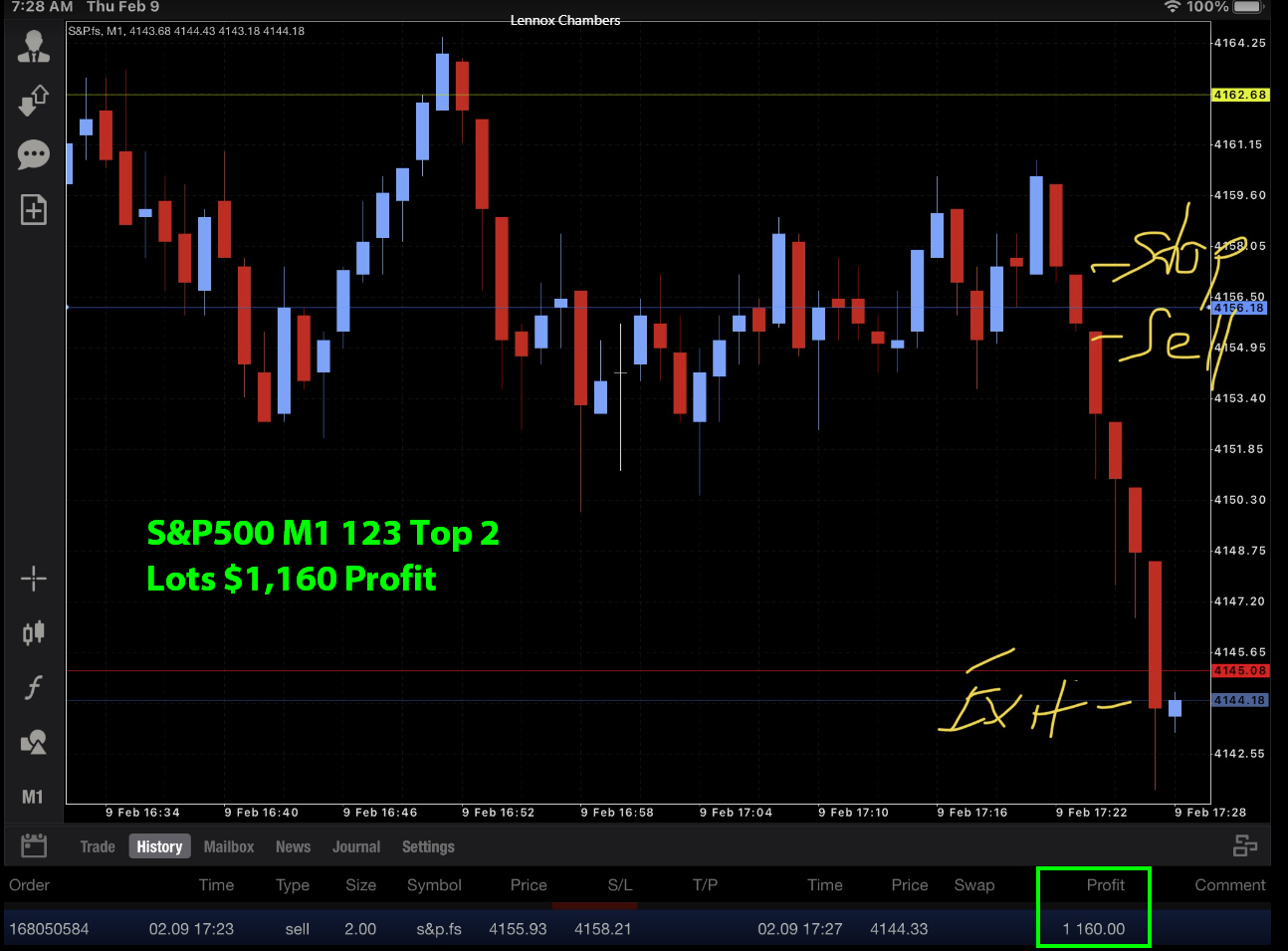 2023-02-07 SP500 M1 S123 Top 5 Lots
+$2,087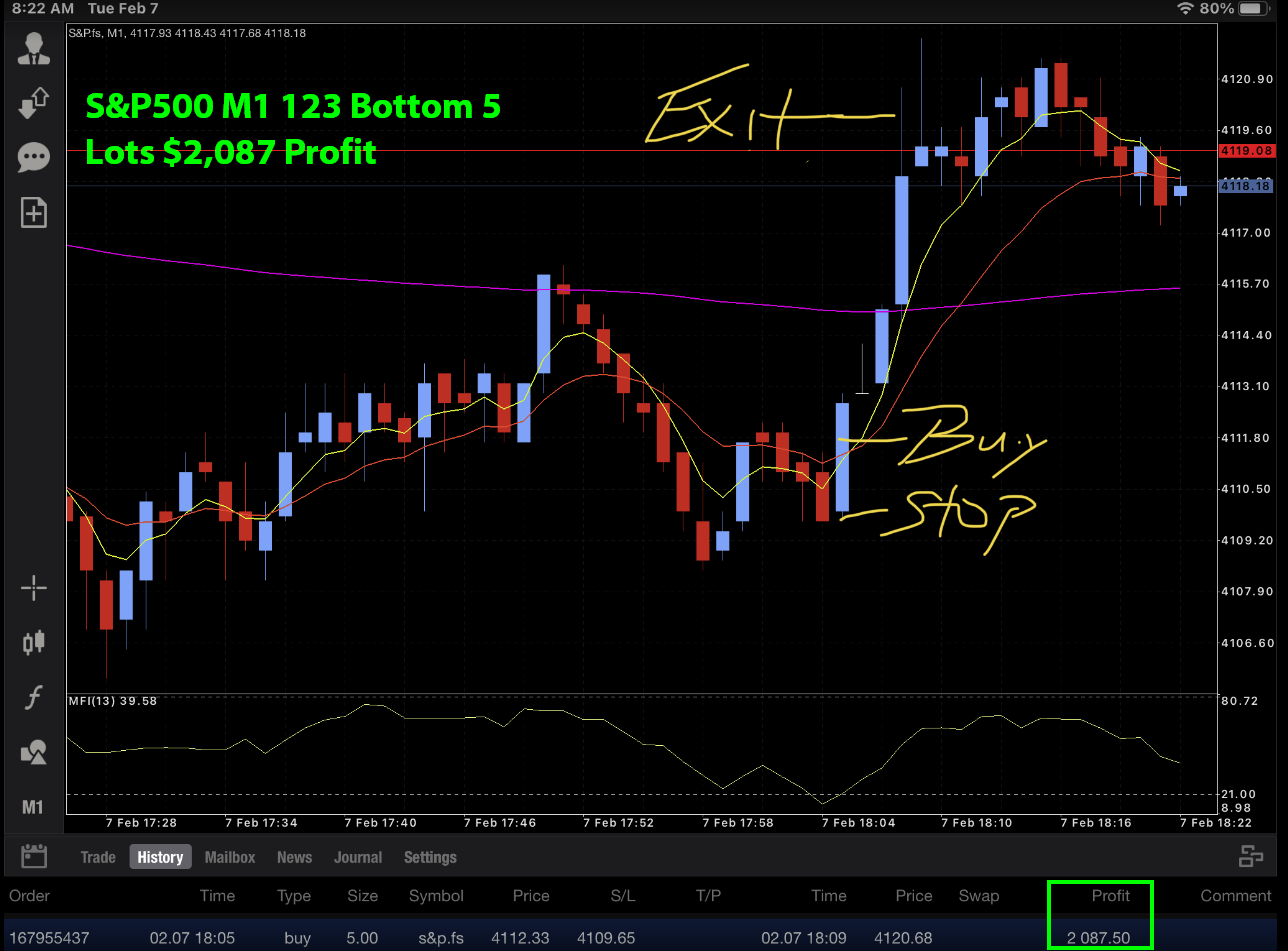 2023-01-23 NAS100 M1 S123 Top 2 Lots
+$1,130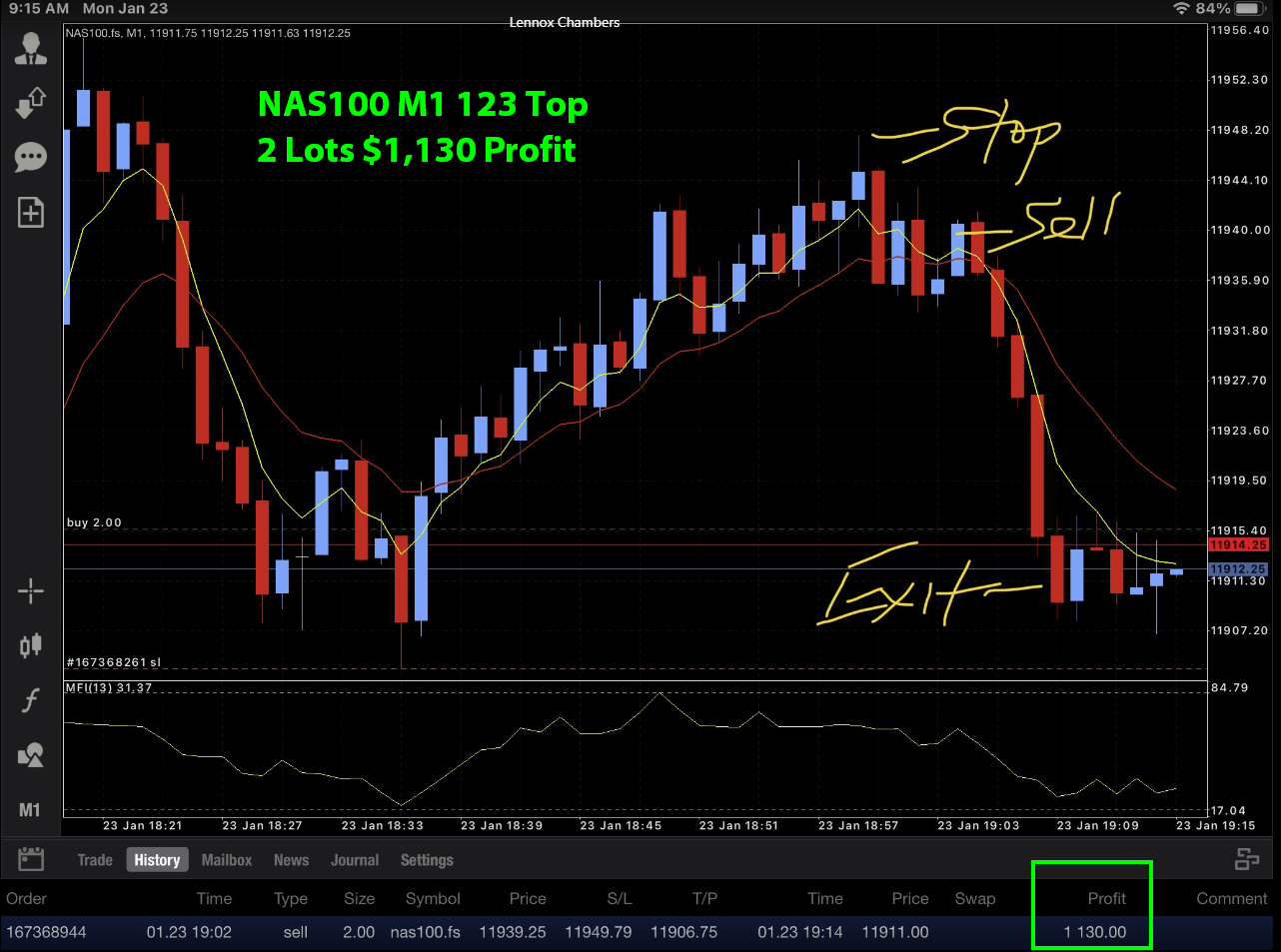 2023-01-13 NAS100 M1 S123 Bottom 2 Lots
+$1,110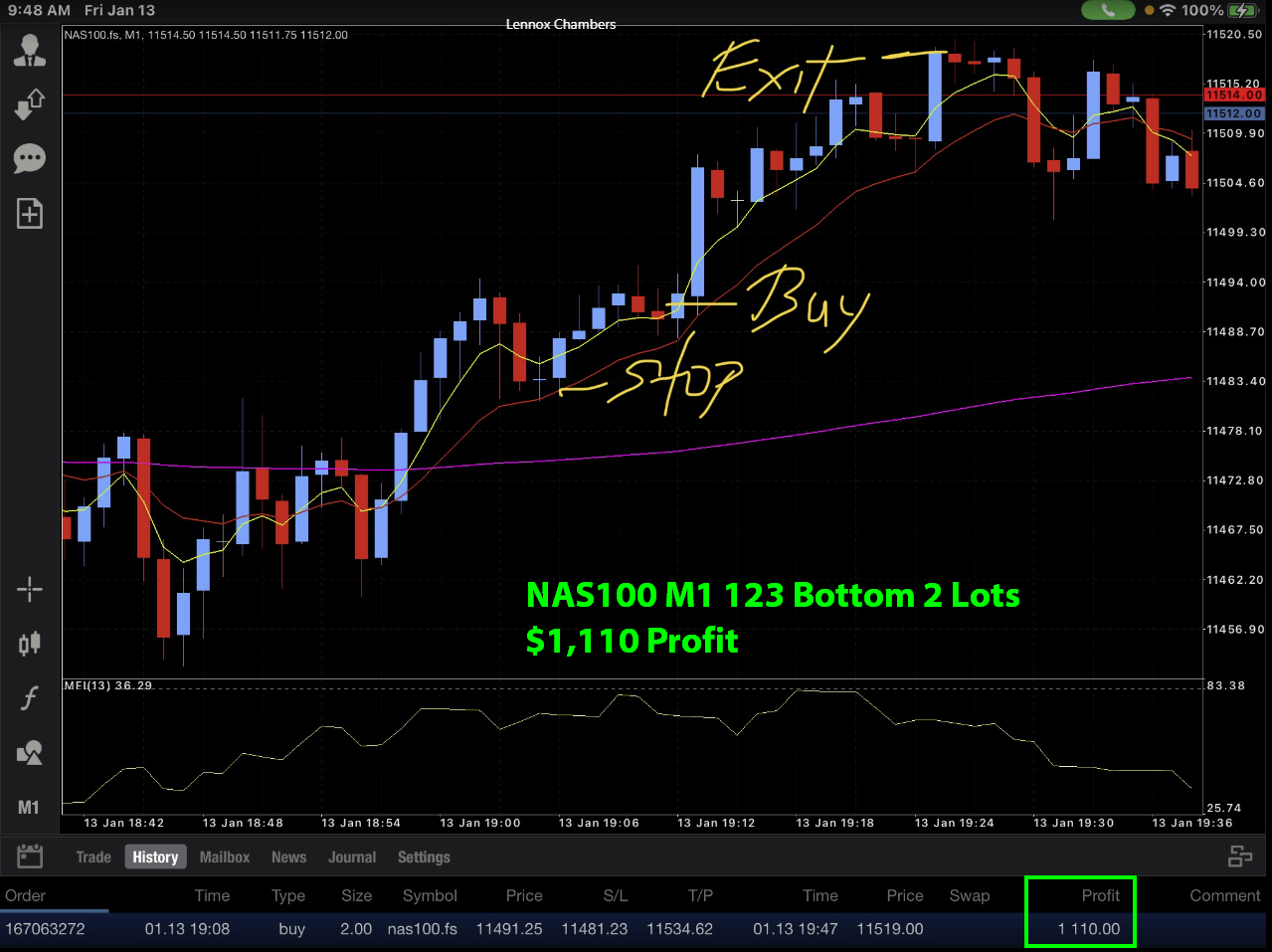 2023-01-13 NAS100 M1 S123 Bottom 2 Lots
+$1,020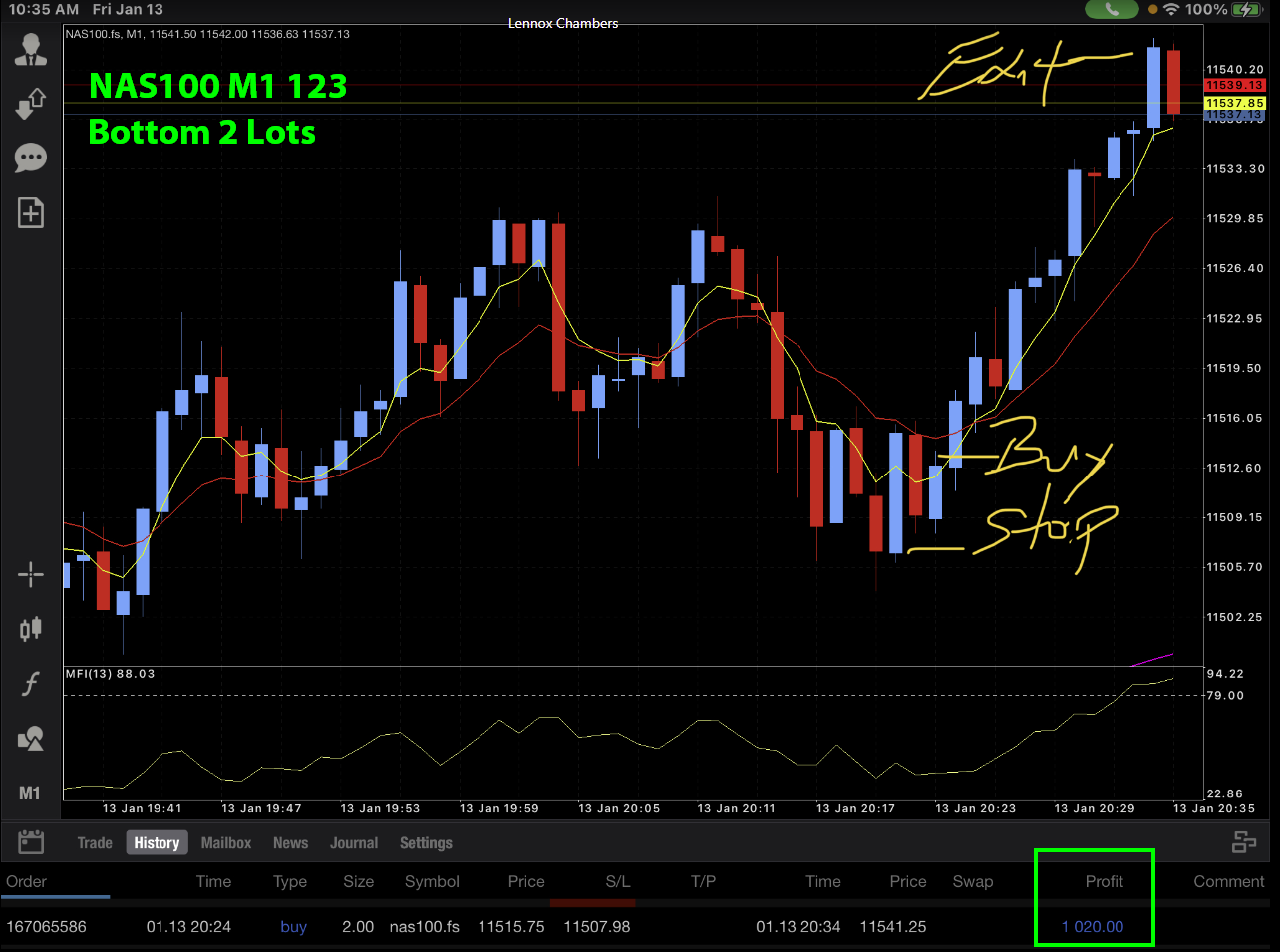 2023-01-10 NAS100 M1 S123 Top 1 Lot
+$792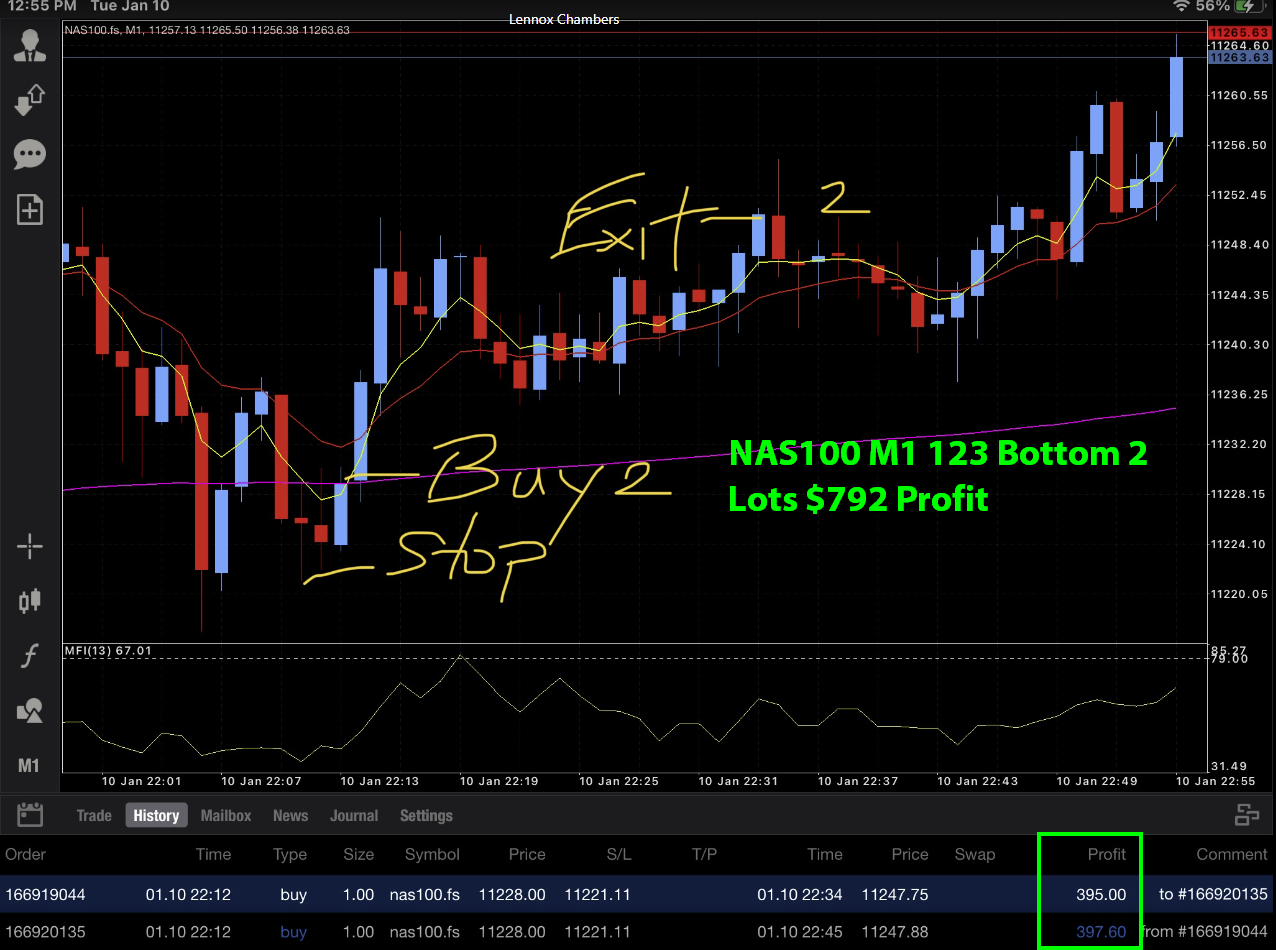 2023-01-06 NAS100 M1 S123 Top 1 Lot
+$940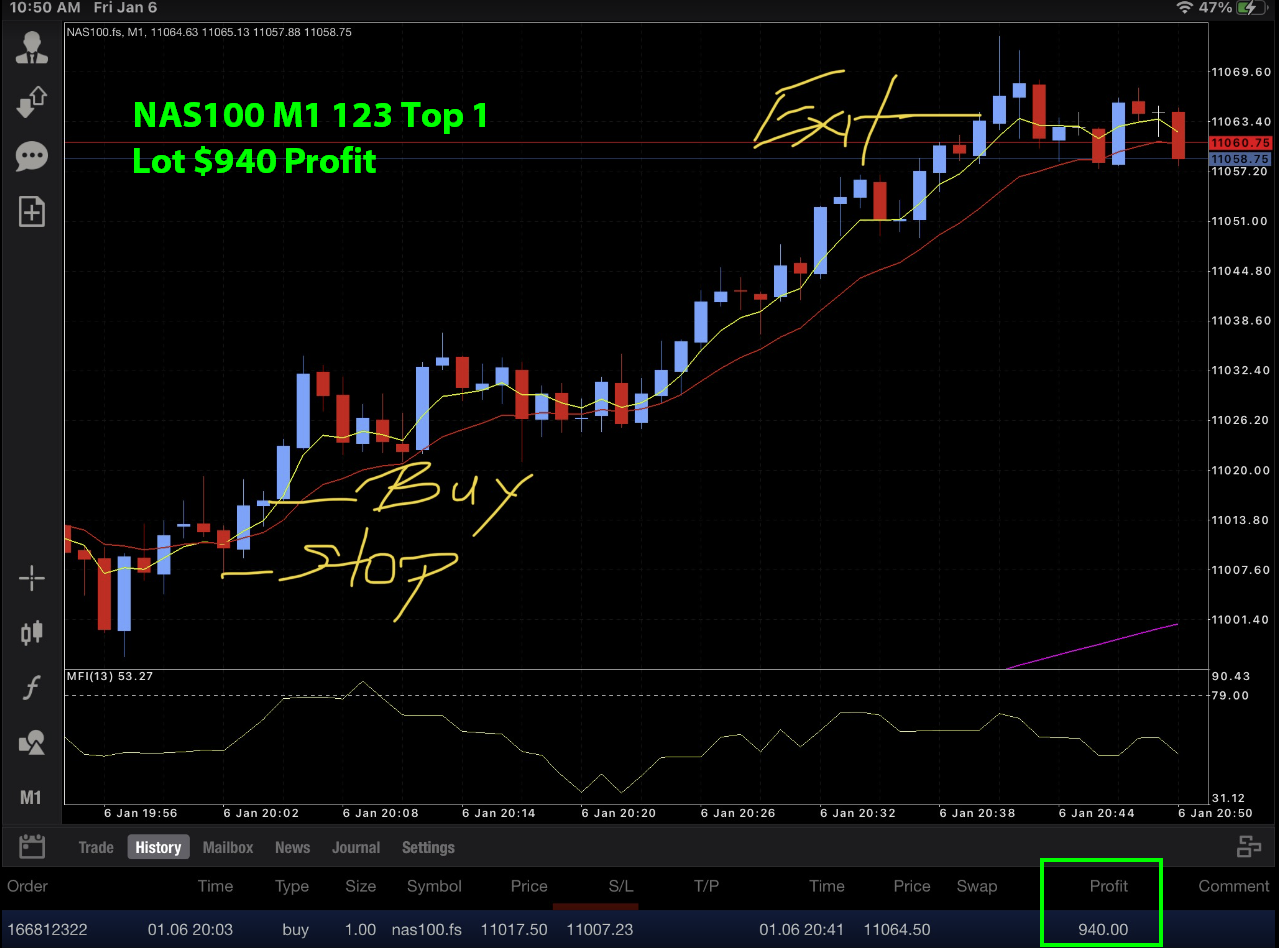 2023-01-05 NAS100 M1 S123 Top 1 Lot
+$982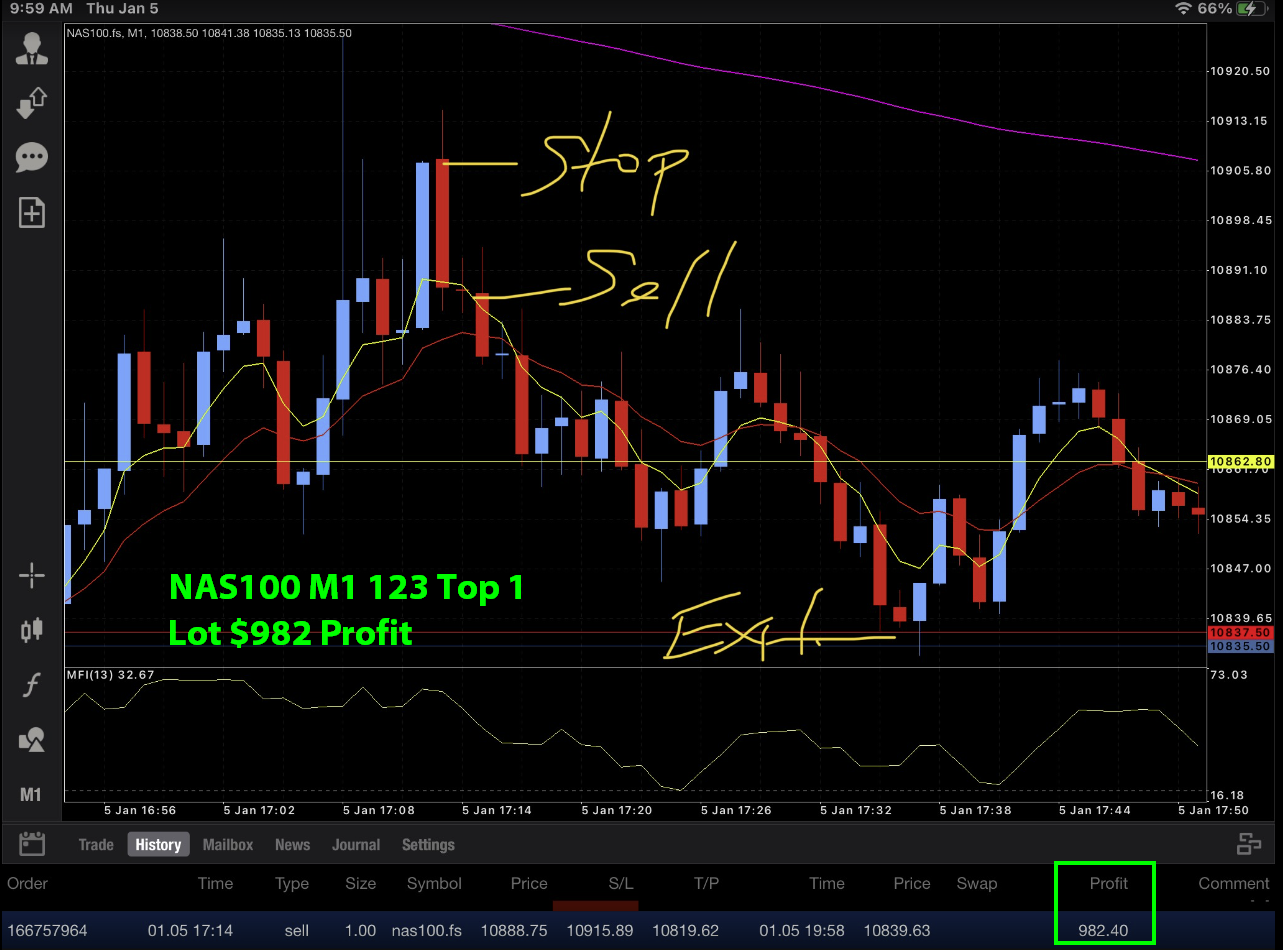 2023-01-04 NAS100 M1 S123 Top 1 Lot
+$1,397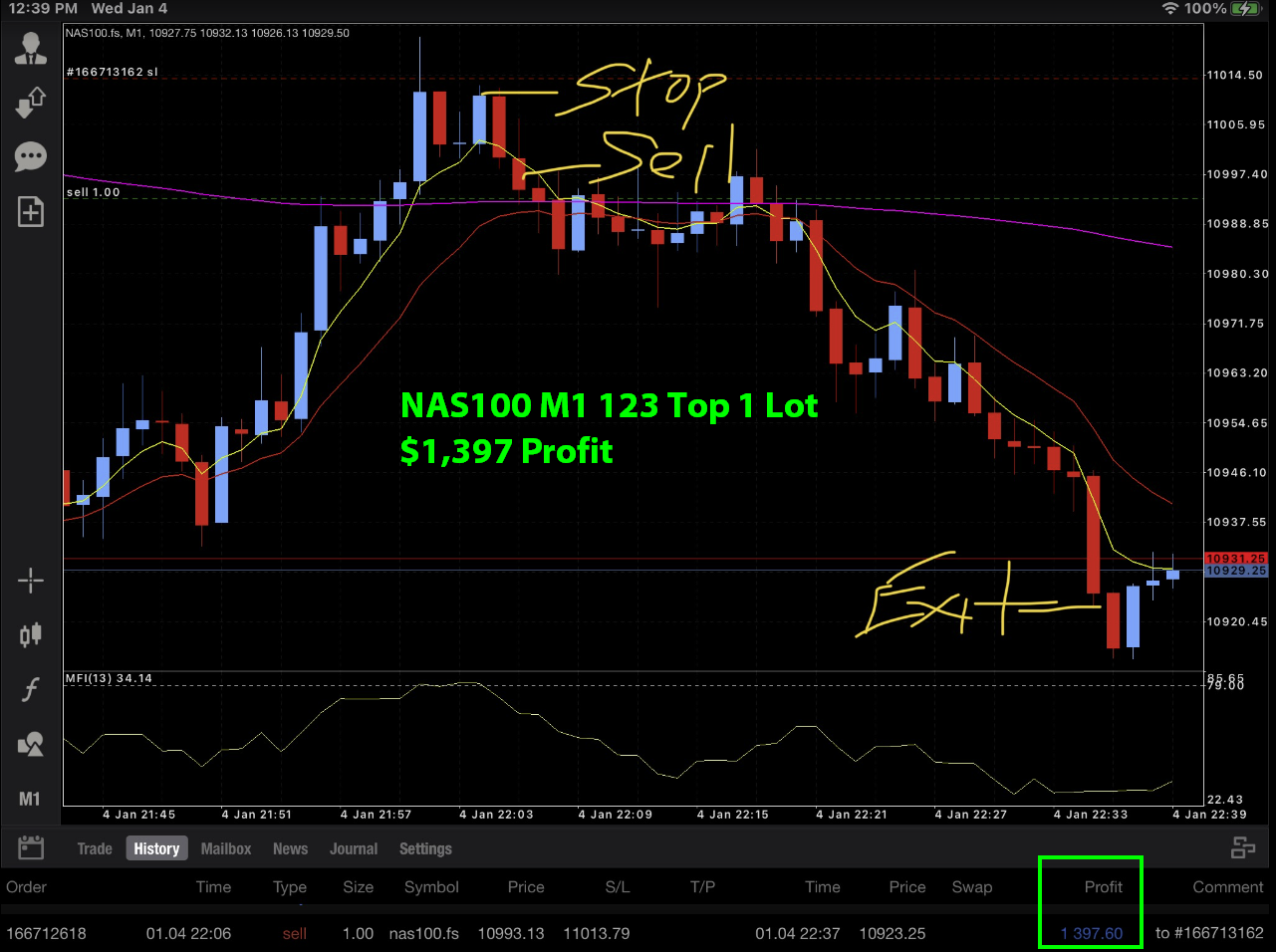 2023-01-03 NAS100 M1 S123 Top 1 Lot
+$1,200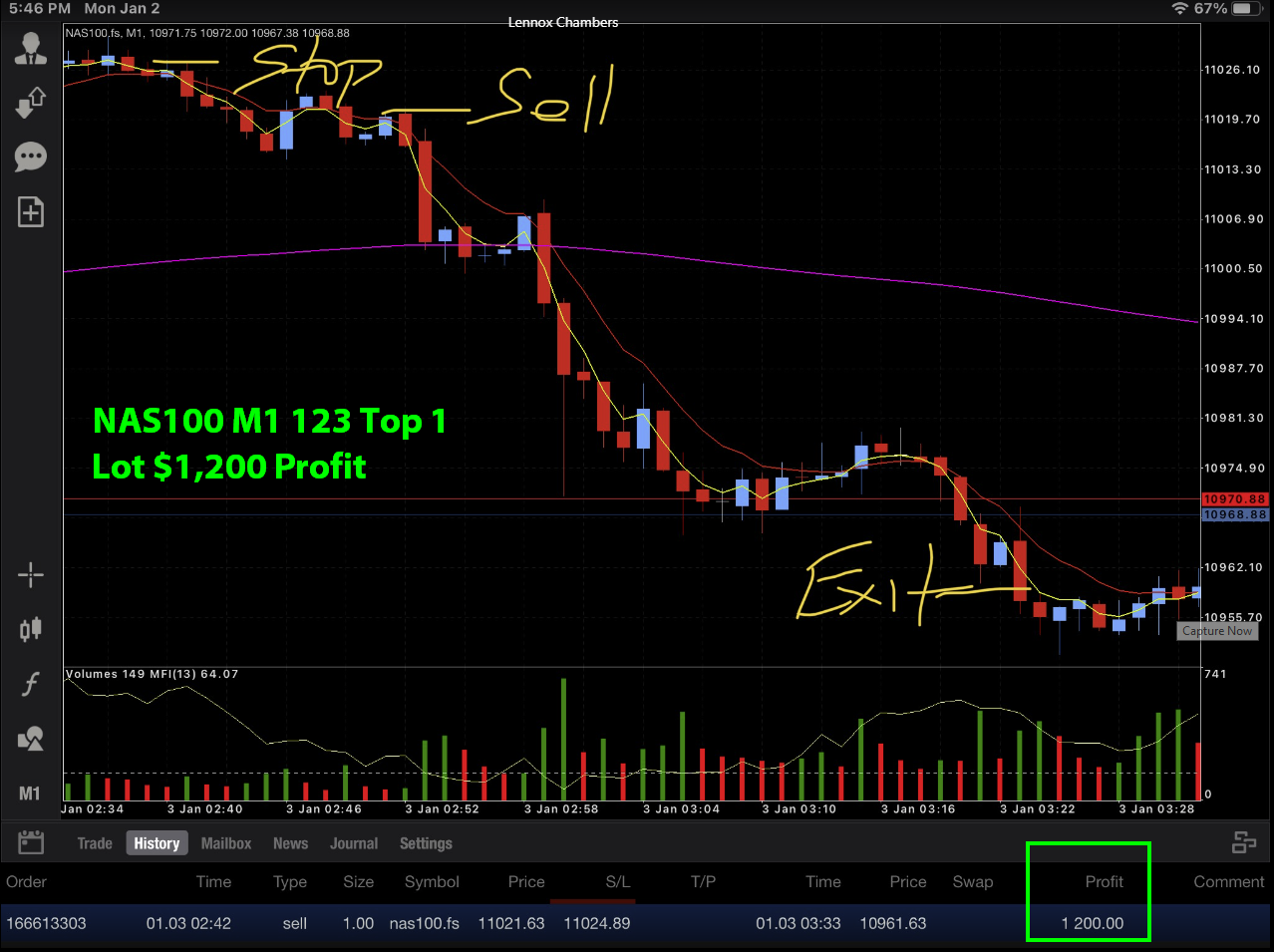 2022-12-30 NAS100 M1 S123 Top 1 Lot
+$1,007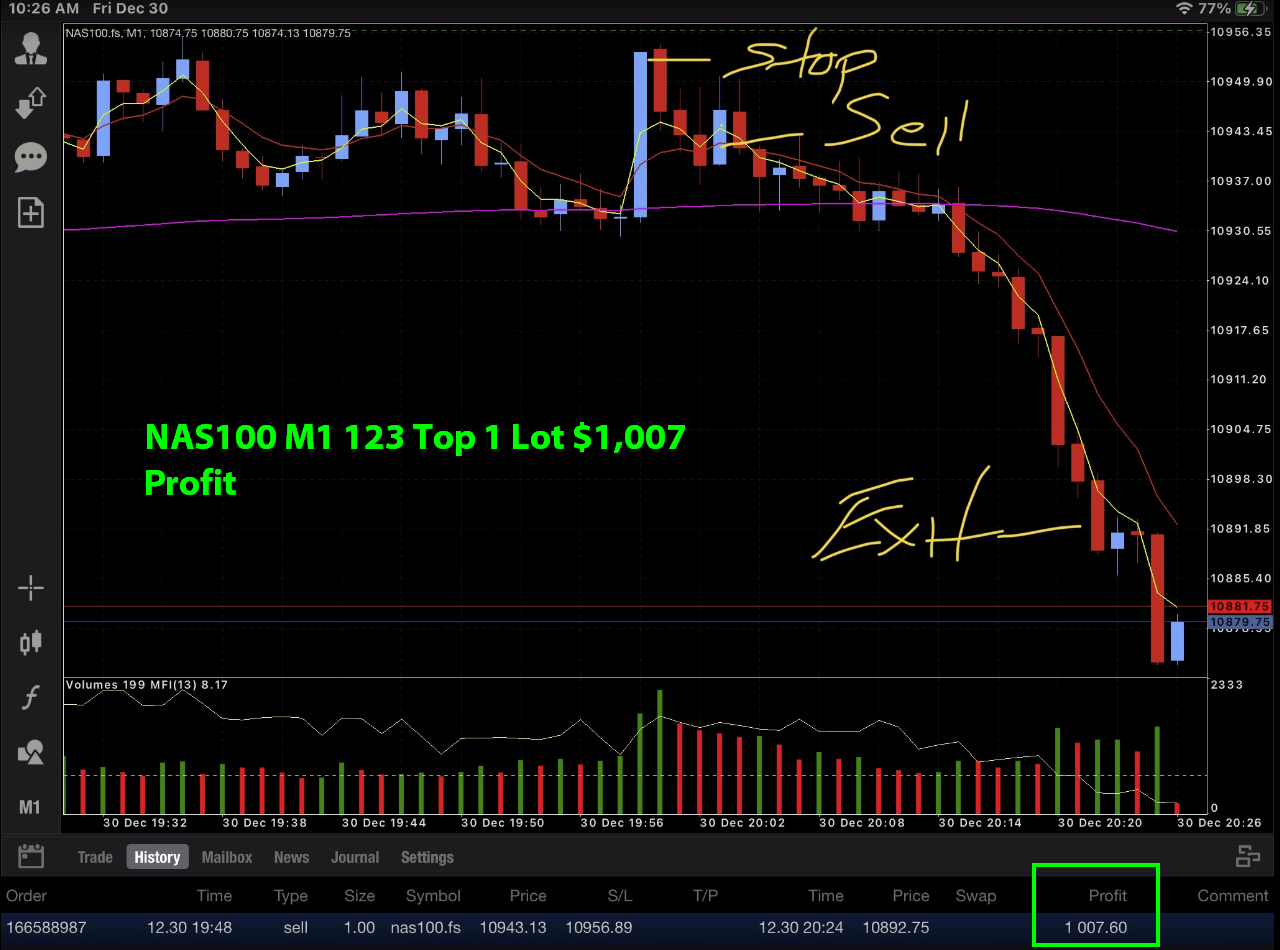 2022-12-29 NAS100 M1 S123 Bottom 1 Lot
+$452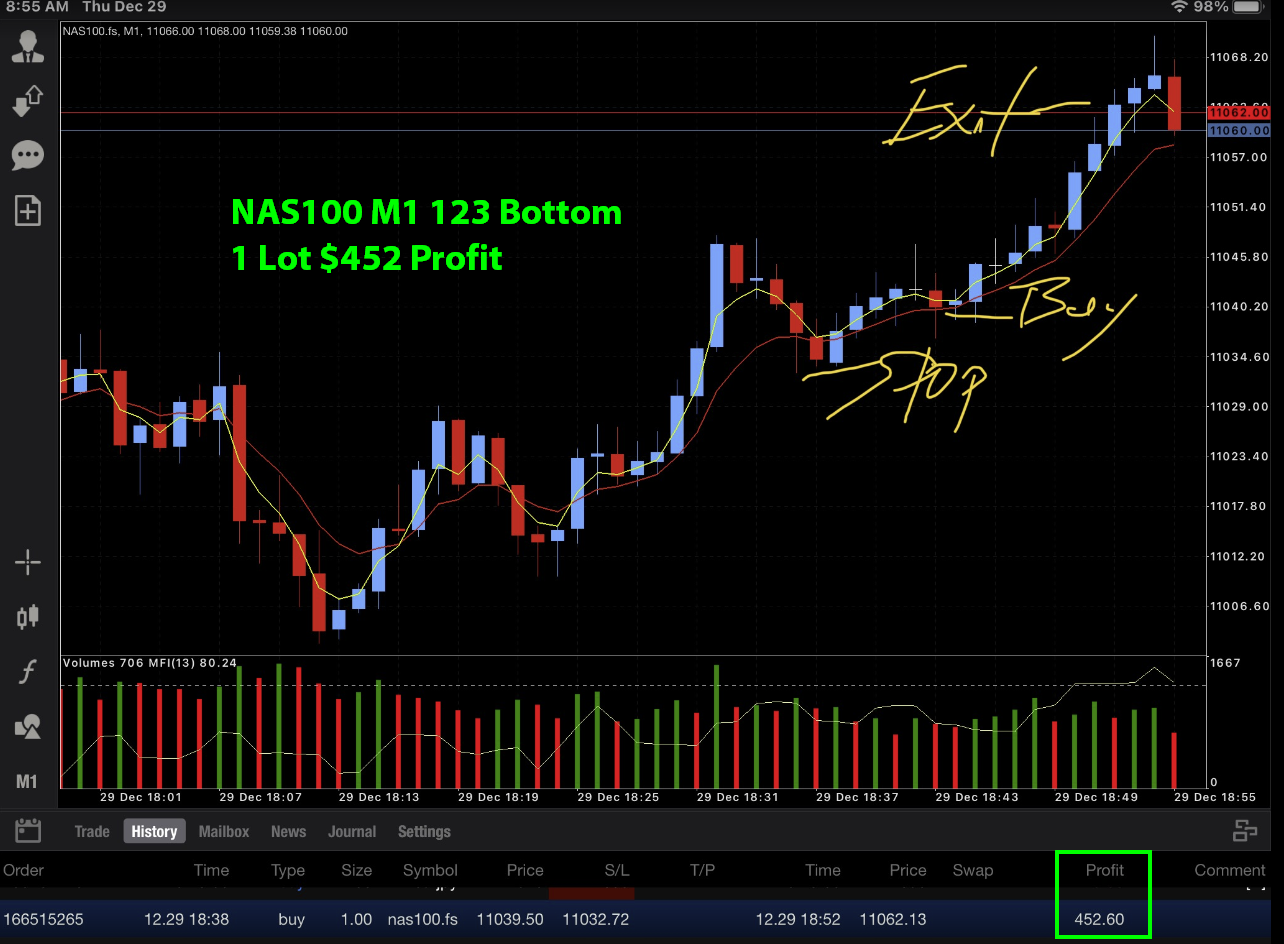 2022-12-29 NAS100 M1 S123 Bottom 1 Lot
+$447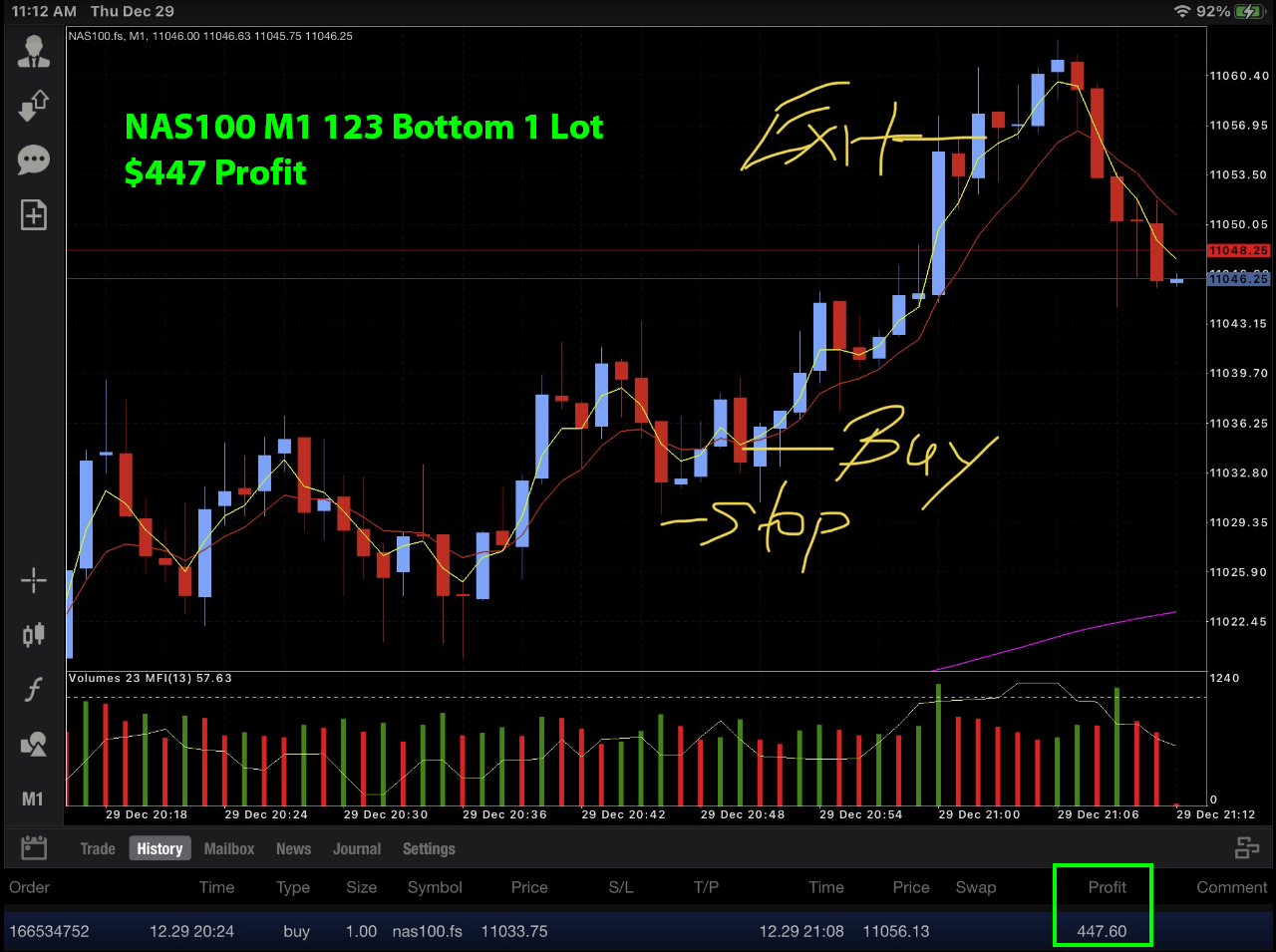 2022-12-28 NAS100 M1 S123 Bottom 1 Lot
+$414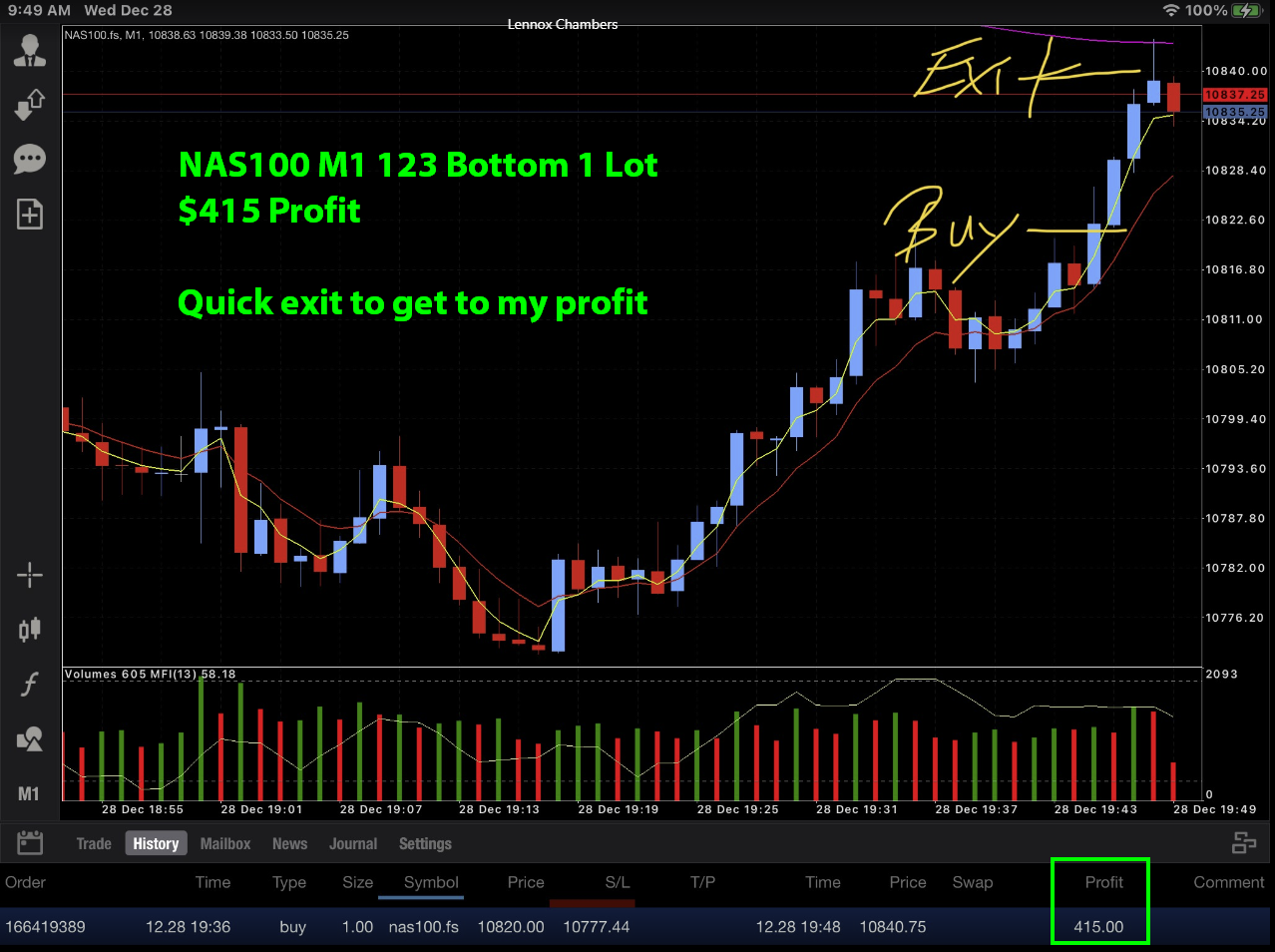 2022-12-27 NAS100 M1 S123 Top 1 Lot
+$1,030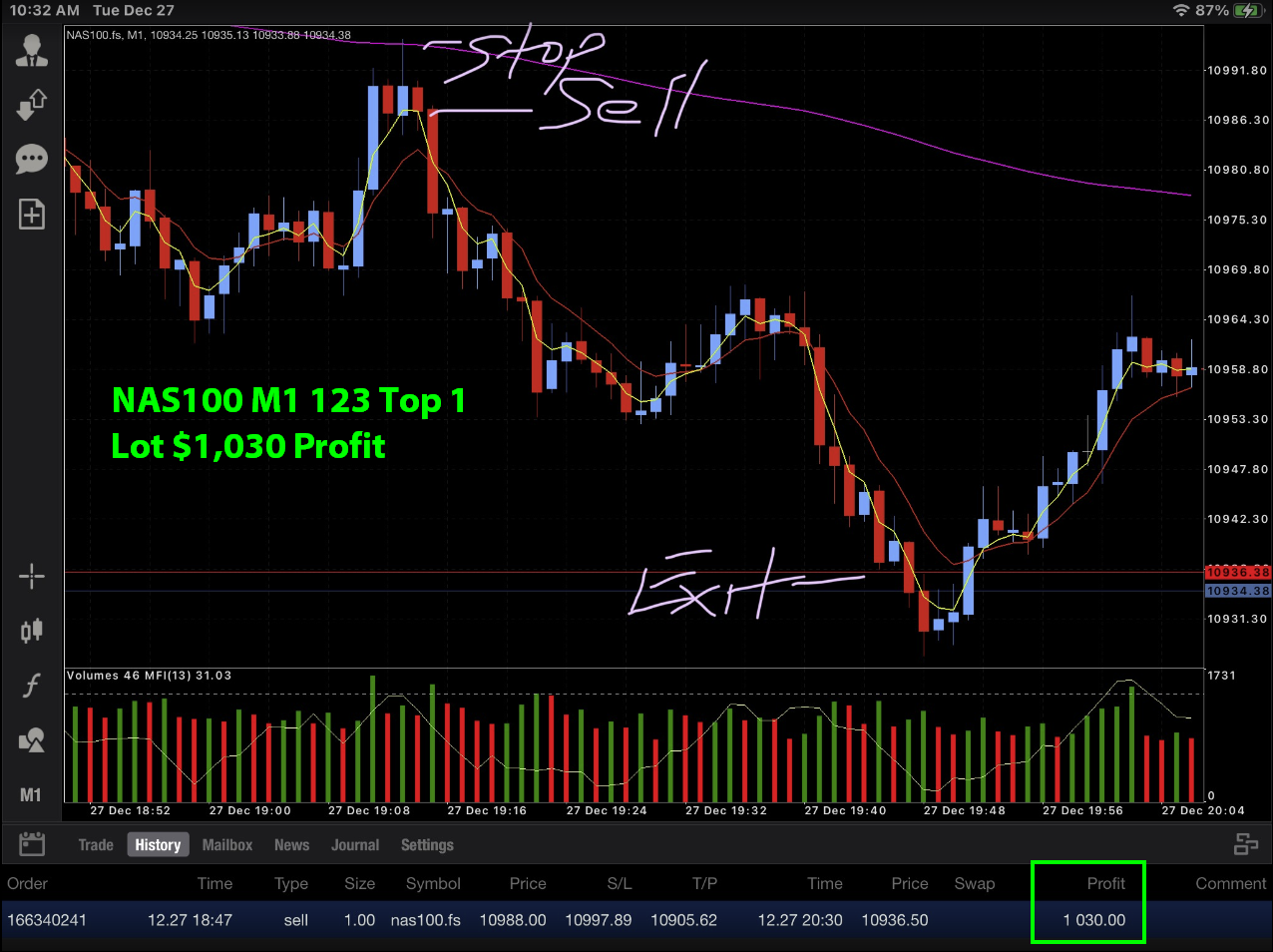 2022-12-20 NAS100 M1M5 S123 Top 1 Lot
+$1,960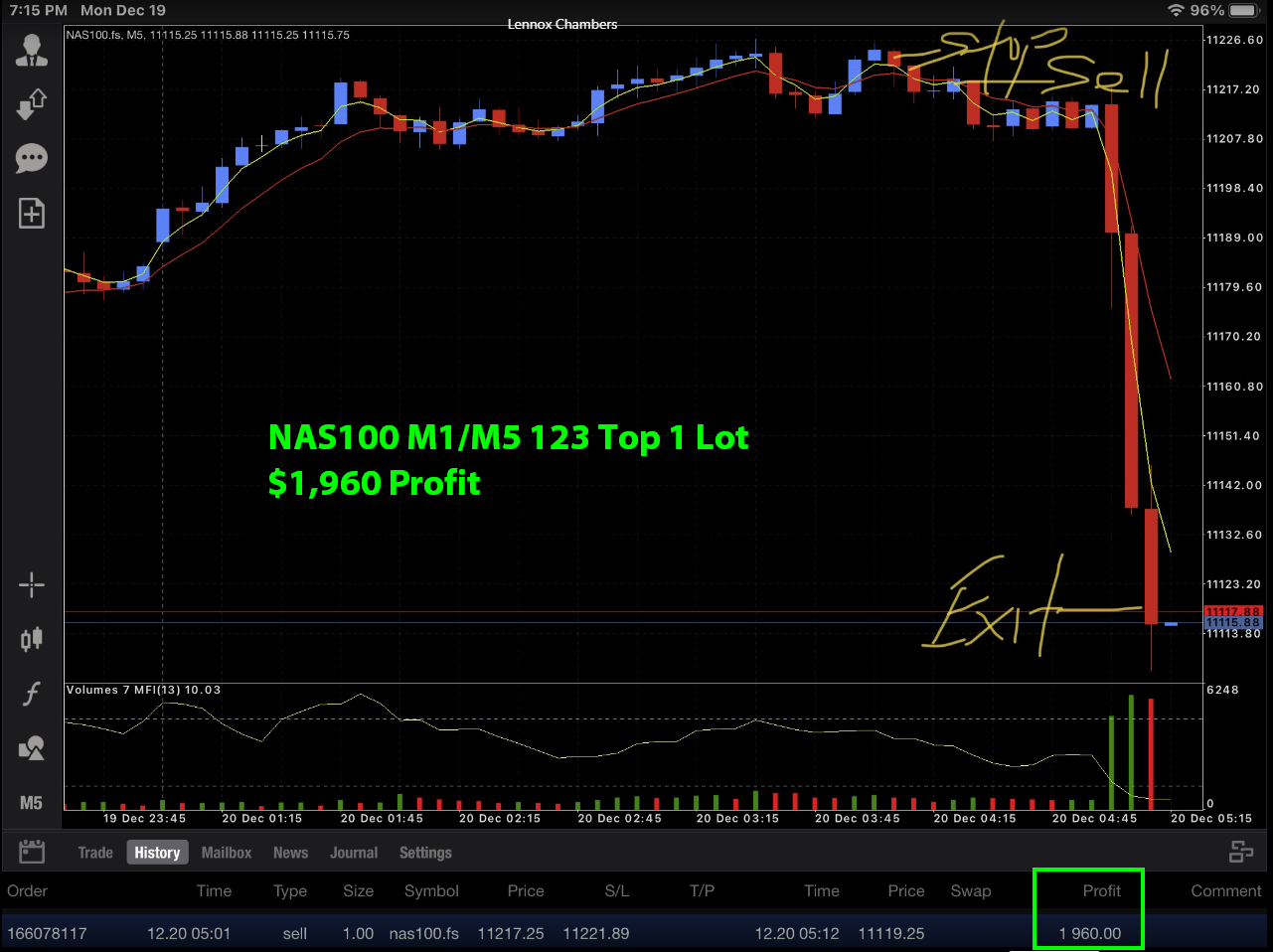 2022-12-19 NAS100 M5 S123 Top 1.5 Lots
+$2,030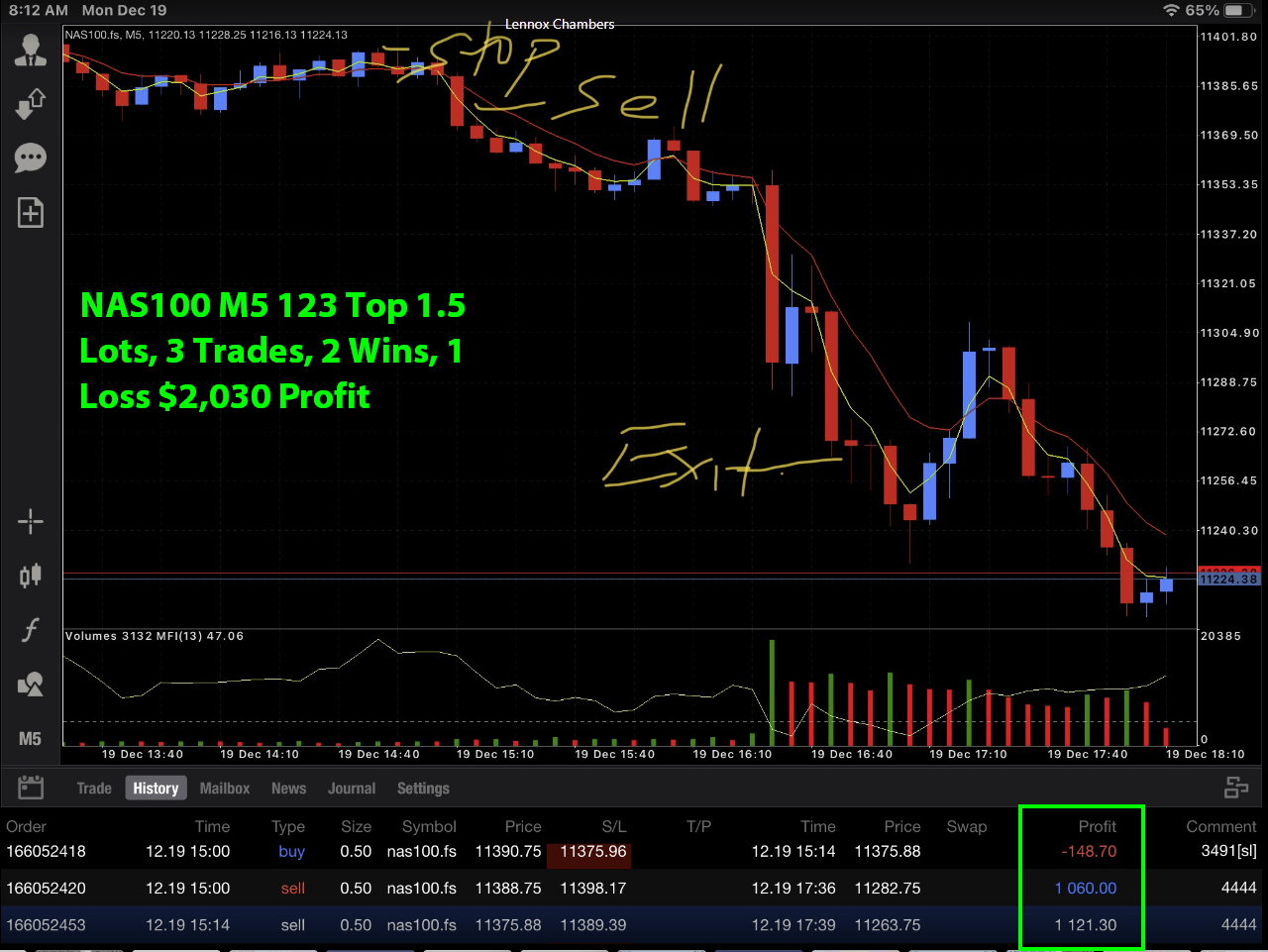 2022-12-14 NAS100 M1 S123 Top 1 Lot
+$460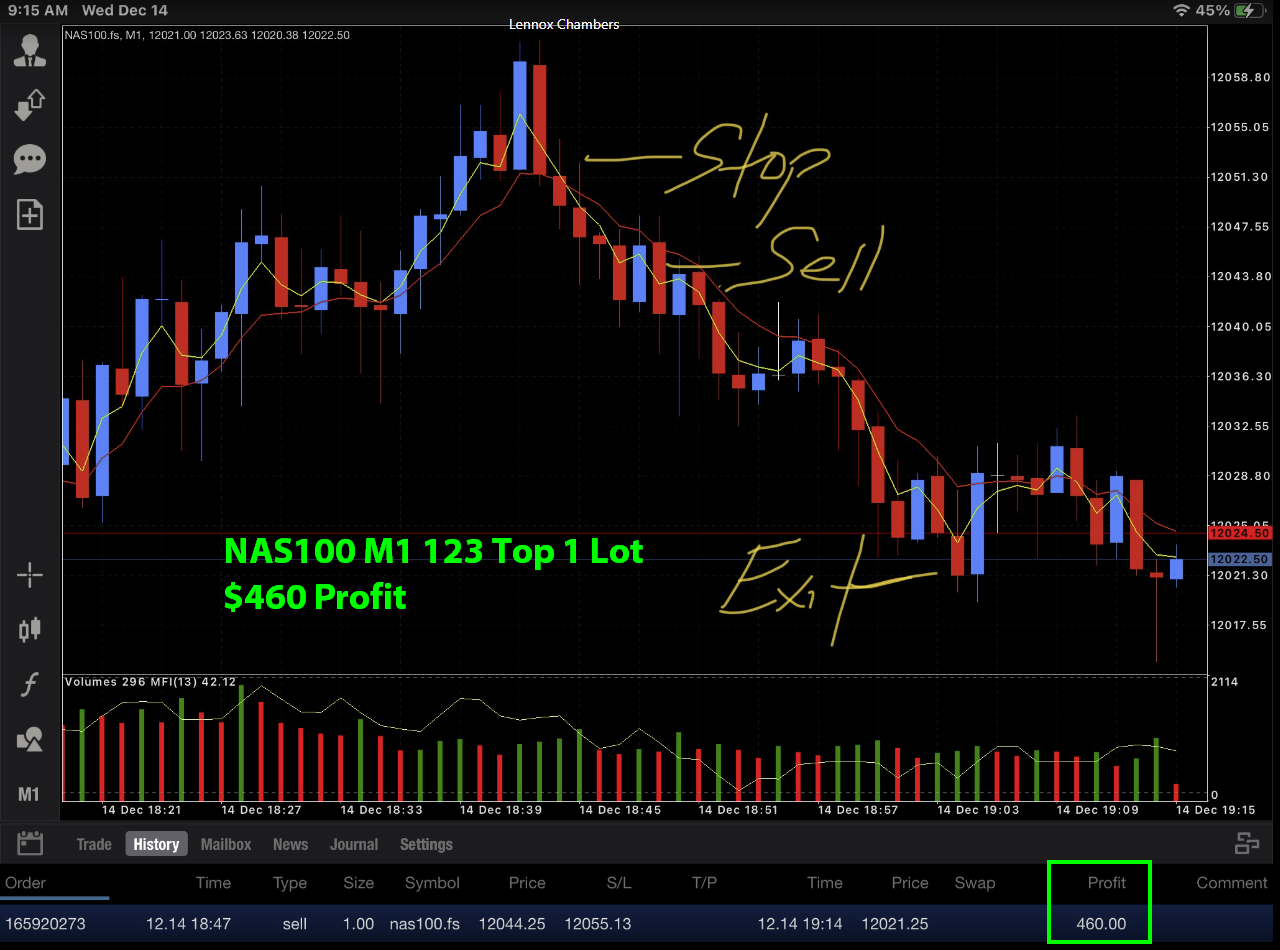 2022-12-14 NAS100 M1 S123 Bottom Lot
+$492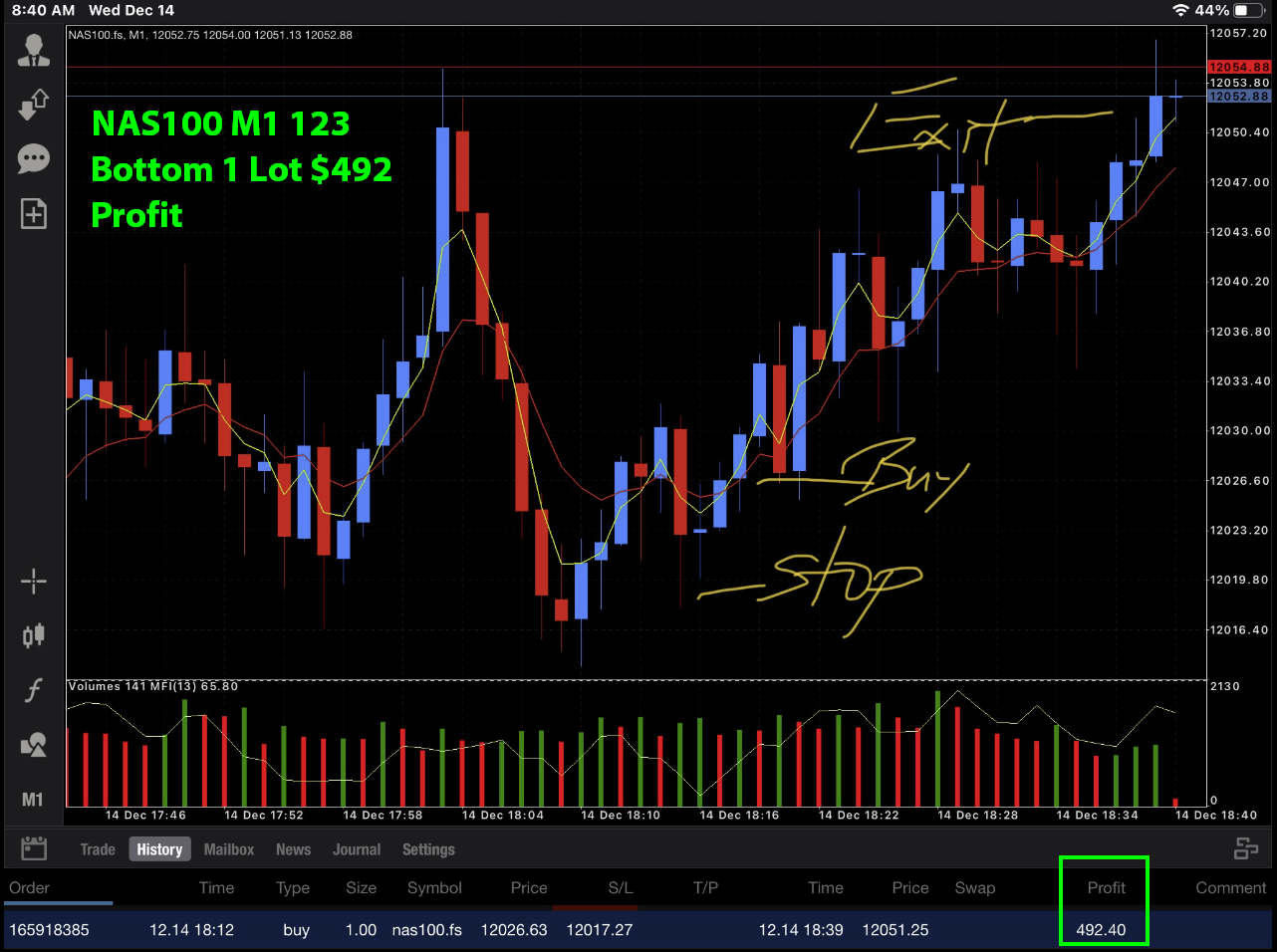 2022-12-13 NAS100 M1 S123 Bottom 1 Lot
+$1,050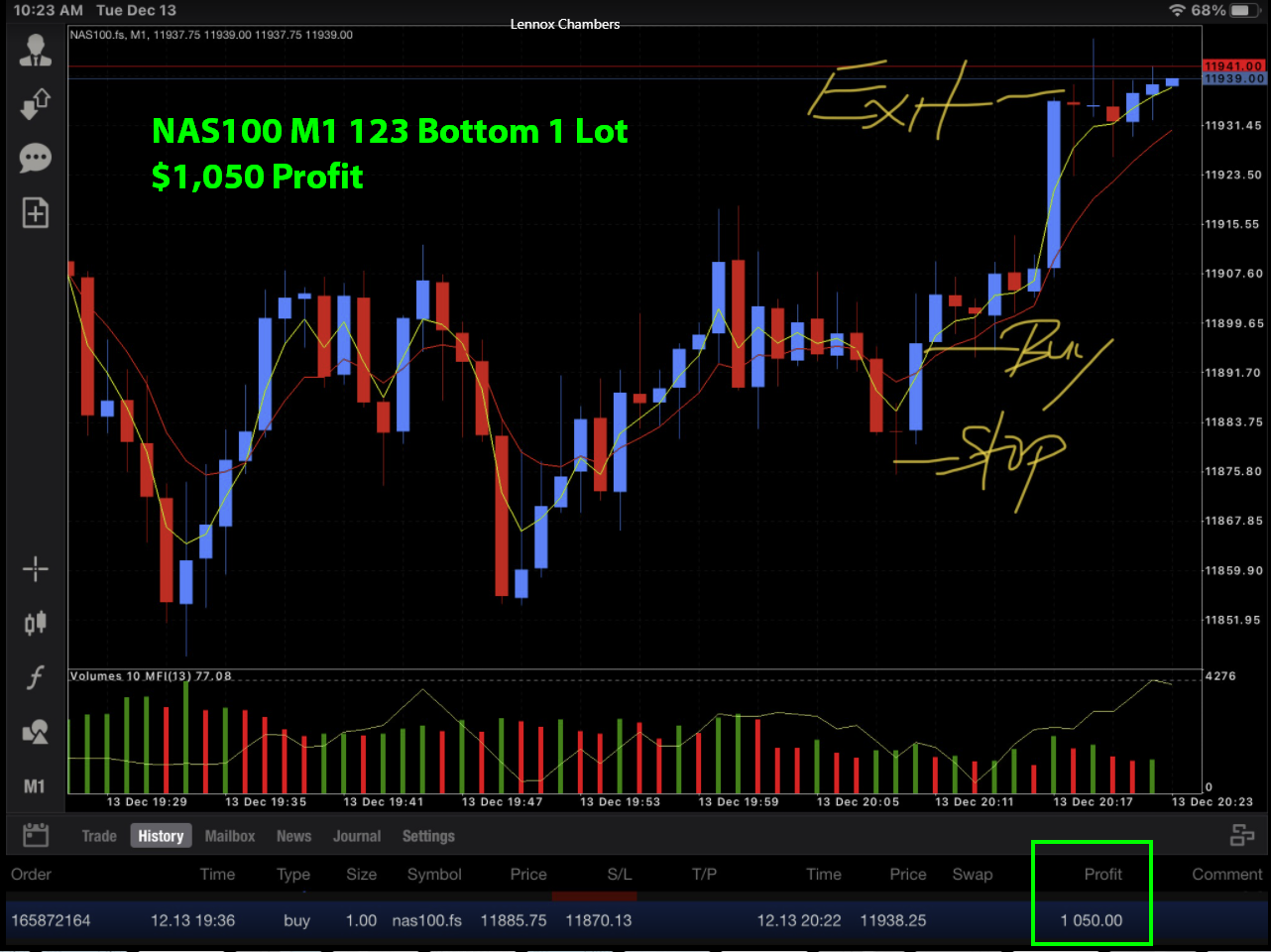 2022-12-12 NAS100 M1 S123 Bottom 1 Lot
+$1,045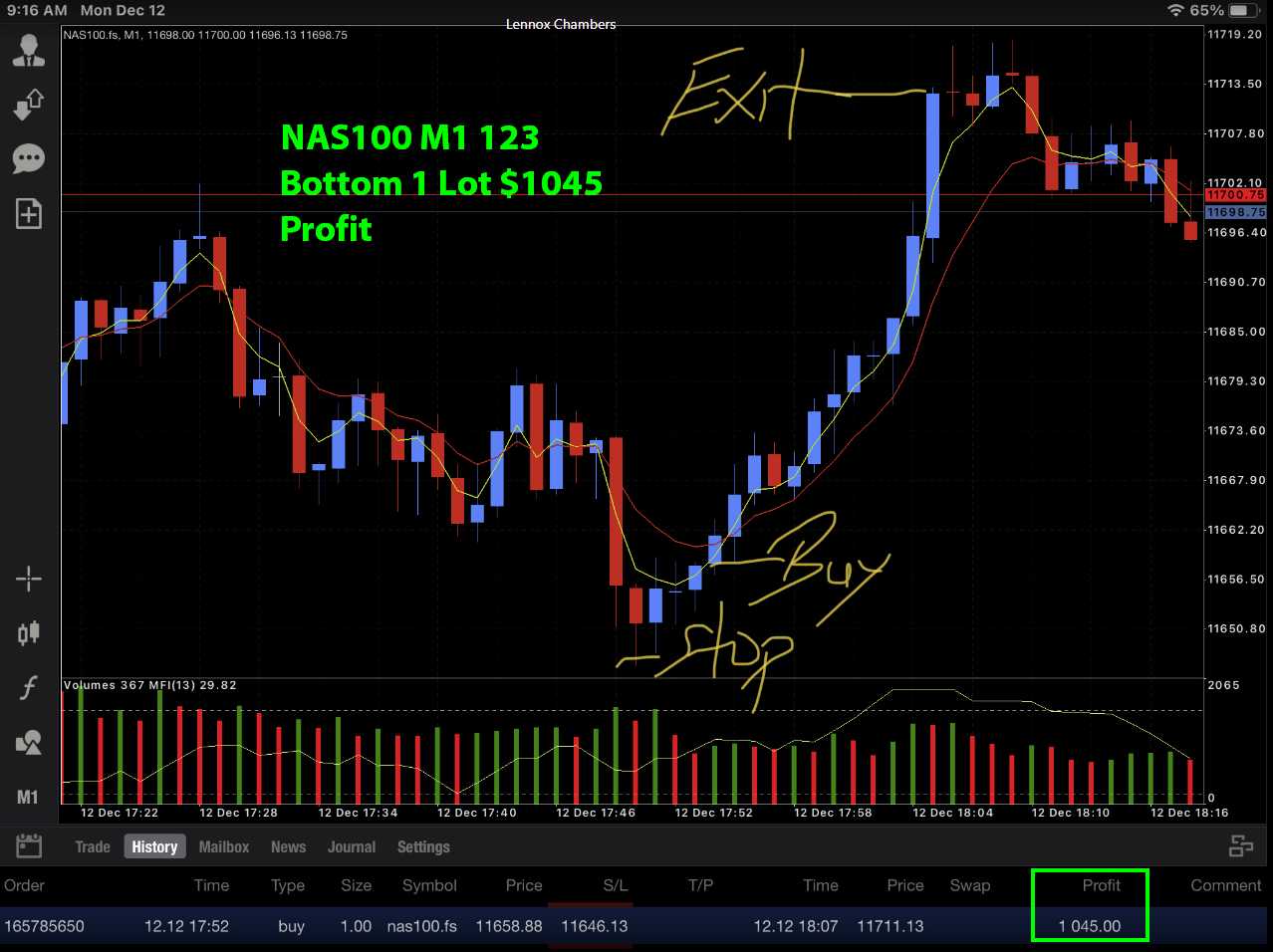 2022-12-09 NAS100 M1 S123 Bottom 1 Lot
+$1,062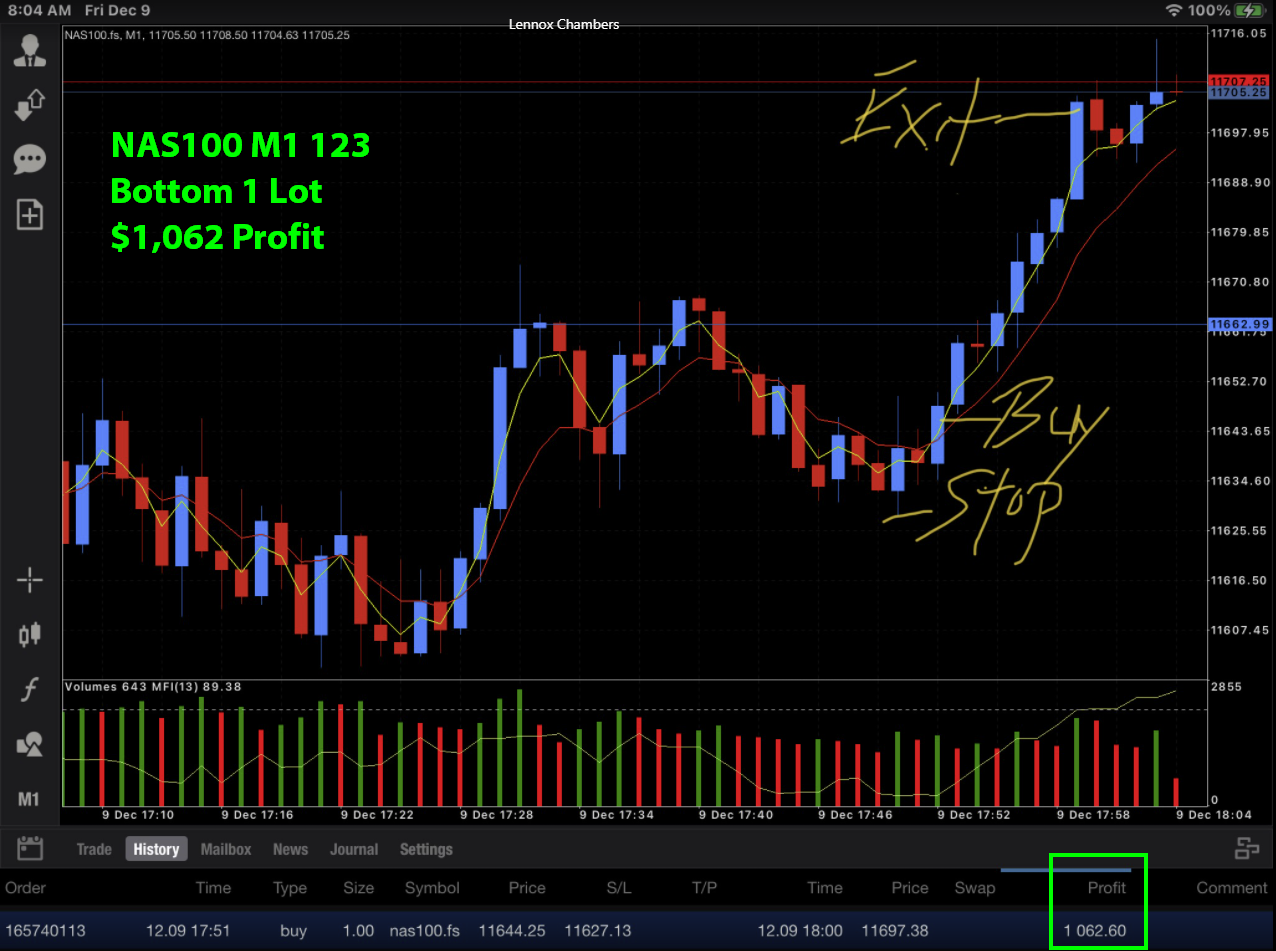 2022-12-08 NAS100 M1 S123 Bottom 1 Lot
+$1,250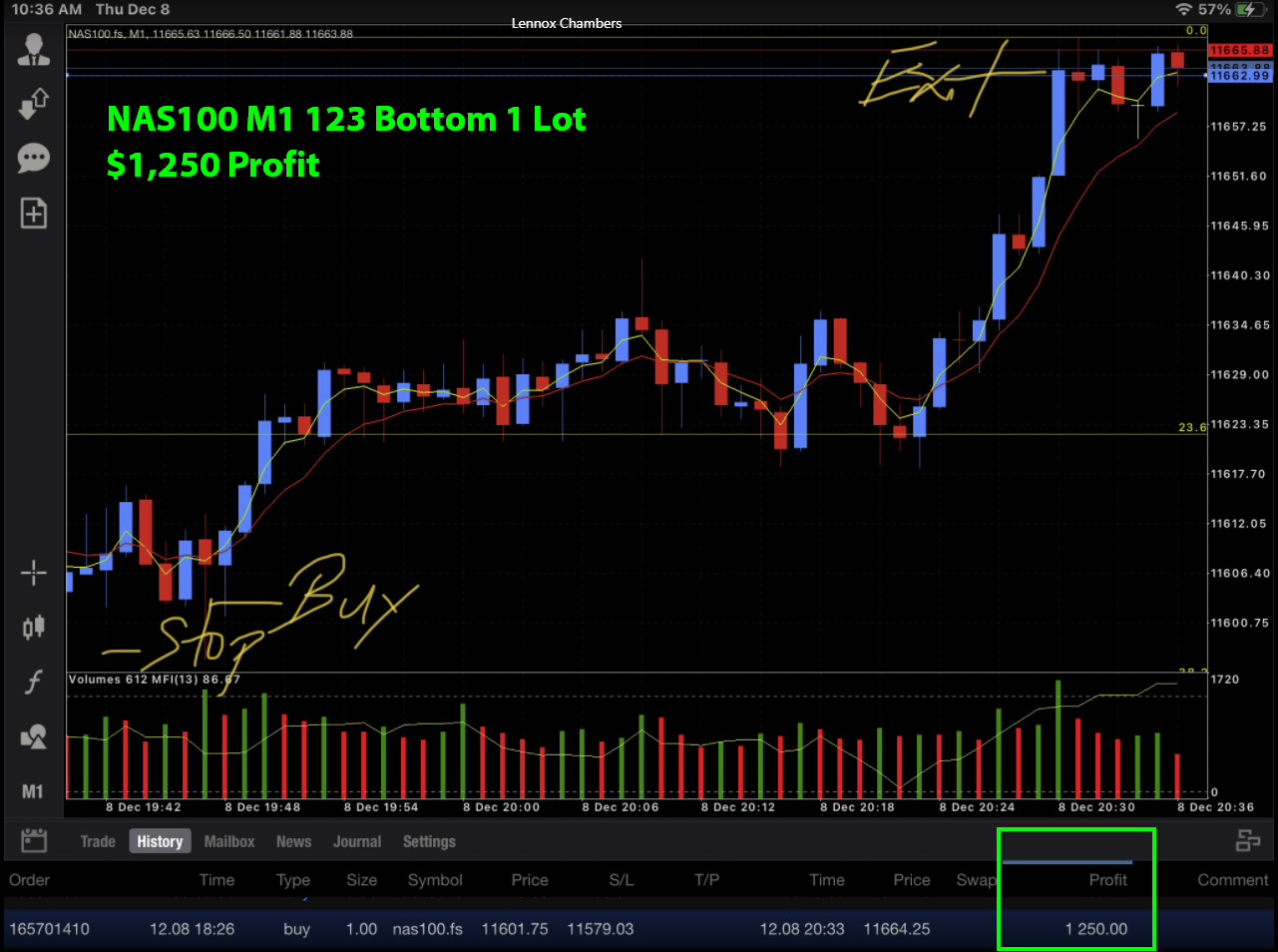 2022-11-30 NAS100 M1 S123 Top 2 Lot
+$1,182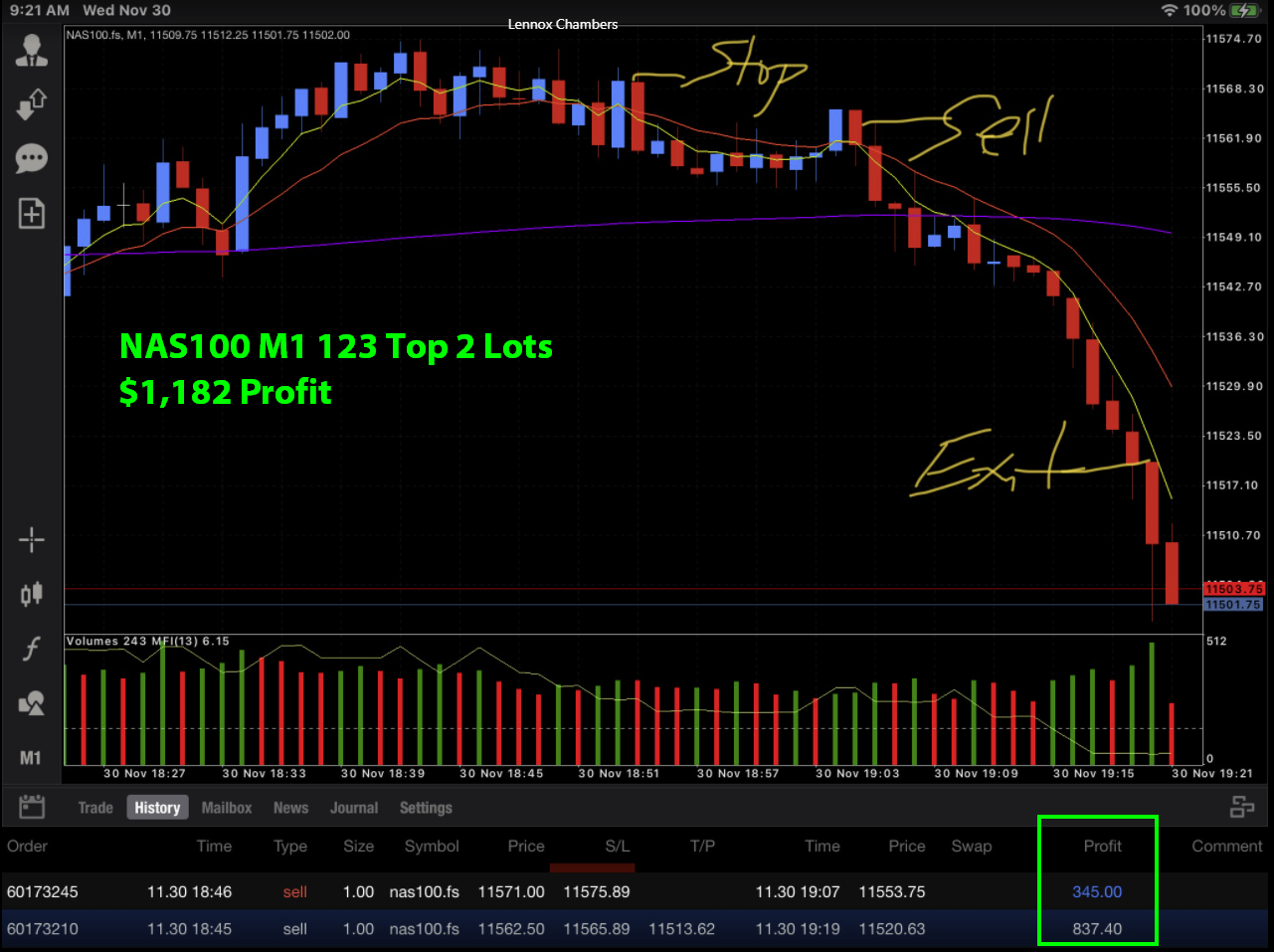 2022-11-28 NAS100 M1 S123 Bottom 1 Lot
+$600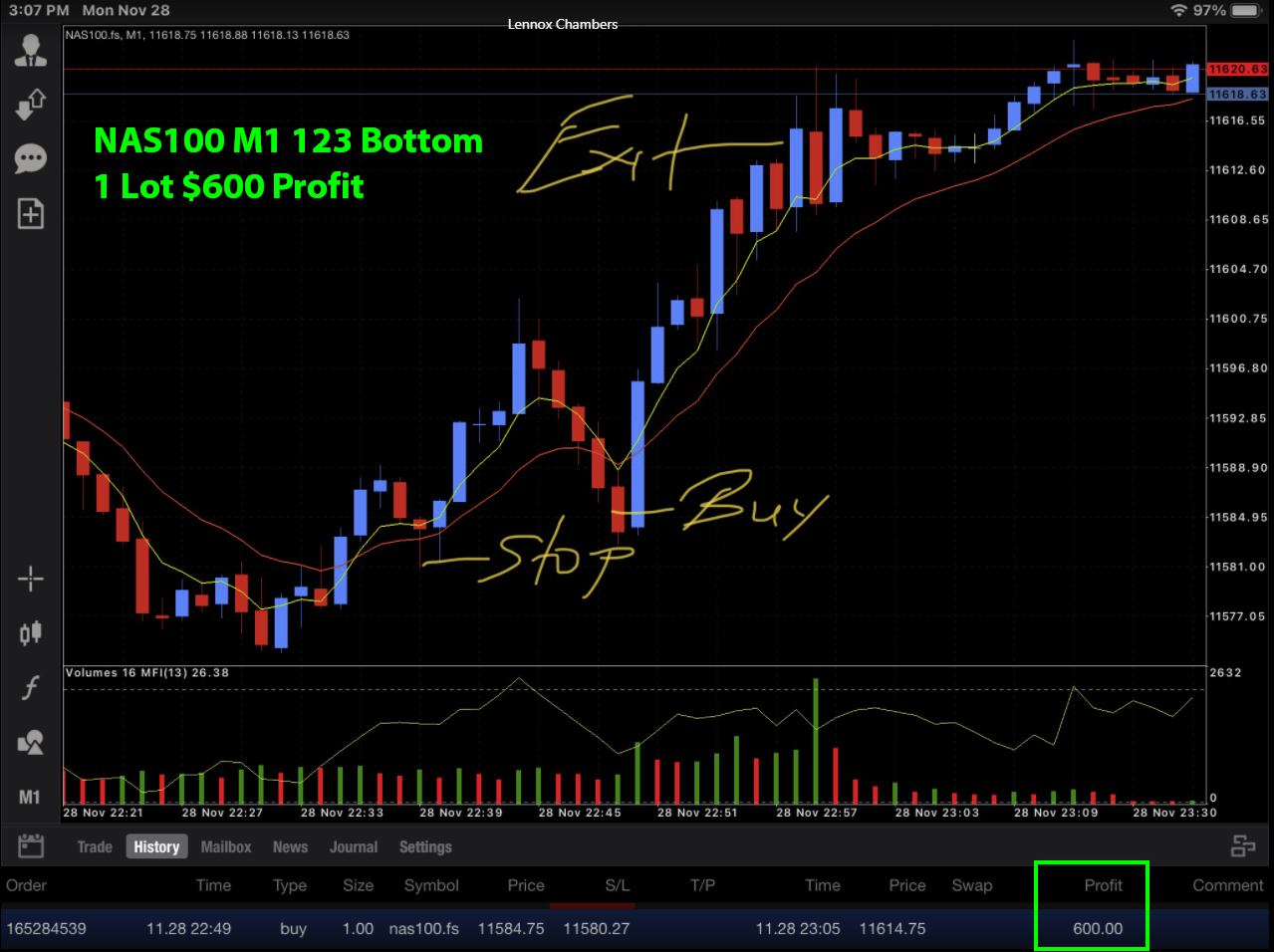 2022-11-23 NAS100 M1 S123 Bottom 1 Lot
+$1,165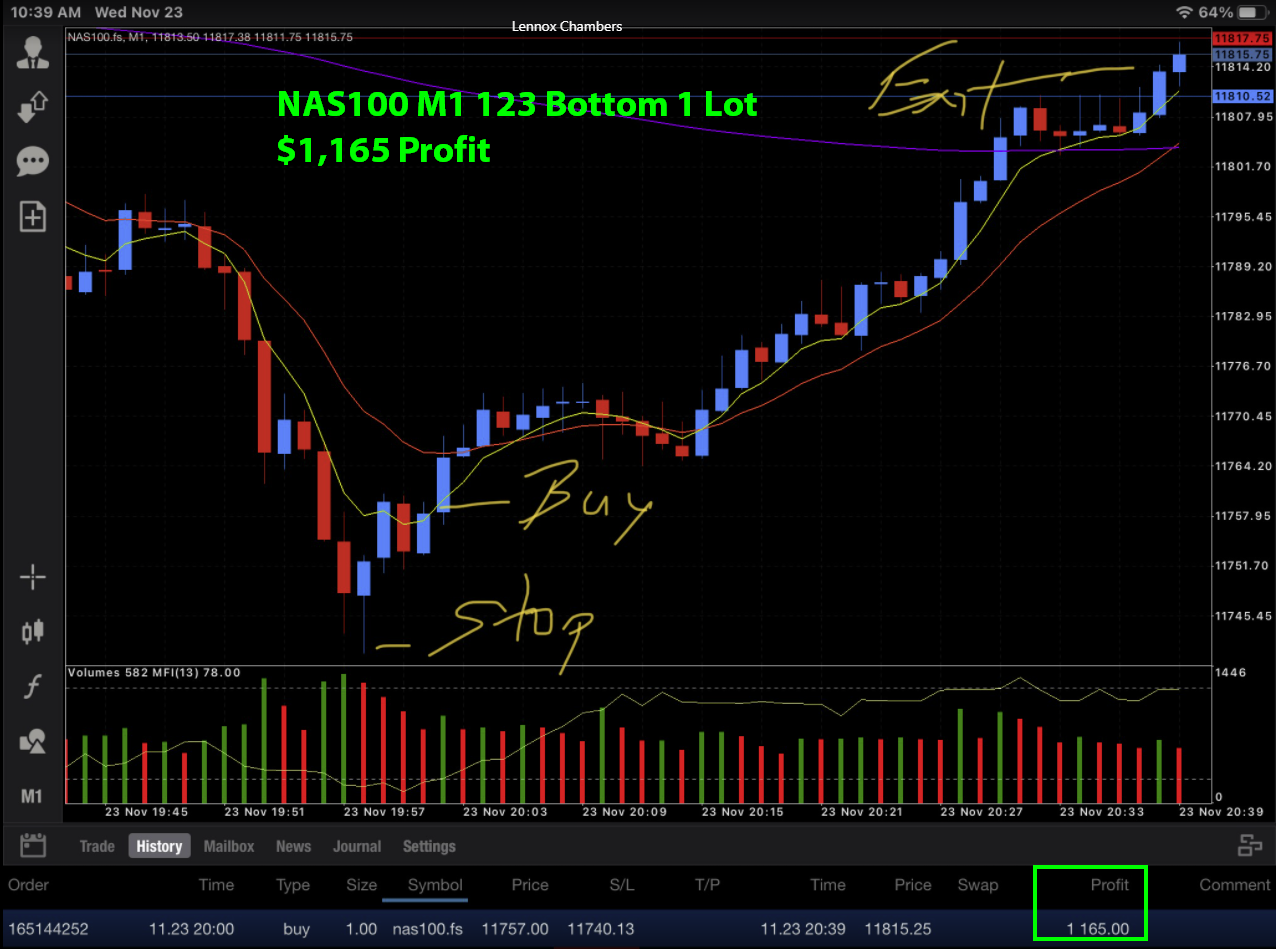 2022-11-22 NAS100 M5 S123 Bottom 1 Lot
+$1,205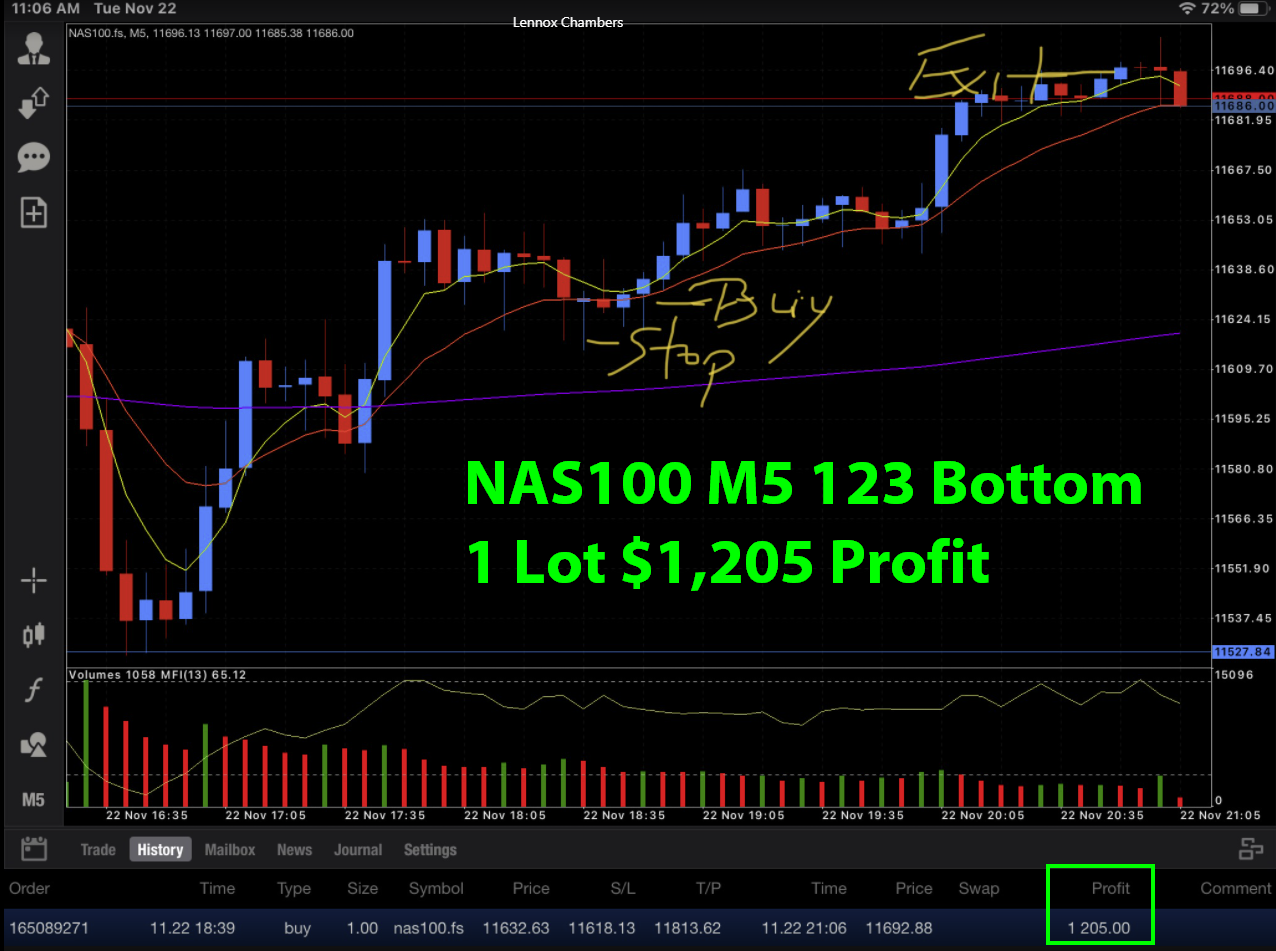 2022-11-22 NAS100 M5 S123 Bottom 1 Lot
+$1,035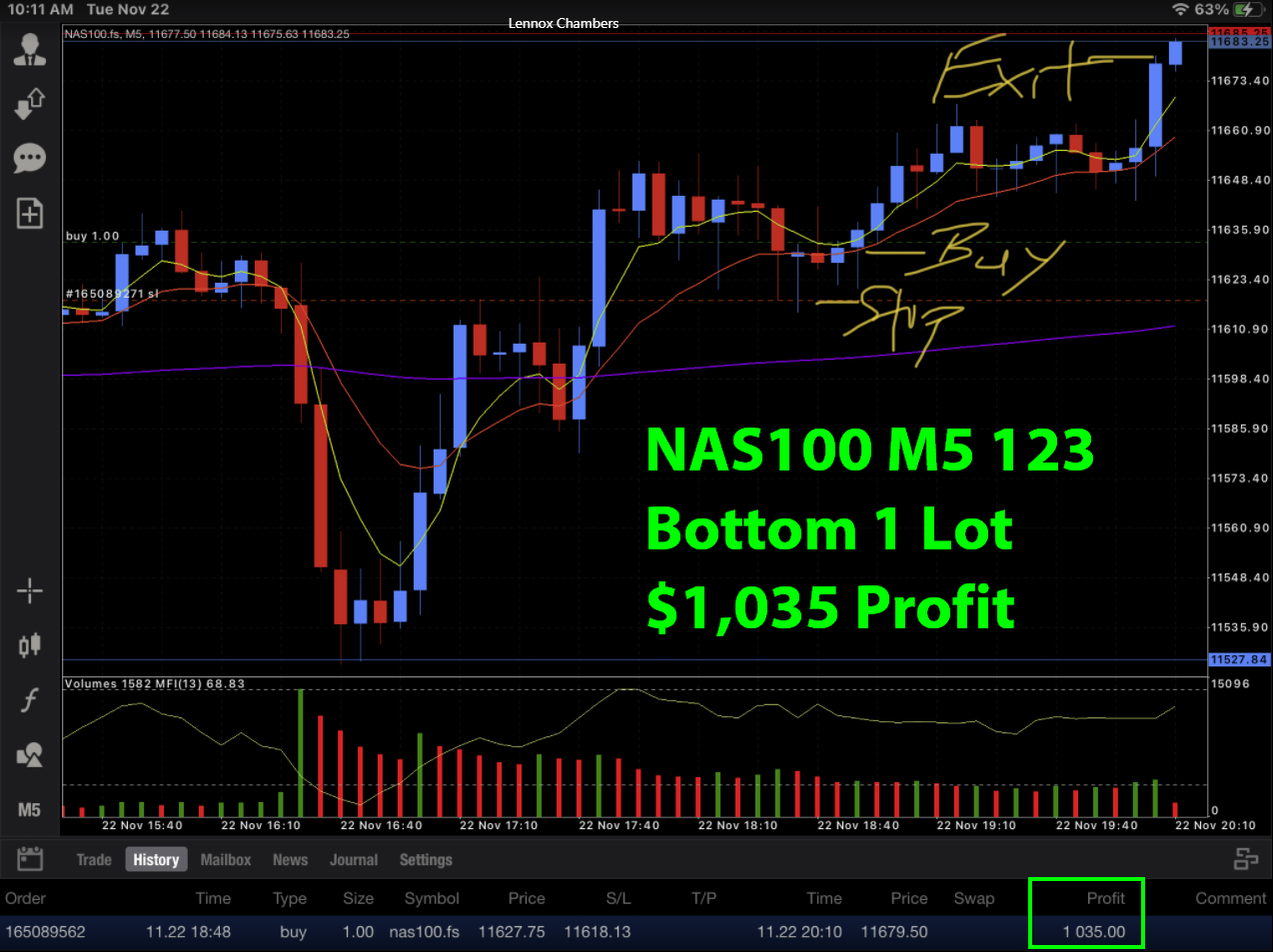 2022-11-22 NAS100 4wins 4losses
+$2,330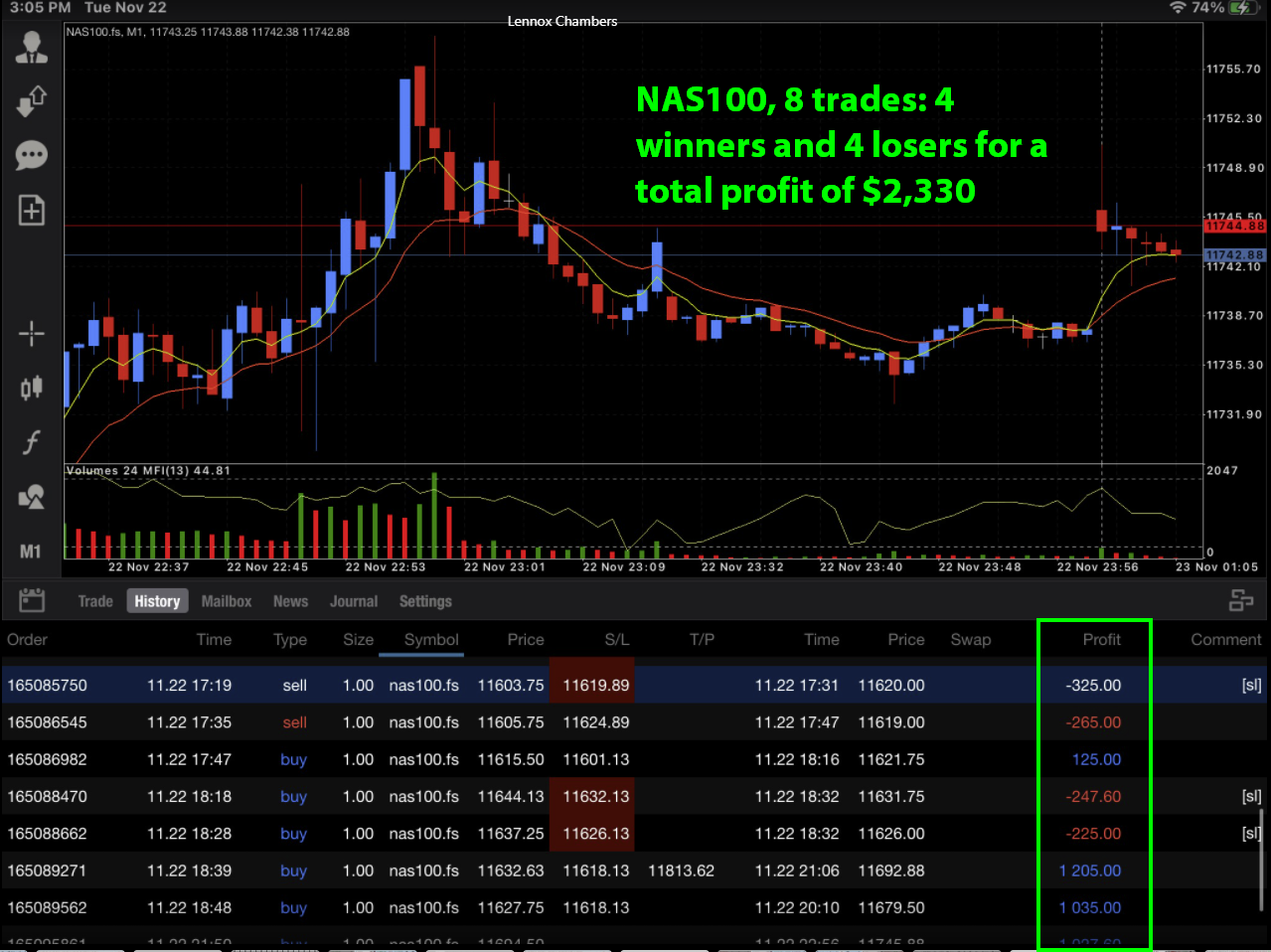 2022-11-21 NAS100 M5 S123 Top 1 Lot
+$1,242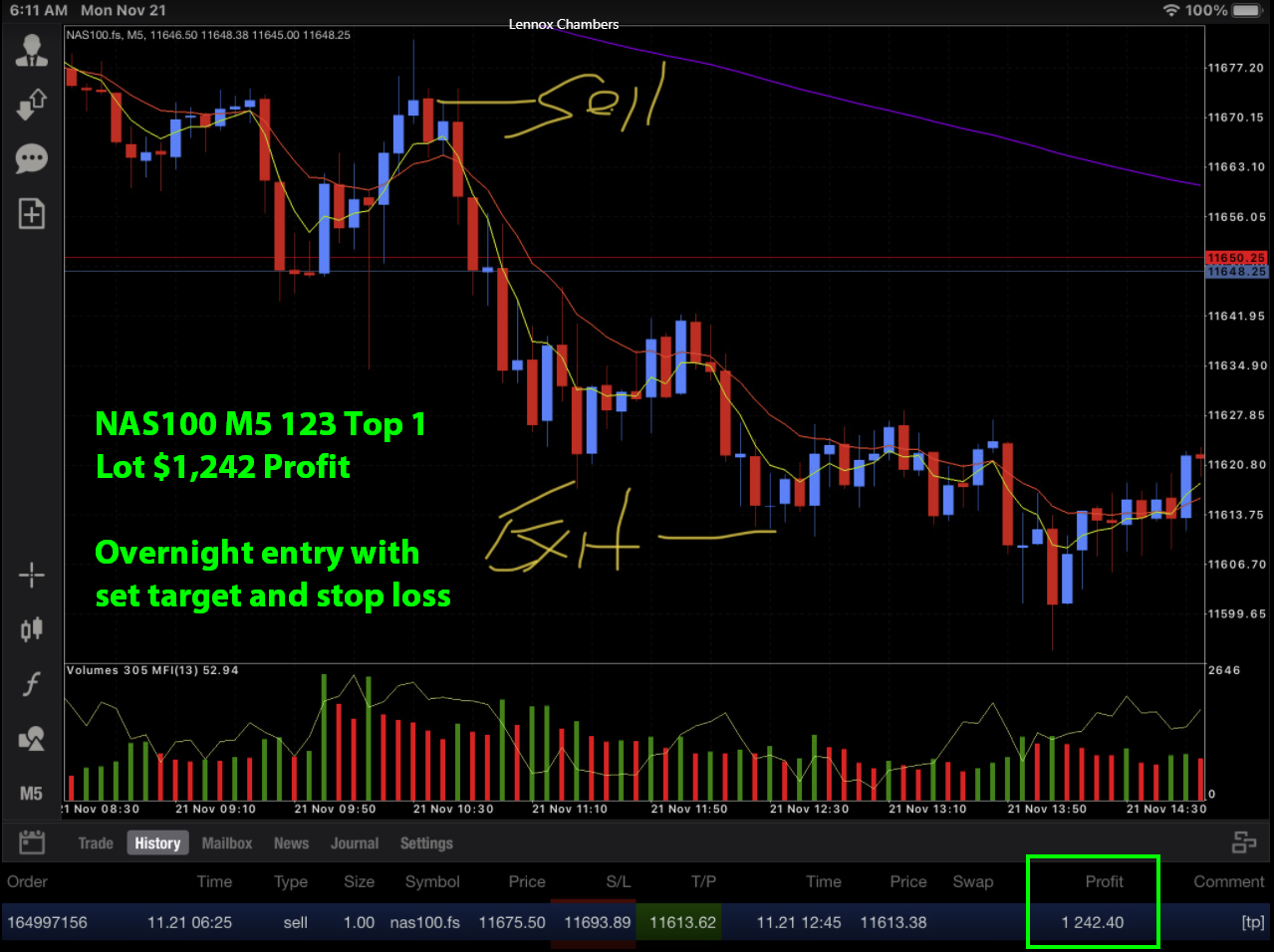 2022-11-21 NAS100 M1 S123 Top 1 Lot
+$955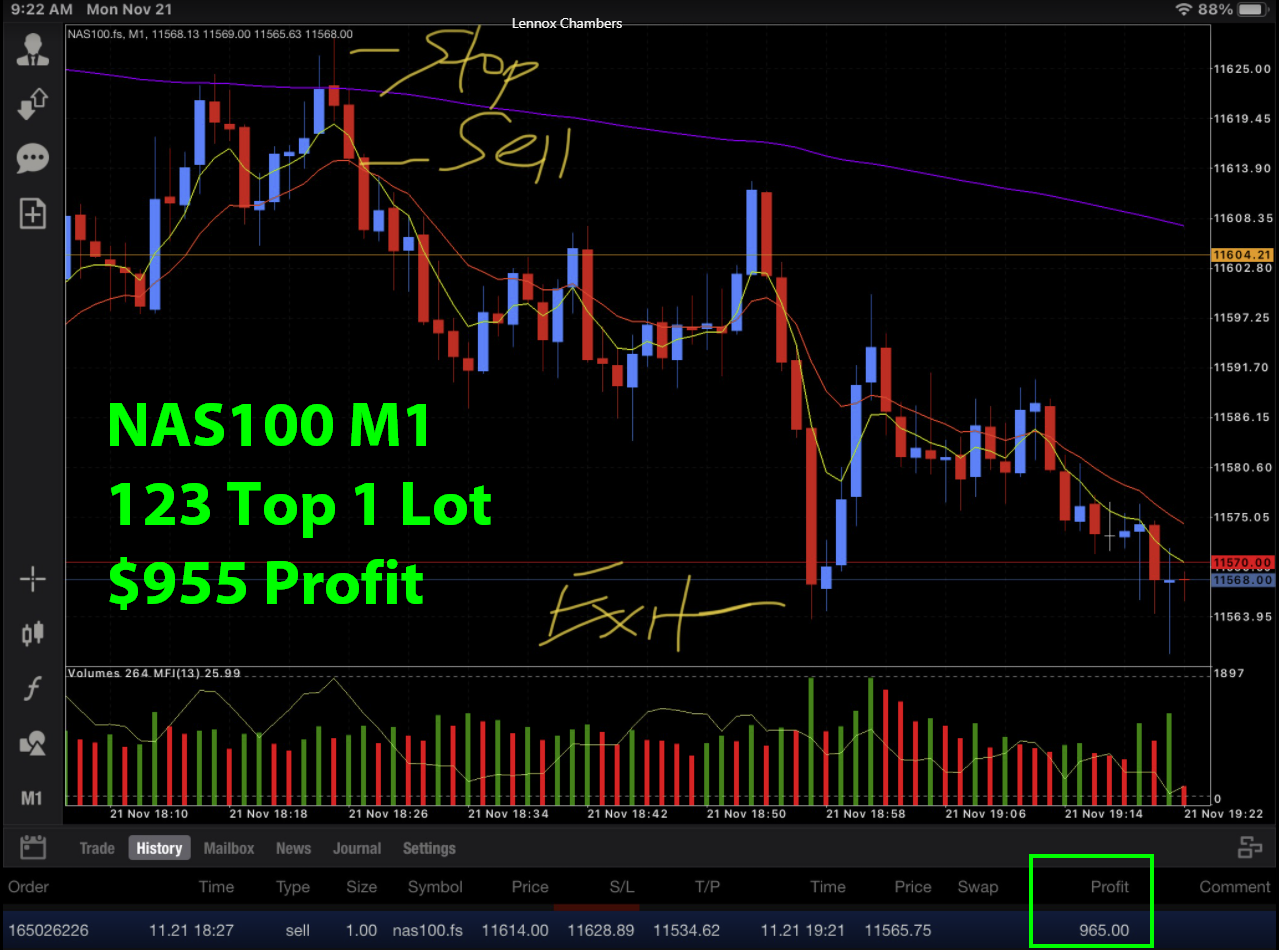 2022-11-17 SP500 M1 S123 Bottom 1 Lot
+$1,055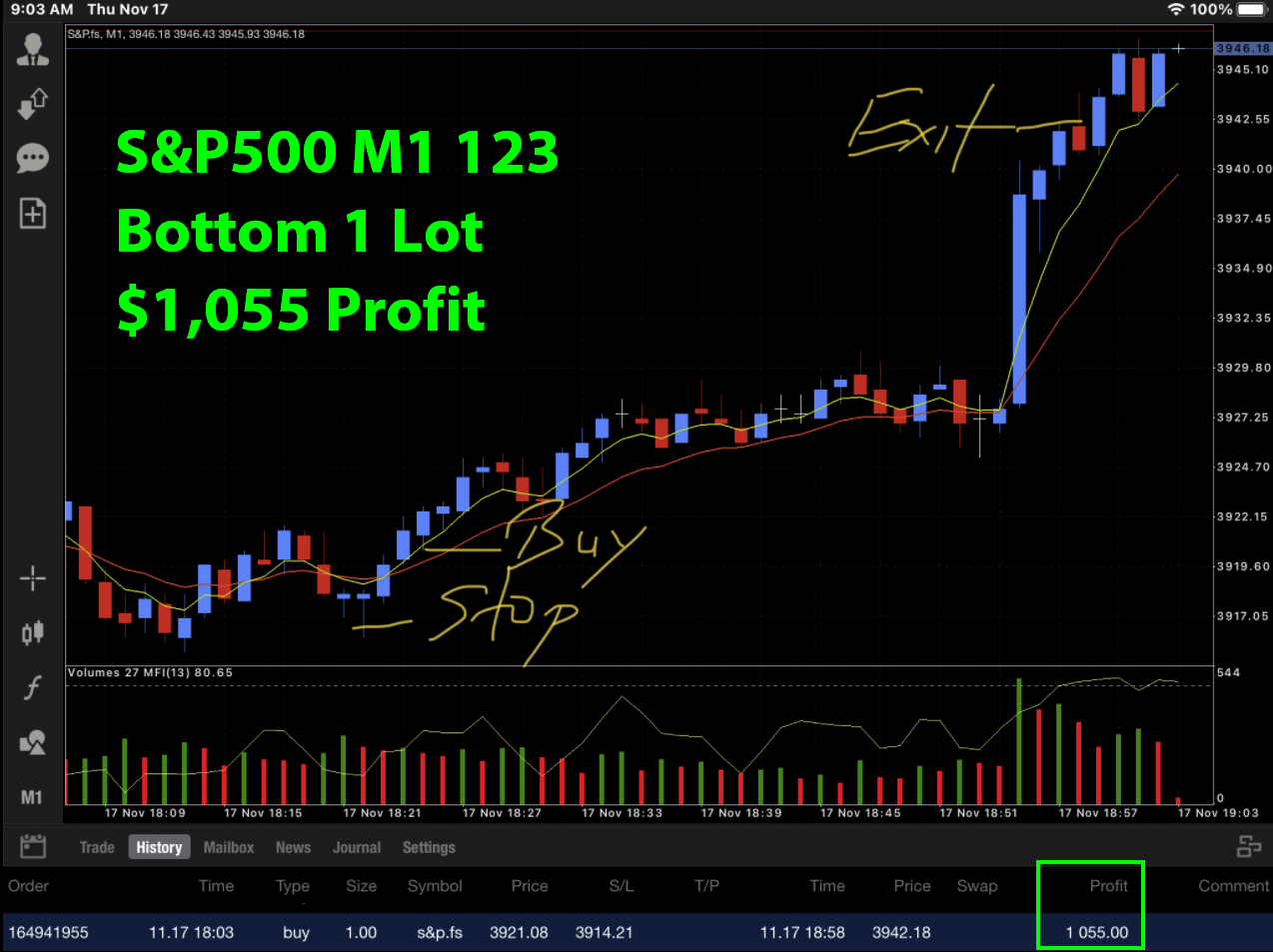 2022-11-17 NAS100 M1 S123 Bottom 1 Lot
+$1,730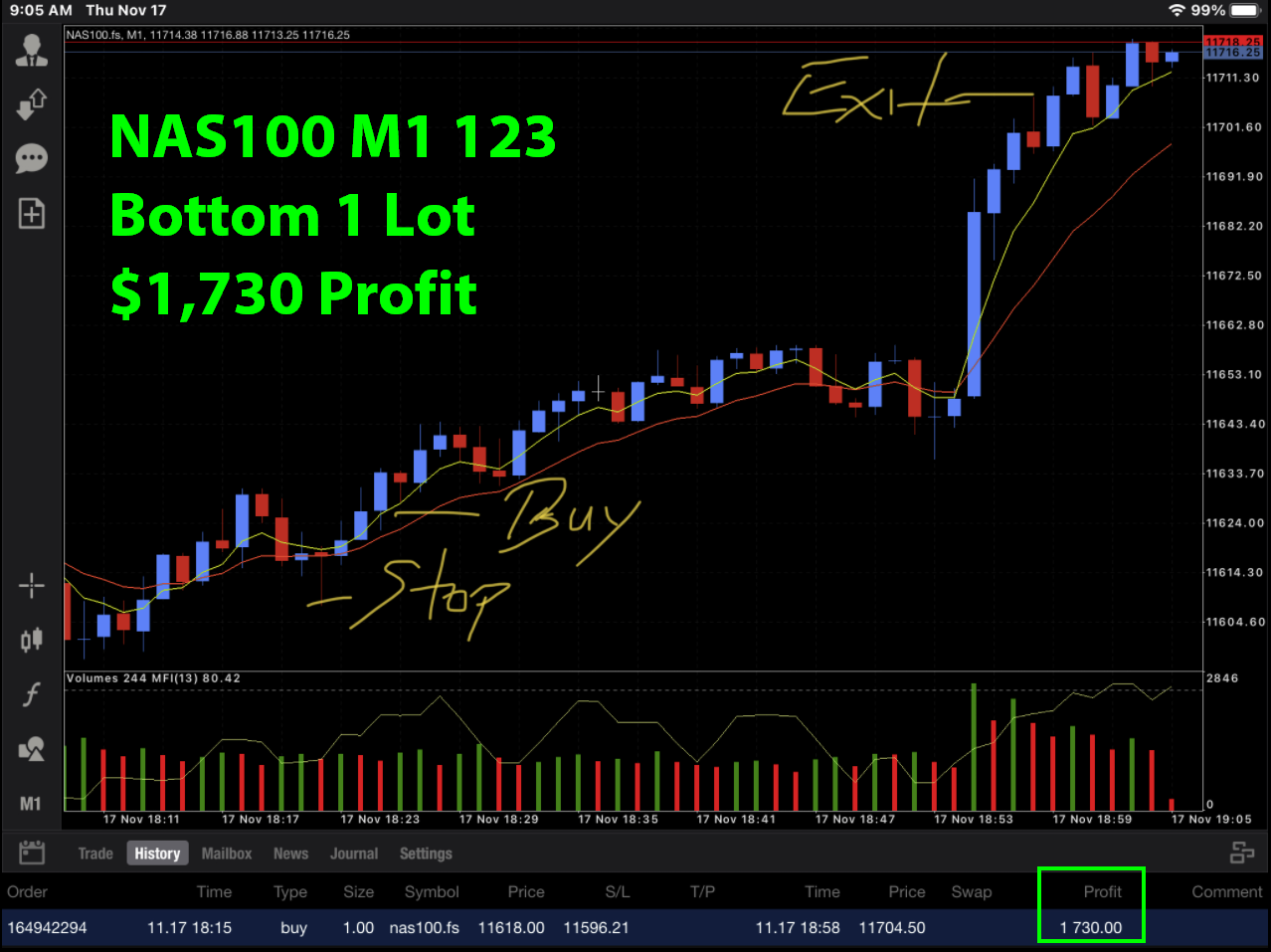 2022-11-16 NAS100 M5 S123 Top 1 Lot
+$1,005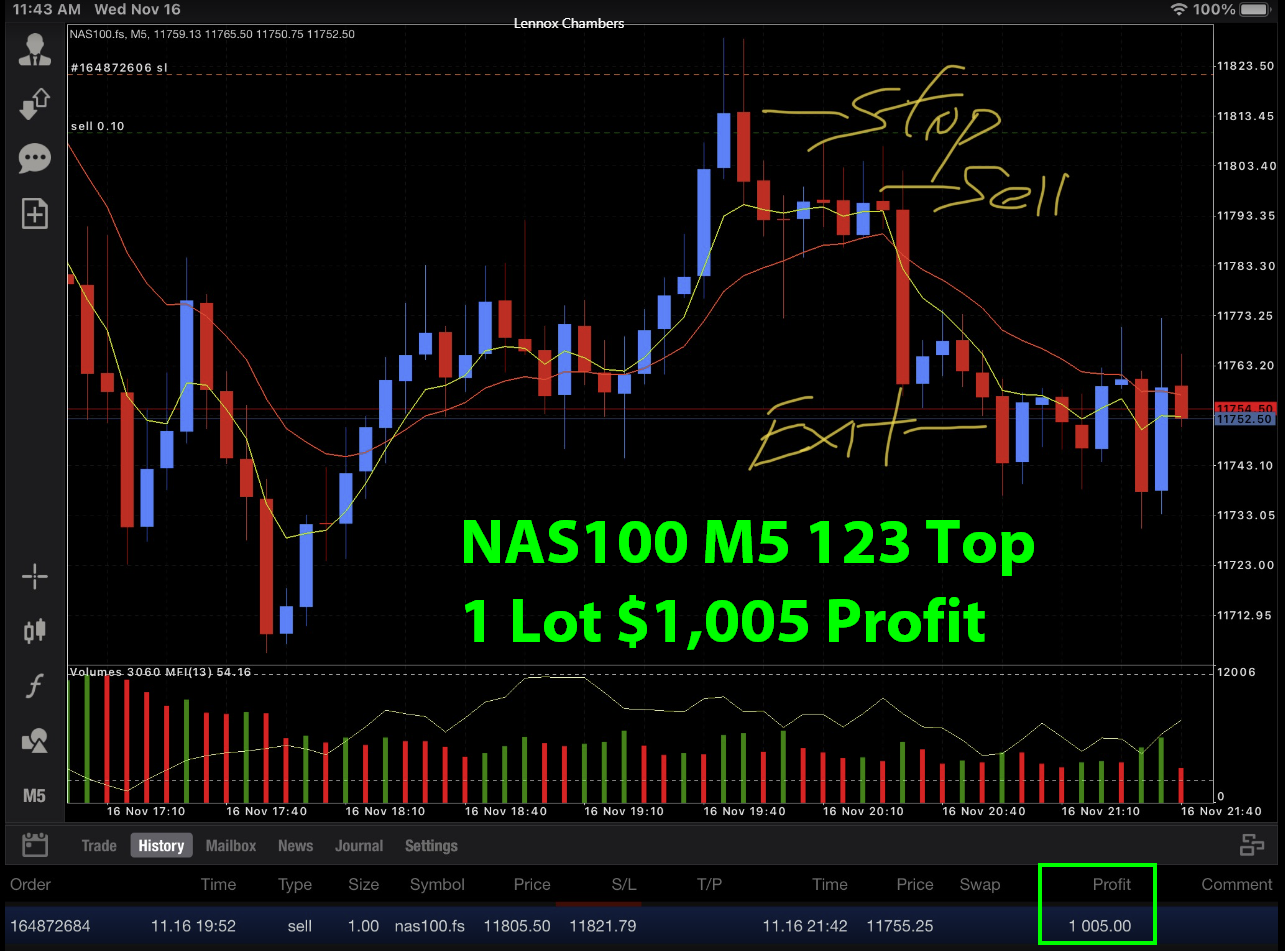 2022-11-15 NAS100 M1 S123 Bottom 1 Lot
+$1,035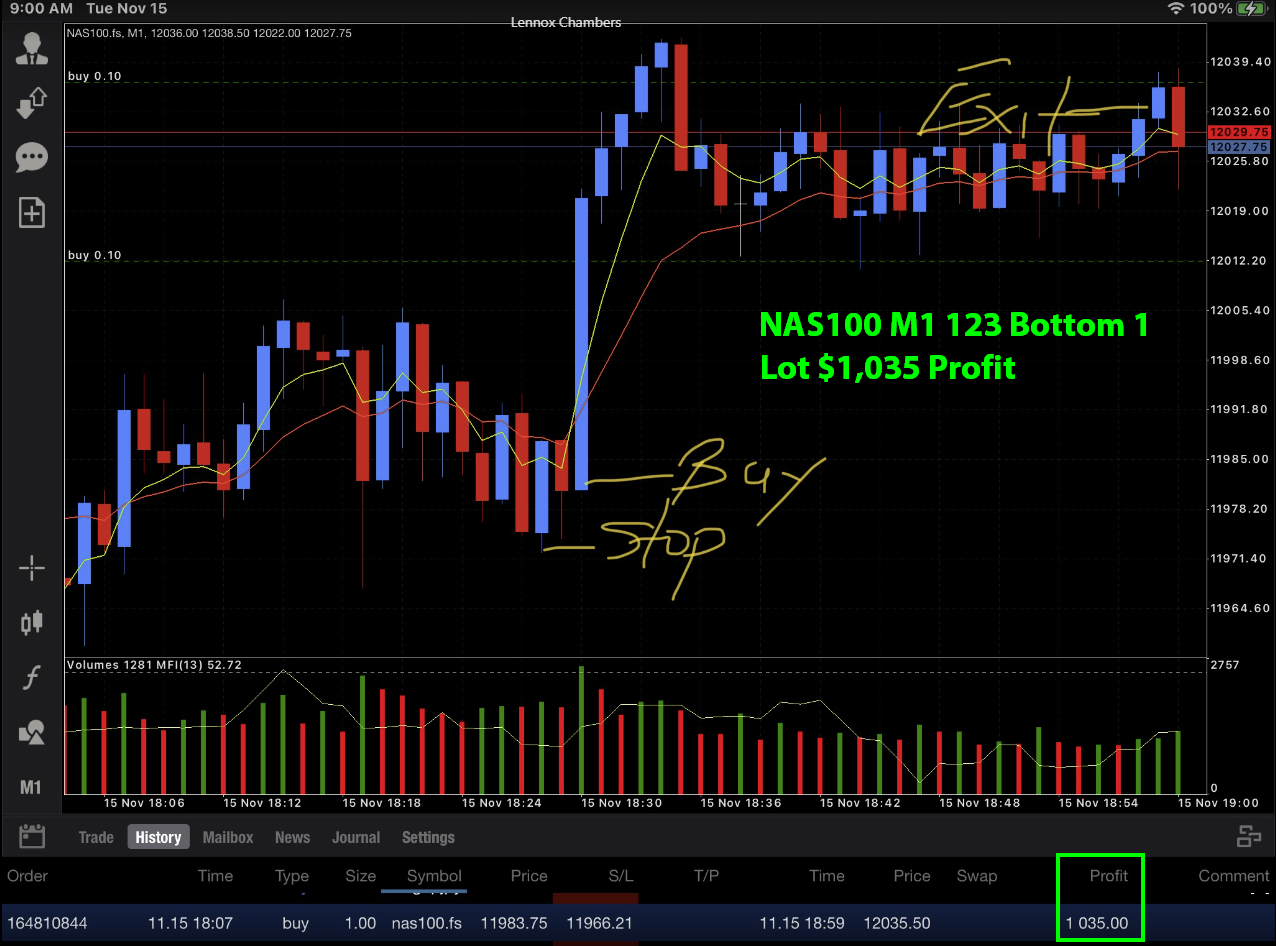 2022-11-14 NAS100 M1 S123 Bottom 1 Lot
+$1,030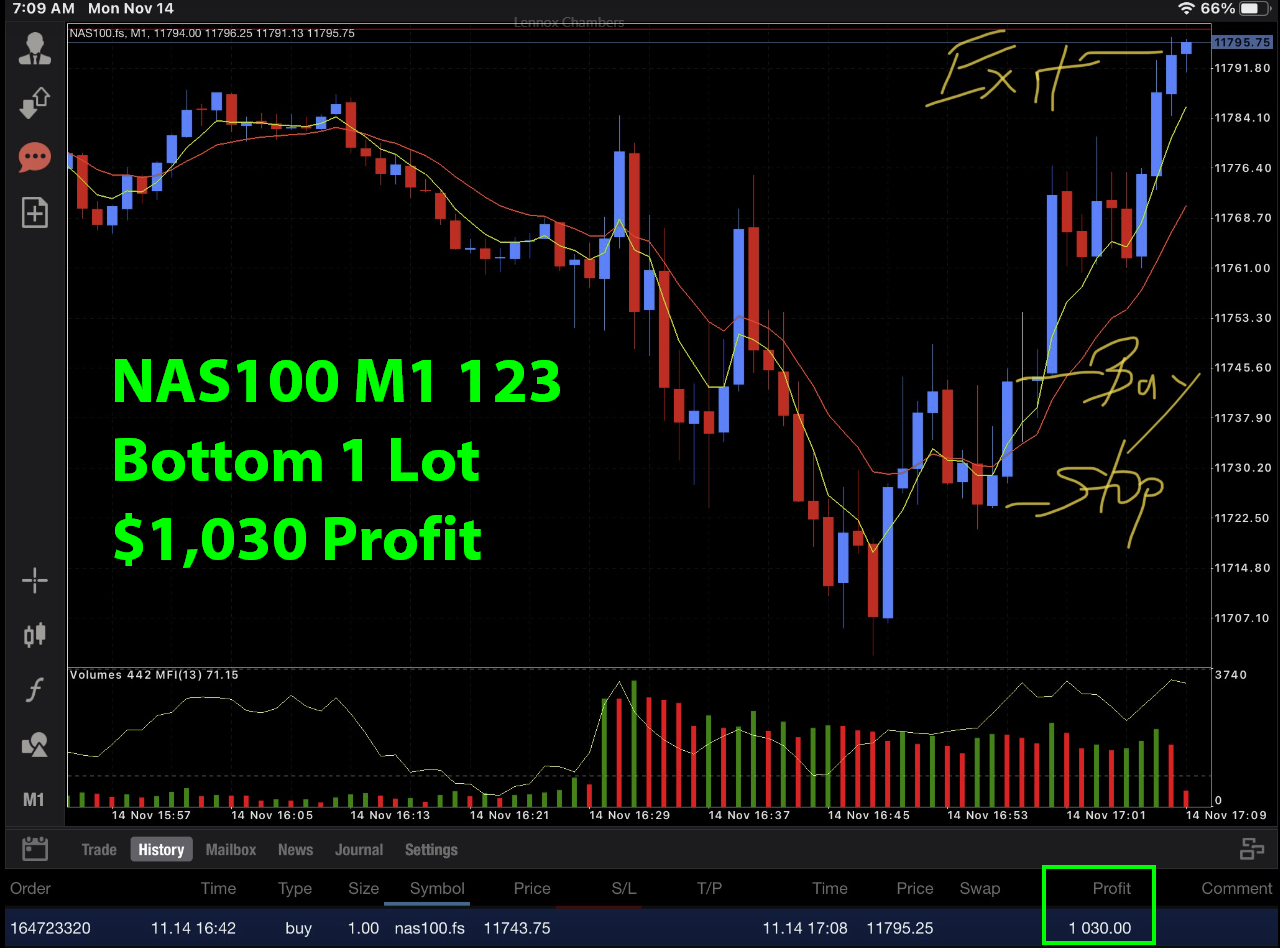 2022-11-14 NAS100 M1 S123 Bottom 1 Lot
+$1,015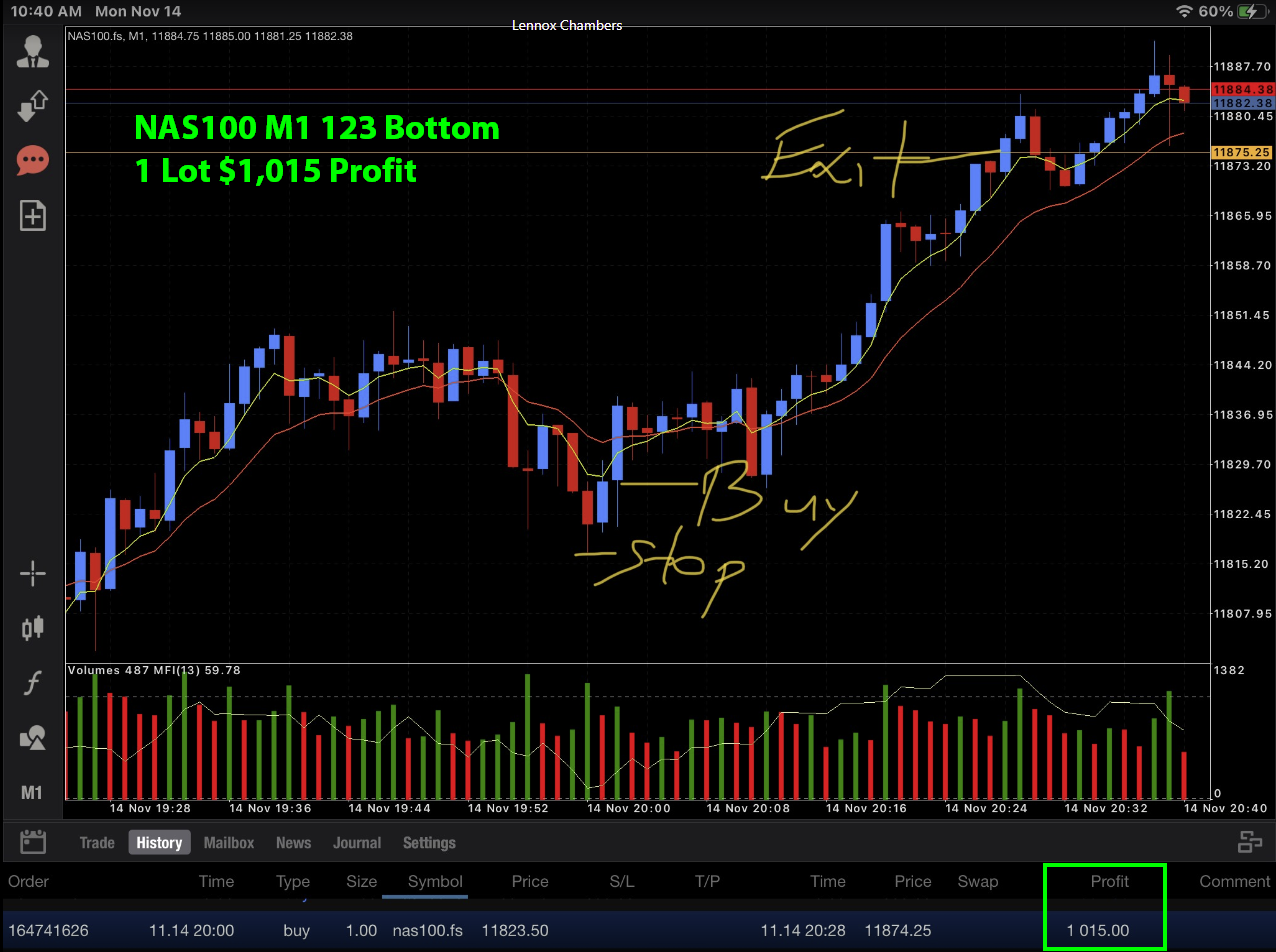 2022-11-11 NAS100 M1 S123 Top 1 Lot
+$1,085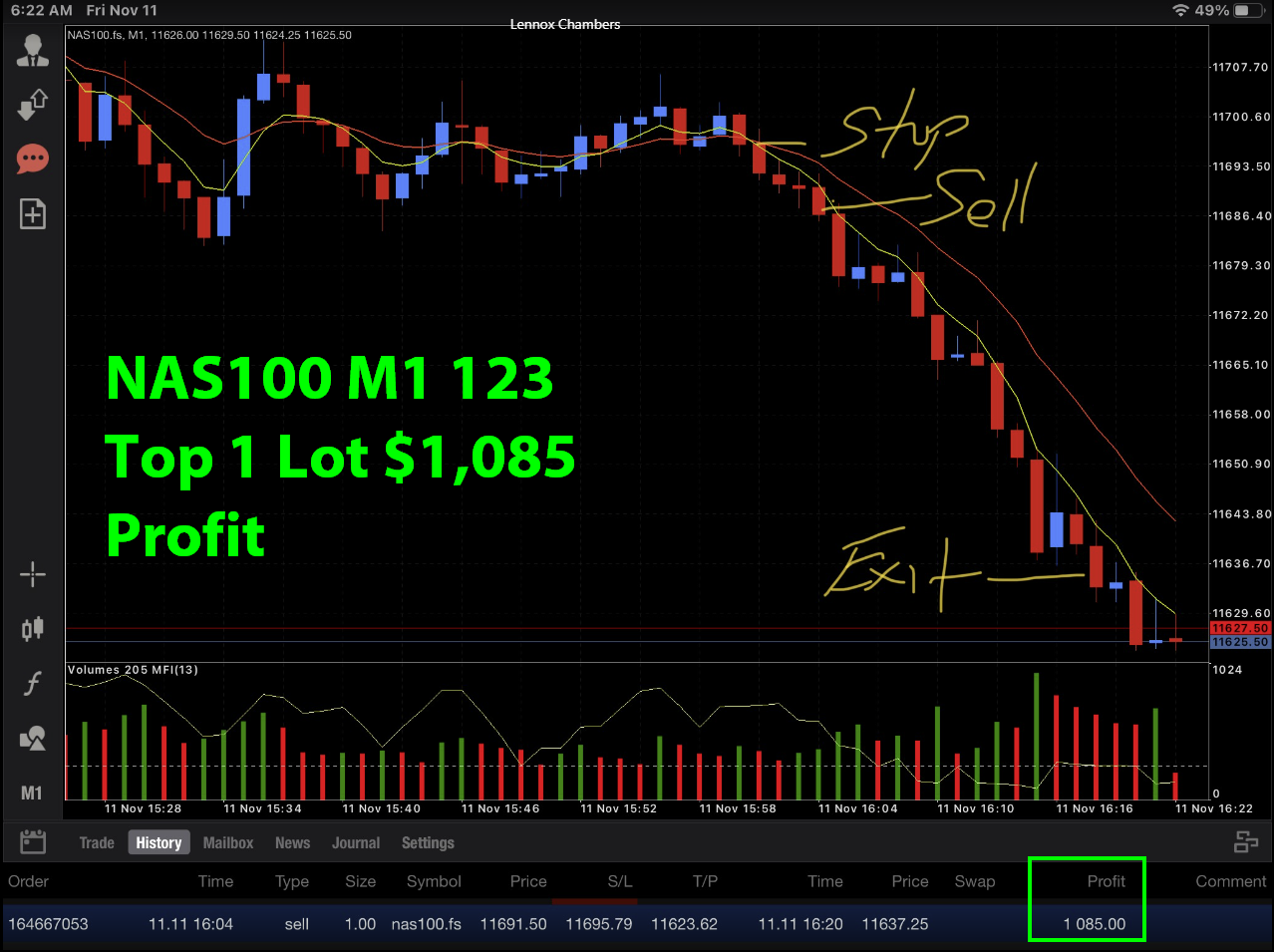 2022-11-11 NAS100 DJ30 SP500 M1 S123 Bottom 3 Lots
+$2,270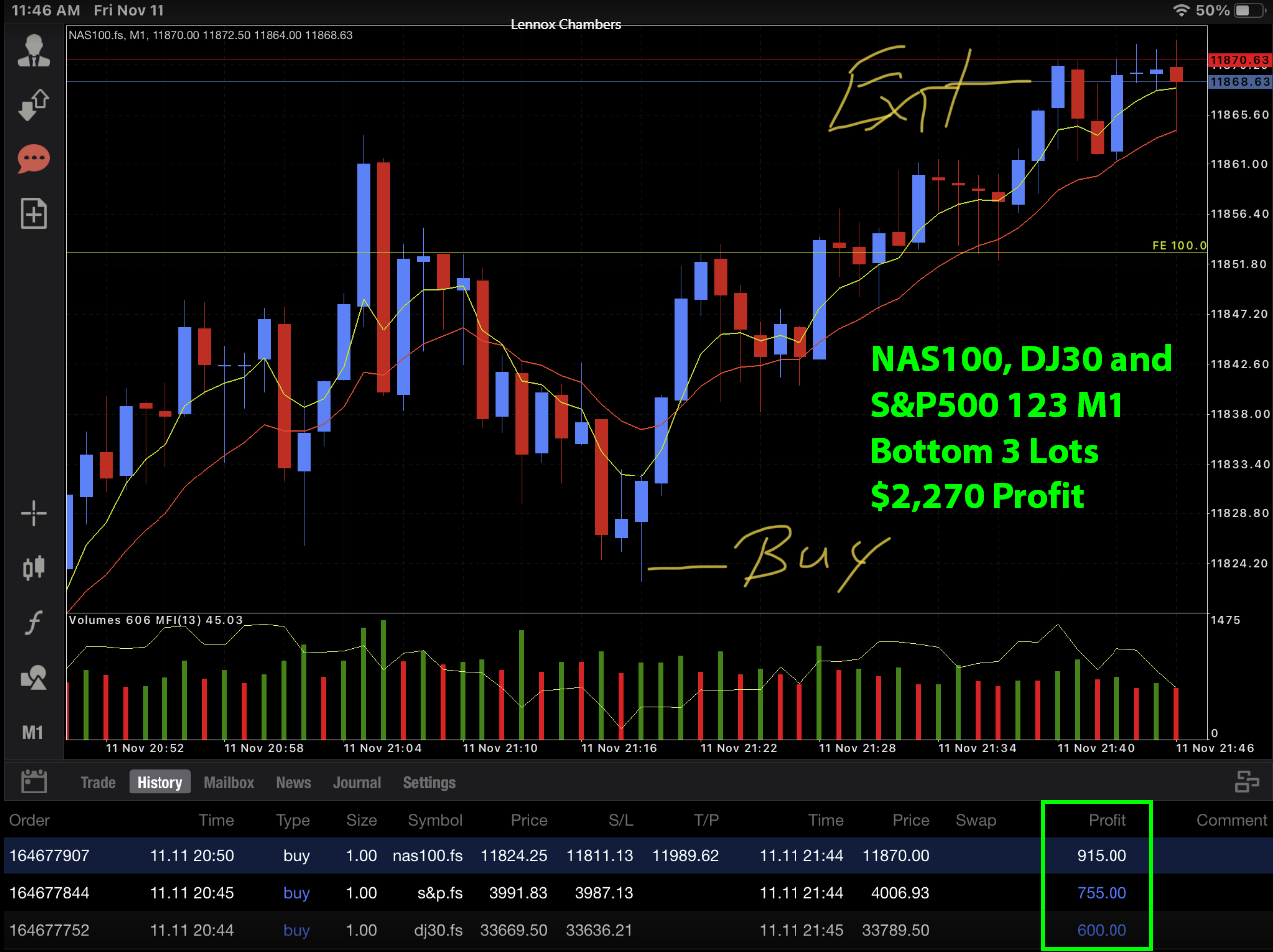 2022-11-10 NAS100 M1 S123 Top 2 Lot
+$1,310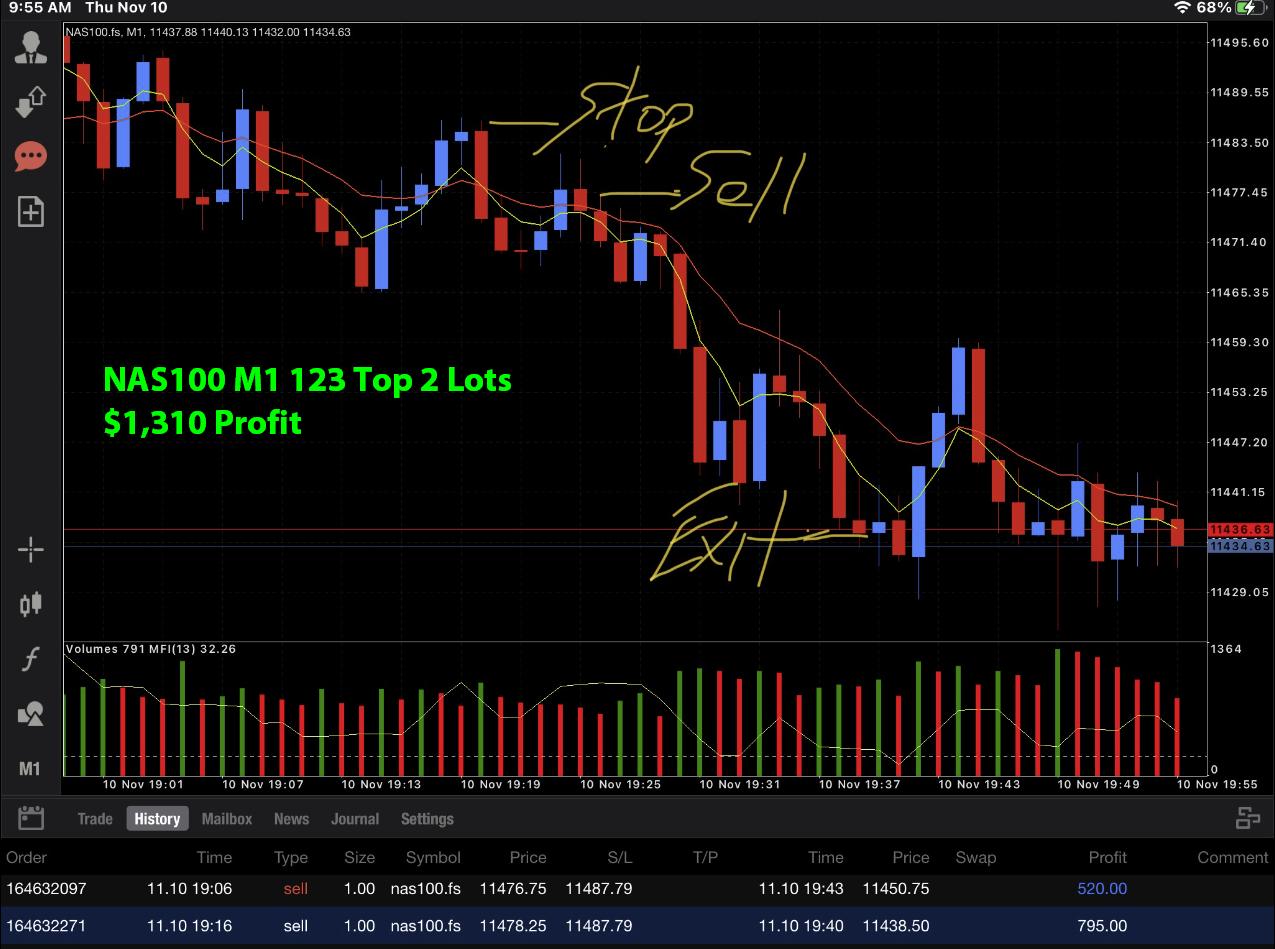 2022-11-09 NAS100 M1 S123 Top 1 Lot
+$1,500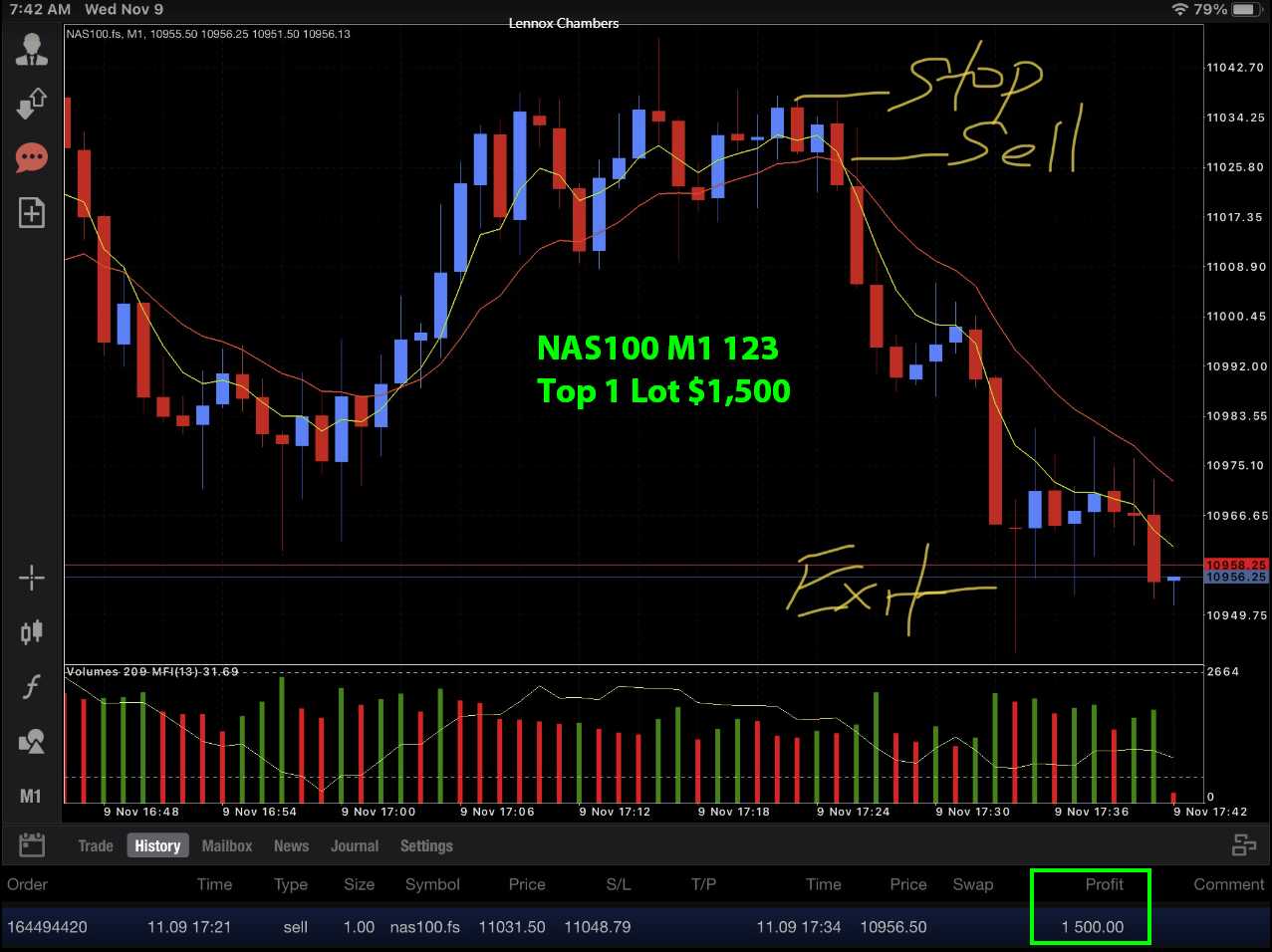 2022-11-09 NAS100 M1 S123 Top 1 Lot
+$1,015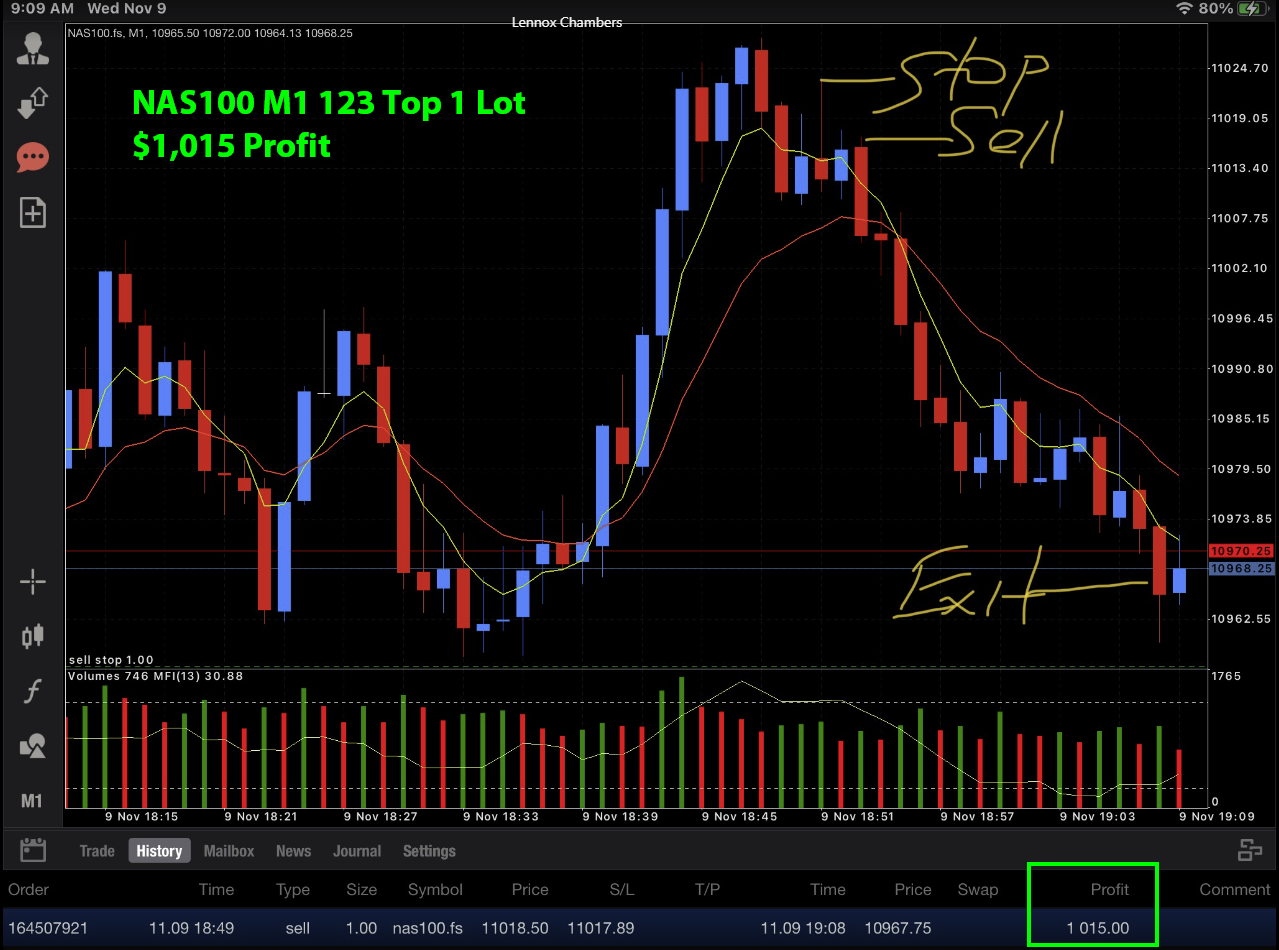 2022-11-08 NAS100 M1 S123 Top 1 Lot
+$1,160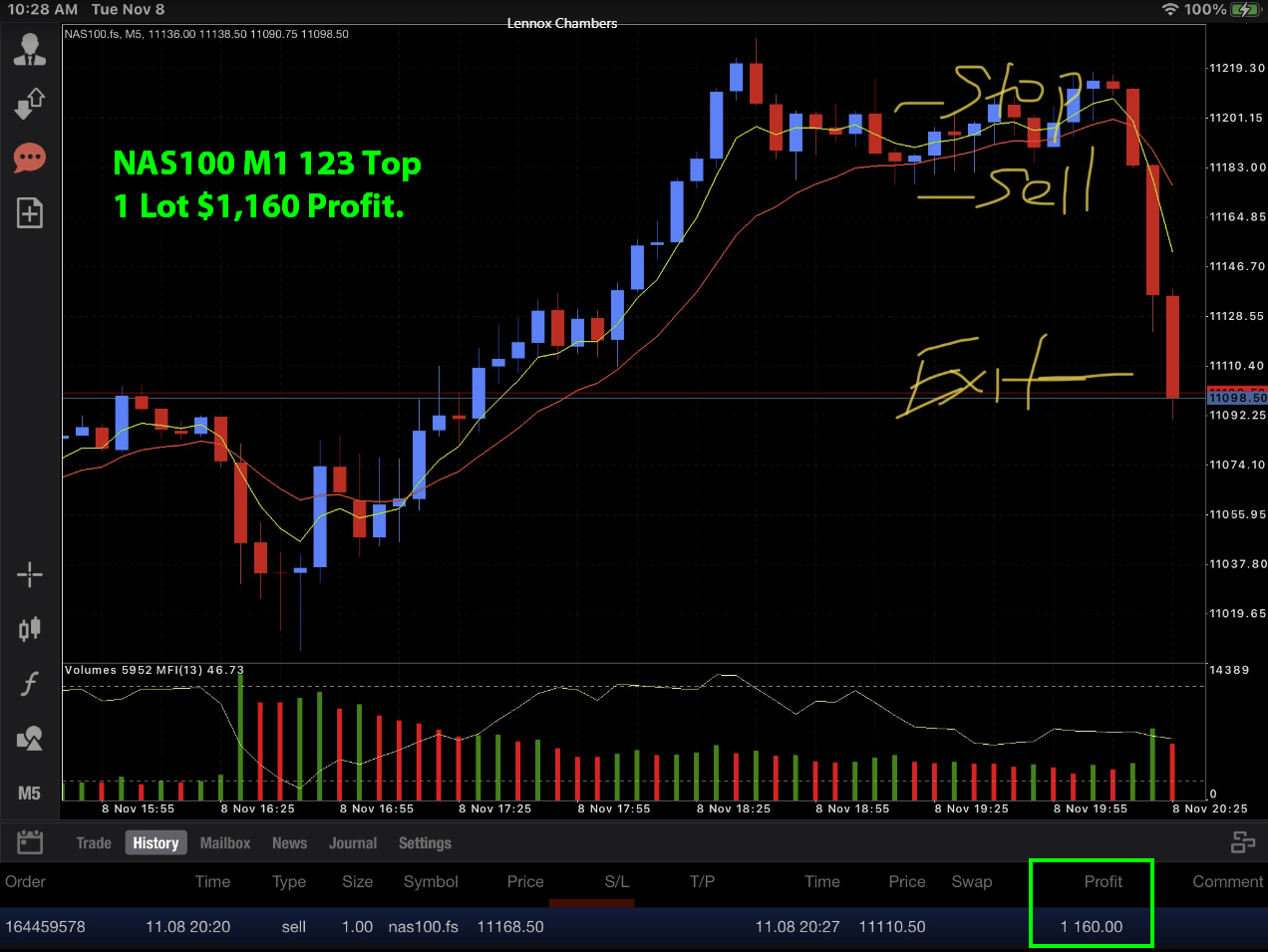 2022-11-08 NAS100 M1 S123 Top 1 Lot
+$1,035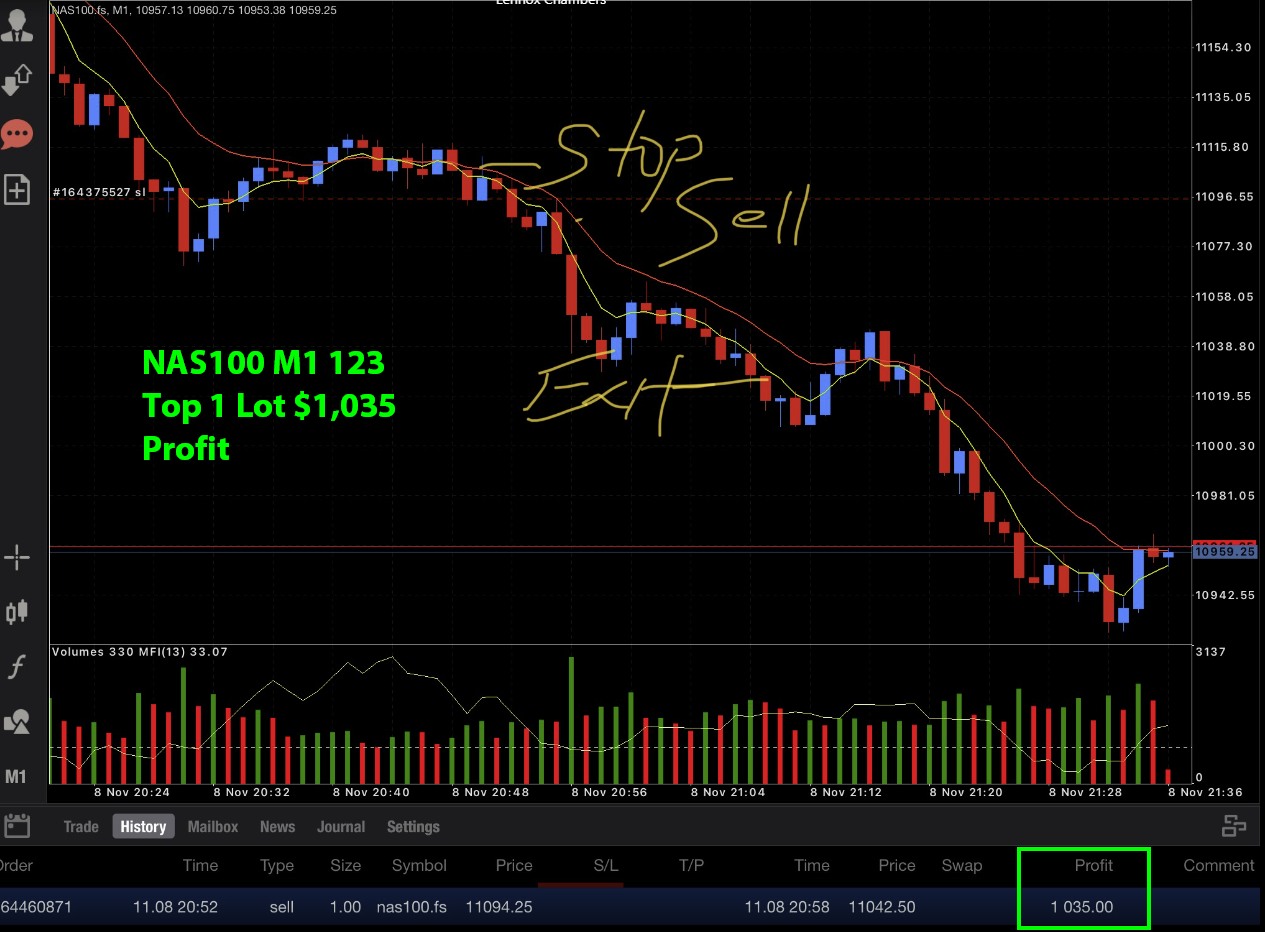 2022-11-03 NAS100 M1 S123 Top 11 Lots
+$11,597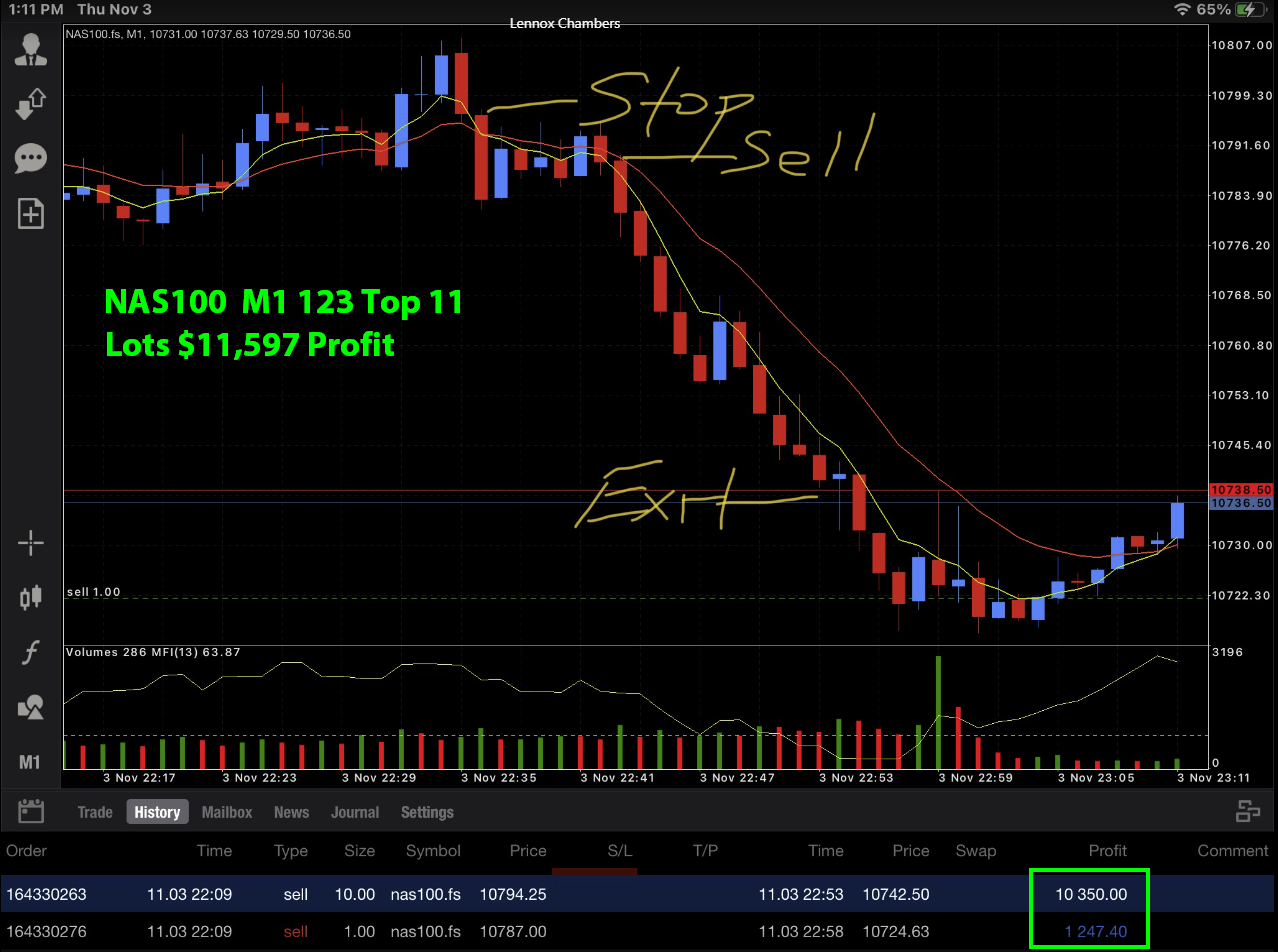 2022-11-03 NAS100 M1 S123 Bottom 2 Lots
+$2,000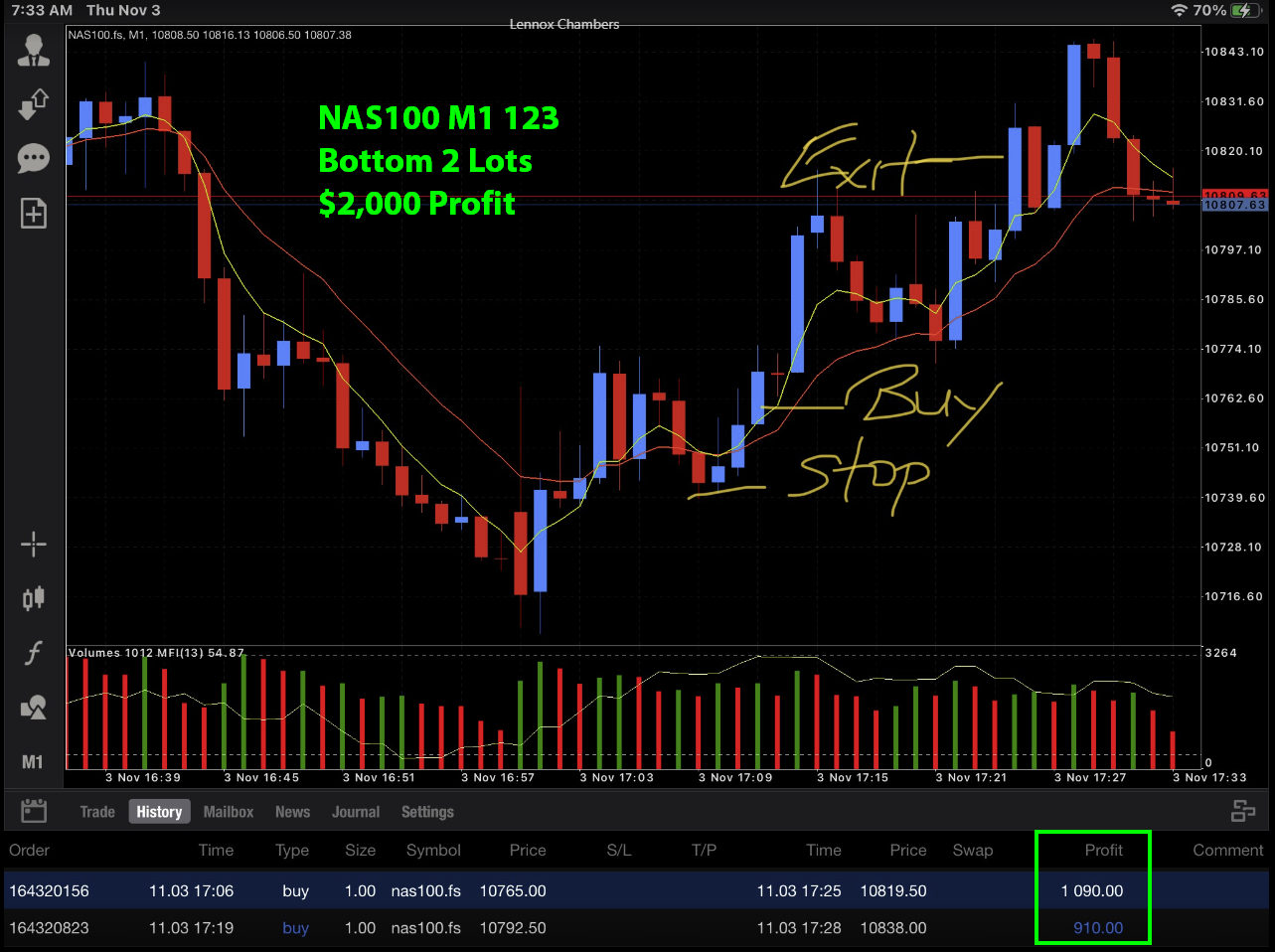 2022-11-02 NAS100 M1 S123 Bottom 3 Lots
+$1,942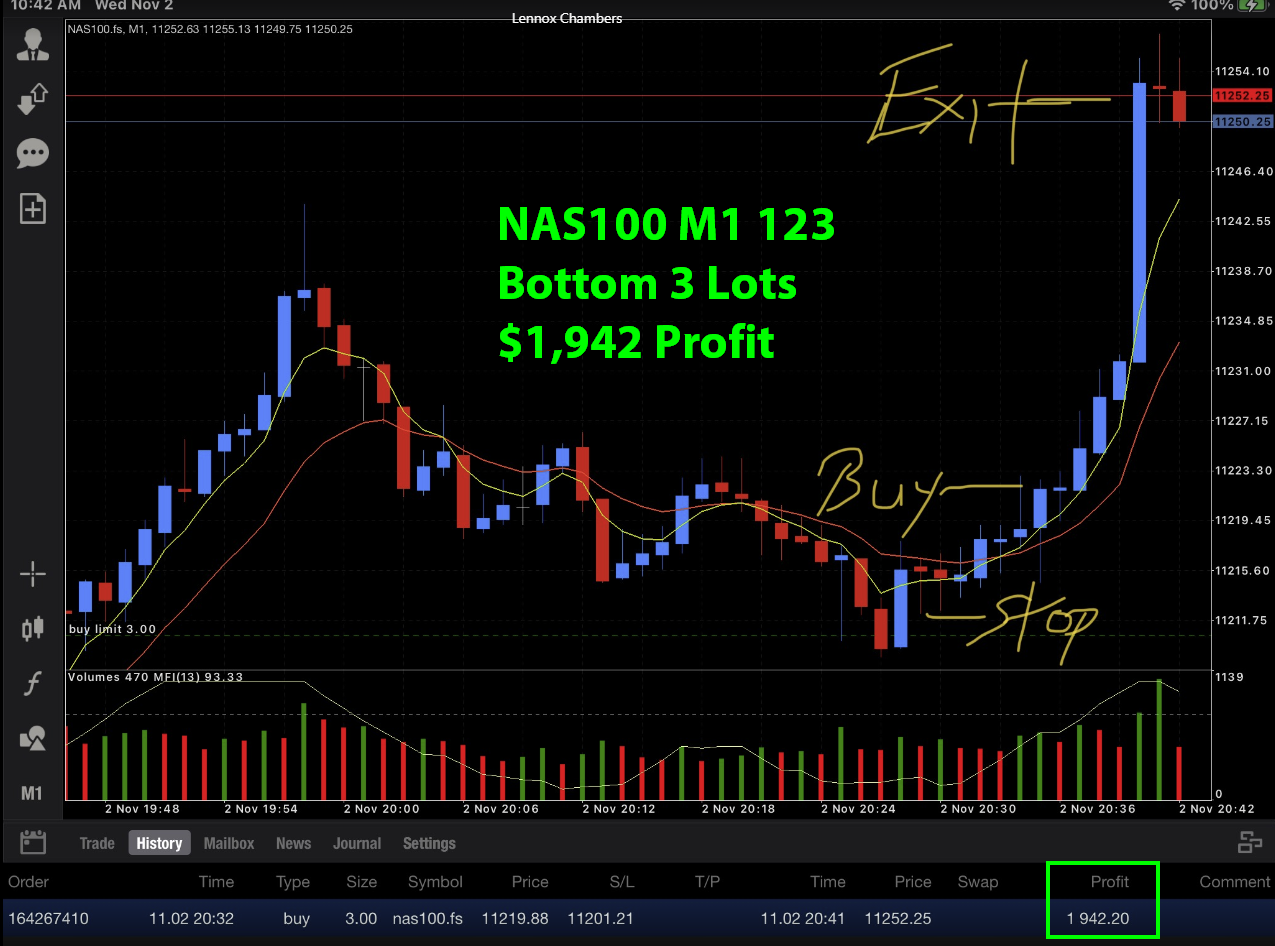 2022-11-01 NAS100 M15 OVERNIGHT S123 Bottom 1 Lot
+$2,310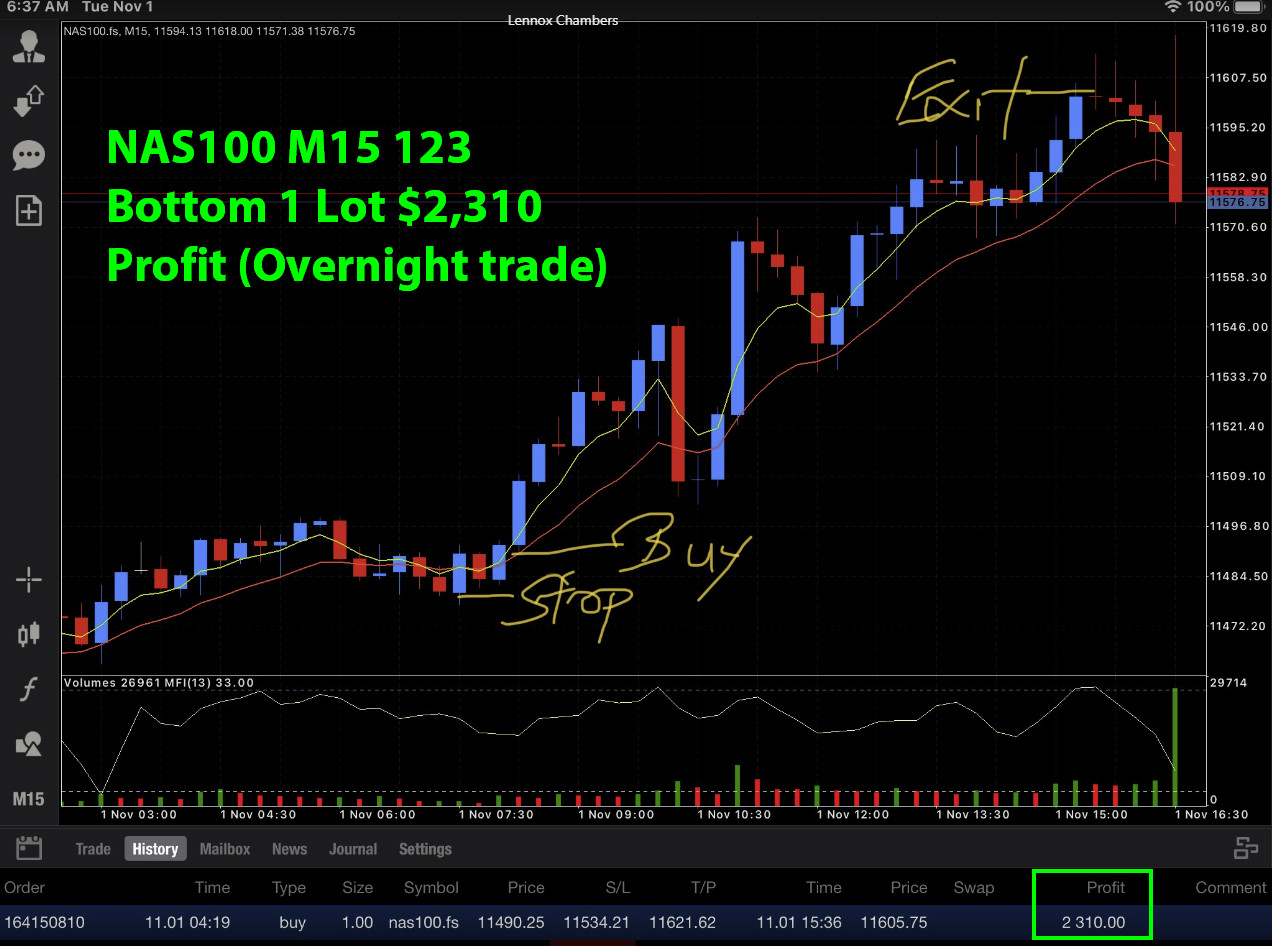 2022-10-31 NAS100 M5 S123 Bottom 1 Lot
+$1,515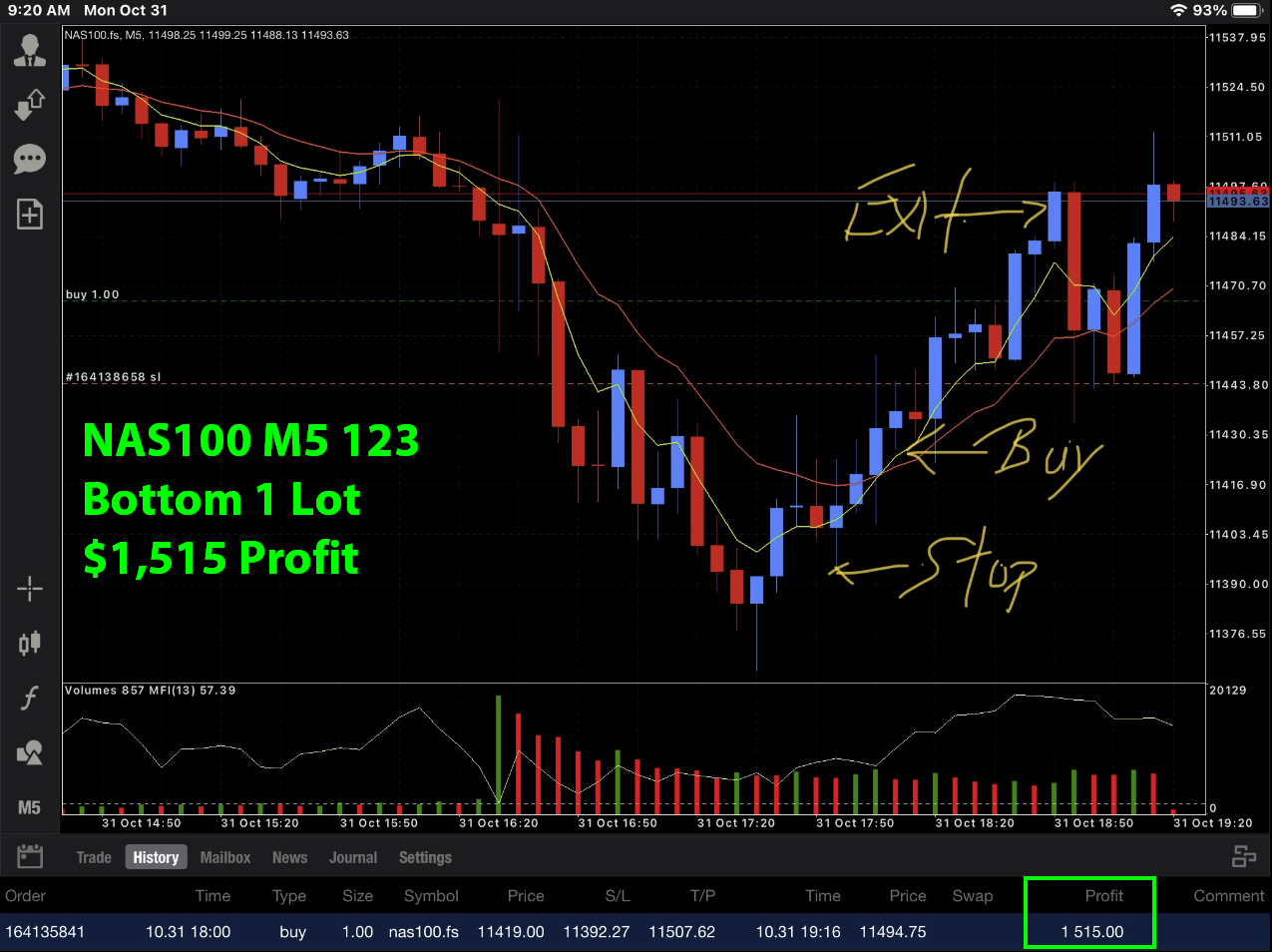 2022-10-31 NAS100 M1 S123 Bottom 1 Lot
+$1,490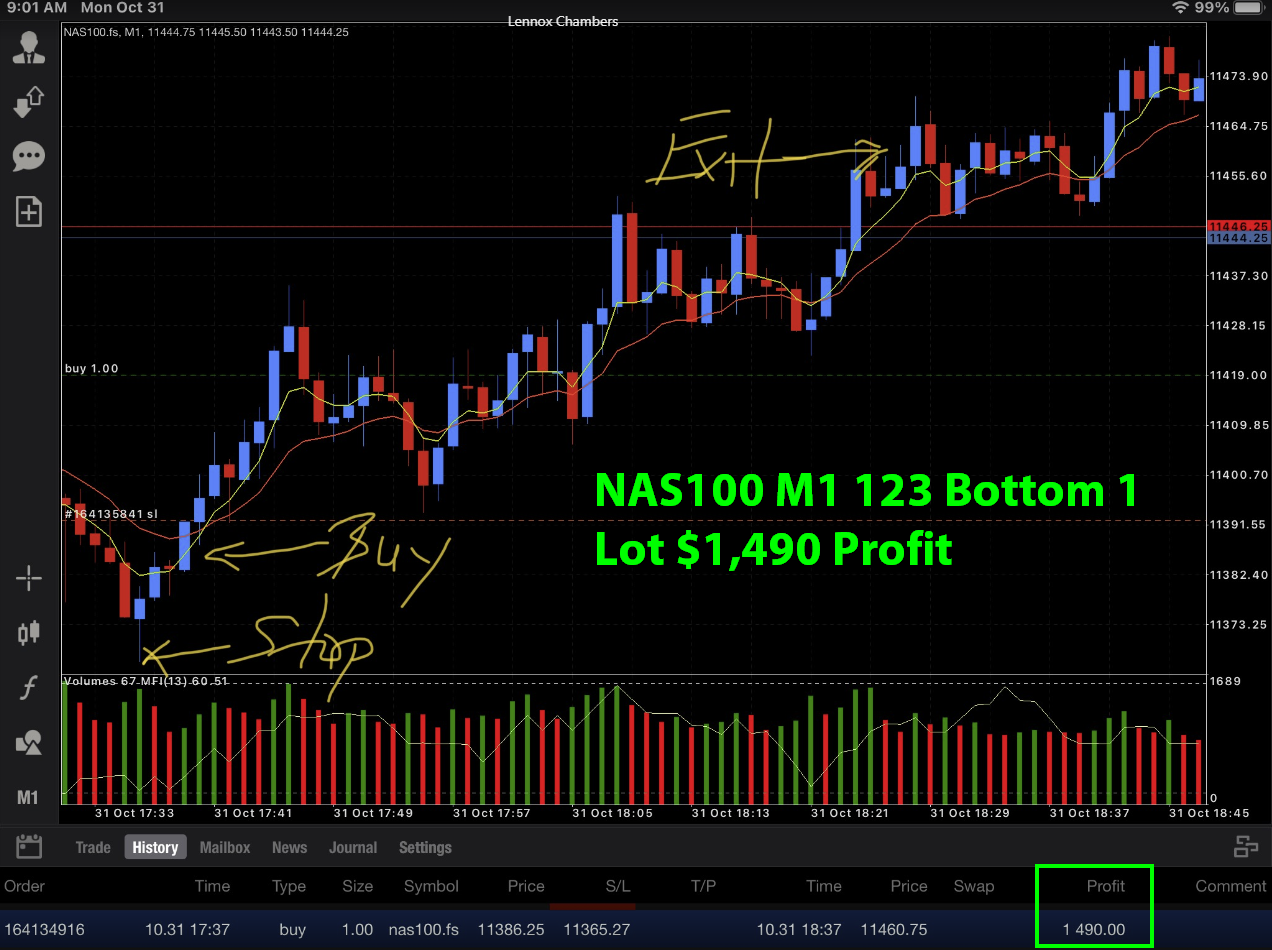 2022-10-27 NAS100 M1 S123 Top 1 Lot
+$1,135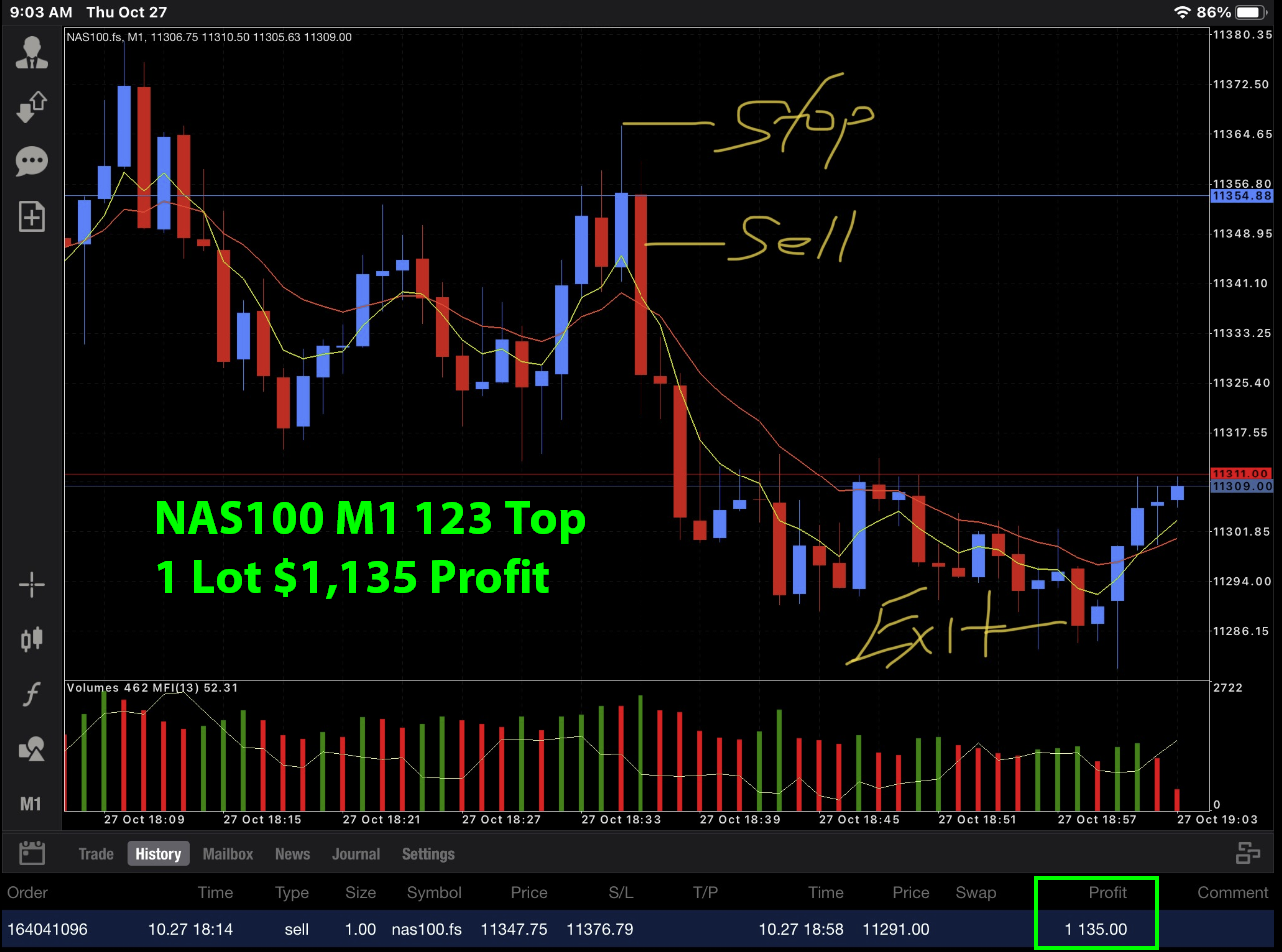 2022-10-26 NAS100 M1 S123 Top 2 Lots
+$2,252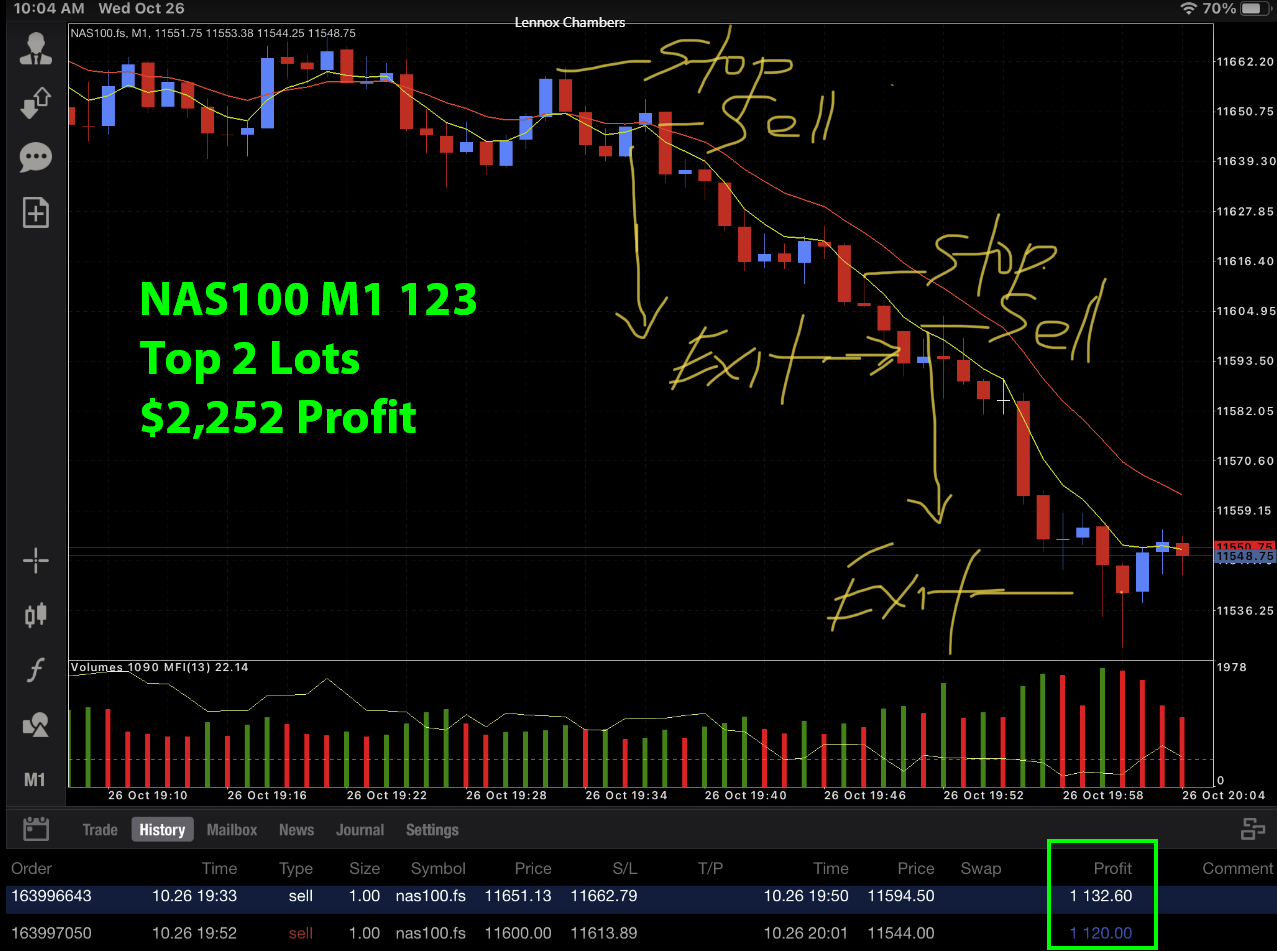 2022-10-26 NAS100 M1 S123 Top 1 Lot
+$1,182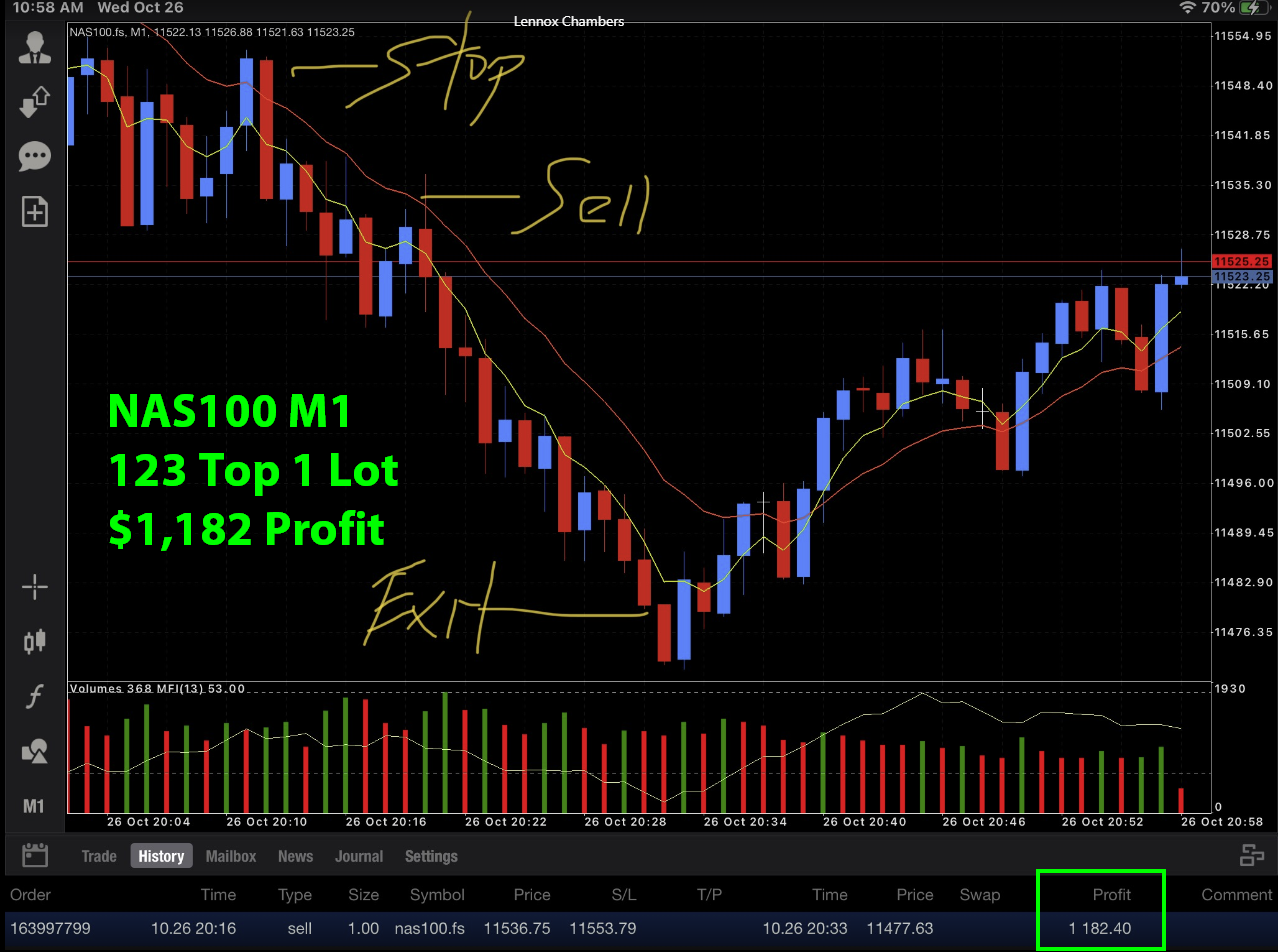 2022-10-25 NAS100 M1 S123 Top 1 Lots
+$1,027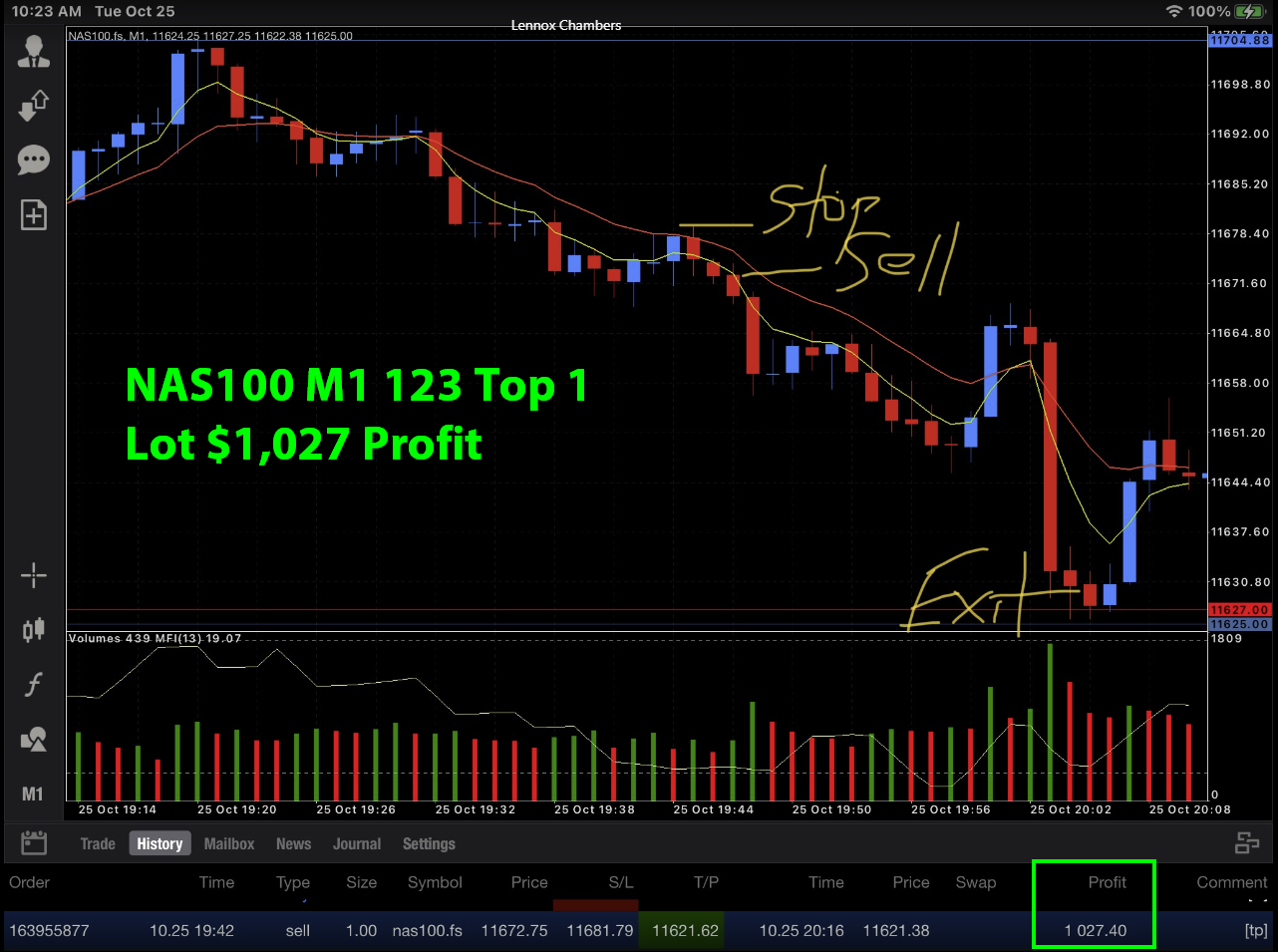 2022-10-24 NAS100 M5 S123 Bottom 1 Lots
+$1,047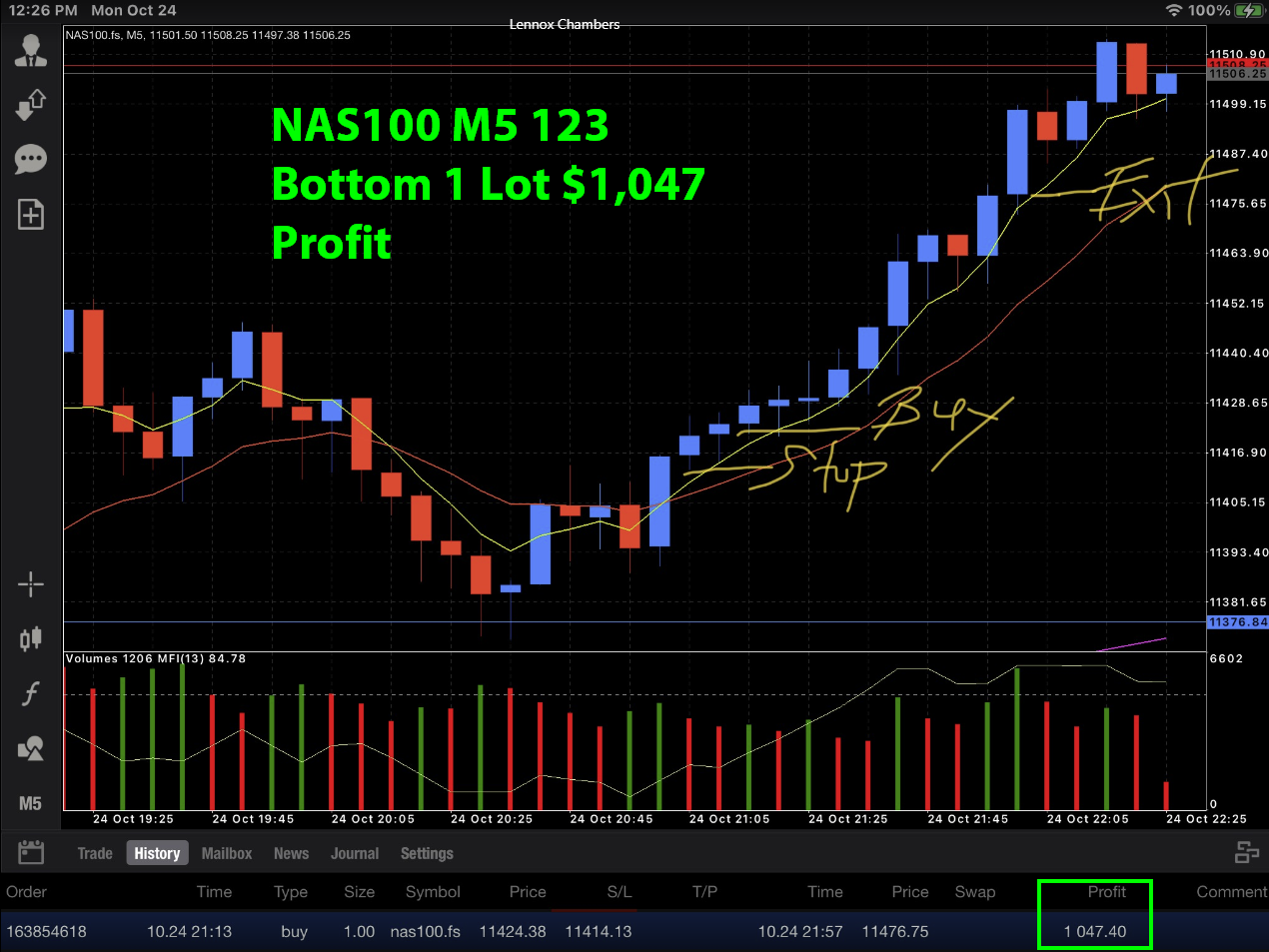 2022-10-21 NAS100 M1 S123 Top 1 Lot
+$1,137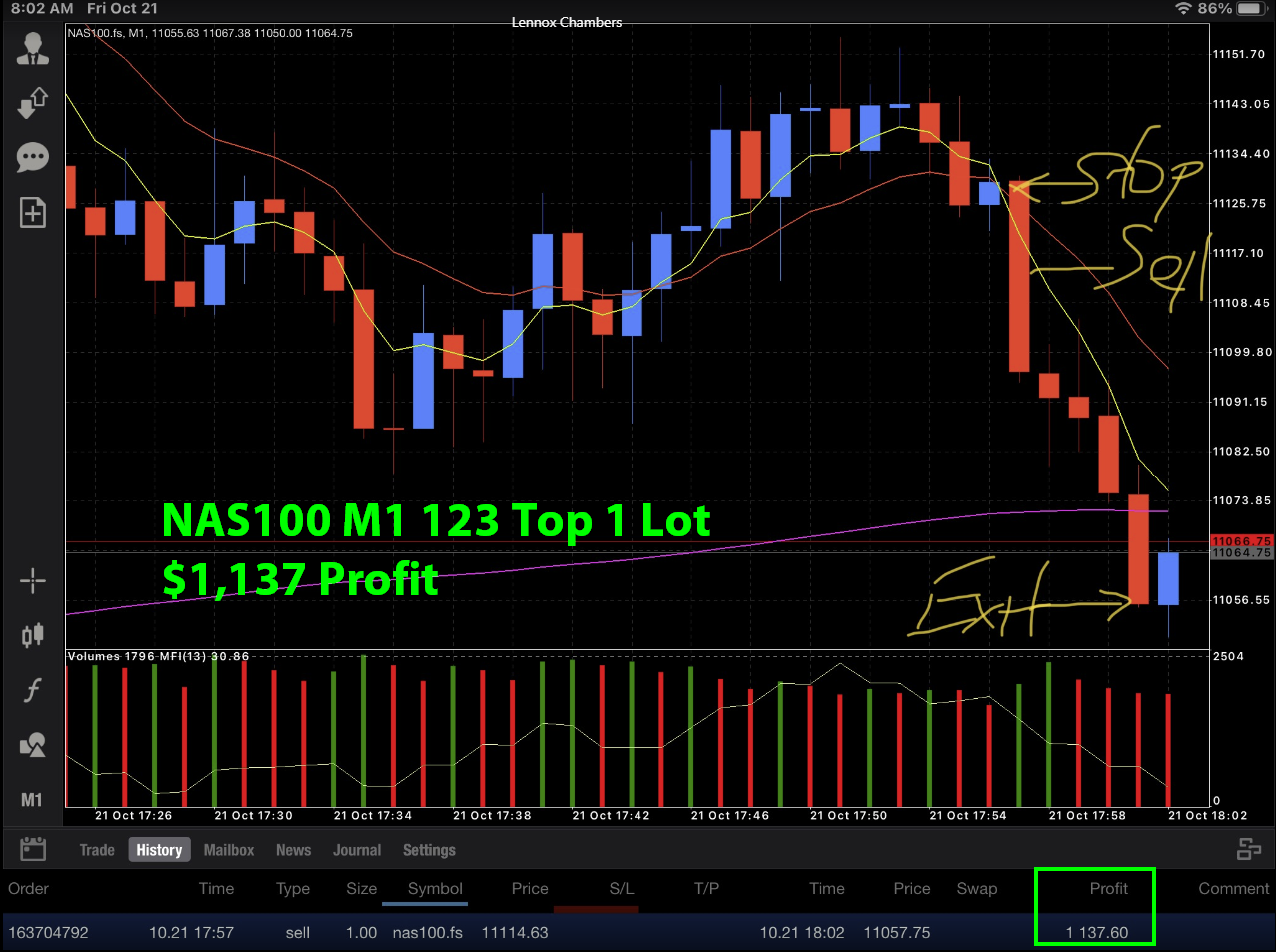 2022-10-20 NAS100 M1 S123 Top 2 Lot
+$2,080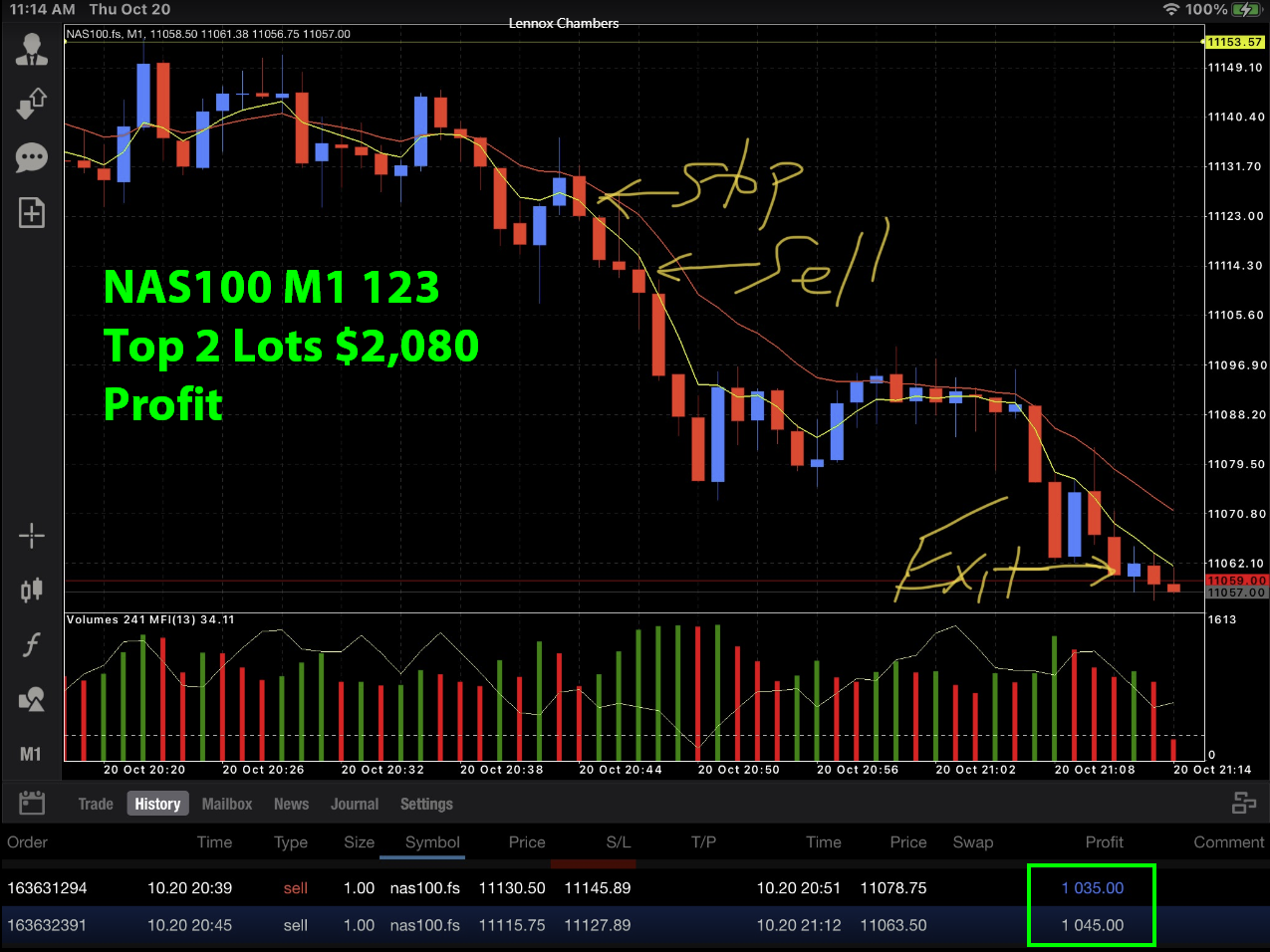 2022-10-20 NAS100 M1 S123 Top 1 Lot
+$1,272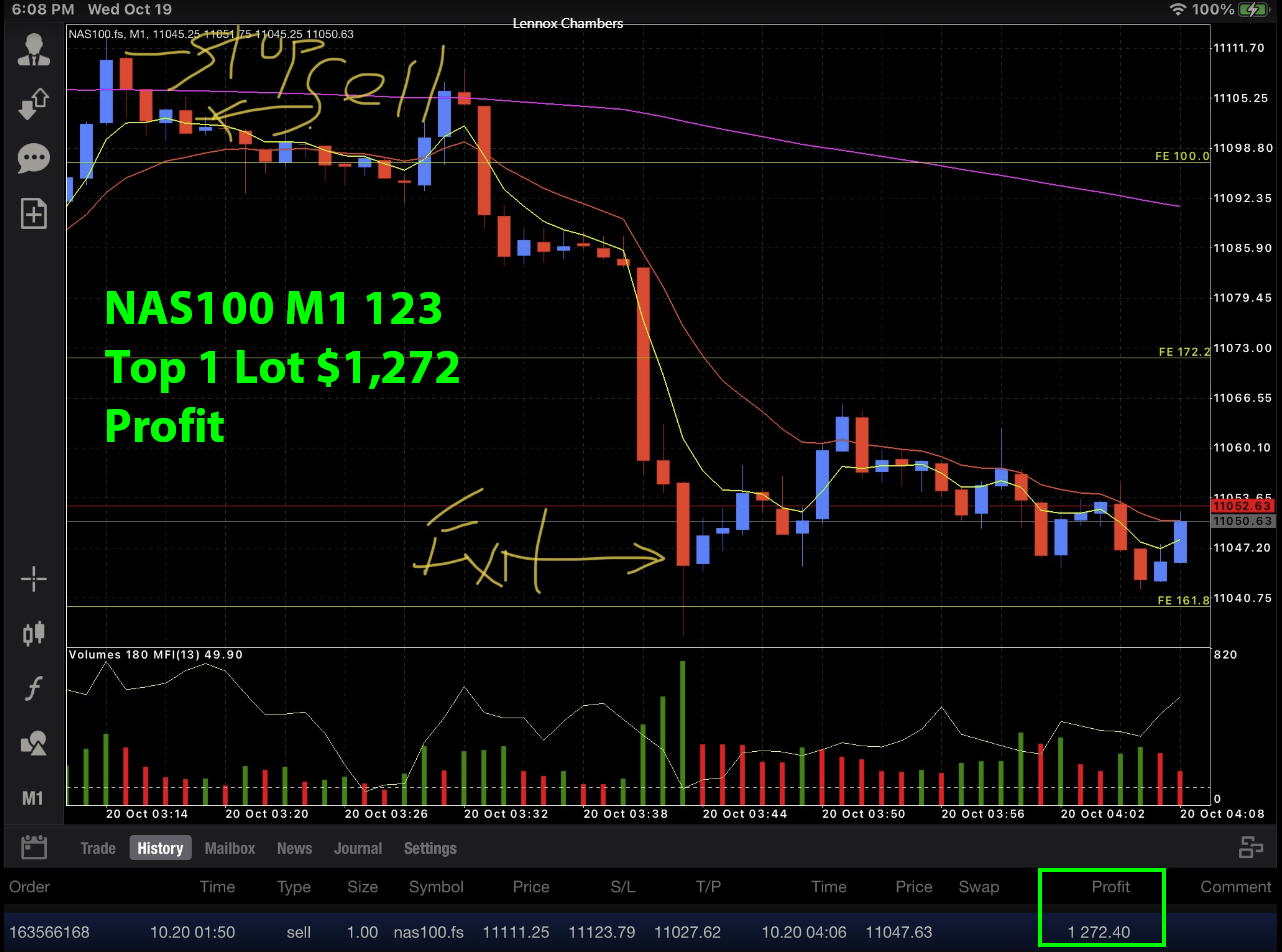 2022-10-19 NAS100 M5 S123 Top 1 Lot
+$2,440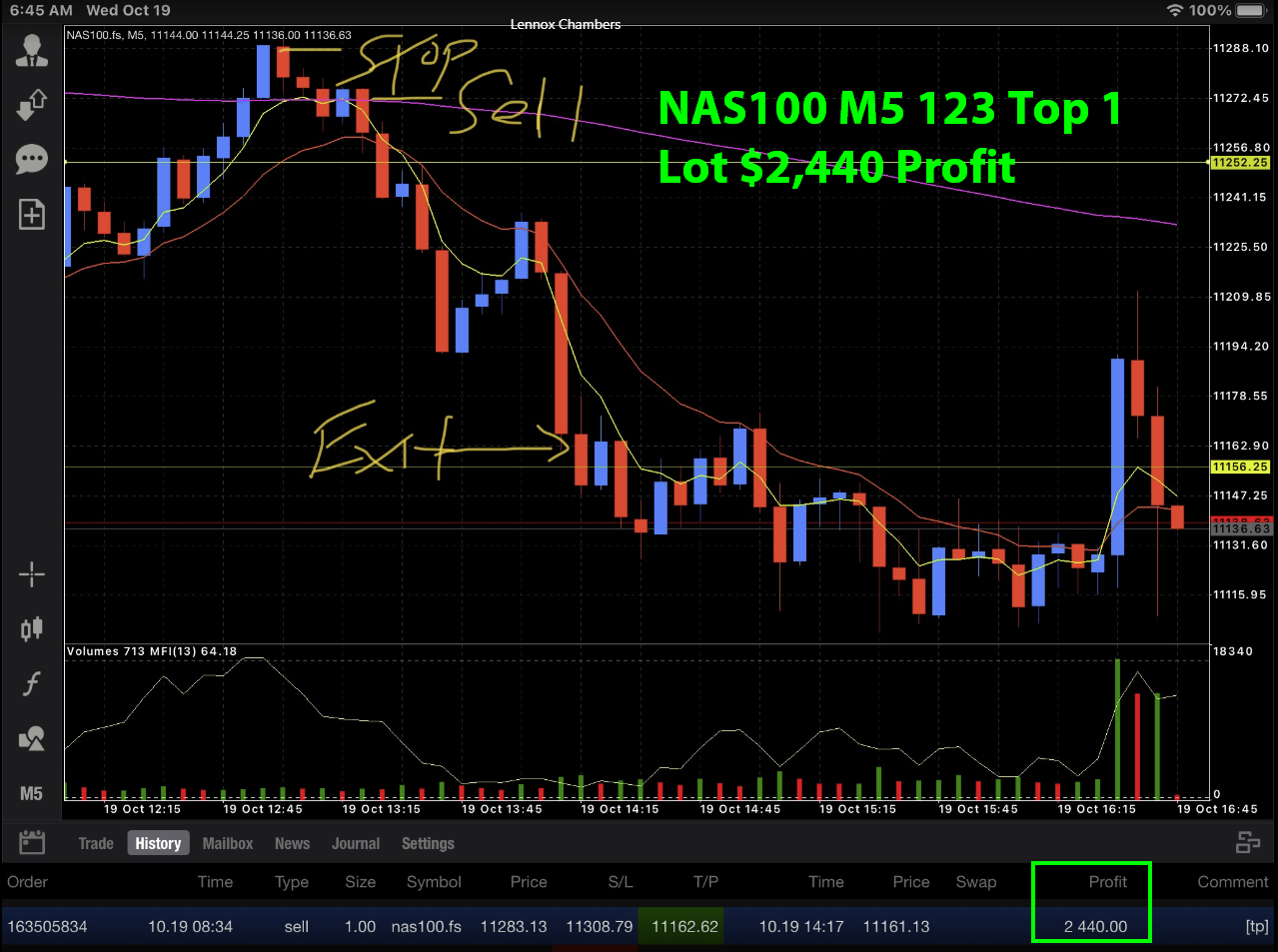 2022-10-19 NAS100 M1 S123 Top 1 Lot
+$1,250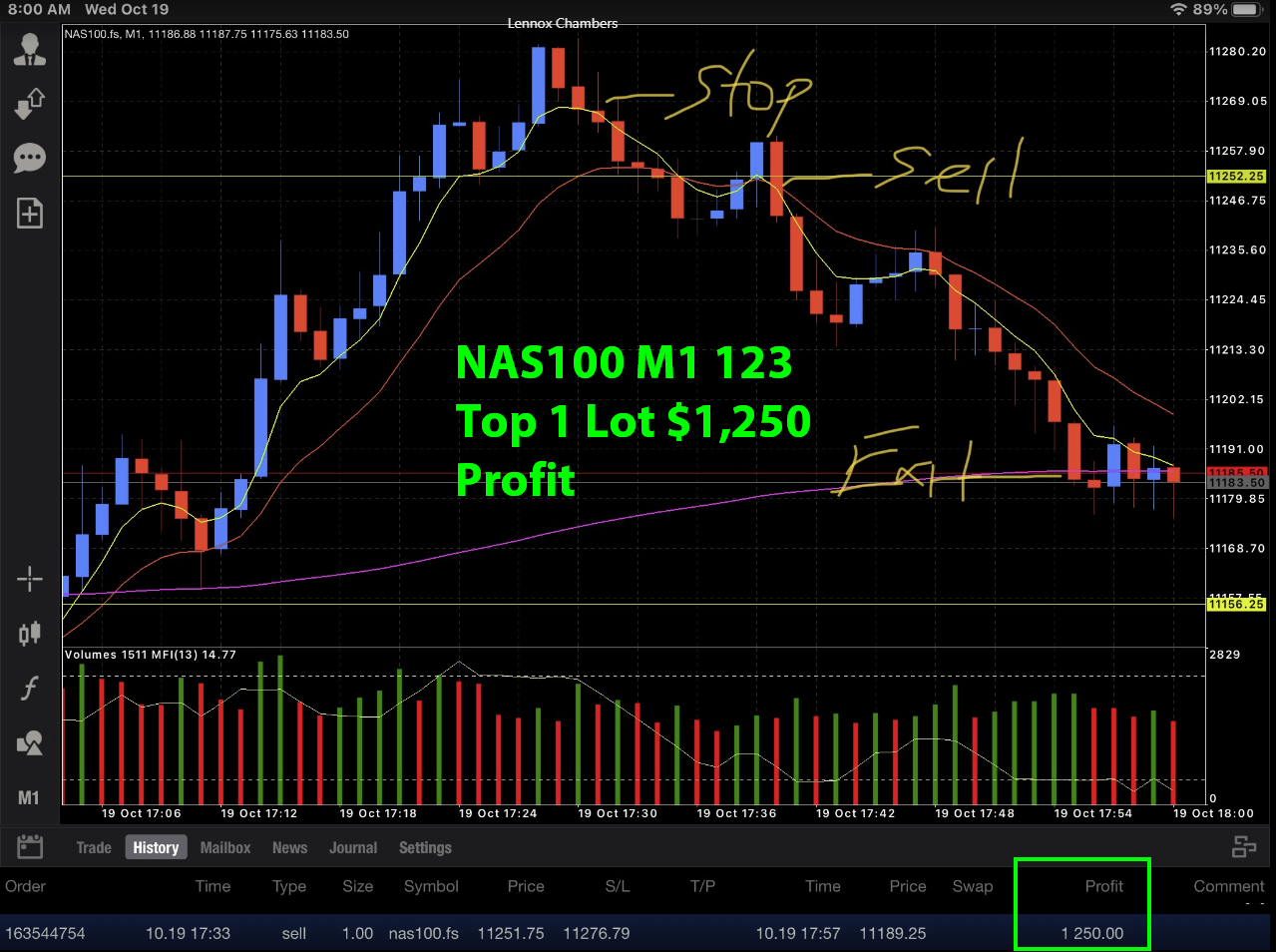 2022-10-18 NAS100 M5 S123 Bottom 1 Lot
+$2,835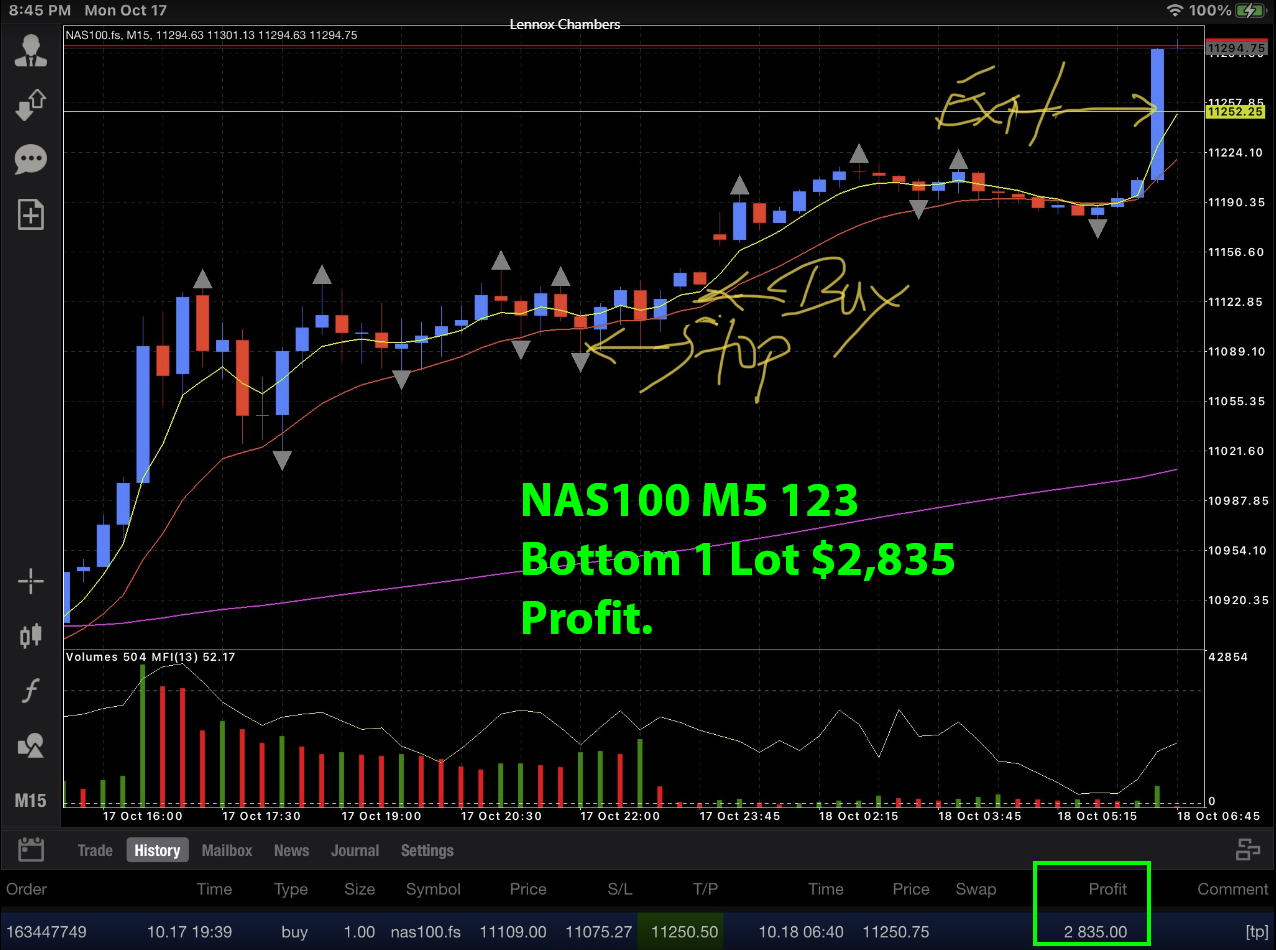 2022-10-18 NAS100 M1 S123 Top 1 Lot
+$1,142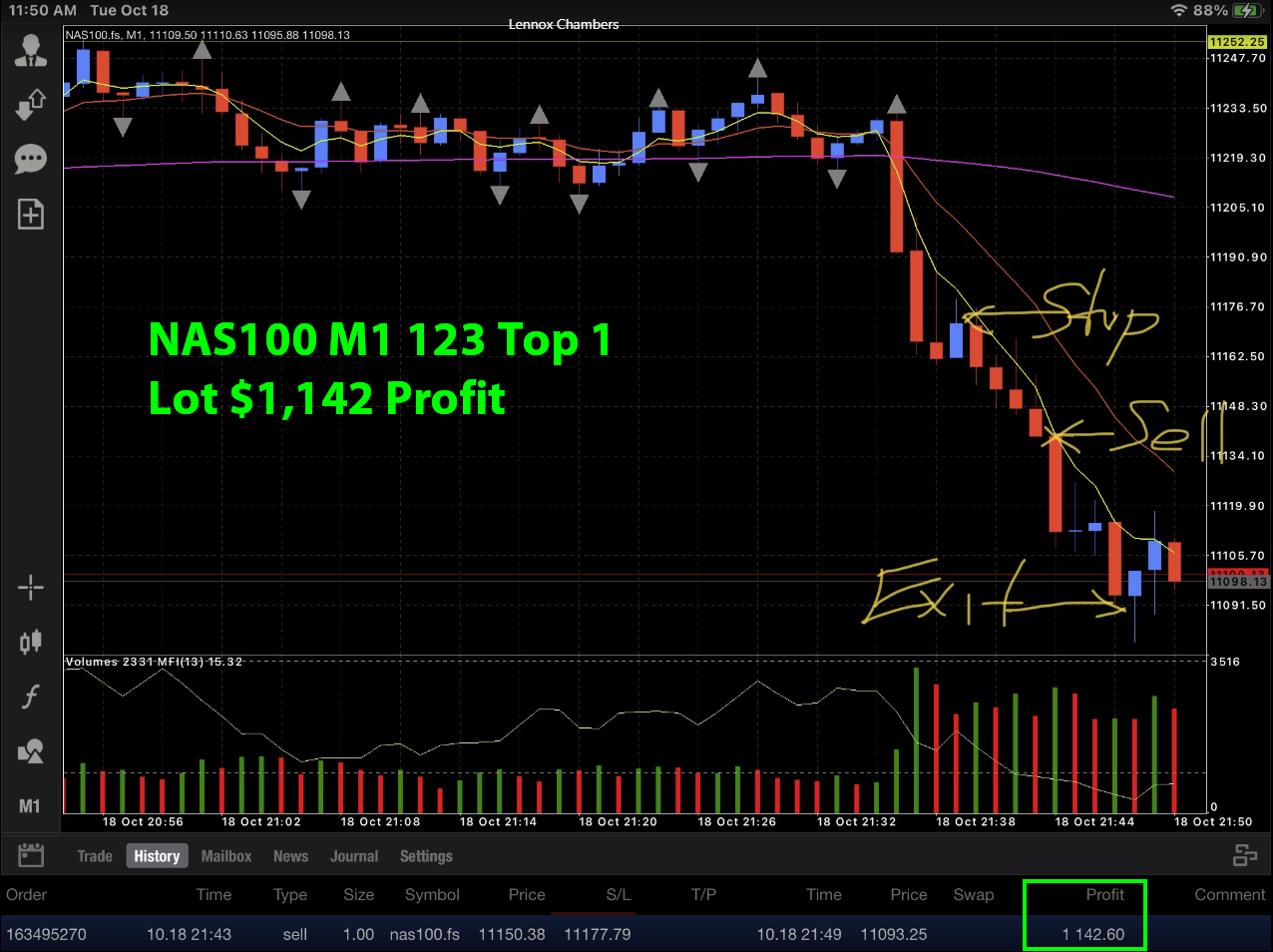 2022-10-18 NAS100 M1 S123 Top 1 Lot
+$1,122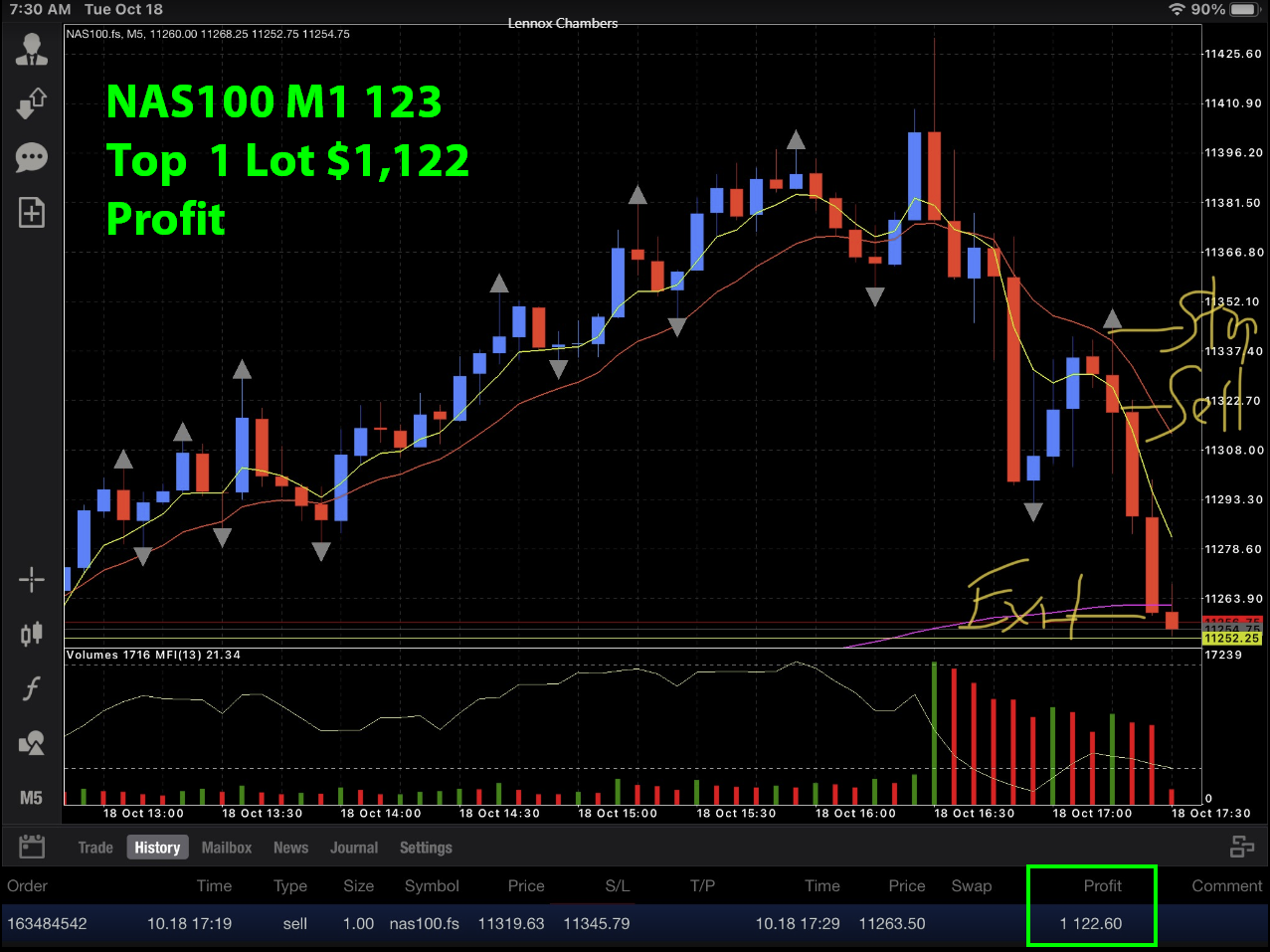 2022-10-13 NAS100 M1 S123 Bottom 1 Lots
+$1,430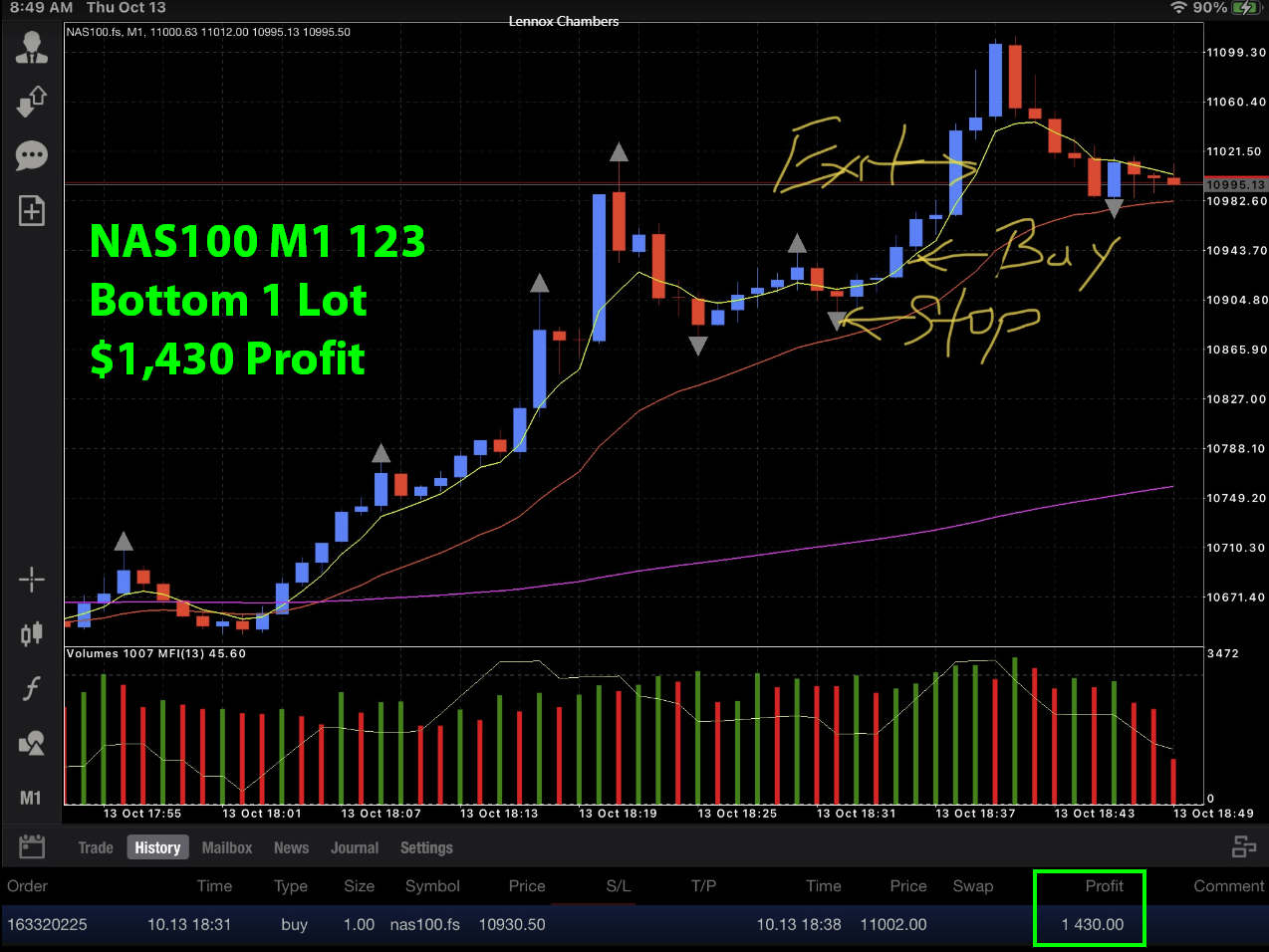 2022-10-12 NAS100 M1 S123 Top 1 Lot
+$1,205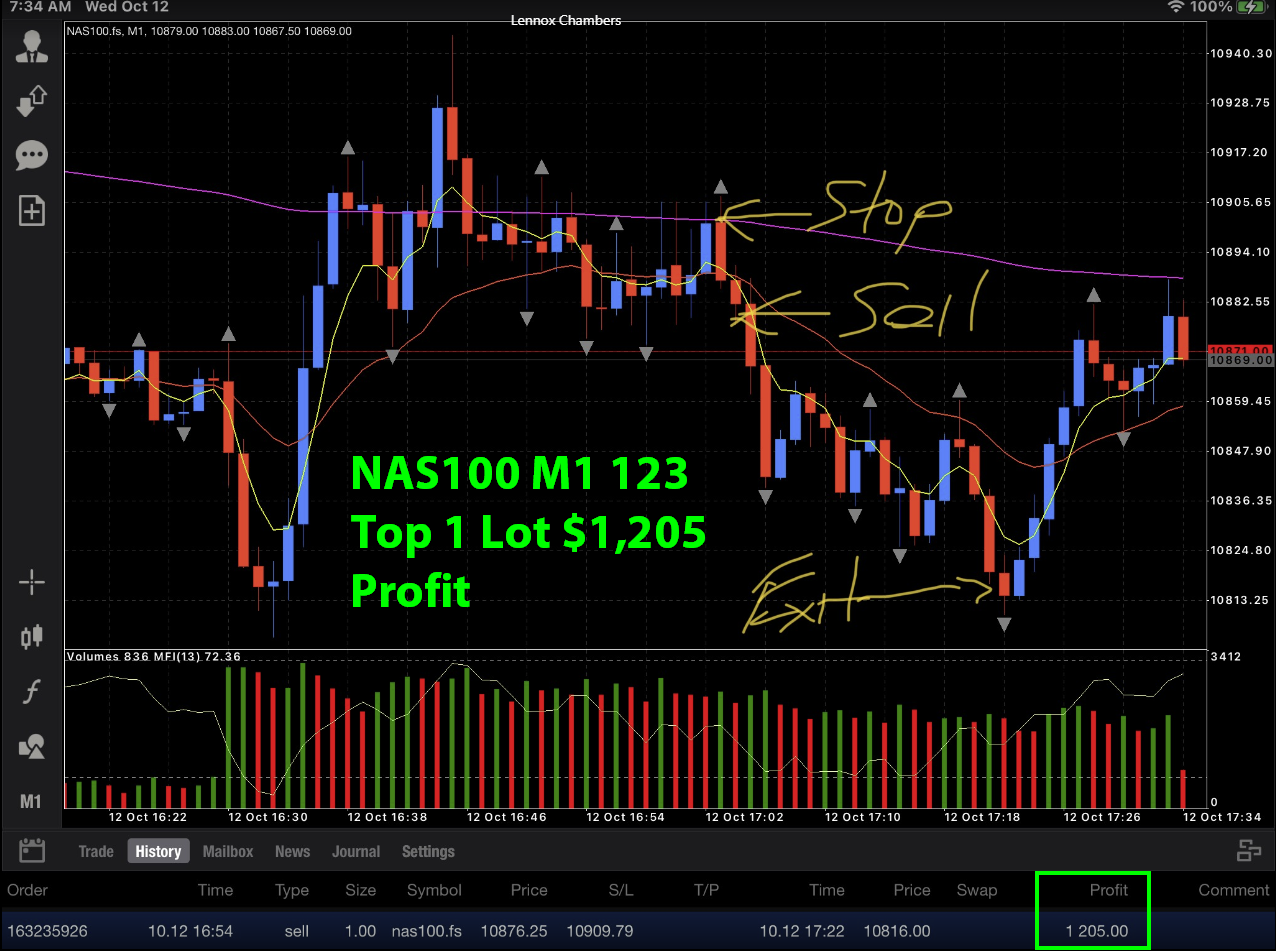 2022-10-11 NAS100 M5 S123 Top 1 Lot
+$2,010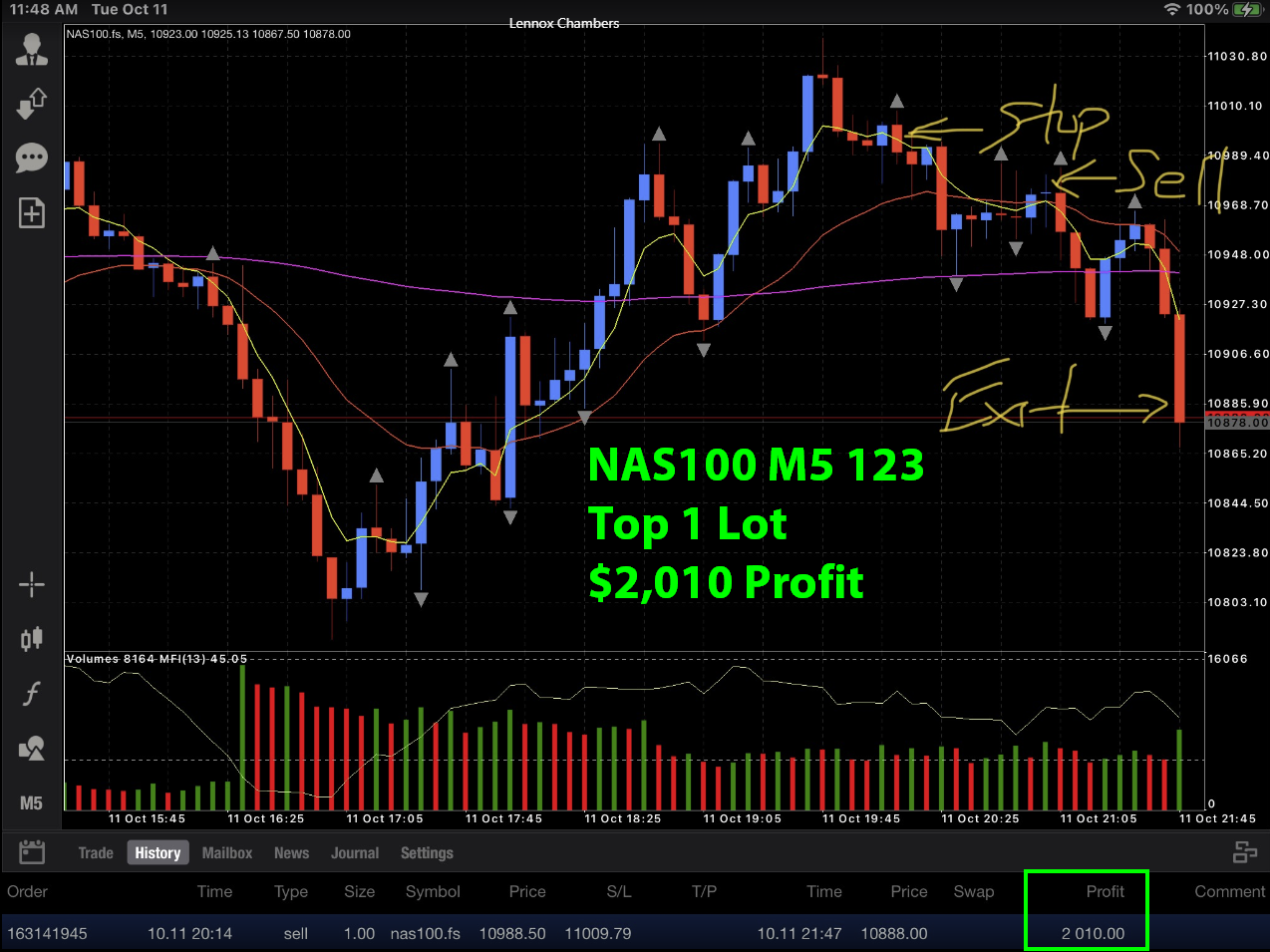 2022-10-11 NAS100 M1 S123 Top 1 Lot
+$1,240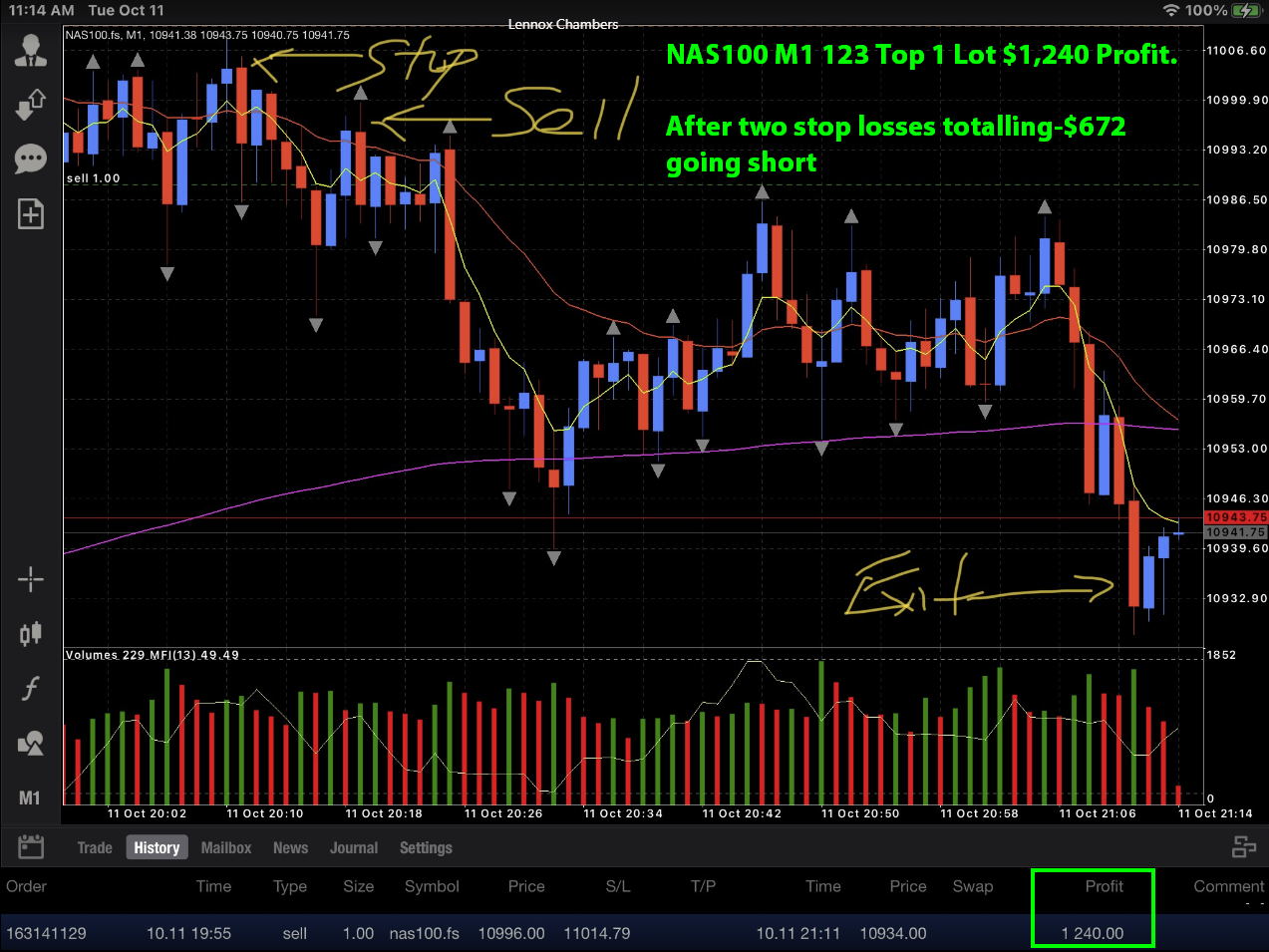 2022-10-10 NAS100 M1 S123 Top 1 Lot
+$920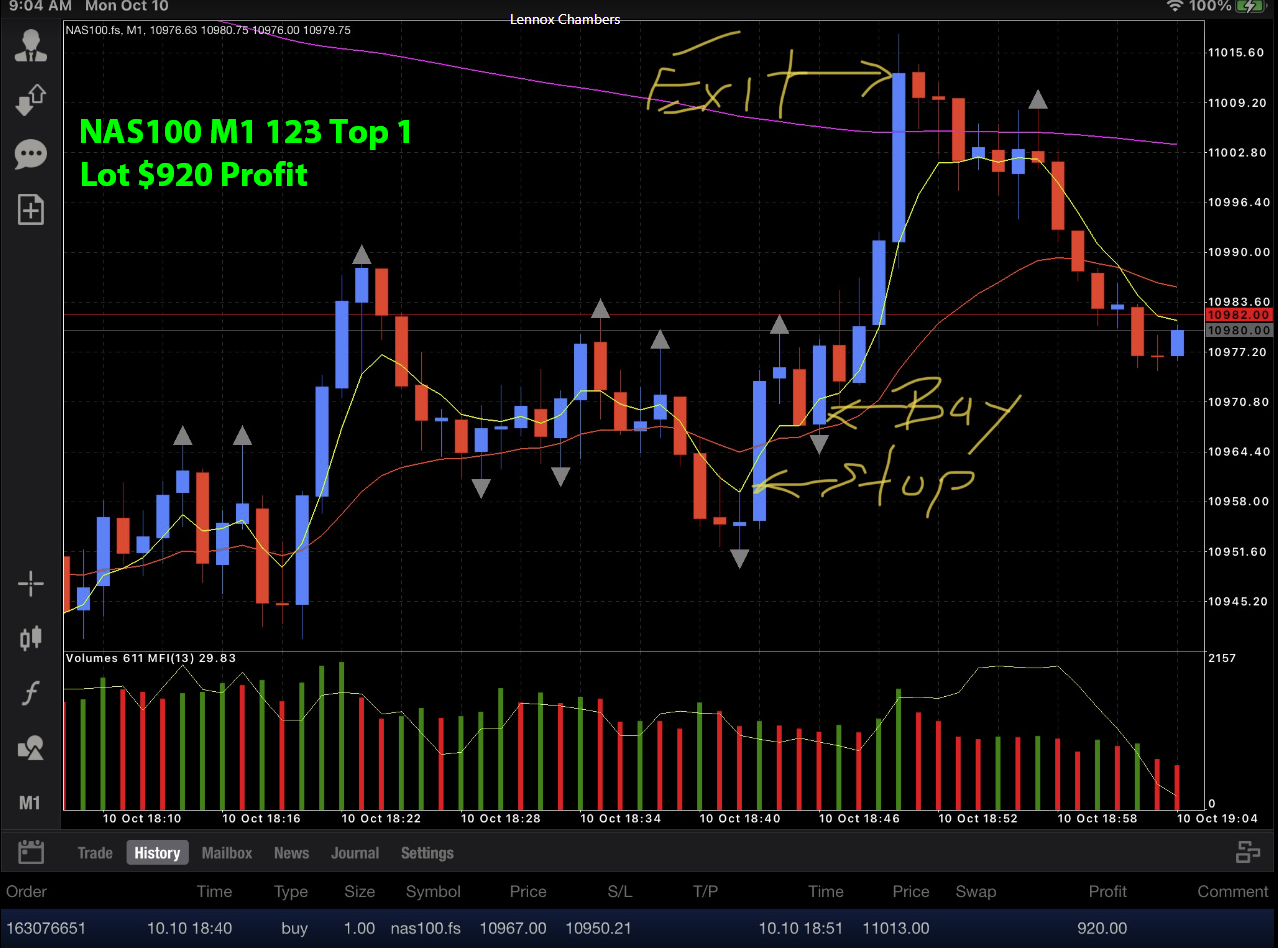 2022-10-10 NAS100 M1 S123 Bottom1 Lot
+$1,115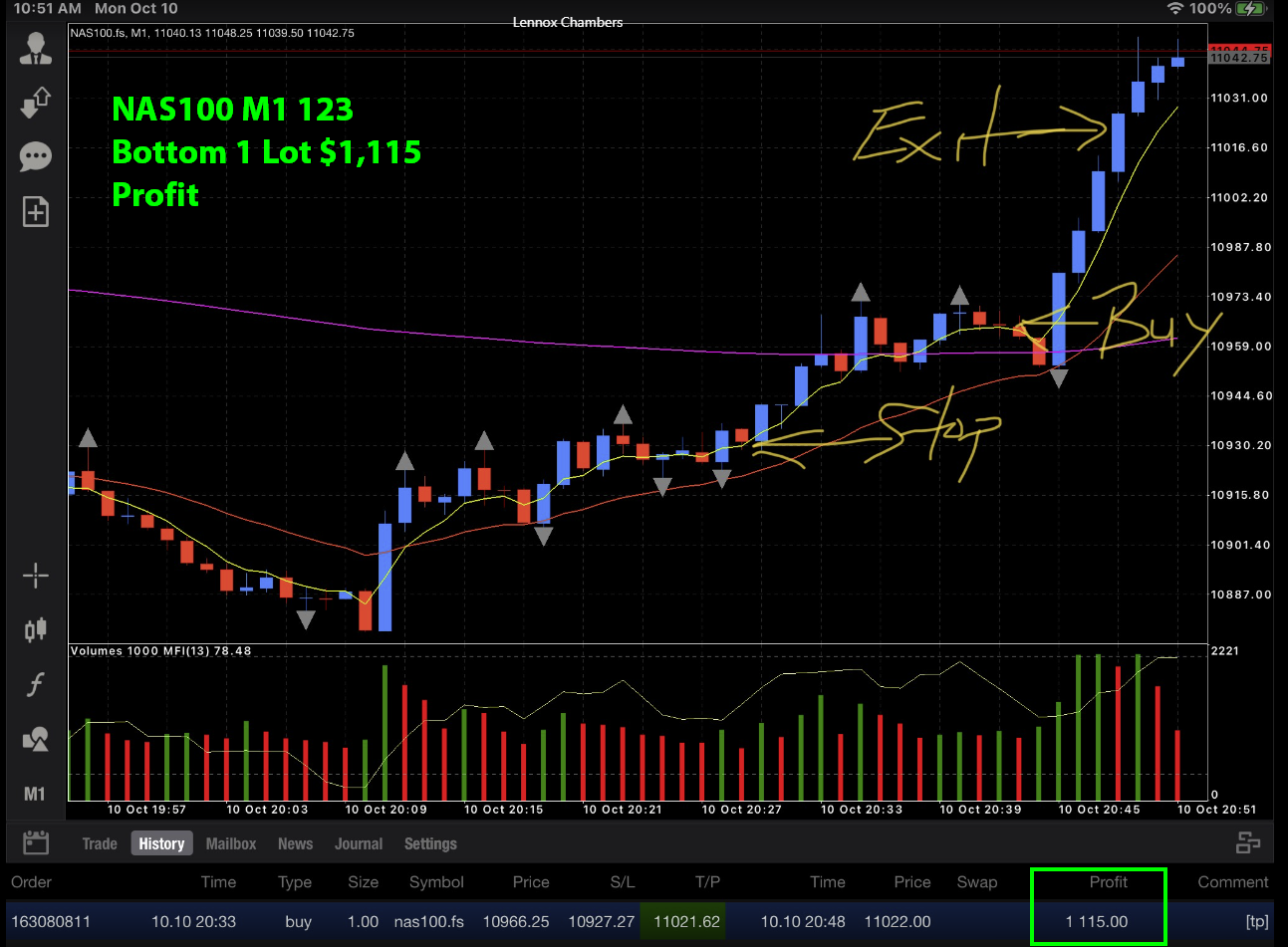 2022-10-06 NAS100 M5 S123 Top 1 Lot
+$1,820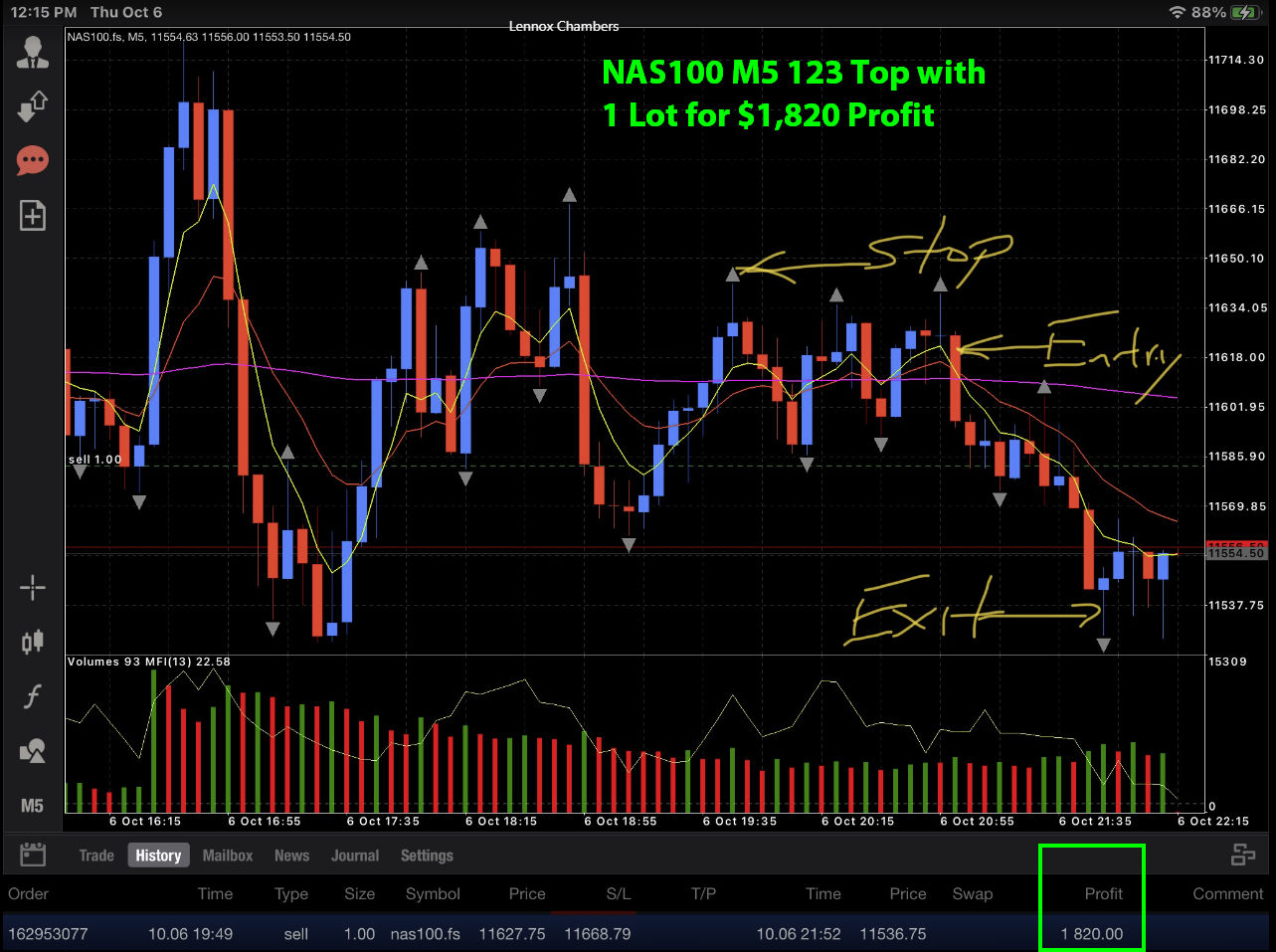 2022-10-06 NAS100 M1 S123 Top 1 Lot
+$1,202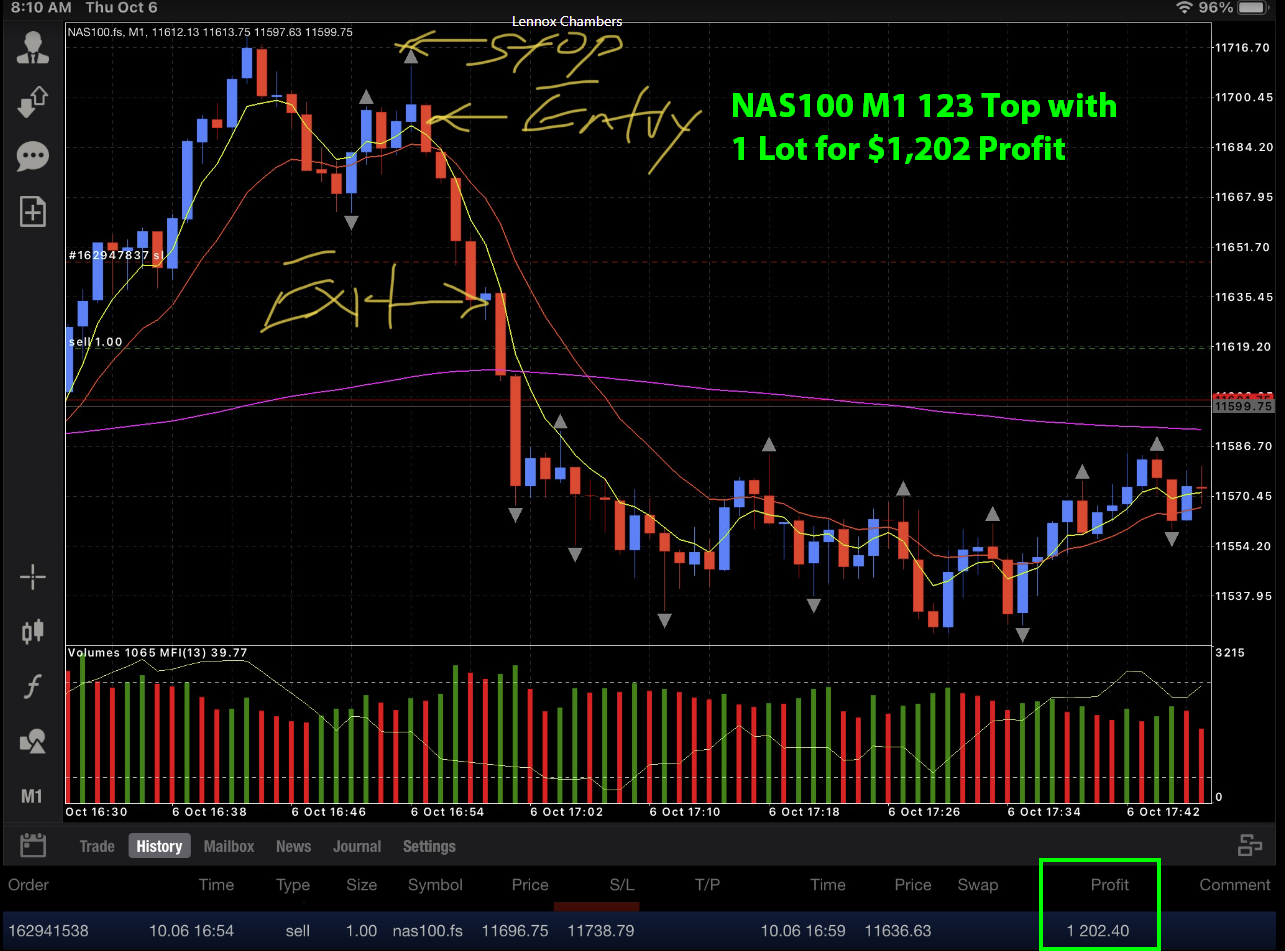 2022-10-05 NAS100 M5 S123 Bottom 1 Lot
+$1,272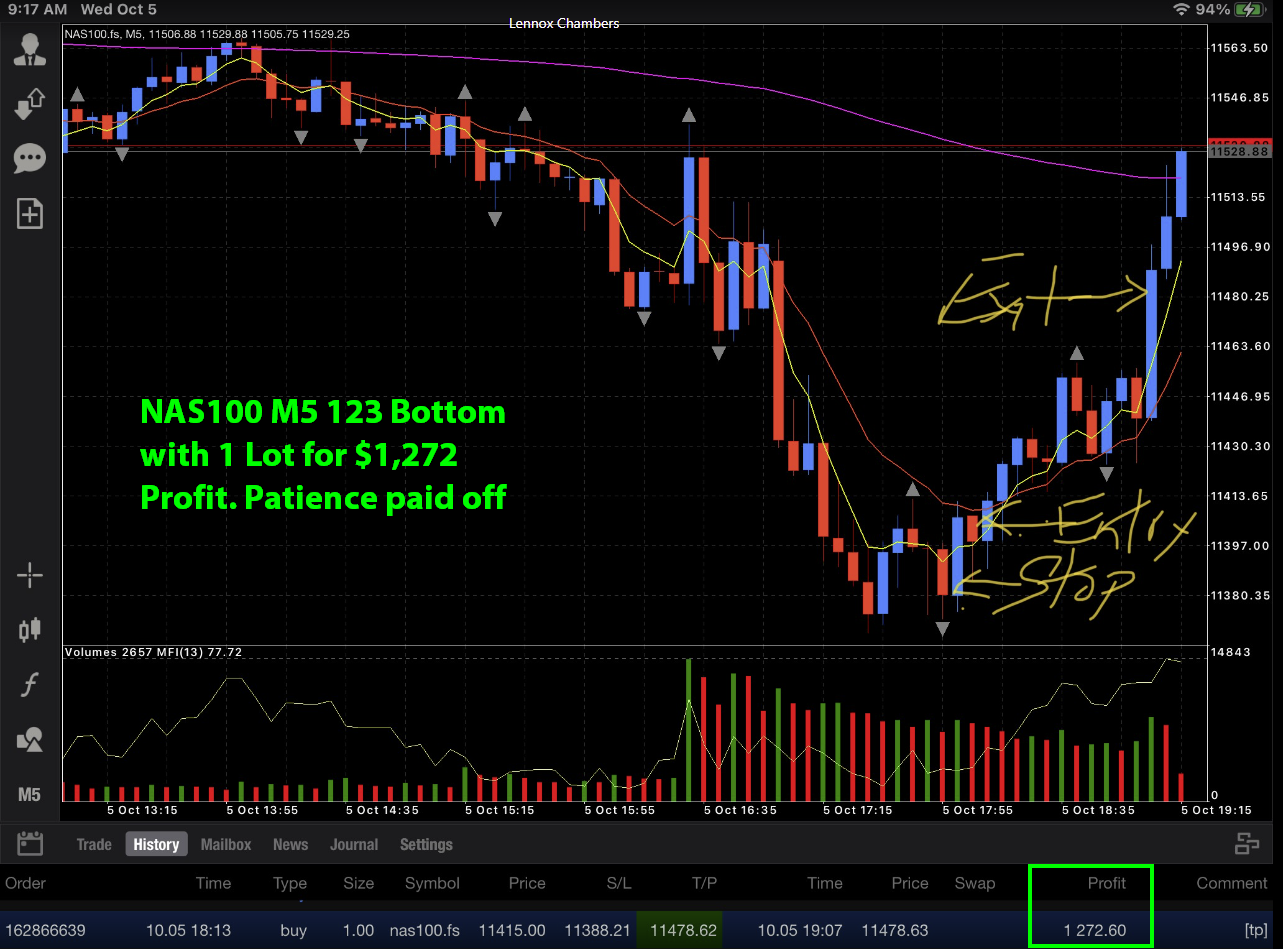 2022-10-03 NAS100 M1 S123 Top-Bottom 3 trades with 1 Lot
+$1,427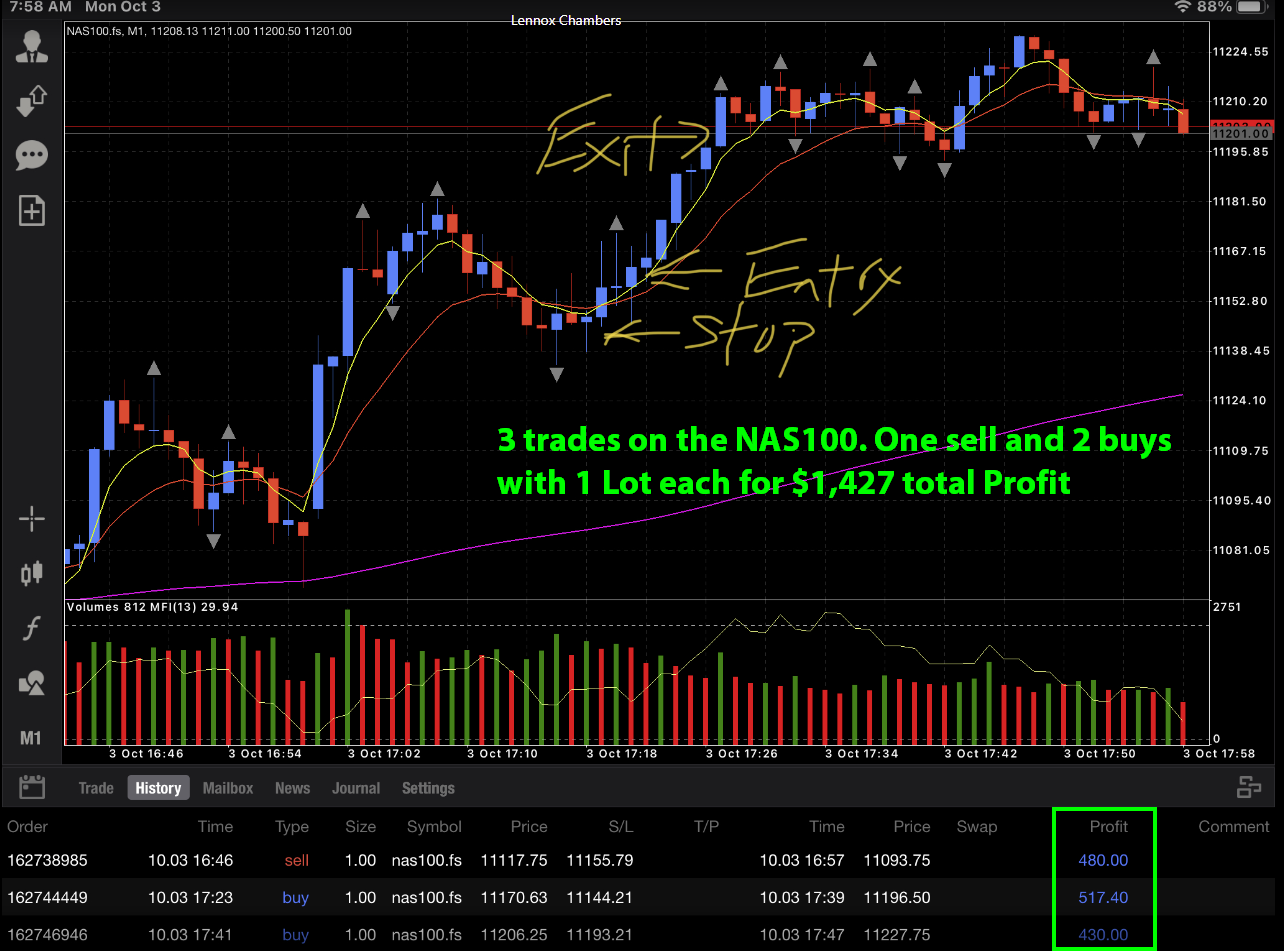 2022-09-30 NAS100 M1 S123 Top with 1 Lot
+$1,187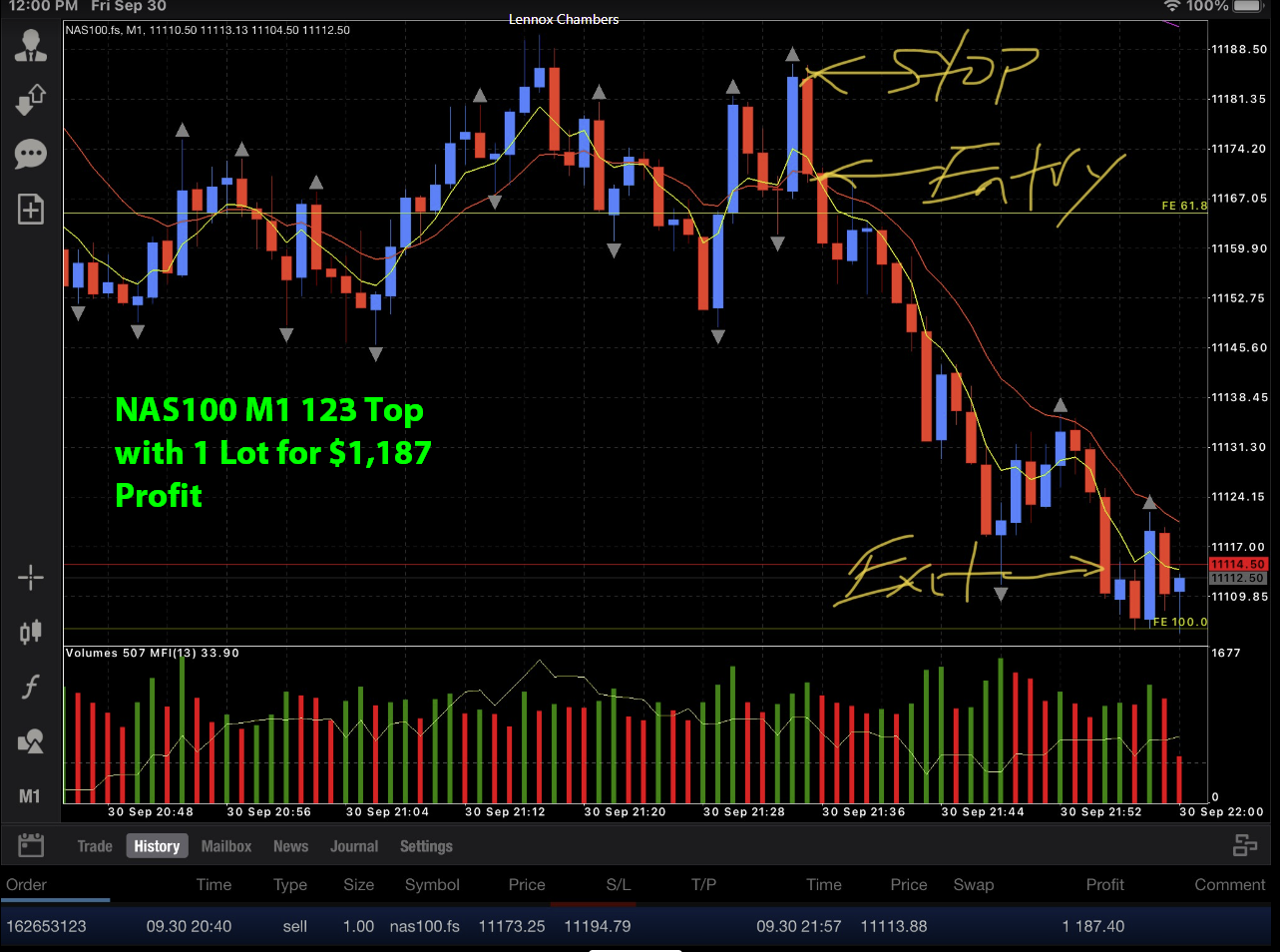 2022-09-29 NAS100 M1 S123 Top with 1 Lot
+$1,612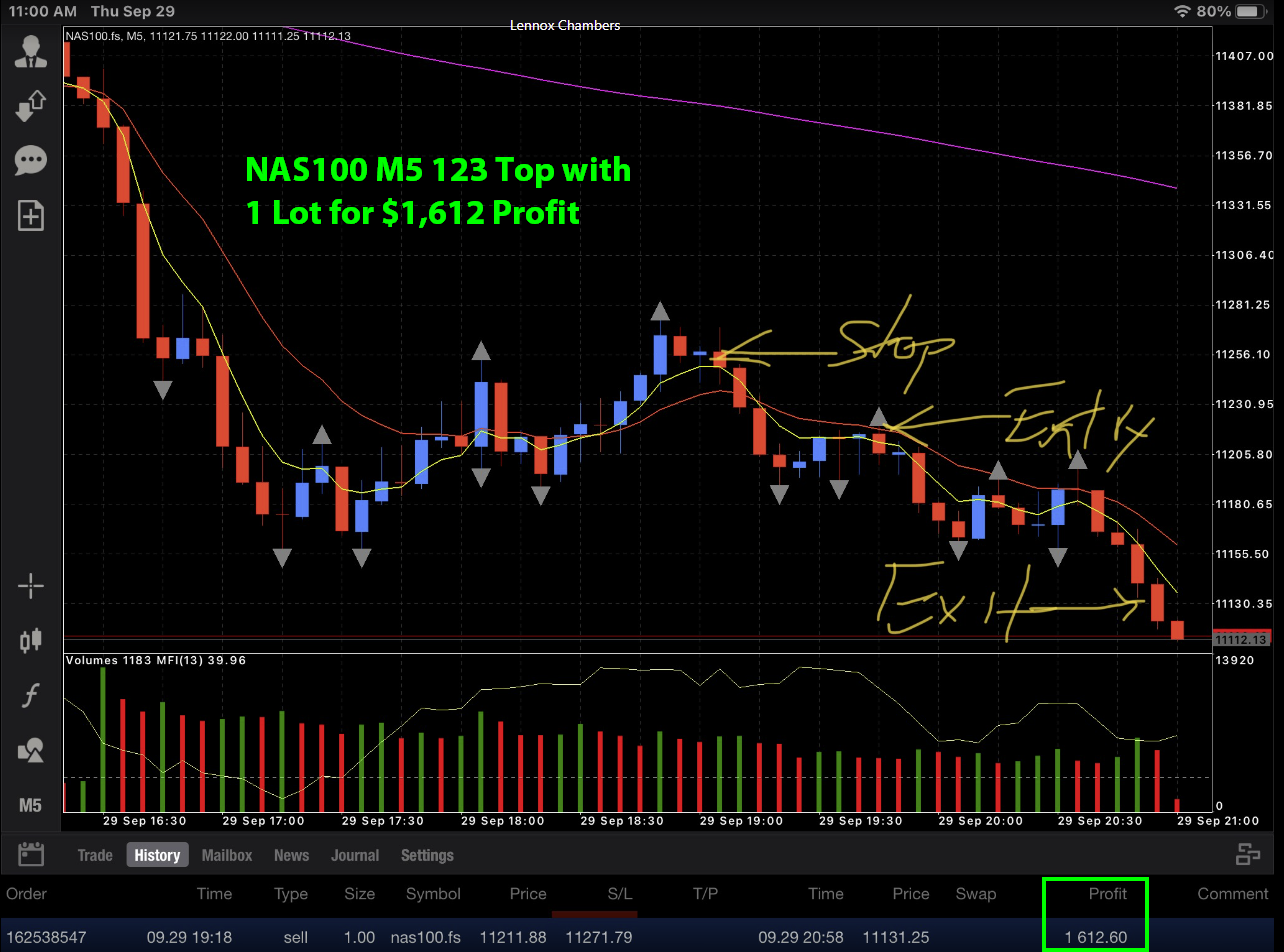 2022-09-27 NAS100 M1 S123 Top with 1 Lot
+$1,490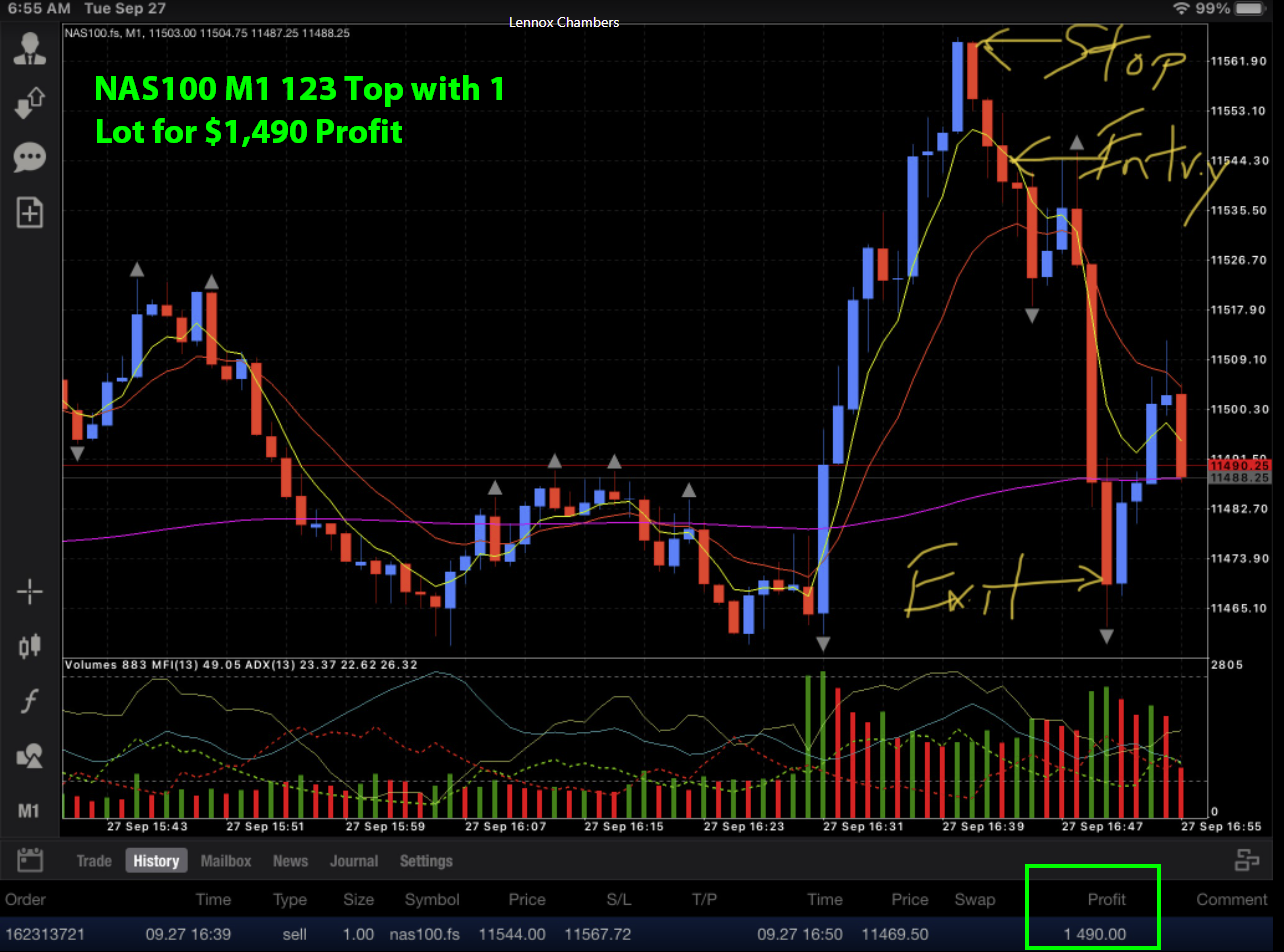 2022-09-27 NAS100 M1 S123 Top with 1 Lot
+$1,407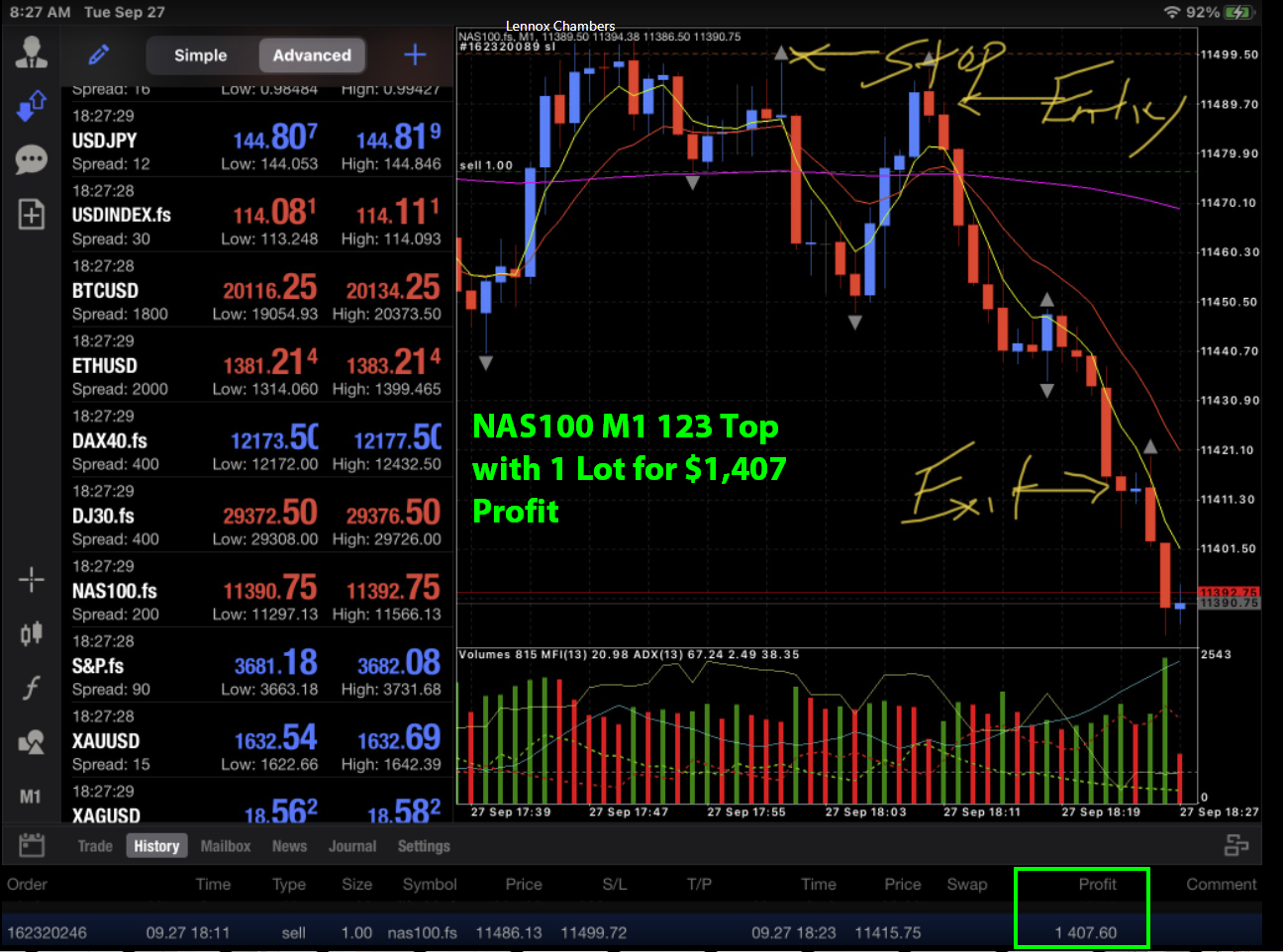 2022-09-26 NAS100 M1 S123 Top with 1 Lot
+$1,117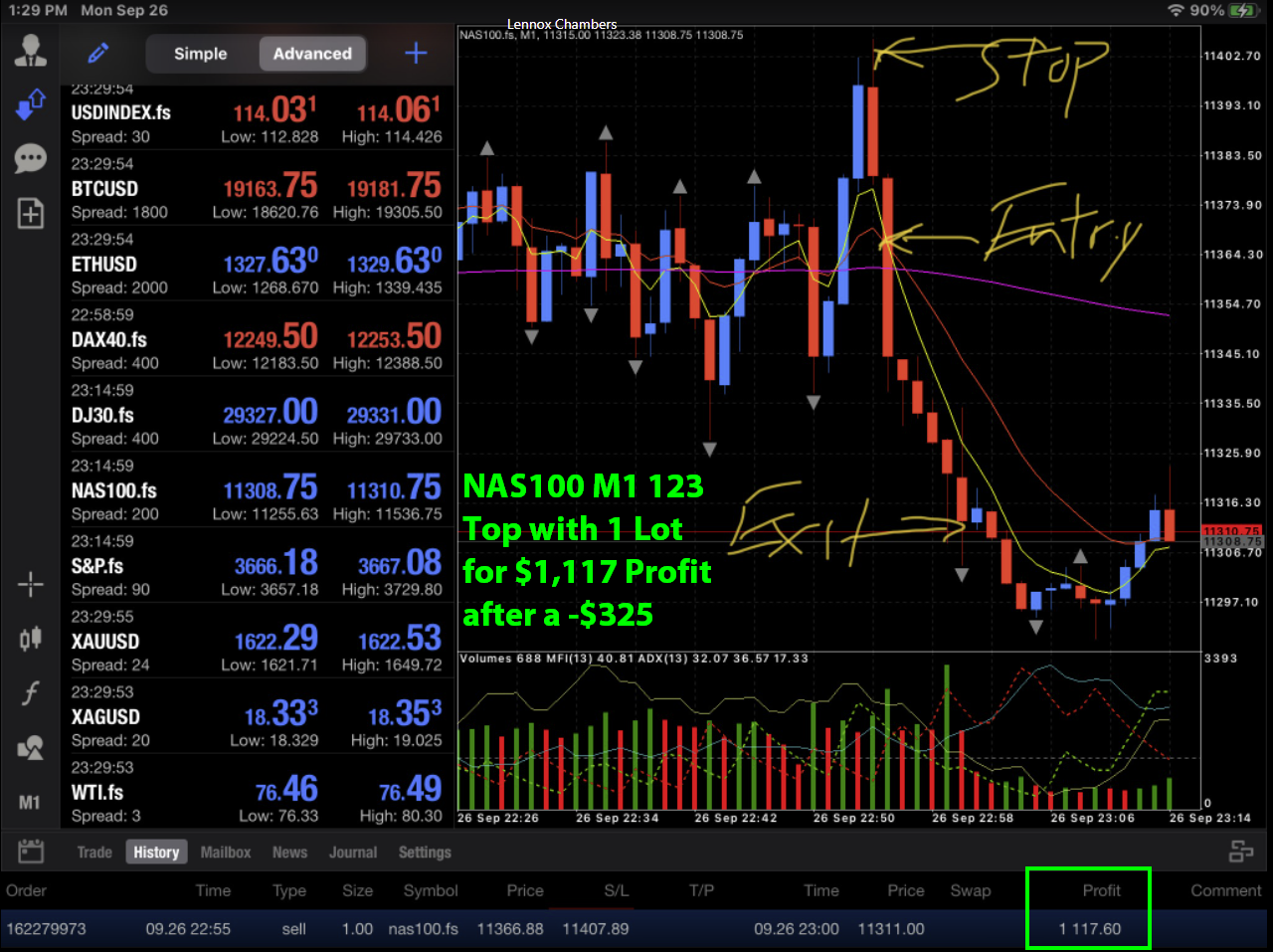 2022-09-23 NAS100 M1 S123 Top with 1 Lot
+$1,095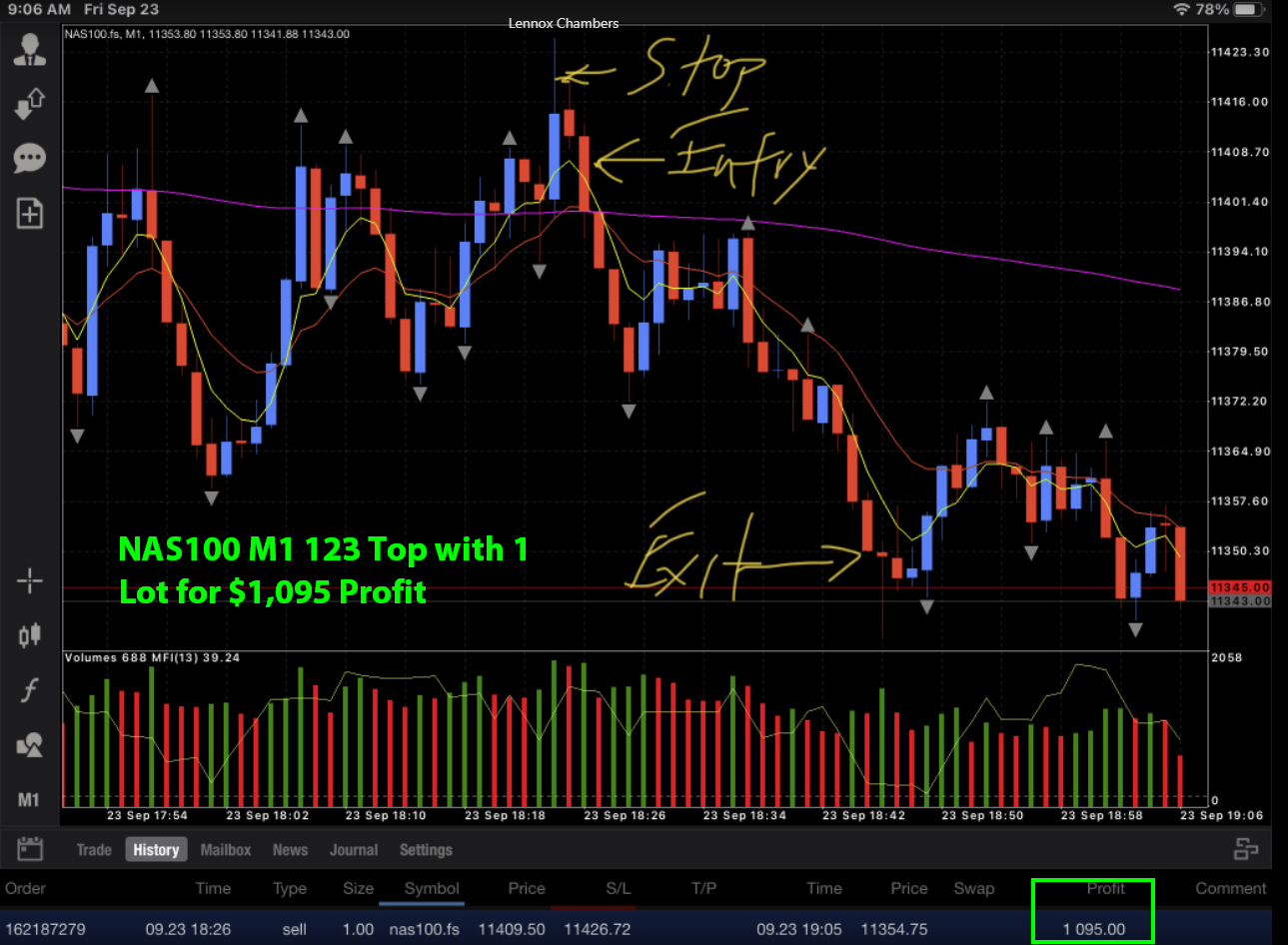 2022-09-23 NAS100 M1 S123 Bottom with 1 Lot
+$595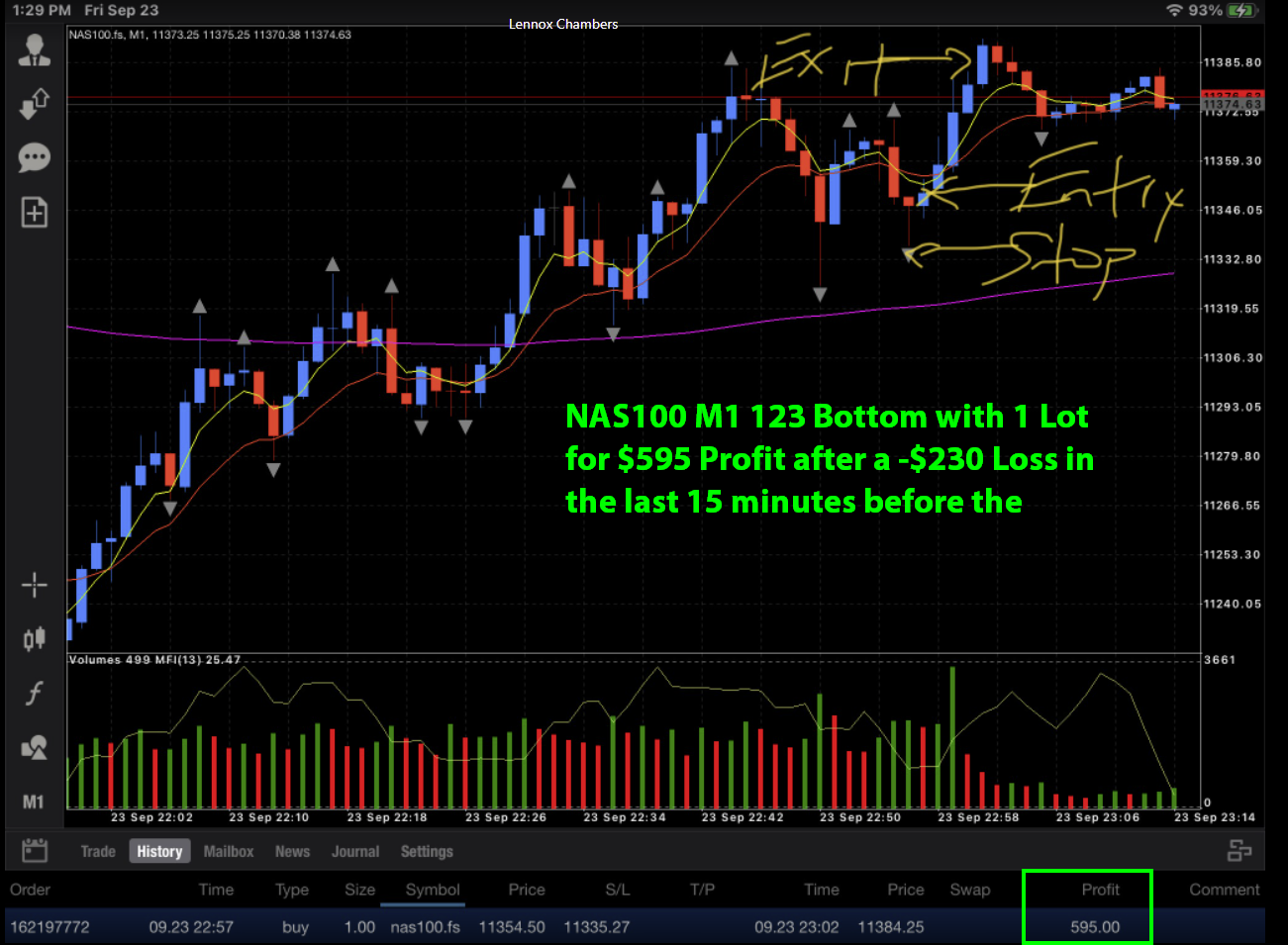 2022-09-22 NAS100 M1 S123 Top with 1 Lot
+$1,250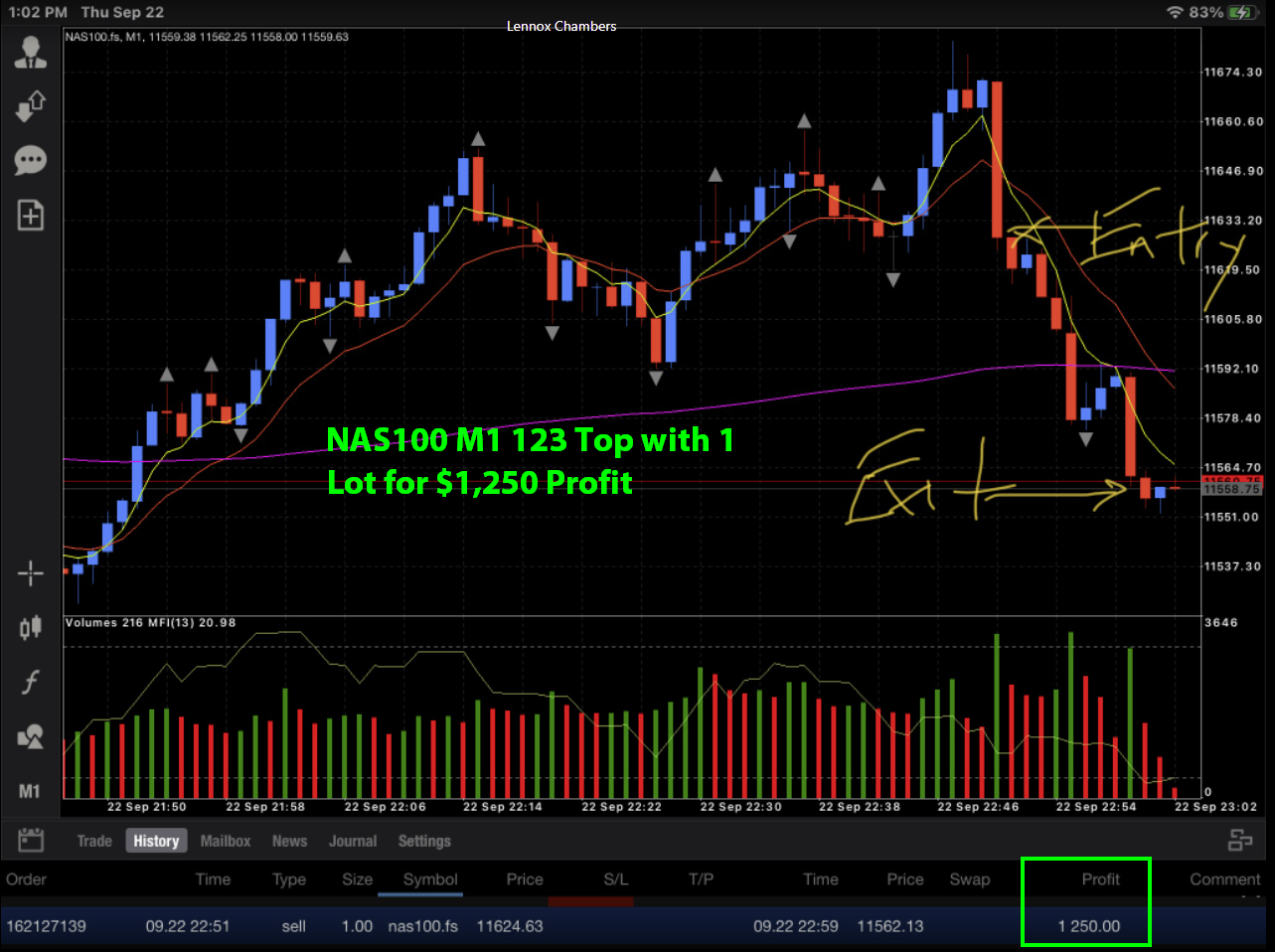 2022-09-21 NAS100 M1 S123 Top with 1 Lot
+$2,557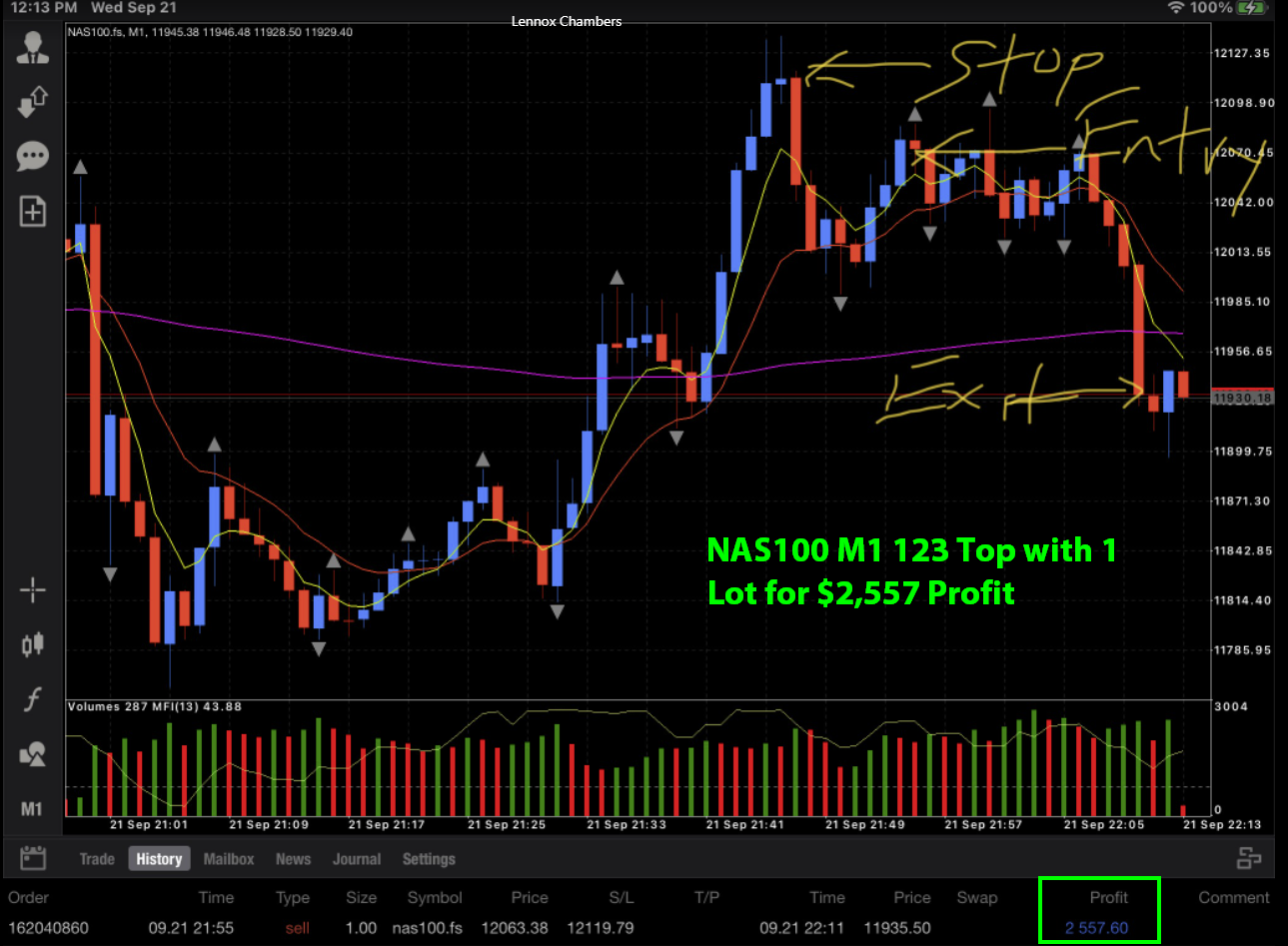 2022-09-21 NAS100 M1 S123 Top with 1 Lot
+$1,980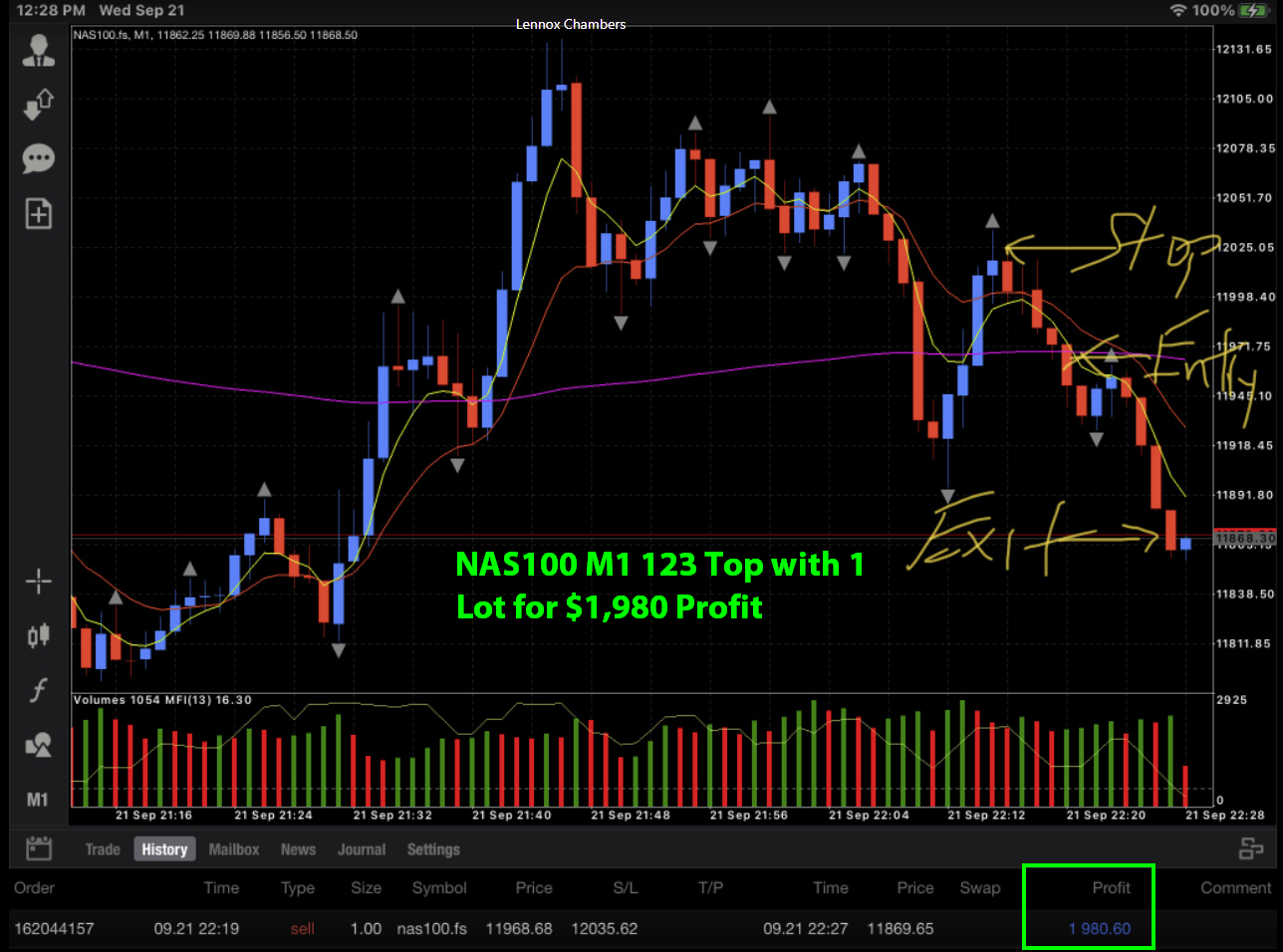 2022-09-20 NAS100 M1 S123 Top with 1 Lot after 420 loss
+$1,022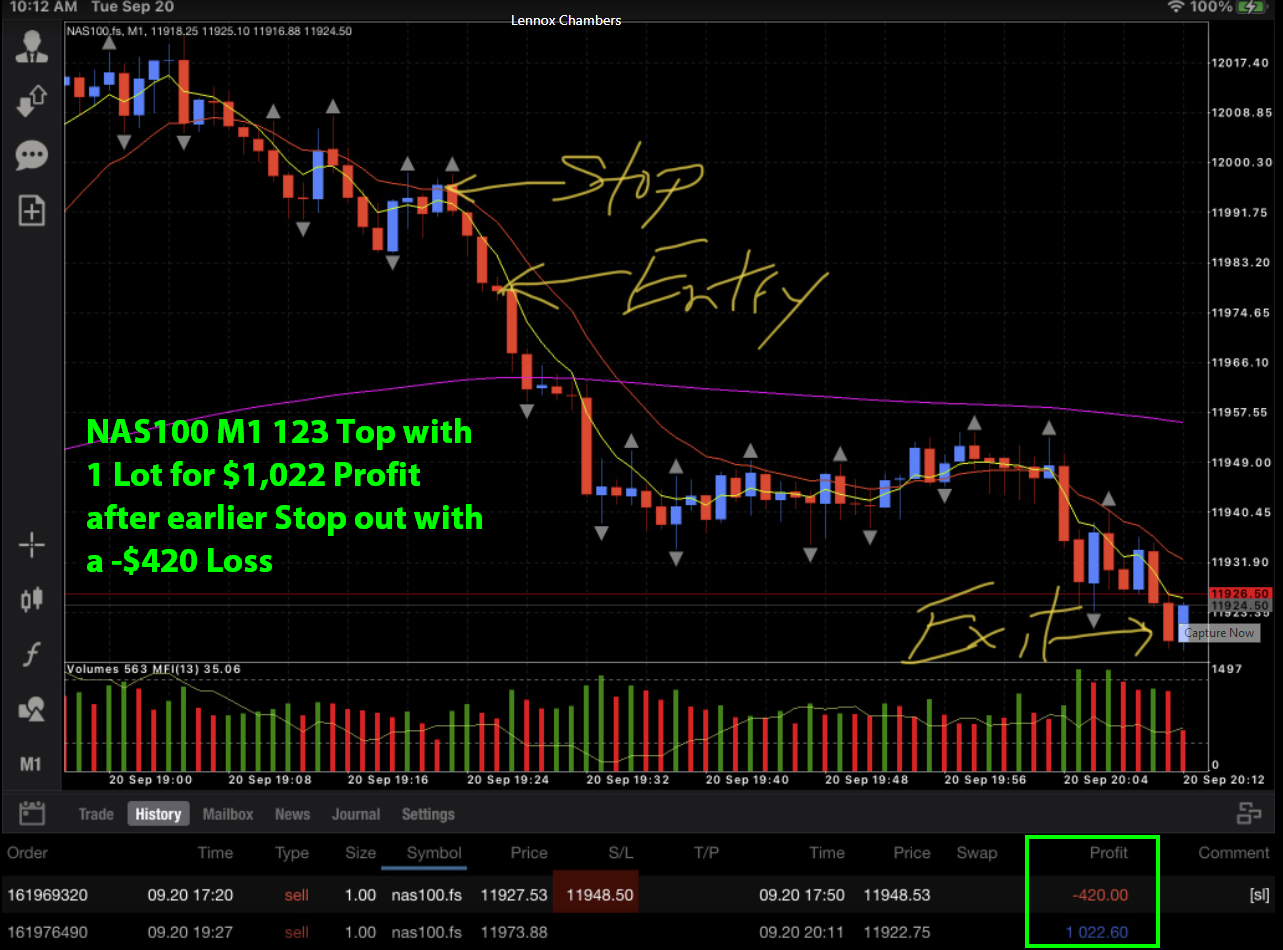 2022-09-19 NAS100 M1 S123 Bottom with 1 Lot
+$1,305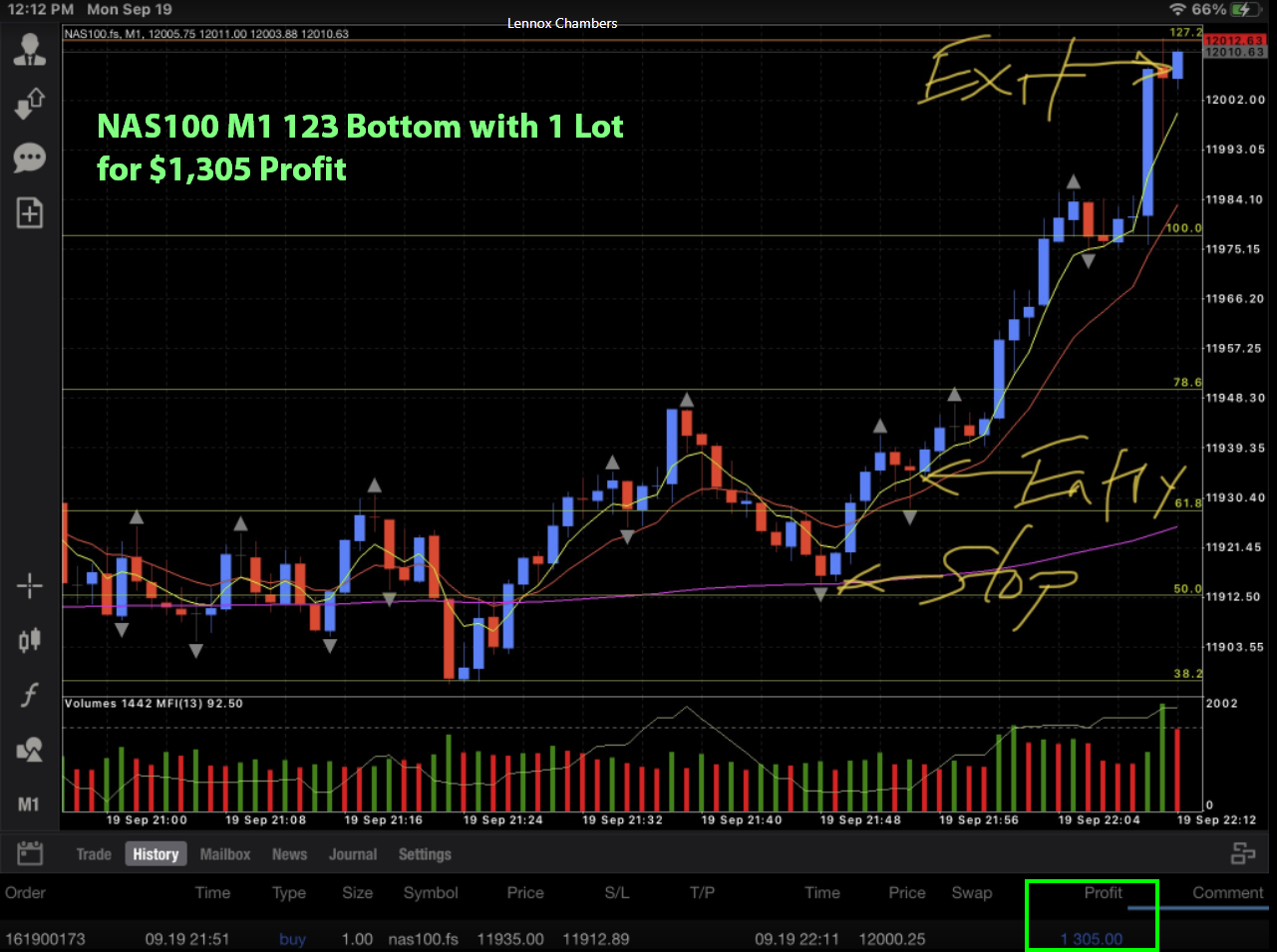 2022-09-16 BTC M5 S123 Top with 10 Lot
+$1,250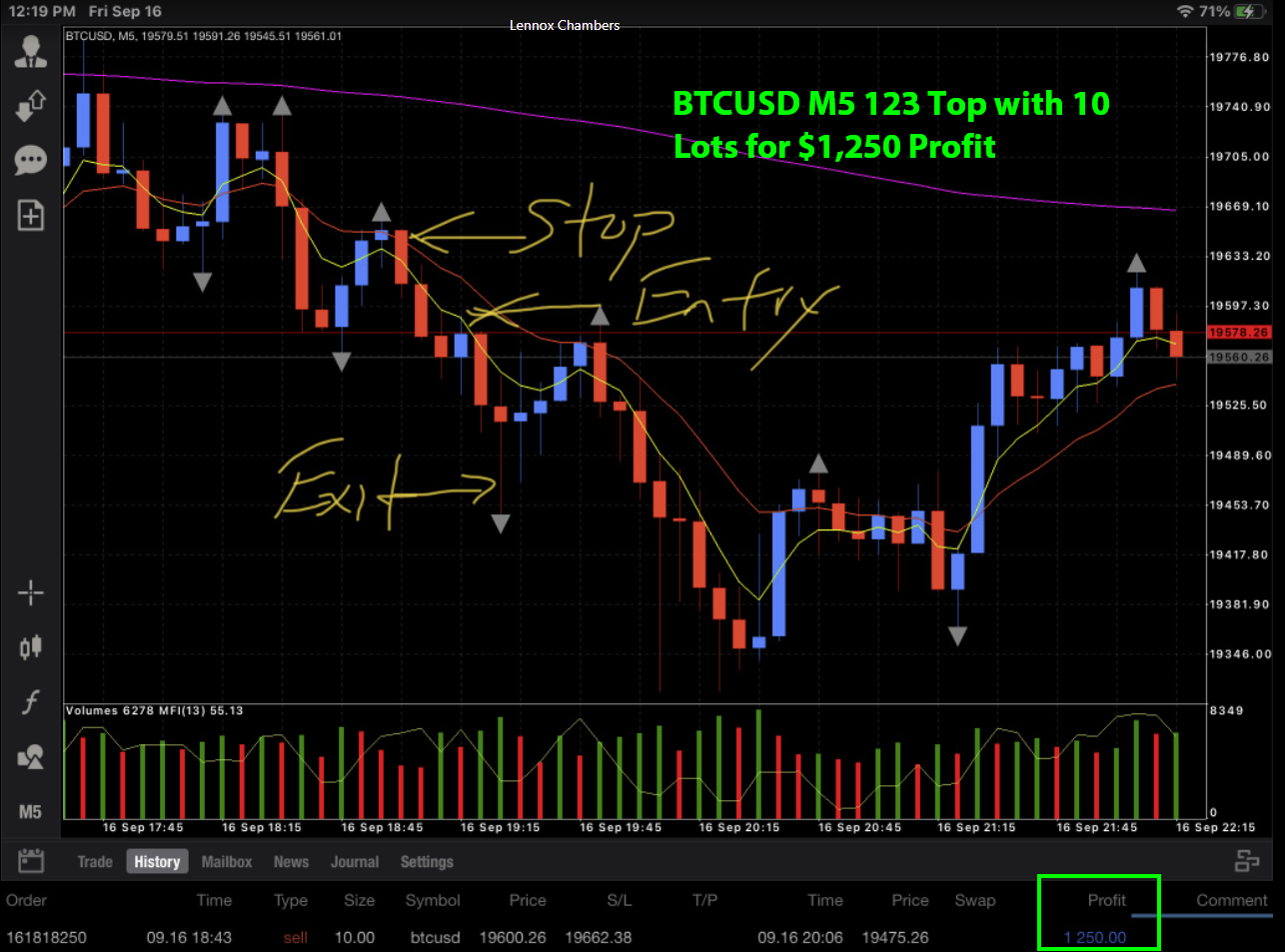 2022-09-15 NAS100 M1 S123 Top with 1 Lot
+$995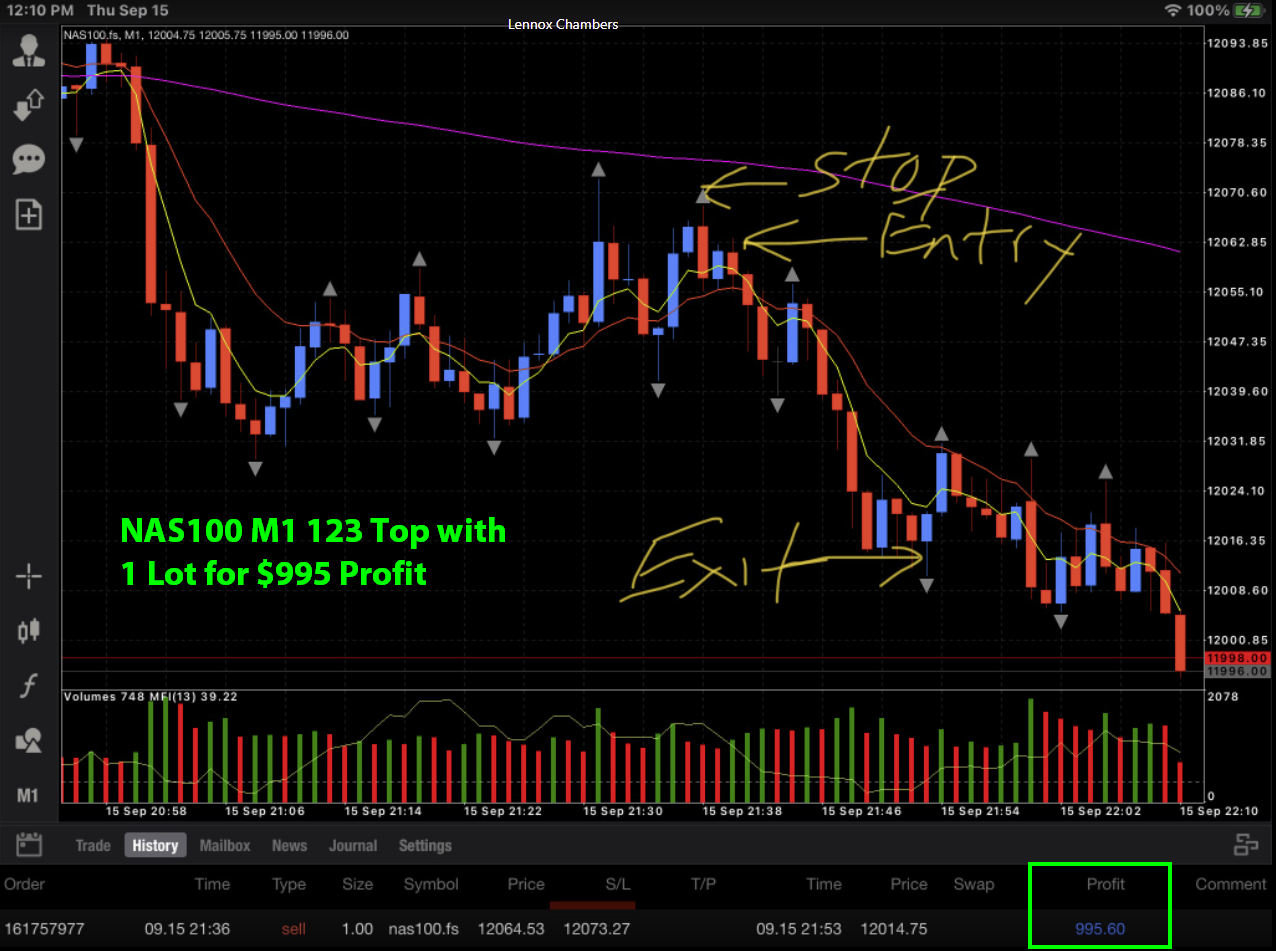 2022-09-15 NAS100 M1 S123 Bottom with 1 Lot
+$1,157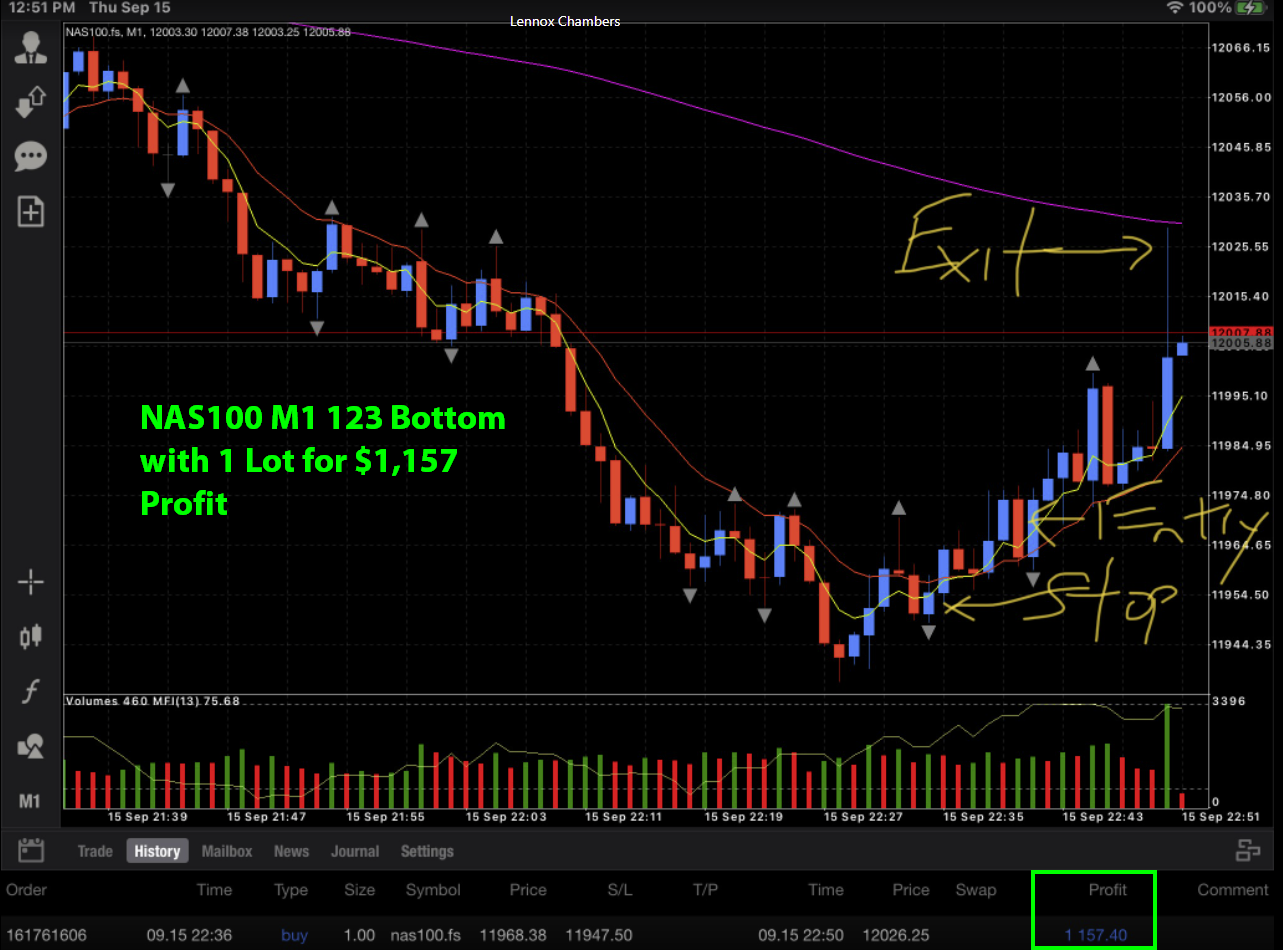 2022-09-14 NAS100 M1 S123 Top with 1 Lot
-$405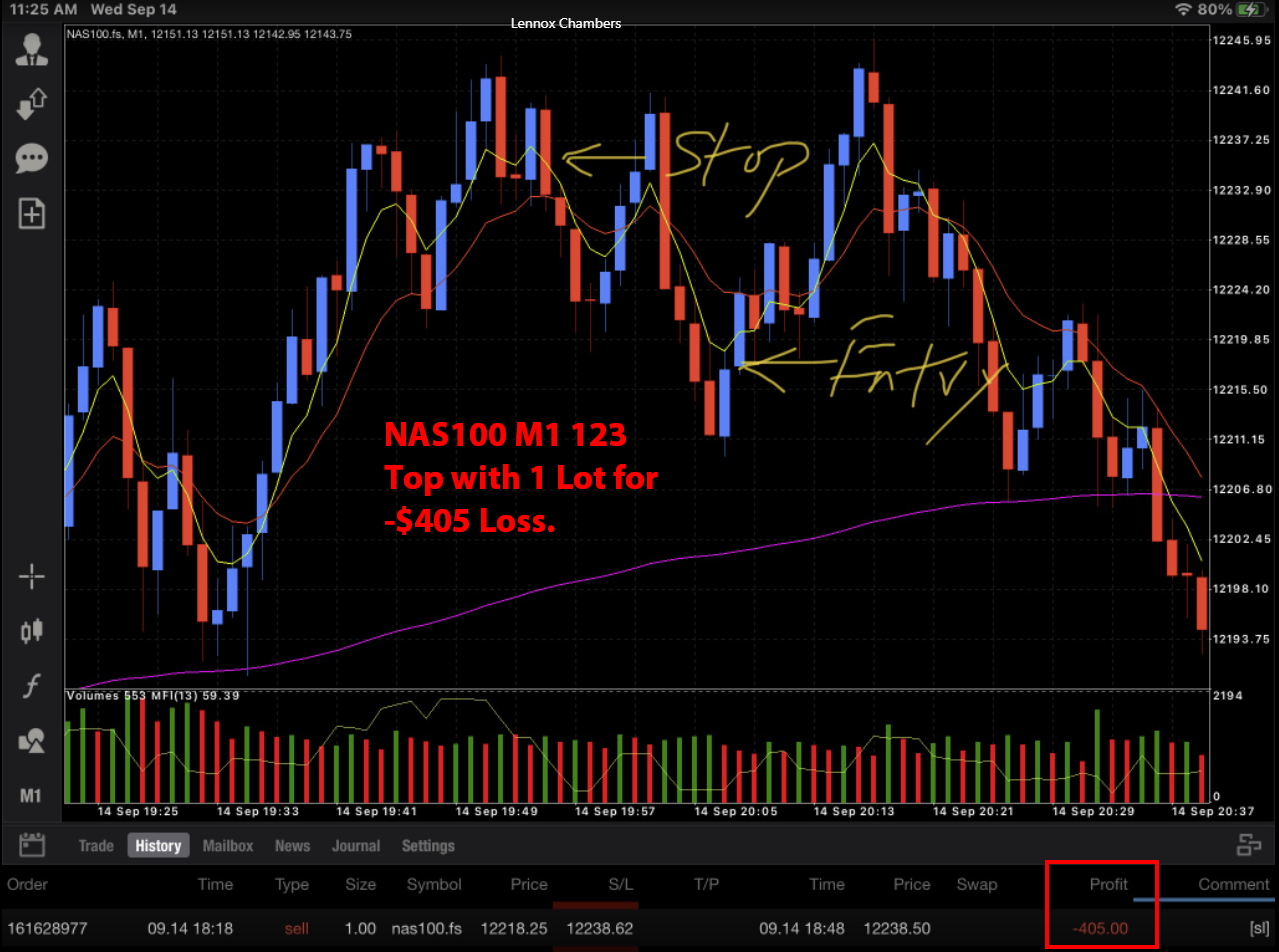 2022-09-14 NAS100 M1 S123 Top with 1 Lot
+$1,122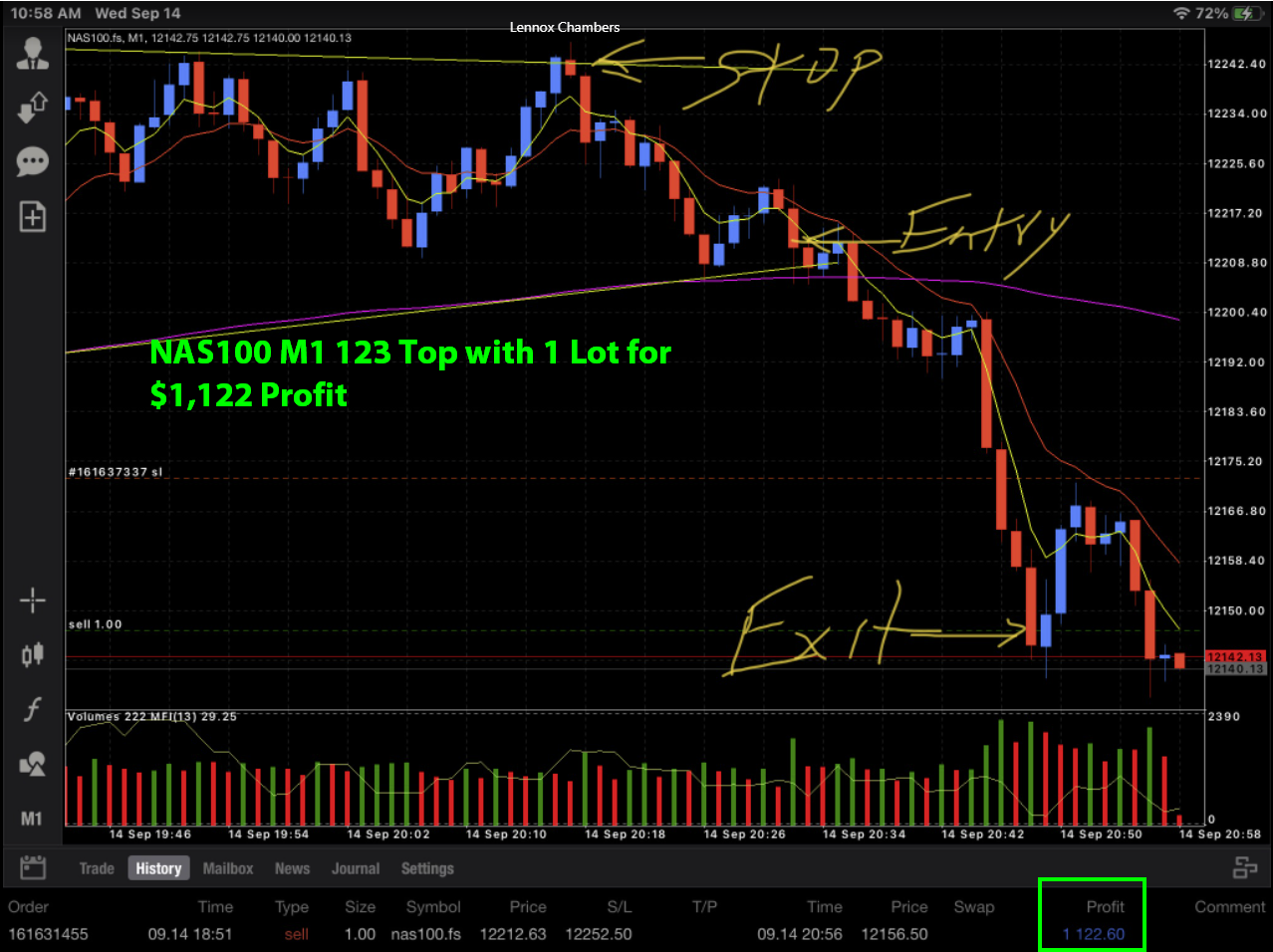 2022-09-13 NAS100 M1 S123 Top with 10 Lots
+$5,000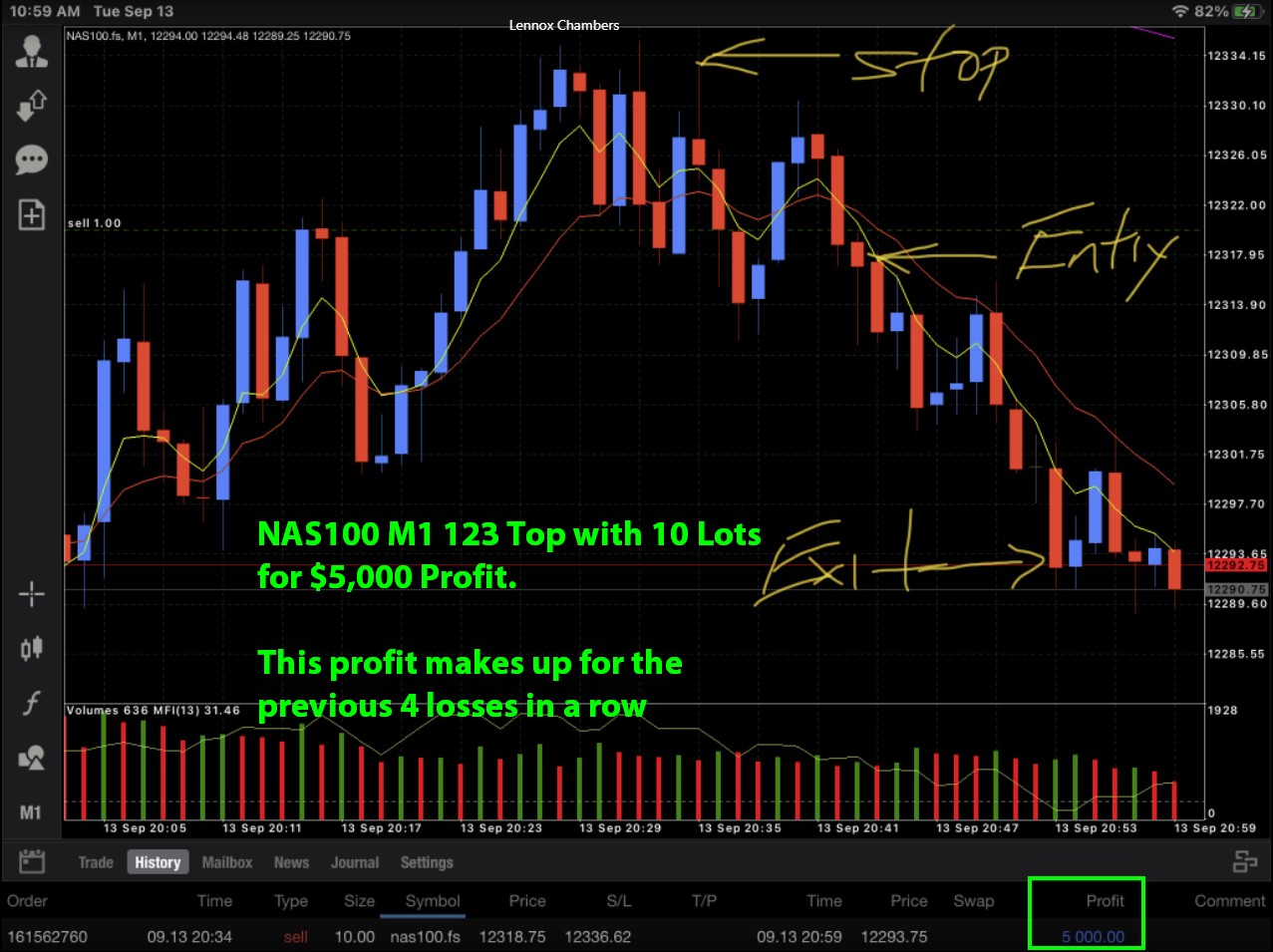 2022-09-13 NAS100 M1 S123 Top with 1 Lot
+$1,322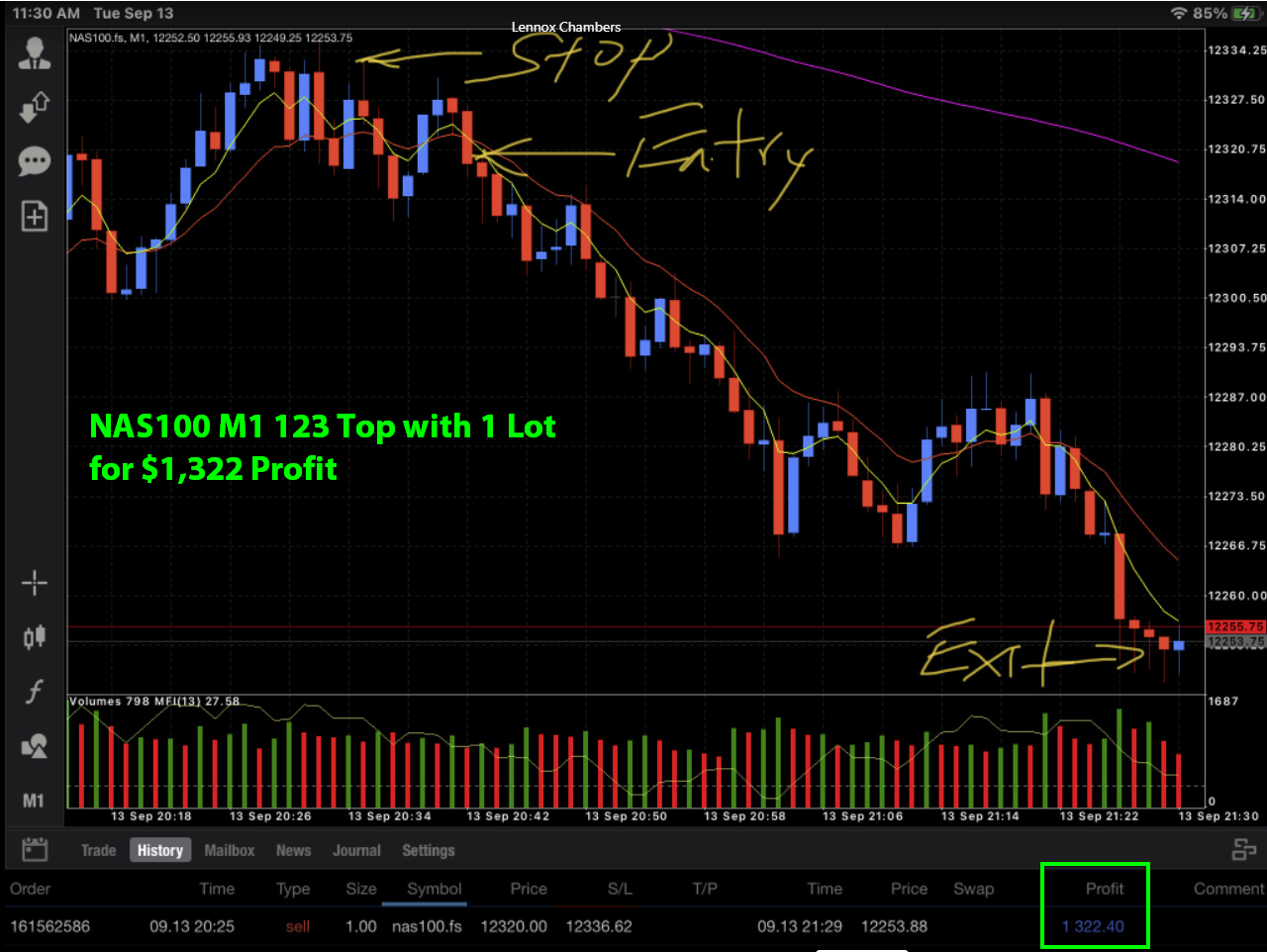 2022-09-12 NAS100 M1 S123 Bottom with 1 Lot
+$622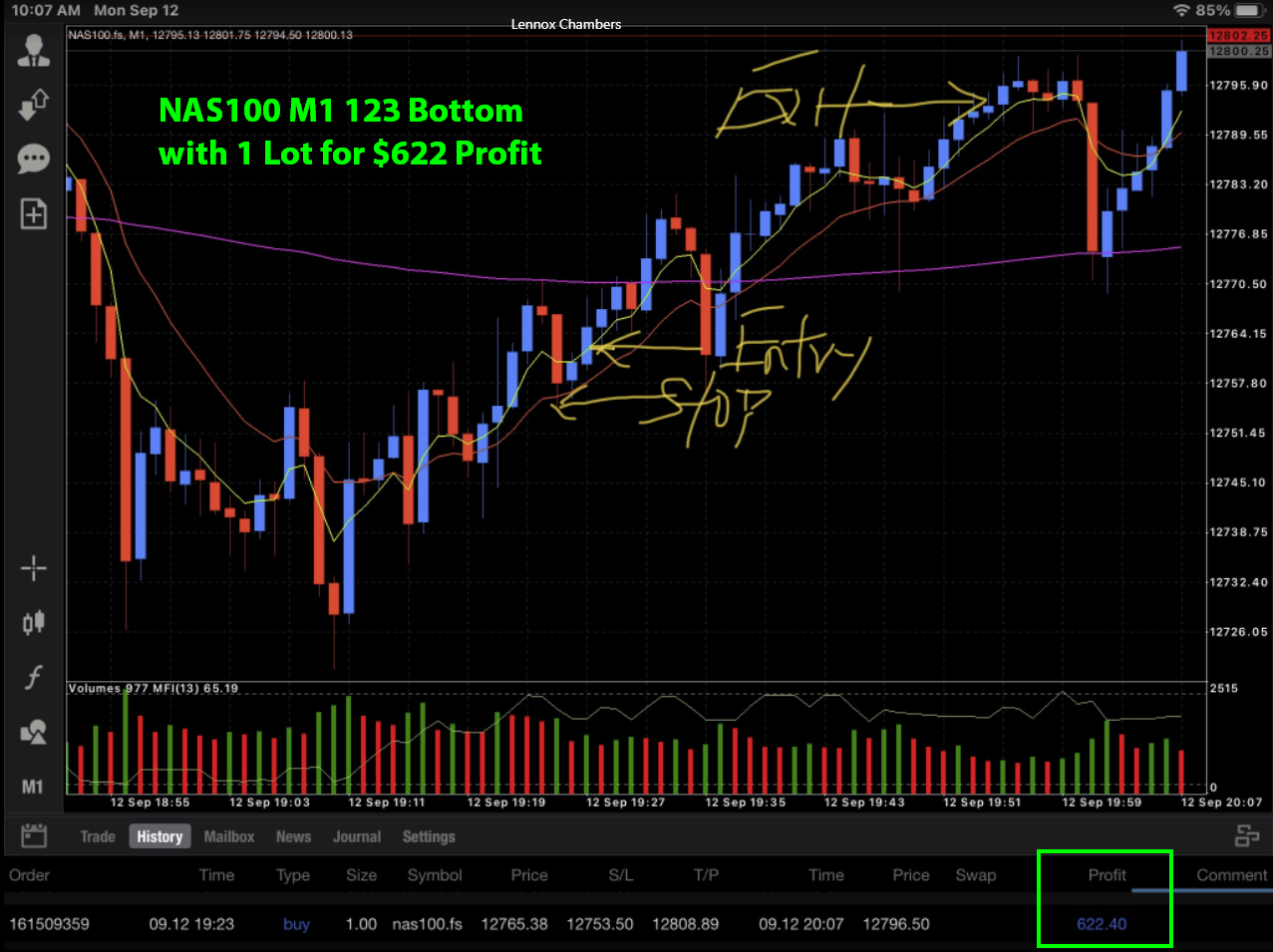 2022-09-12 BTC M1 S123 Top with 10 Lot
+$1,632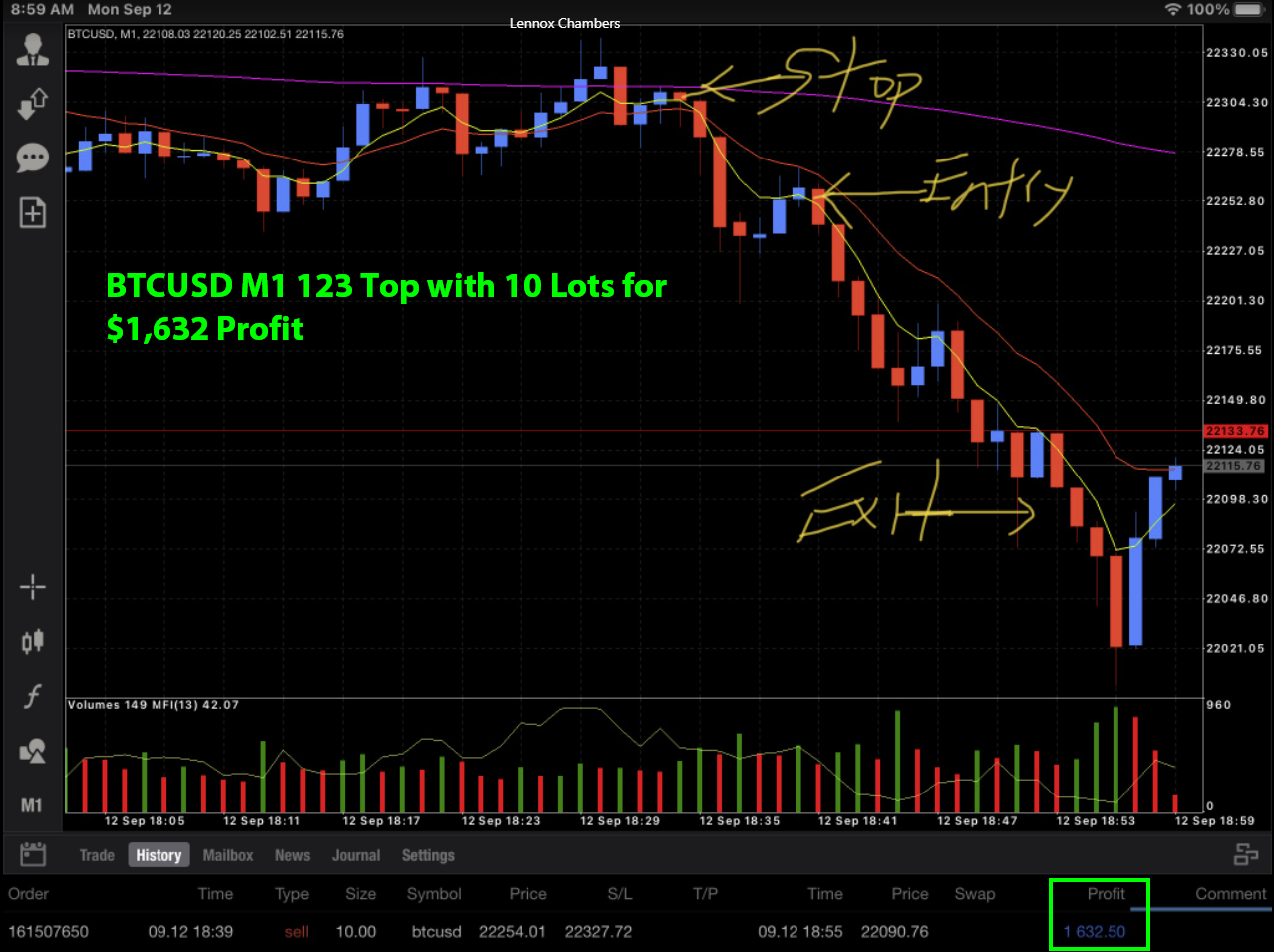 2022-09-10 BTC M1 S123 Top with 10 Lot
+$1,100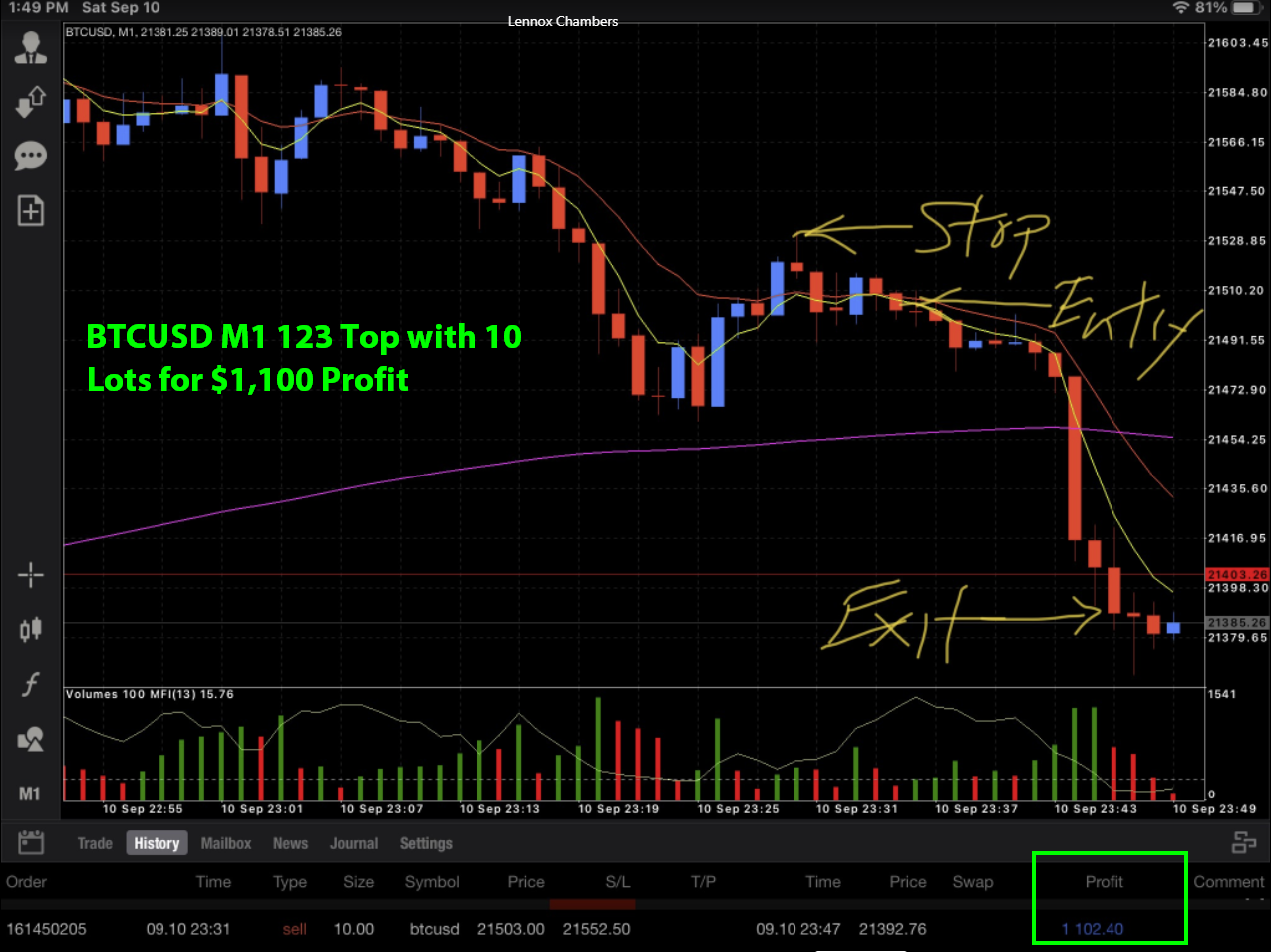 2022-09-09 NAS100 M1 S123 Bottom with 1 Lot
+$755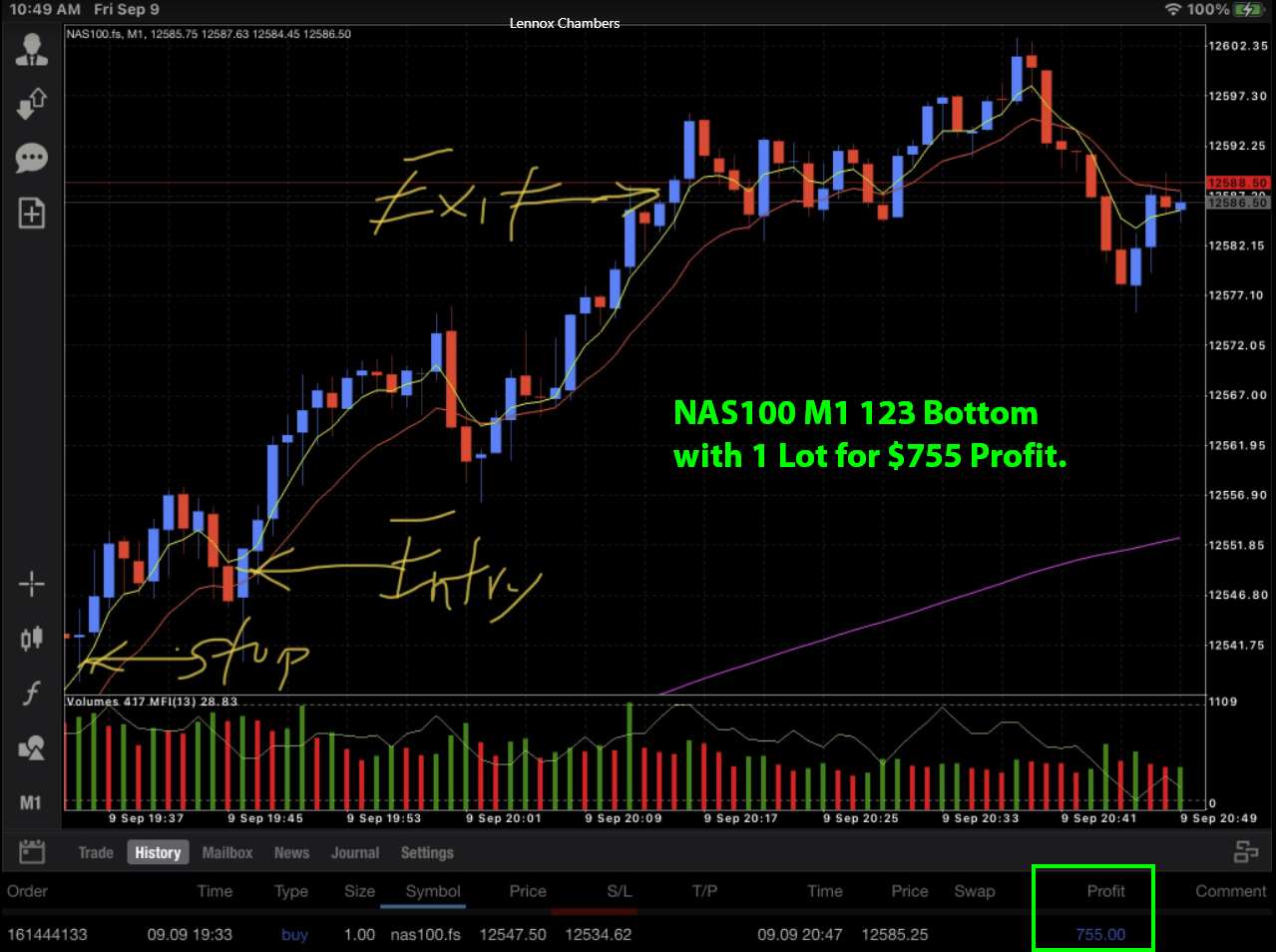 2022-09-01 NAS100 M1 S123 Bottom with 1 Lot
+$1,115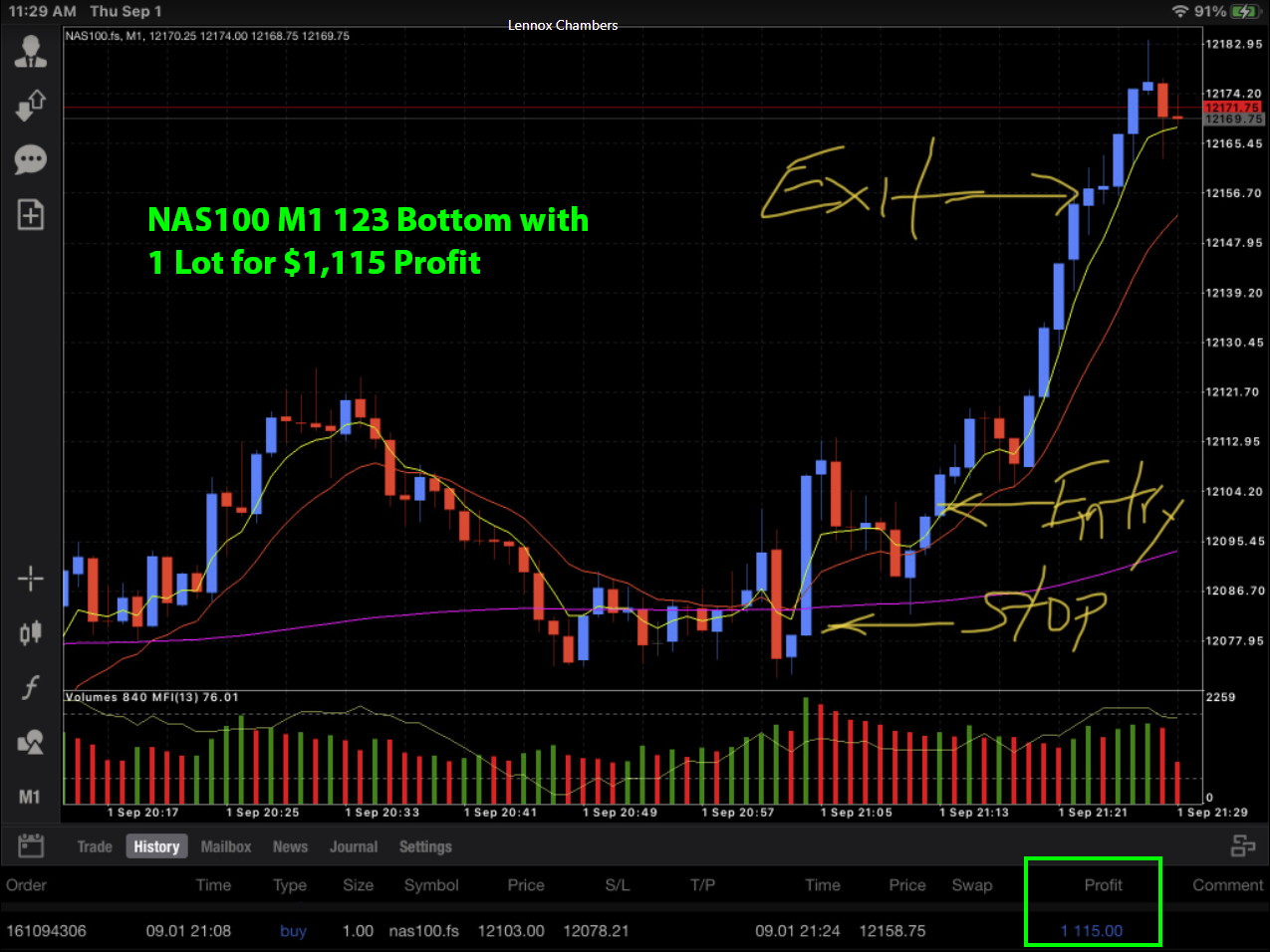 2022-08-30 NAS100 M15 S123 Top with 2 Lot
+$6,115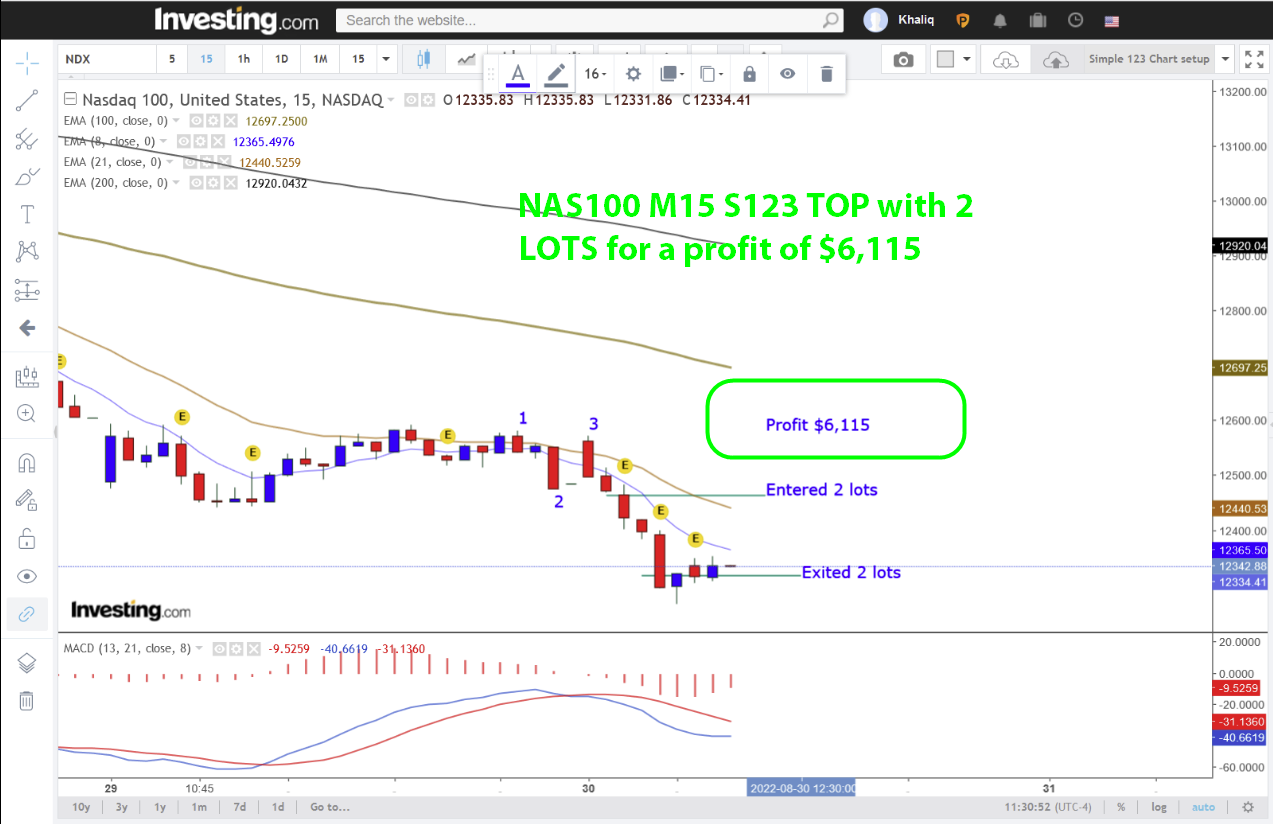 2022-08-30 NAS100 M1 S123 Bottom with 1 Lot
+$1,000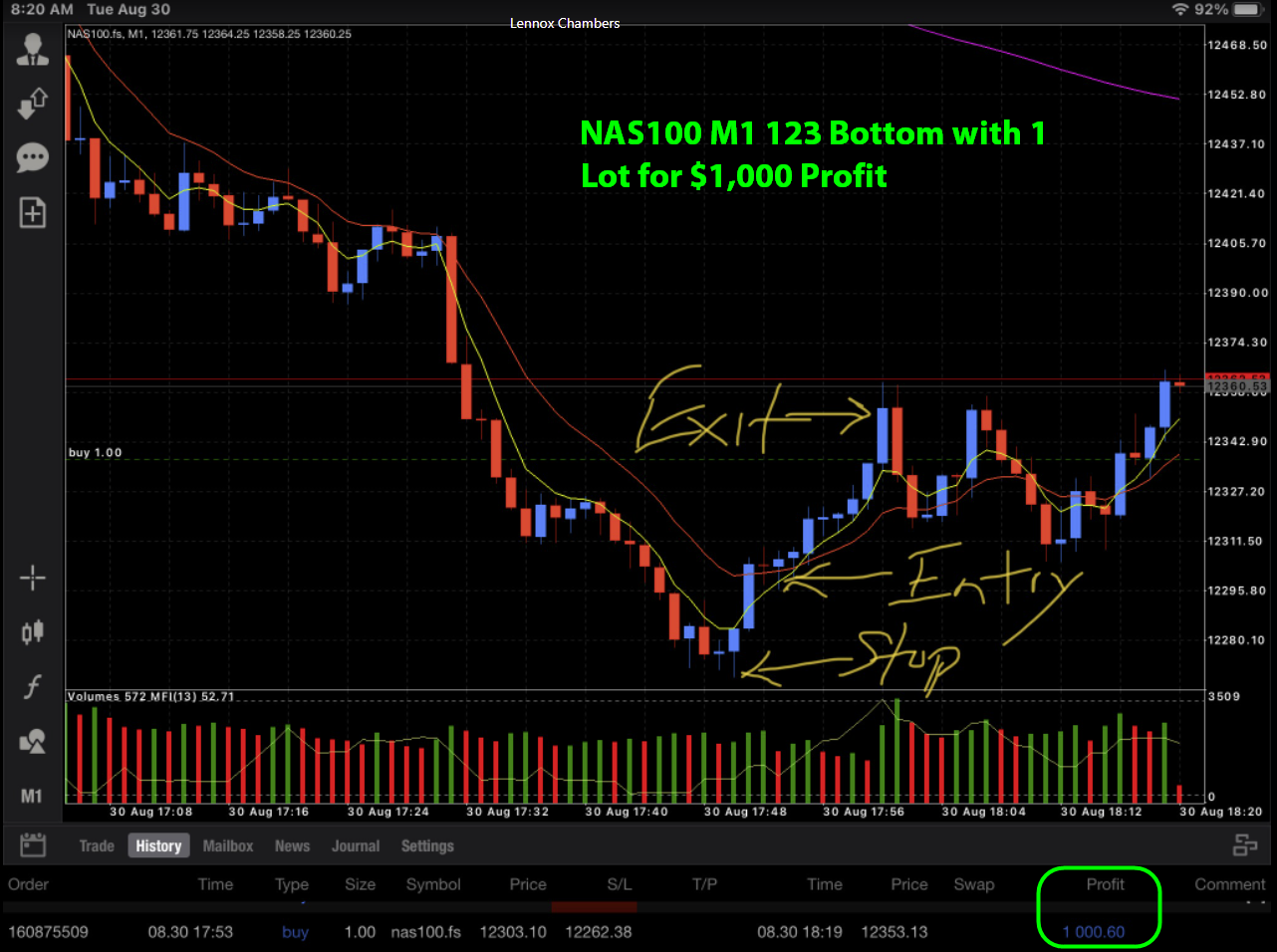 2022-08-29 NAS100 M1 S123 Top with 1 Lot
-$532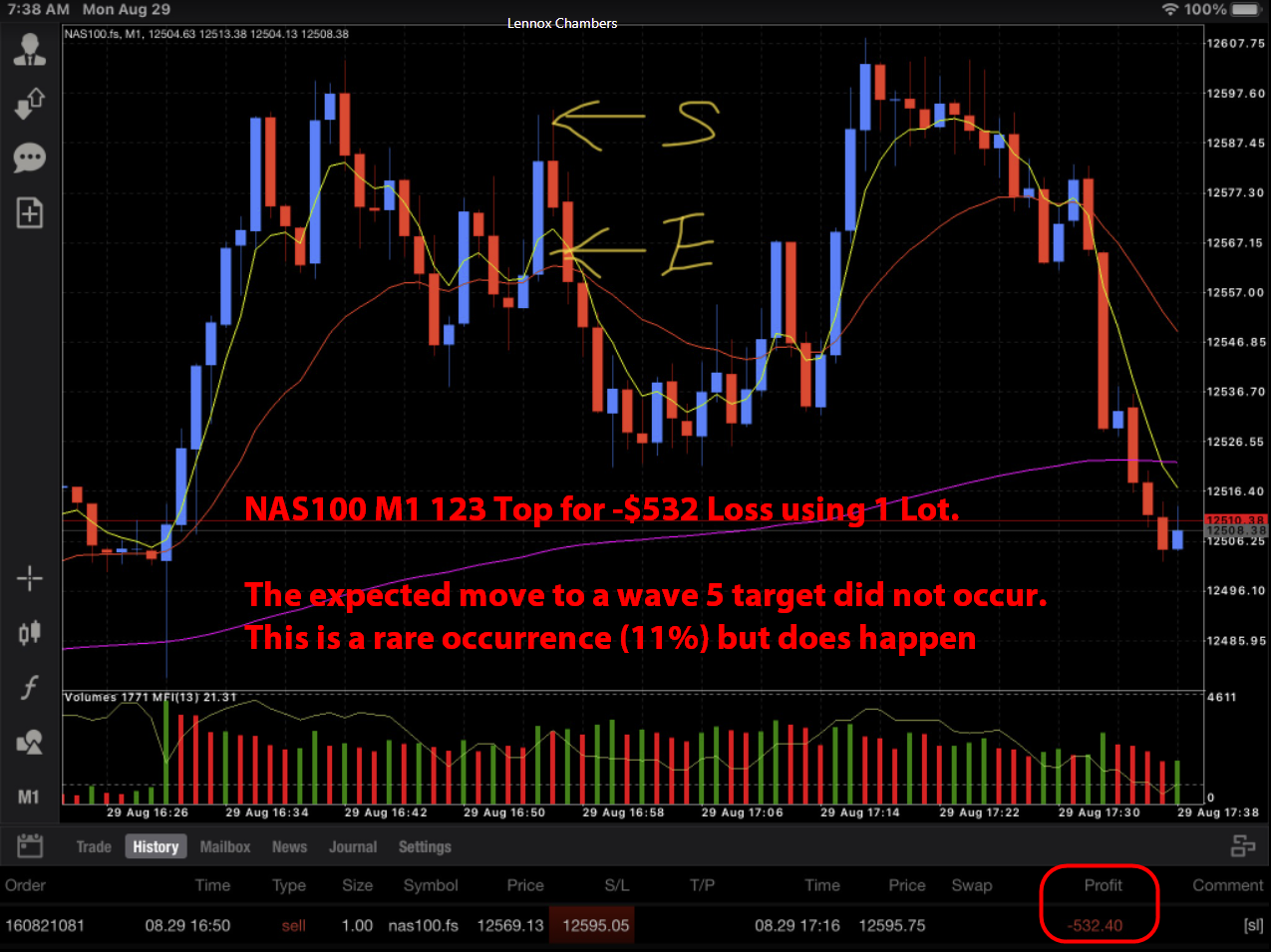 2022-08-29 NAS100 M1 S123 Top with 1 Lot
+$1,064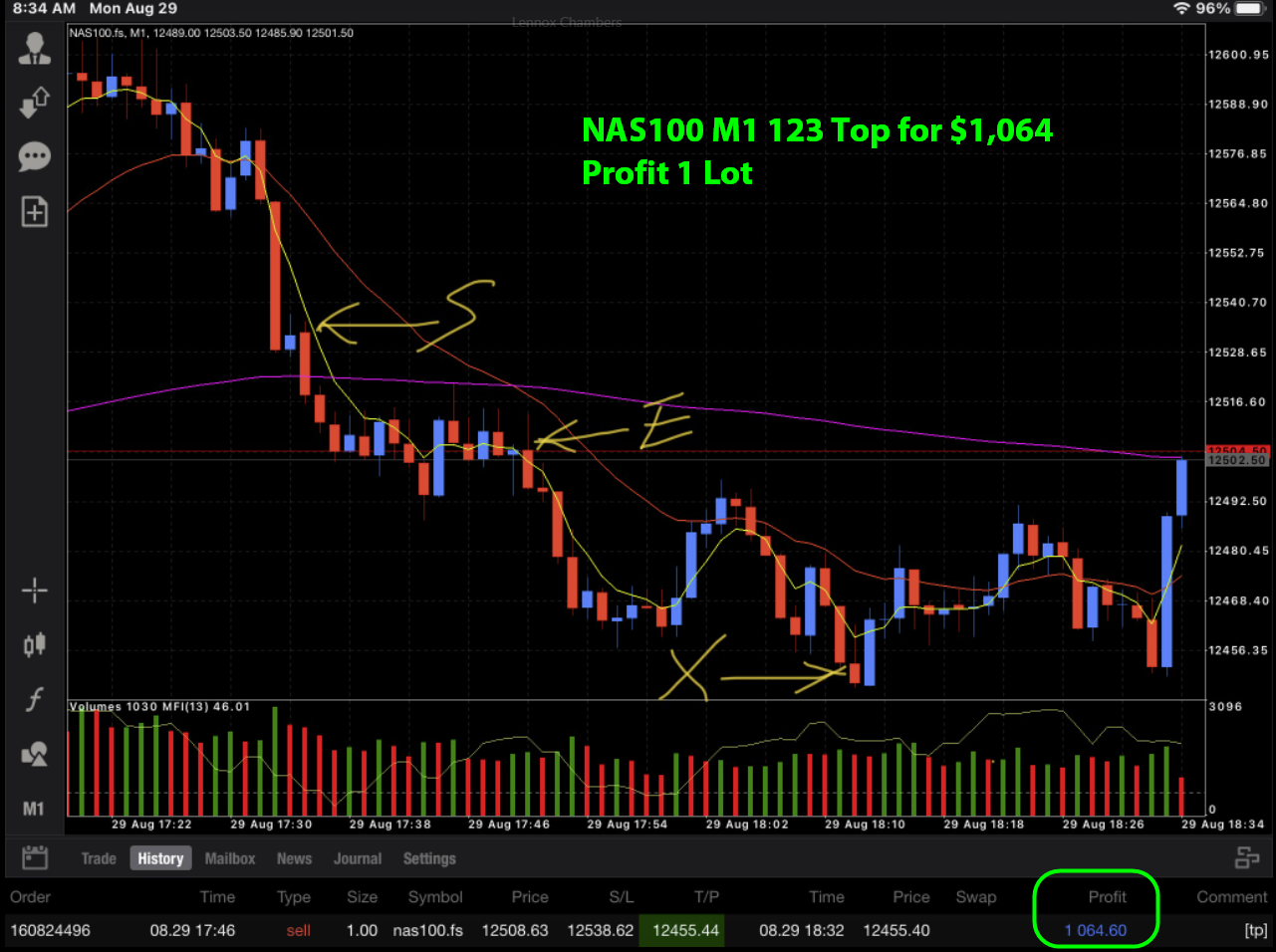 2022-08-26 NAS100 M1 S123 Top with 1 Lot
+$1,327
2022-08-26 NAS100 M1 S123 Top with 1 Lot
+$1,025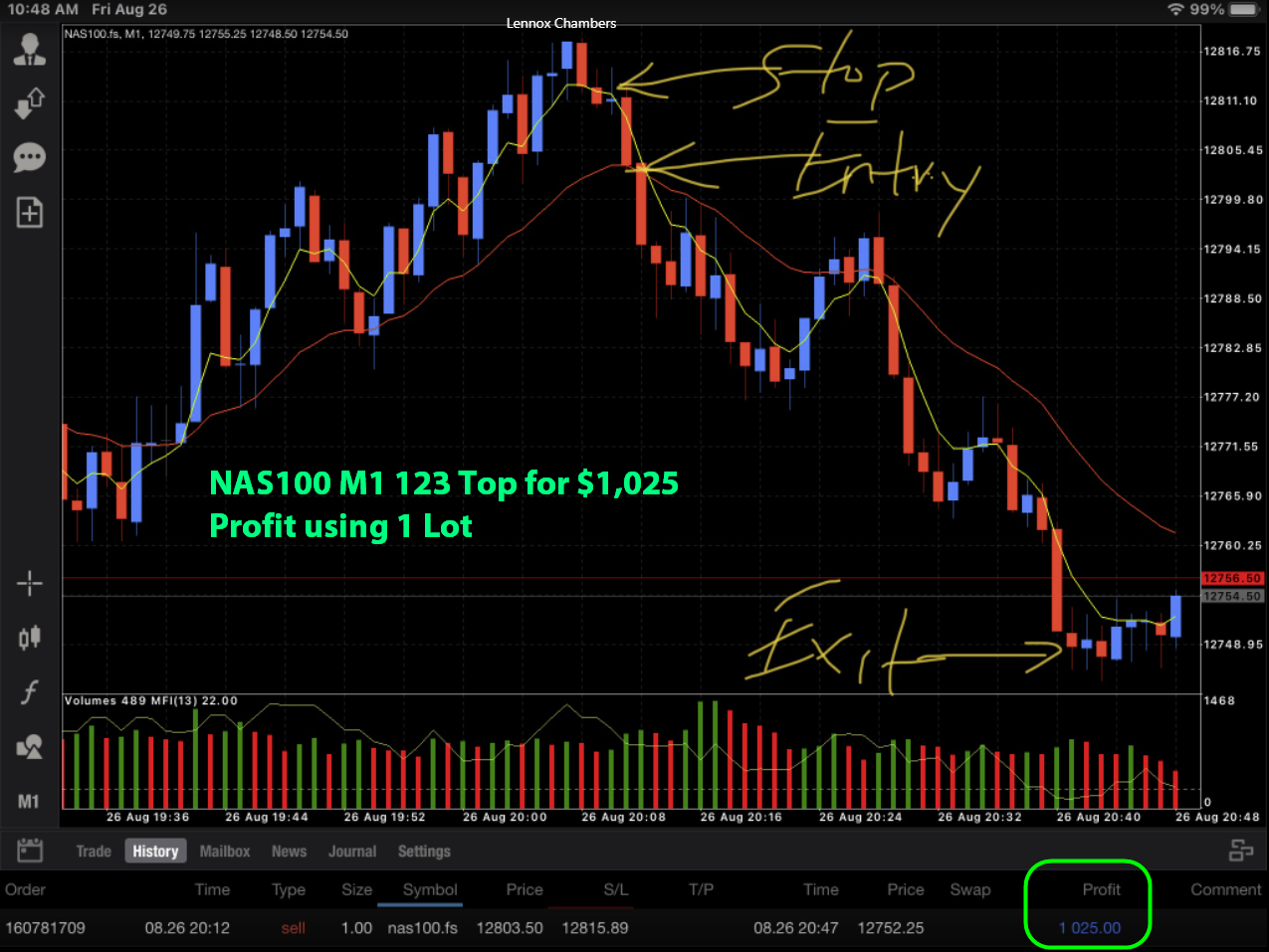 2022-08-25 NAS100 M1 S123 Bottom with 1 Lot
+$1,570
2022-08-24 NAS100 M1 123 Top with 1 Lot
+$482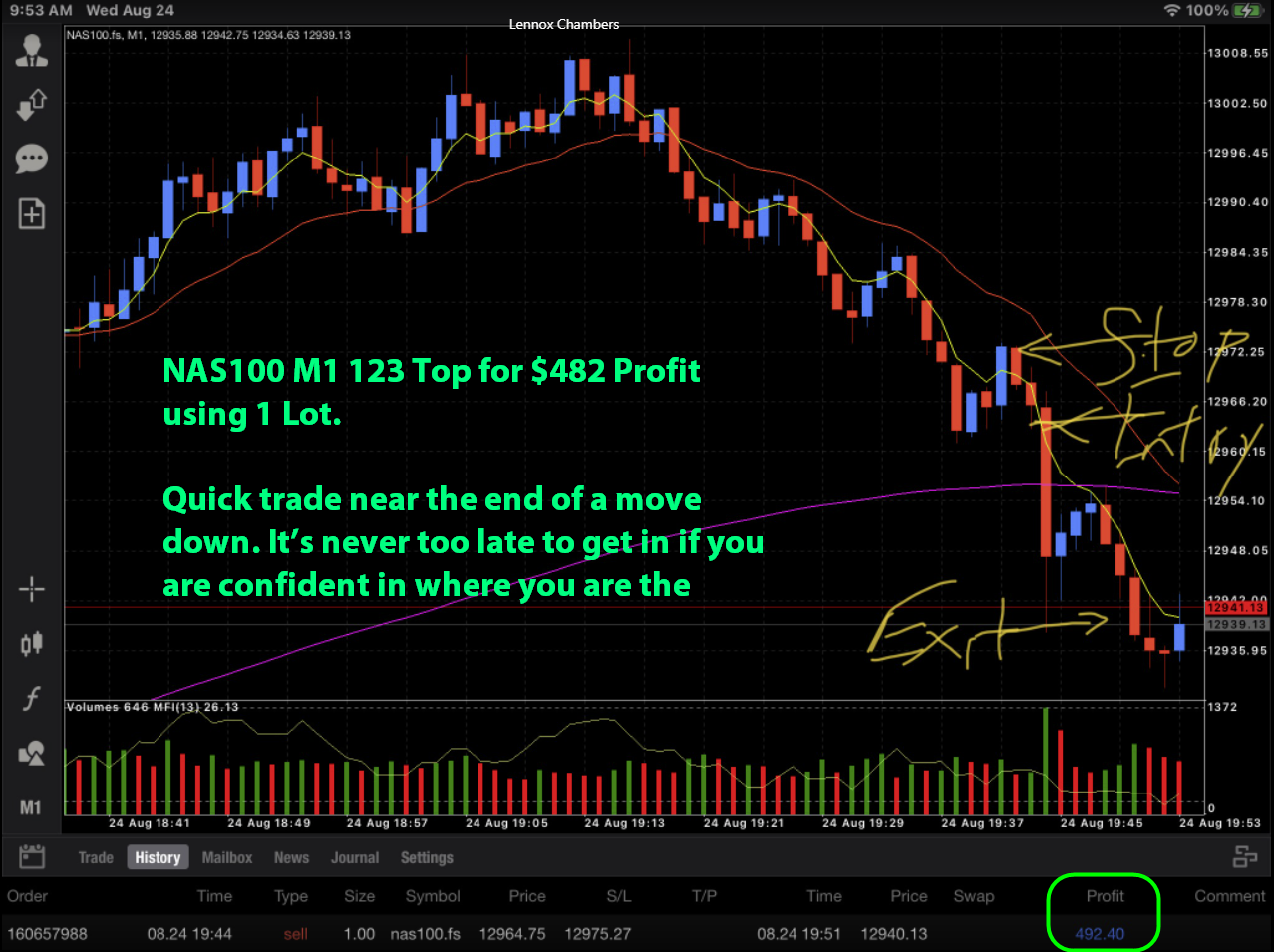 2022-08-23 NAS100 M5 123 Top with 1 Lot
+$1,027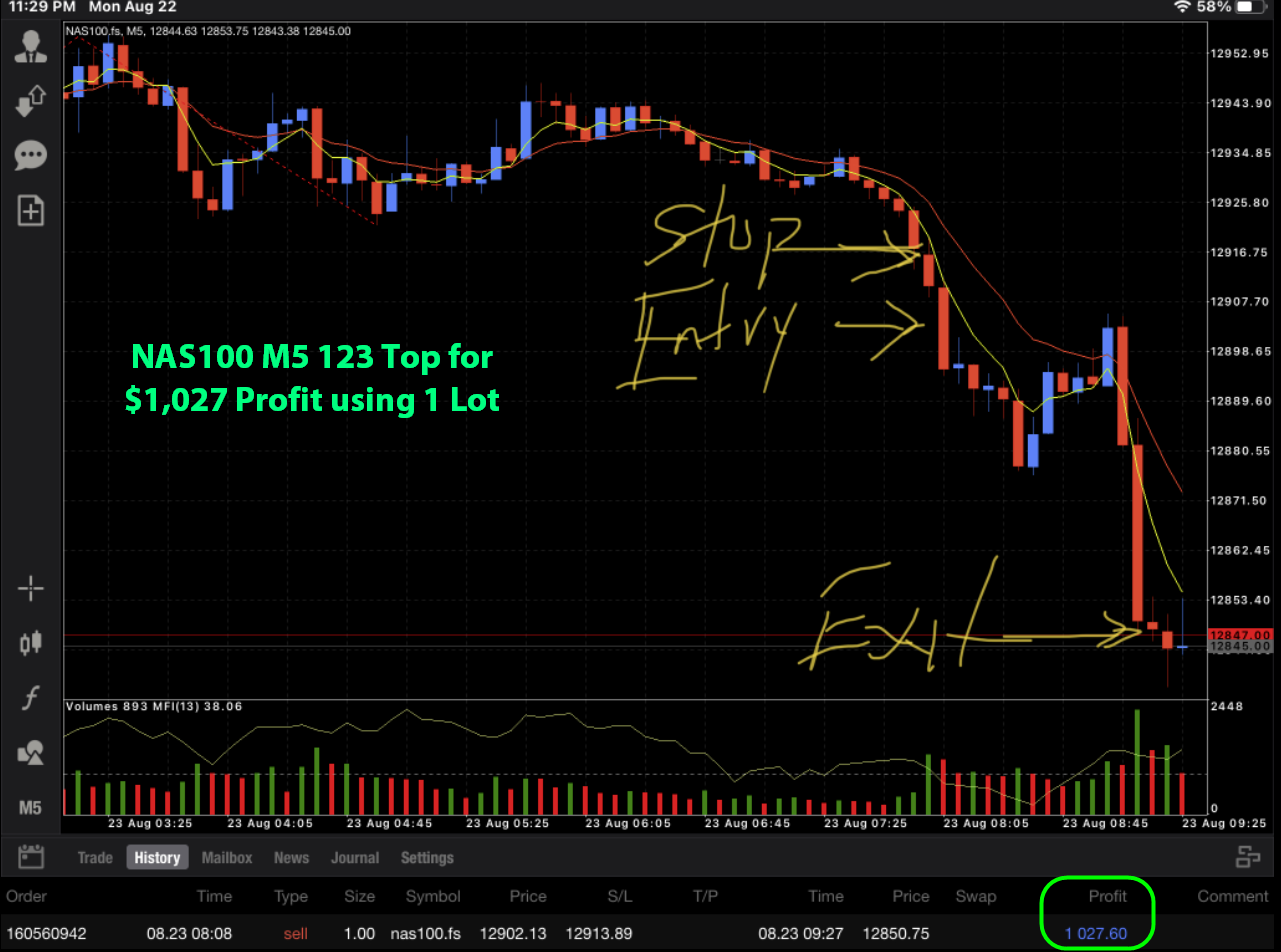 2022-08-23 NAS100 M1 123 Top with 1 Lot
+$707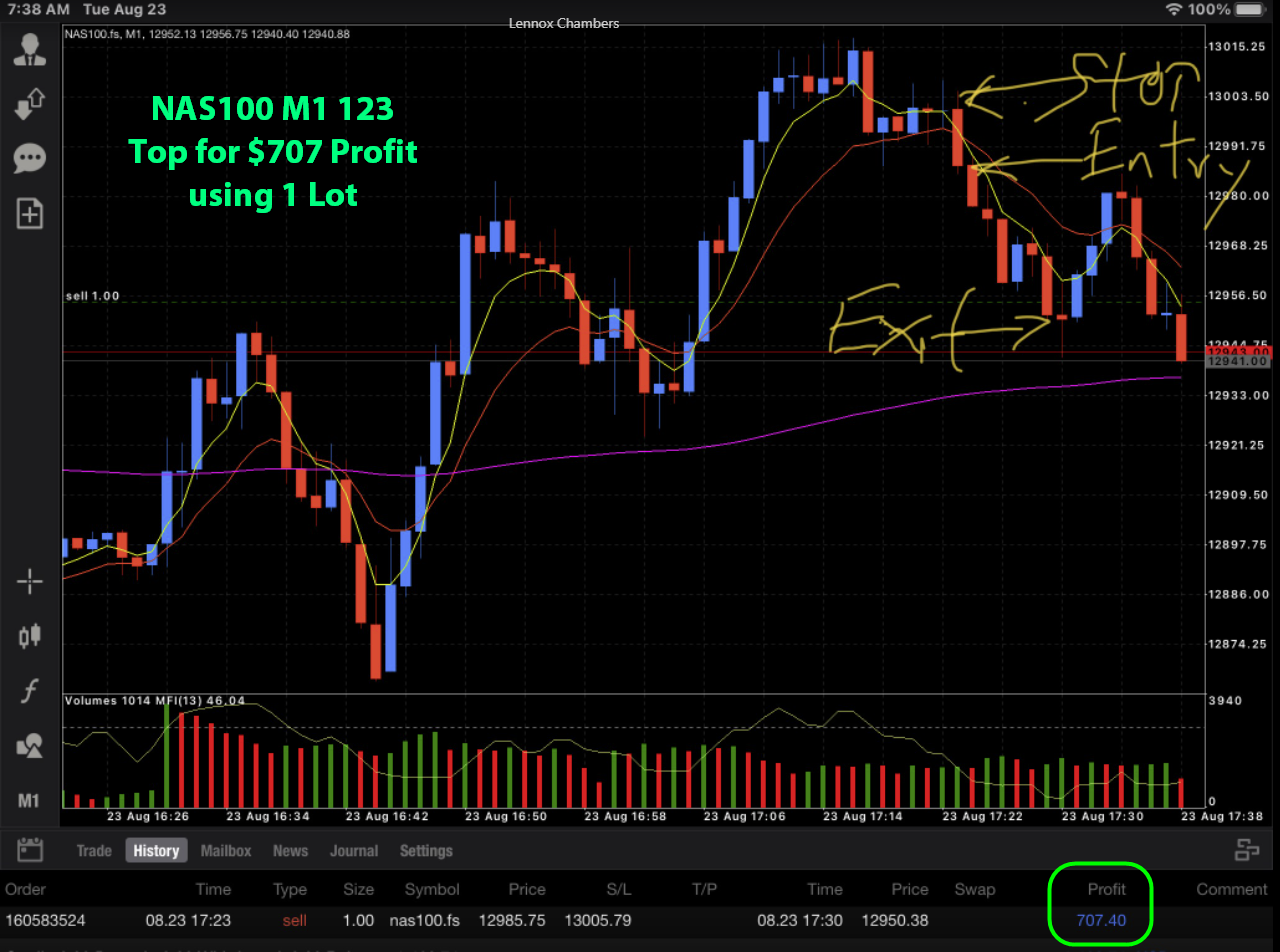 2022-08-23 NAS100 M1 123 Top with 1 Lot
+$1,052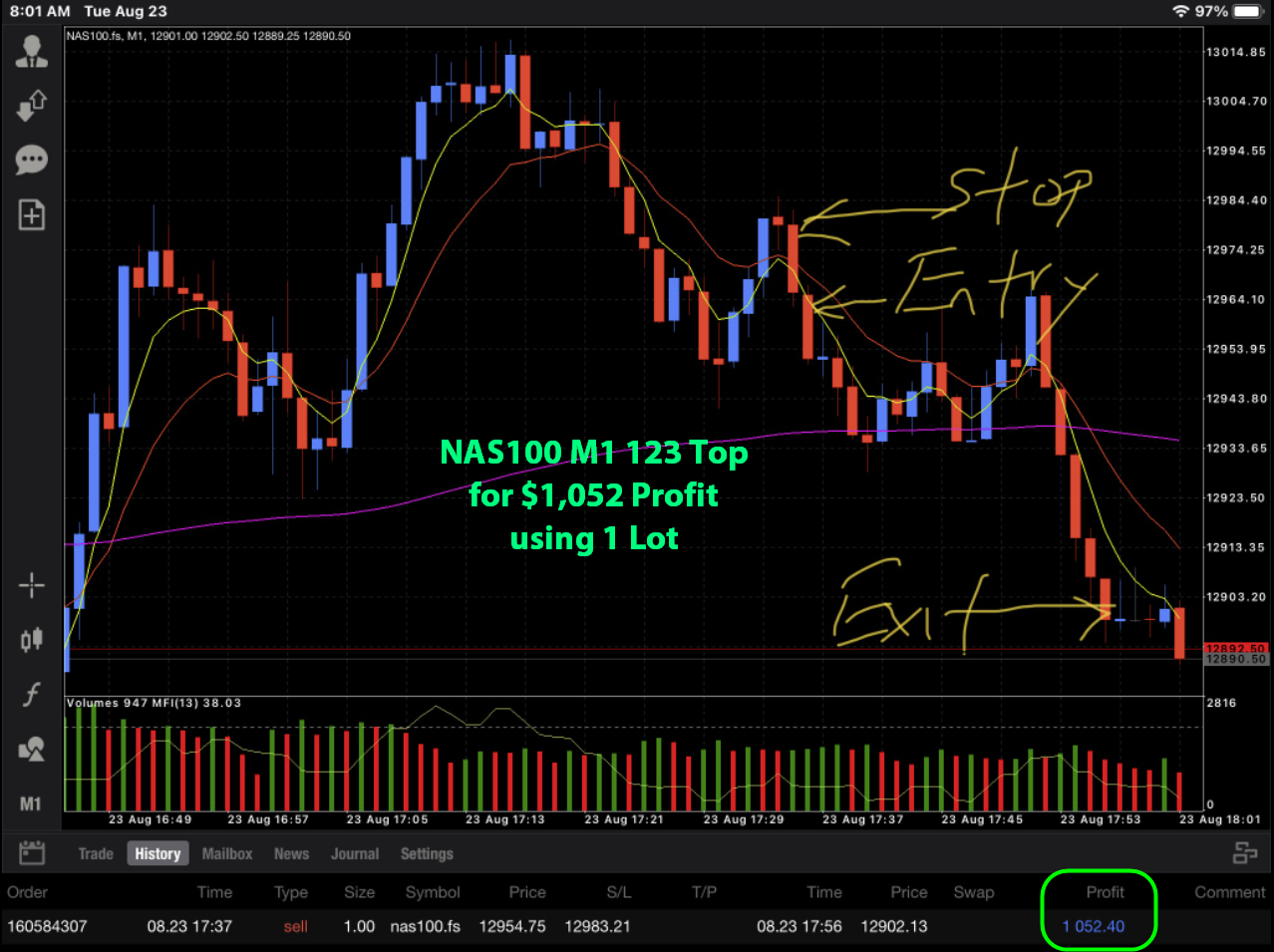 2022-08-22 NAS100 M5 123 Top 2 trades with 1 Lot Each
+$1,517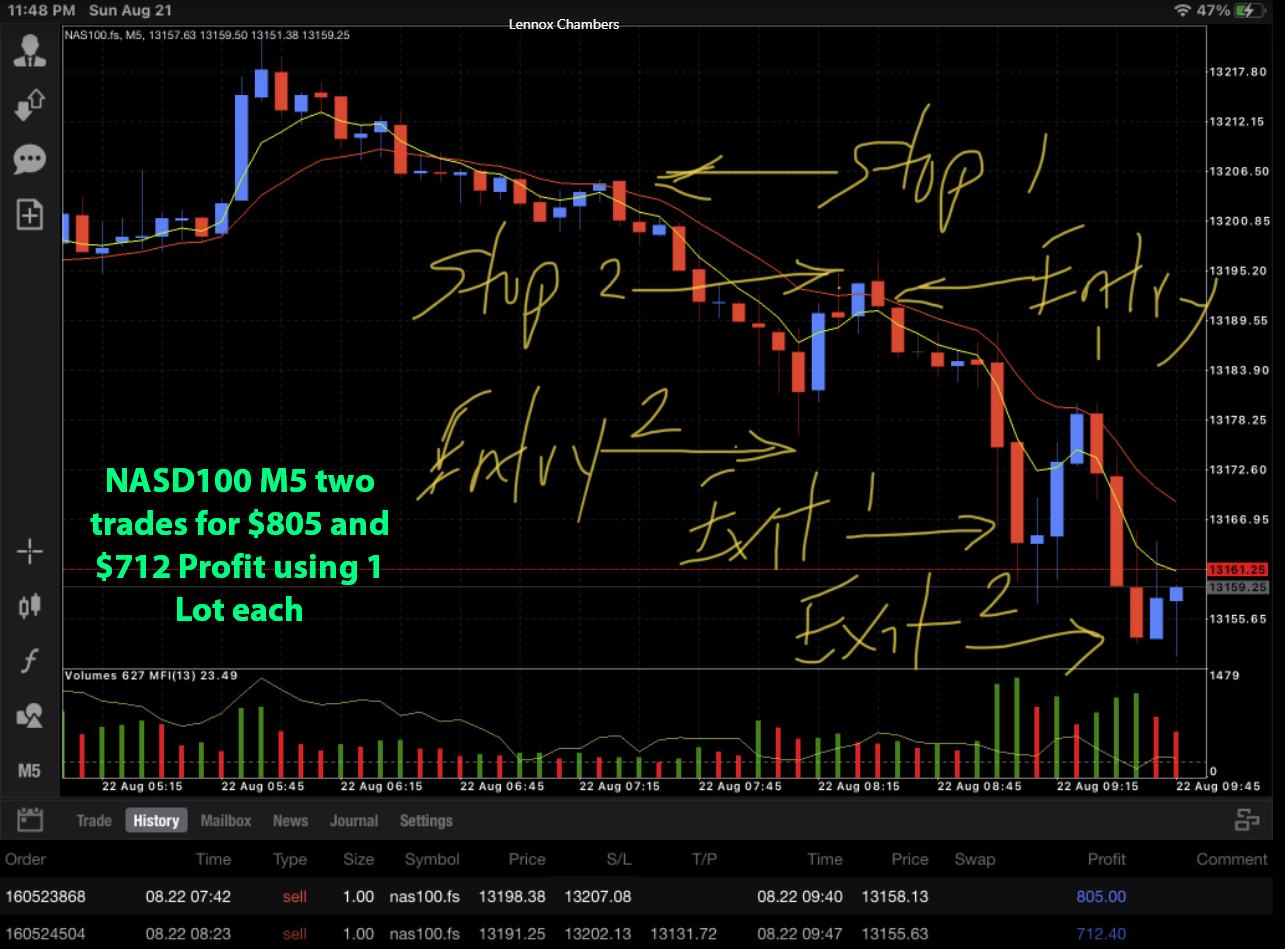 2022-08-22 NAS100 M15 123 Top with 1 Lot
+$1,995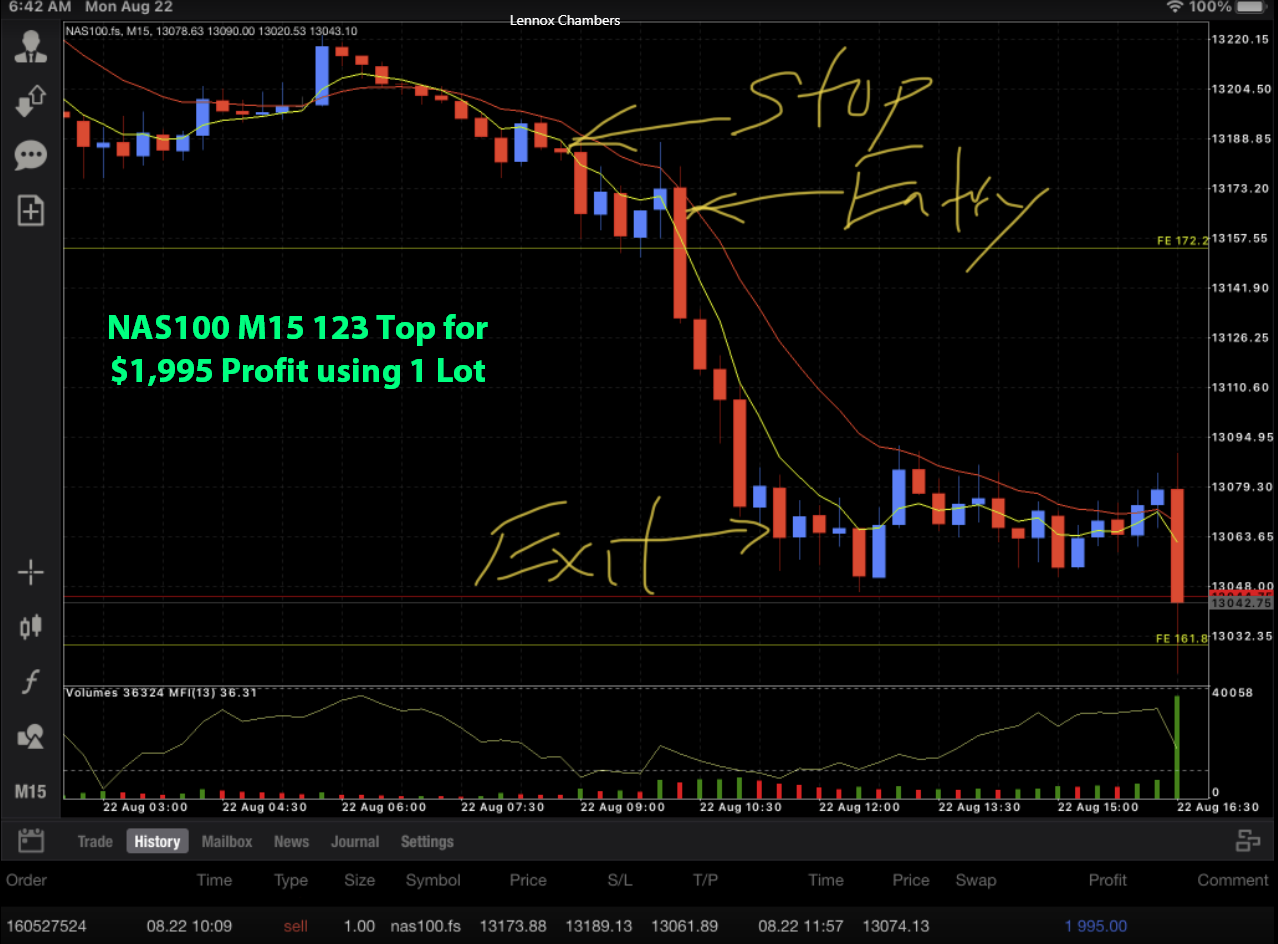 2022-08-19 NAS100 M15 123 Top with 1 Lot
+$2,082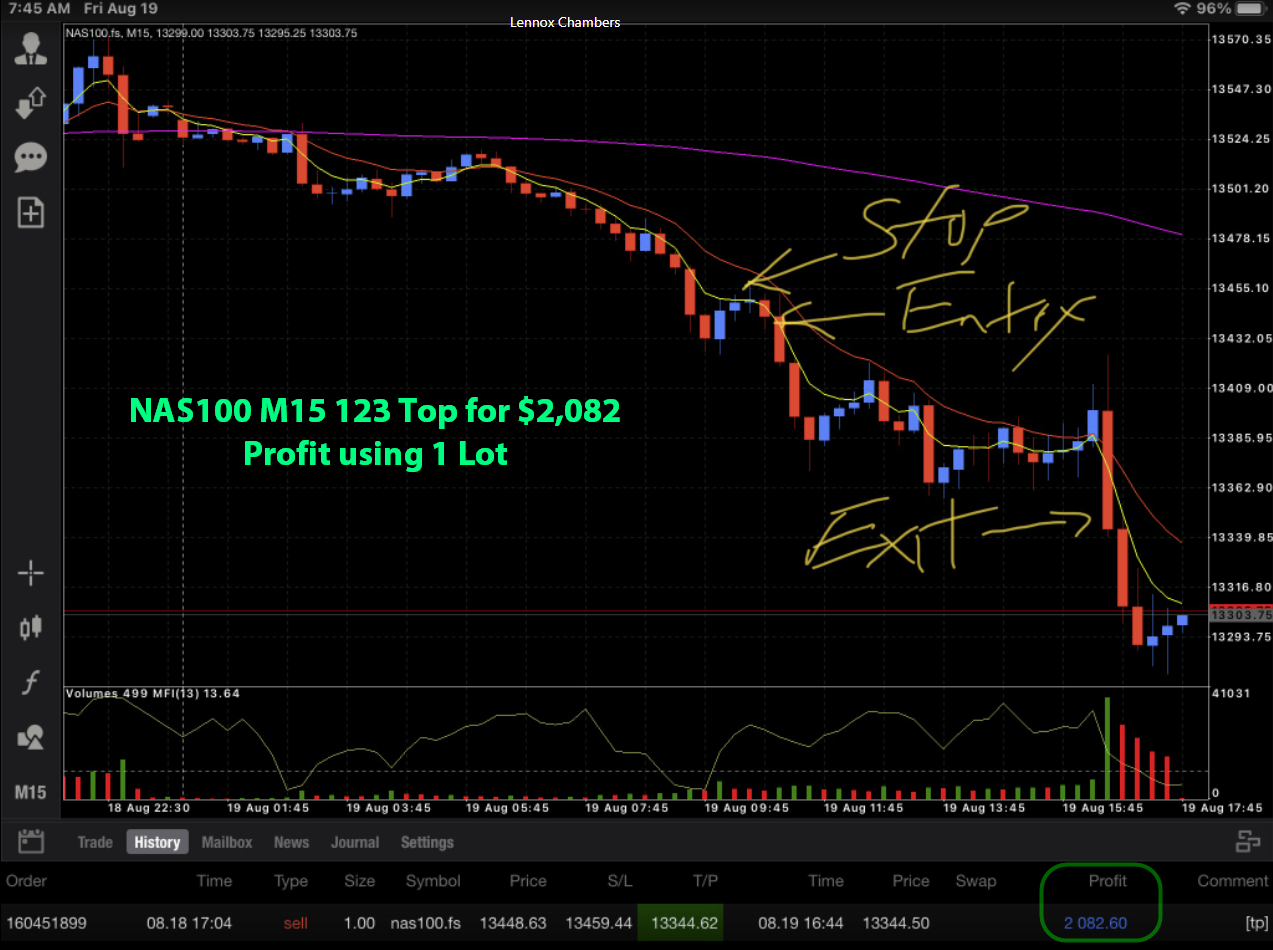 2022-08-17 NAS100 M1 123 Bottom with 1 Lot
+$920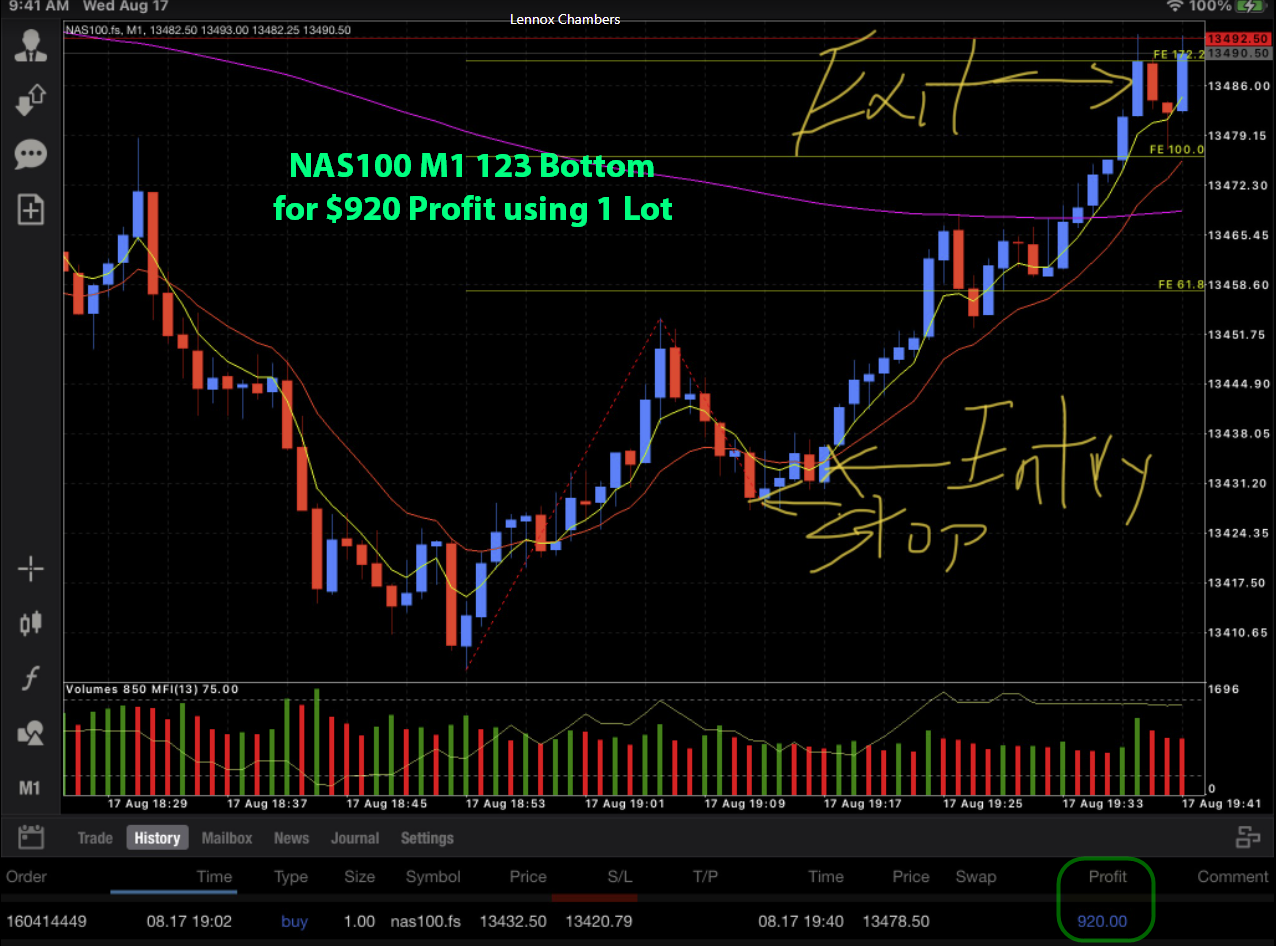 2022-08-16 NAS100 M5 123 Bottom with 1 Lot
+$1,344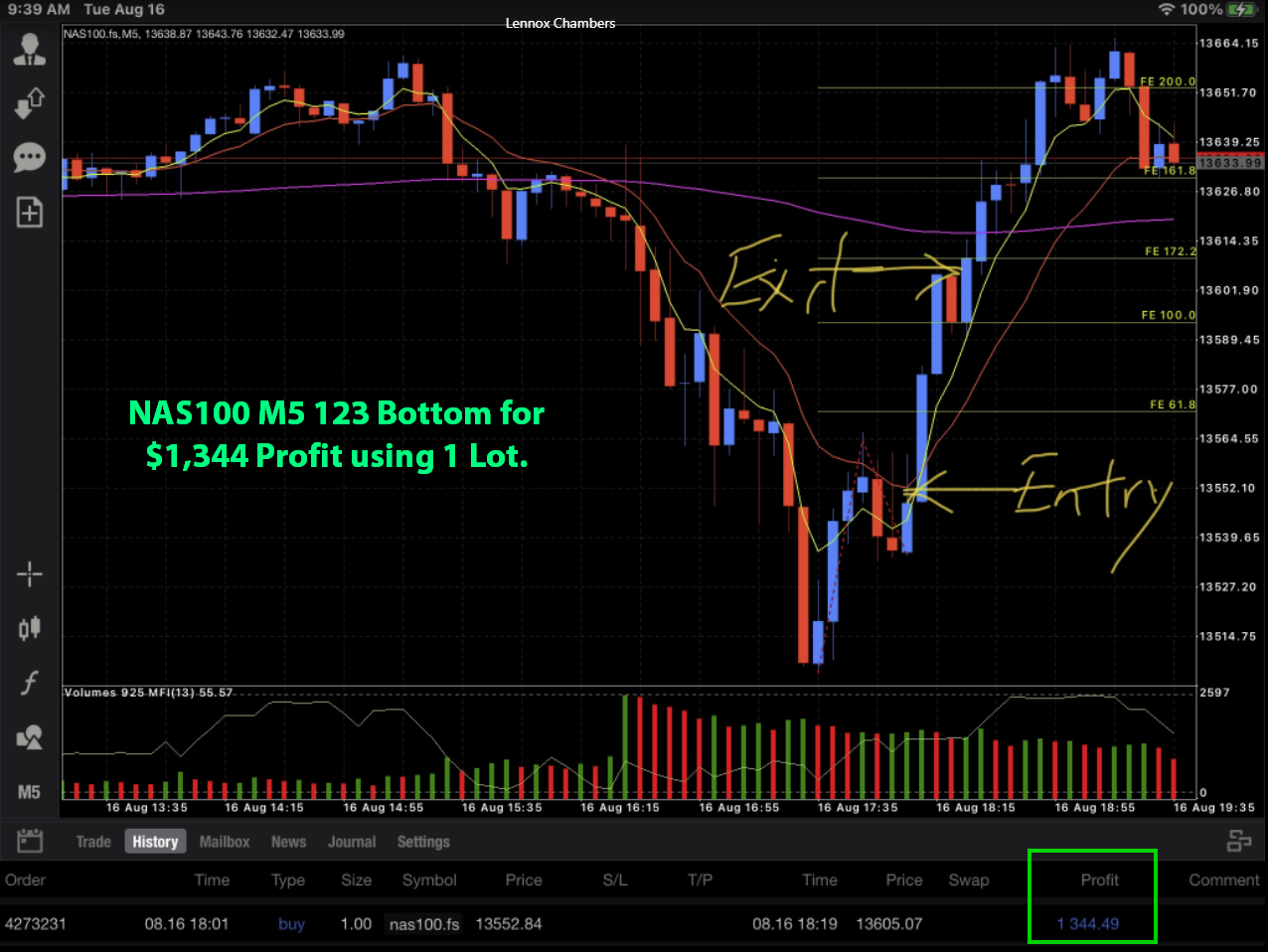 2022-08-15 NAS100 M1 123 Bottom with 1 Lot Net
+$730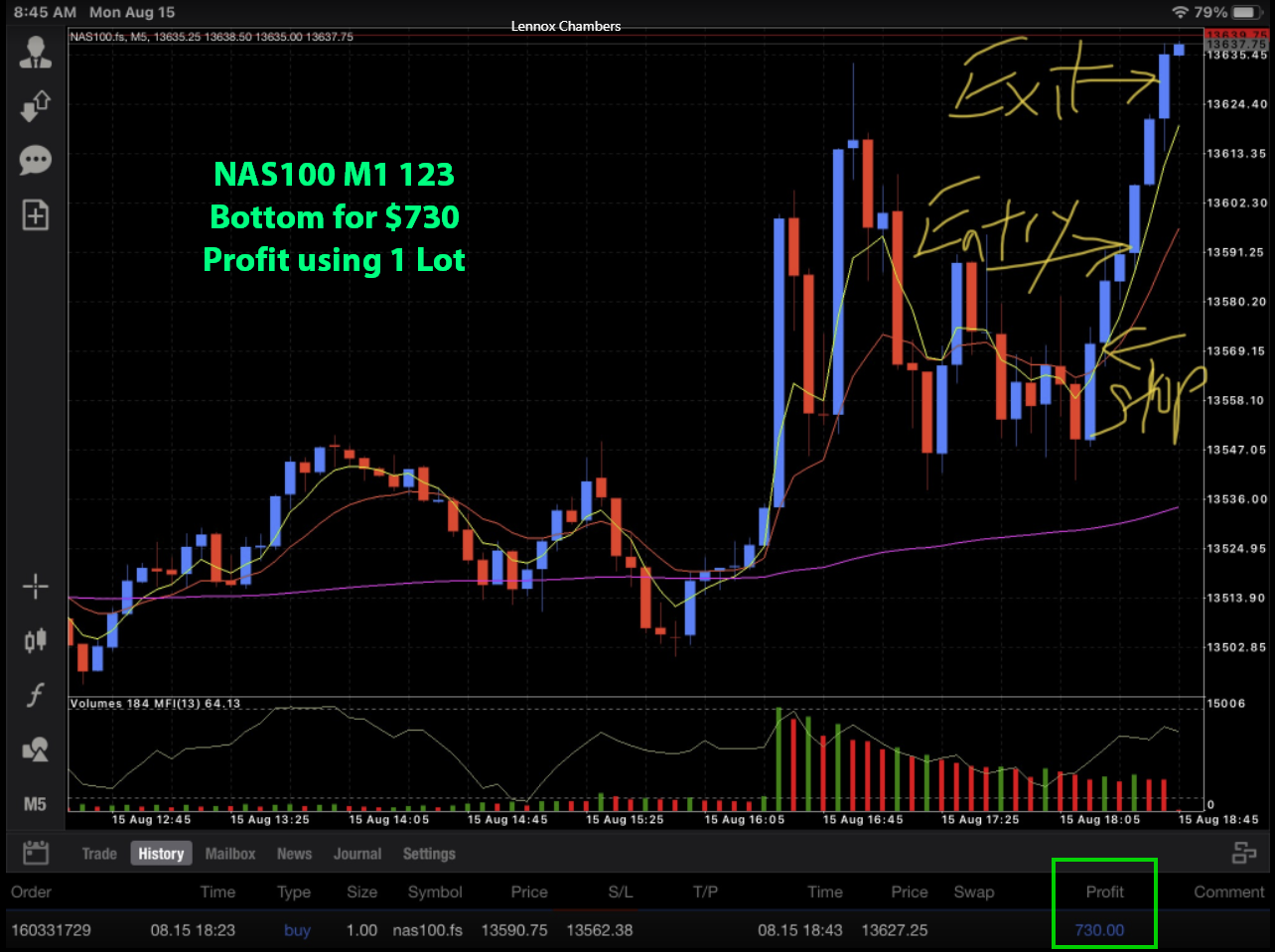 2022-08-15 NAS100 M1 123 Bottom with 1 Lot
+$746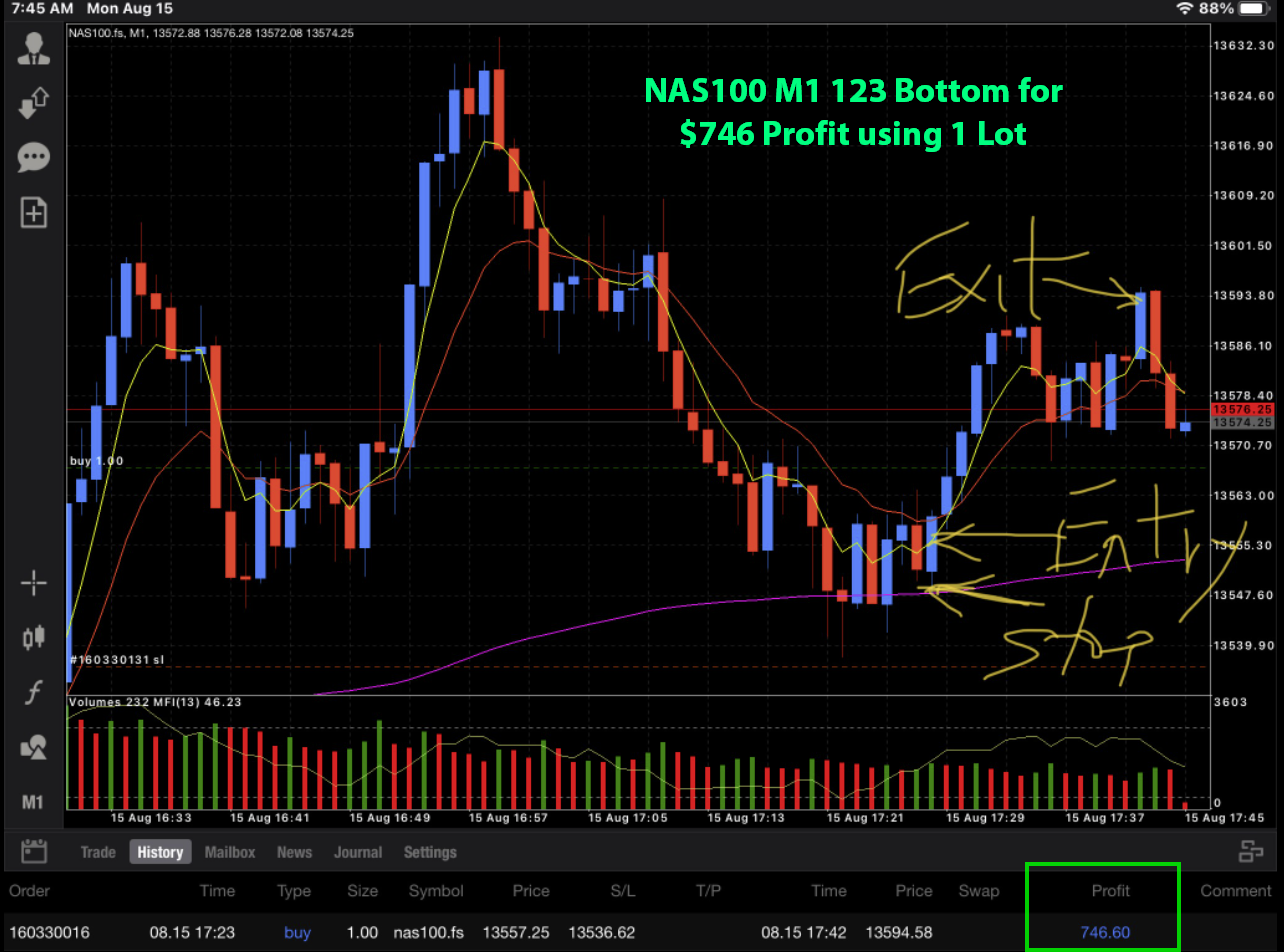 2022-08-12 NAS100 M1 123 Bottom with 1 Lot
+$595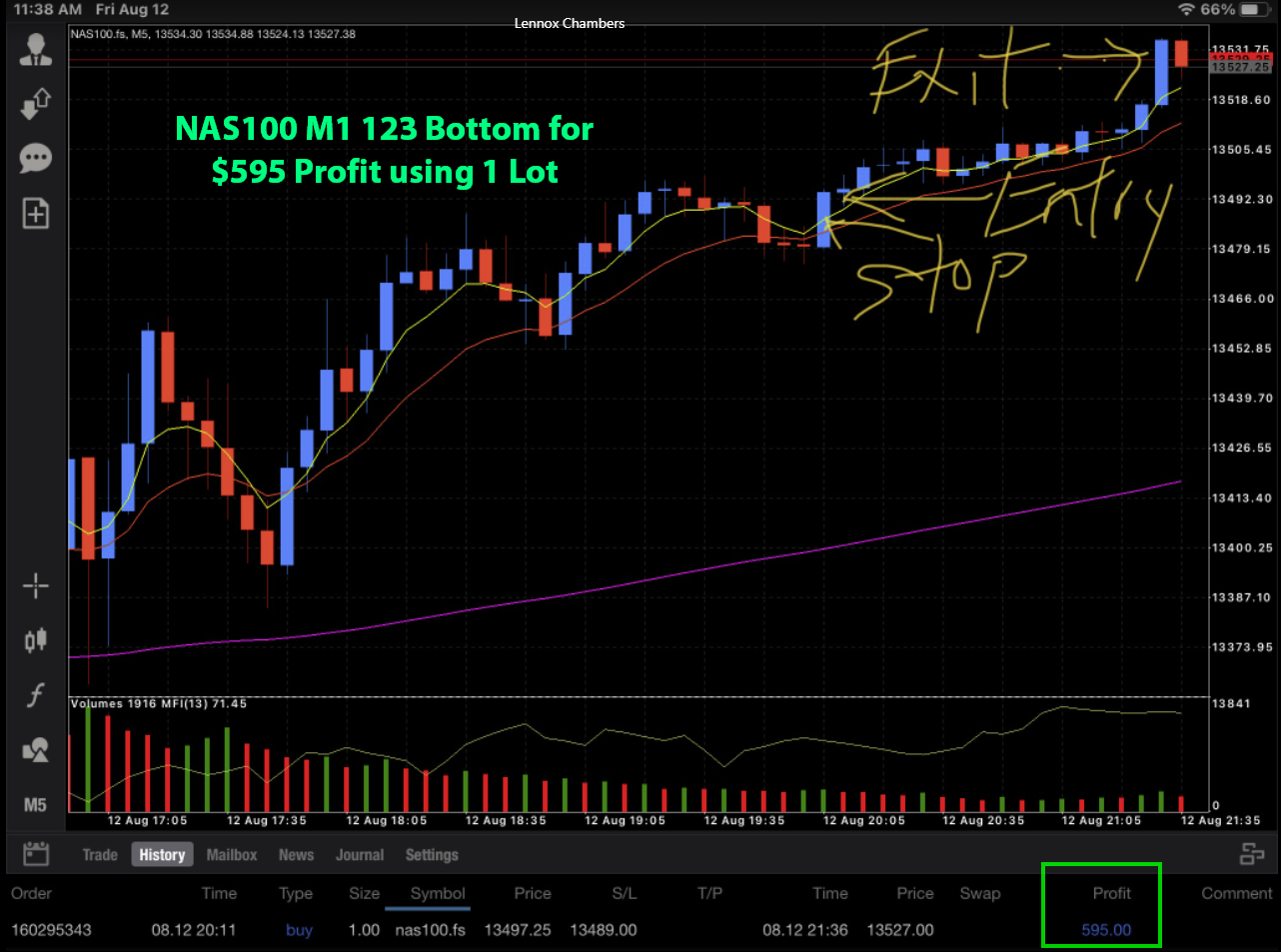 2022-08-12 NAS100 M1 123 Bottom with 1 Lot
+$462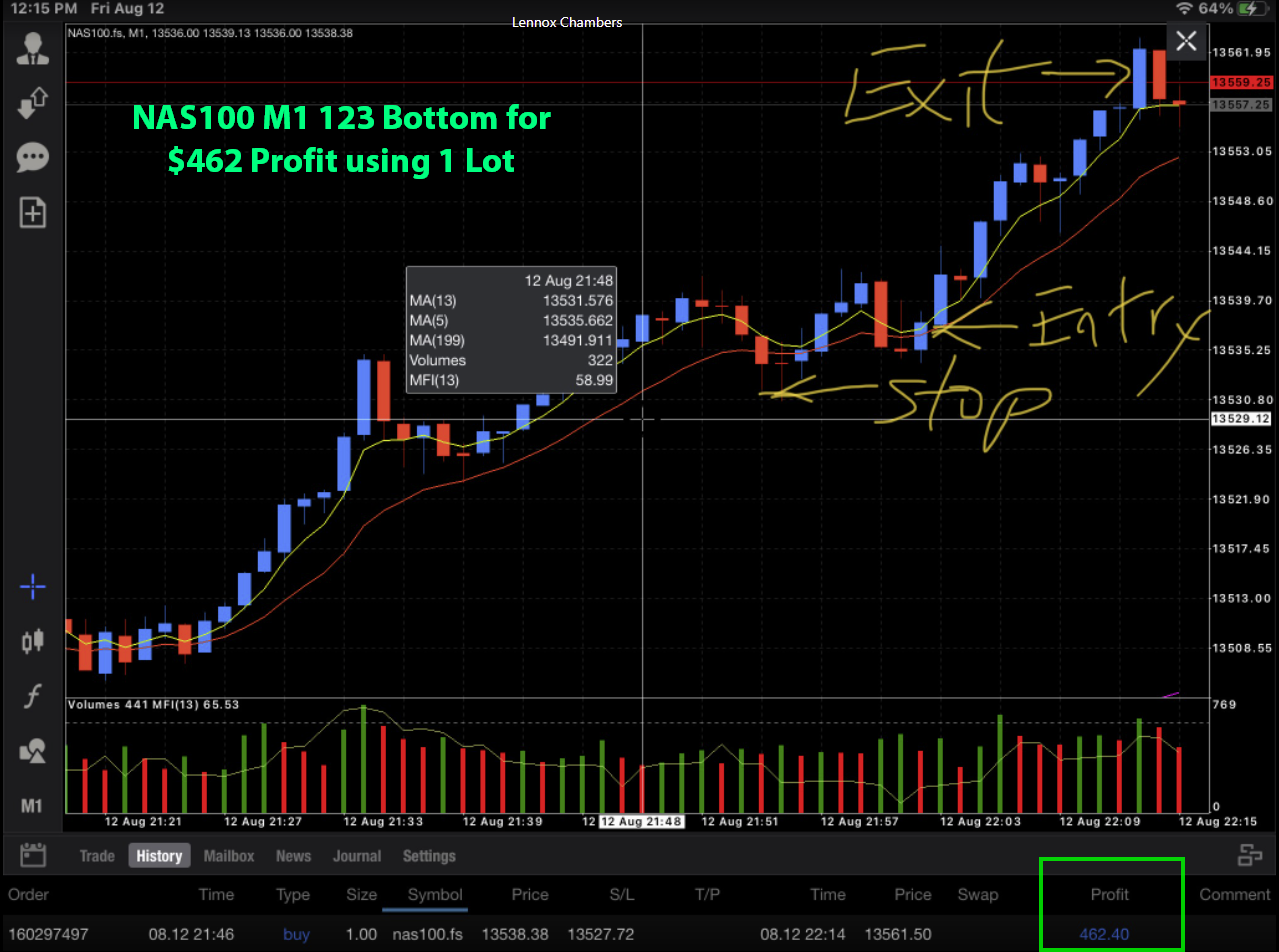 2022-08-11 NAS100 M1 123 Top net
+$1,110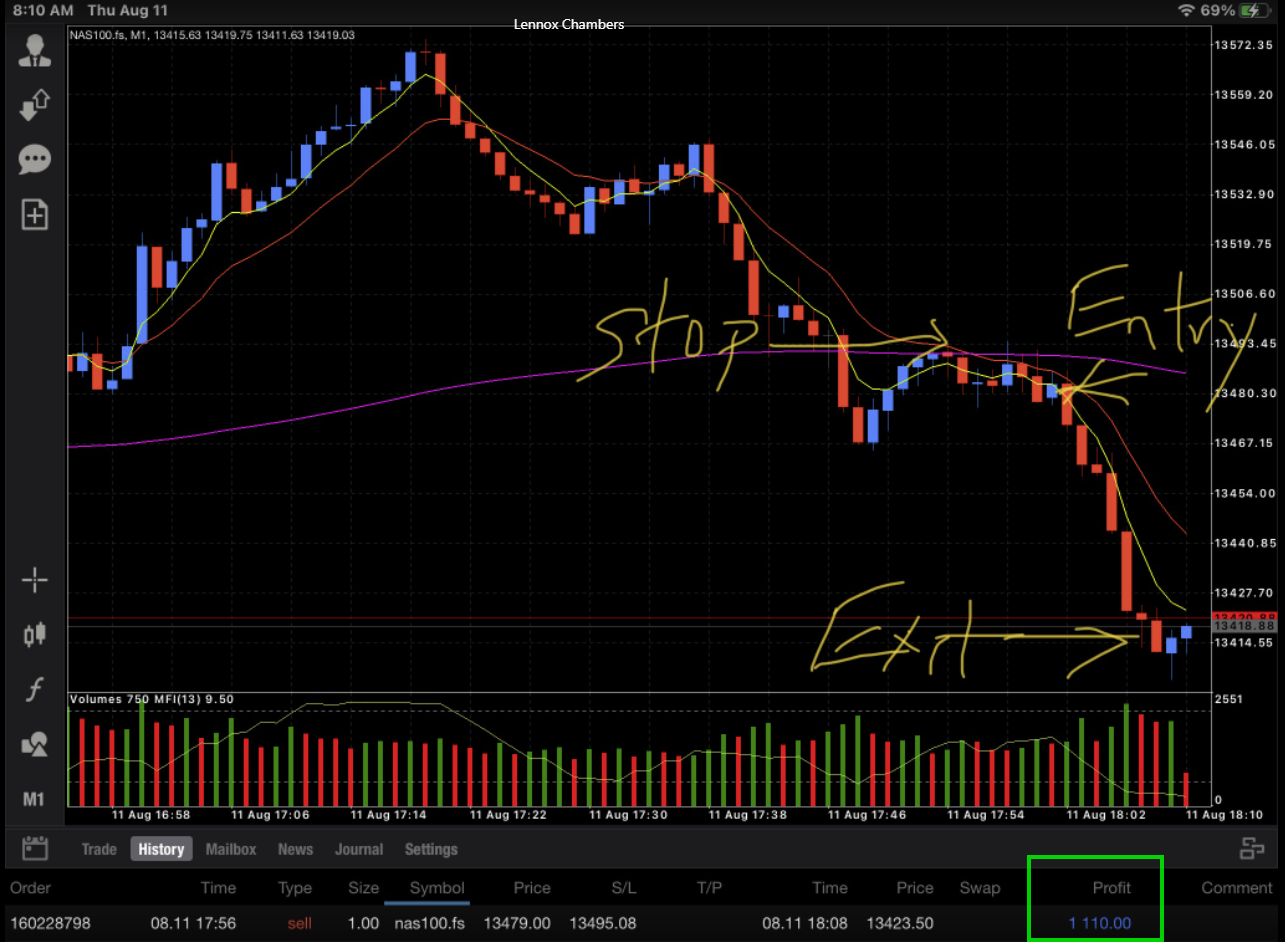 2022-08-10 NAS100 M1 123 Bottom with 1 Lot Net Gain
+$1,620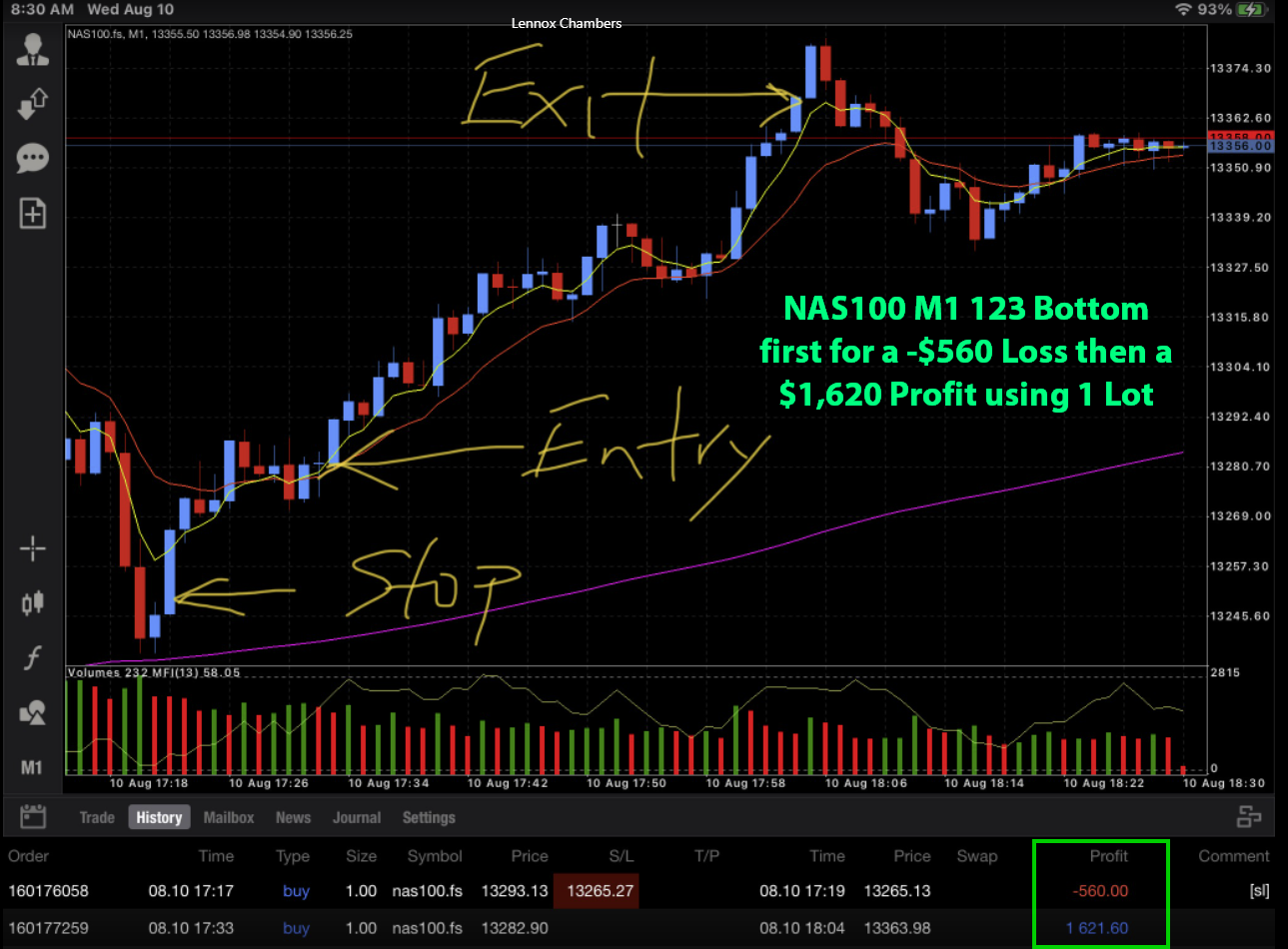 2022-08-10 NAS100 M1 123 Bottom with 1 Lot Net
+$1,060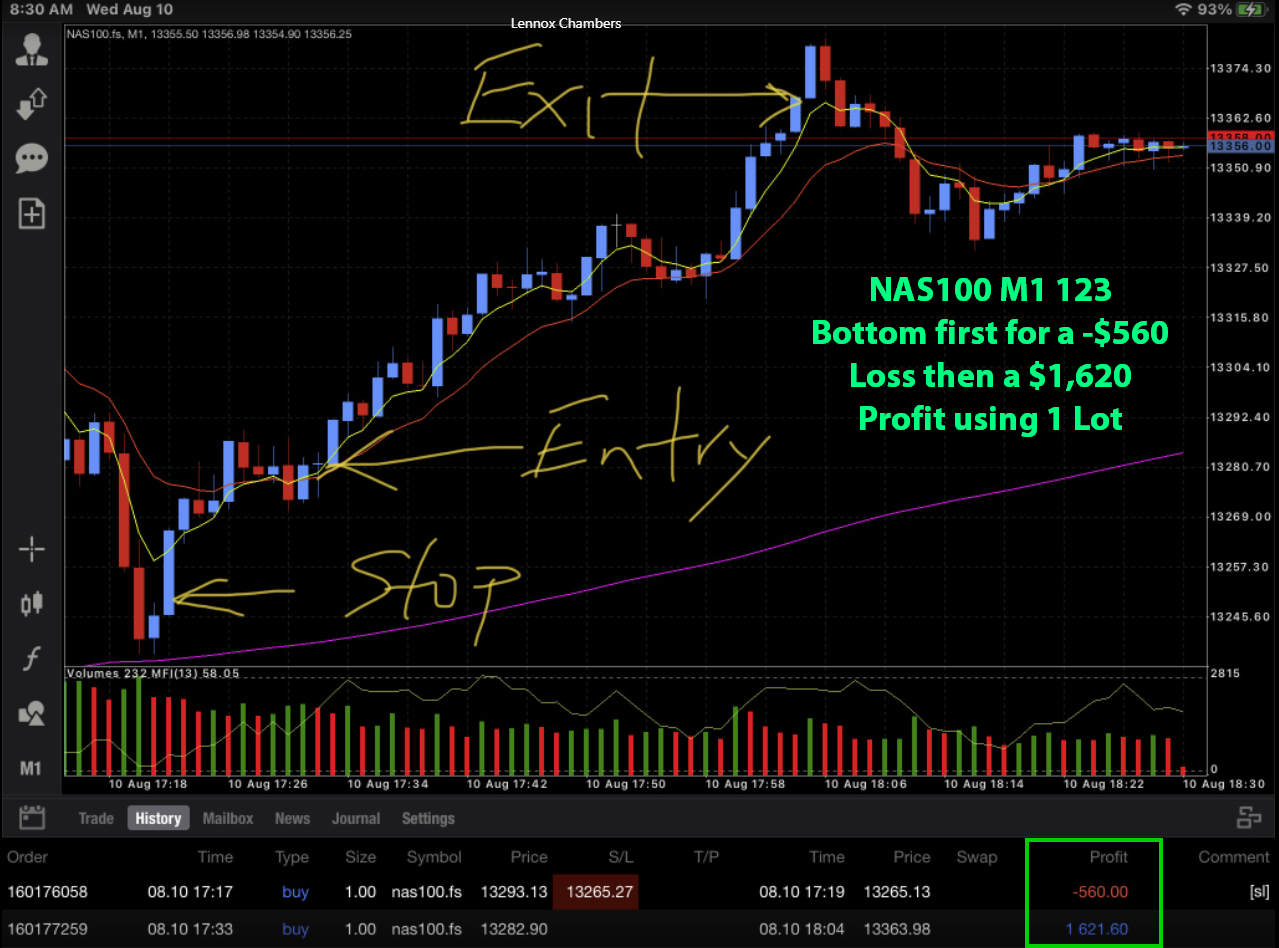 2022-08-10 NAS 100 M1 123 Bottom with 1 lot
+$715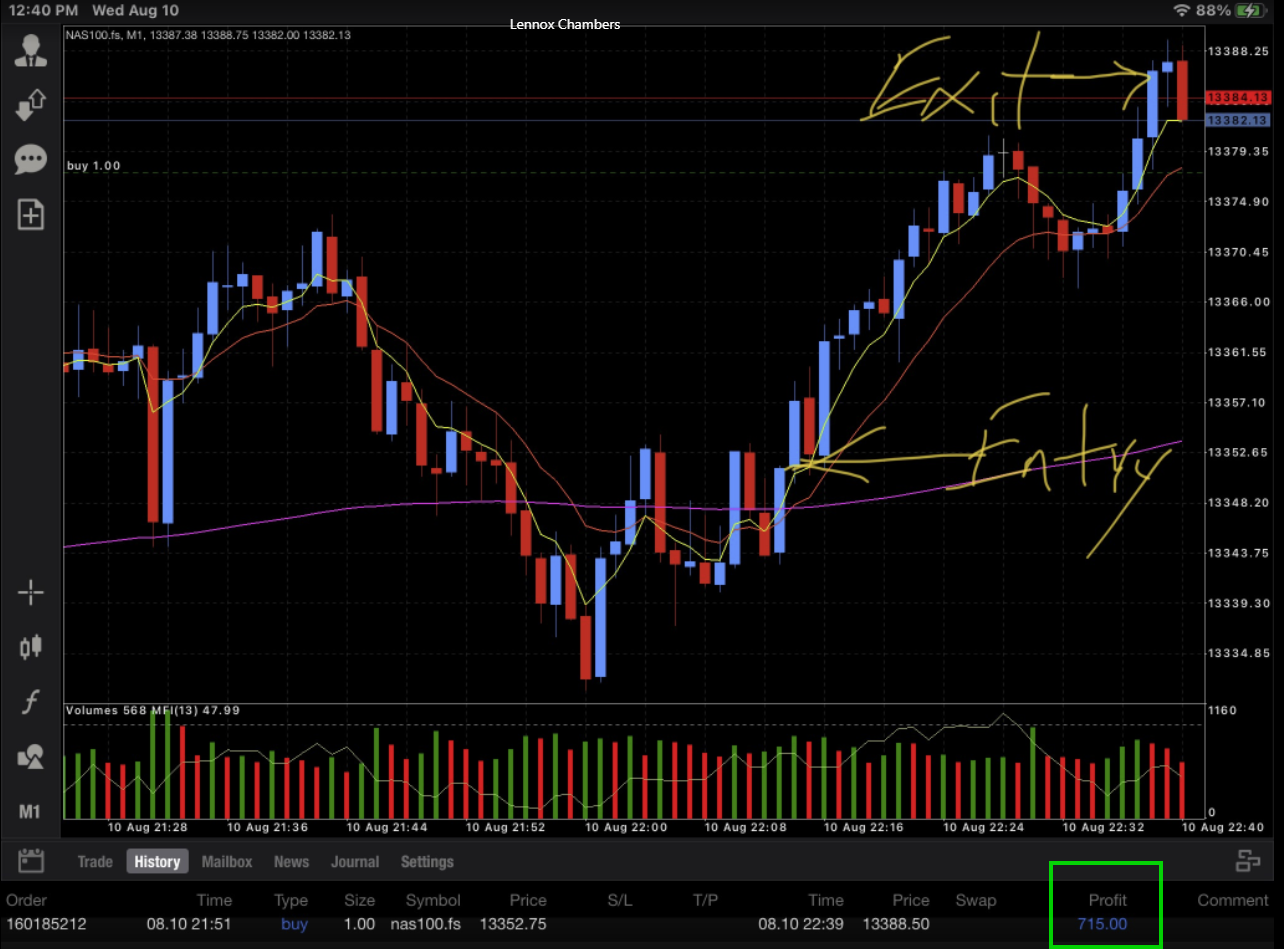 2022-08-04 NAS100 M1 123 Top with 1 Lot
+$1,090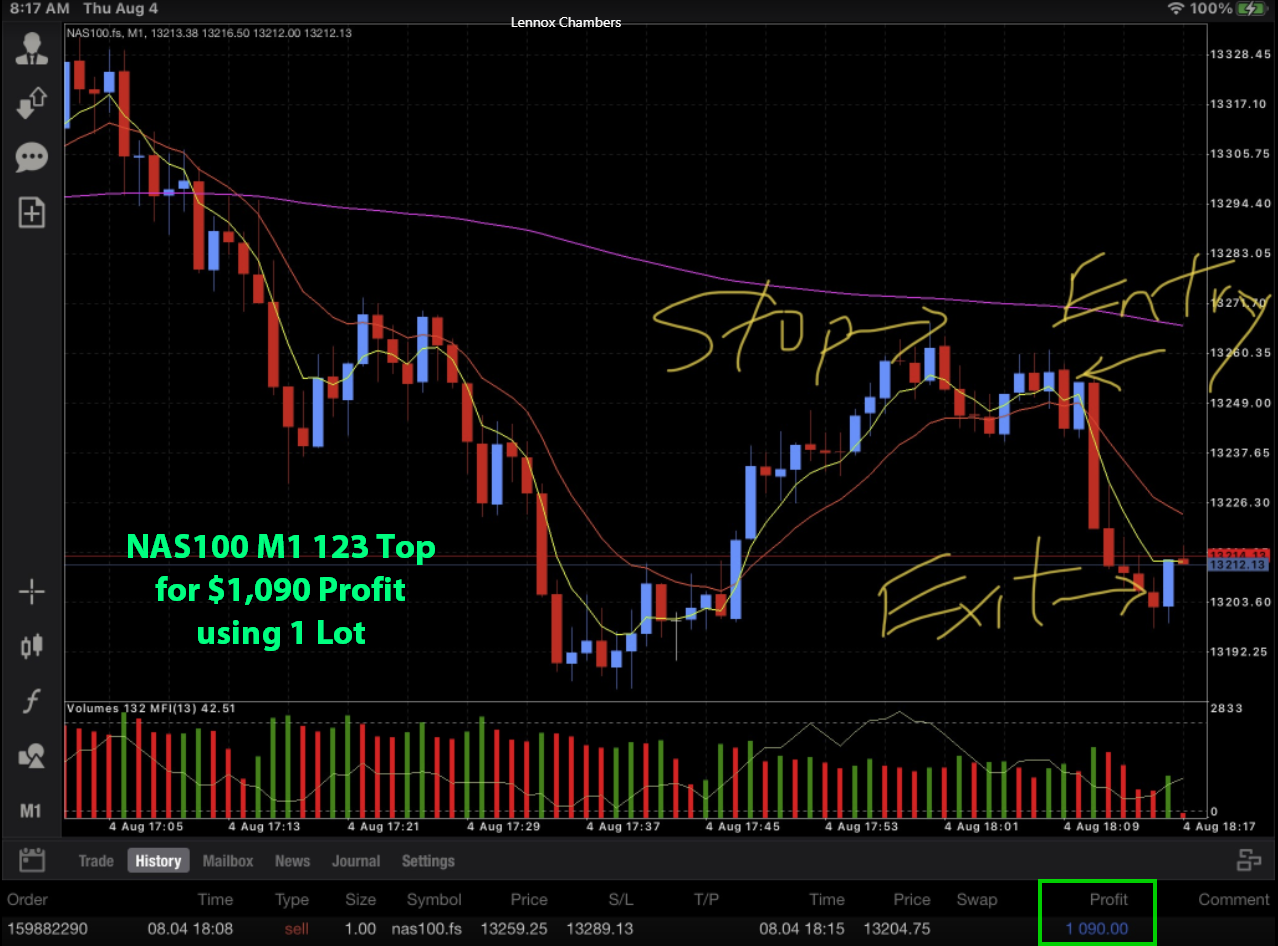 2022-08-03 NAS100 M1 123 Bottom with 1 Lot
+$630
2022-08-02 NAS100 M5 123 Top with 1 Lot
-$595
2022-08-02 NAS100 M5 123 Bottom with 1 Lot
+$1,682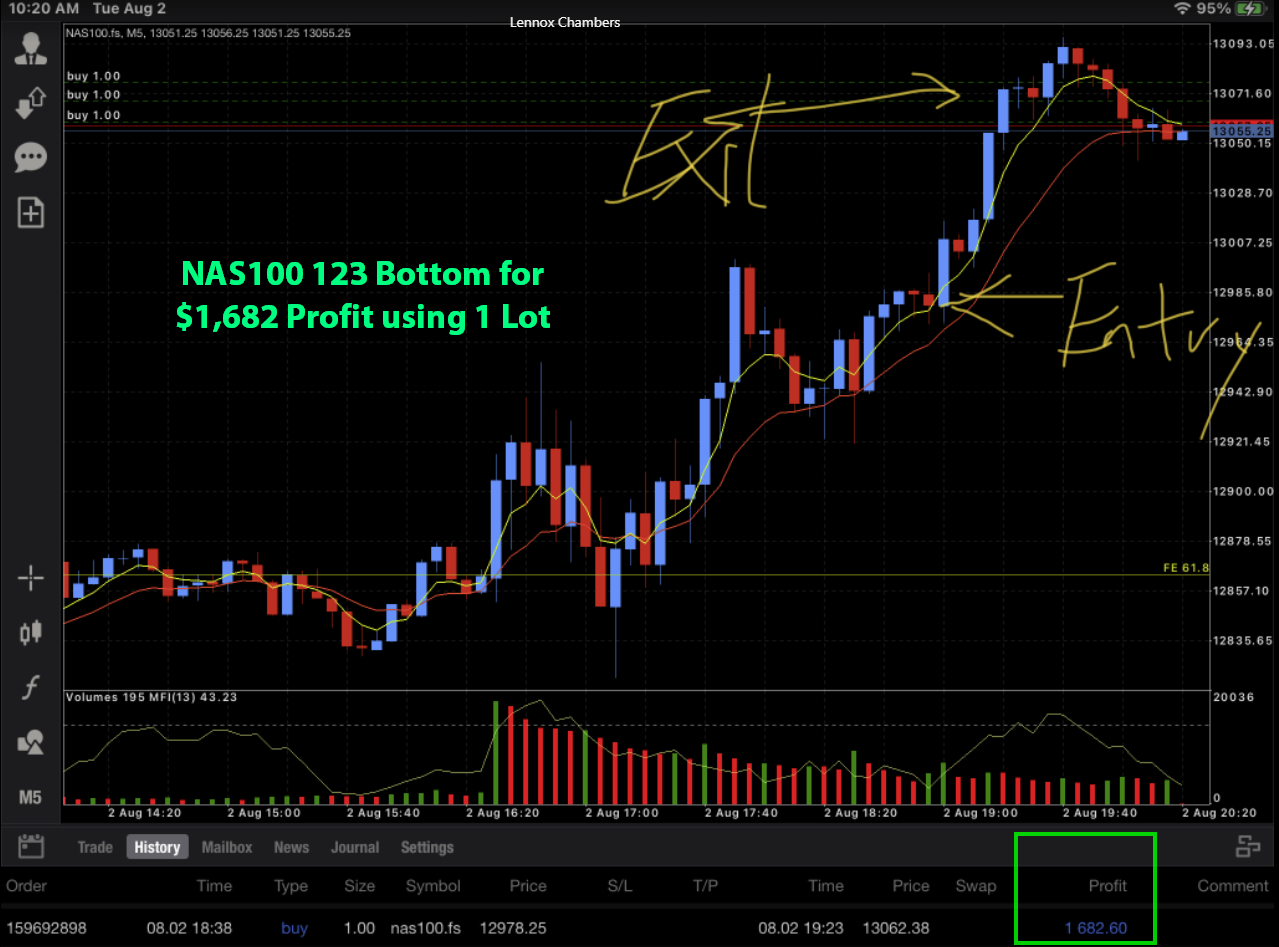 2022-08-01 NAS100 M5 123 Top with 1 Lot
+$1,357
2022-08-01 NAS100 M15 123 Bottom with 5 Lot
+$497
2022-07-27 US30 M5 123 Bottom with 5 Lot
+$1,805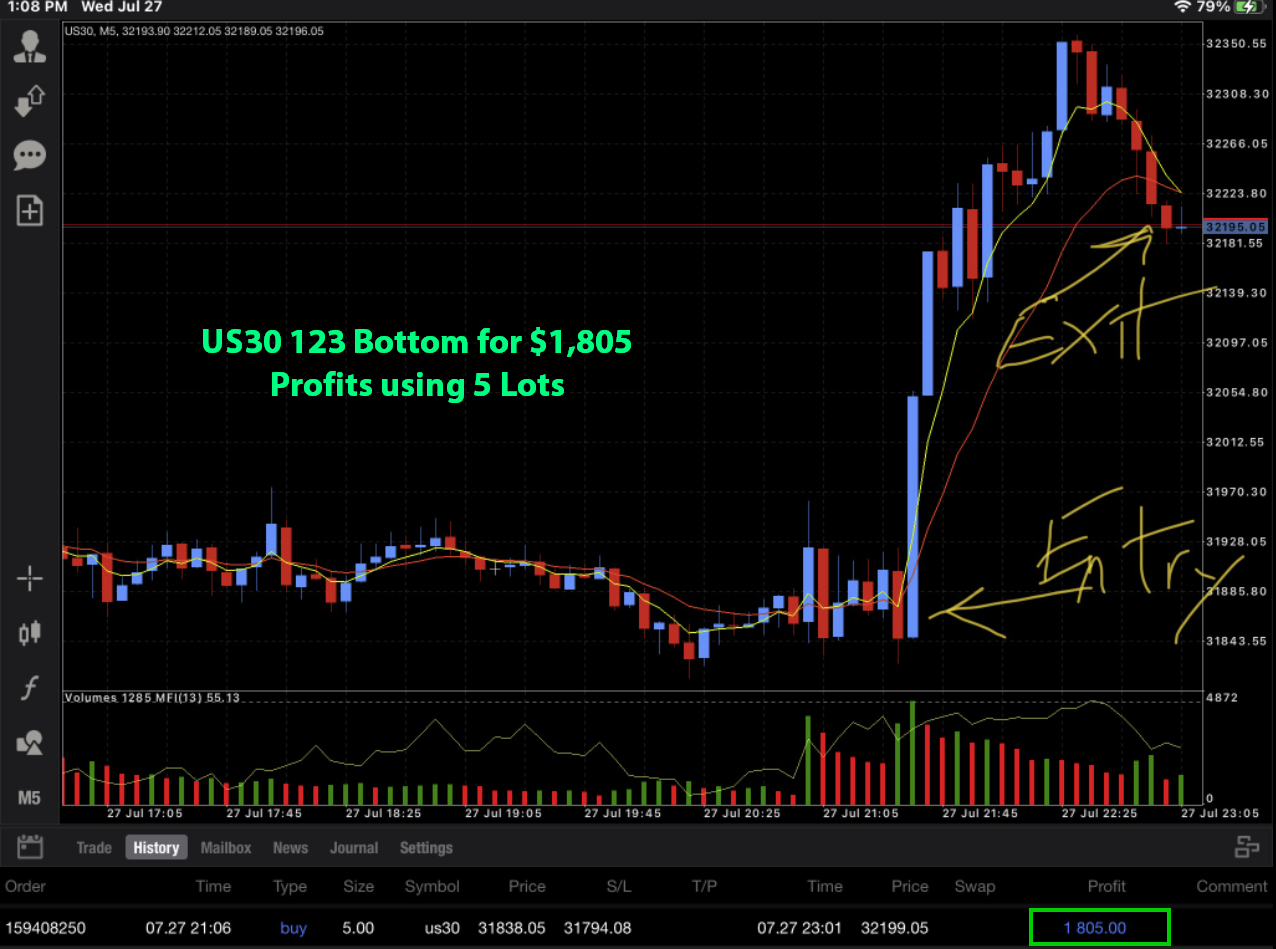 2022-07-26 NAS100 M1 123 Top with 1 Lot
+$928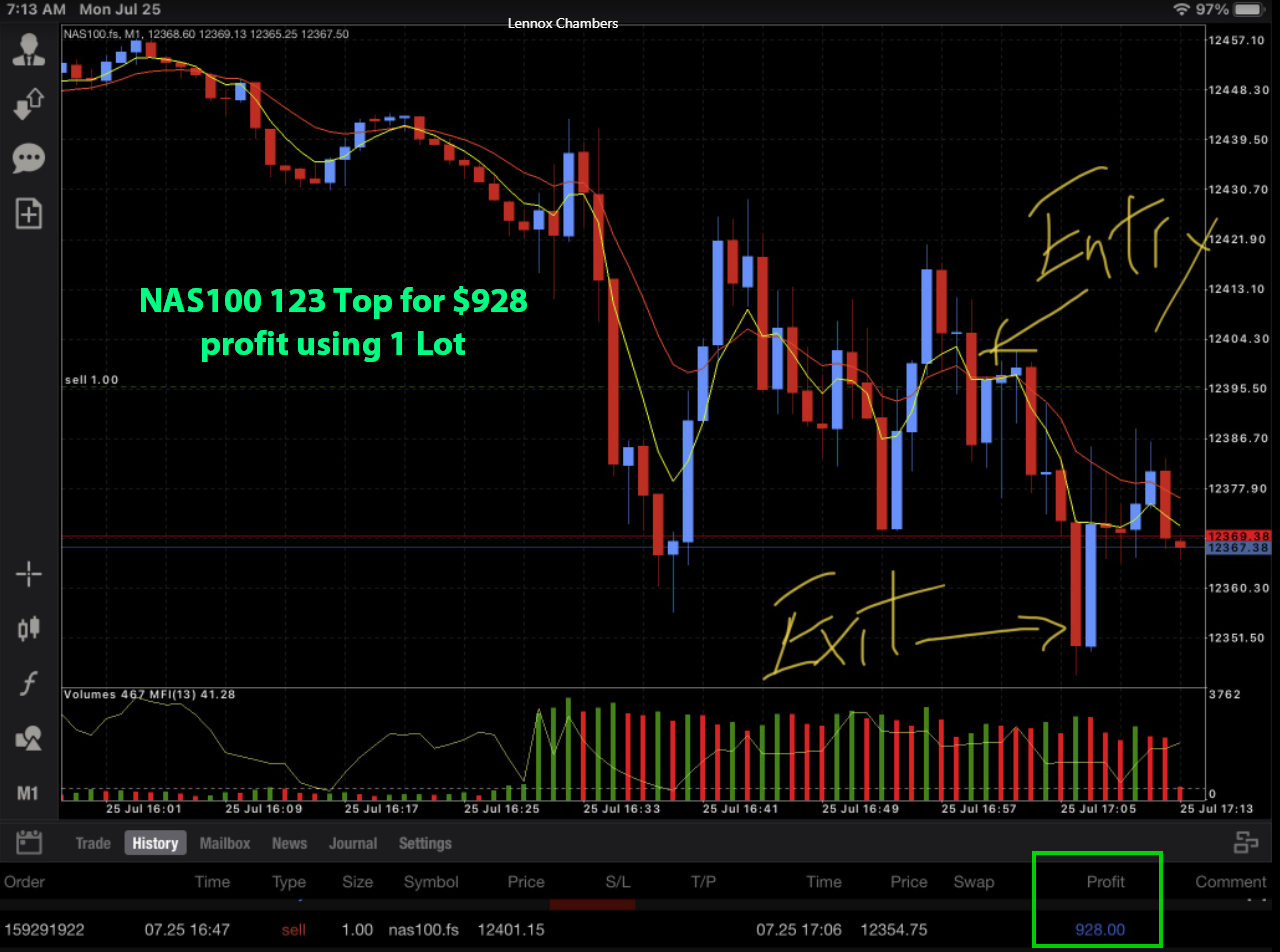 2022-07-22 NAS100 M1 123 Bottom with 1 Lot
+$849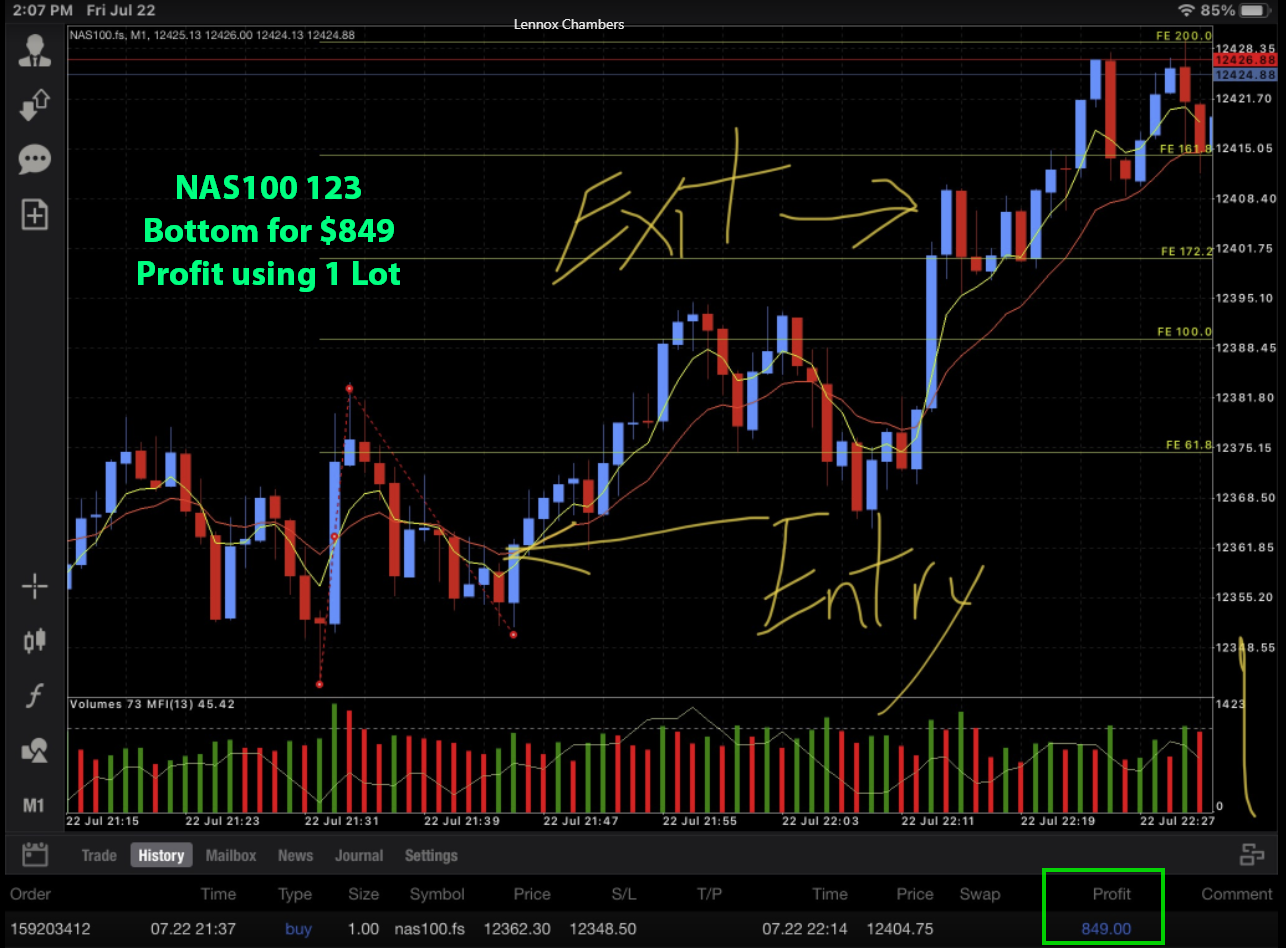 2021-02-26 EURGBP 1 Hour 123 Bottom with 5 Lots
+$4,723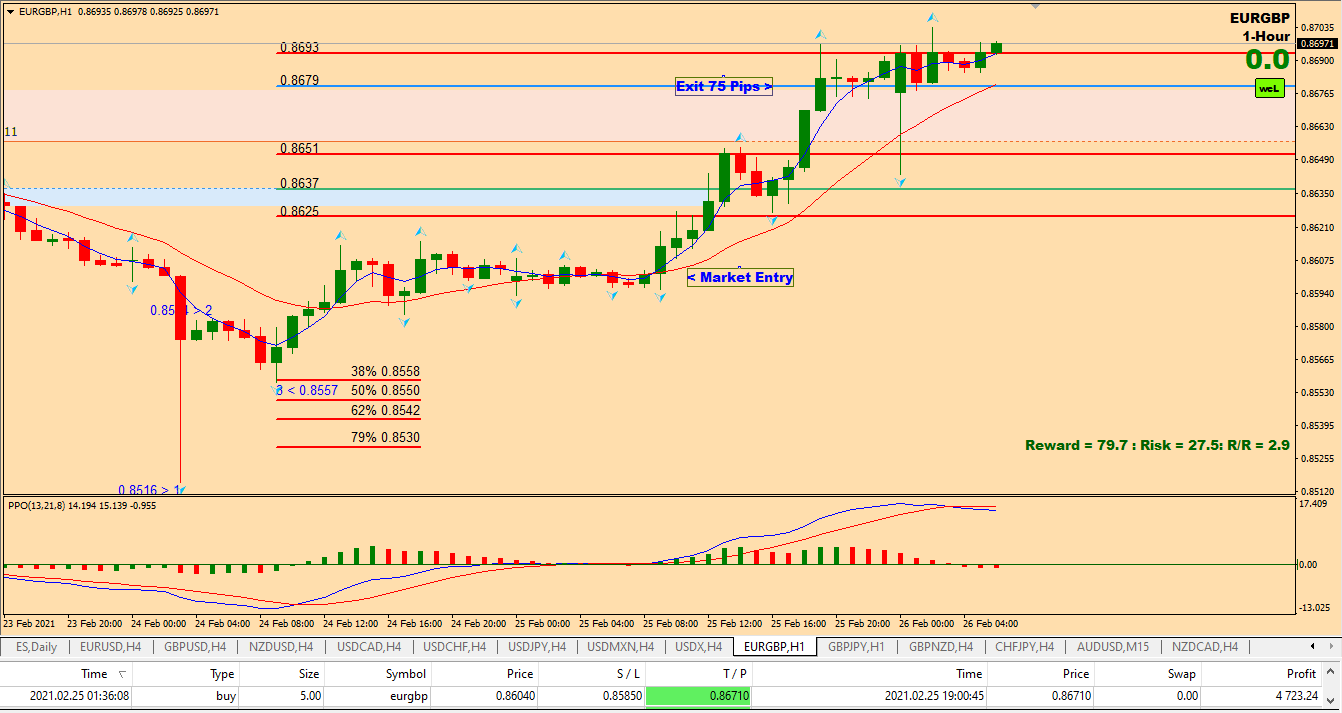 2021-01-05 XAUUSD 30 Minute (for clarity) 123 Bottom with 2 Lots for 110 Pips
+$2,292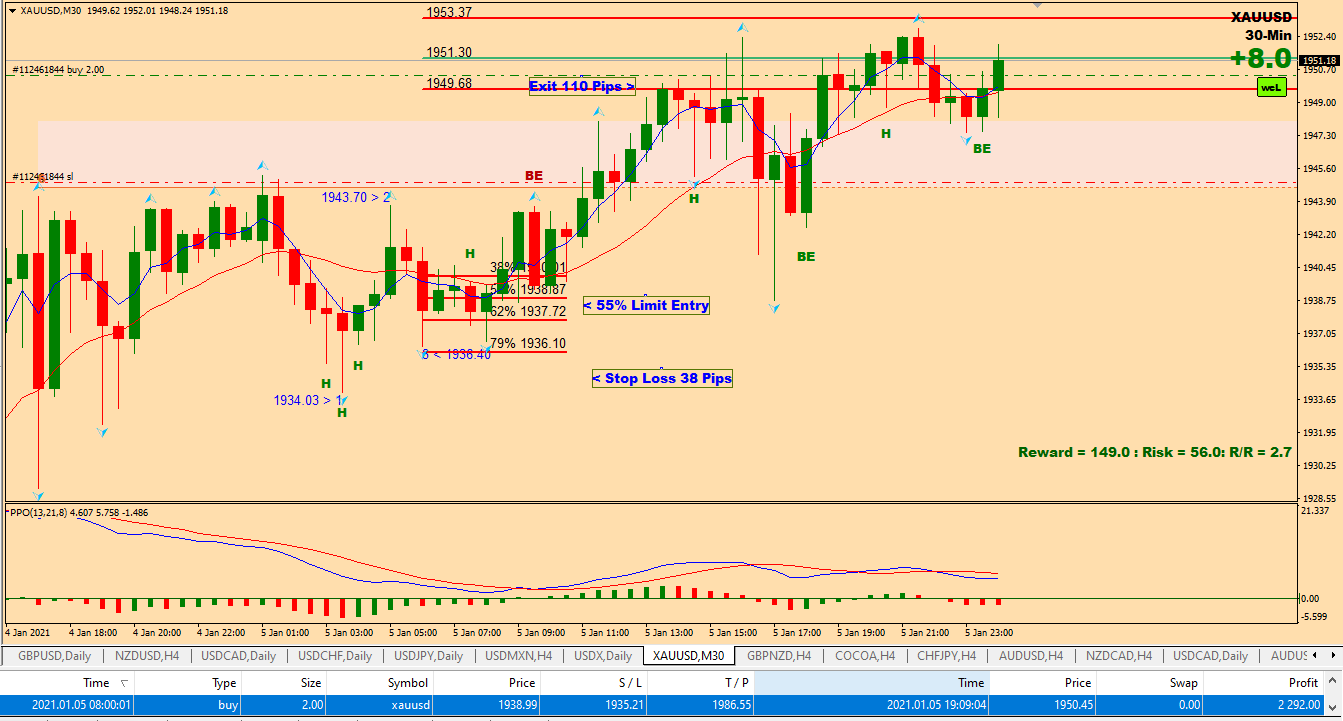 2020-12-30 XAUUSD 1 Hour 123 Bottom with 2 Lots for 501 Pips
+$10,042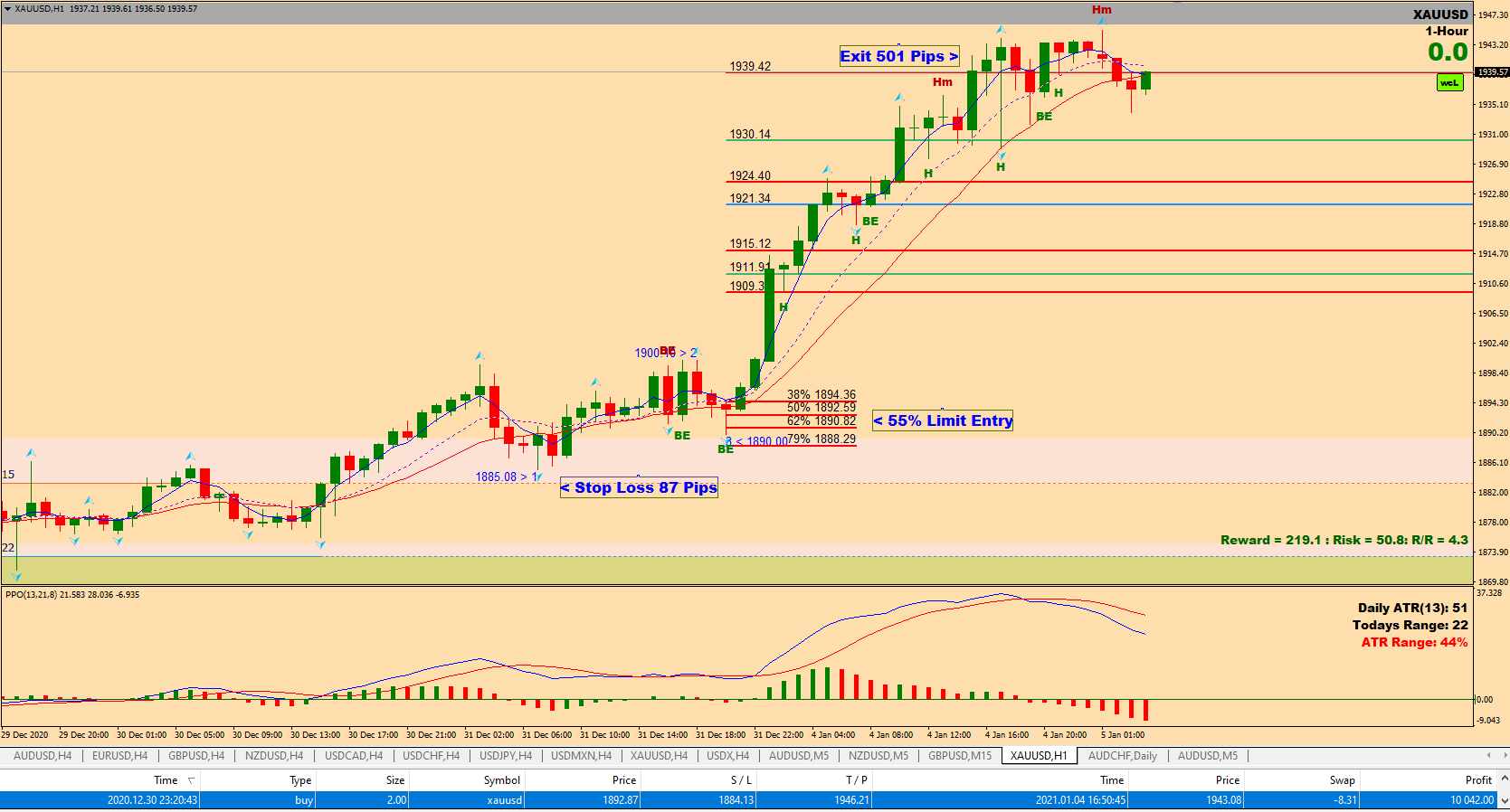 2020-12-29 AUDCAD 1 Hour 123 Bottom with 3 Lots for 52 Pips
+$1,196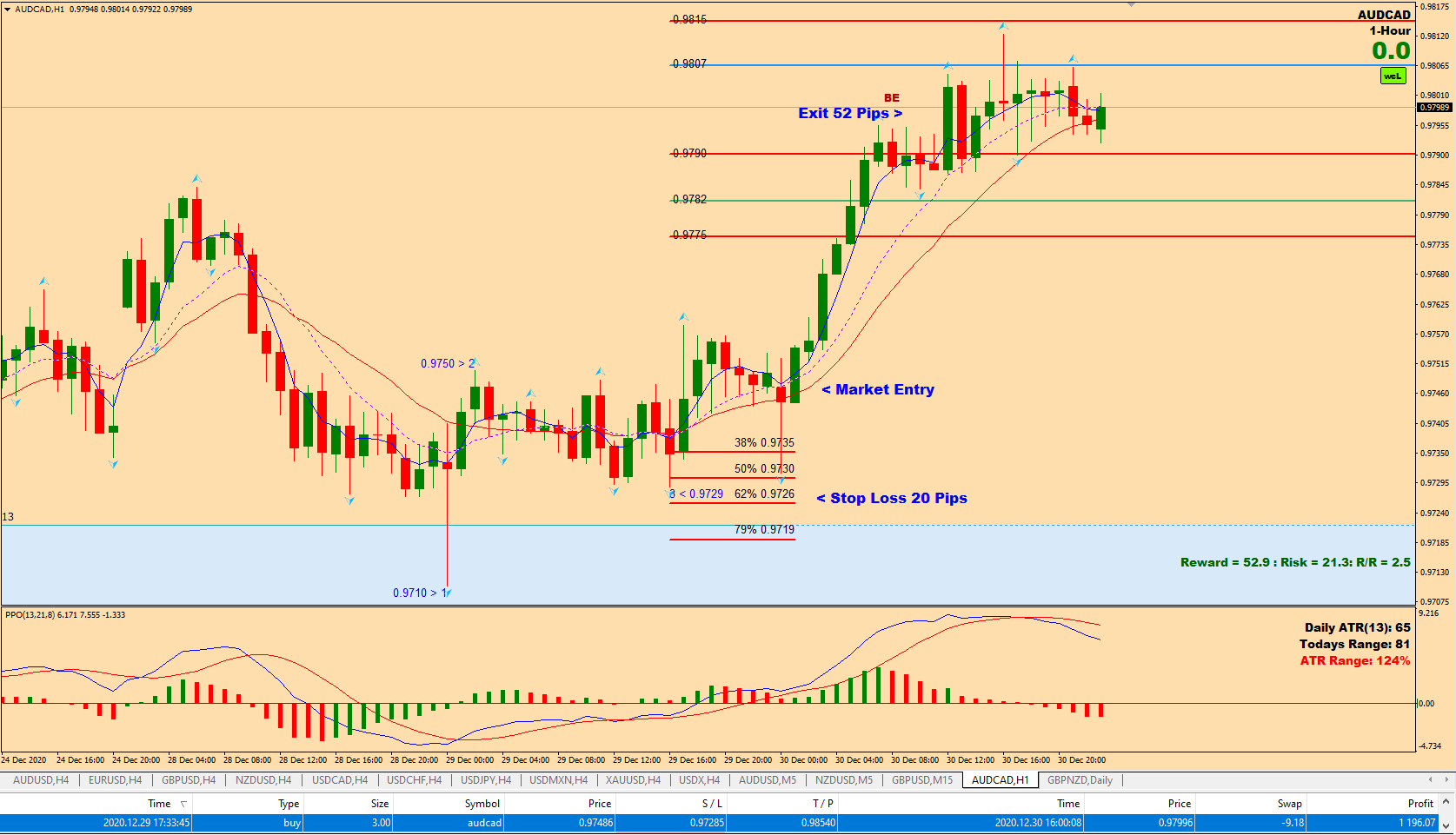 2020-12-11 EURCAD 1 Hour 123 Bottom with 3 Lots for -42 Pips
-$997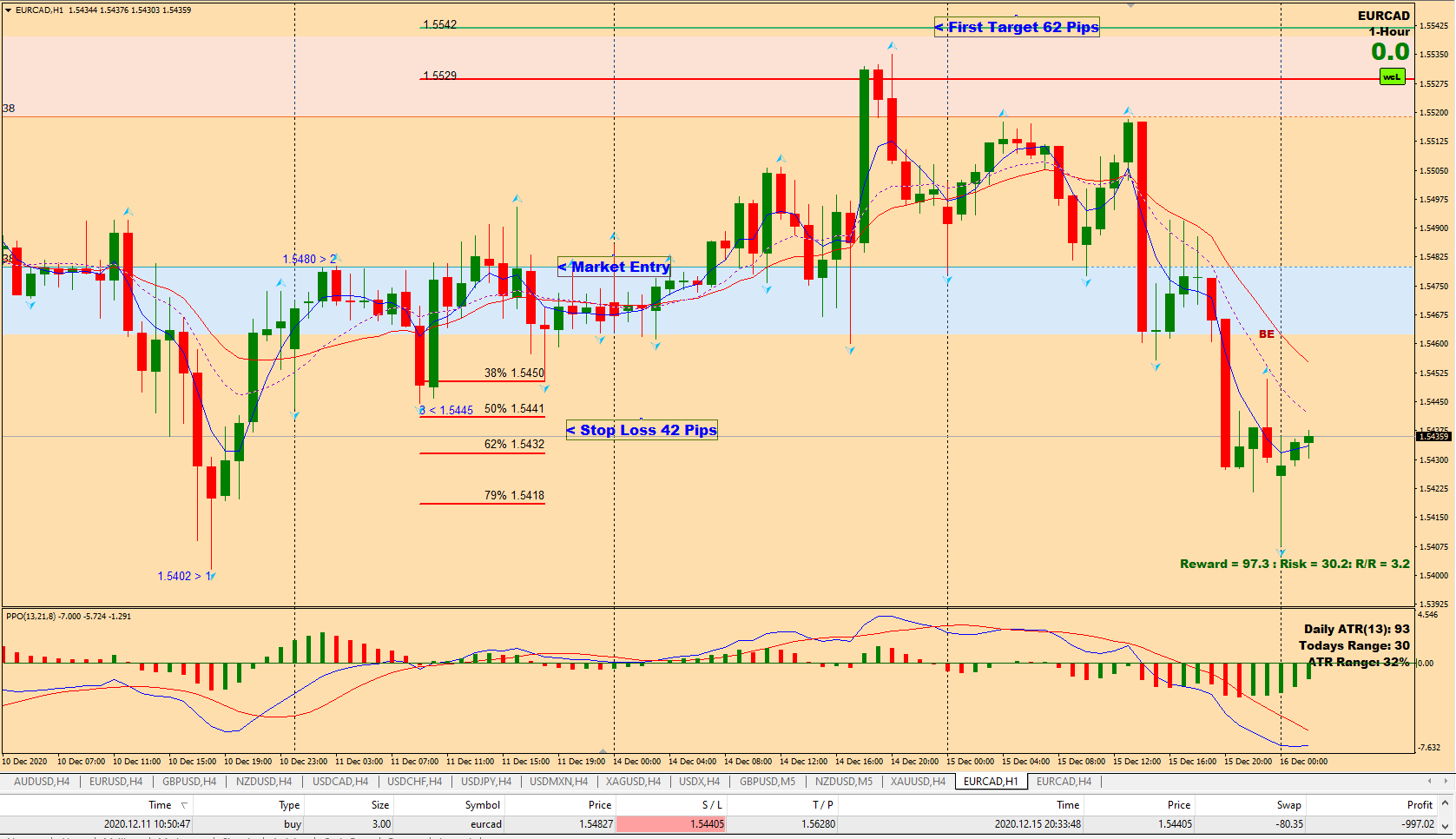 2020-12-10 GBPUSD 1 Hour 123 Top with 3 Lots for 100 Pips
+$2,000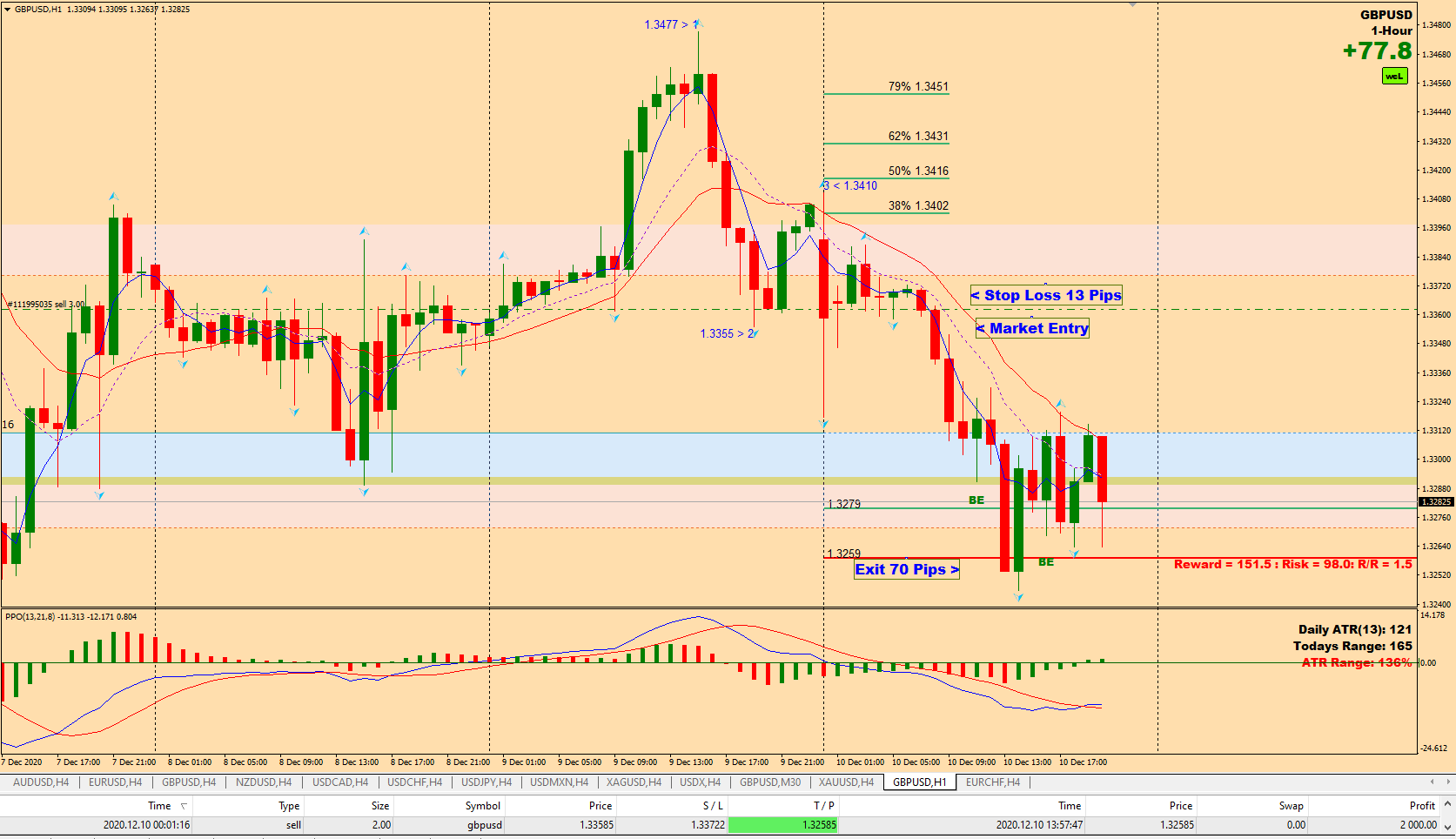 2020-12-03 USDCAD 1 Hour 123 Top with 3 Lots for 68 Pips
+$1,571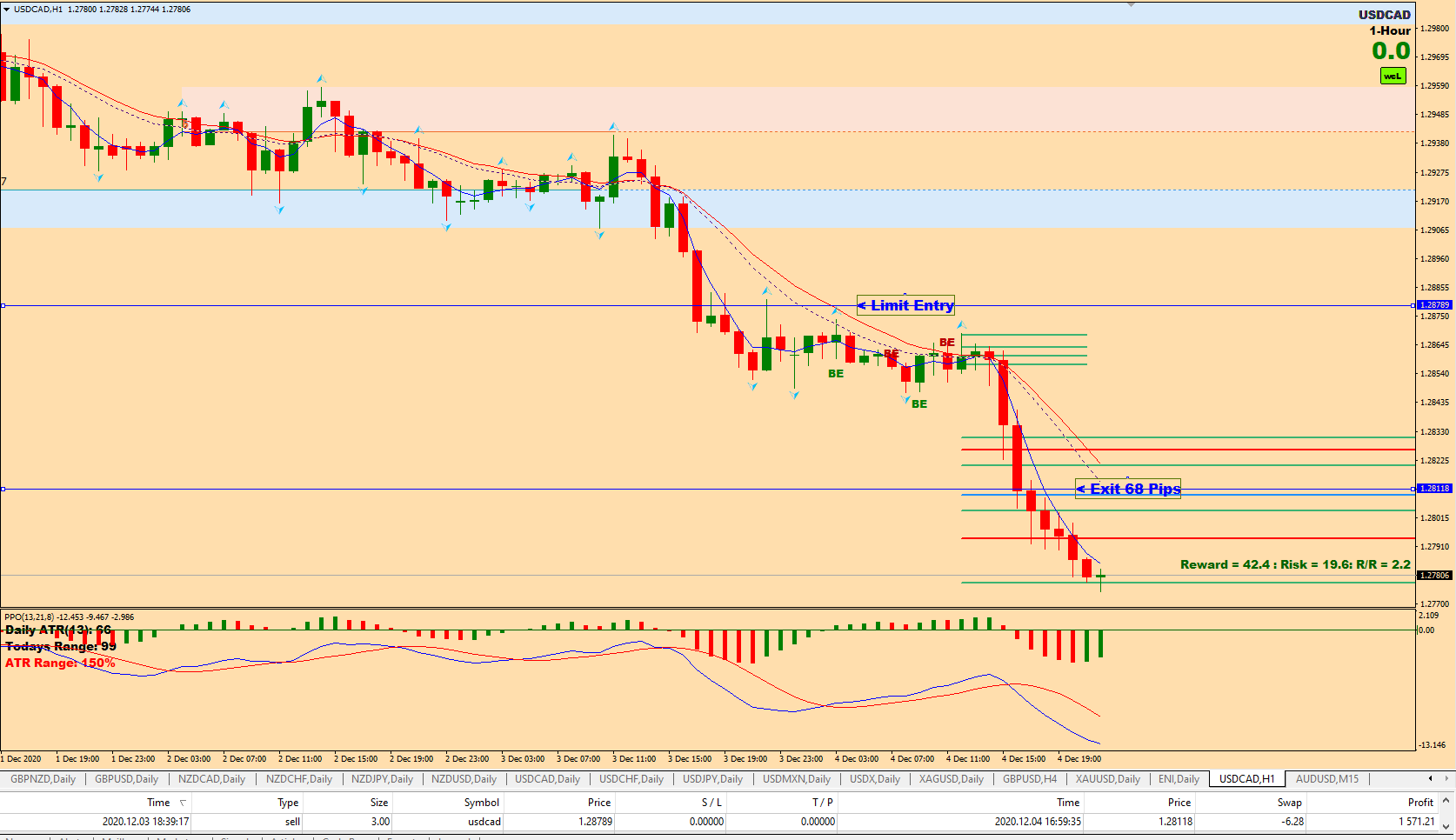 2020-12-01 EURJPY 1 Hour 123 Bottom with 1 Lot for 89 Pips
+$853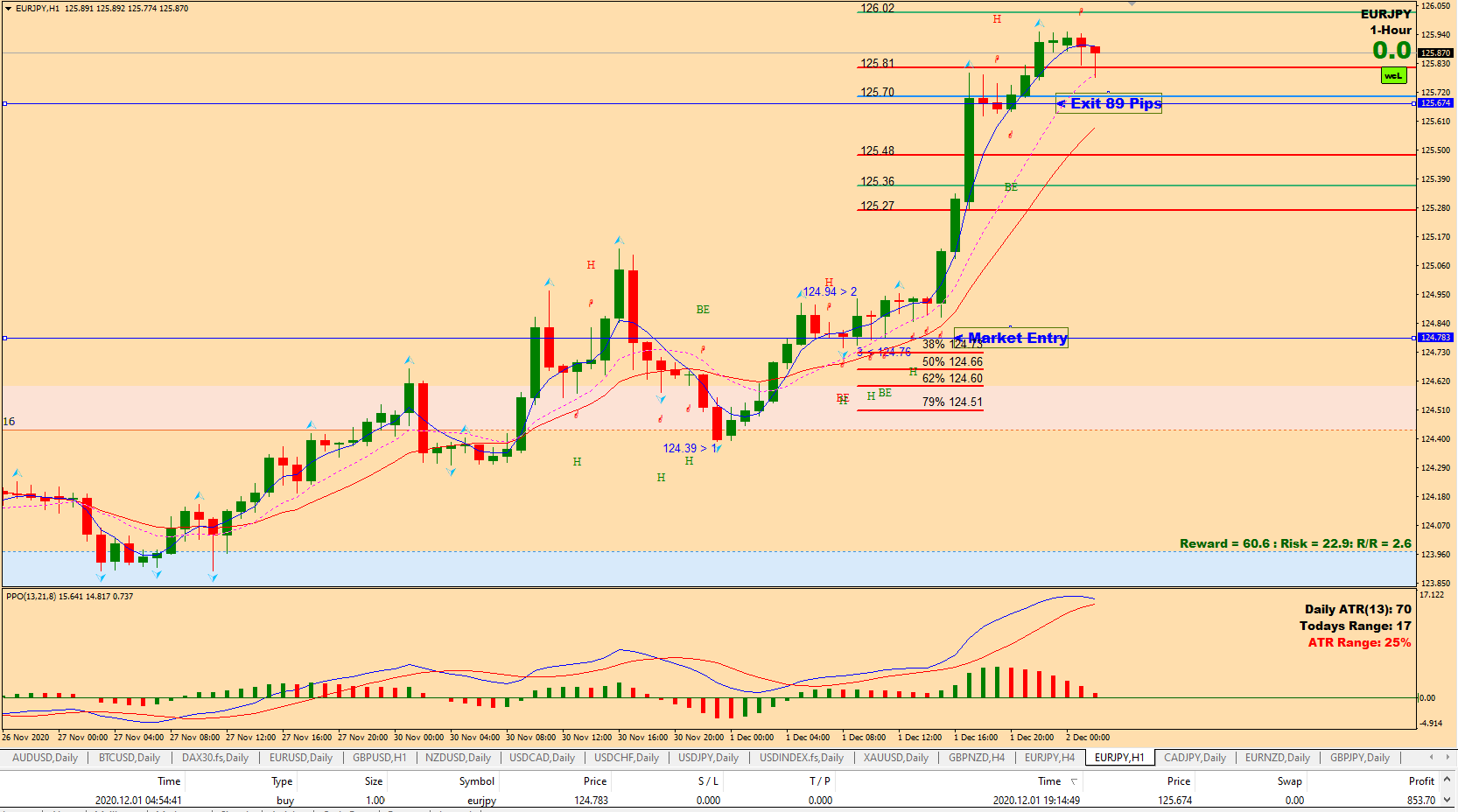 2020-11-24 Silver (XAGUSD) 1 hour 123 Top with 1 Lot for 40 Pips
+$2,015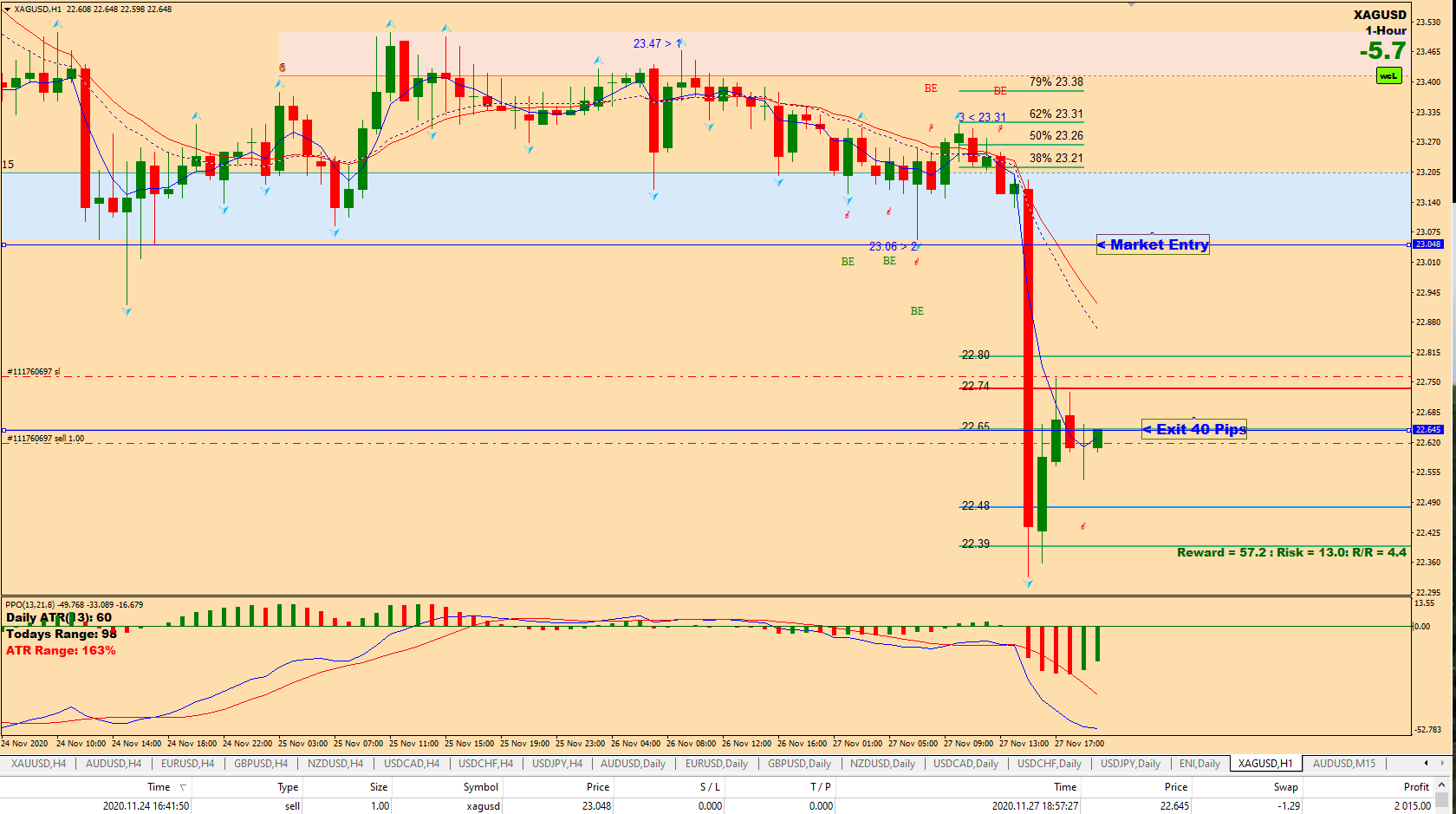 2020-11-24 Gold (XAUUSD) 1 hour 123 Top with 1 Lot 150 Pips
+$1,508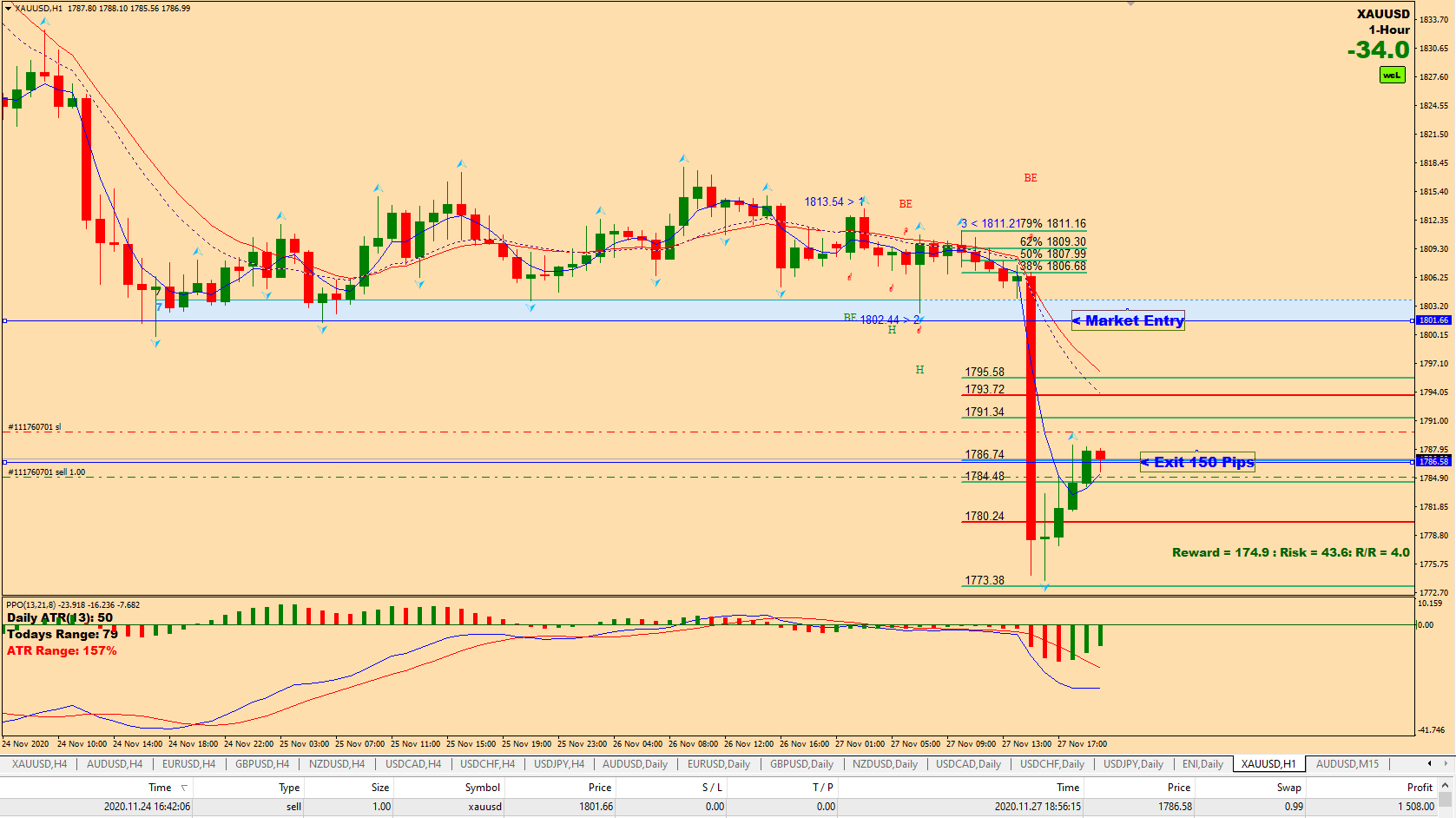 2020-11-19 HG (Copper) 1 Hour 123 Bottom with 3 Lots for 55 Pips
+$4,125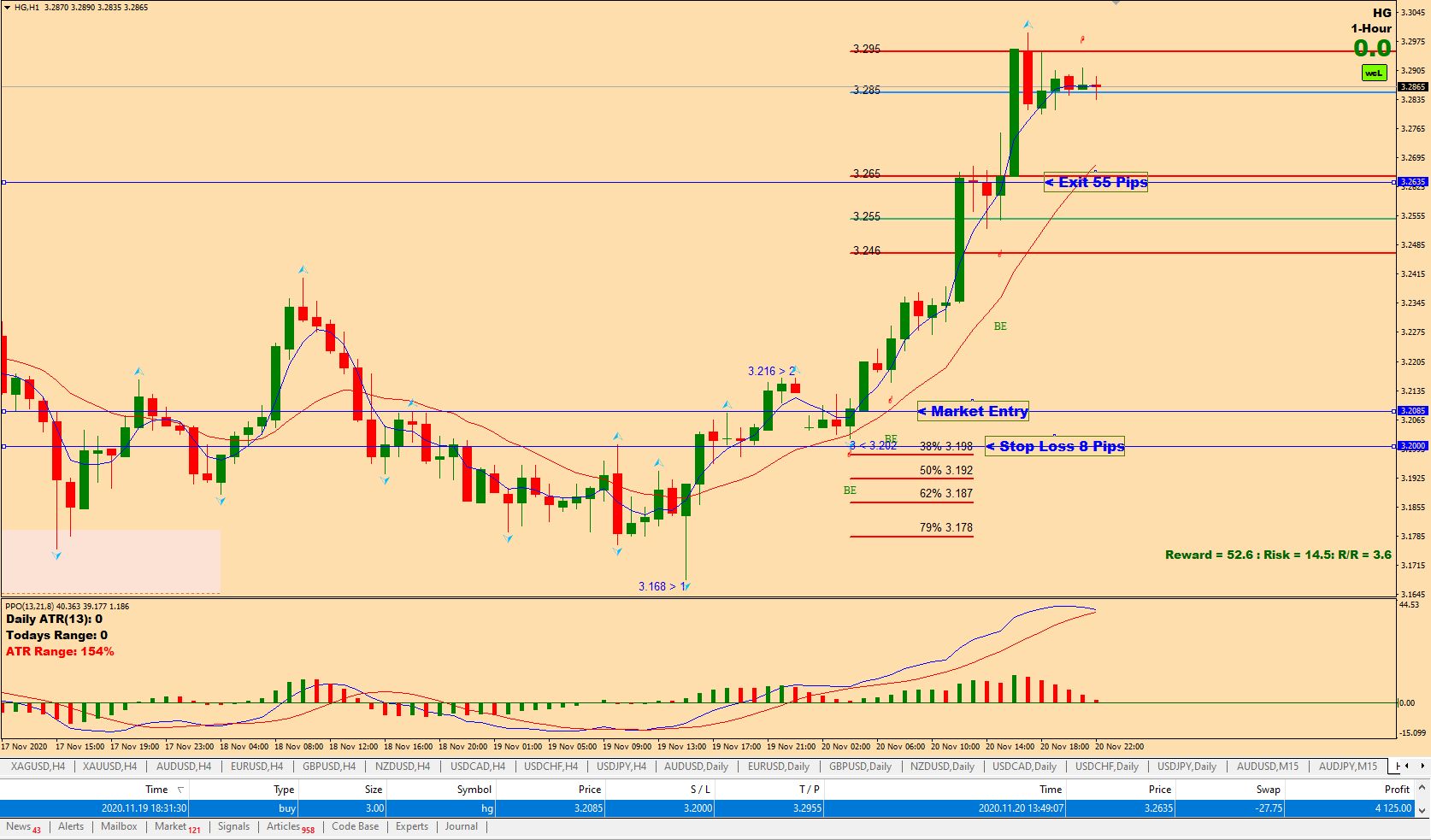 2020-11-16 GBPUSD 1 Hour 123 Bottom with 3 Lots for 75 Pips
+$2,247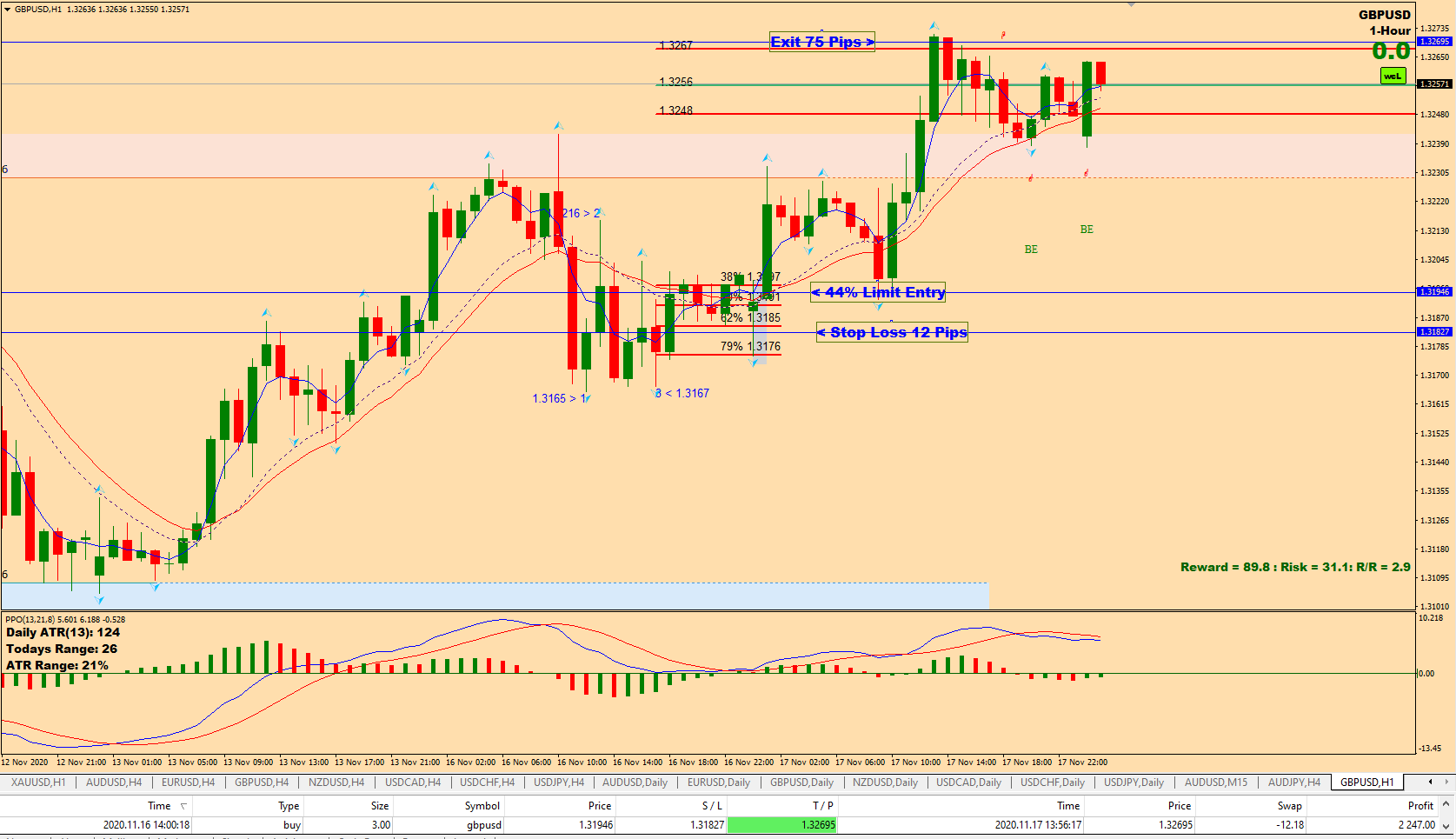 2020-11-11 AUDCAD 4 Hour 123 Bottom with 3 Lots for 51 Pips
+$1,159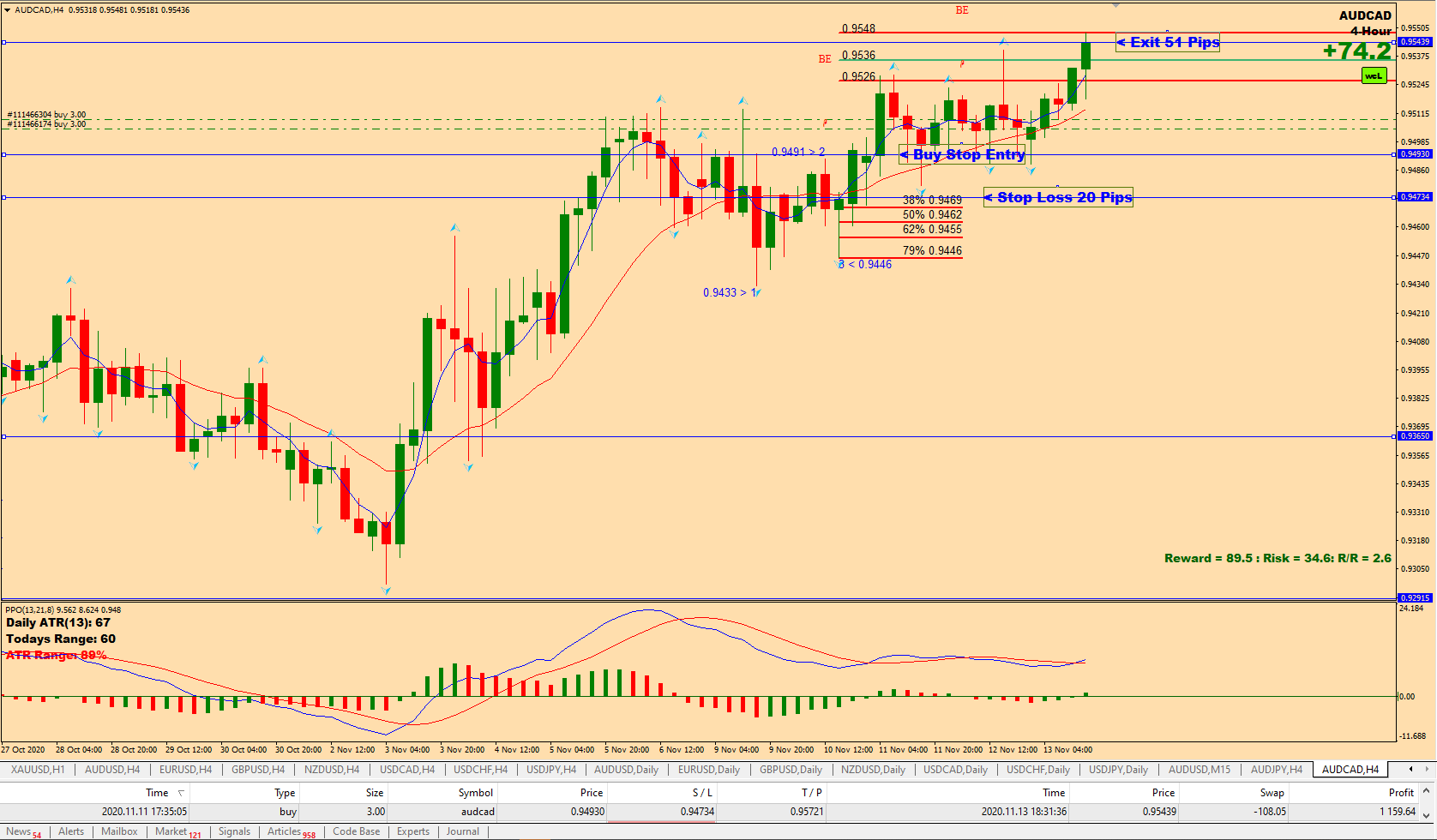 2020-11-05 USDCAD 1 Hour 123 Top with 3 Lots for 59 Pips
+$1,330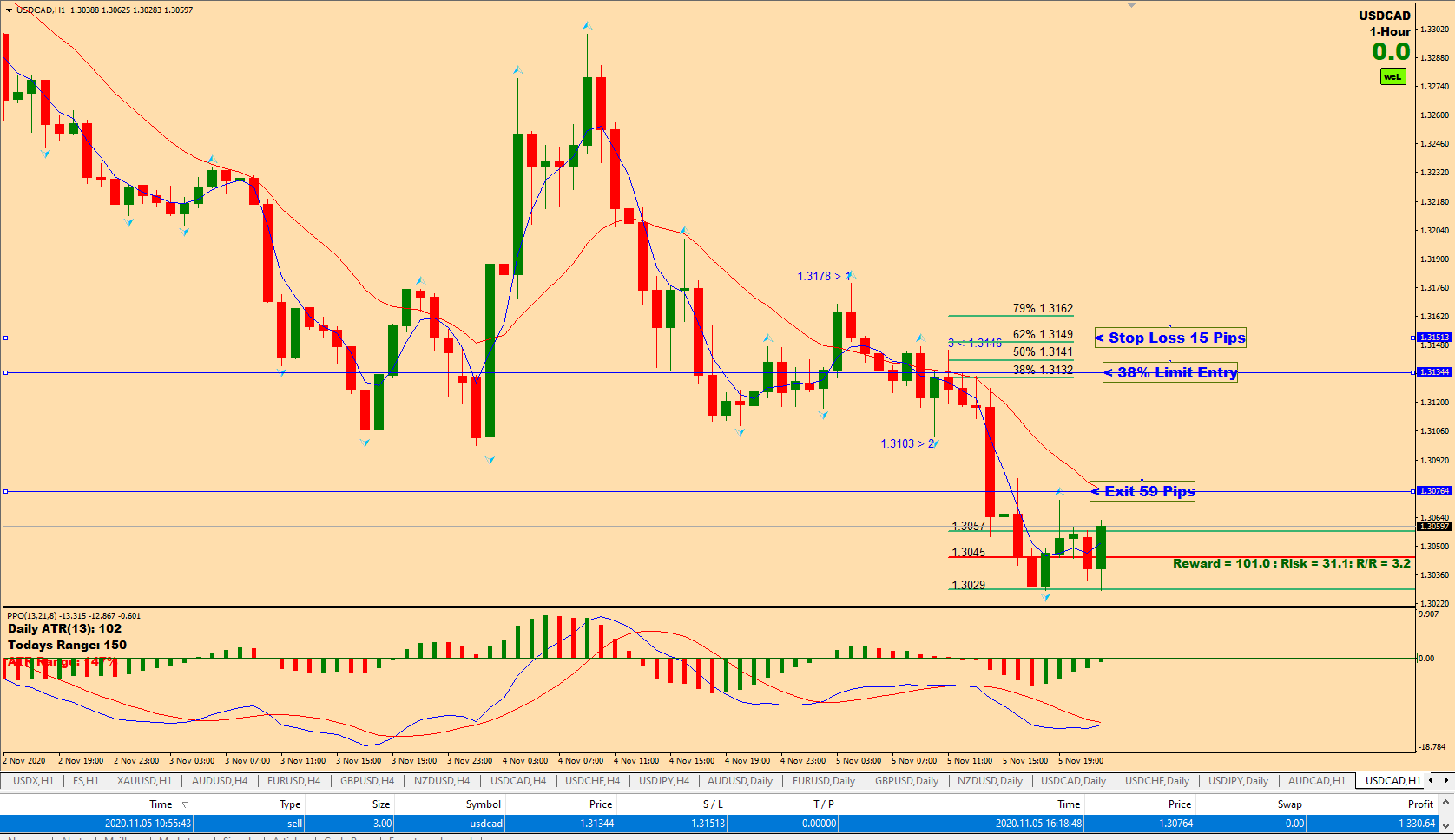 2020-11-04 EURCAD 1 Hour 123 Top with 3 Lots for 76 Pips
+$1,701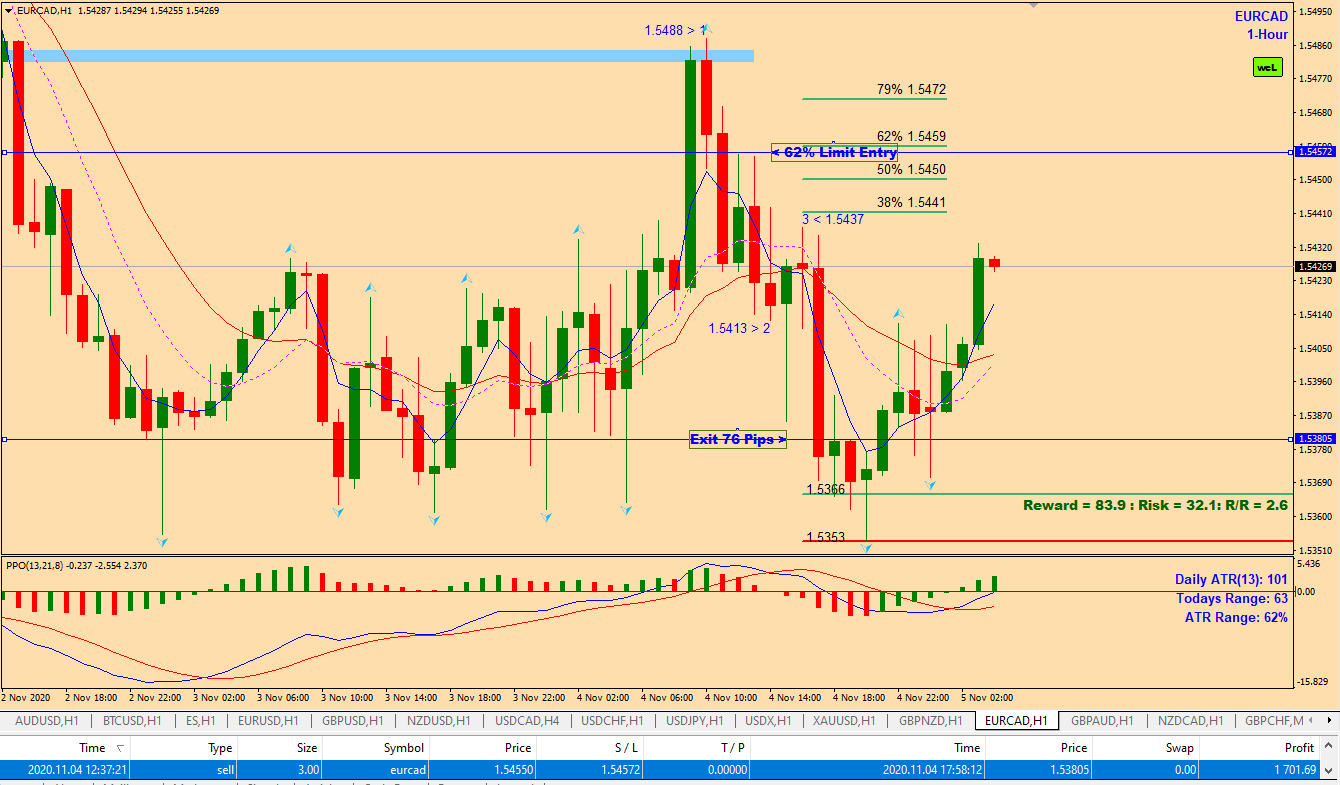 2020-11-03 EURCAD 1 Hour 123 Bottom with 5 Lots for 60 Pips
+$2,324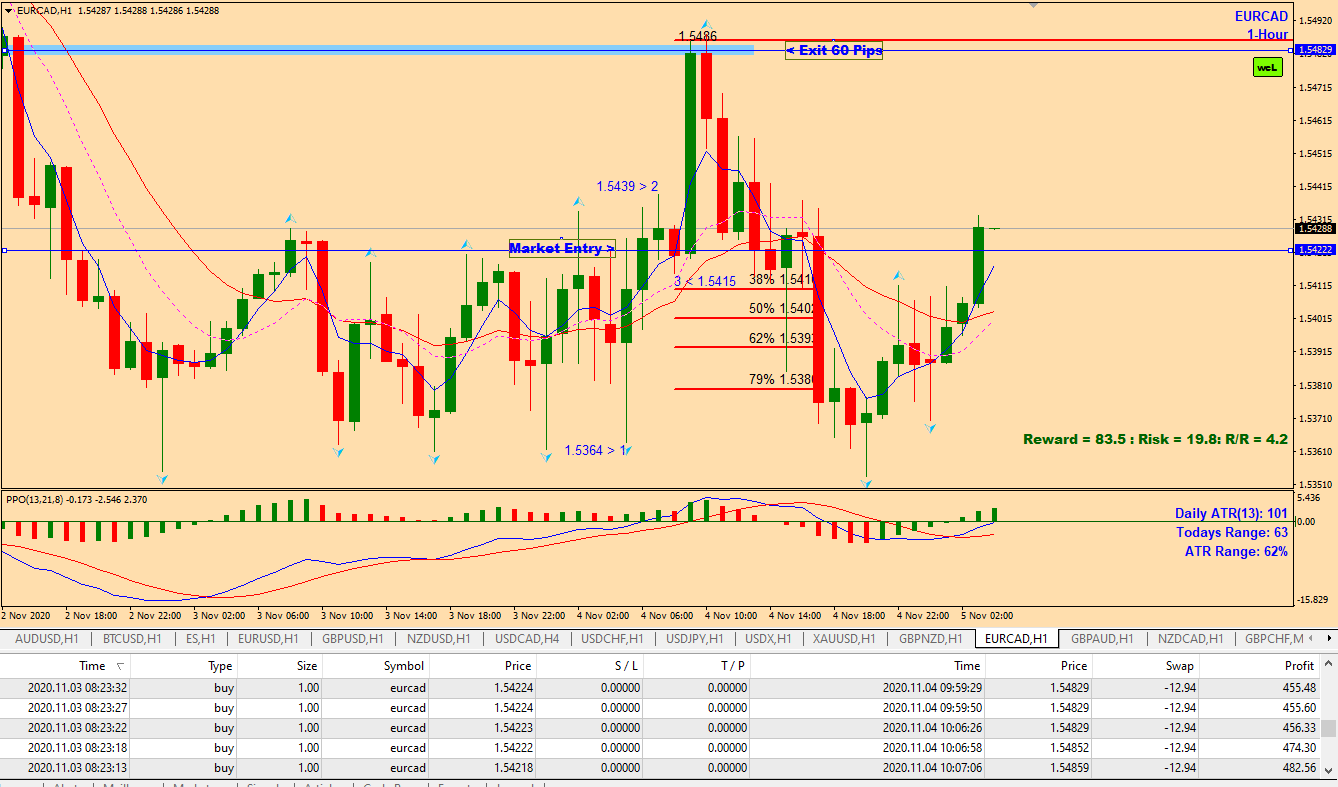 2020-10-28 AUDCAD 1 Hour (30 minute for clarity) 123 Bottom with 5 Lots for -10 Pips
-$377
2020-10-27 EURNZD 1 Hour 123 Top with 1 Lot for 62 Pips
+$415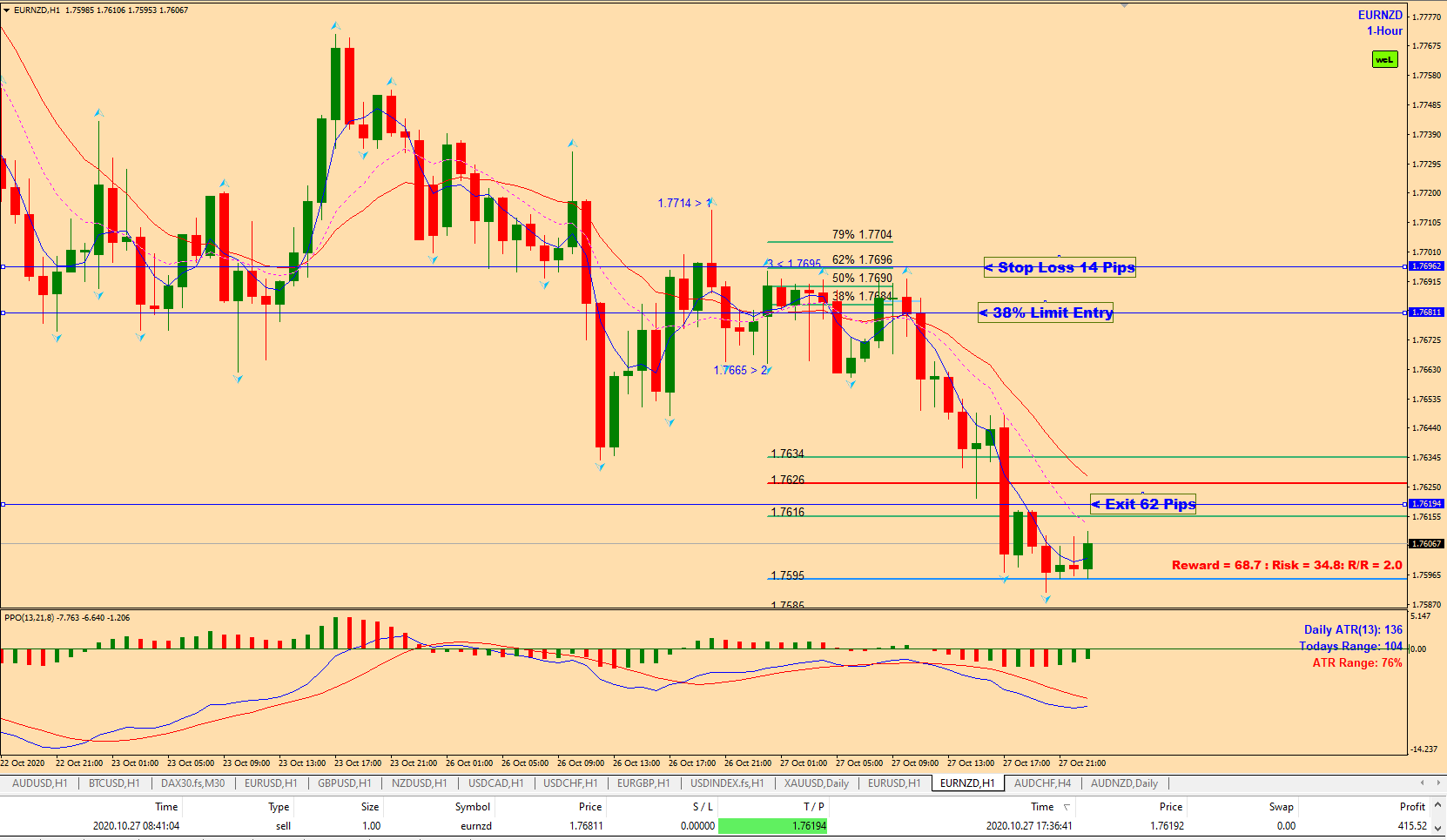 2020-10-27 EURNZD 1 Hour 123 Top with 1 Lot for 61 Pips
+$412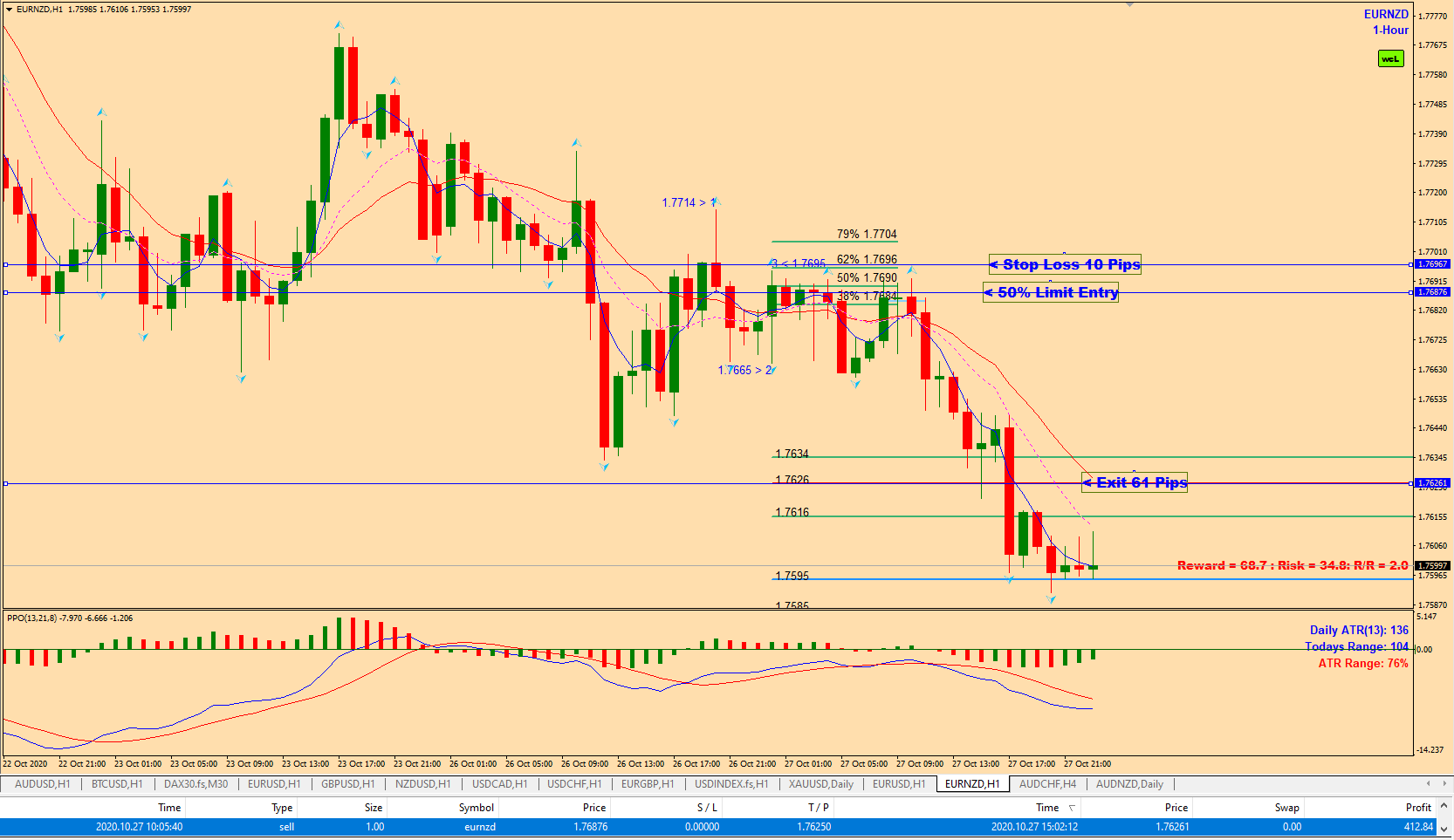 2020-10-21 AUDCHF 1 Hour 123 Bottom with 1 Lot for 38 Pips
+$410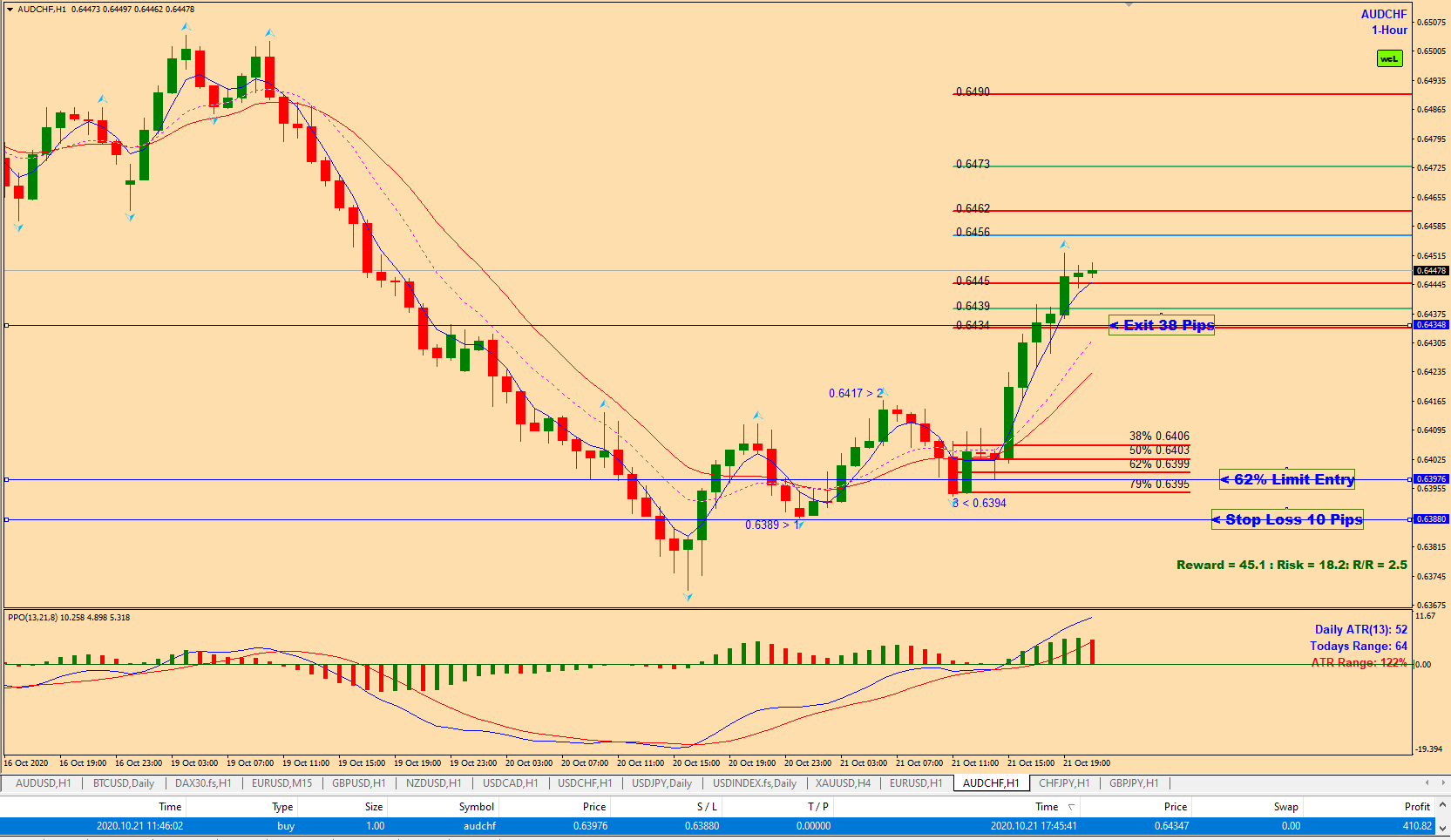 2020-10-20 EURUSD 15 Minute (for clarity) 123 Bottom with 1 Lot for 40 Pips
+$404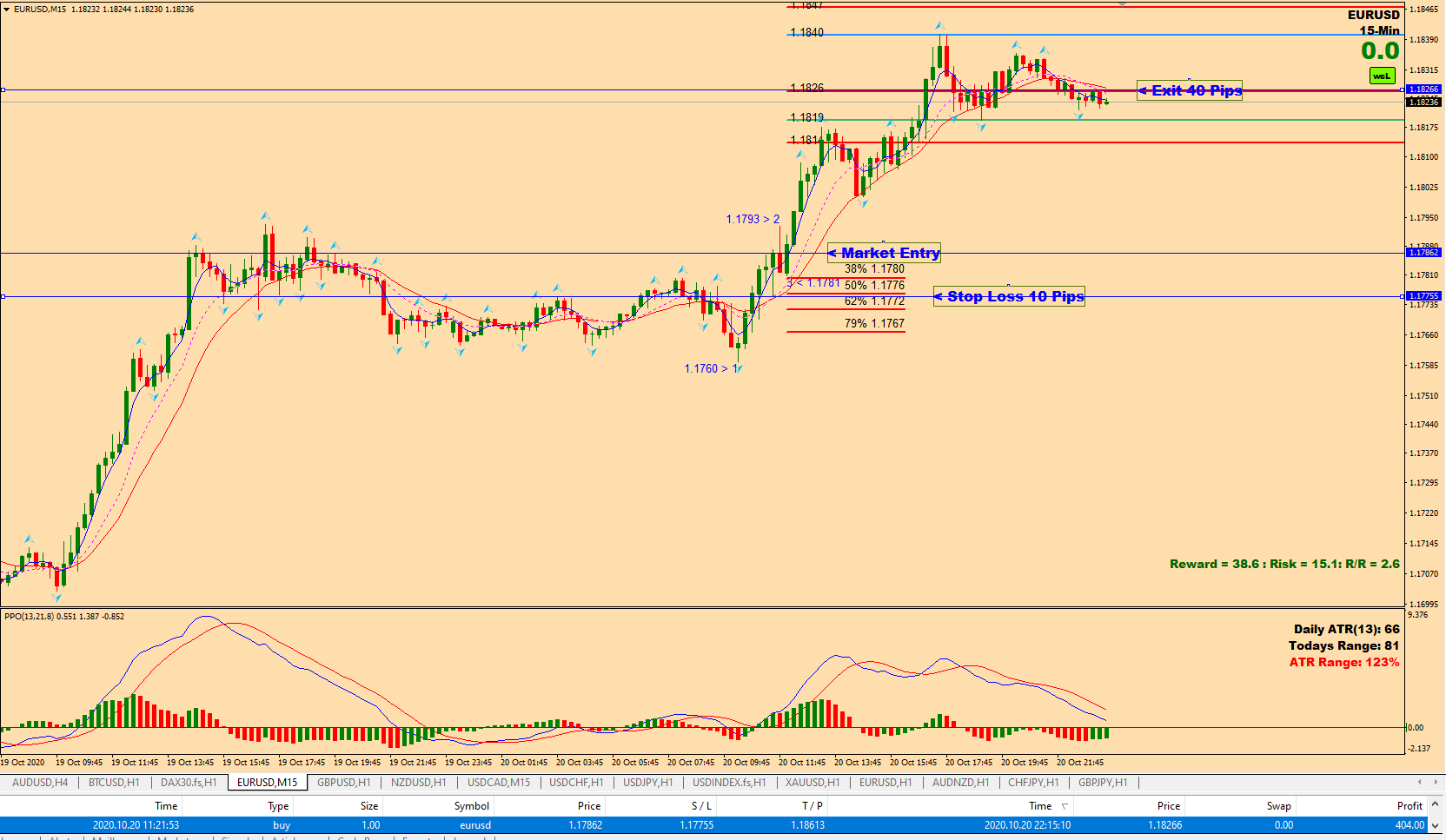 2020-10-20 CHFJPY 30 Minute (for clarity) 123 Bottom with 1 Lot for 47 Pips
+$450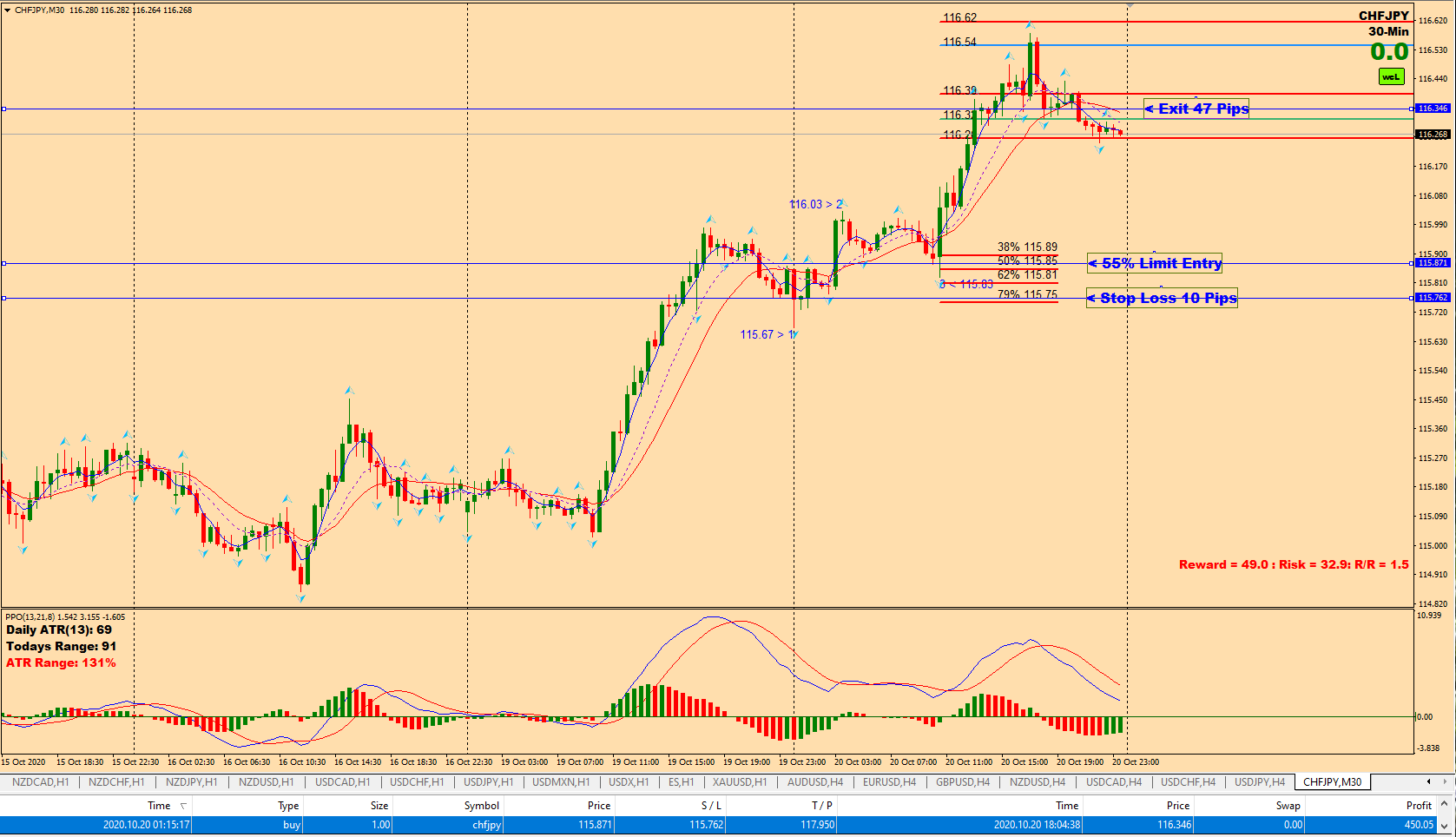 2020-10-15 NZDJPY 1 Hour 123 Top with 2 Lot for 68 and 50 Pips
+$1,115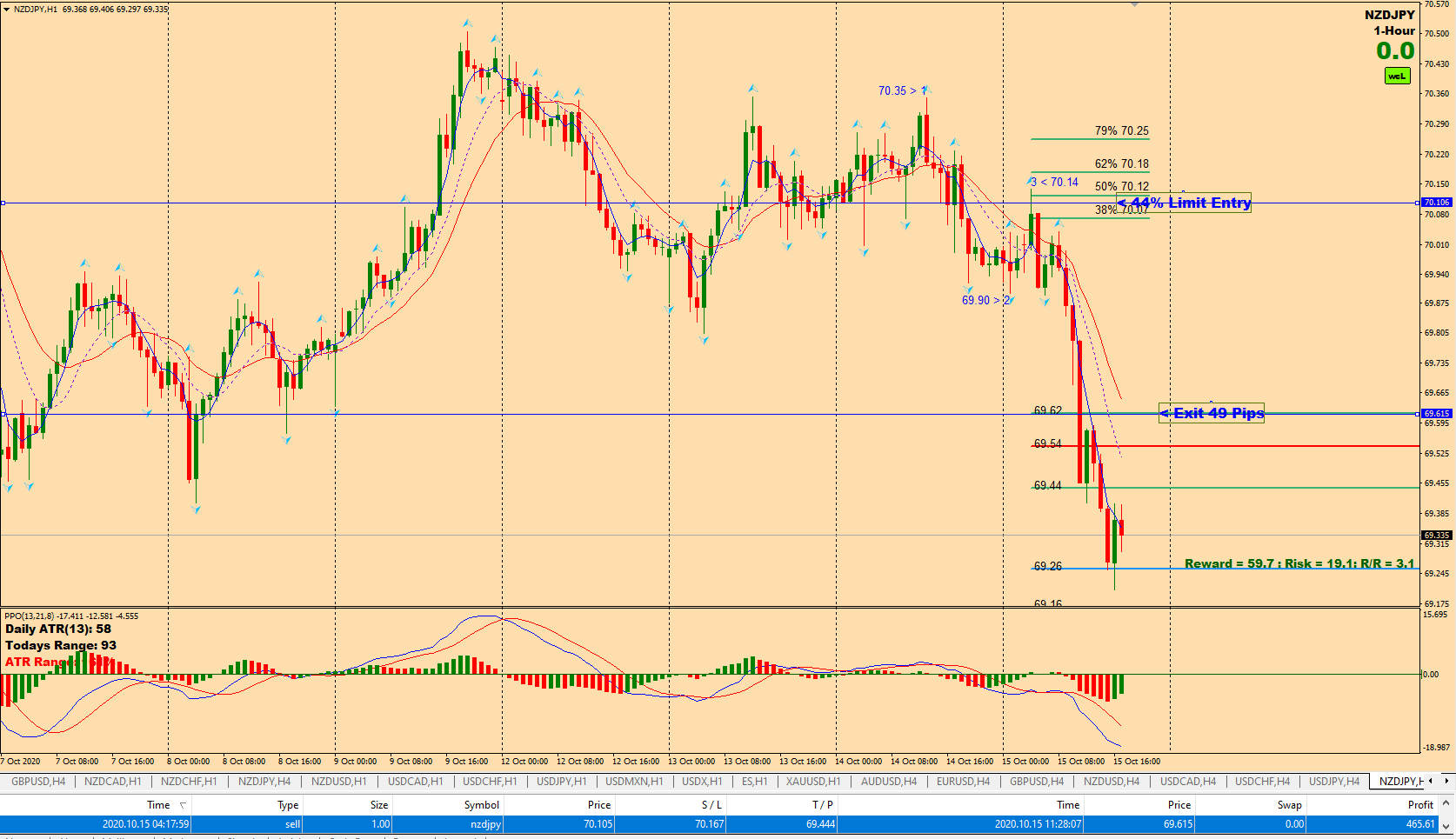 2020-10-09 AUDUSD 1 Hour 123 Bottom with 6 Lots - 2 separate trades for 54 Pips
+$1,611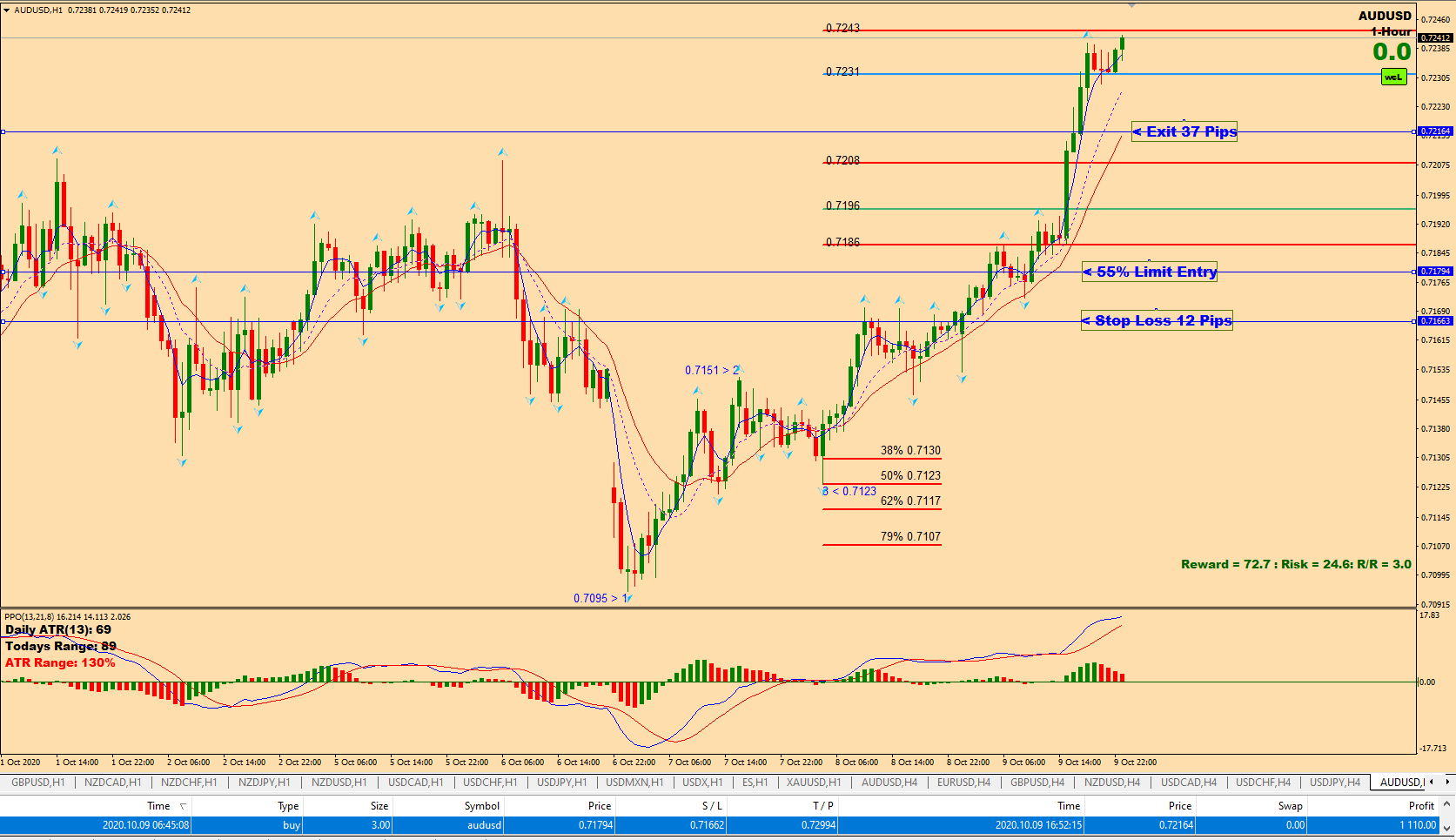 2020-10-07 USDJPY 1 Hour 123 Bottom Alert with 2 Lots for 33 Pips
+$622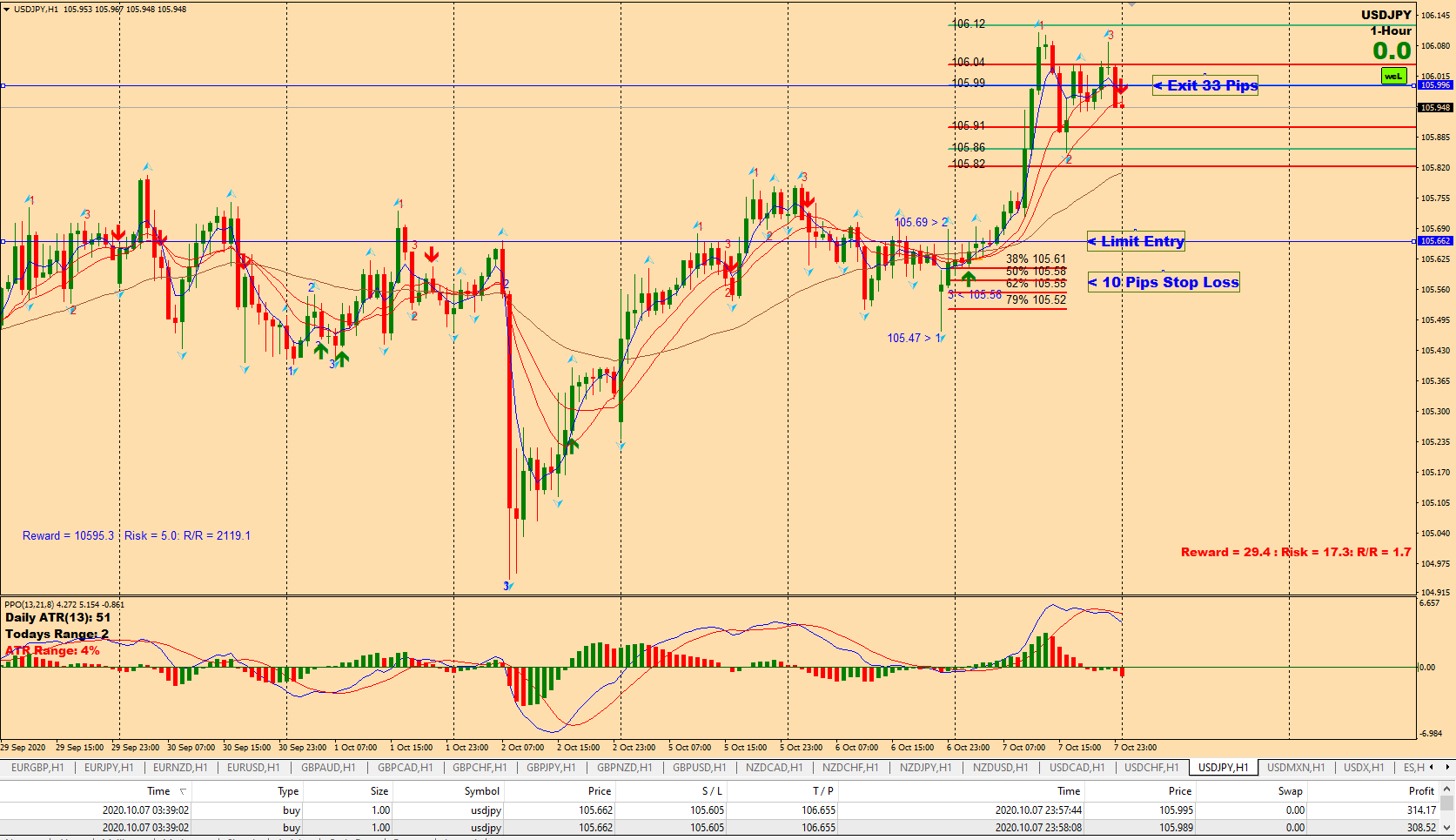 2020-10-06 EURNZD 1 Hour (30 Minute for clarity) 123 Bottom with 1 Lot for 14 Pips Loss
-$99
2020-10-05 XAUUSD 1 Hour (30 Min for clarity) 123 Top with AutoWaveCalc @3 Lots for 84 Pips
+$2,547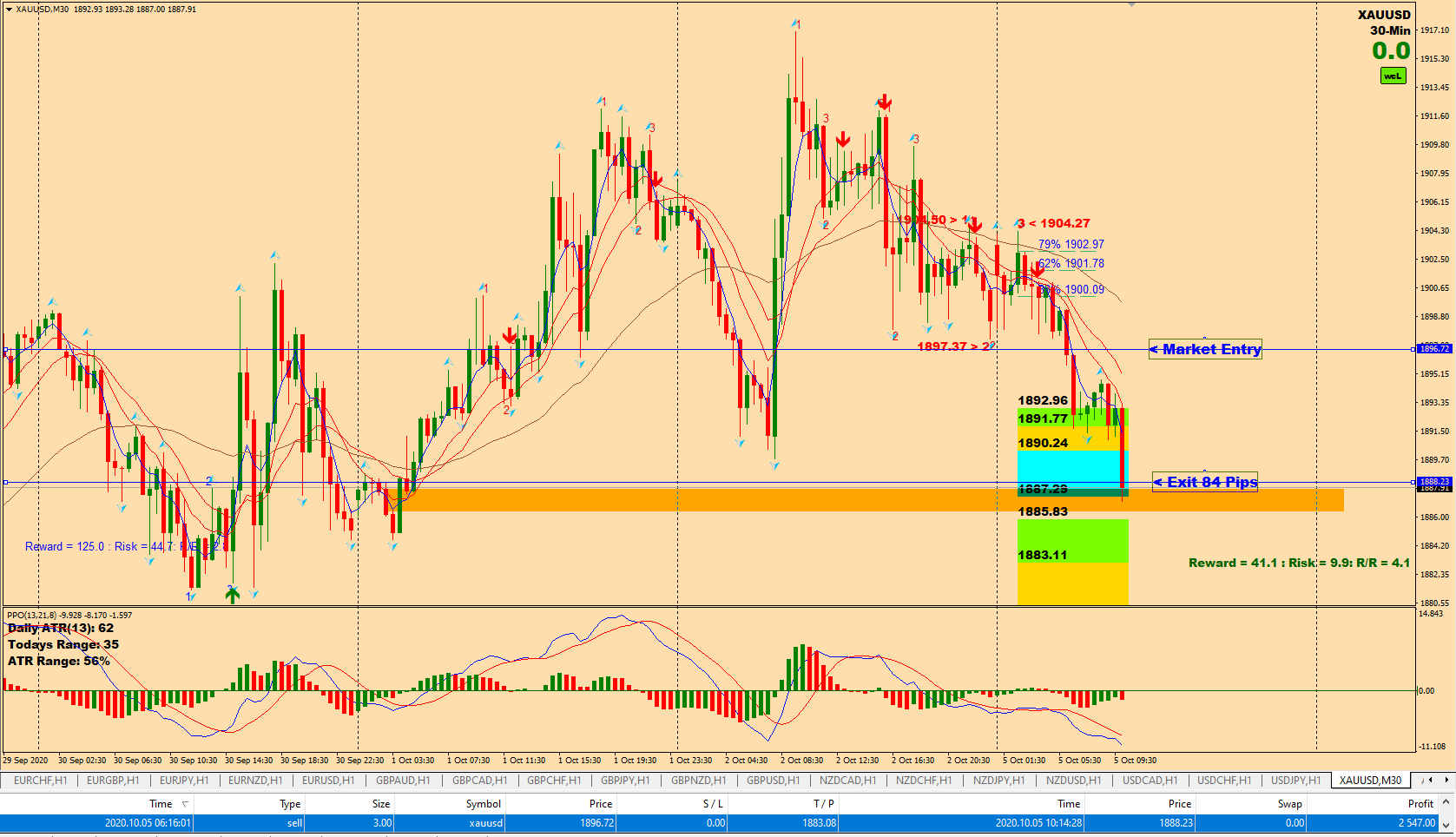 2020-09-20 2,500 to 33,554 in 20 days - 2 to 5 lots (mostly 3 lots) per trade - taking profits at from 50 to 100 pips on average
+$31,054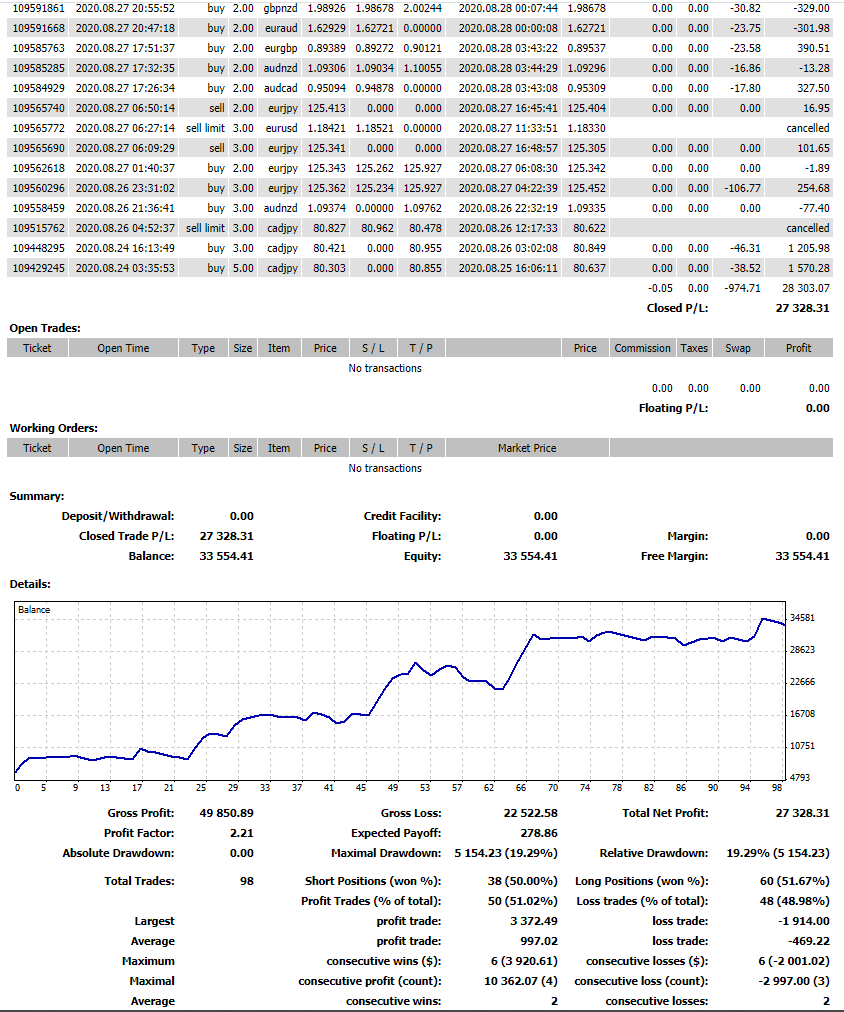 2020-09-18 AUDJPY 30 Minute 123 Top with 3 Lots for 50 Pips
+$1,456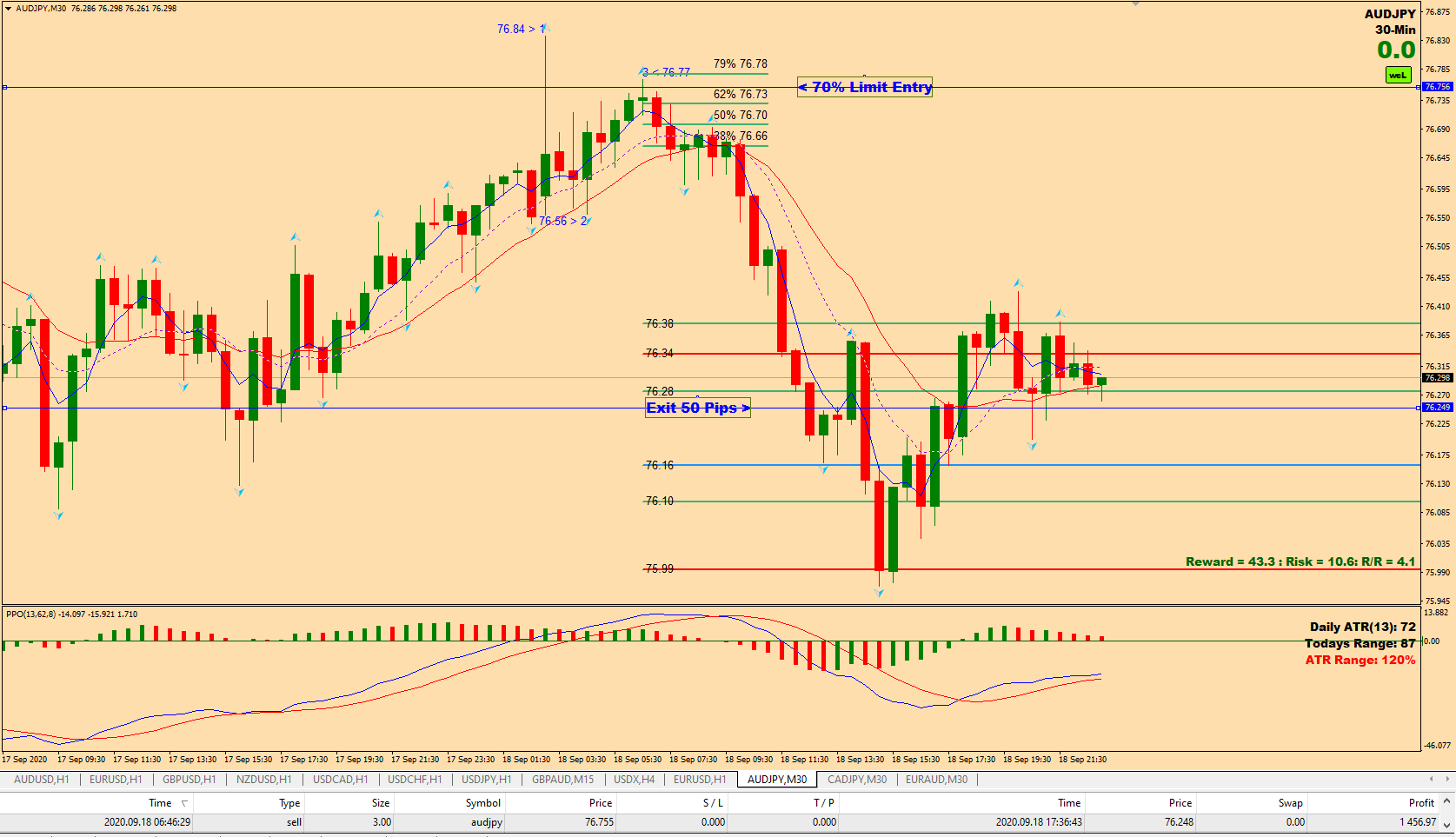 2020-09-17 GBPJPY 1 Hour 123 Top with 3 Lots for 121 Pips
+$3,372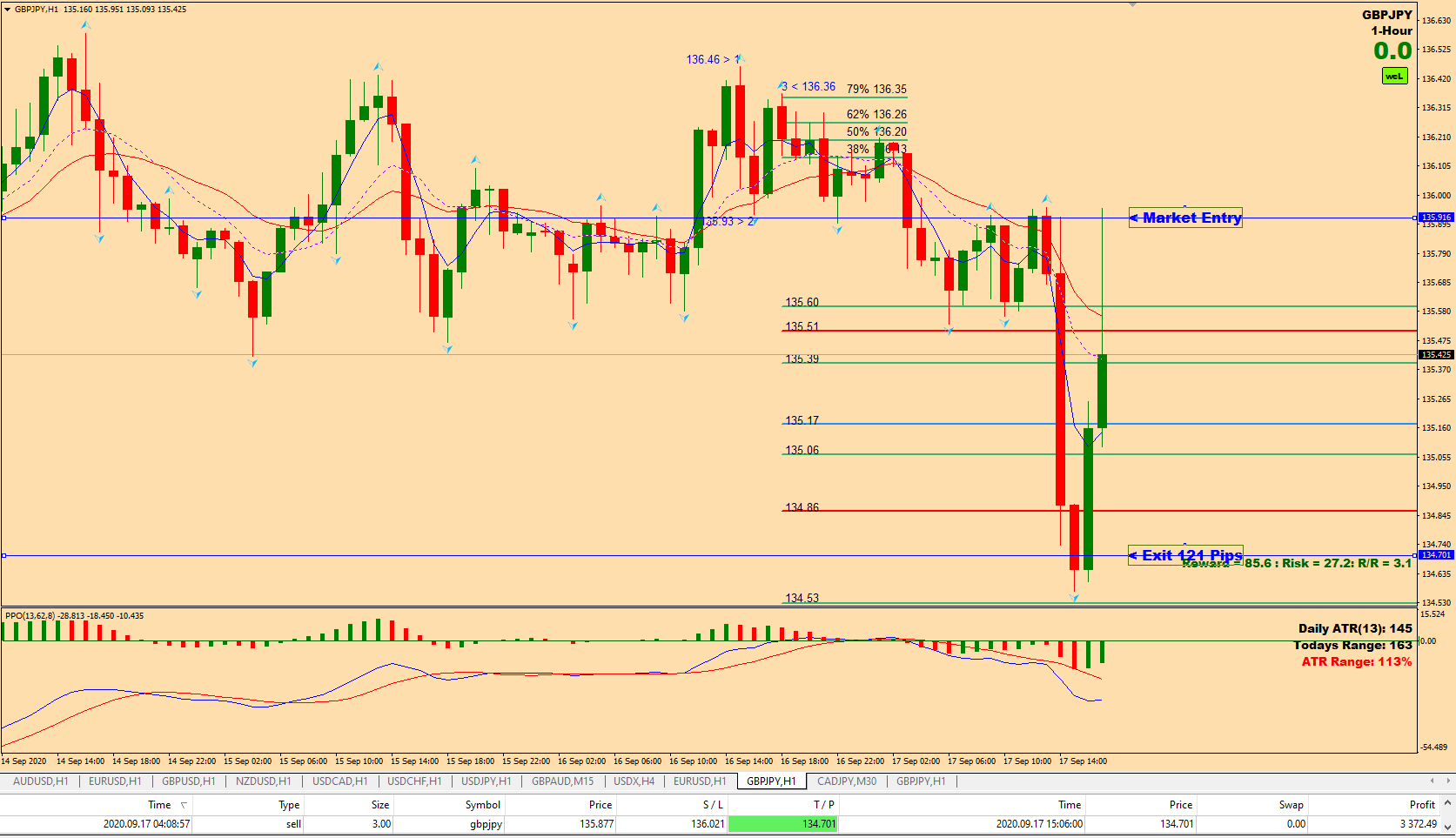 2020-09-17 GBPAUD 30 Minute 123 Top with 3 Lots
-$381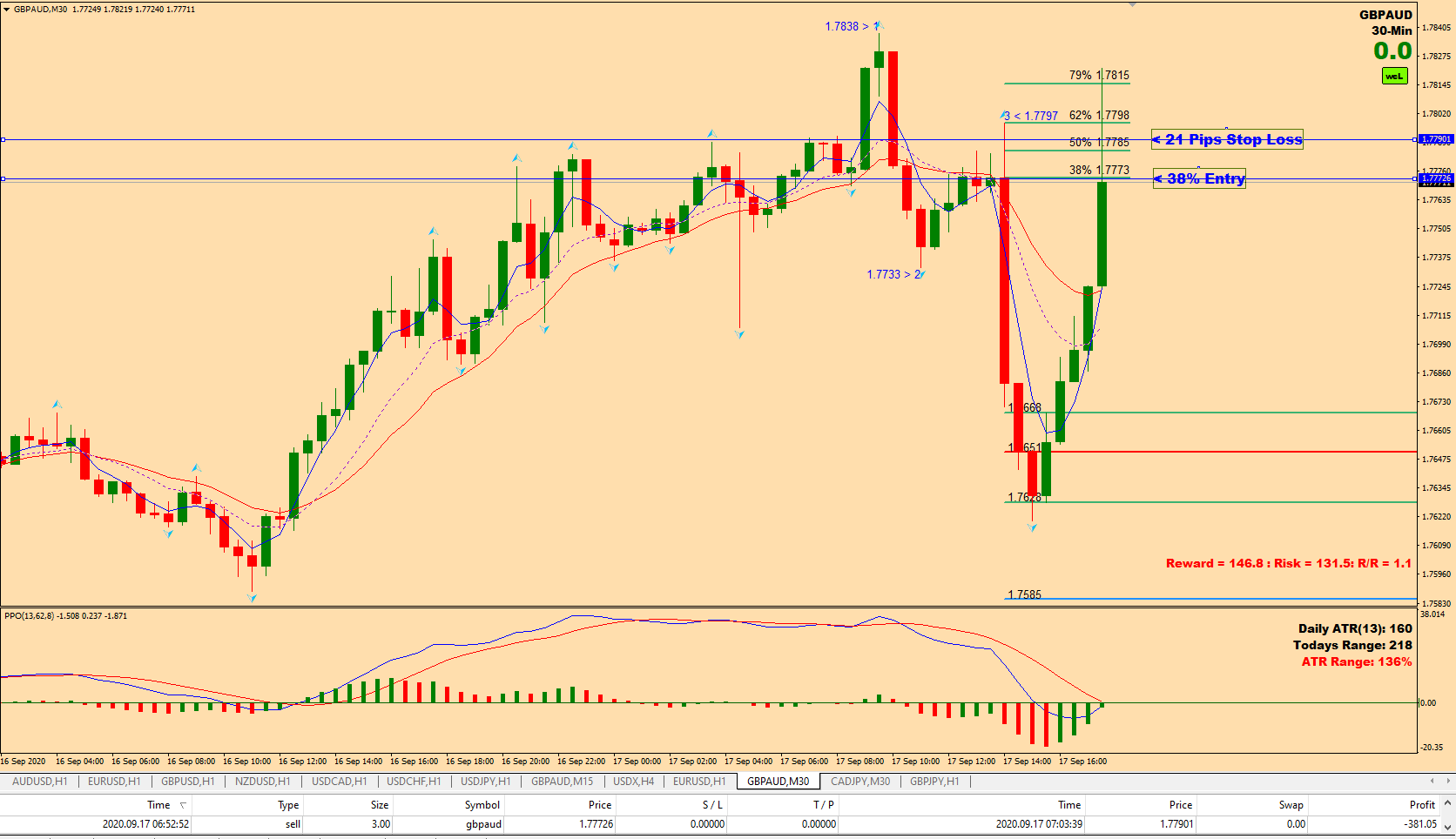 2020-09-10 GBPNZD 30min 123 Bottom was stopped out
-$388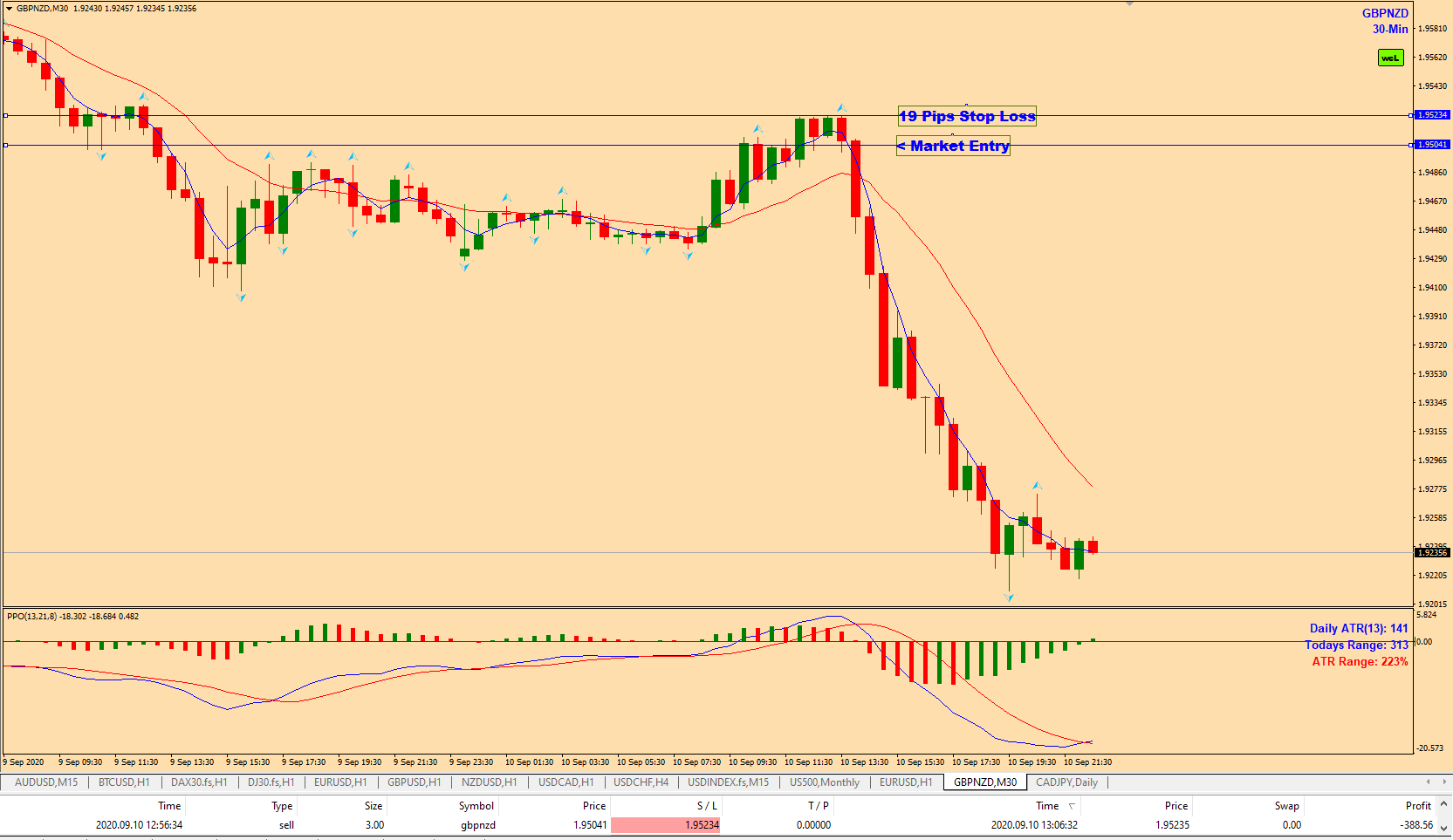 2020-09-10 GBPNZD 30 Min 123 Top @3 Lots for 131 Pips
+$2,635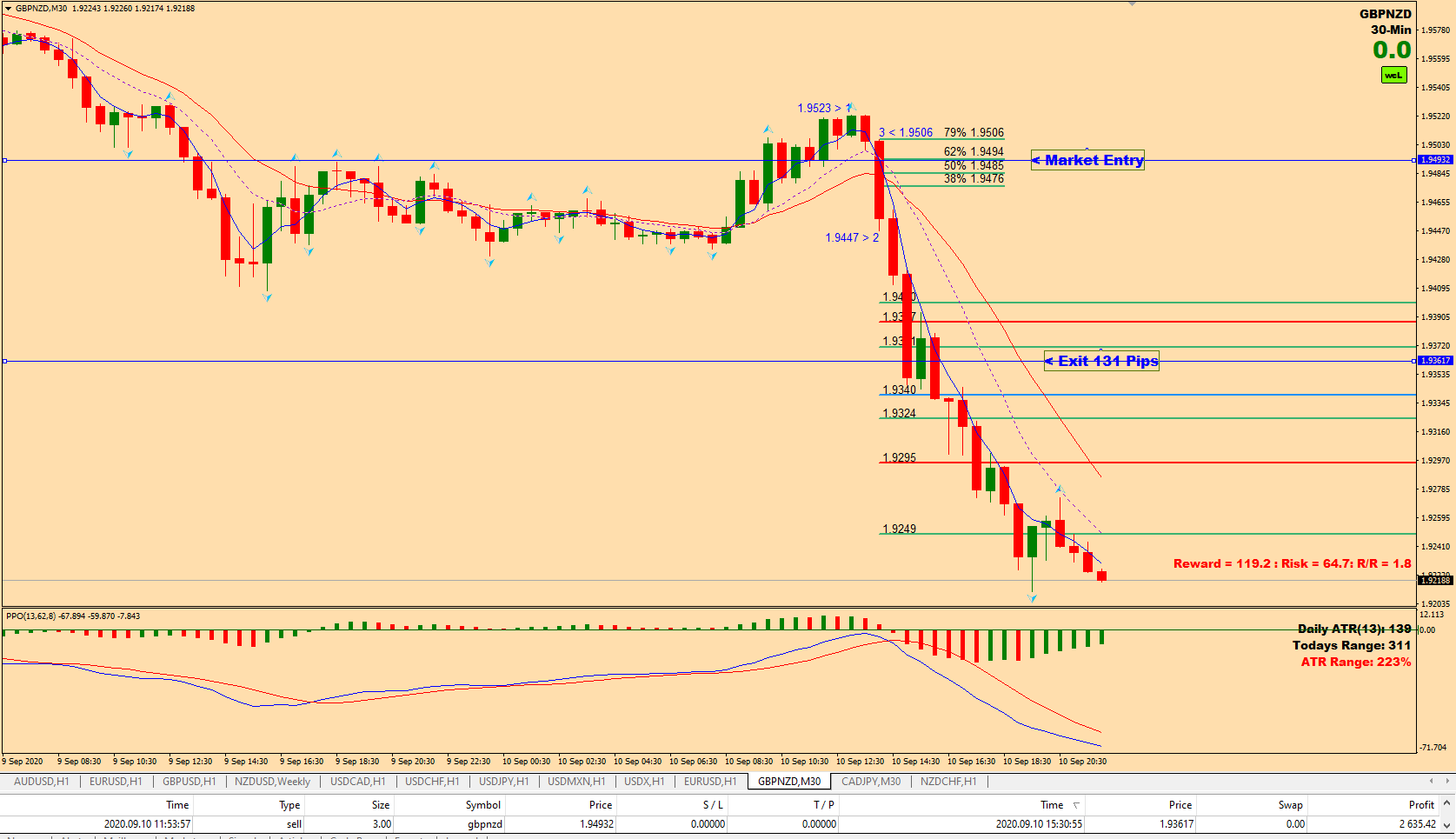 2020-09-10 EURGBP 1 Hour 123 Bottom @3 Lots for 78 Pips
+$3,034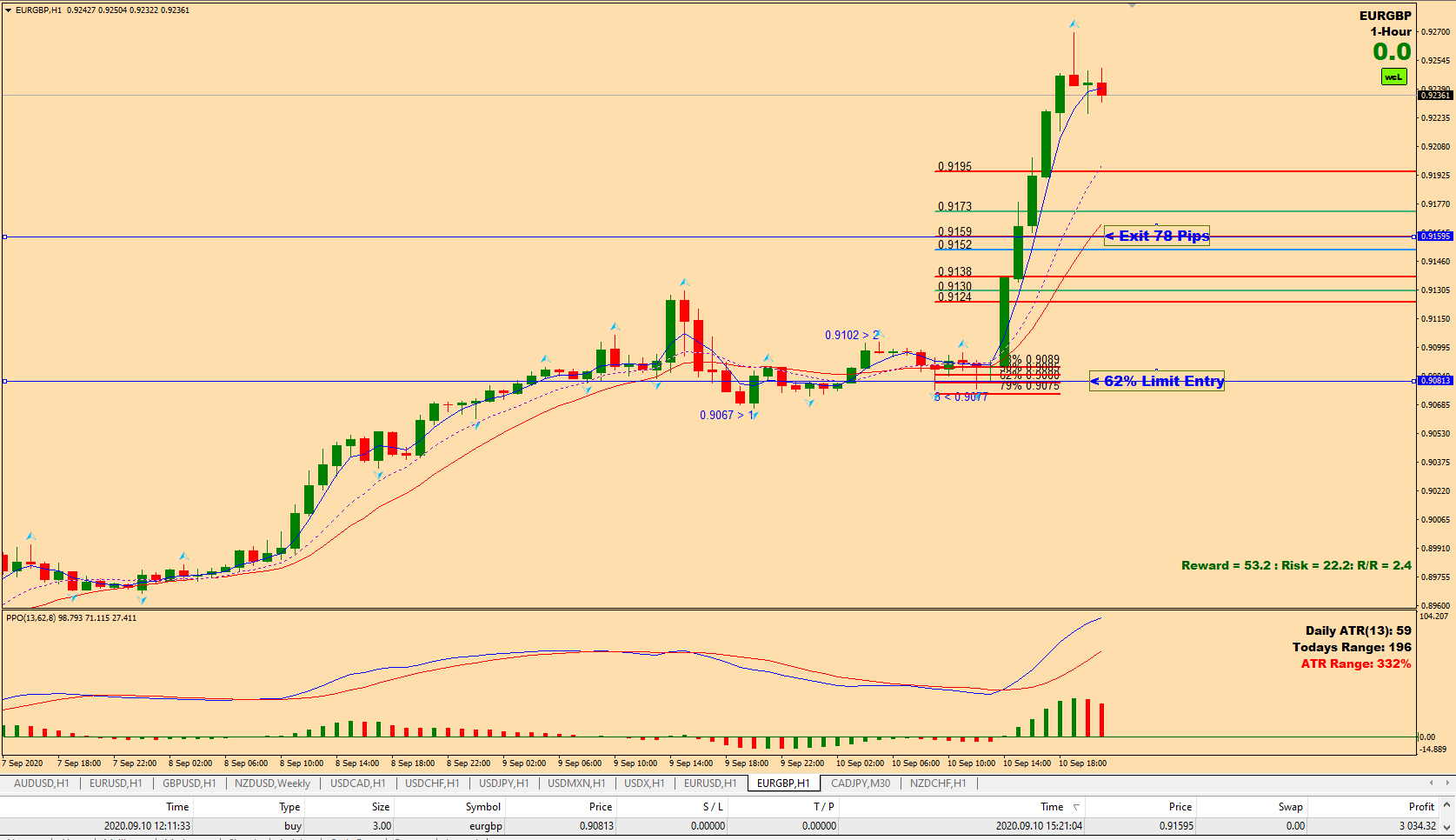 2020-09-09 NZDJPY 15 Minute 123 Bottom@ 3 Lots for 45 Pips
+$1,271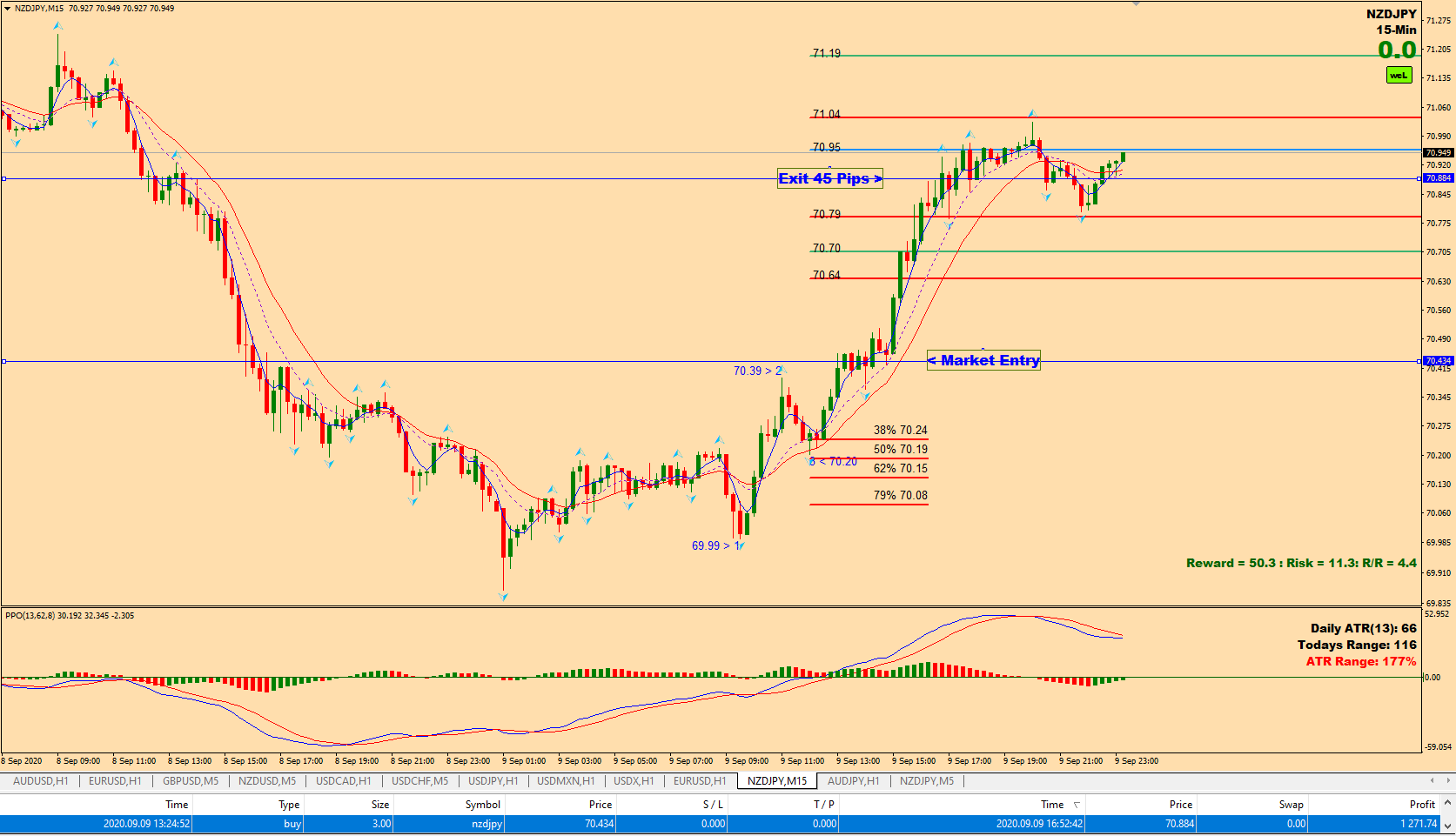 2020-09-08 GBPUSD 15min 123 Top @3 Lots for 75Pips
+$2,250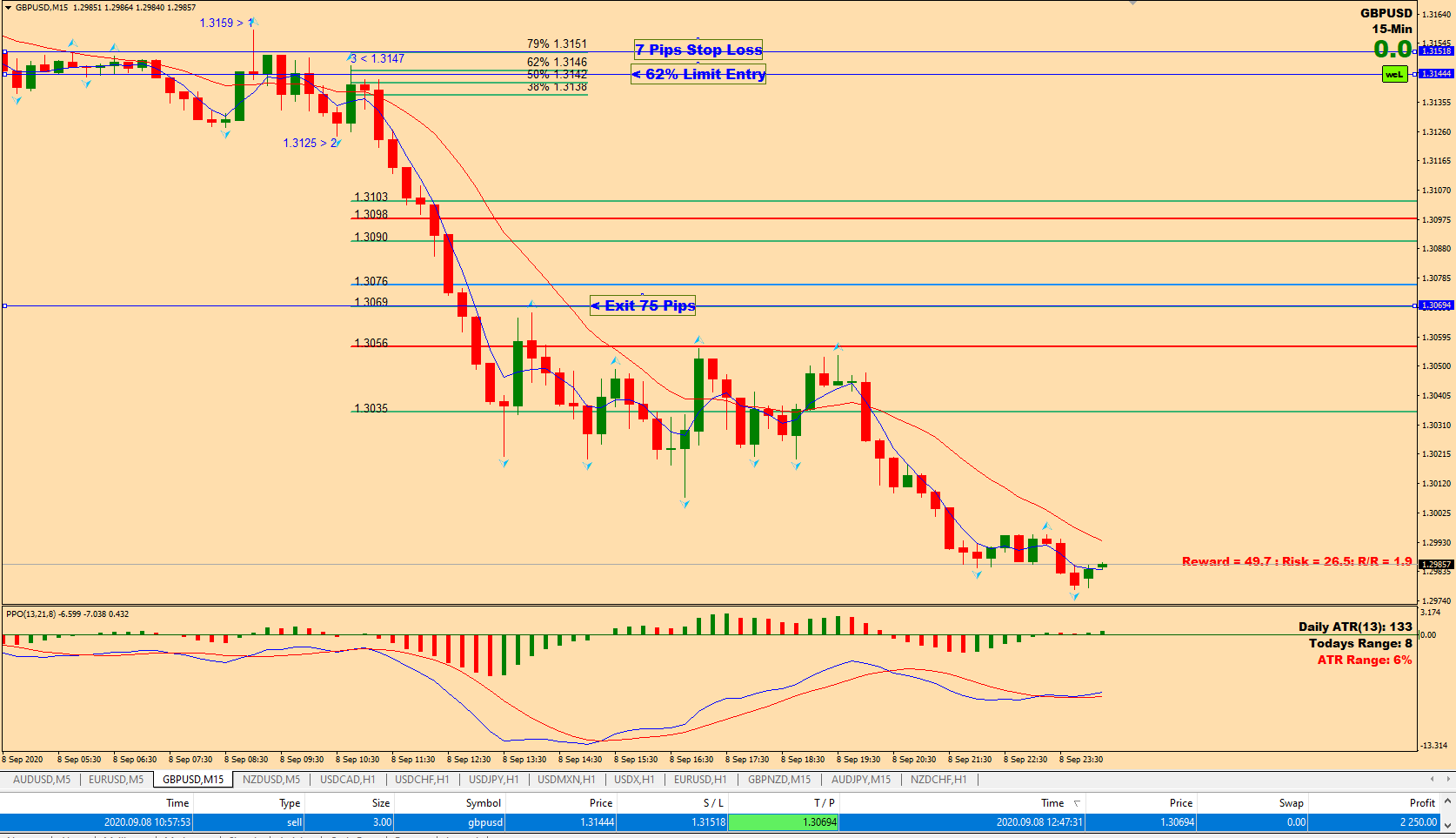 2020-09-08 GBPUSD 15 Minute 123 Bottom @3 Lots for -23 Pips
-$687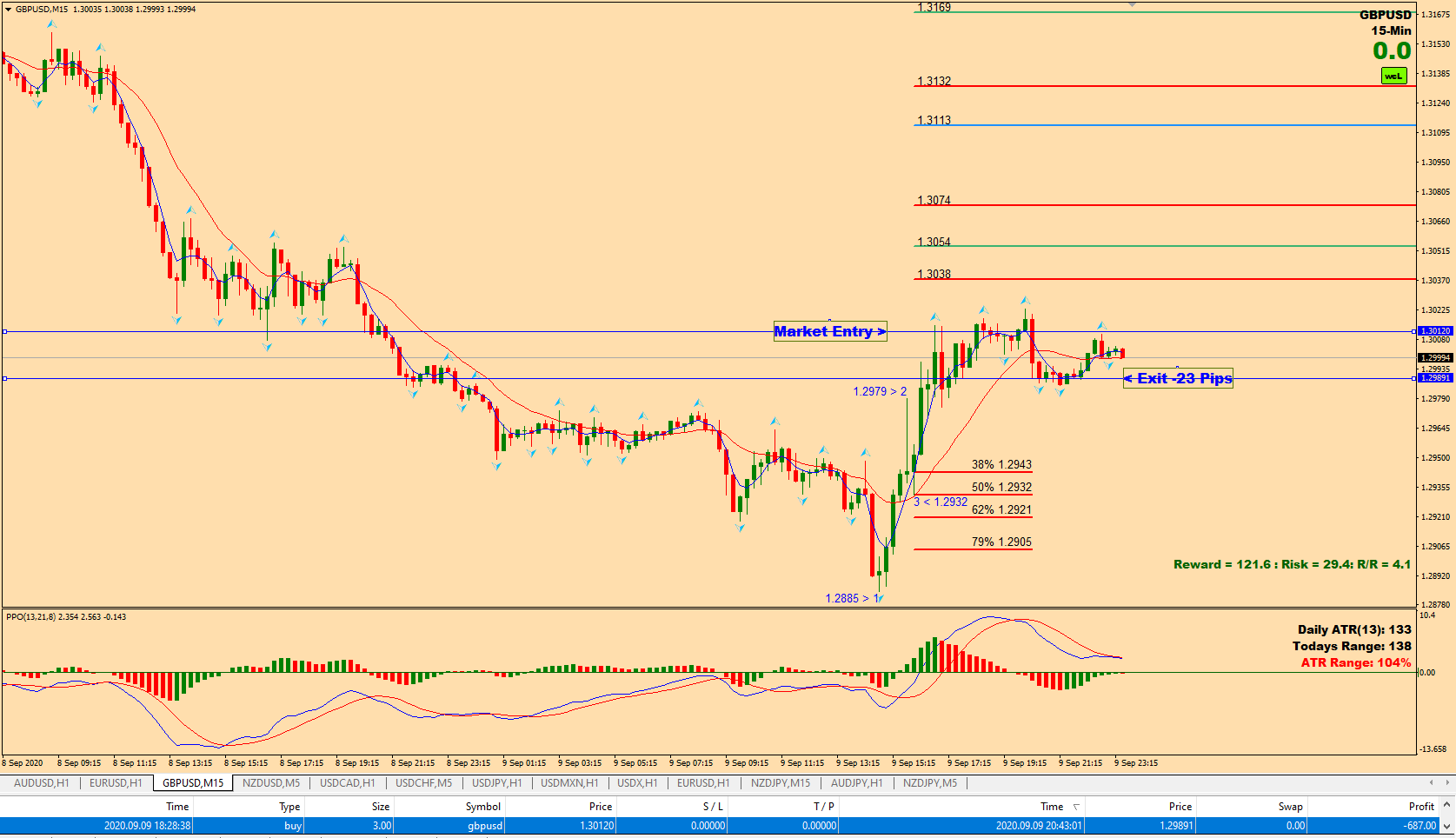 2020-09-07 GBPUSD 1H 123 Top @3 Lots for 80 Pips
+$2,424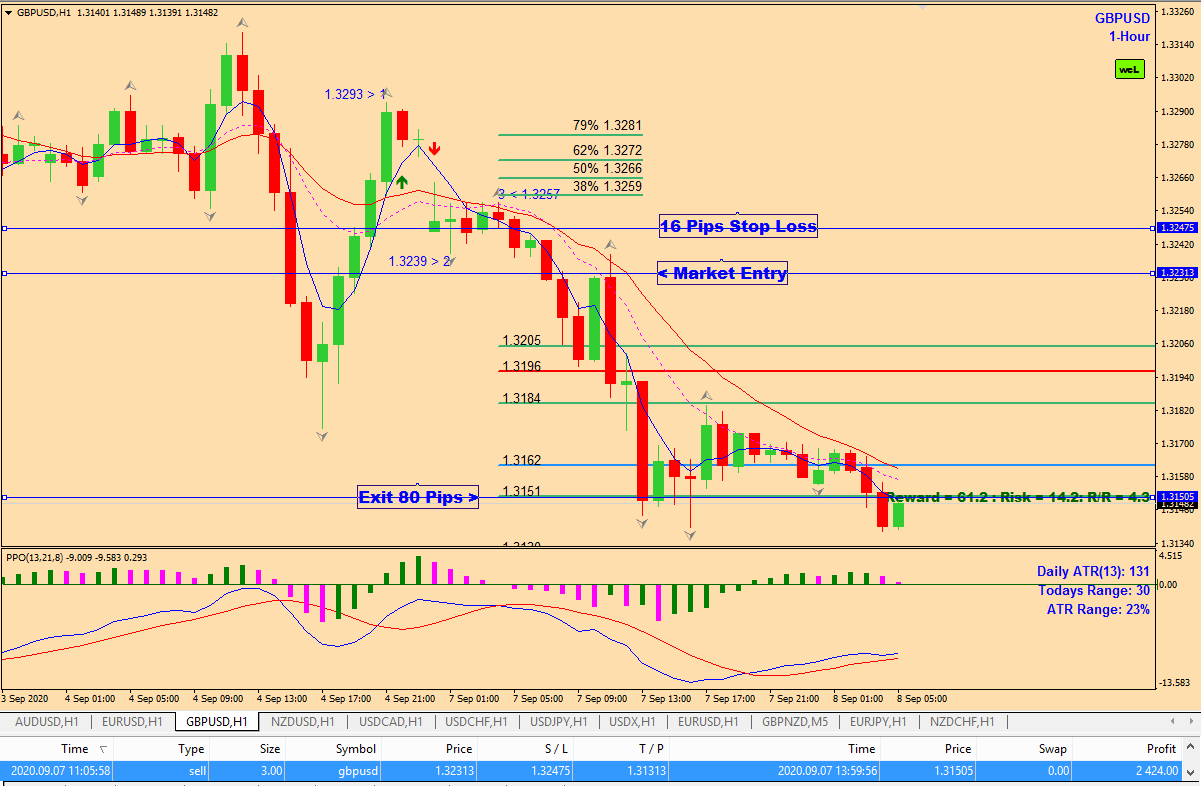 2020-09-07 GBPNZD 30 Min 123 Top @3 Lots for 115 Pips
+$2,325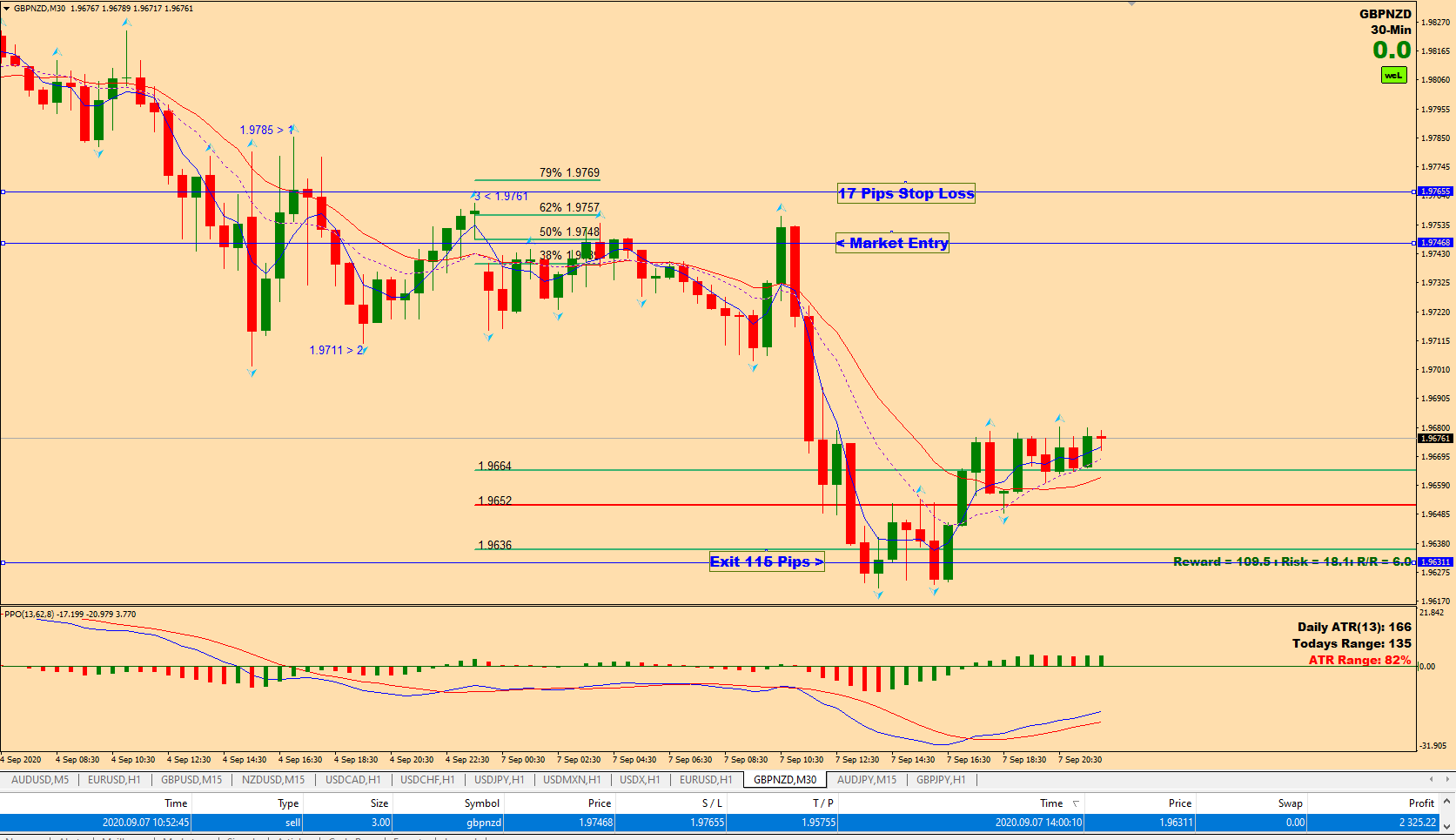 2020-09-03 GBPNZD 15Min123 Top @3 Lots for 76 Pips
+$1,532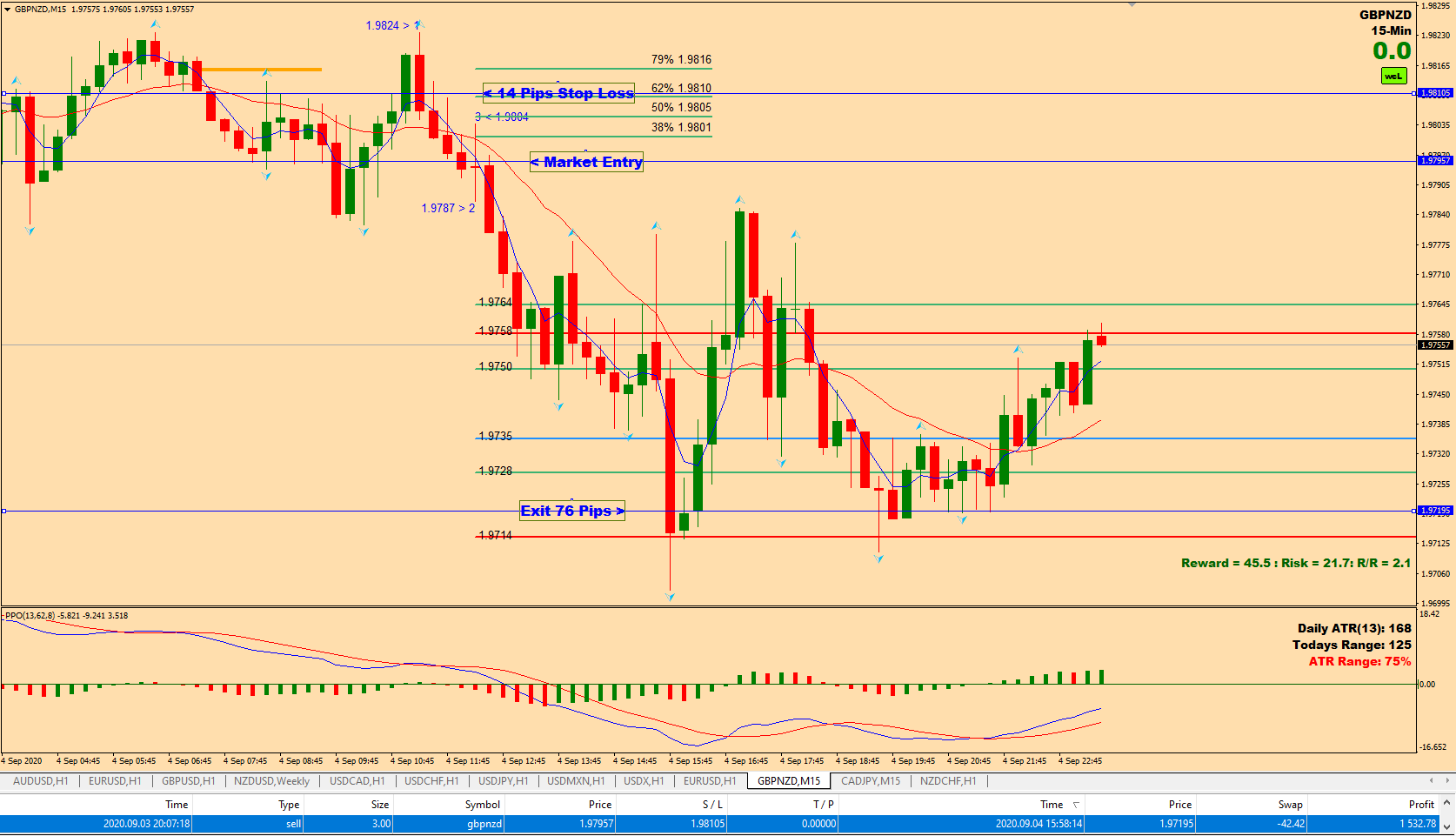 2020-09-01 GBPJPY 30Min 123 Bottom @3 Lots for 75 Pips
+$1,915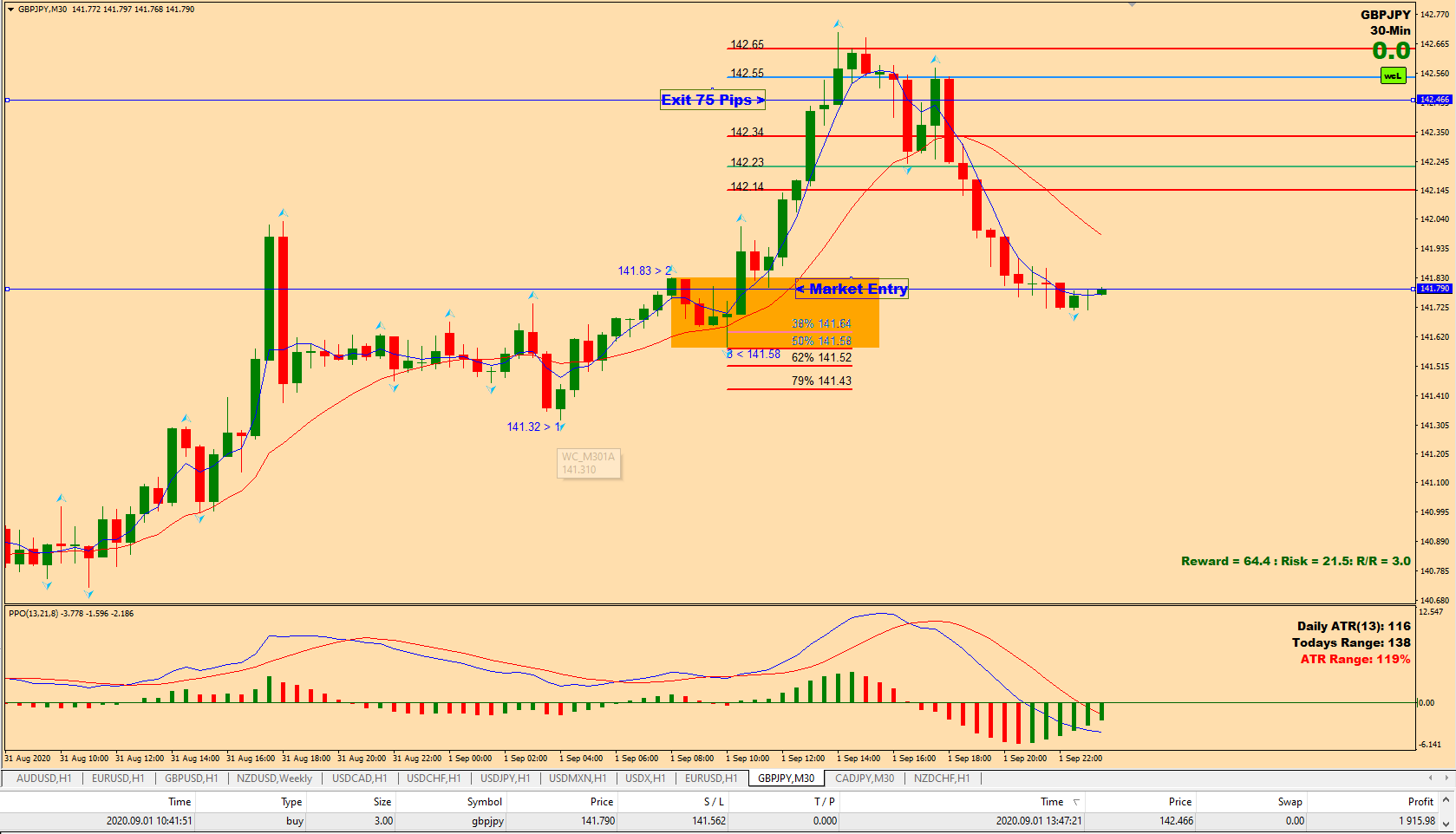 2020-08-31 GBPJPY 30 Minute 123 Bottom @3 Lots for 78 Pips
+$2,211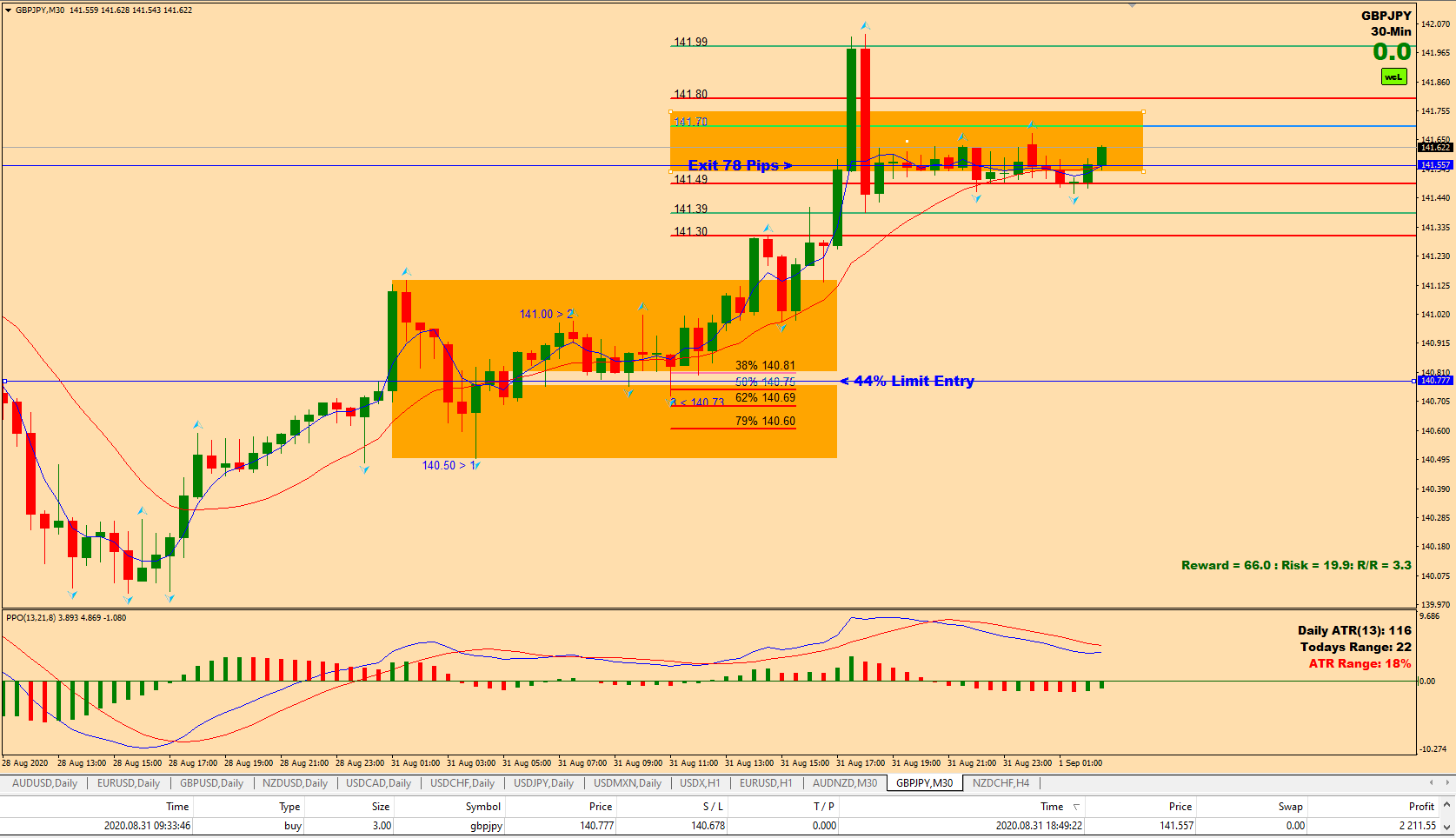 2020-08-30 GBPCHF 15 Minute 123 Bottom -14 Pips
-$149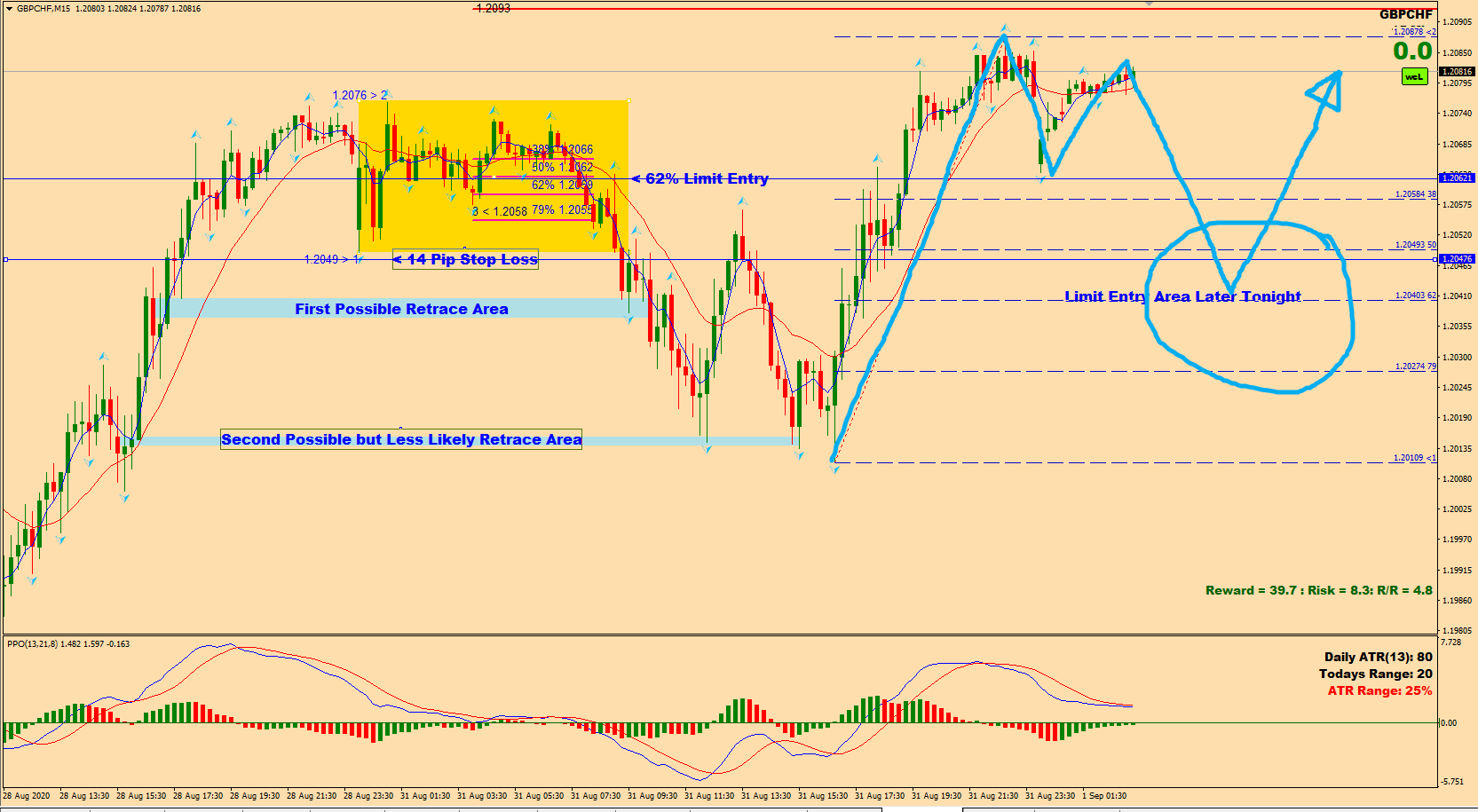 2020-08-28 GBPNZD 30 Minute 123 Top @ 3 Lots for 95 Pips
+$1,925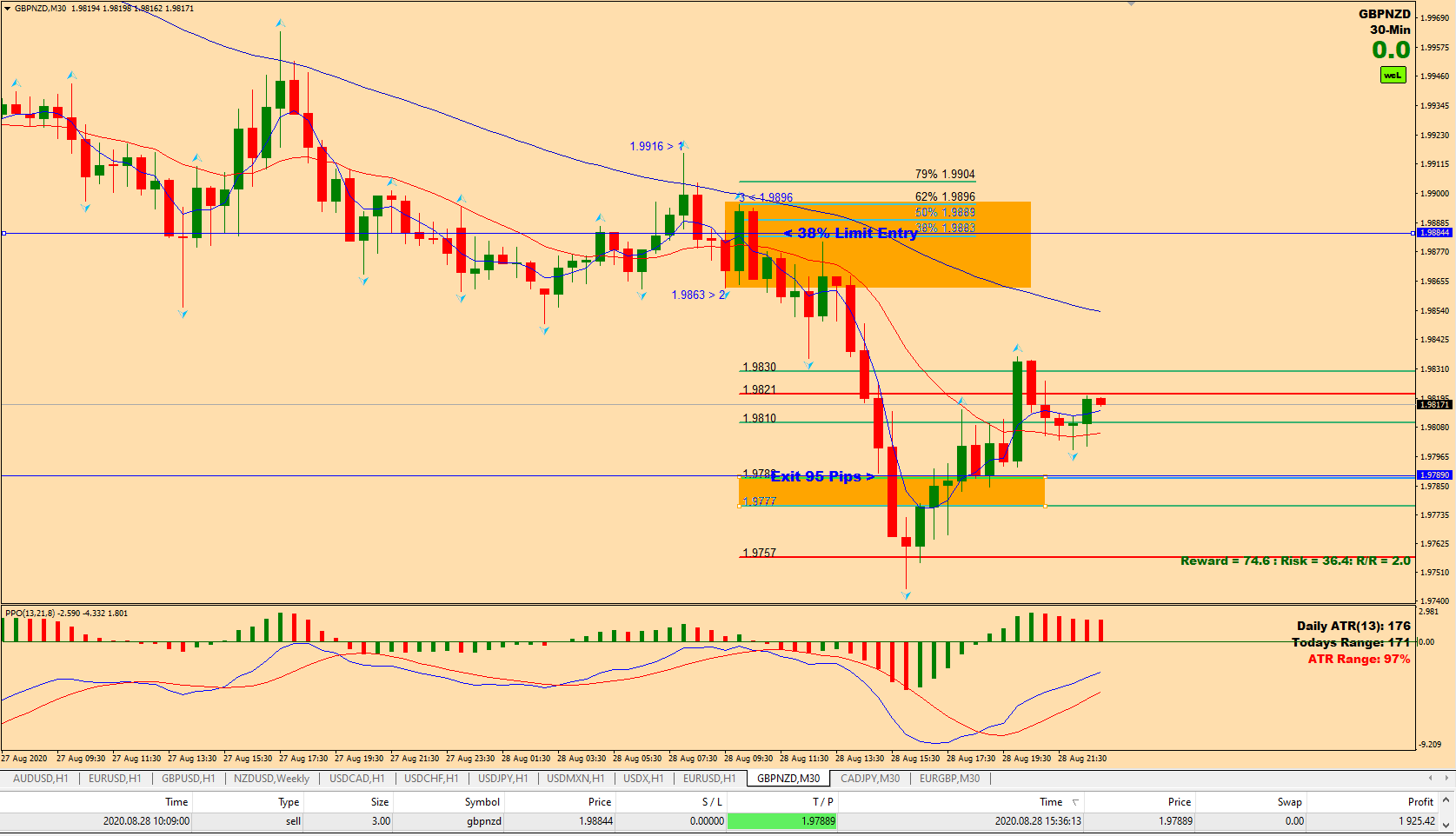 2020-08-24 CADJPY 1 Hour 123 Bottom with 5 Lots for 33 Pips
+$1,570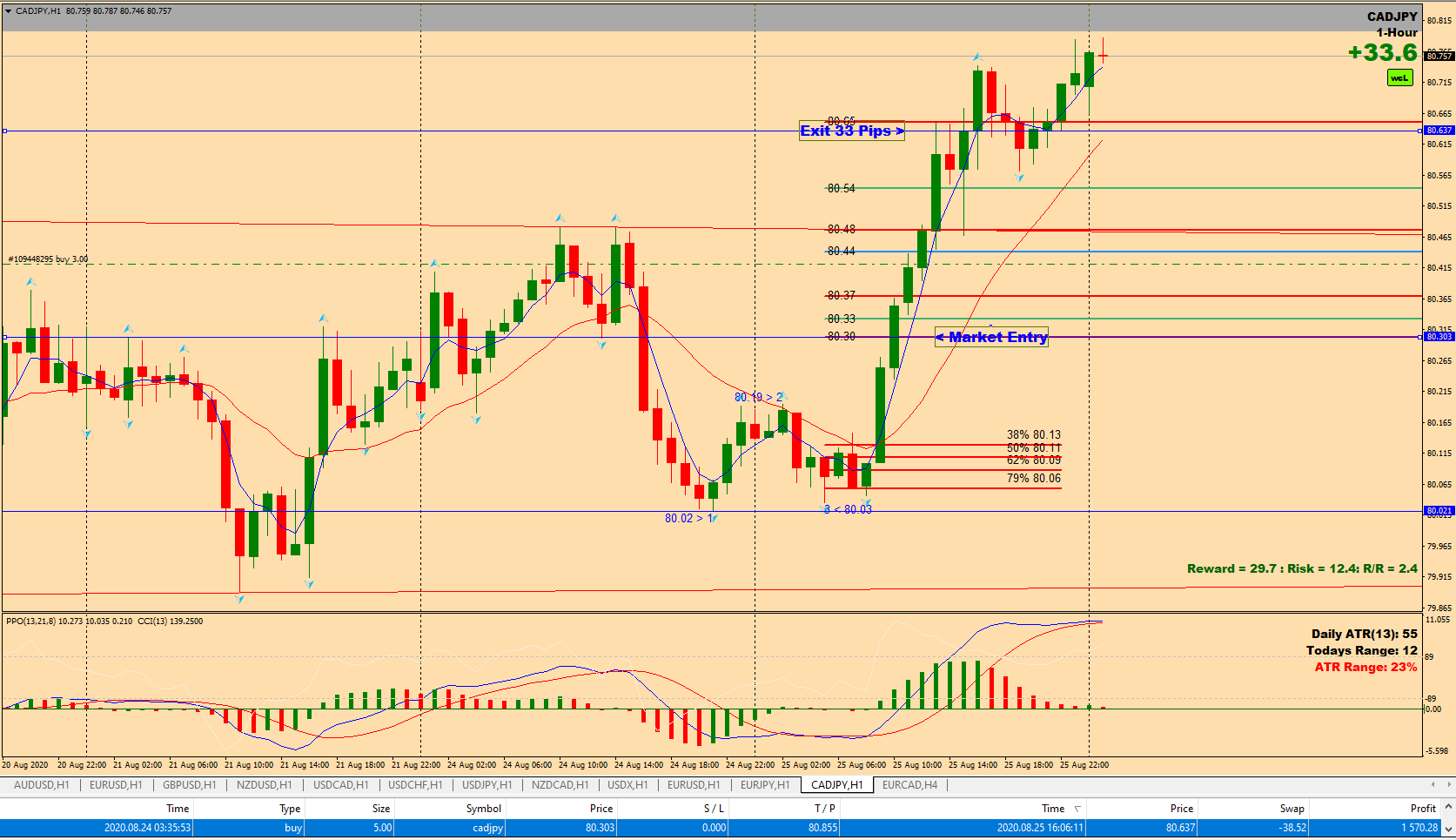 2020-08-21 July 2020 Performance
+$6,235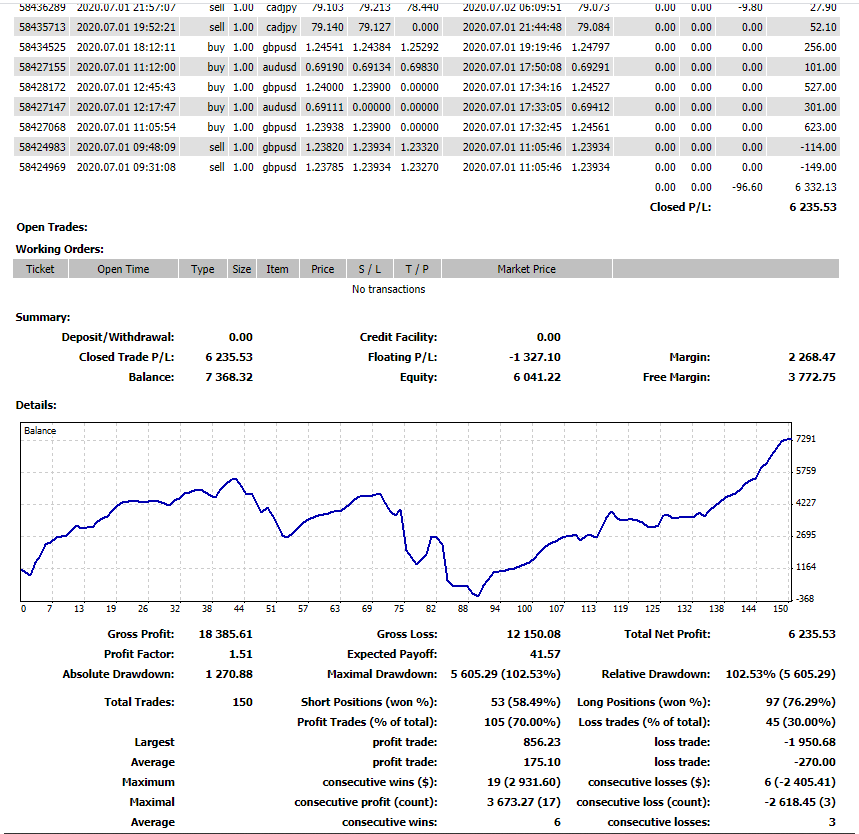 2020-08-11 NZDCAD 1 Hour 123 top @5 Lots for 67 Pips
+$2,537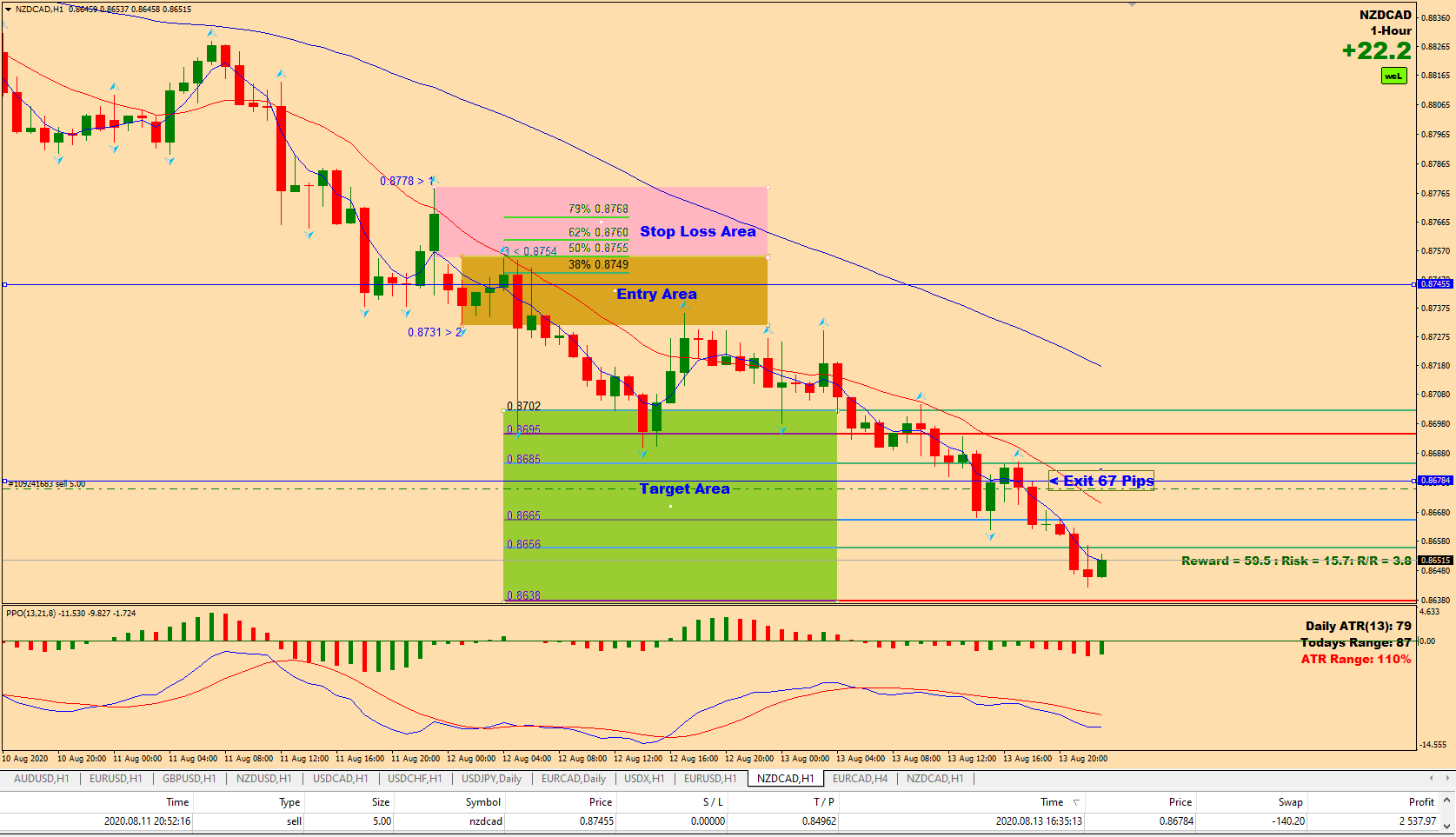 2020-08-05 GBPNZD 1 Hour 123 Top @5 Lots for 115 Pips
+$3,082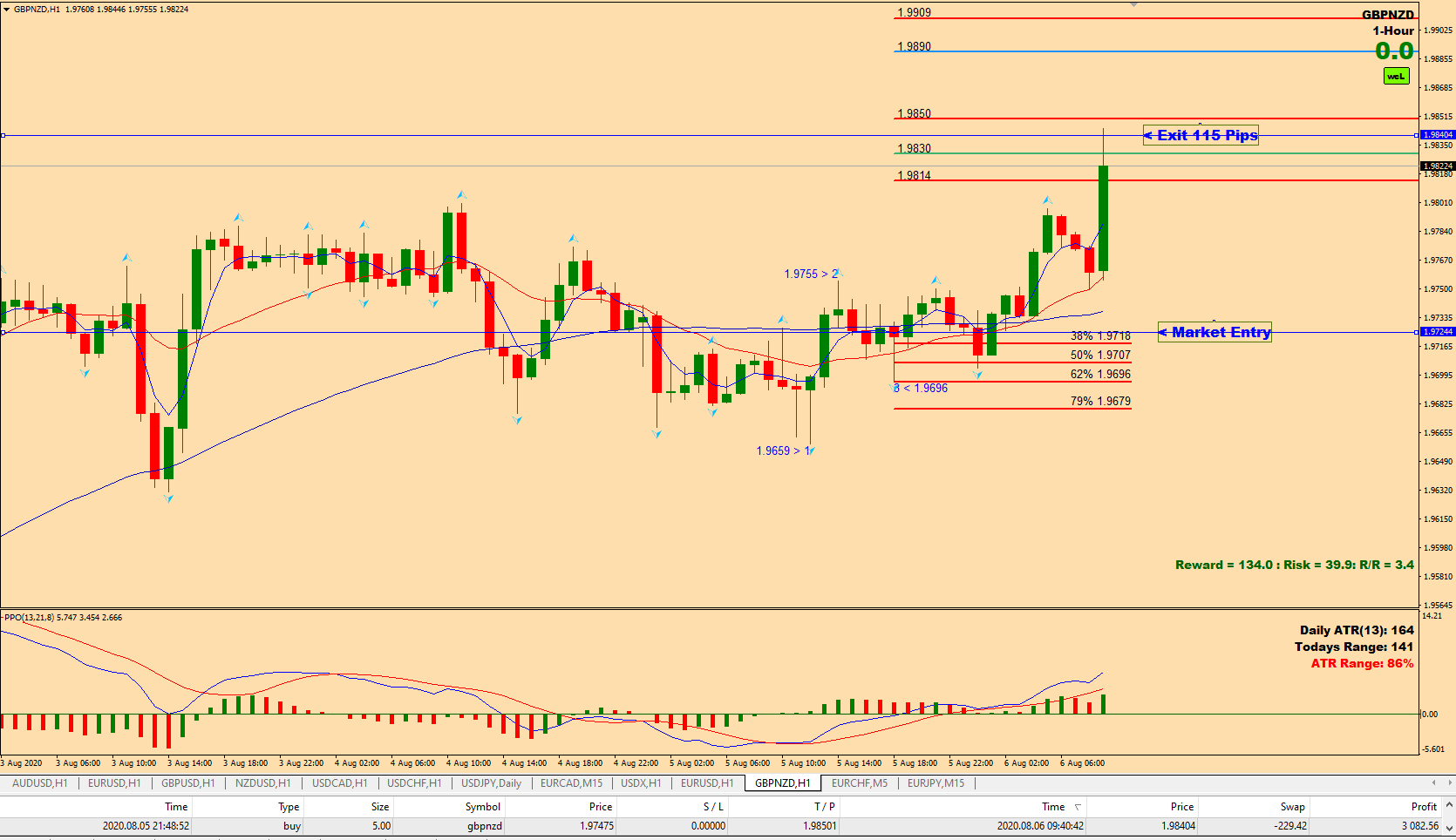 2020-07-31 XAGUSD 5 Minute 123 Bottom scalp @5 Lots for 12 Pips
+$2,950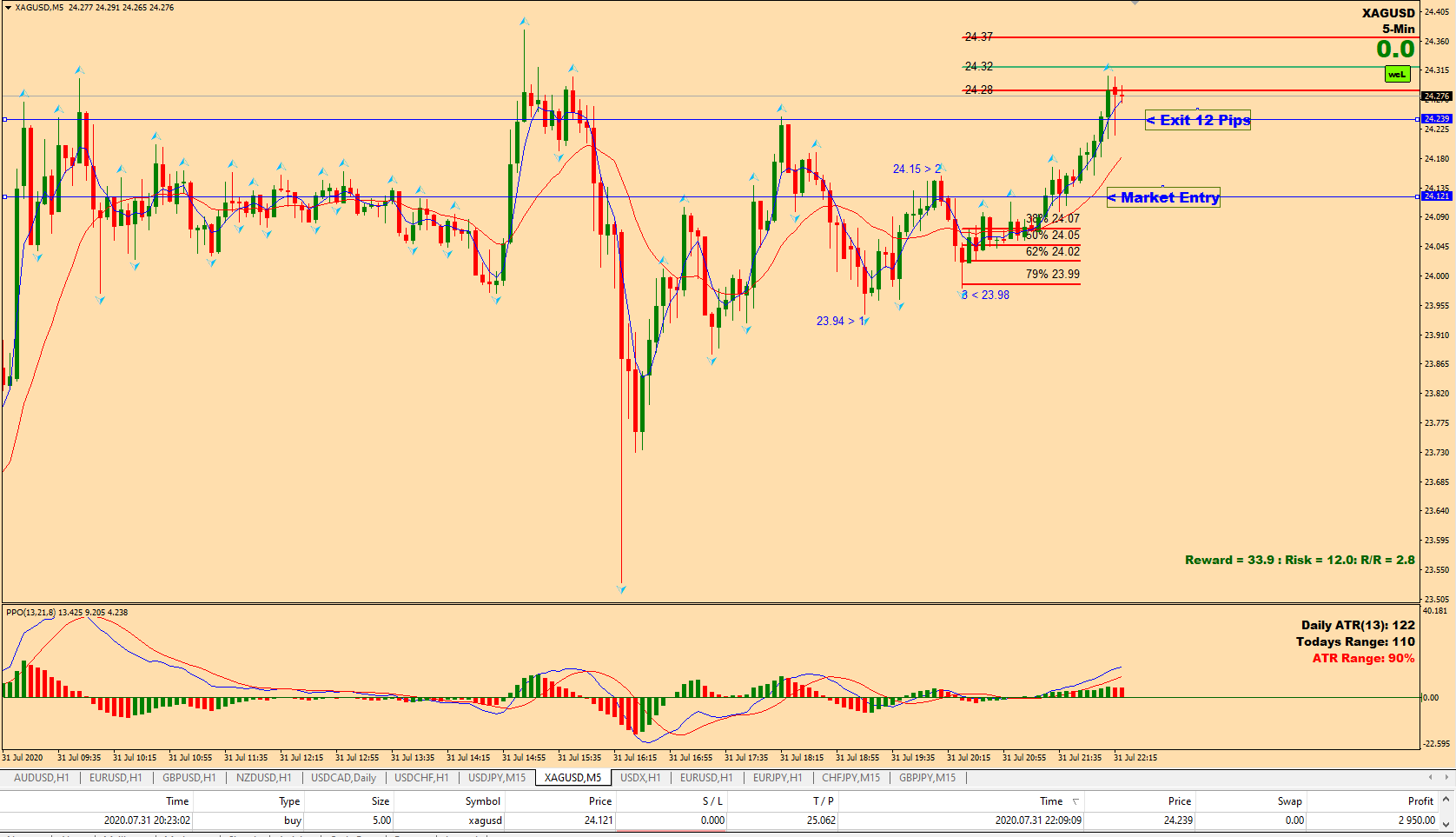 2020-07-31 EURJPY 1 Hour 123 Bottom @5 Lots (3 for 55 Pips and 2 for 68 Pips)
+$2,818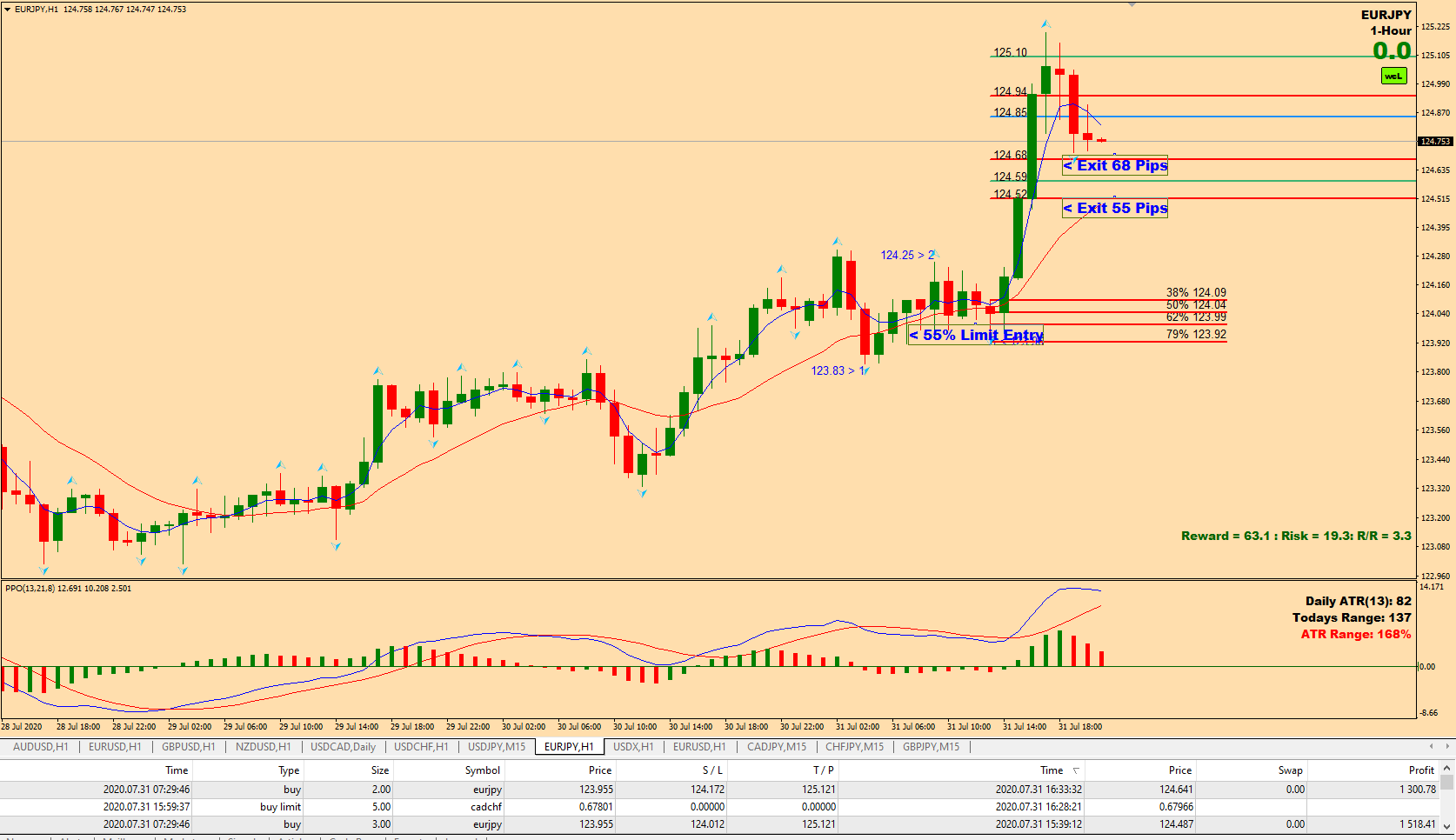 2020-07-29 CADJPY 15 Minute (for clarity) 123 Top close of 3 of 5 Lots for 66 Pips
+$1,883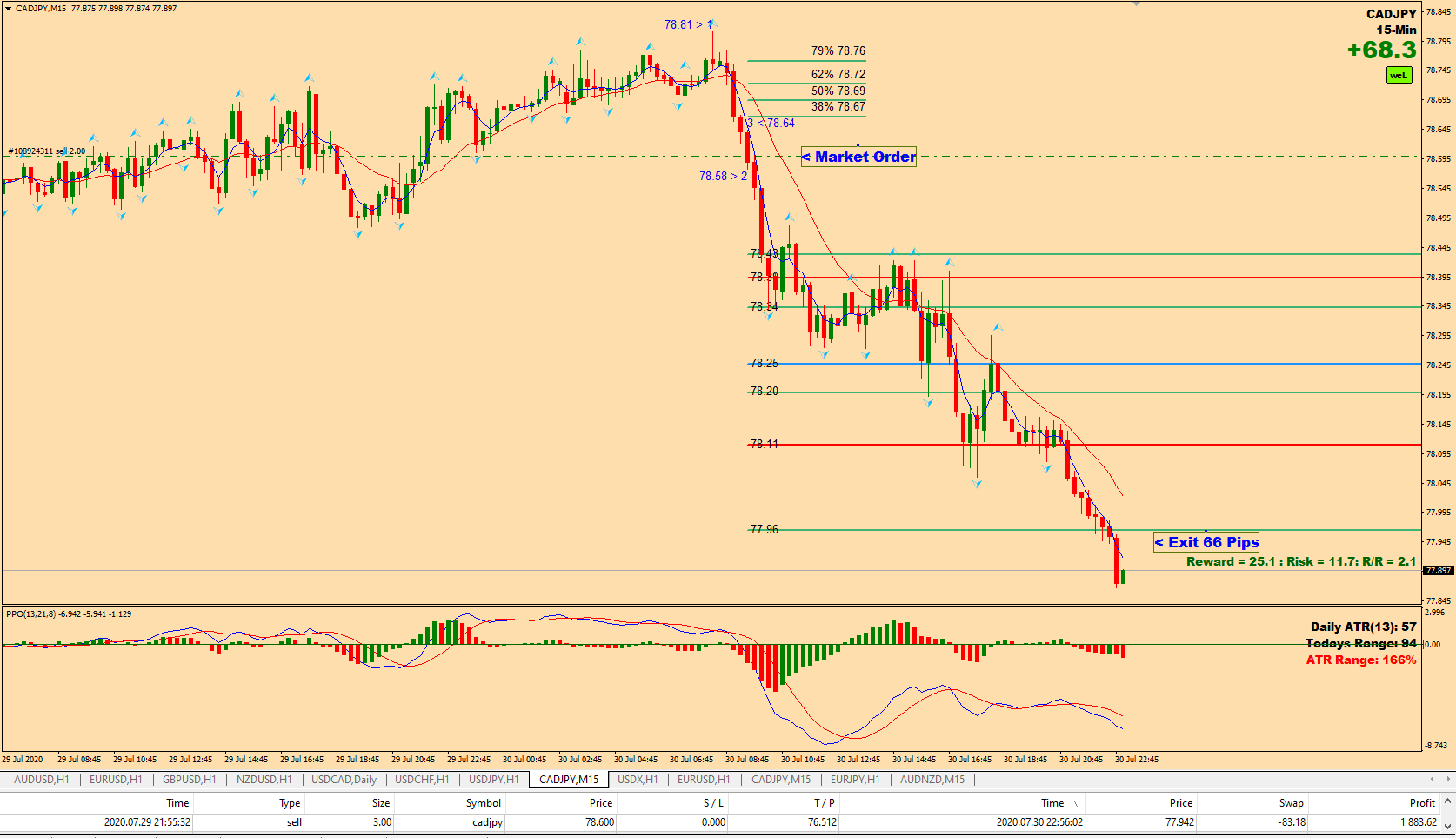 2020-07-28 USDCAD 5 Minute 123 Top Scalp @5 Lots for 30 Pips
+$1,141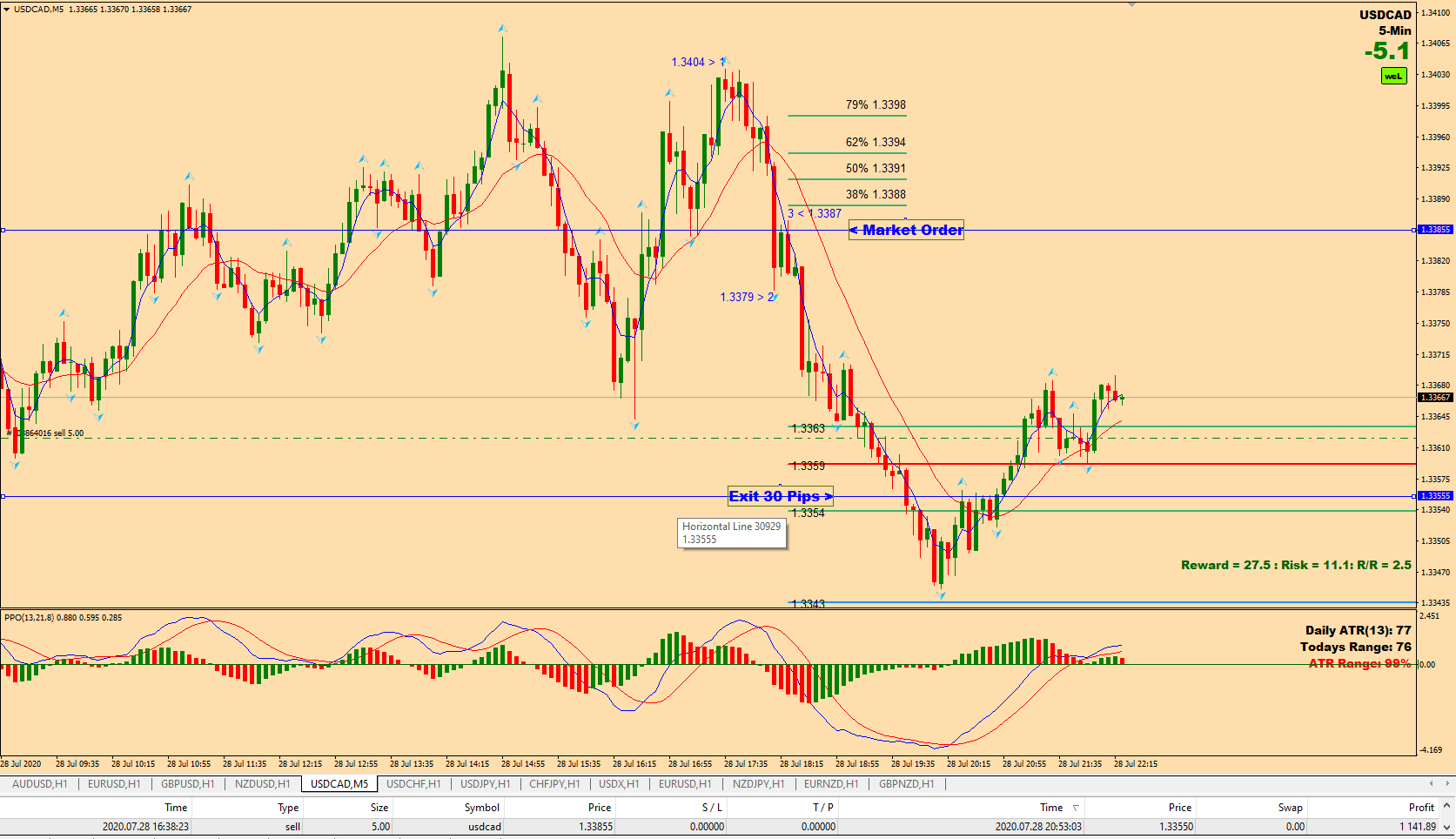 2020-07-28 GBPNZD 1 Hour 123 Bottom @5 Lots for 94 Pips
+$3,147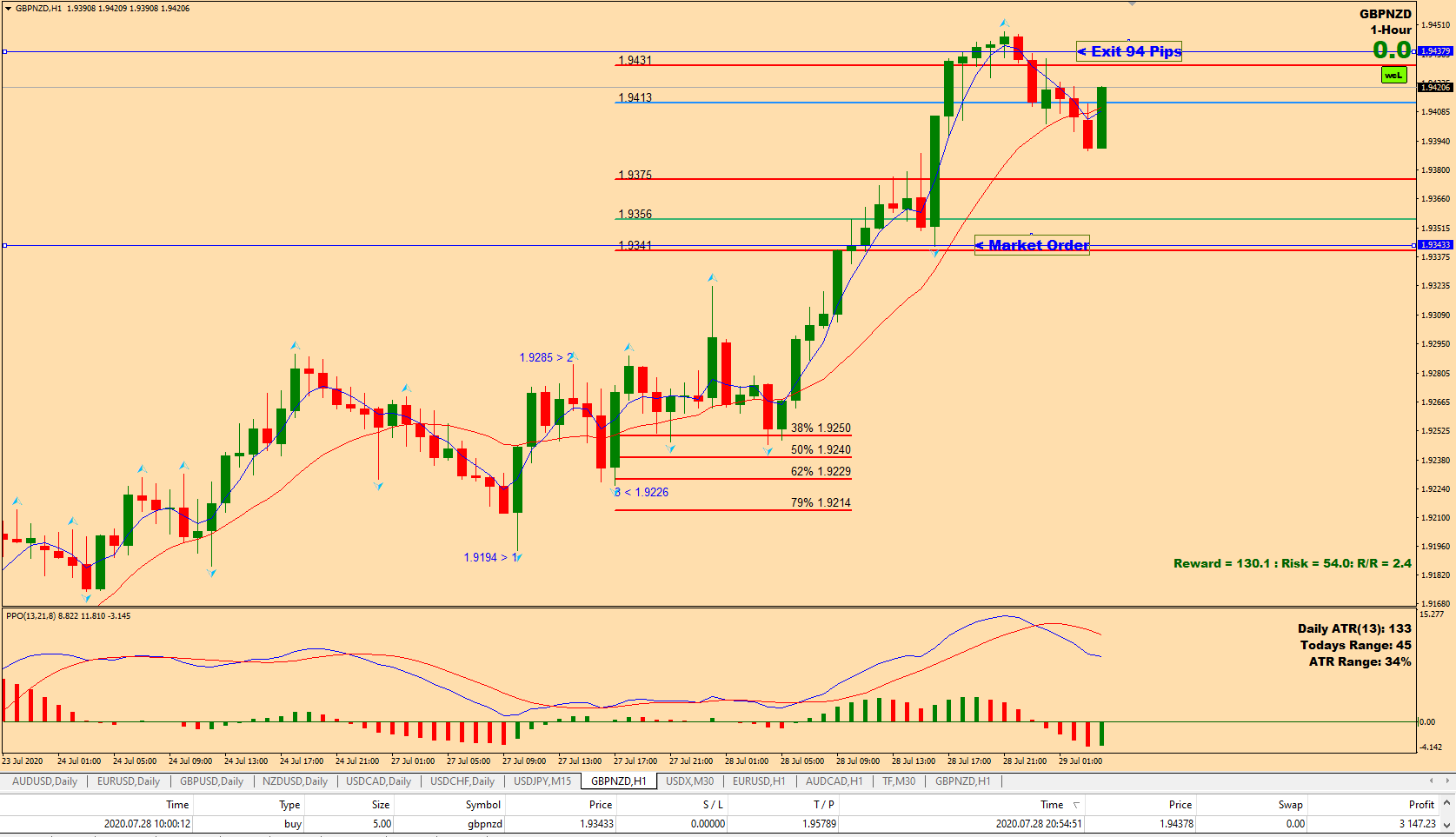 2020-07-27 CHFJPY 1 Hour 123 Top @1 Lot for 72 Pips
+$684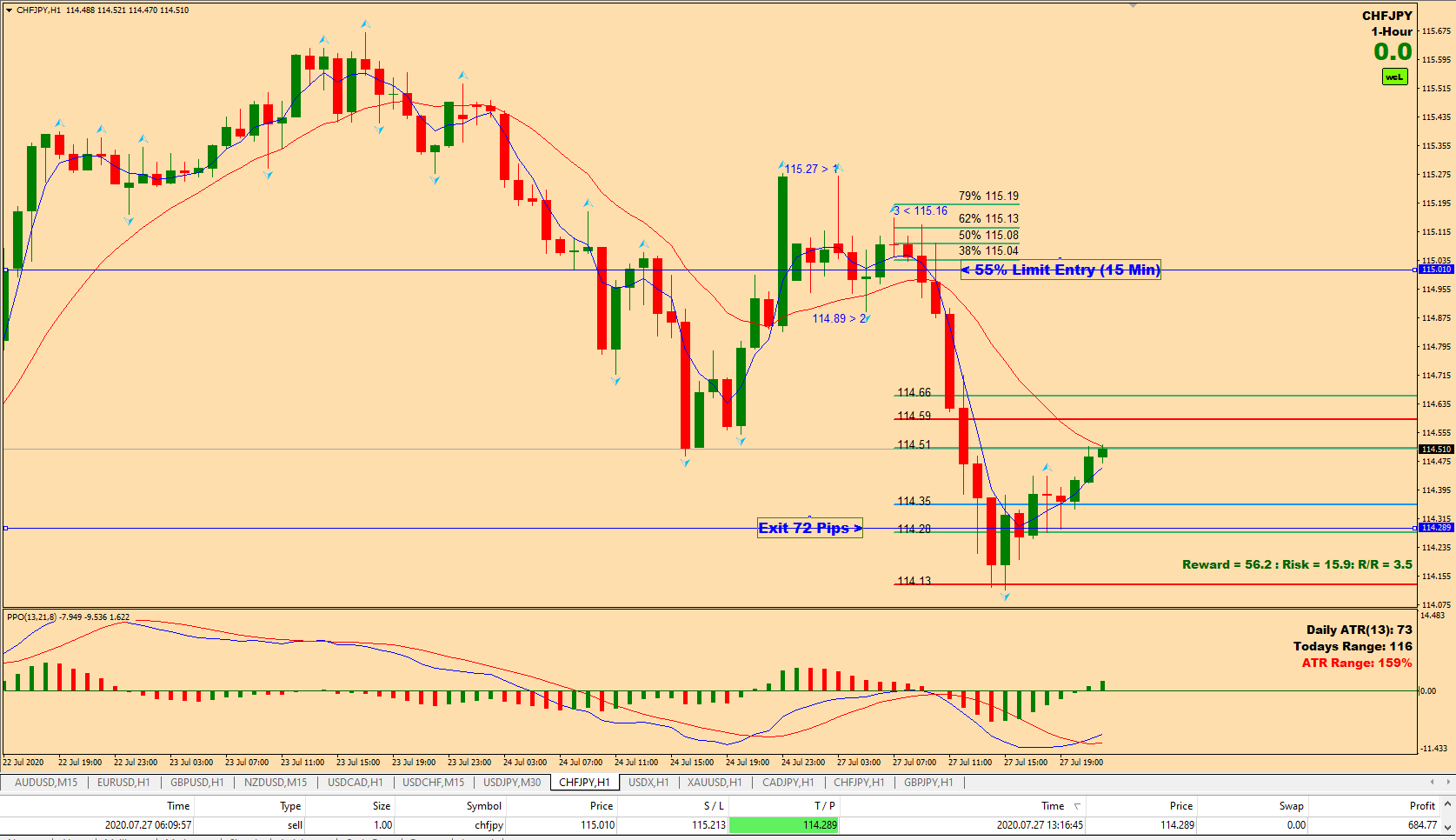 2020-07-24 USDJPY 30 Minute (for clarity) 123 Top @5 Lots
+$3,007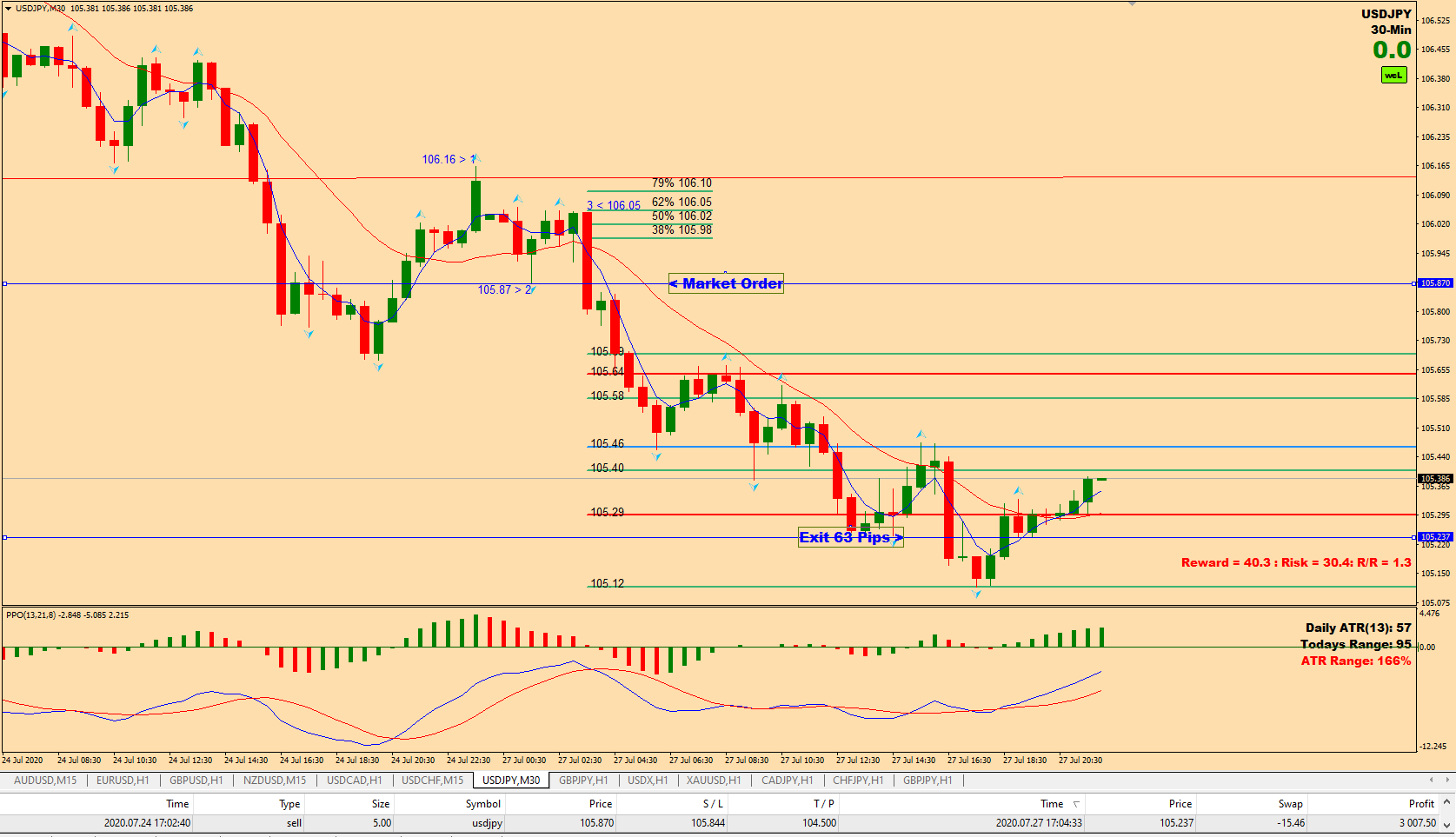 2020-07-24 GBPJPY 1Hour 123 Top @5 Lots for 65 Pips
+$3,115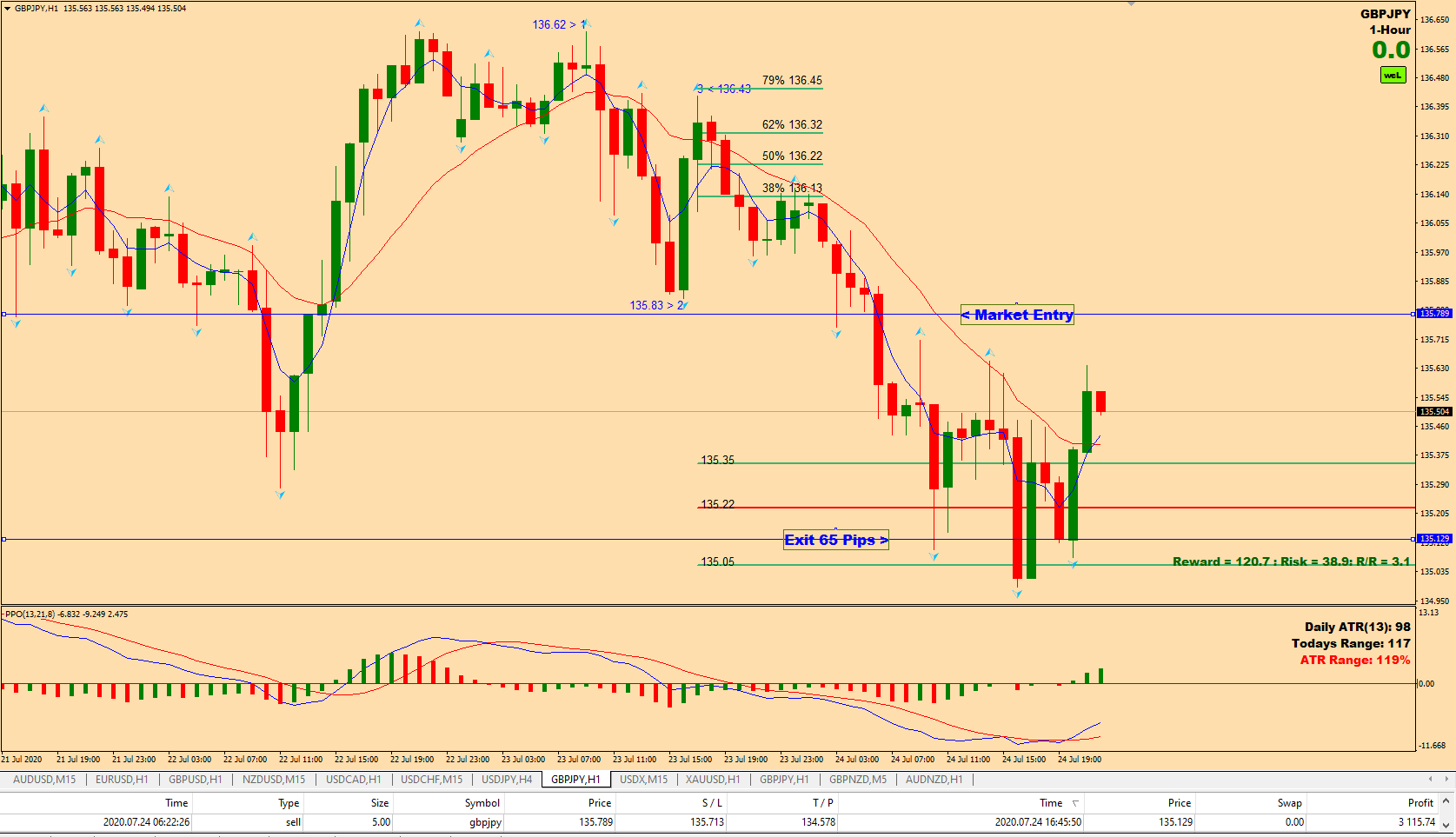 2020-07-24 GBPJPY 1 Hour 123 Top @5 Lots for 65 Pips
+$3,115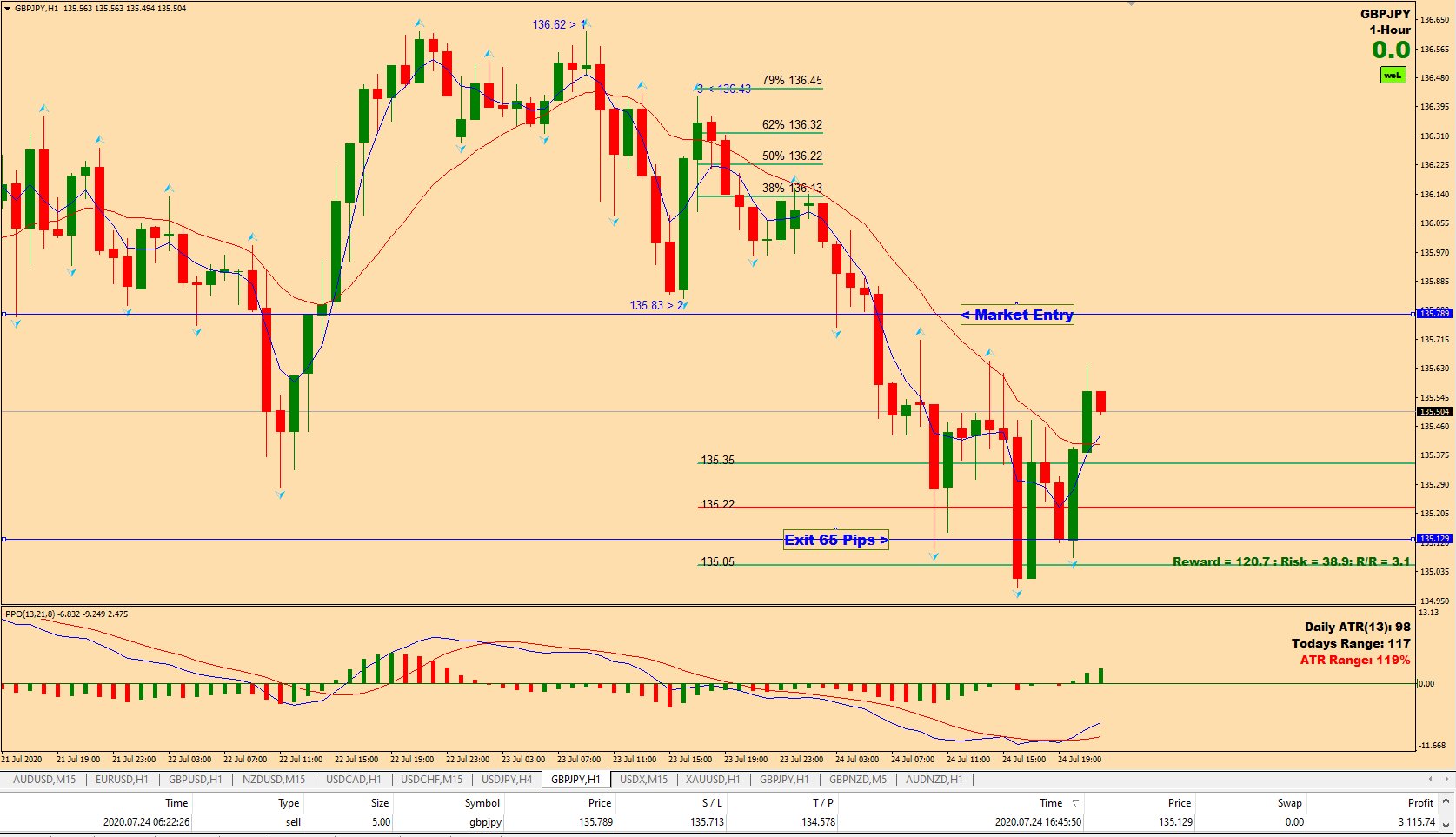 2020-07-23 NZDJPY 15 Min 123 Top @5 Lots
+$908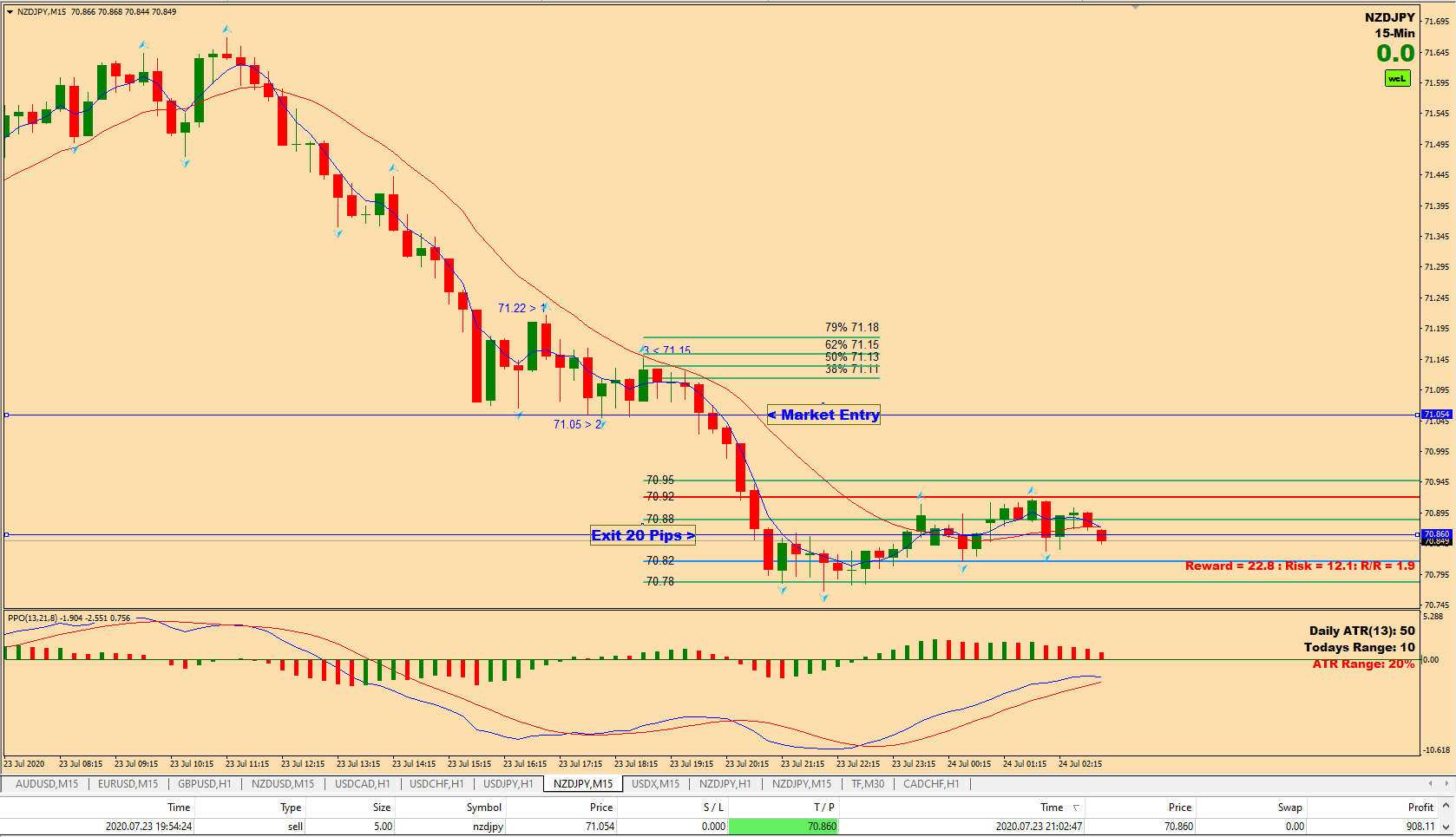 2020-07-21 NZDUSD 1H 123 Bottom @10 Lots for 40 Pips
+$4,000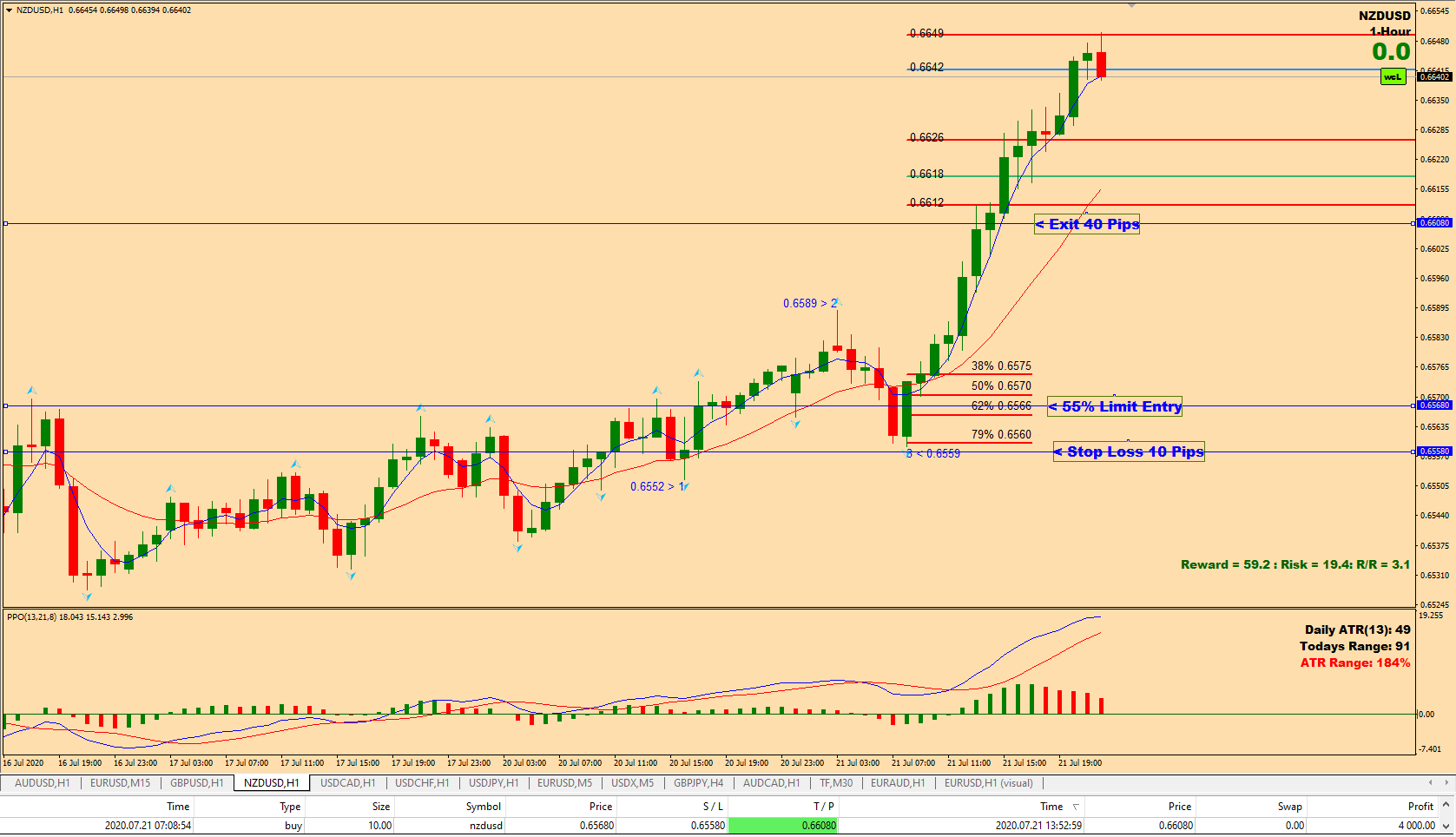 2020-07-17 EURUSD 5Min 123 Bottom Scalp @10 Lots for 12 Pips
+$1,210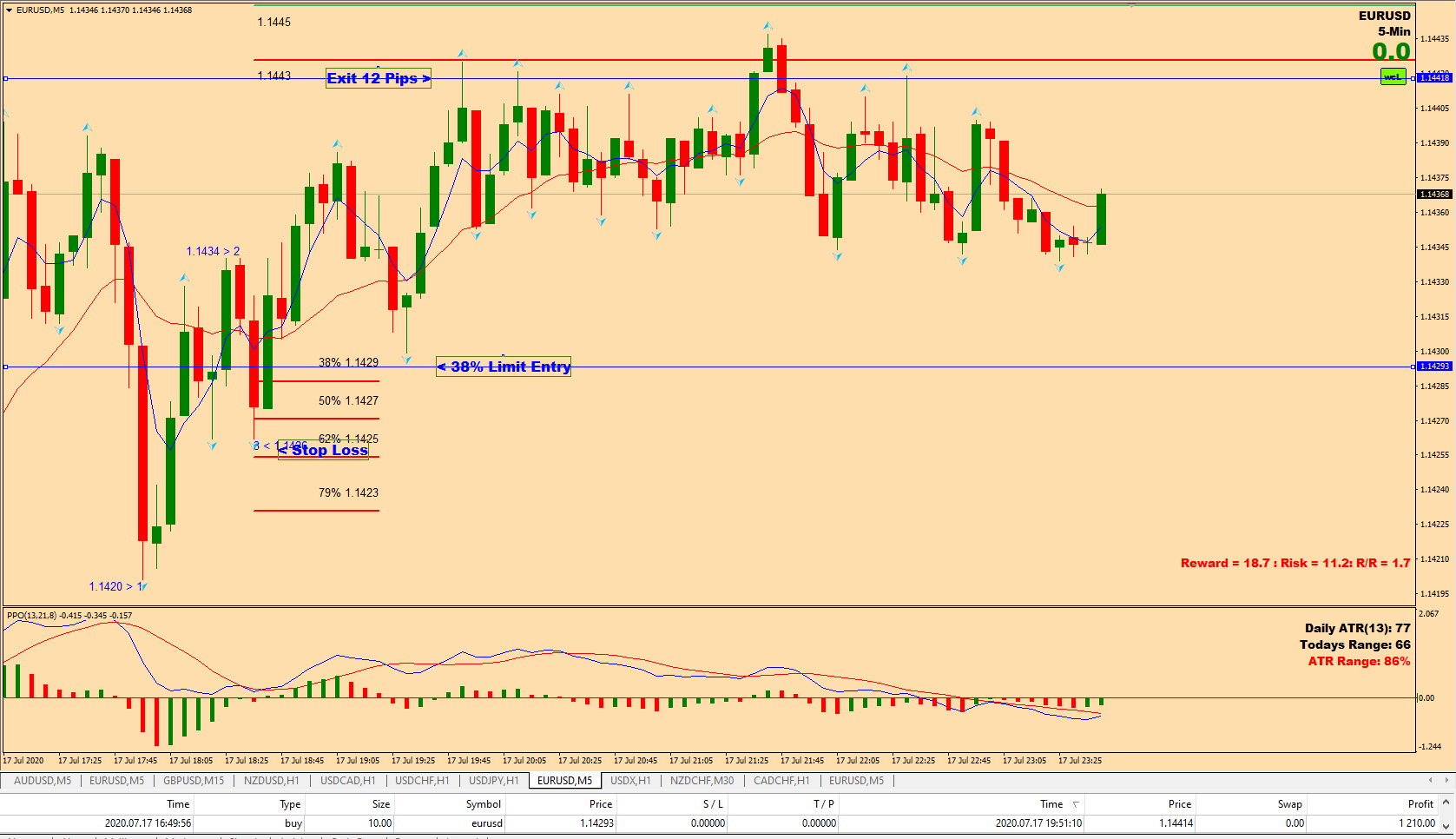 2020-07-08 USDCAD 1H SELL @10 Lots for 55 Pips
+$4,111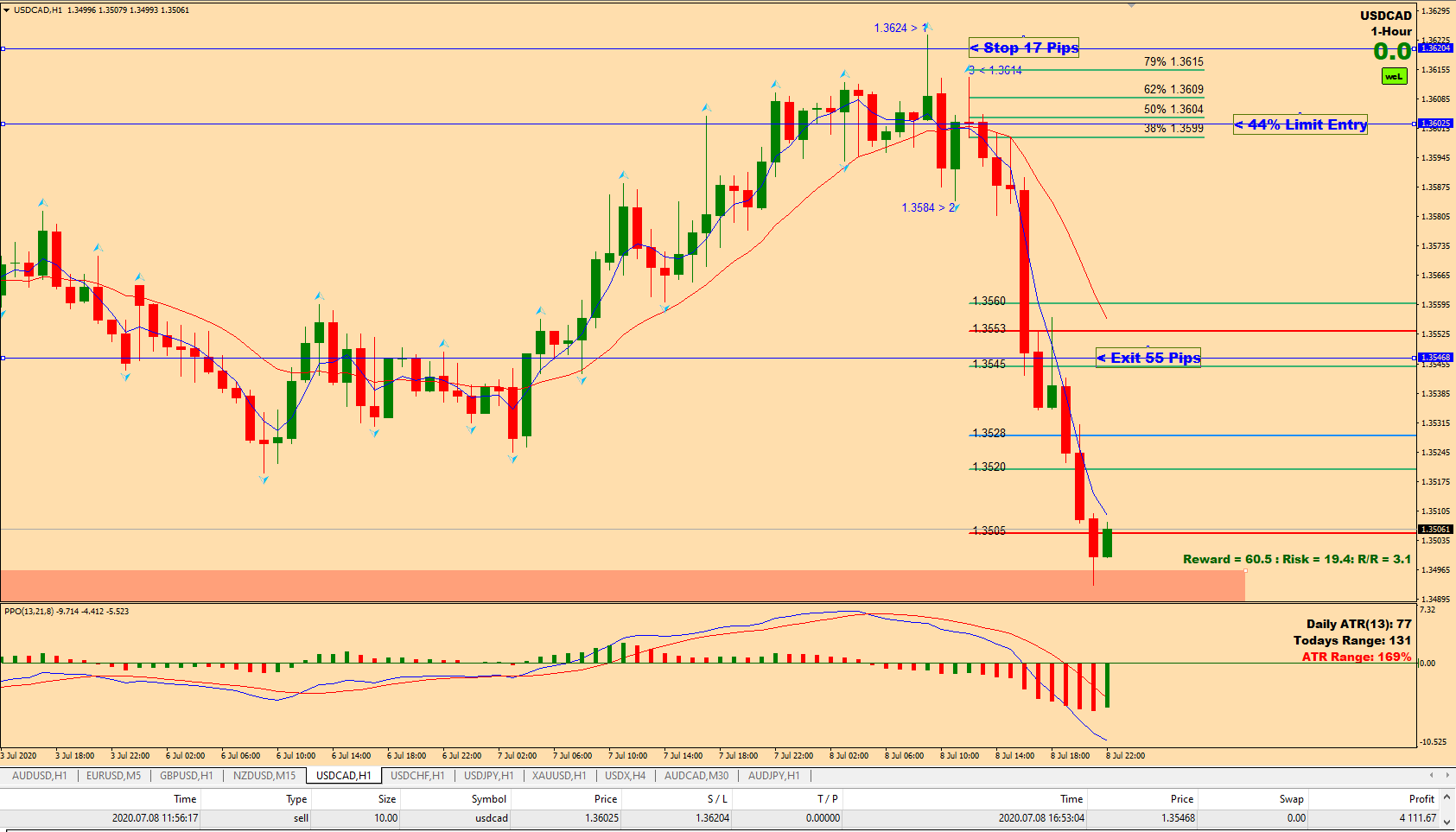 2020-06-30 EURAUD 1H SELL 2 Lots for 98 Pips
+$1,268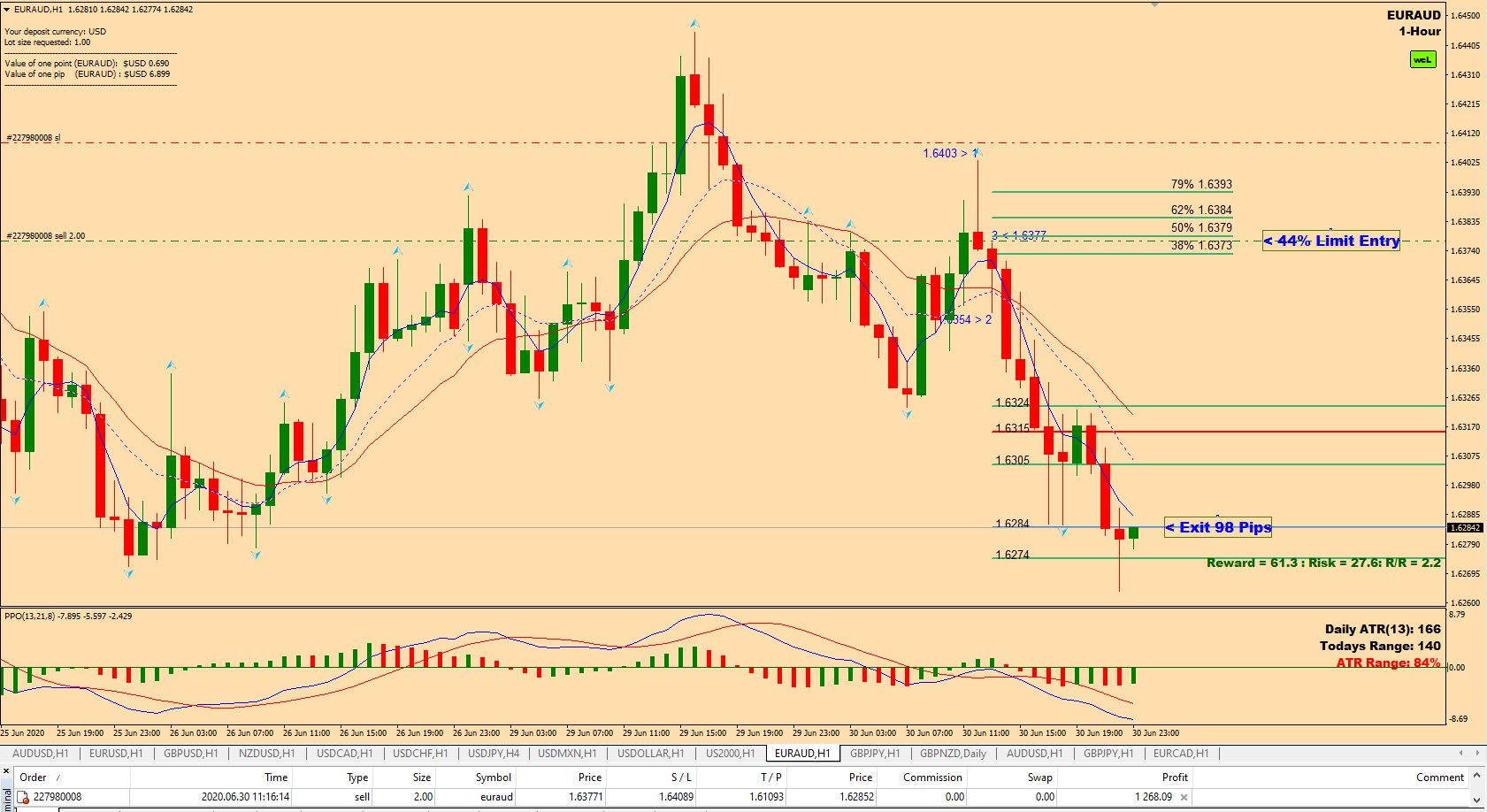 2020-06-25 GBPJPY 30M SELL @2 Lots for 105 Pips
+$1,931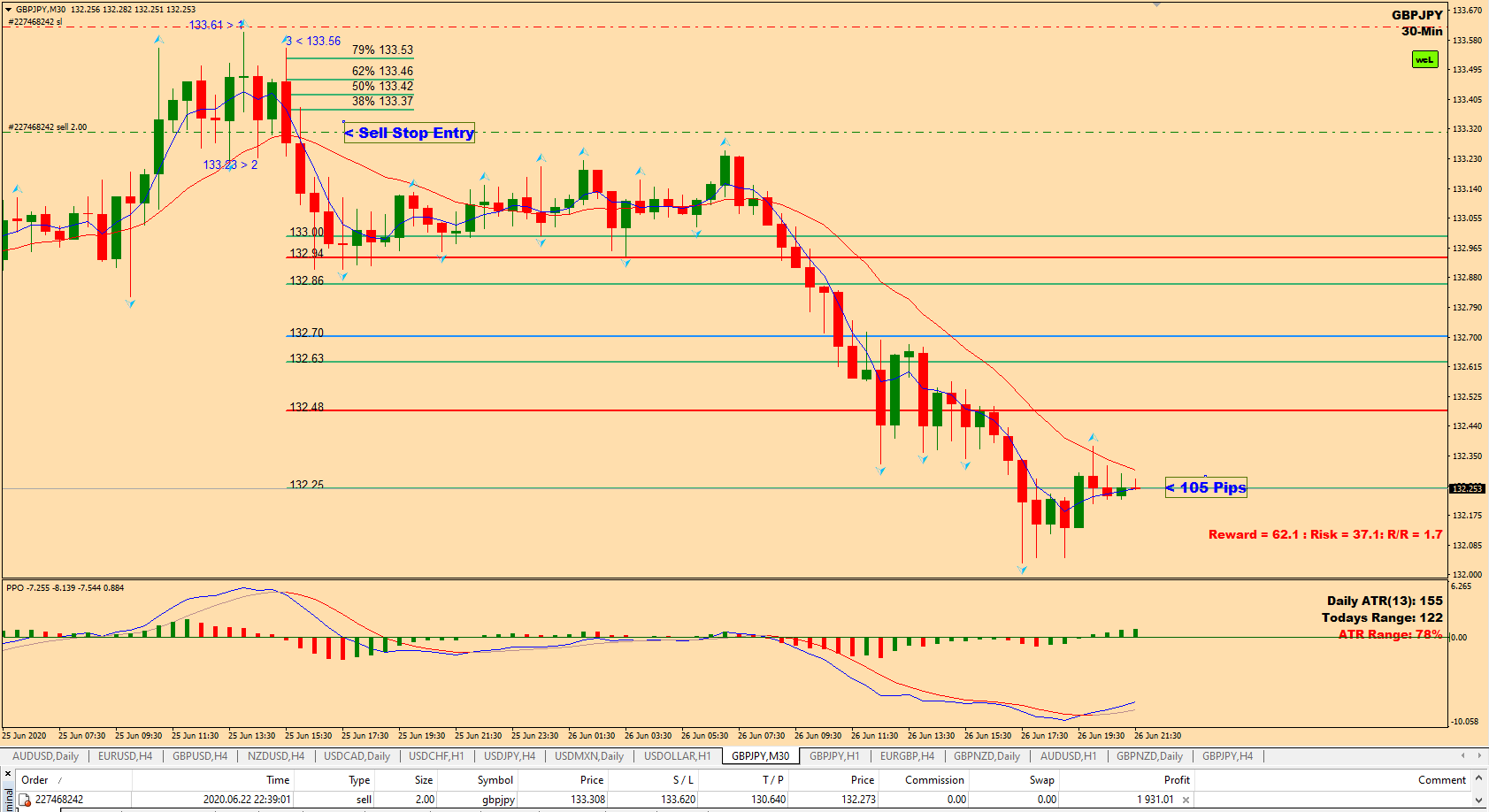 2020-06-24 EURGBP 1H BUY @2 Lots for 77 Pips
+$1,907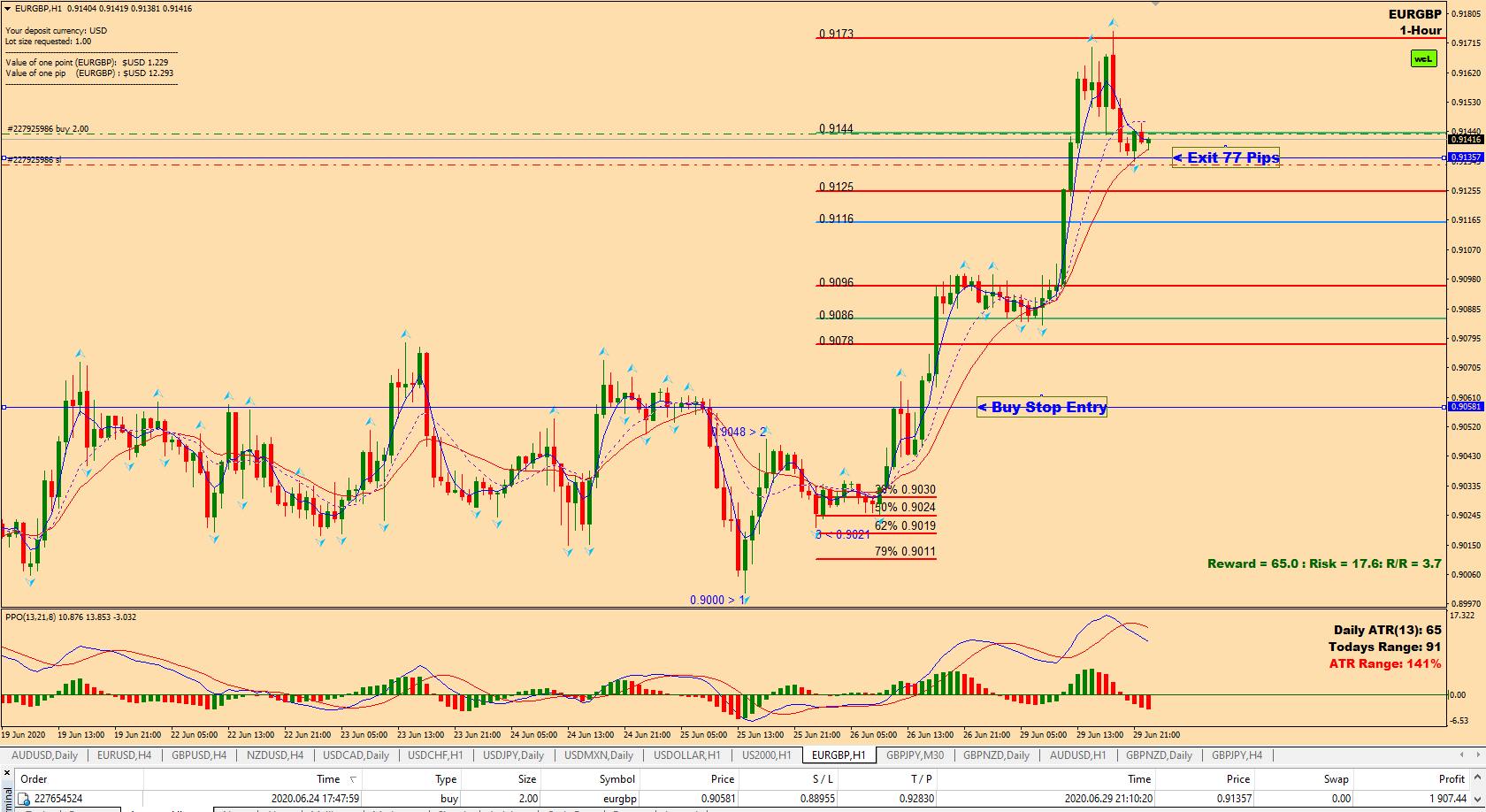 2020-06-19 GBPJPY 30M SELL @1 Lot for 72 Pips
+$675
2020-06-19 GBPCHF 30M TOP @1 Lot for 57 Pips
+$601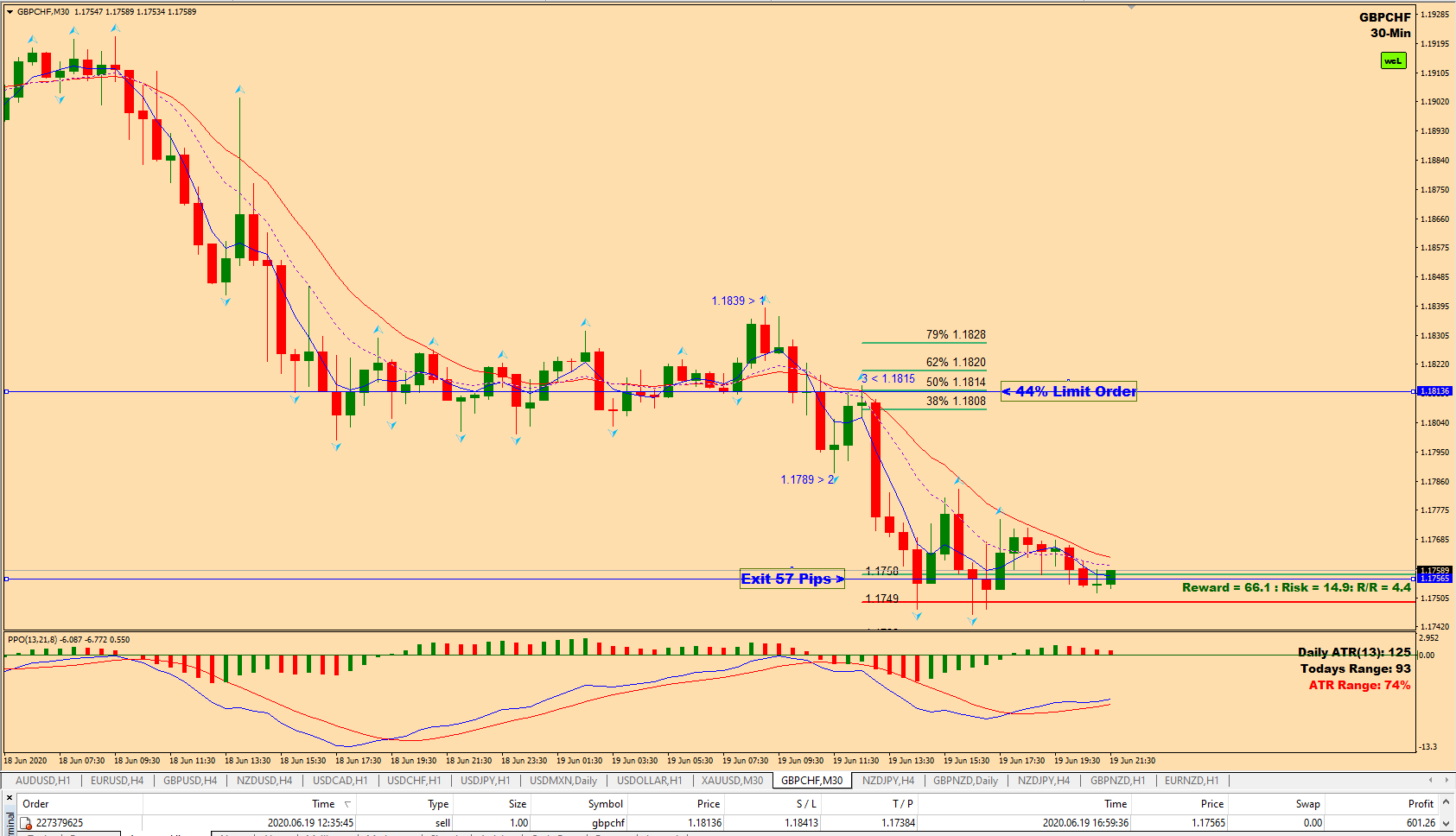 2020-06-11 GBPCHF 1H TOP
+$1,819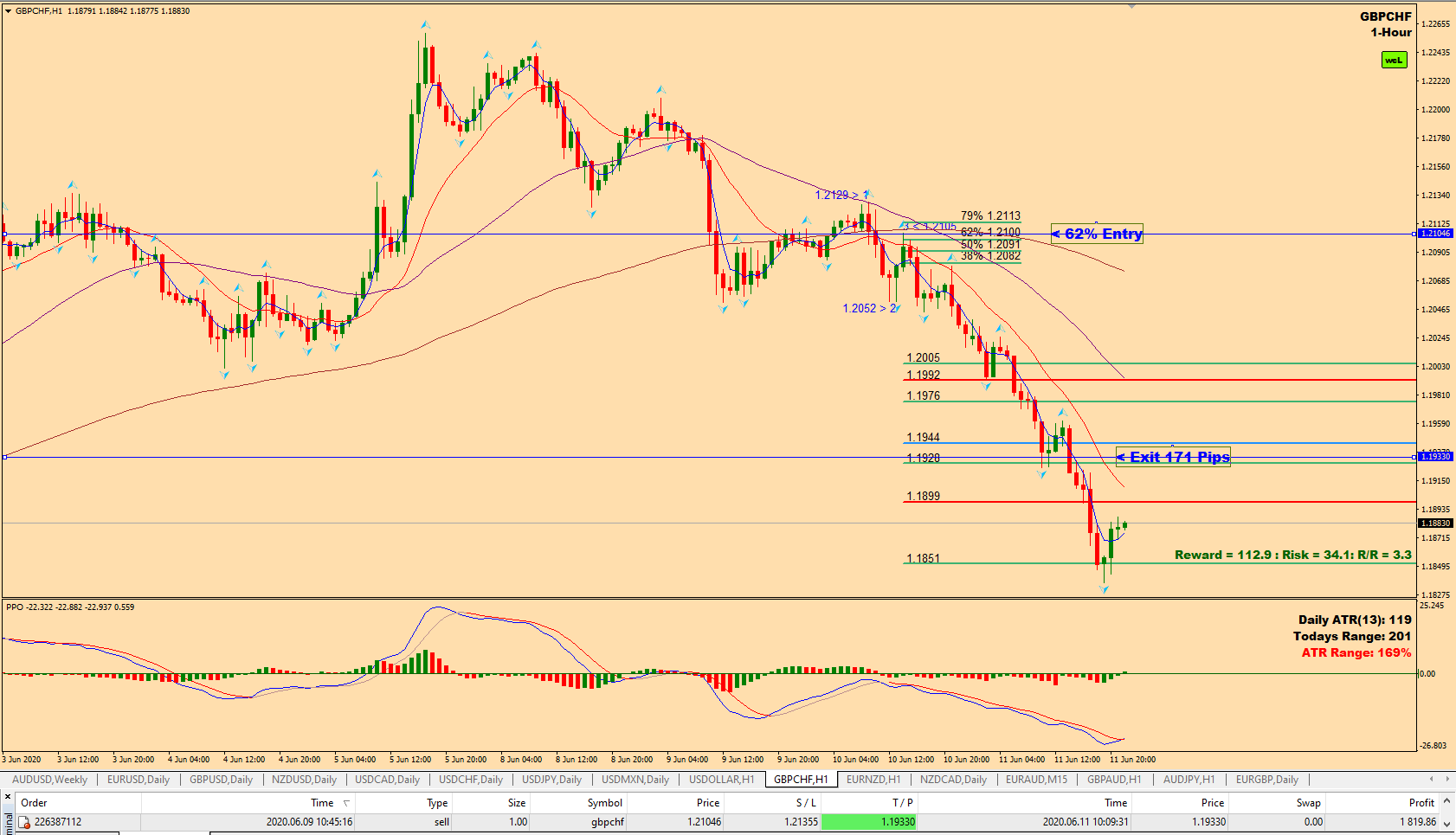 2020-06-06 EURNZD 1H Sell
+$753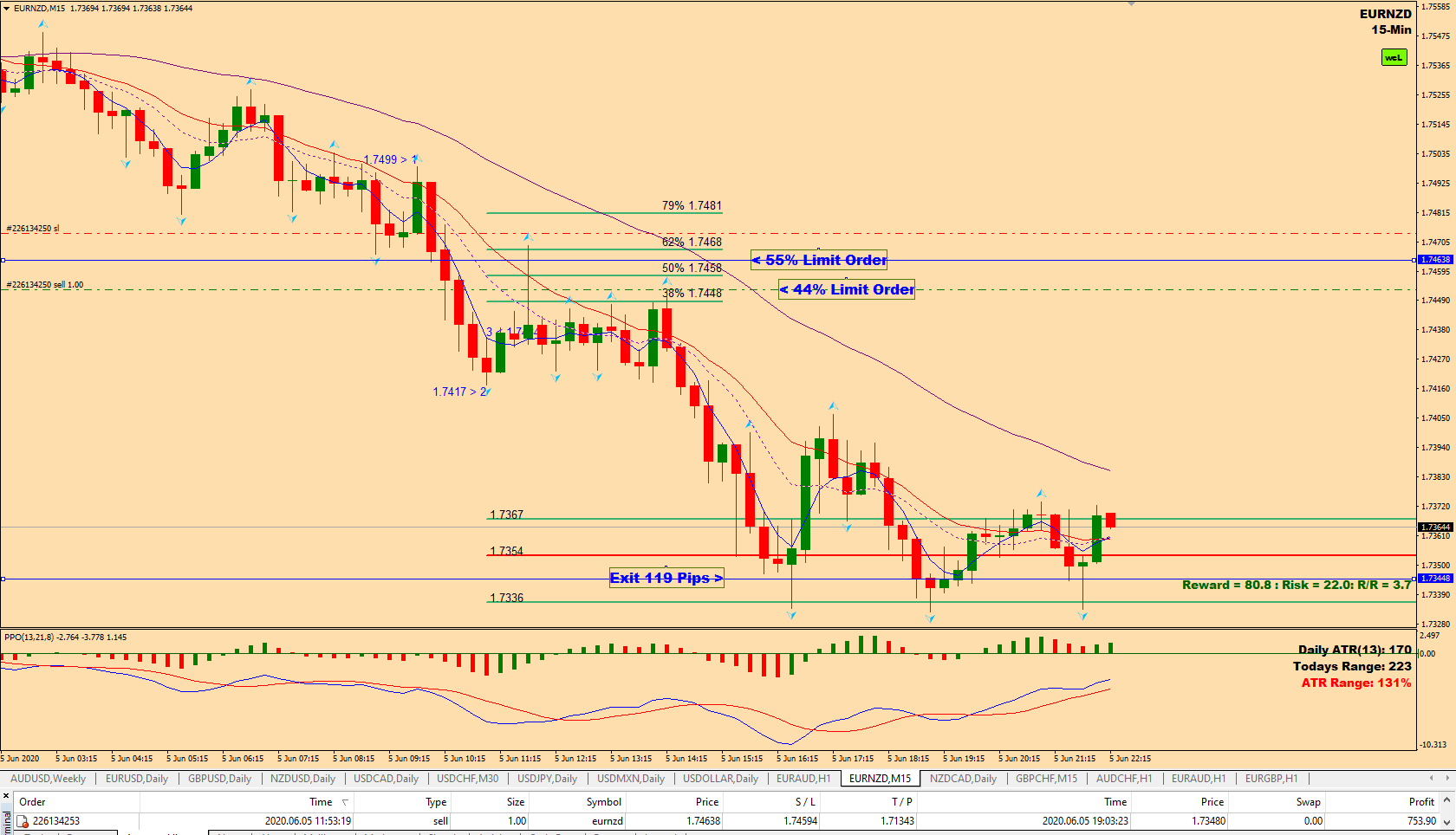 2020-06-04 GBPCHF 1H SELL
+$460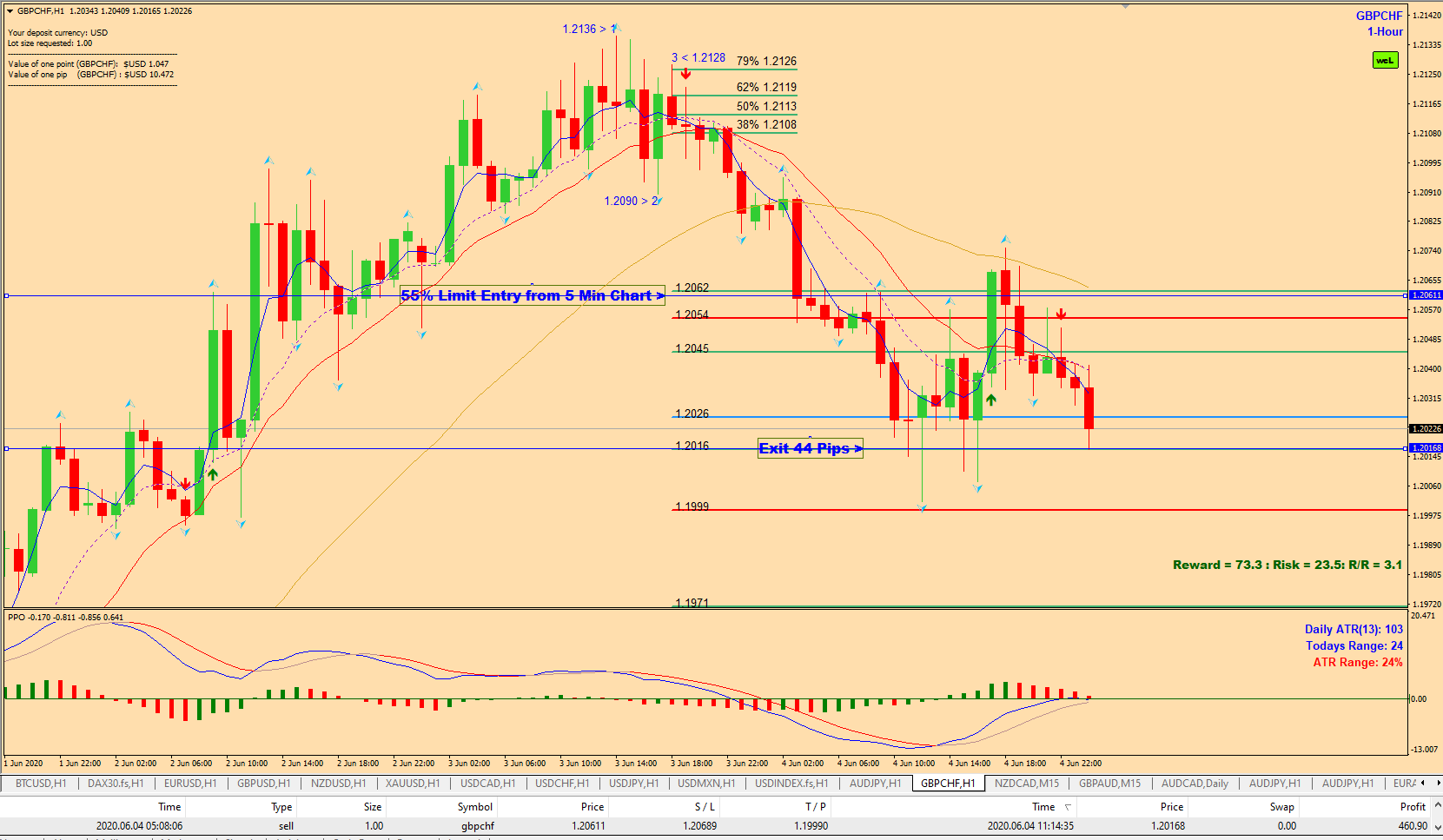 2020-06-02 NZDCAD 1H BUY
+$1,676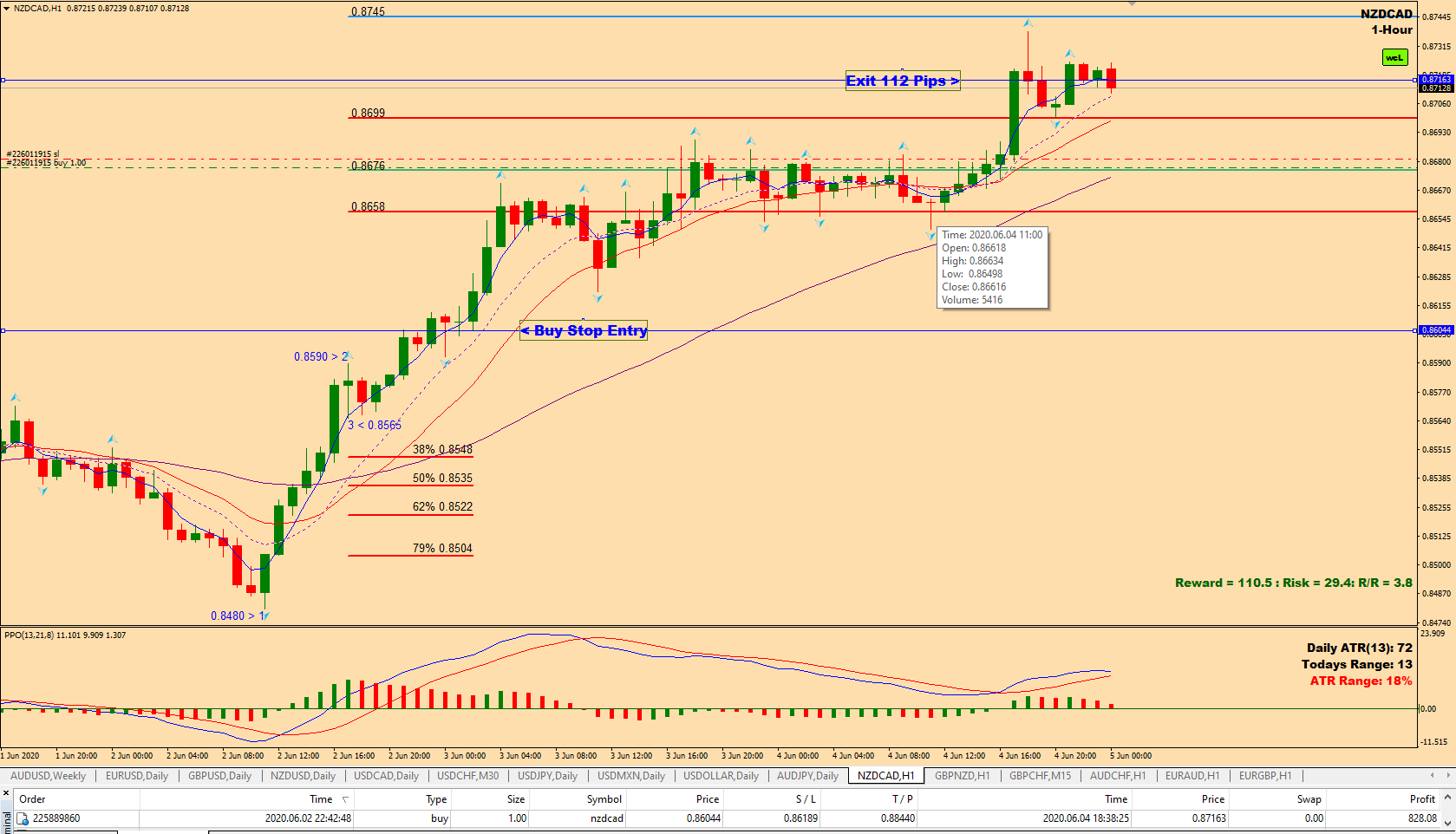 2020-06-02 GBPAUD 30M SELL
+$1,114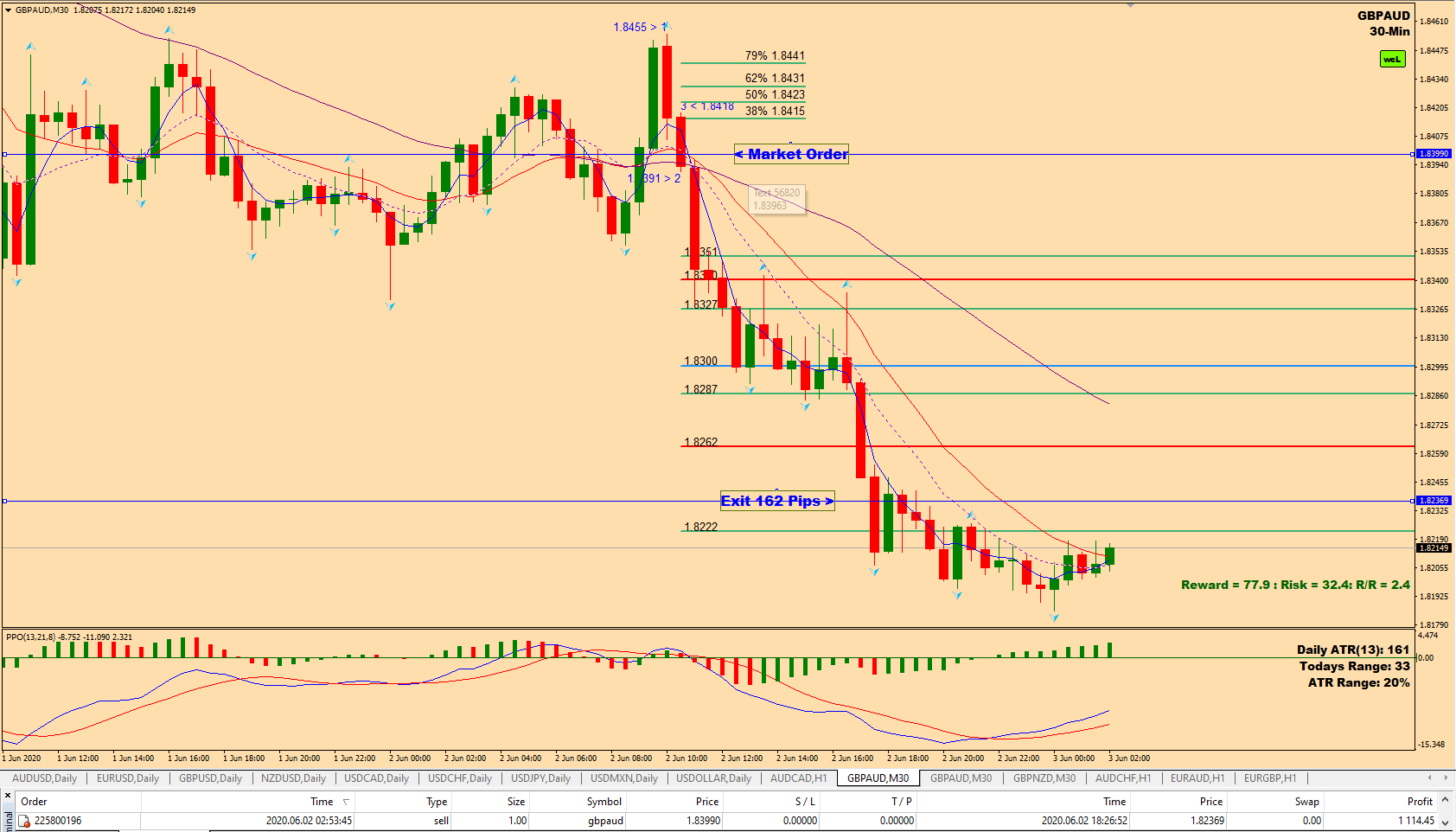 2020-06-01 CADCHF 1H BUY
-$538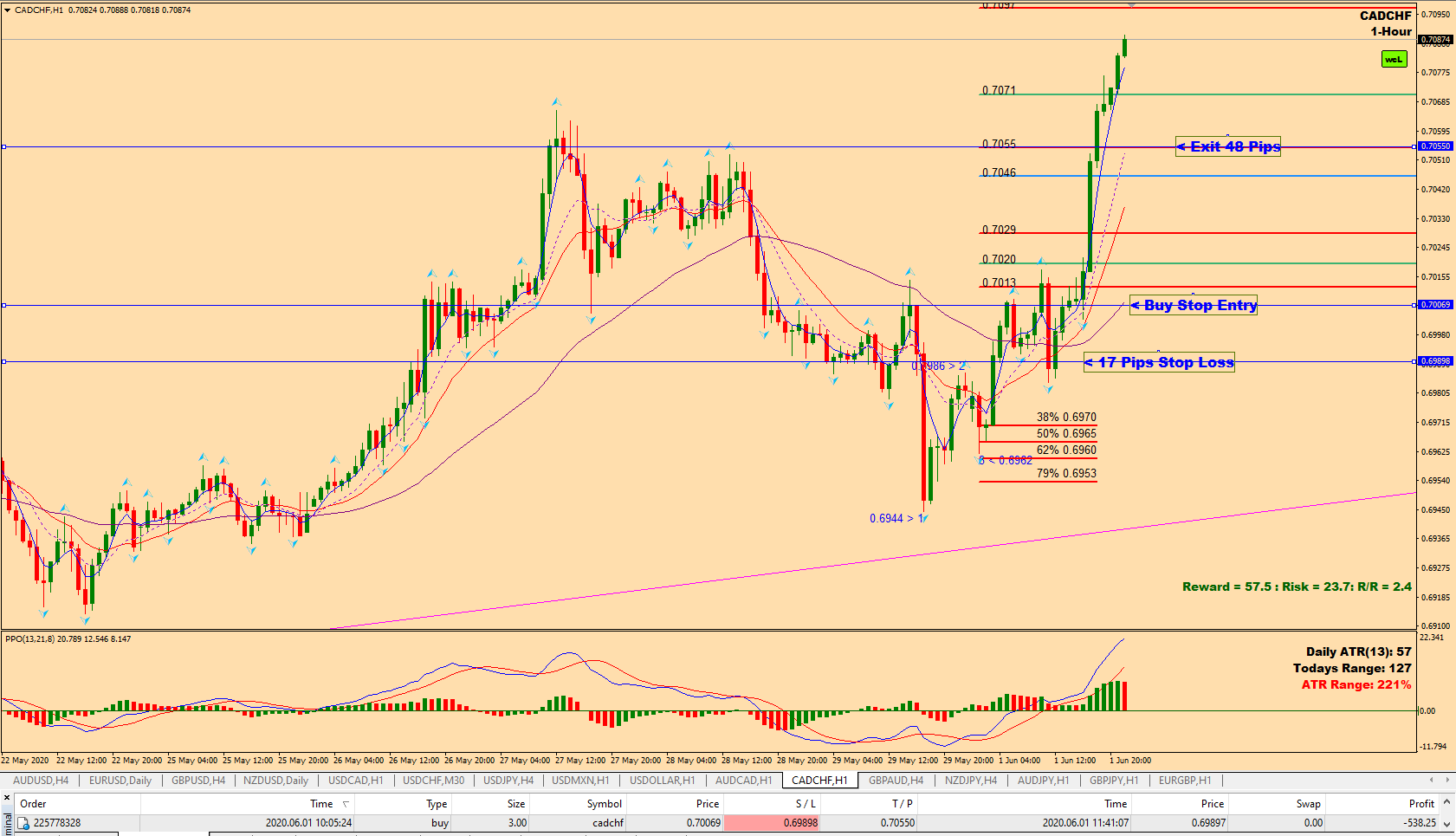 2020-05-26 GBPAUD 1H SELL
+$1,636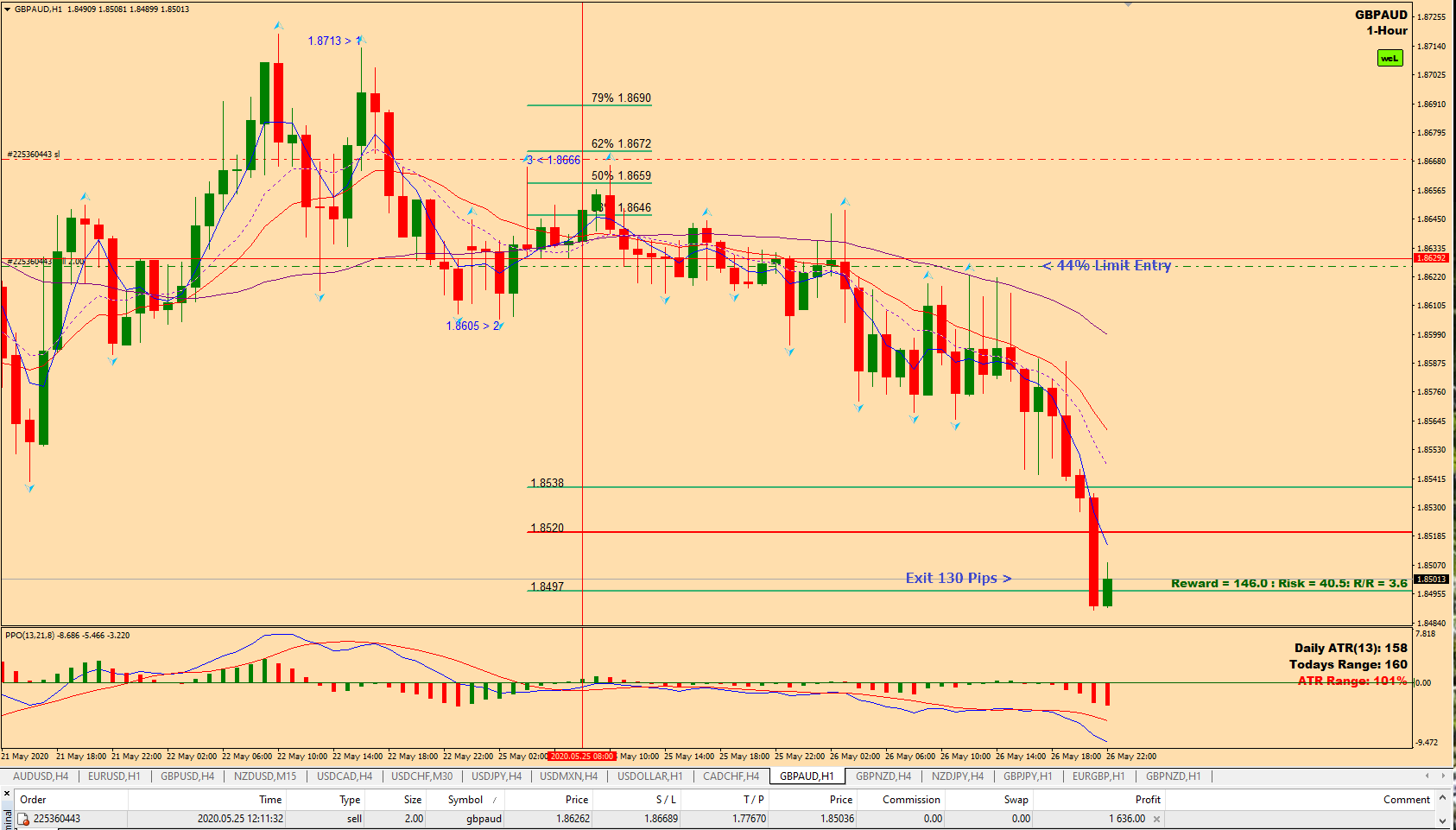 2020-05-26 CADCHF 1H SELL
+$945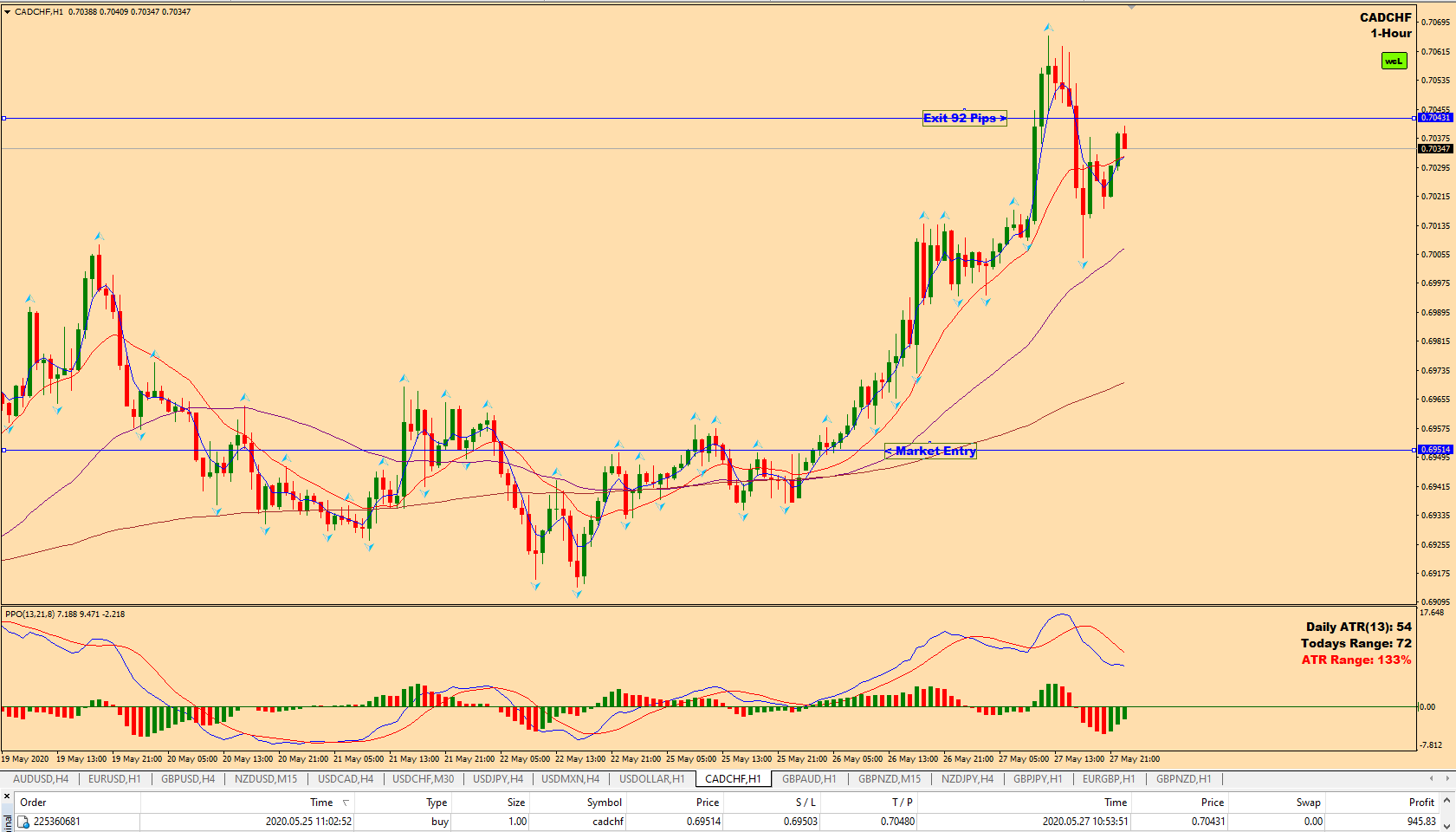 2020-05-06 USDCAD 1H SELL
+$2,011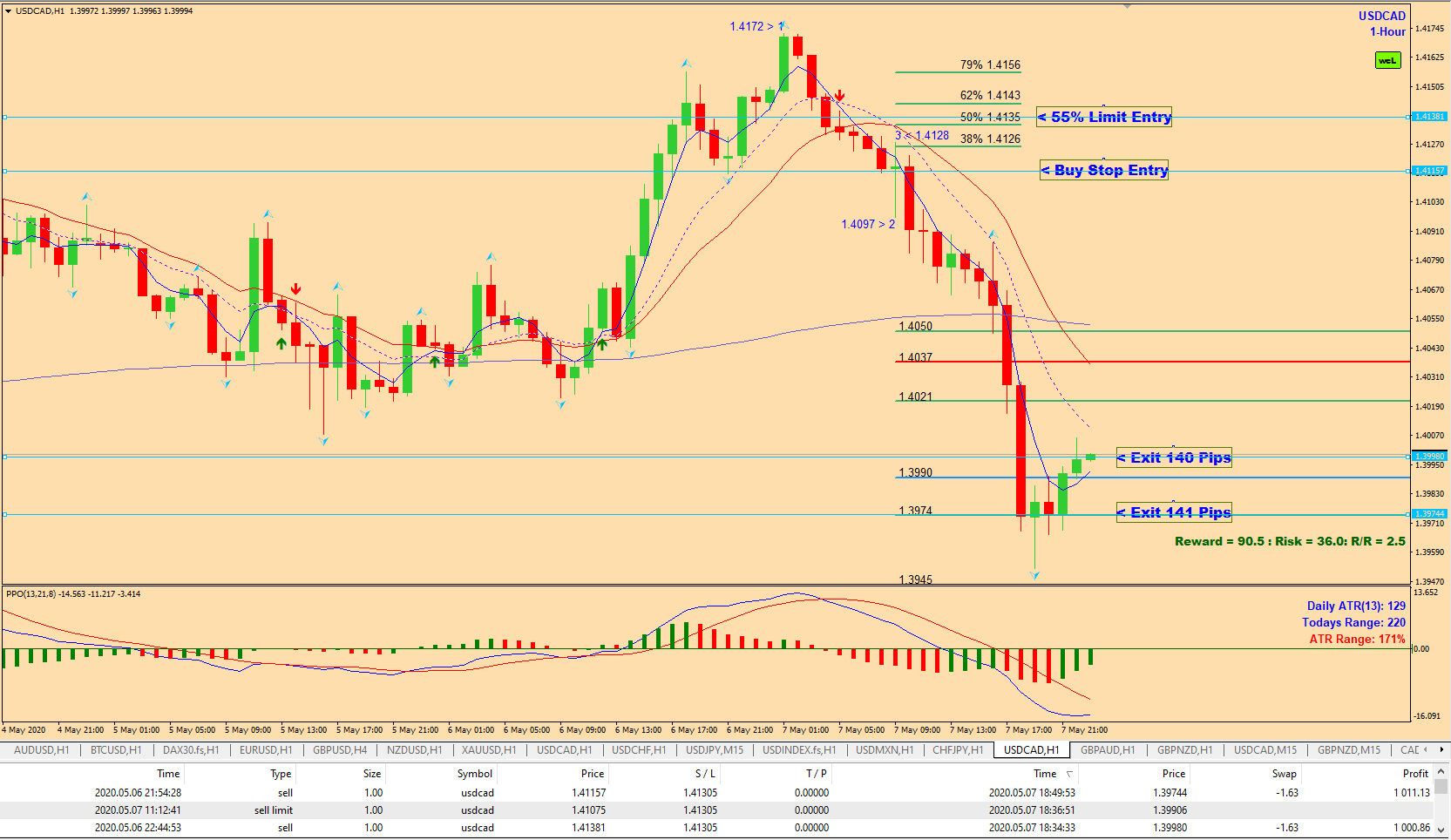 2020-03-25 EURAUD 5M SELL
+$3,093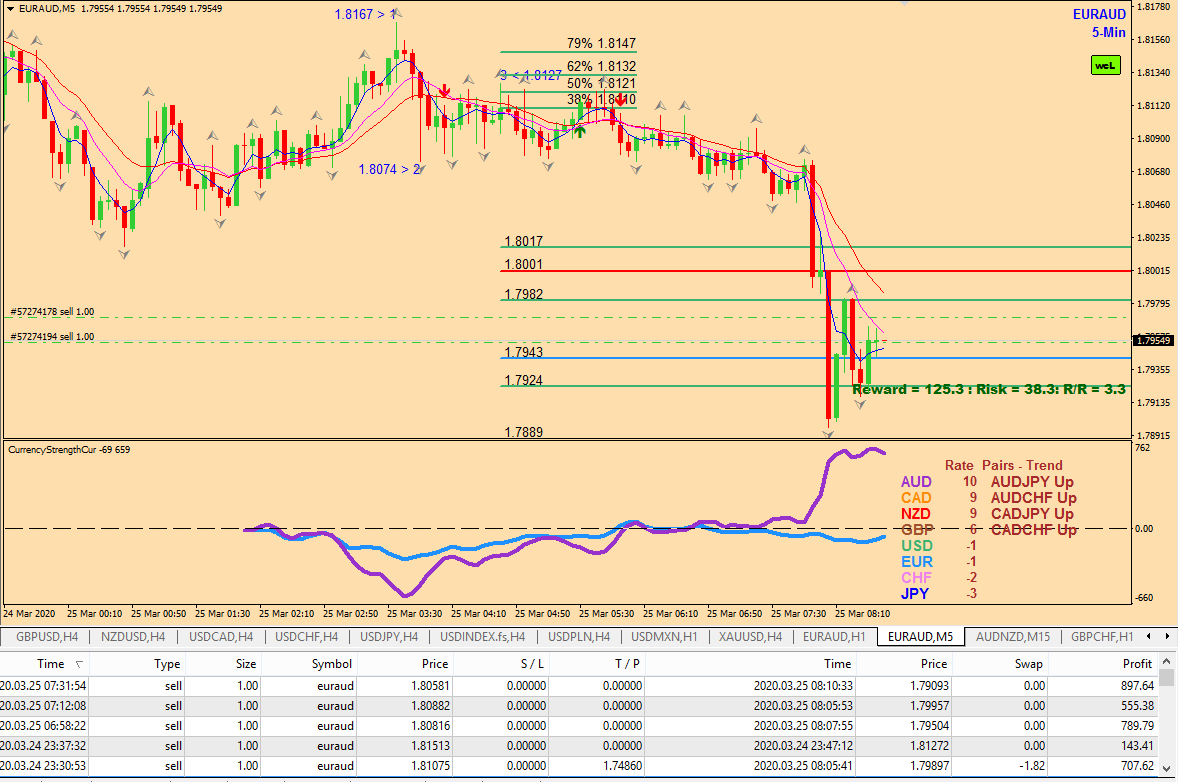 2020-03-13 NZDUSD 30M SELL
+$1,250
2020-03-13 CADJPY 30M BUY
+$3,265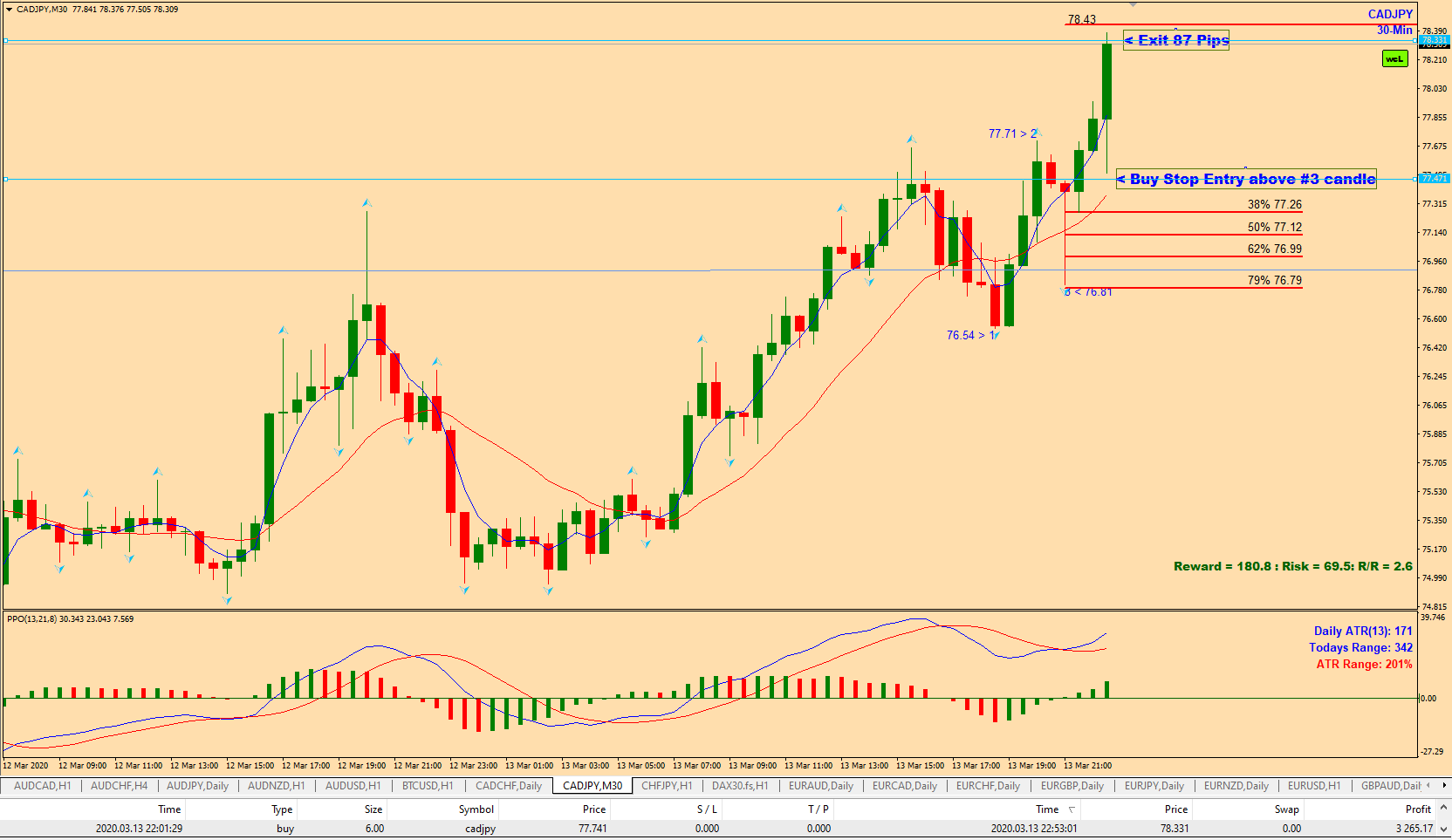 2020-01-31 EURAUD 15M Buy
+$2,055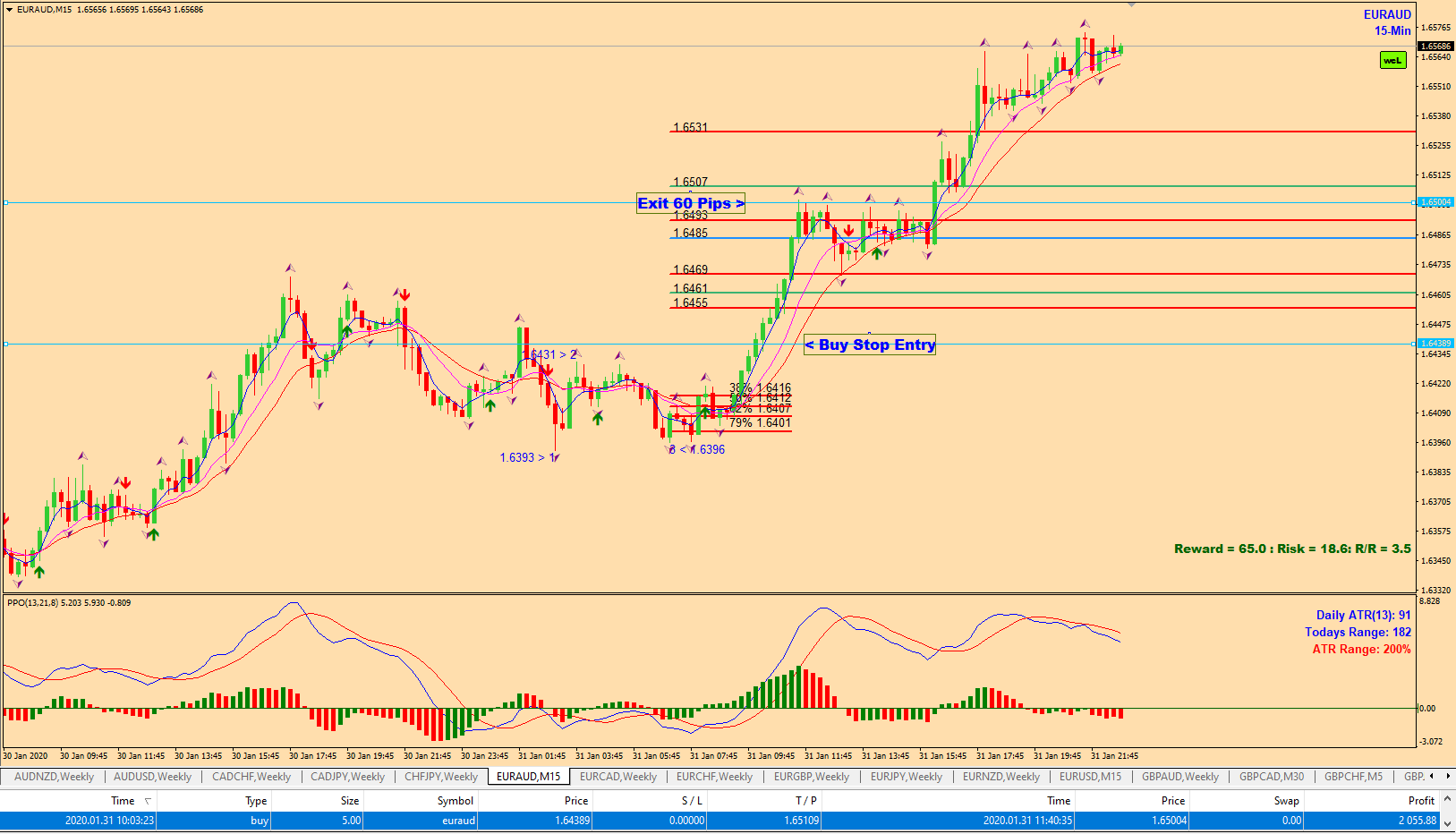 2020-01-23 GBPUSD 1H Sell
+$2,220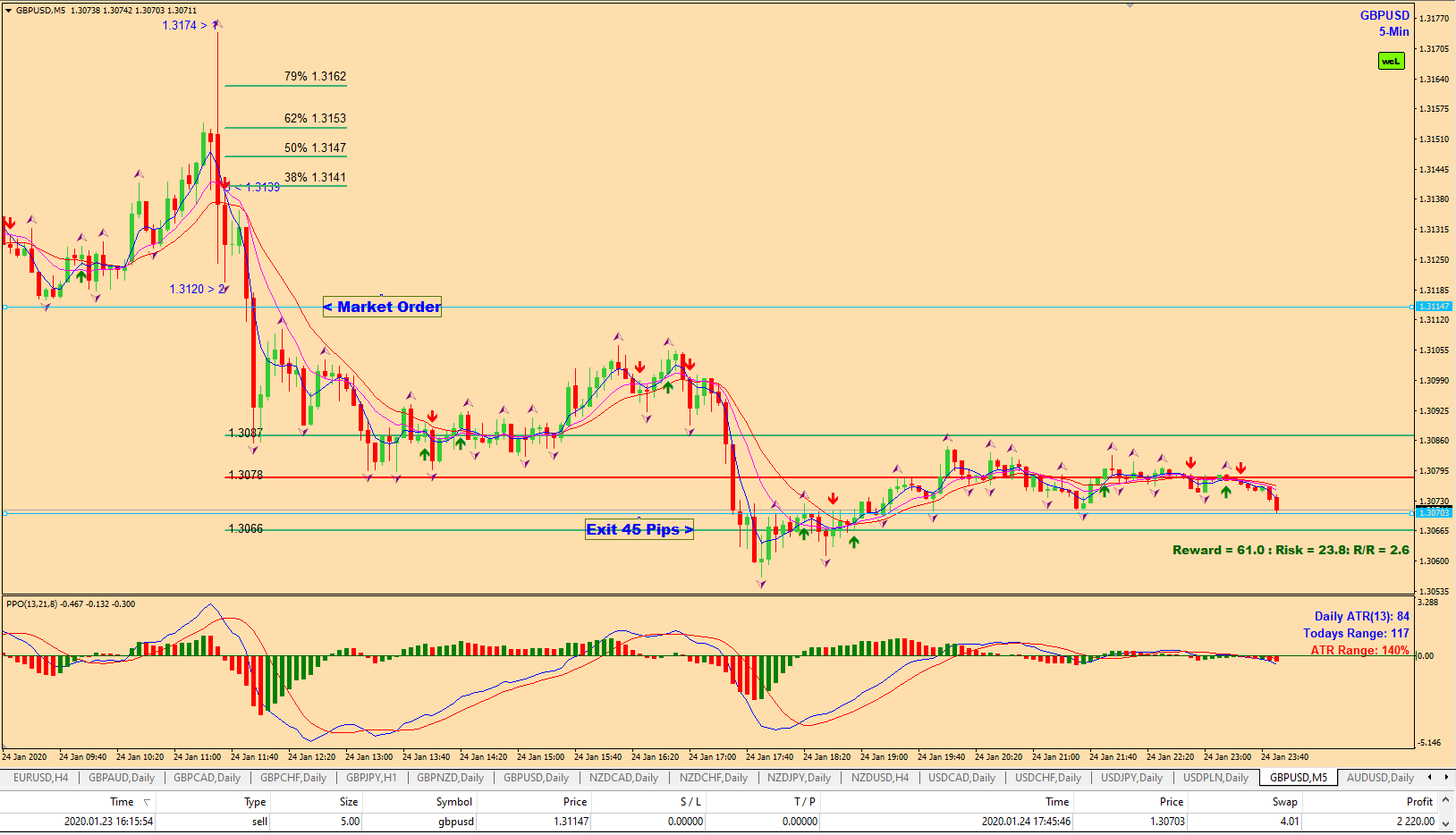 2020-01-23 EURNZD 1H Sell
+$1,560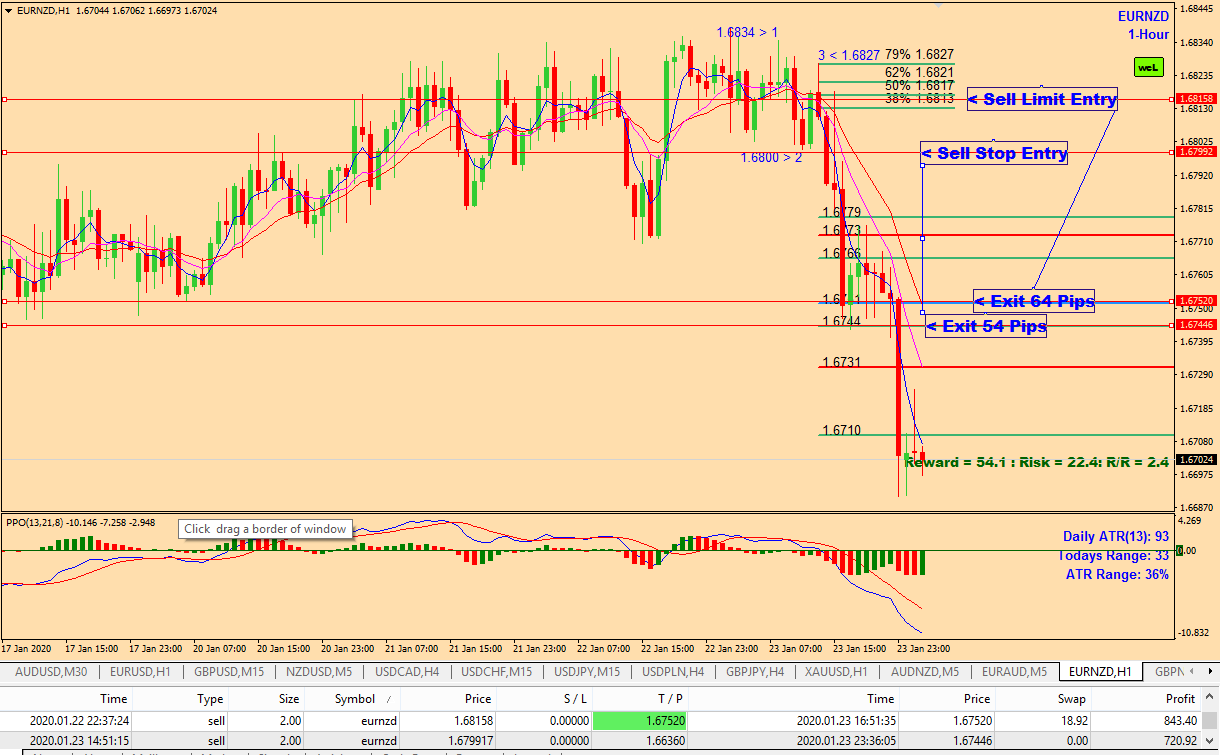 2020-01-02 EURCAD 15M Sell
+$789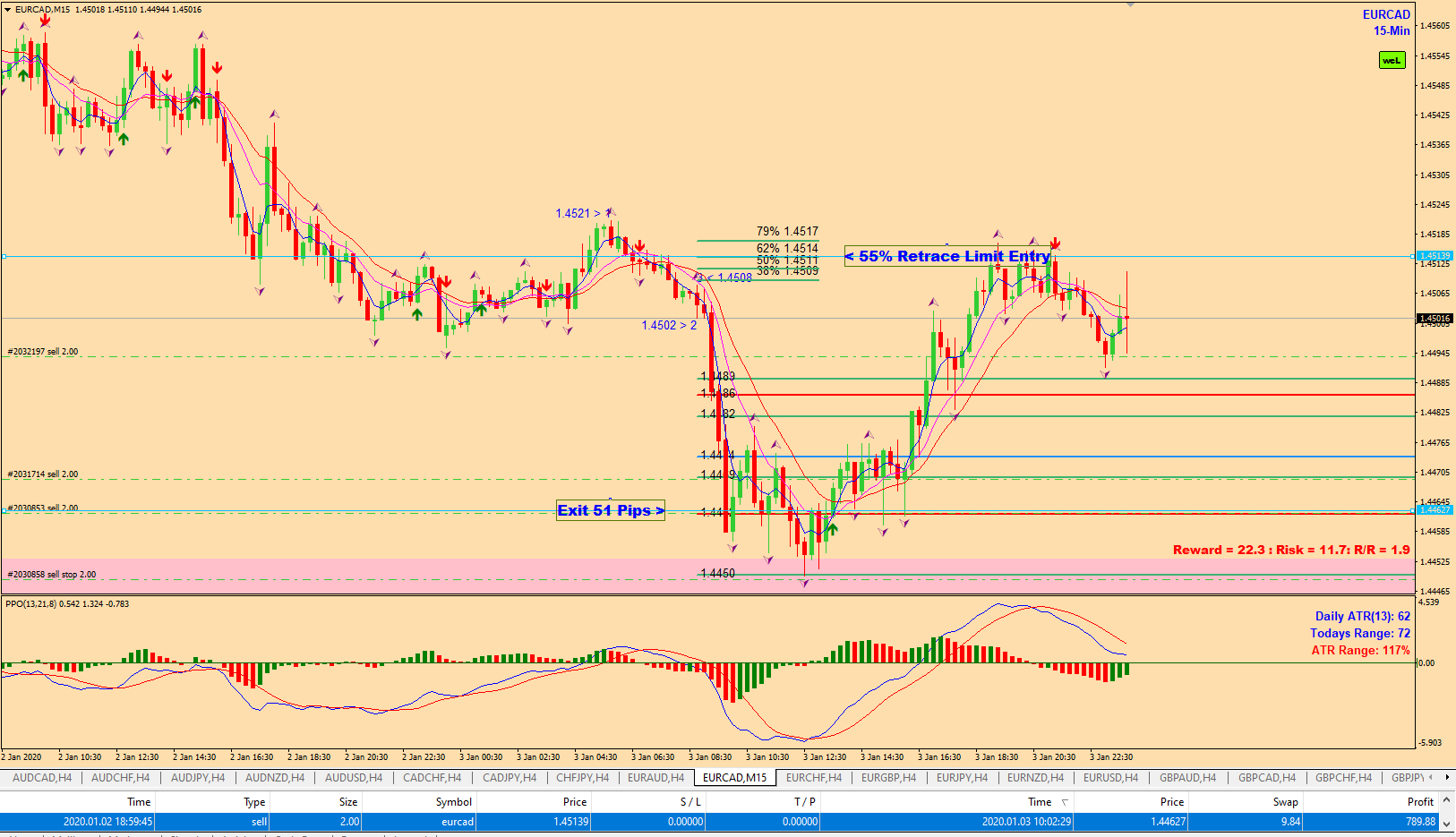 2020-01-02 EURCAD 15M Sell
+$1,081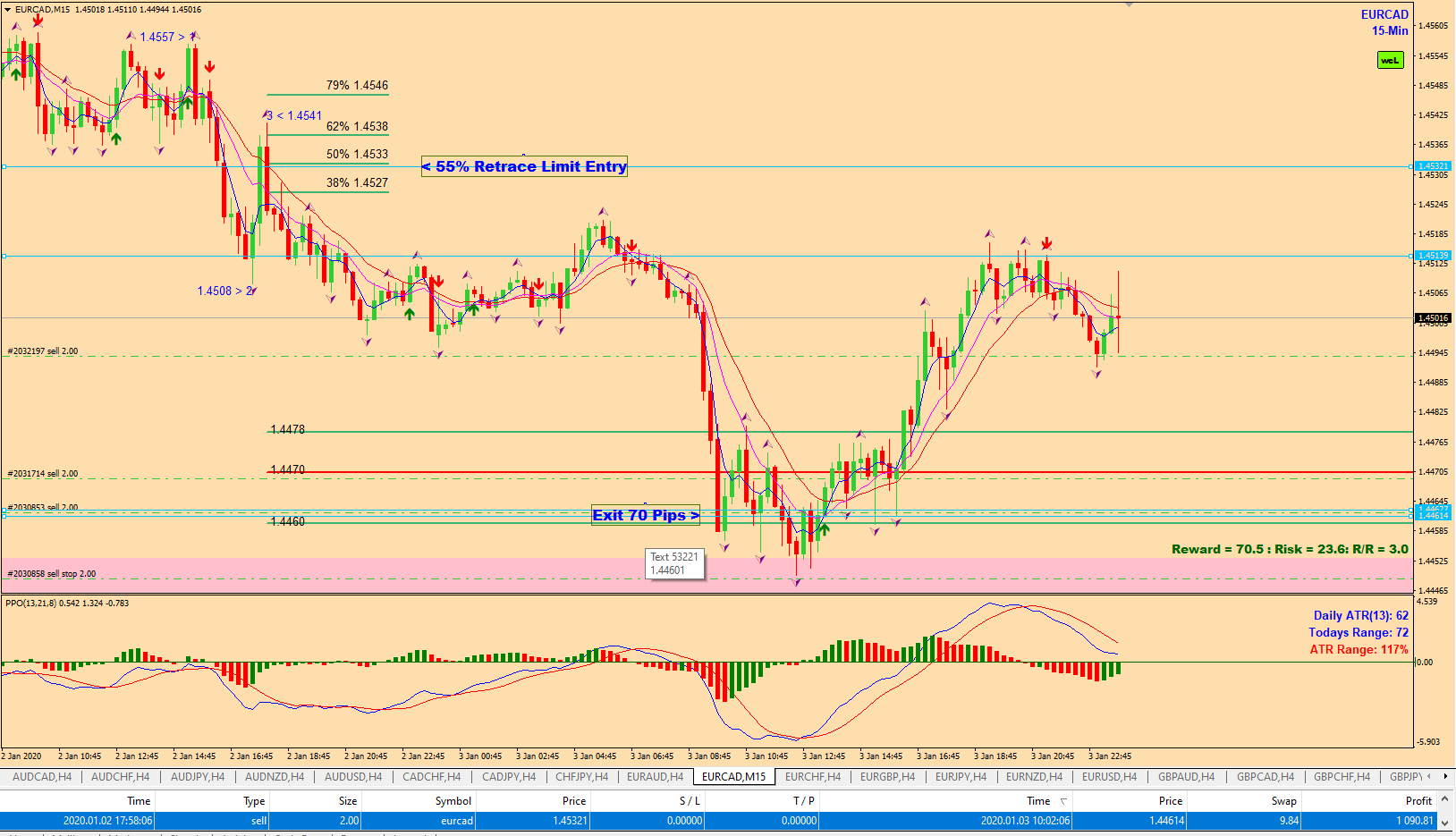 2019-12-31 EURCAD 1H Sell
+$1,665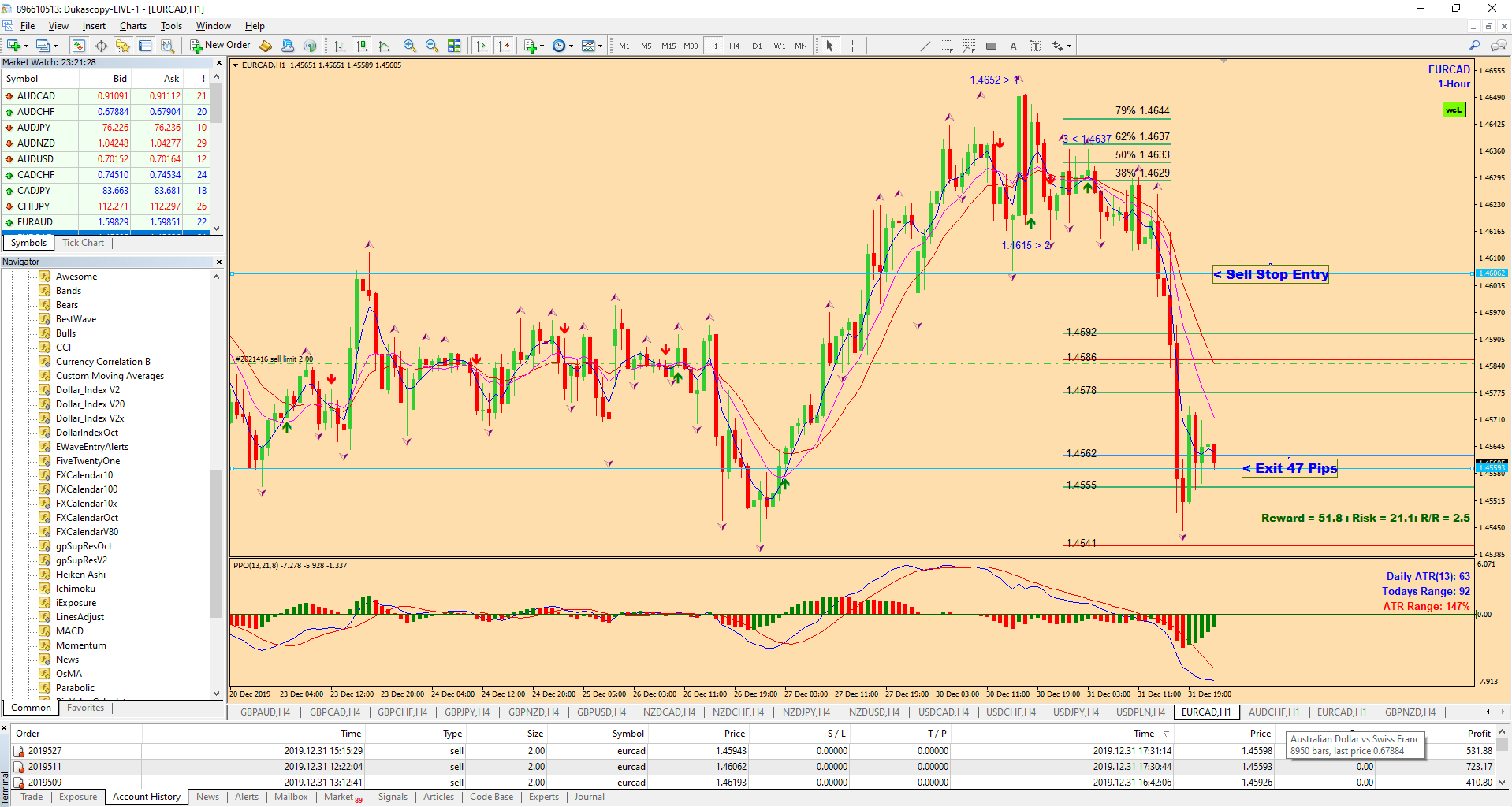 2019-12-12 GBPAUD 1H Sell
+$3,332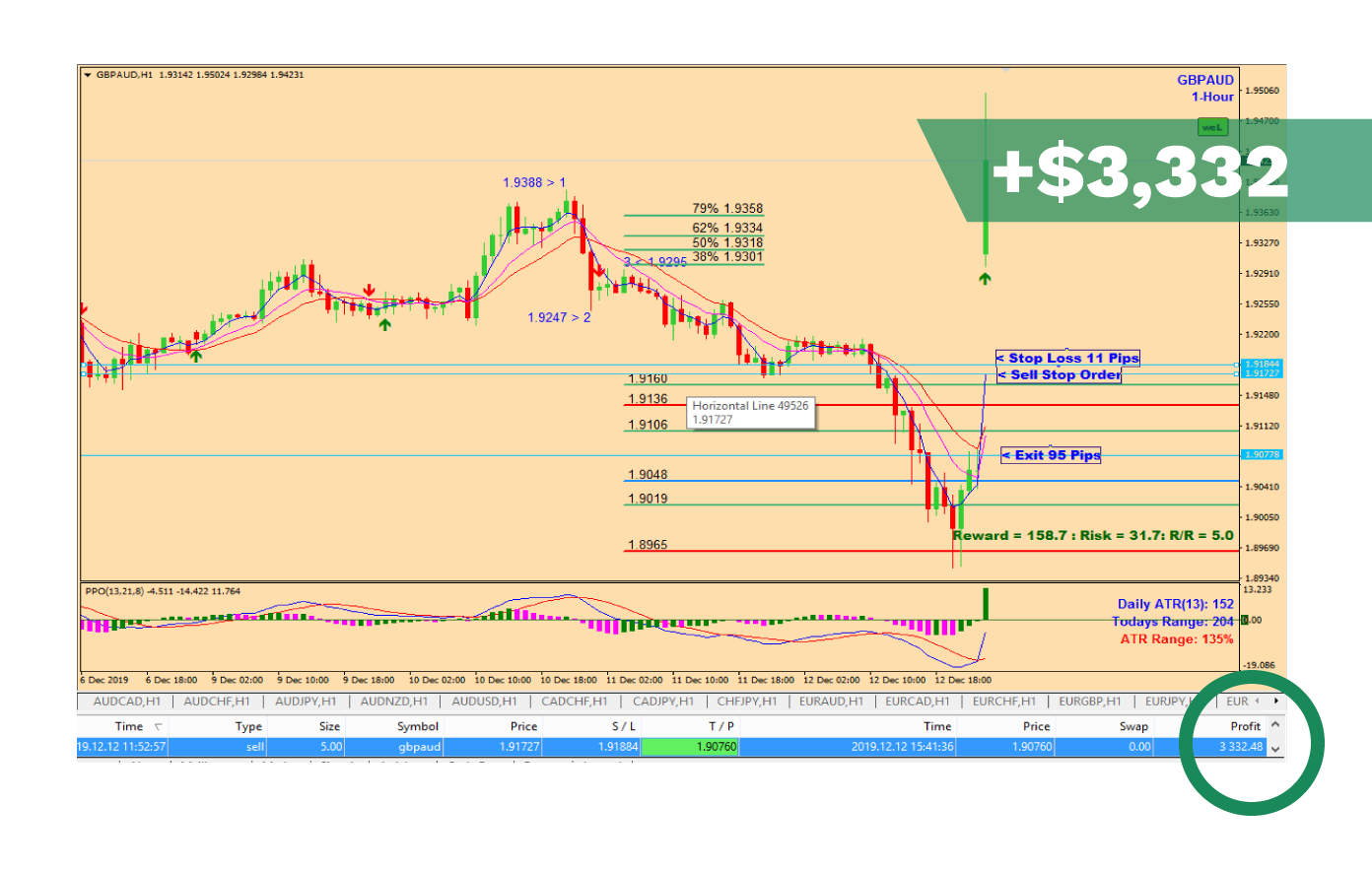 2019-12-06 GBPNZD 1H Sell
+$5,742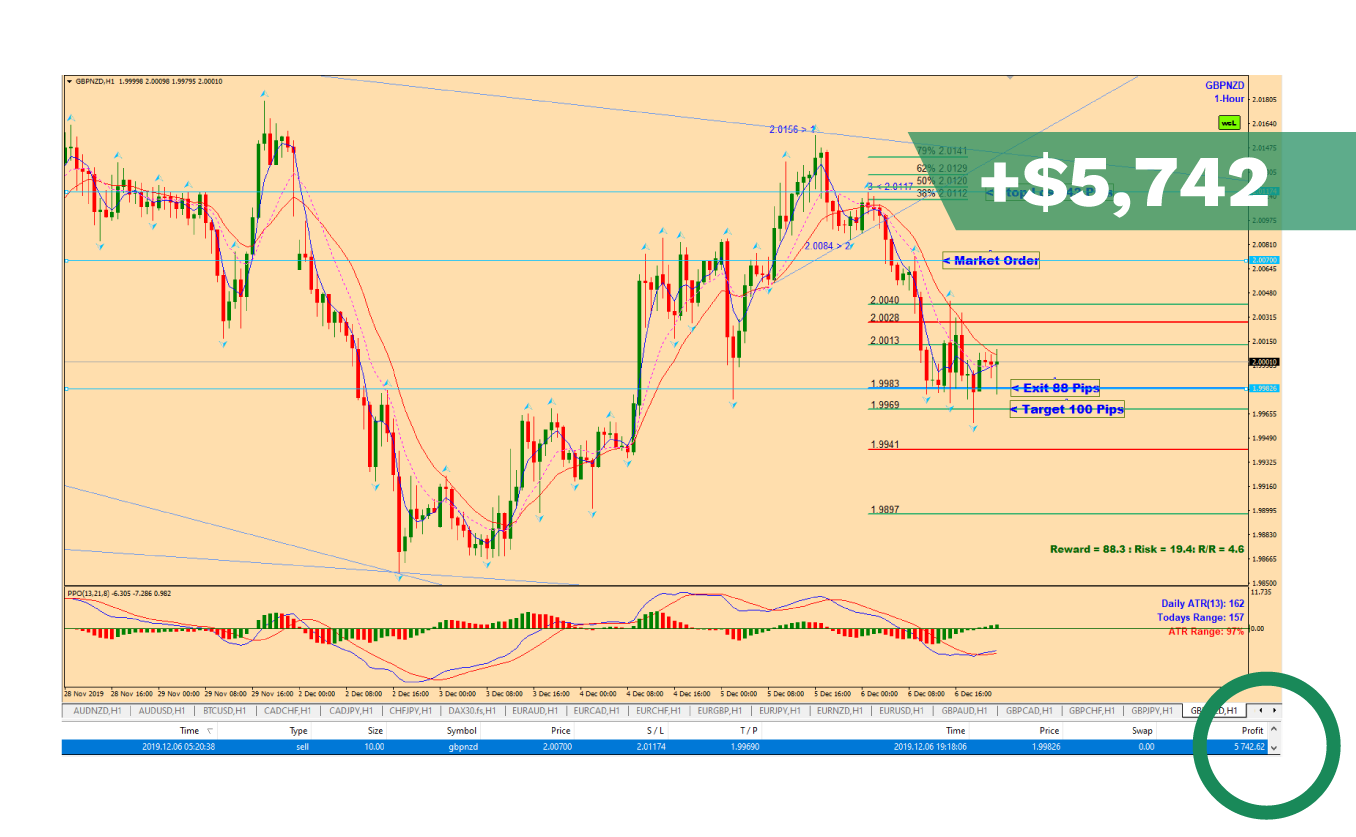 2019-12-06 EURCAD 1H Buy
-$1,631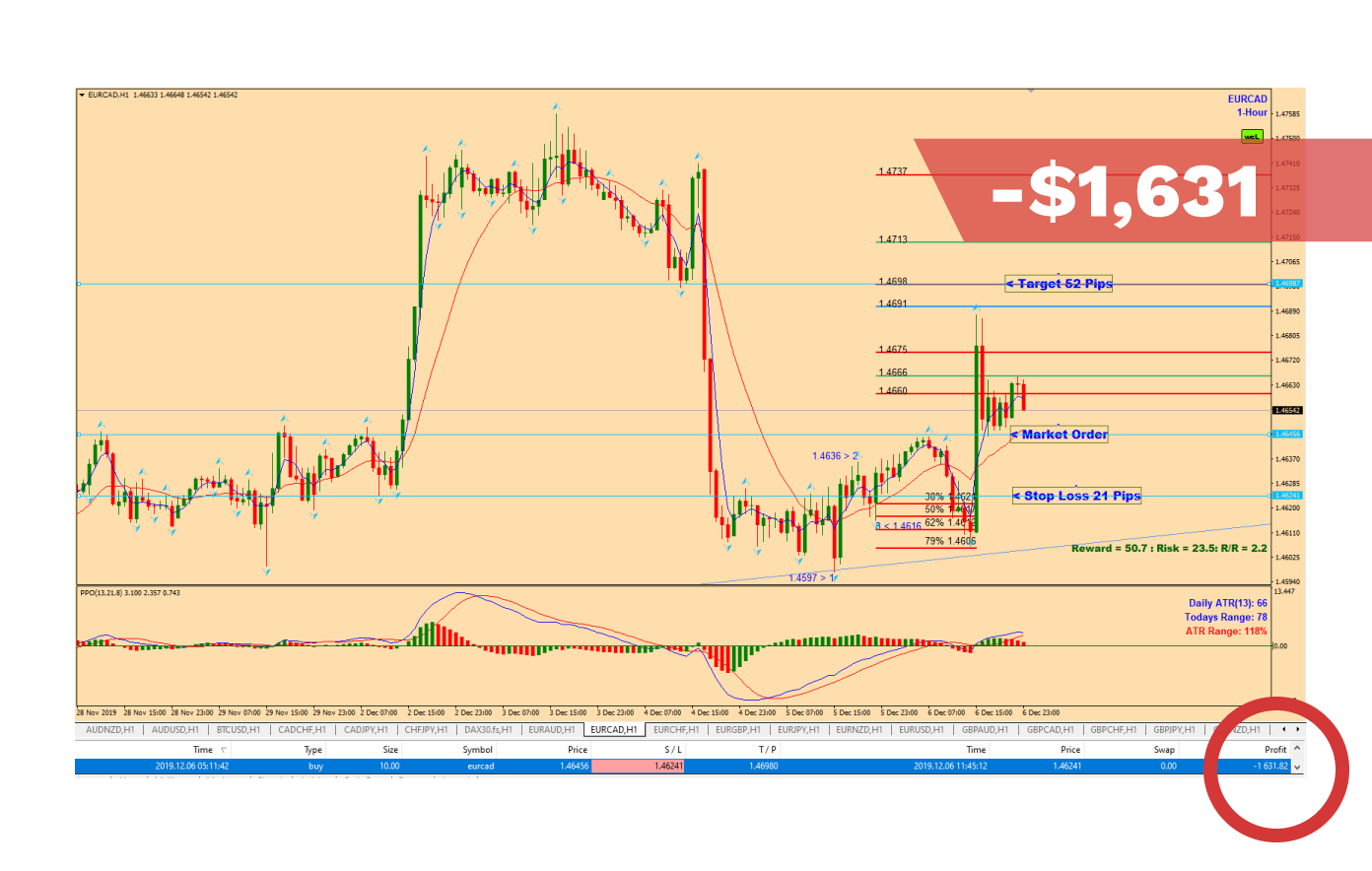 2019-12-06 CADJPY 1H Sell
+$4,710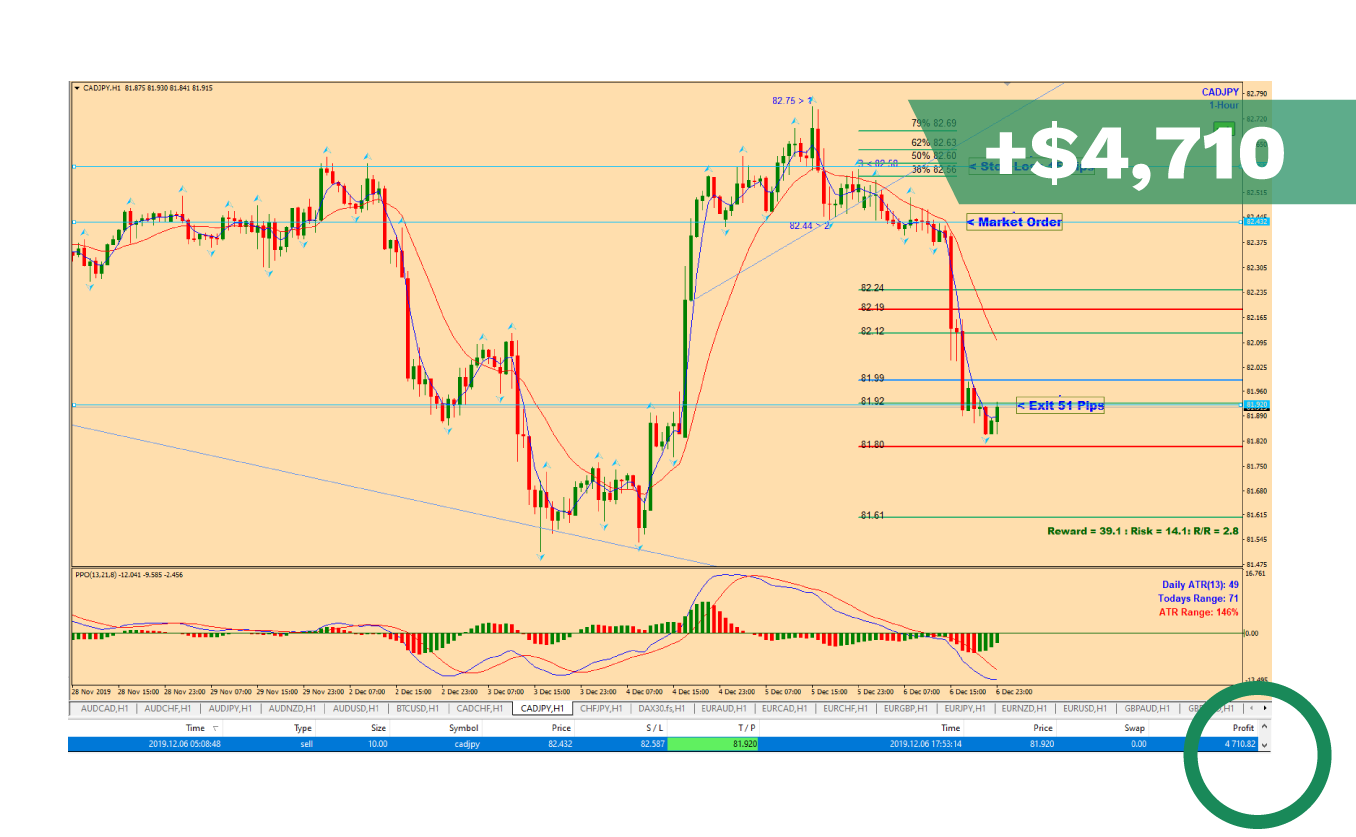 2019-12-02 CHFJPY 4H Buy
+$2,017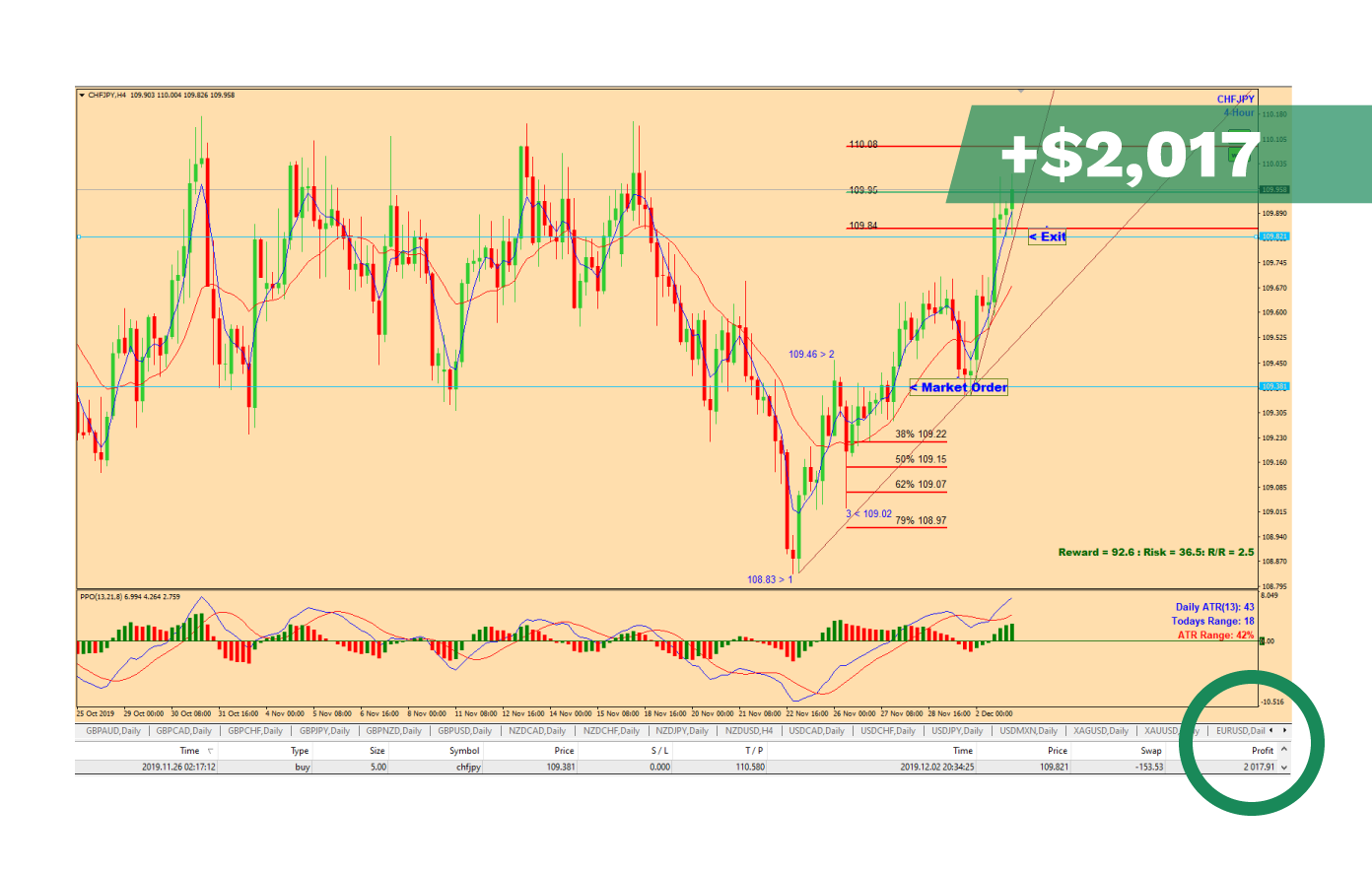 2019-11-21 GBPCAD 1H Sell
+$2,030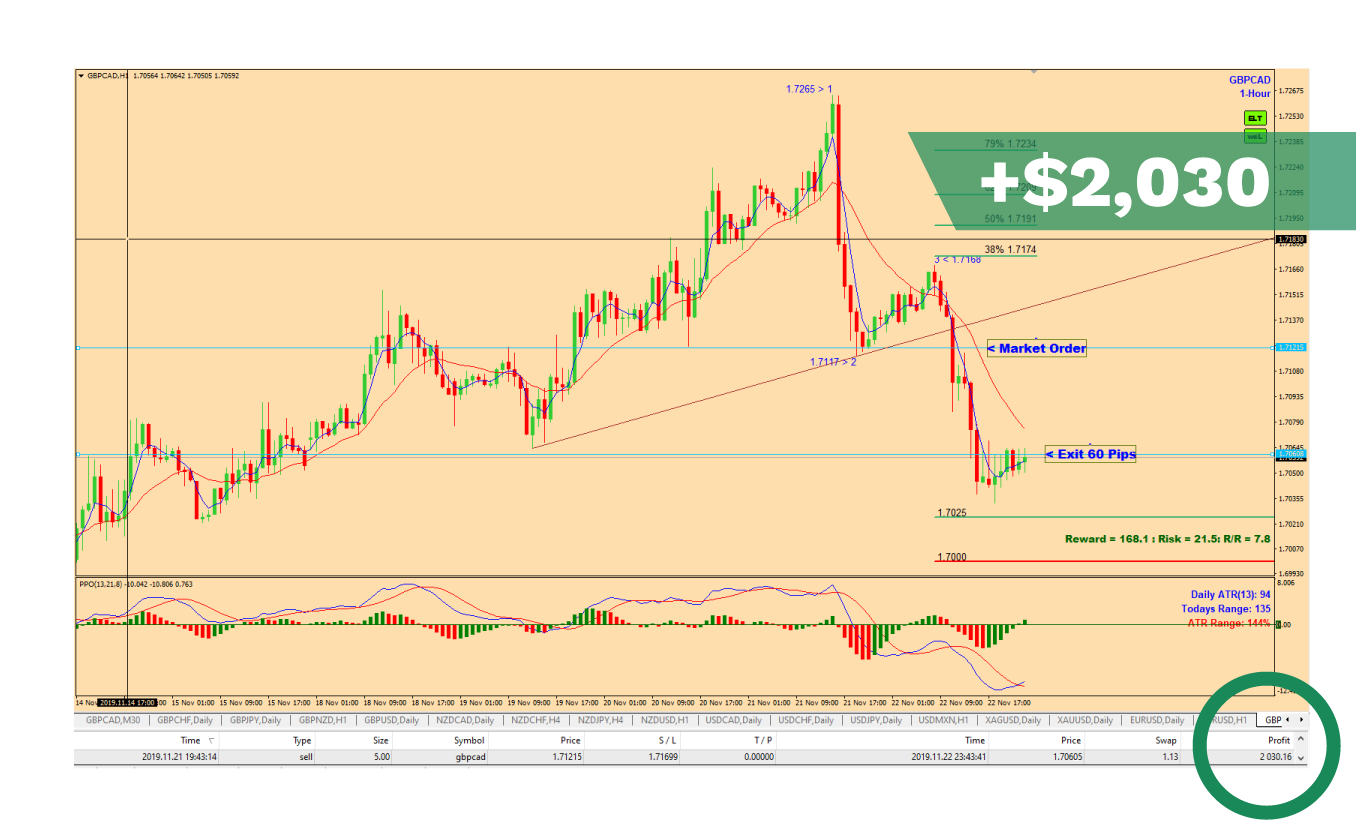 2019-11-06 AUDUSD 1H Sell
+$3,600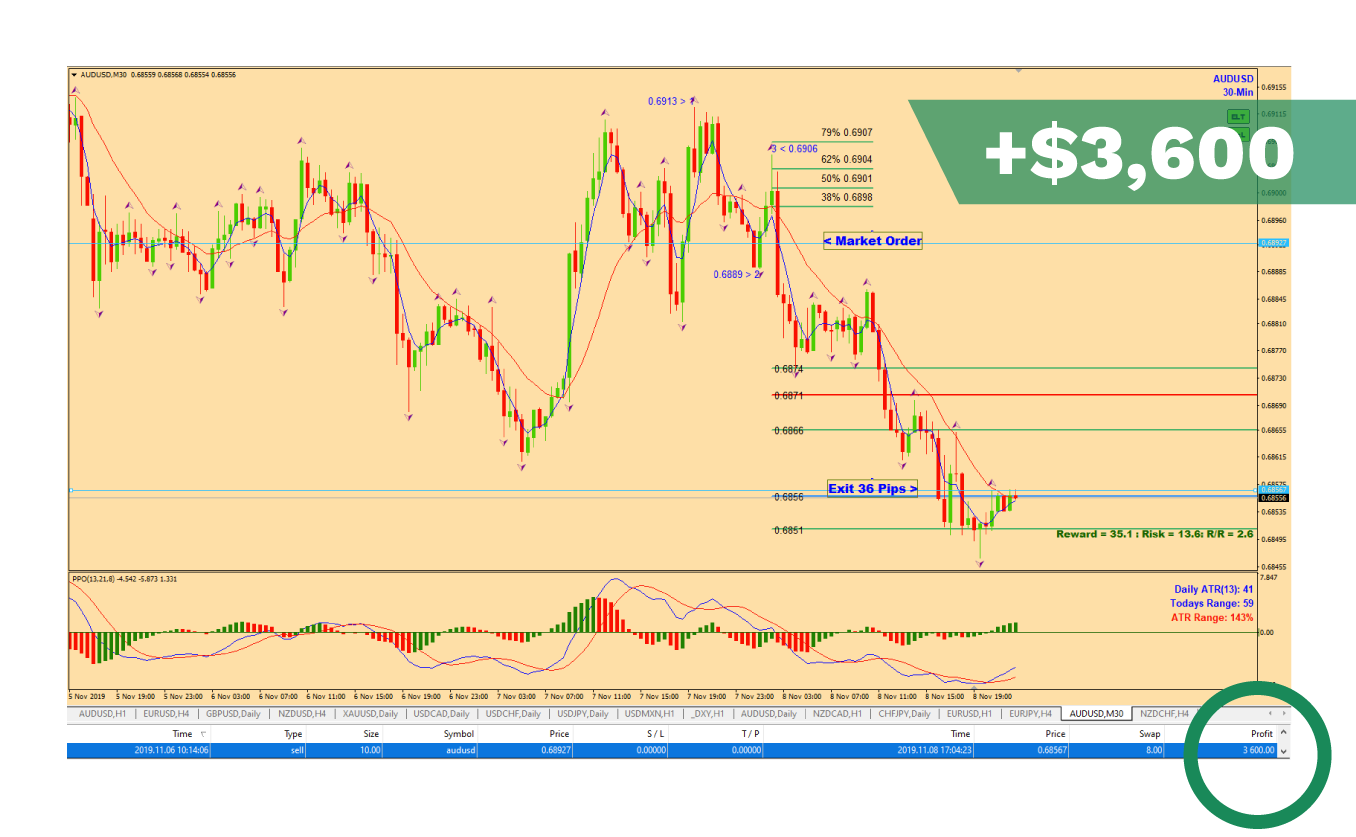 2019-10-29 CADCHF 1H Sell
+$4,592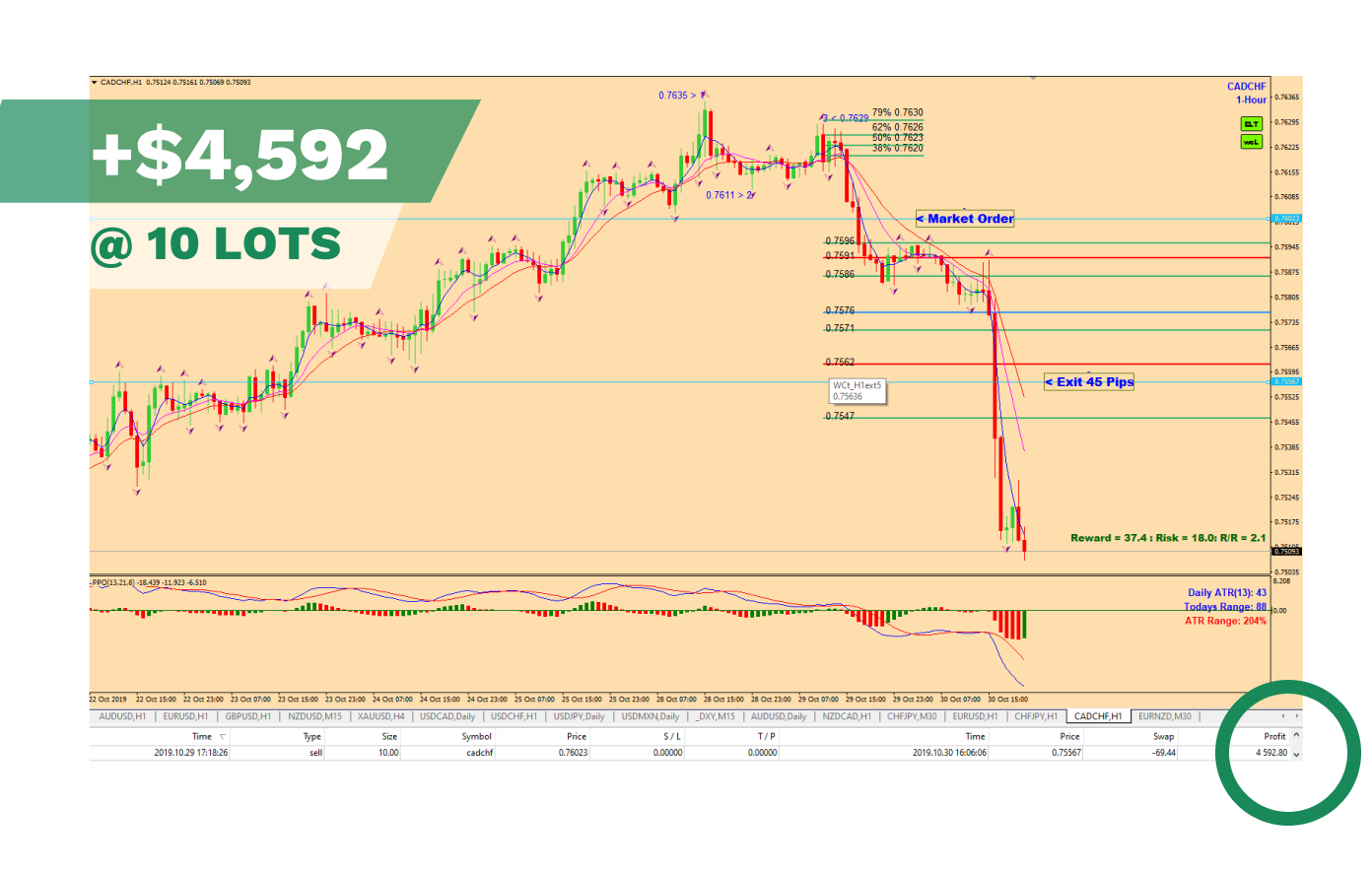 2019-10-19 EURNZD 1H Sell
+$1,397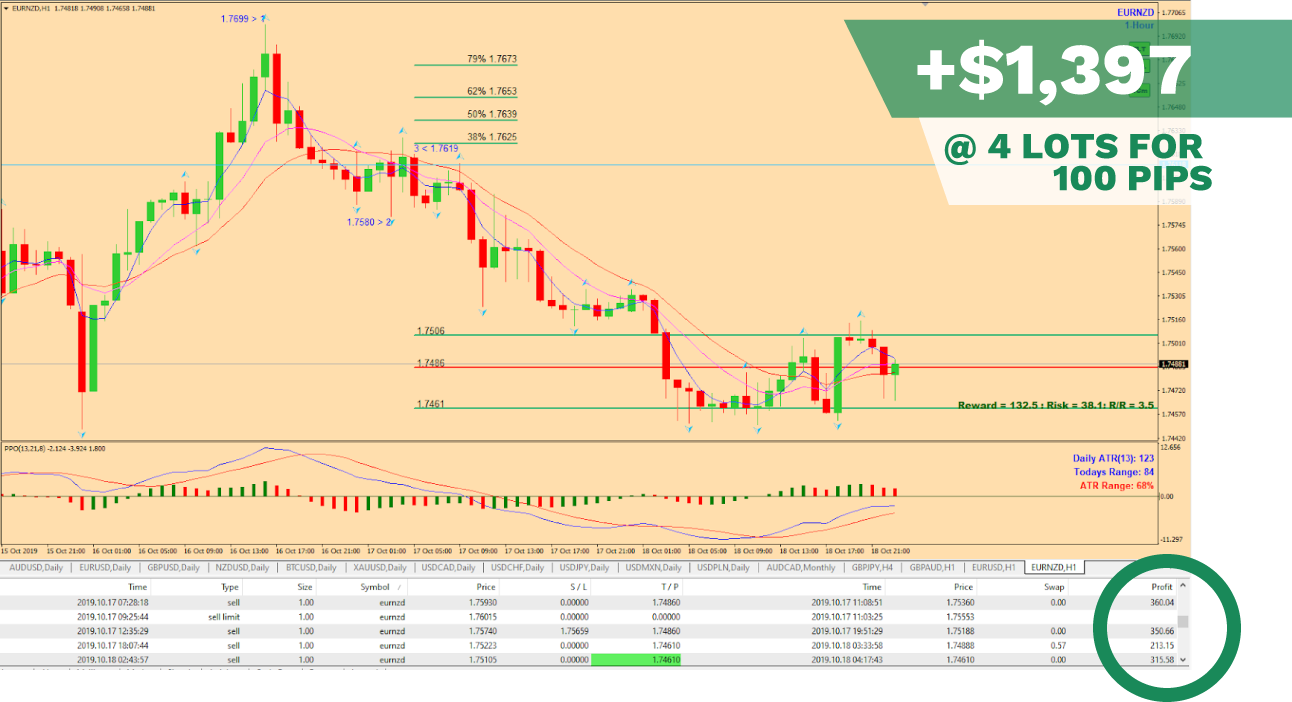 2019-10-17 EURNZD 4H Sell
+$6,698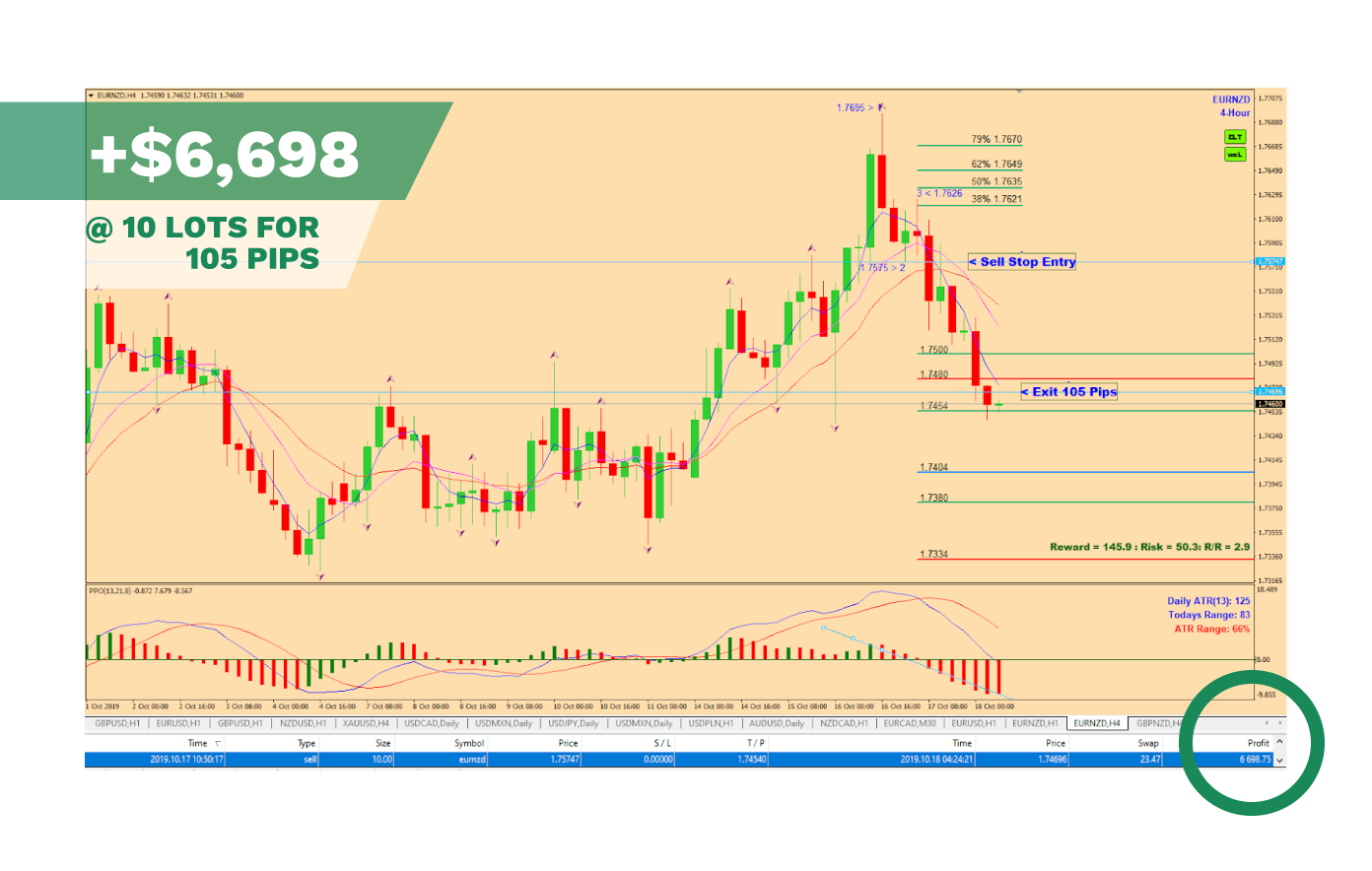 2019-10-17 EURNZD 1H Sell
+$1,164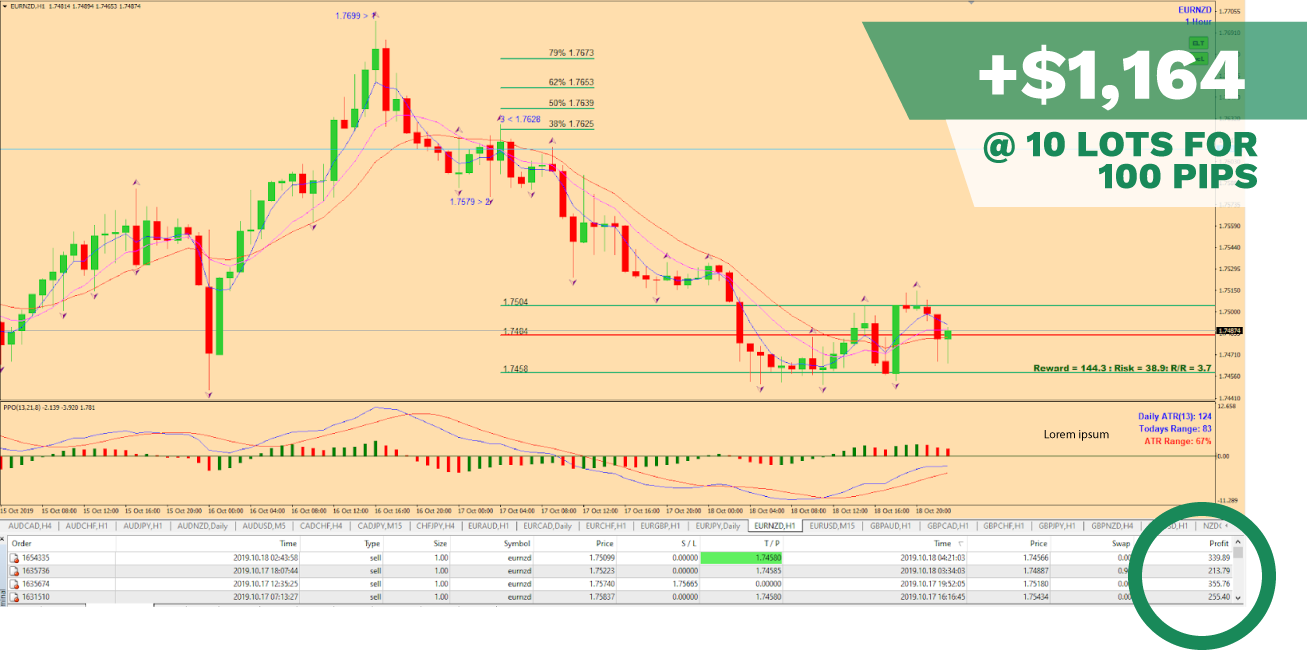 2019-10-09 NZDCHF 1H Short
+$2,677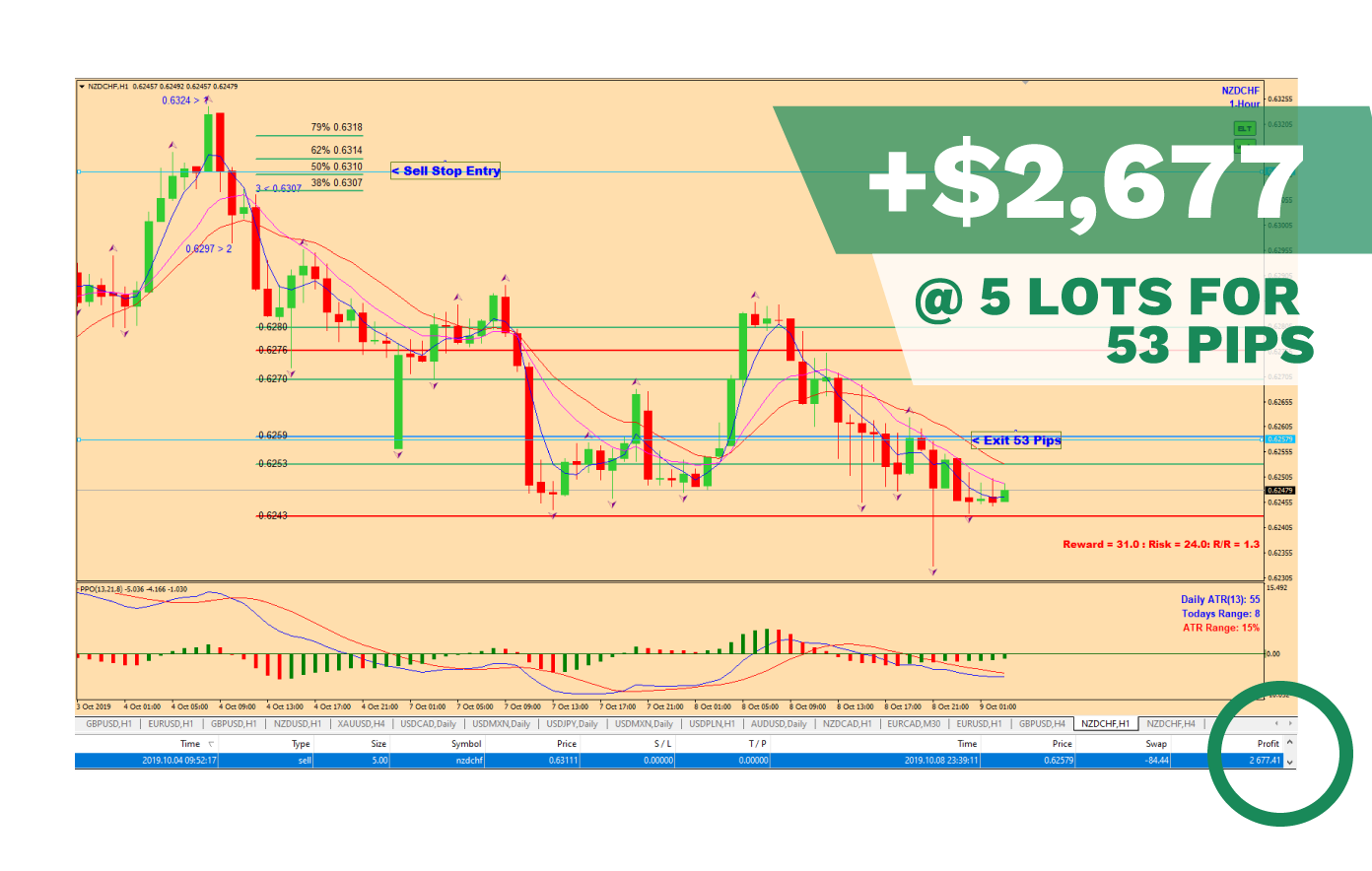 2019-09-30 EURCAD 4H Short
+$2,047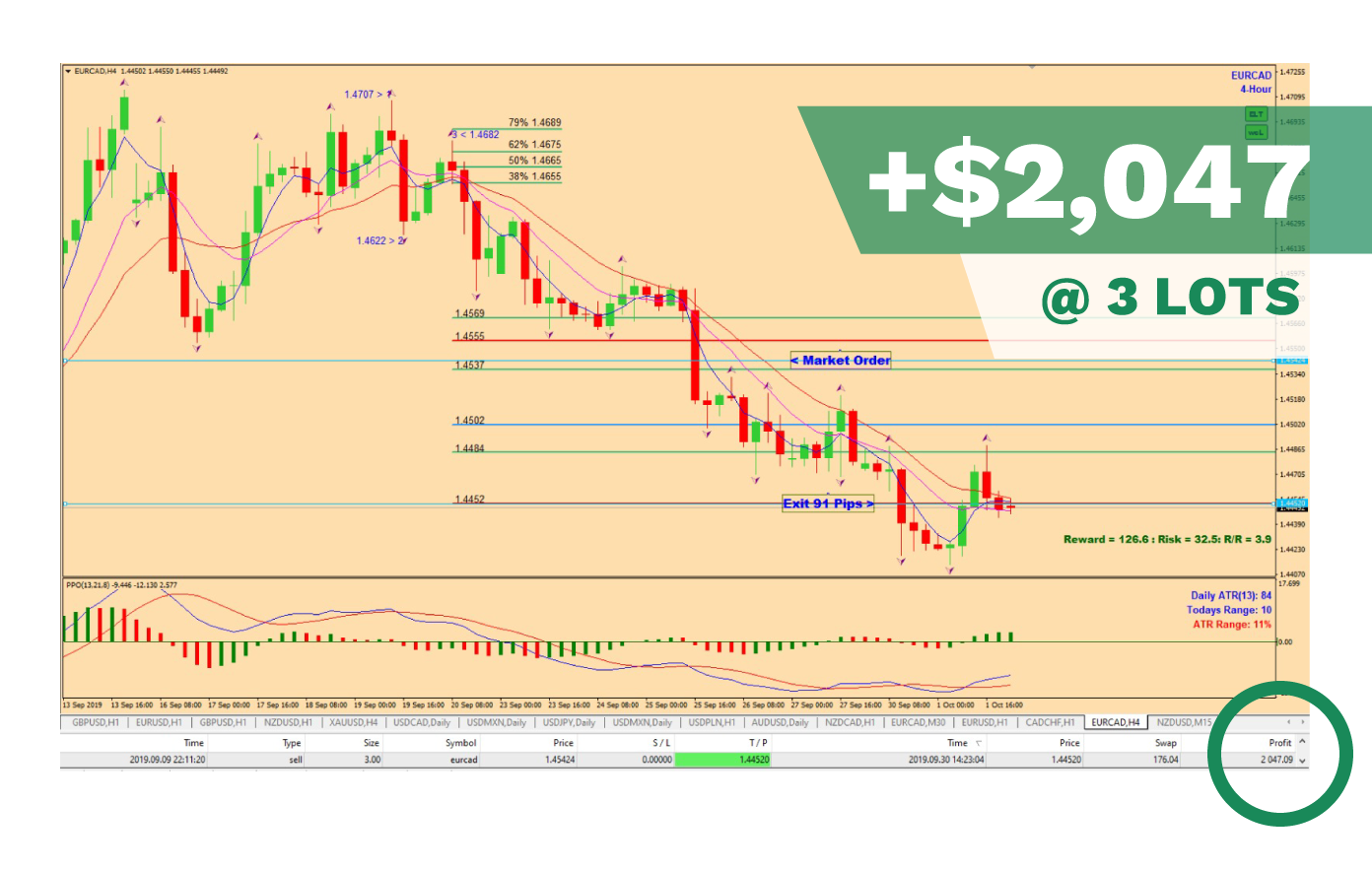 2019-09-27 GBPUSD 1H Short
+$4,128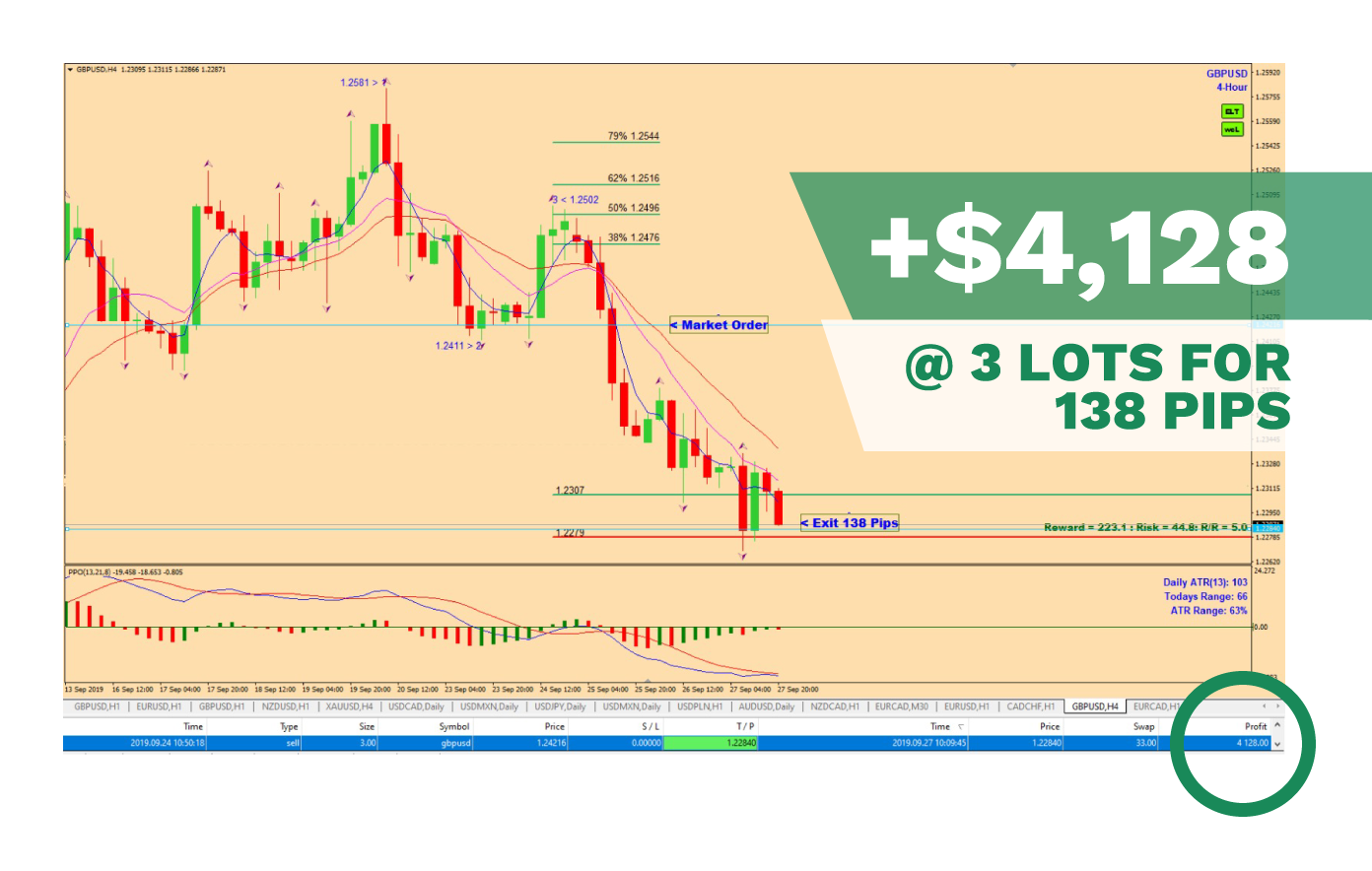 2019-09-23 GBPNZD 1H Short
+$1,391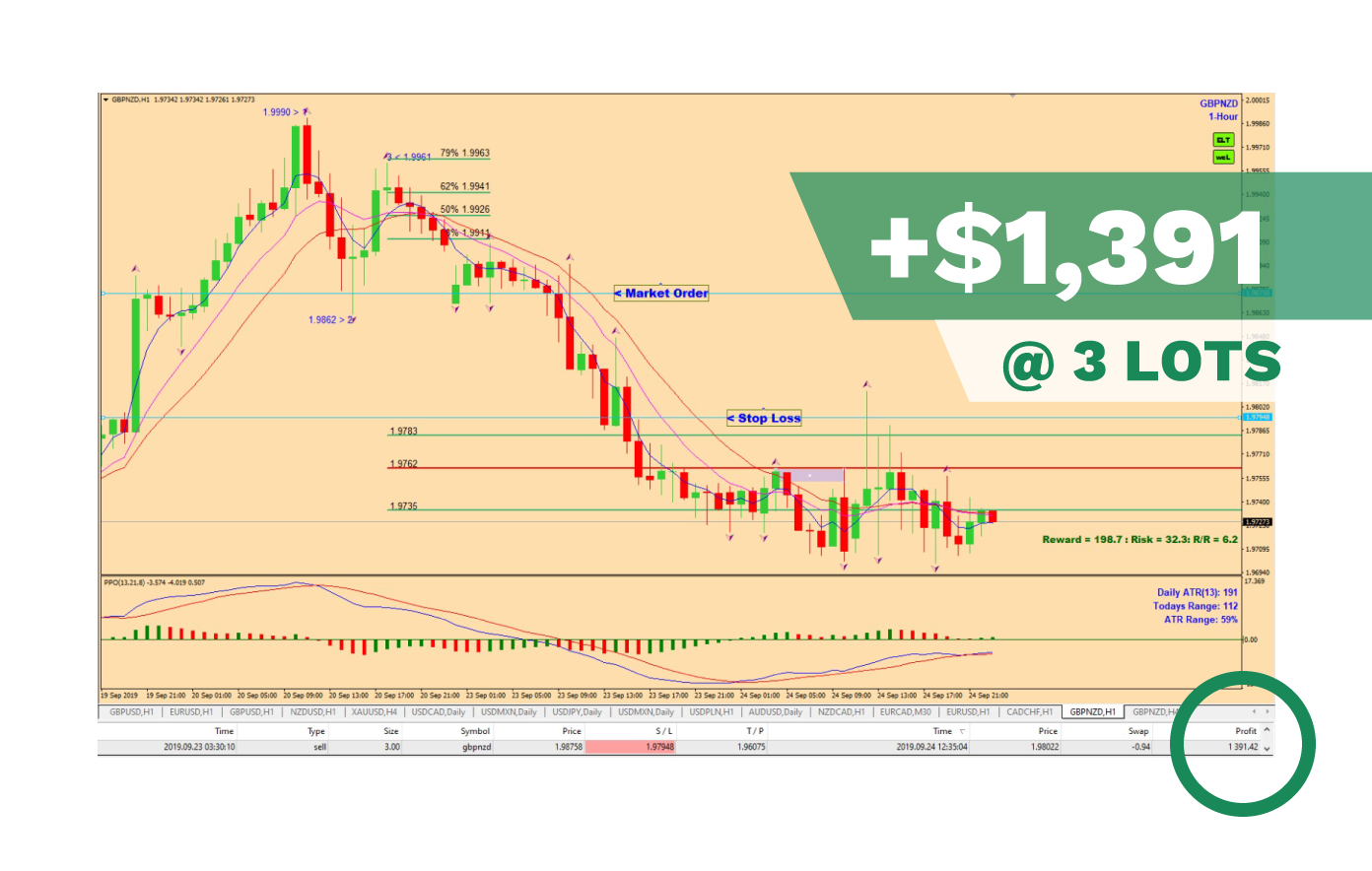 2019-09-13 GBPCAD 1H Long
+$2,817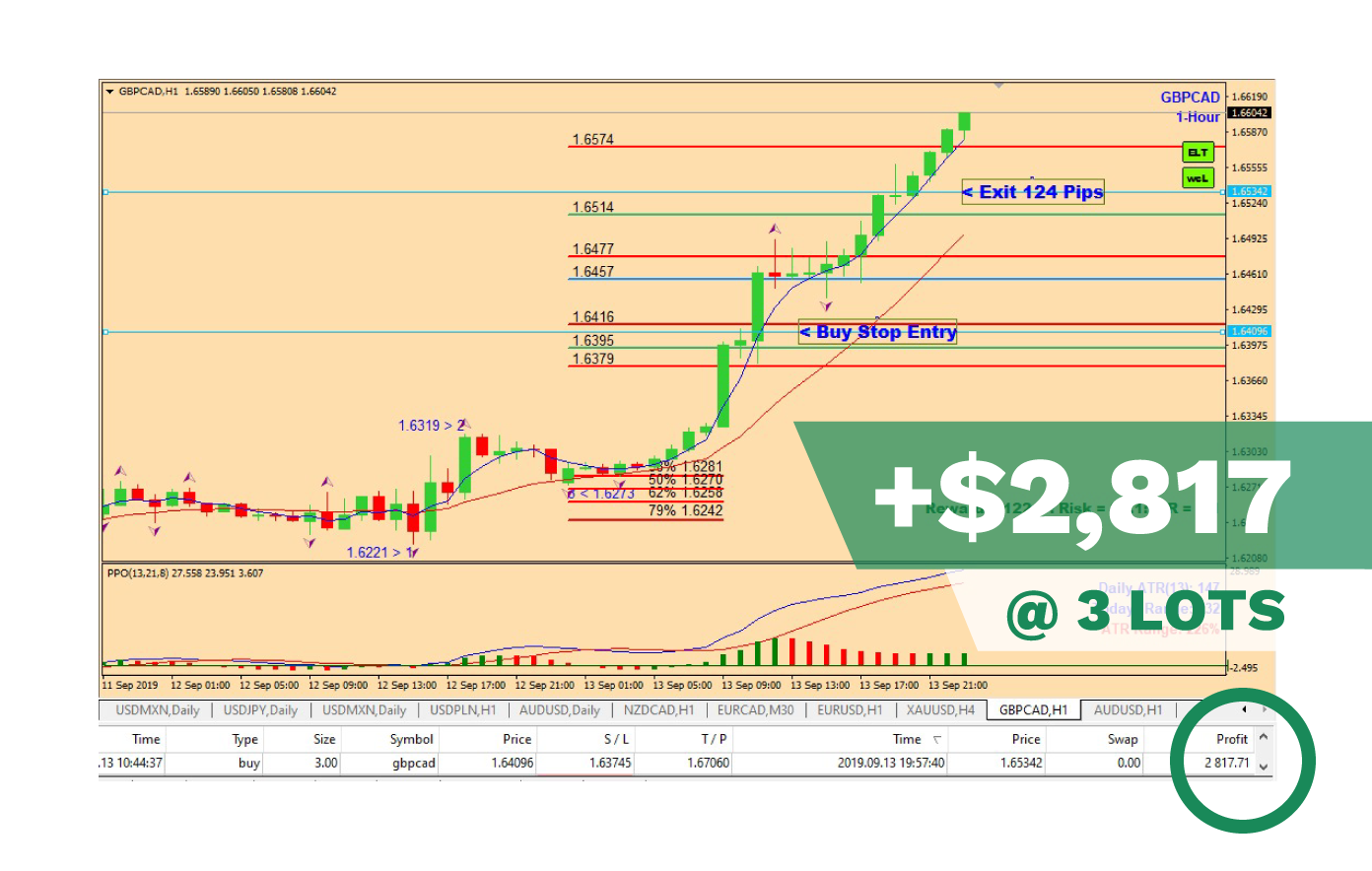 2019-09-02 EURCAD 1H SELL
+$2,154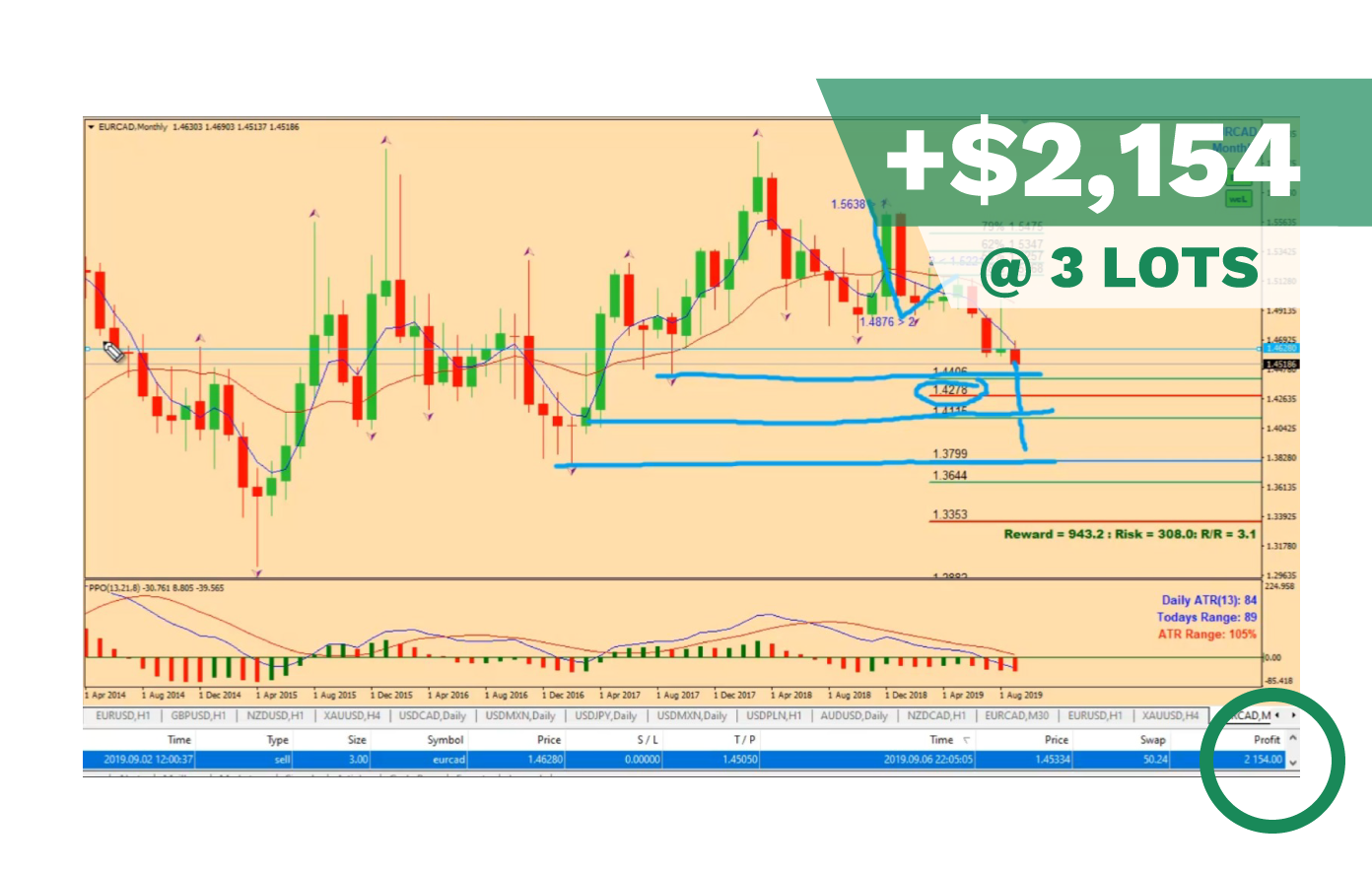 2019-08-30 EURCAD 1H Short
+$1,511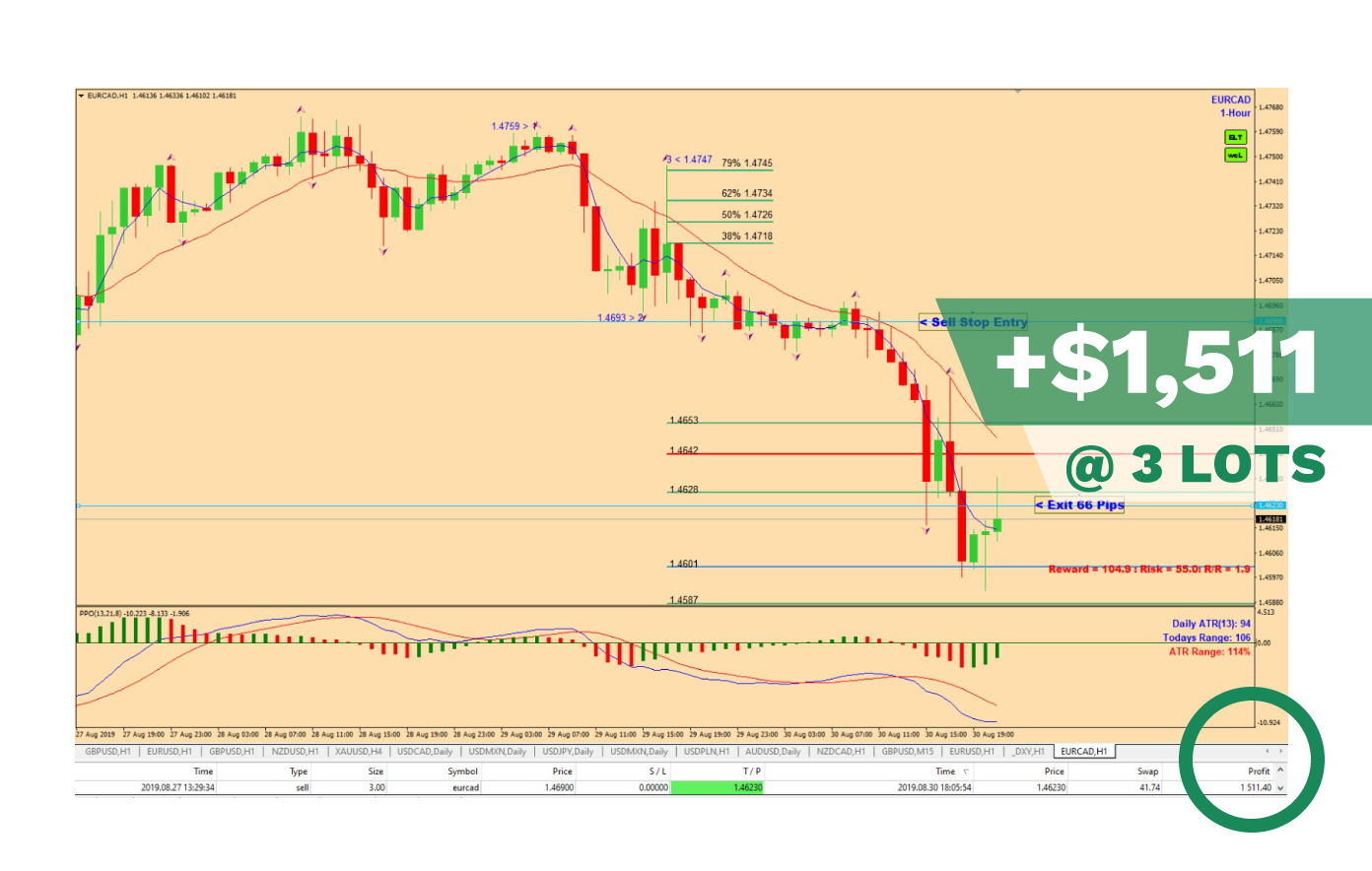 2019-08-21 EURCAD 1H Short
+$953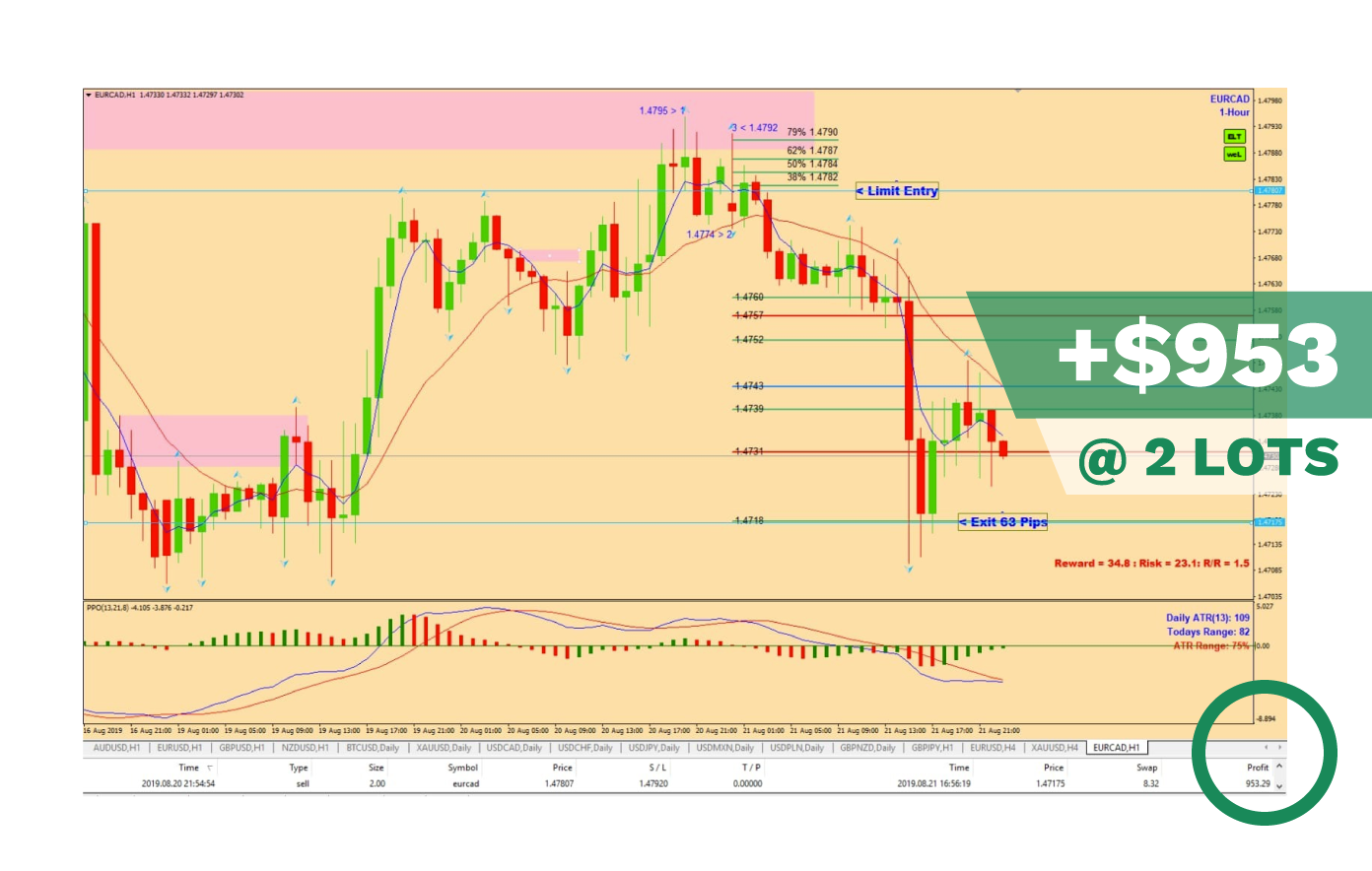 2019-08-16 EURGBP 4H Short
+$6,721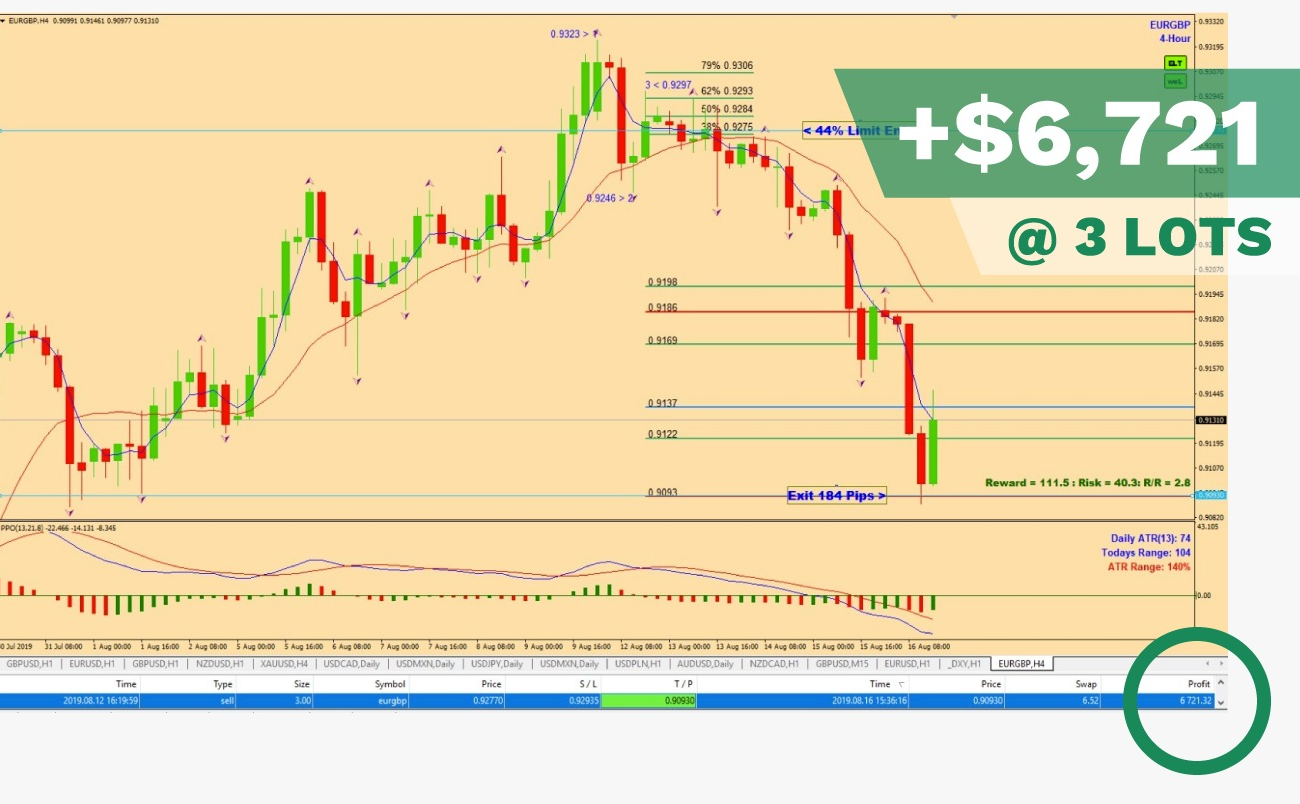 2019-08-12 AUDCHF 1H Short
+$2,133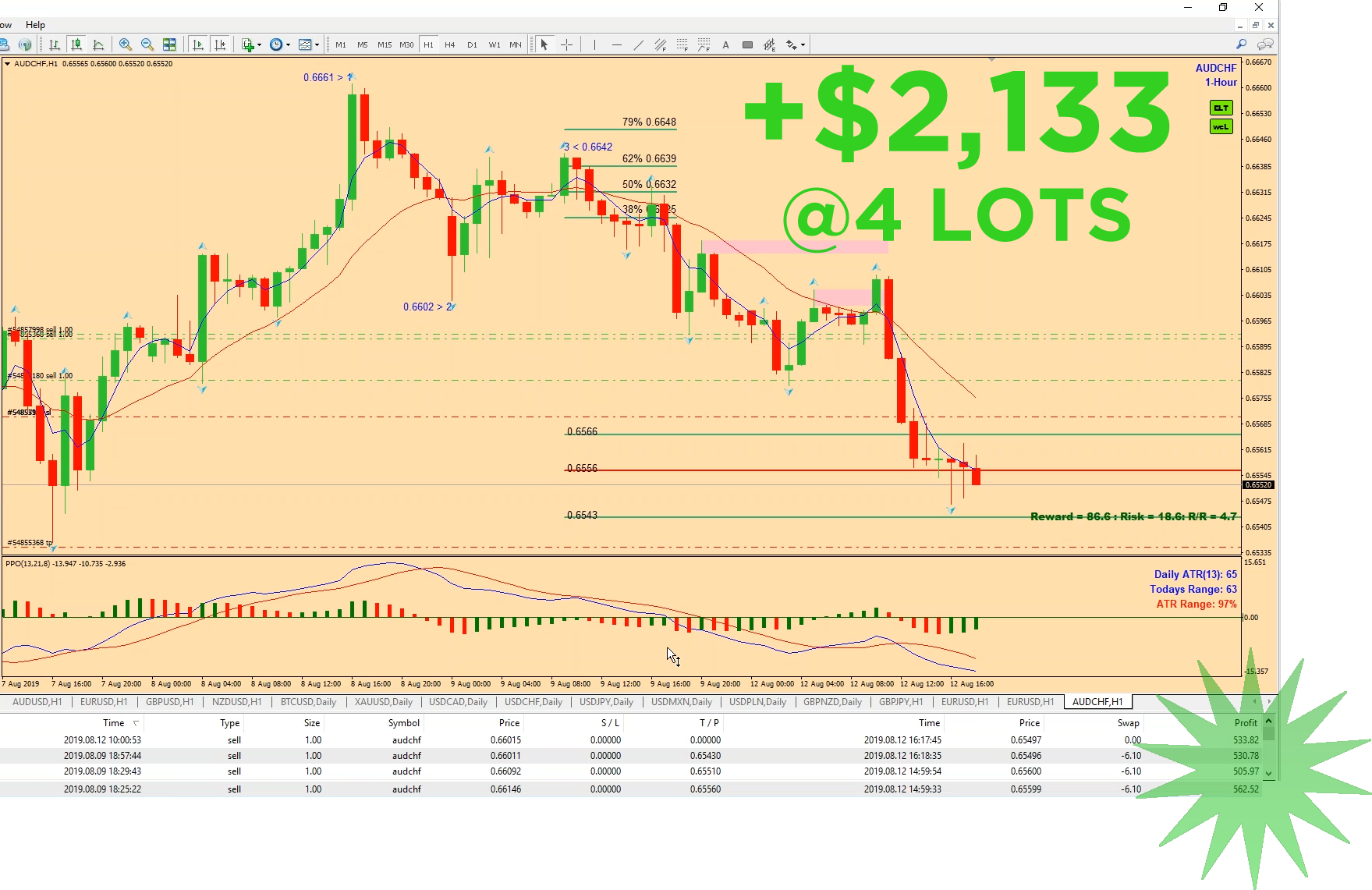 2019-08-08 EURAUD 1H Sell
+$5,195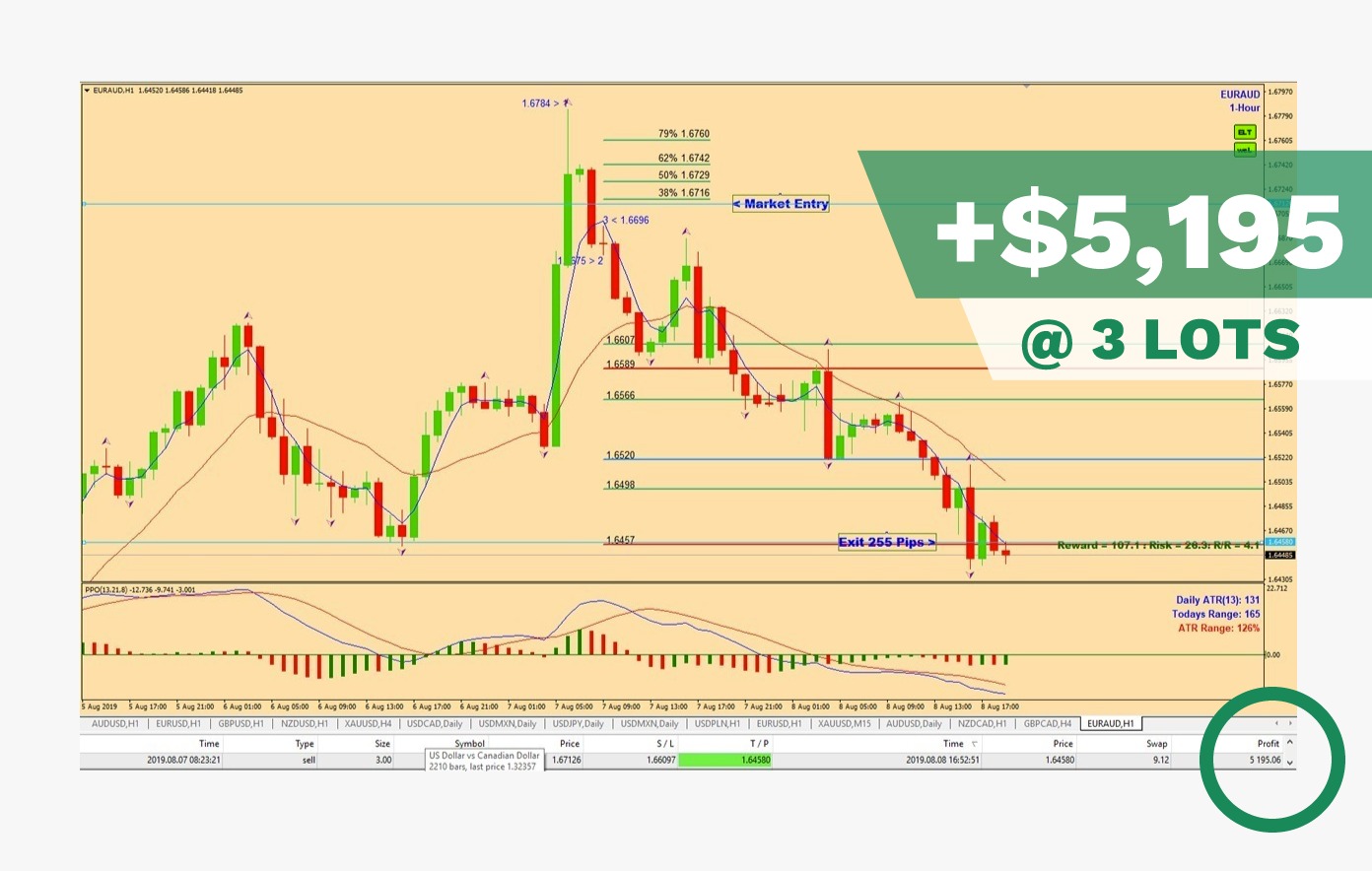 2019-08-07 GBPCAD 1H Short
+$4,293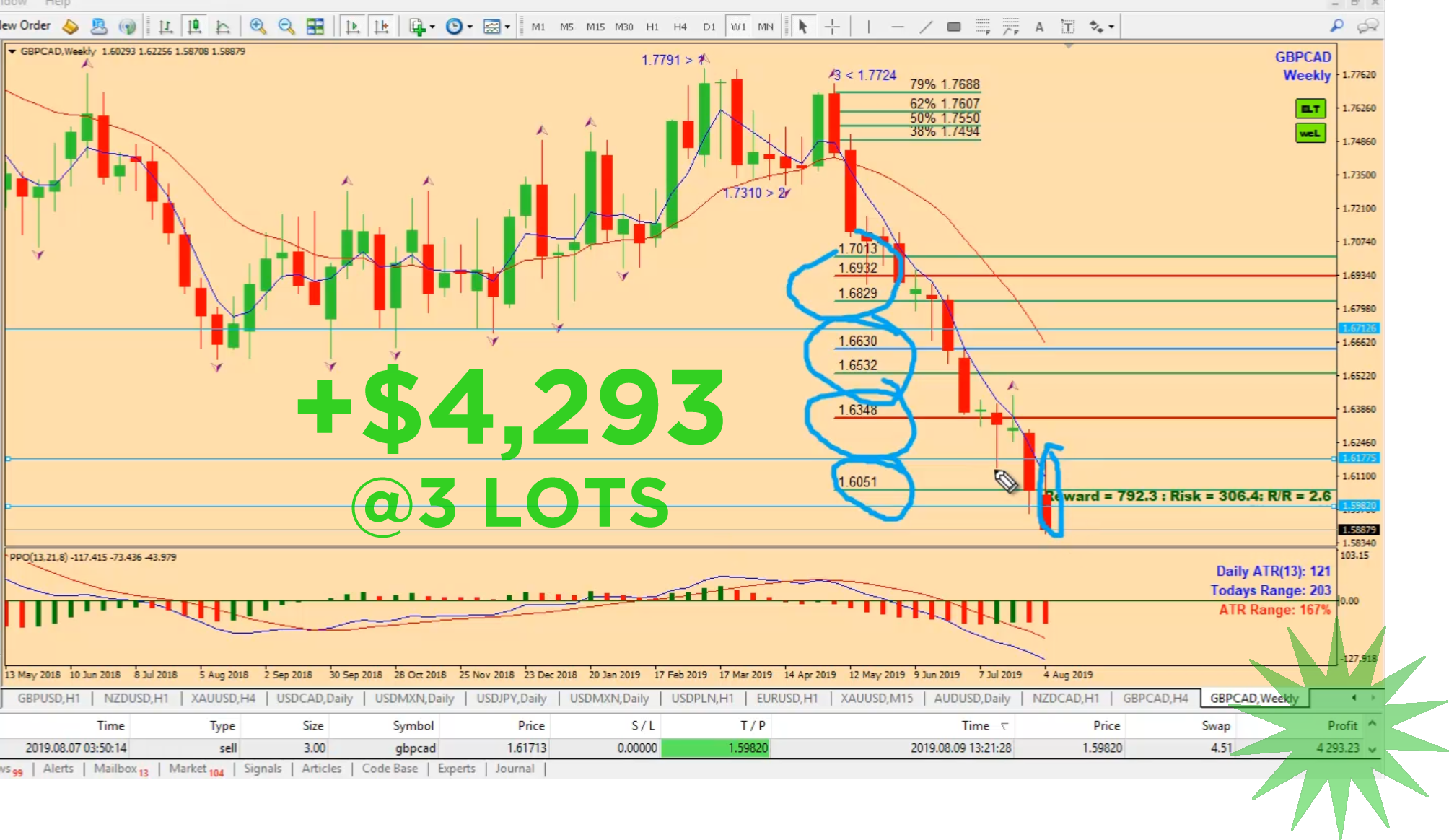 2019-06-25 GBPNZD 1H Short
+$3,430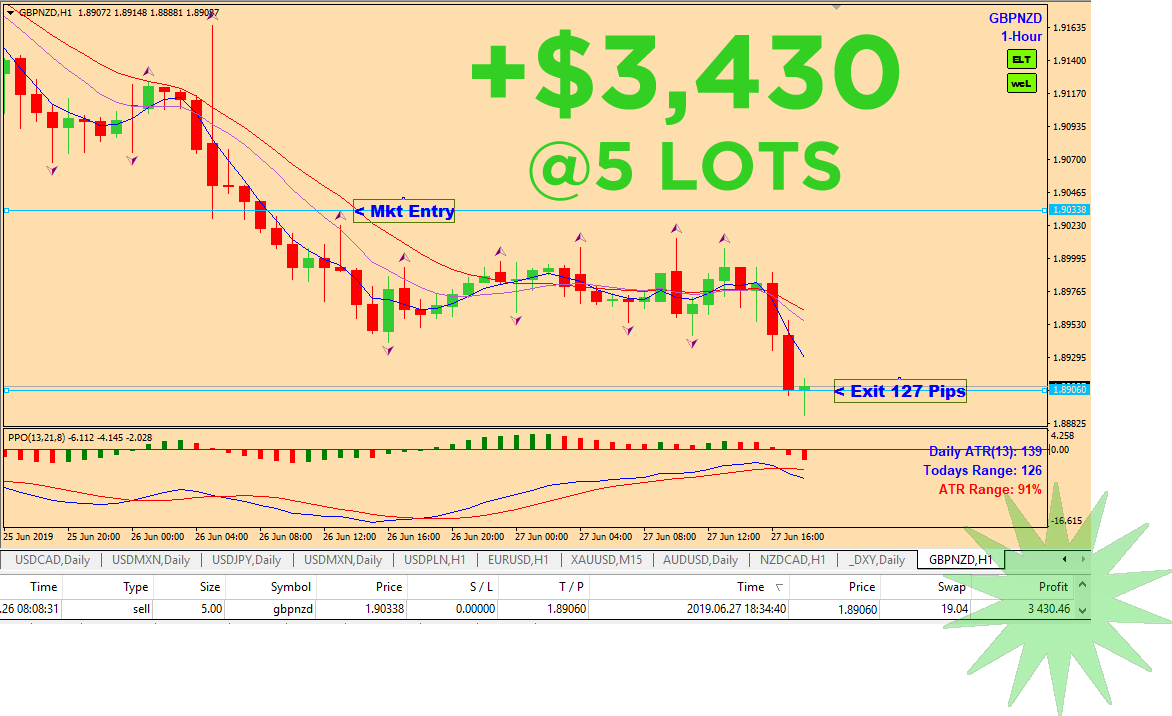 2019-04-02 GBPAUD 1H Long
+$3,861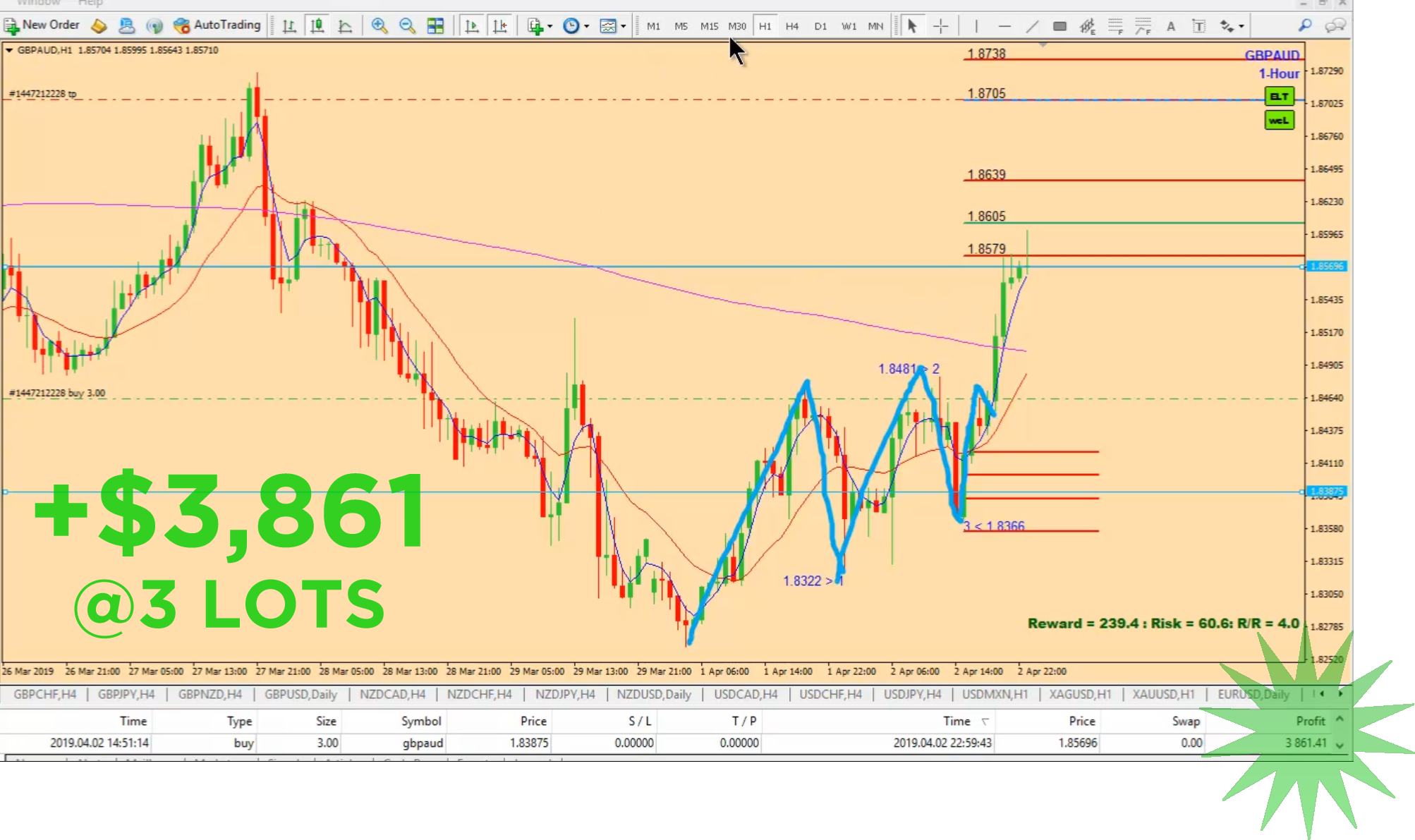 2019-03-21 GBPCHF 4H Sell
+$4,539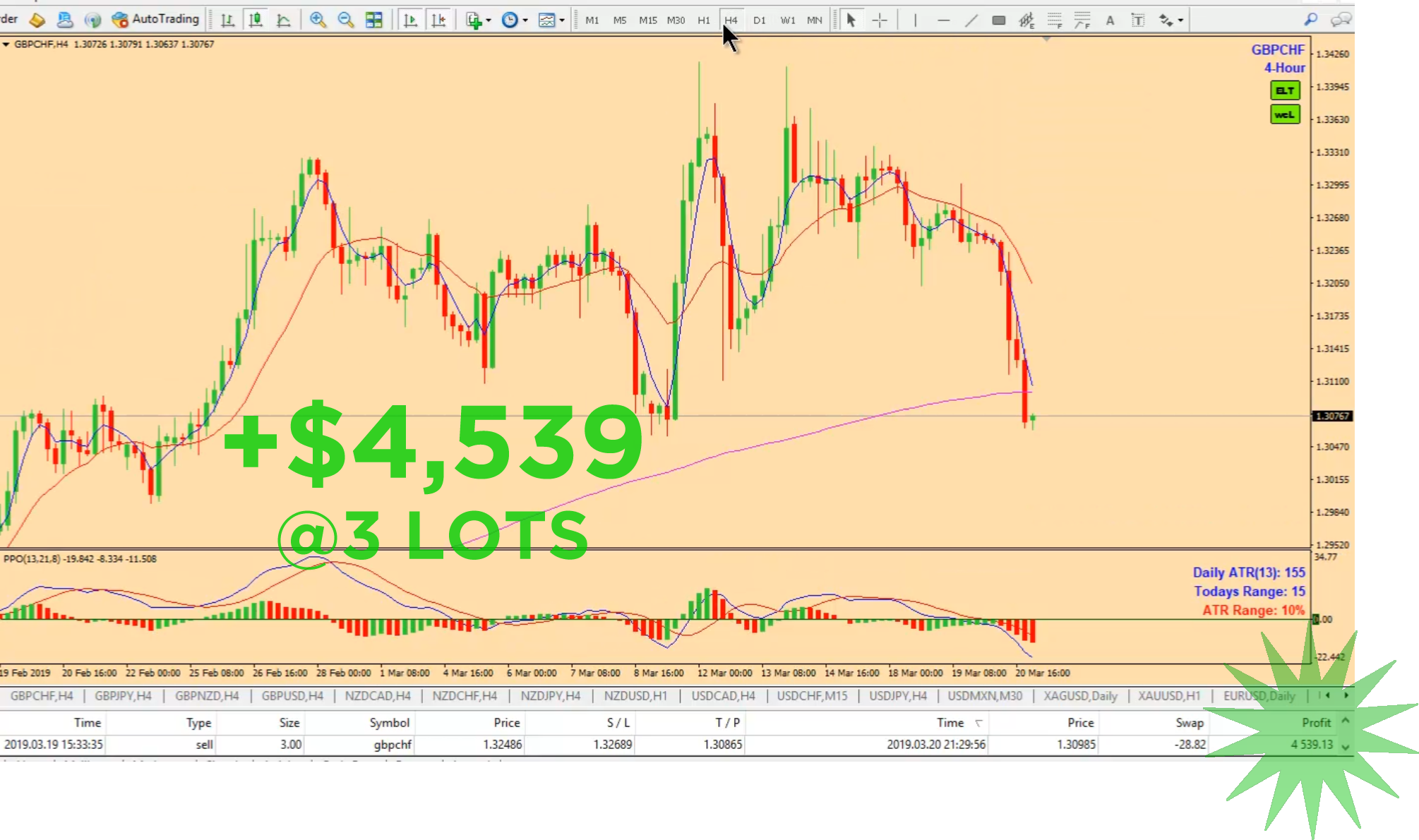 2019-03-21 CADJPY 1H Sell
+$1,996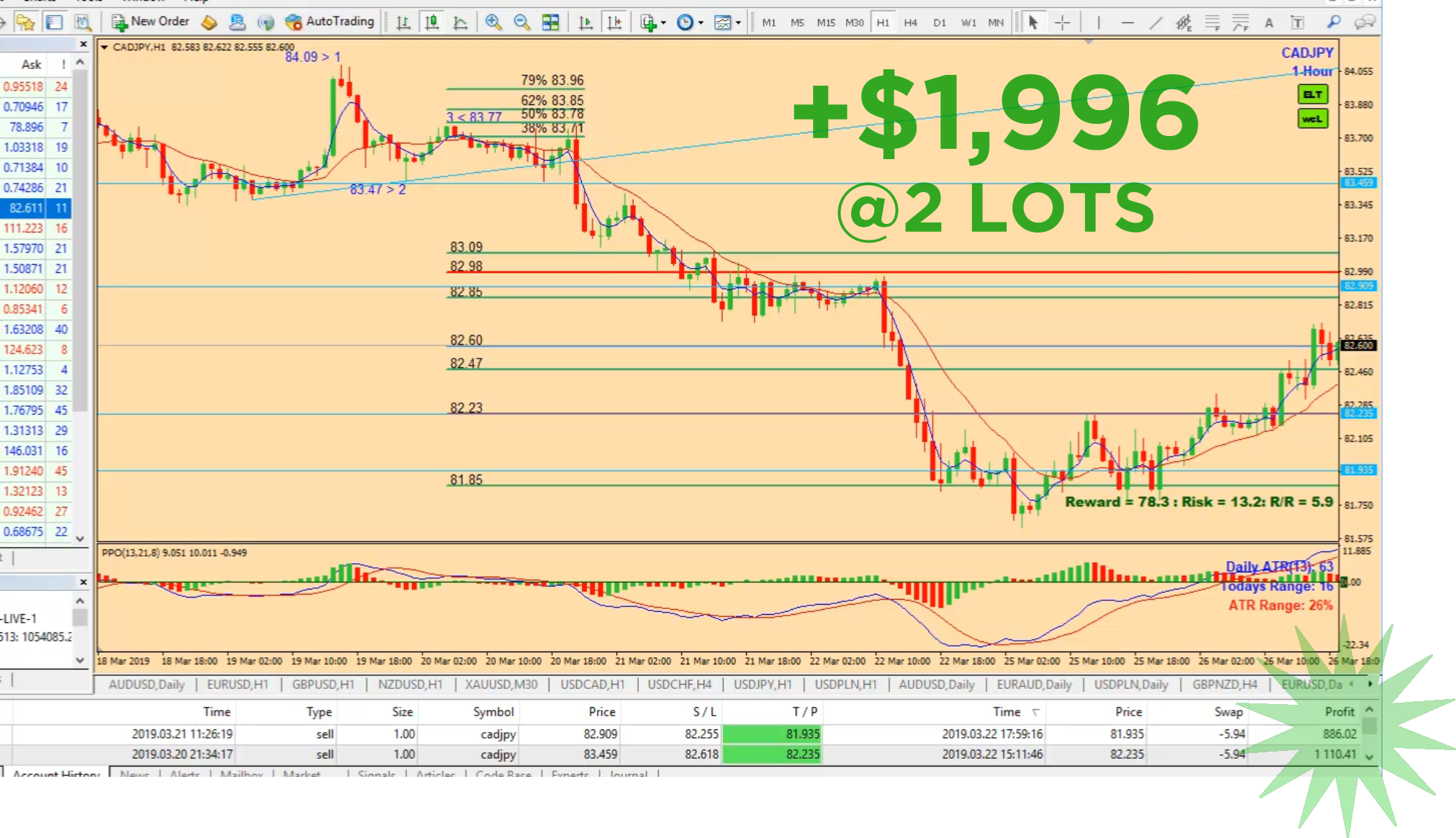 2019-03-20 CADJPY 1H Sell
+$3,099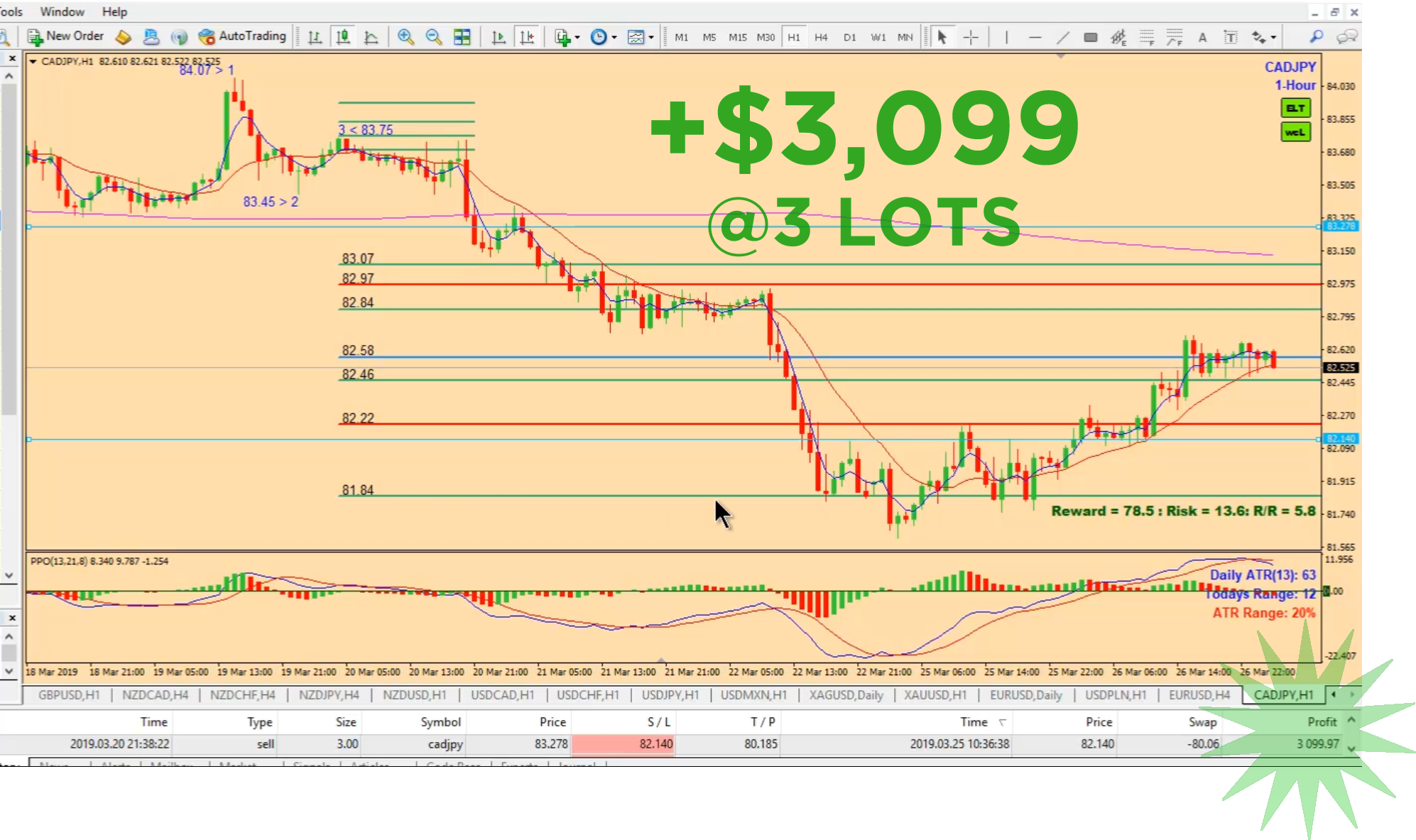 2019-03-12 GBPNZD 1H Sell
+$4,796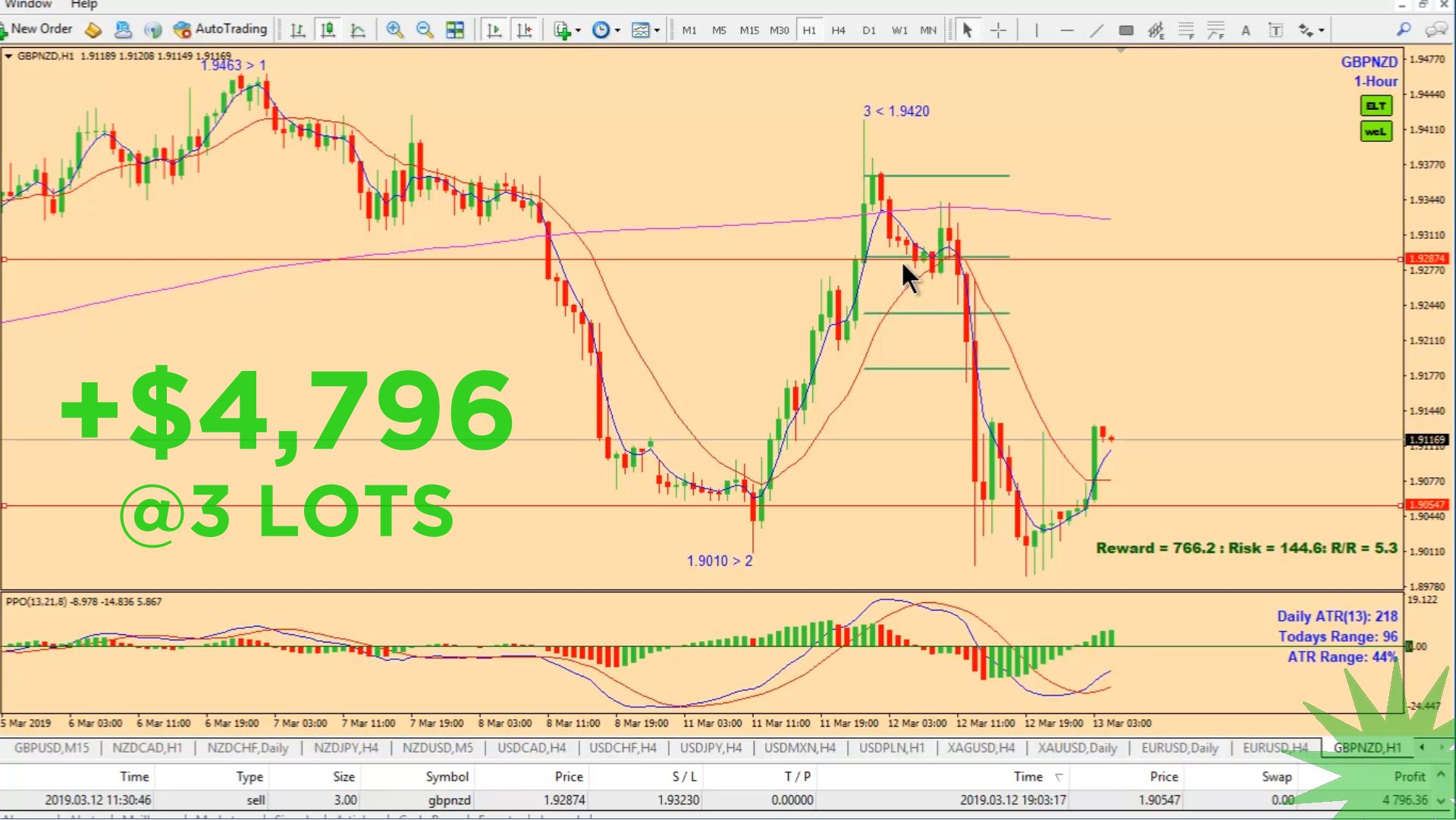 2019-02-21 XAUUSD 1H Sell
+$2,915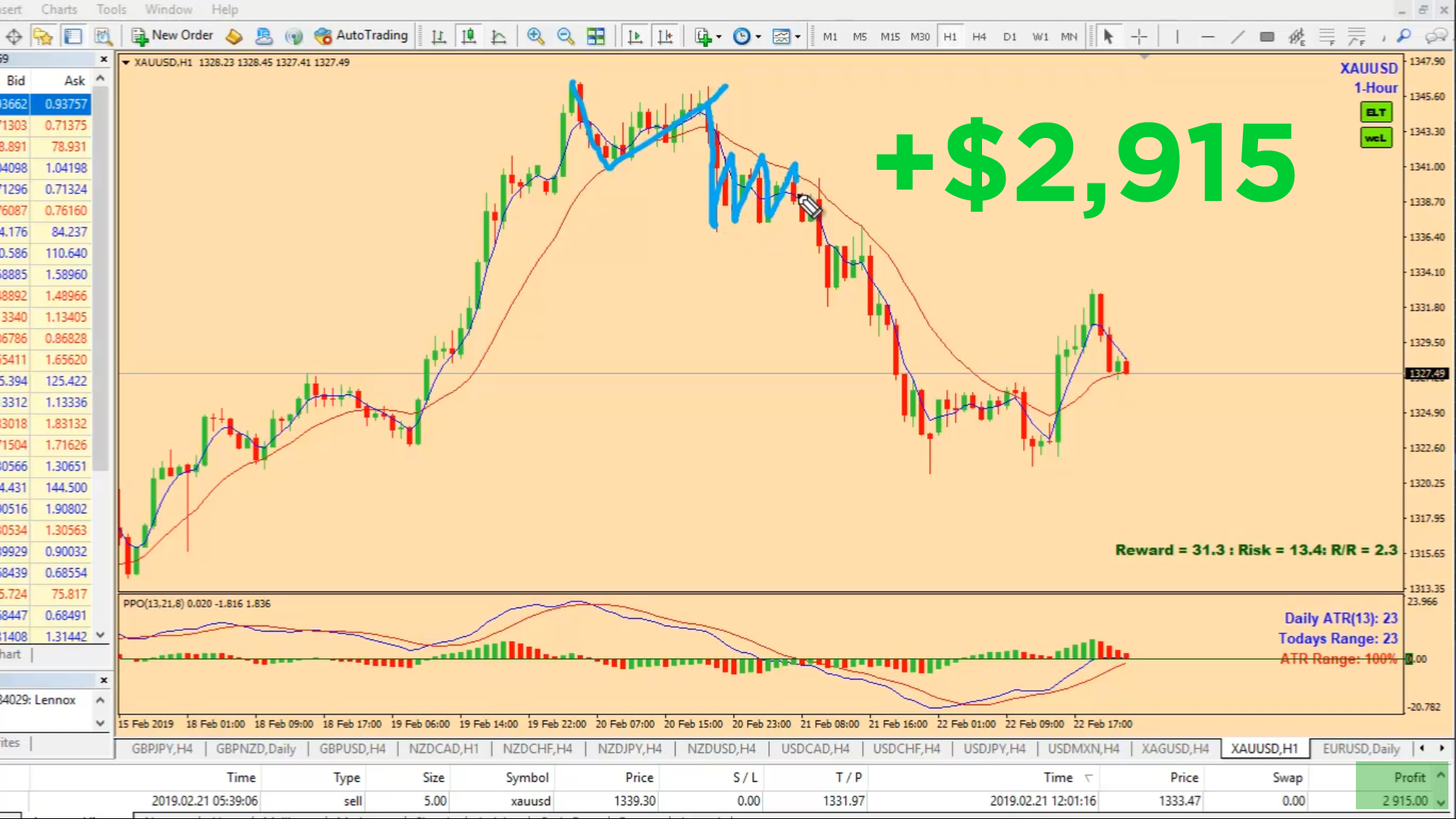 2019-02-13 USDJPY 1H Long
+$1,321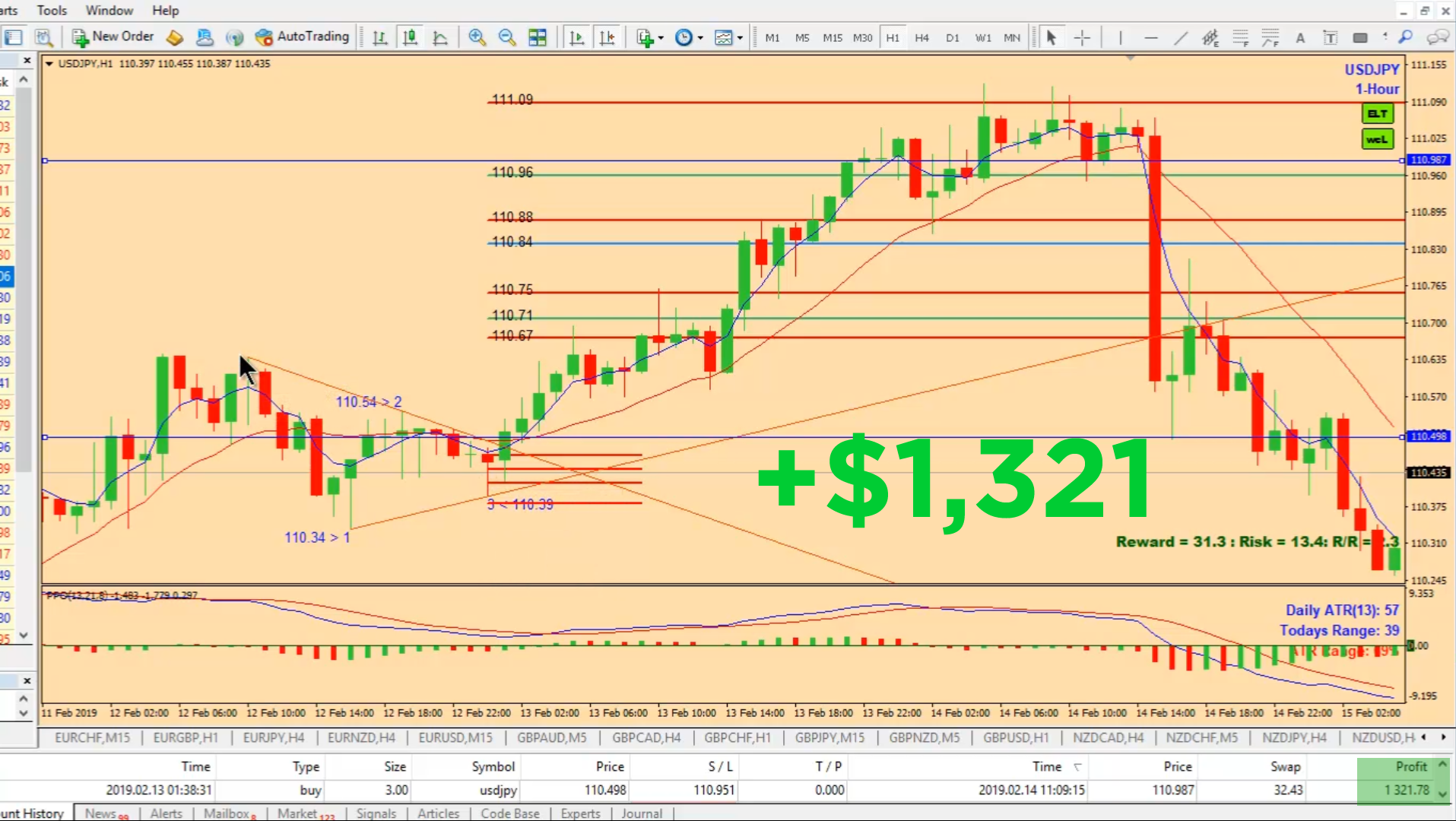 2019-02-07 USDJPY 1H Long
+$1,803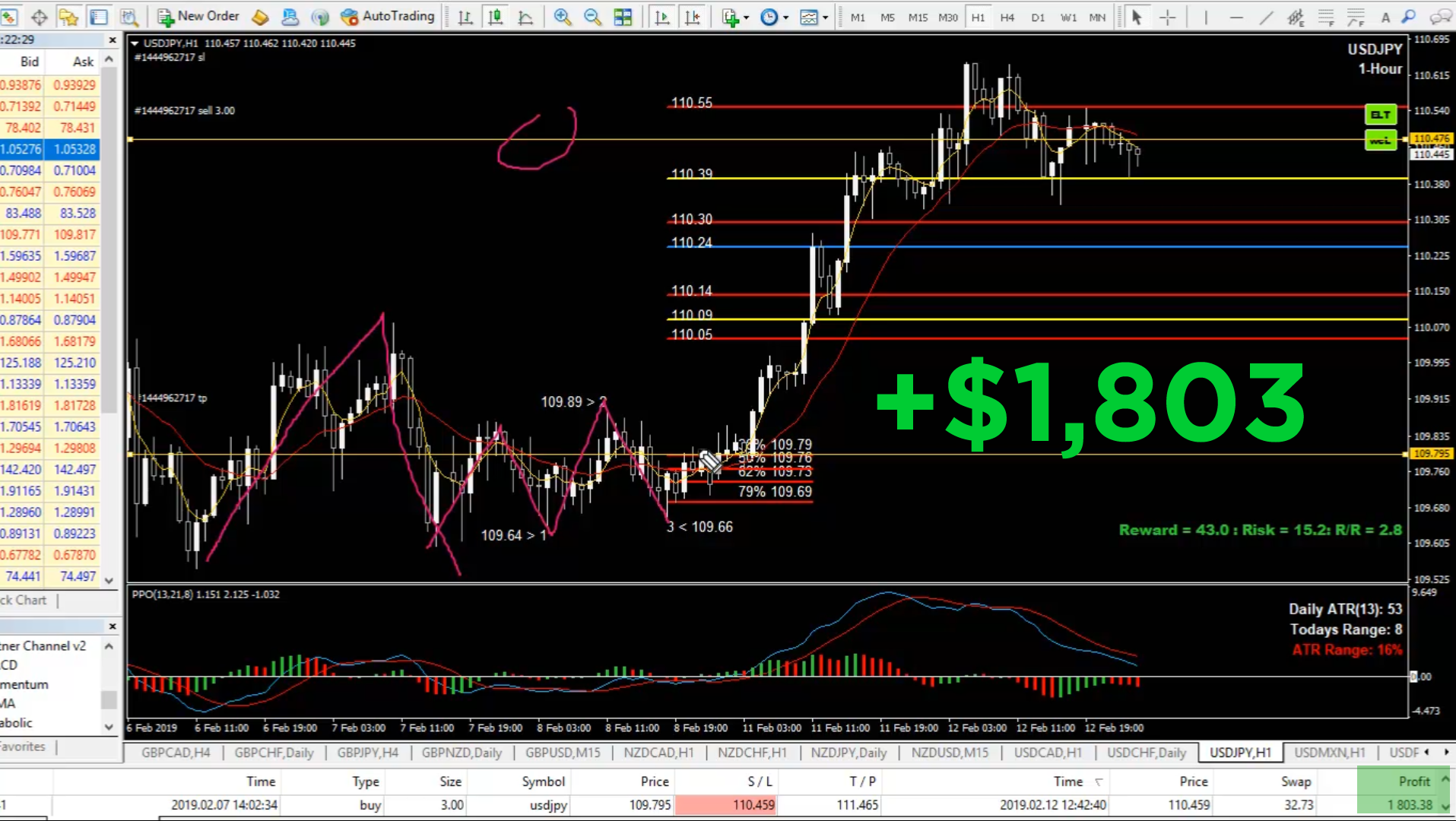 2019-02-05 XAUUSD 1H Short
+$1,020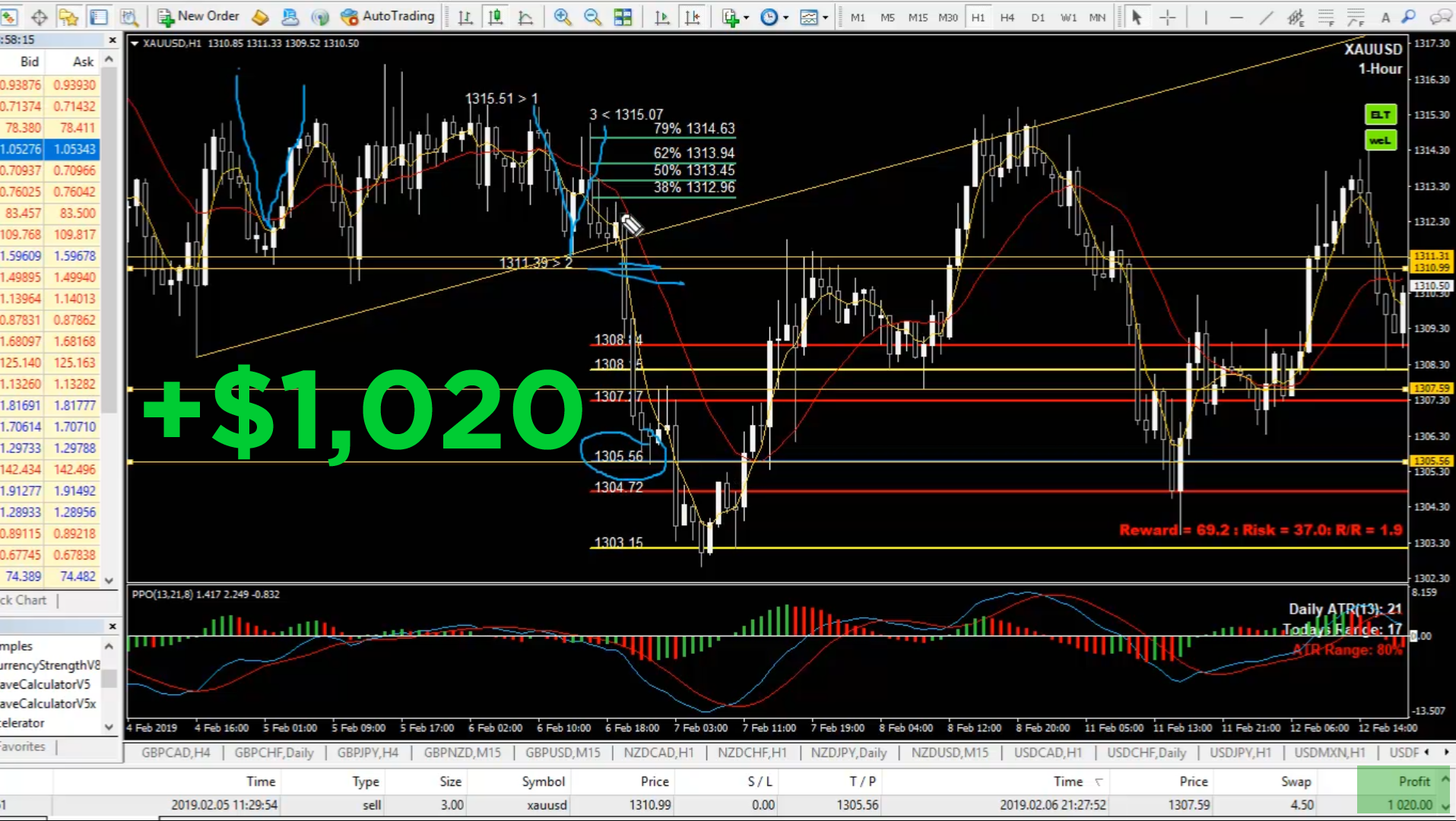 2019-02-01 USDJPY 1H Buy
+$2,973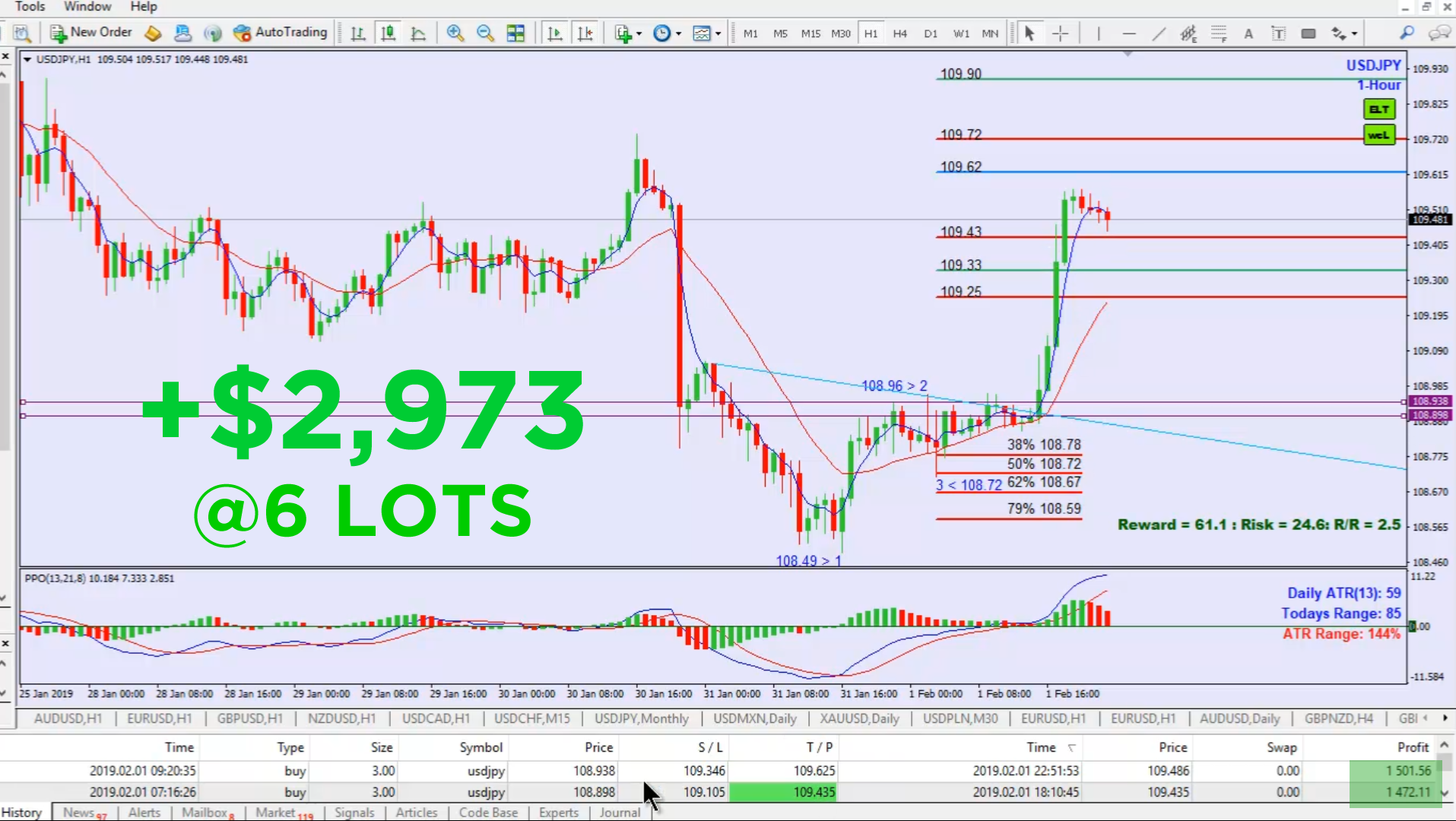 2019-01-29 AUDUSD 1H Long
+$2,142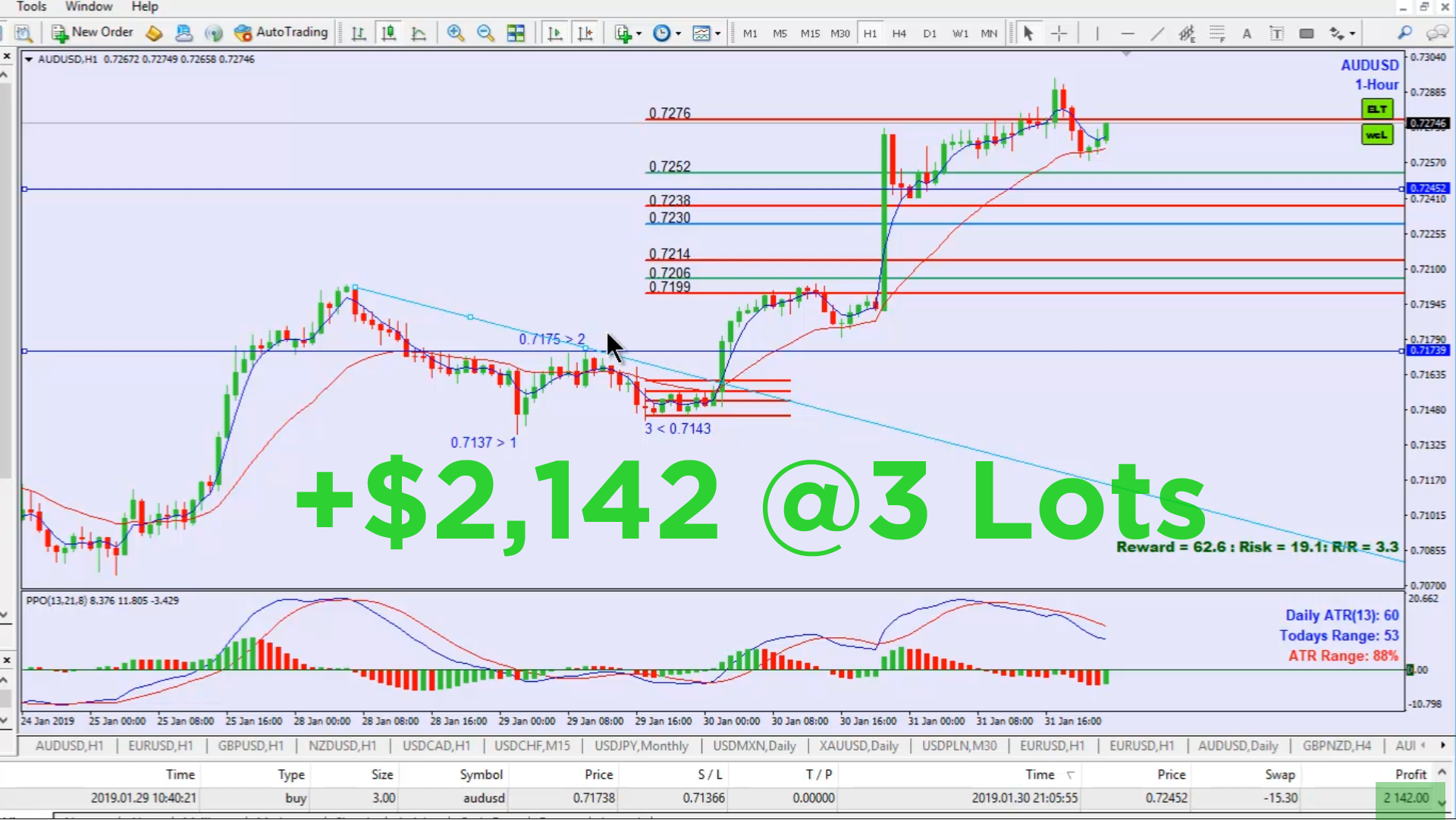 2019-01-17 GBPAUD 1H Long
+$2,365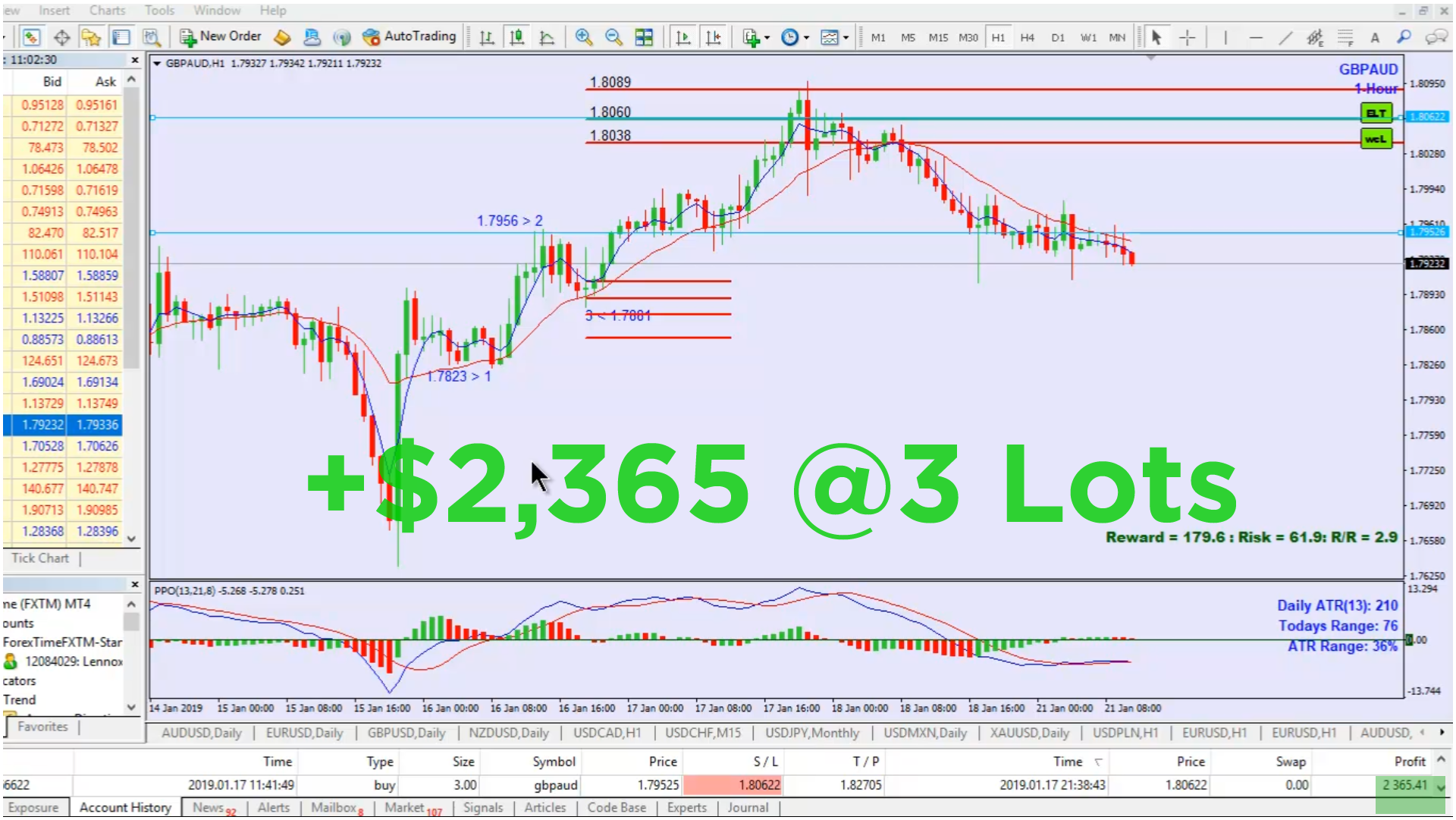 2019-01-17 AUDJPY 1H Long
+$2,211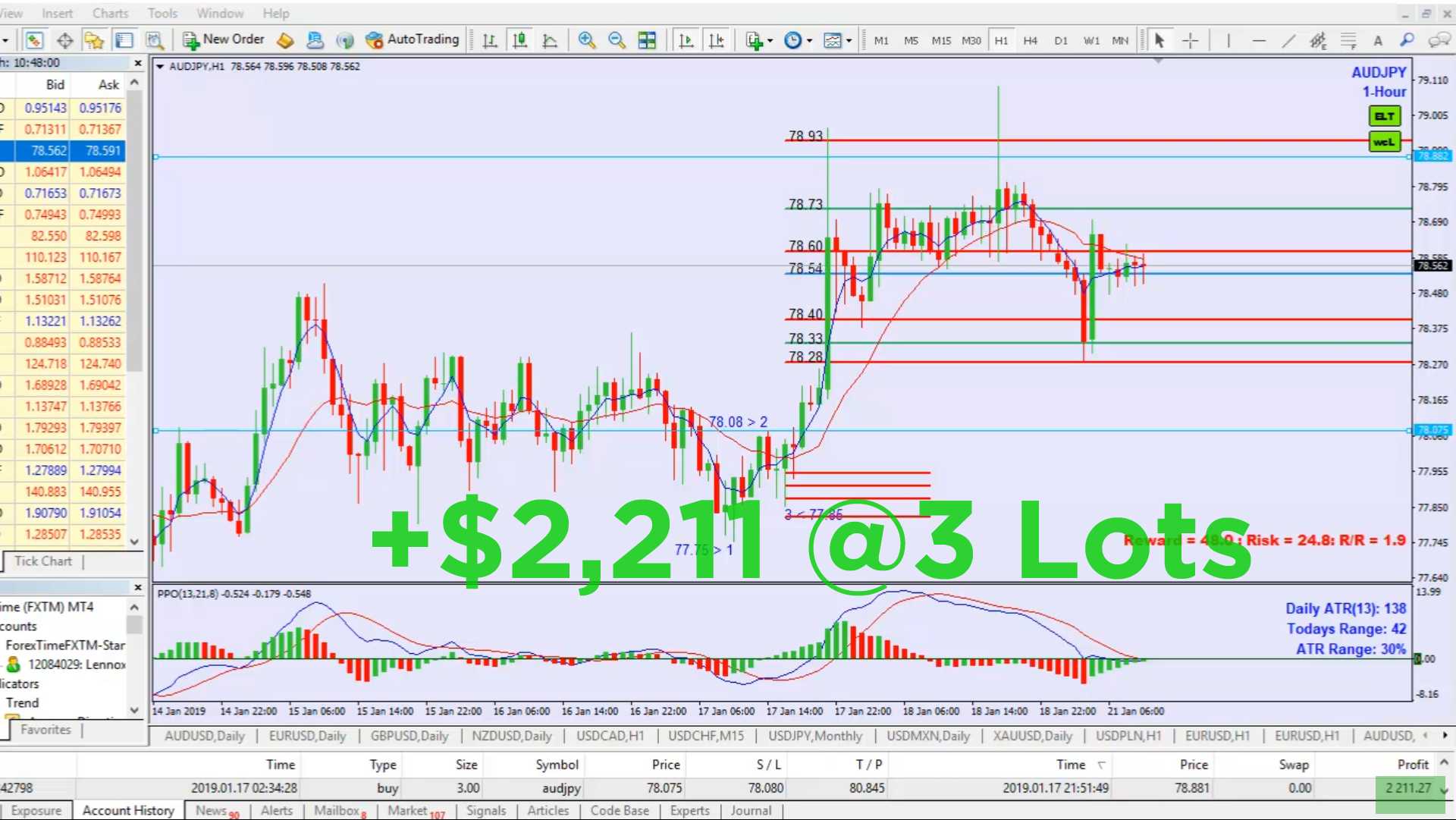 2019-01-11 NZDUSD 1H Long
+$1,116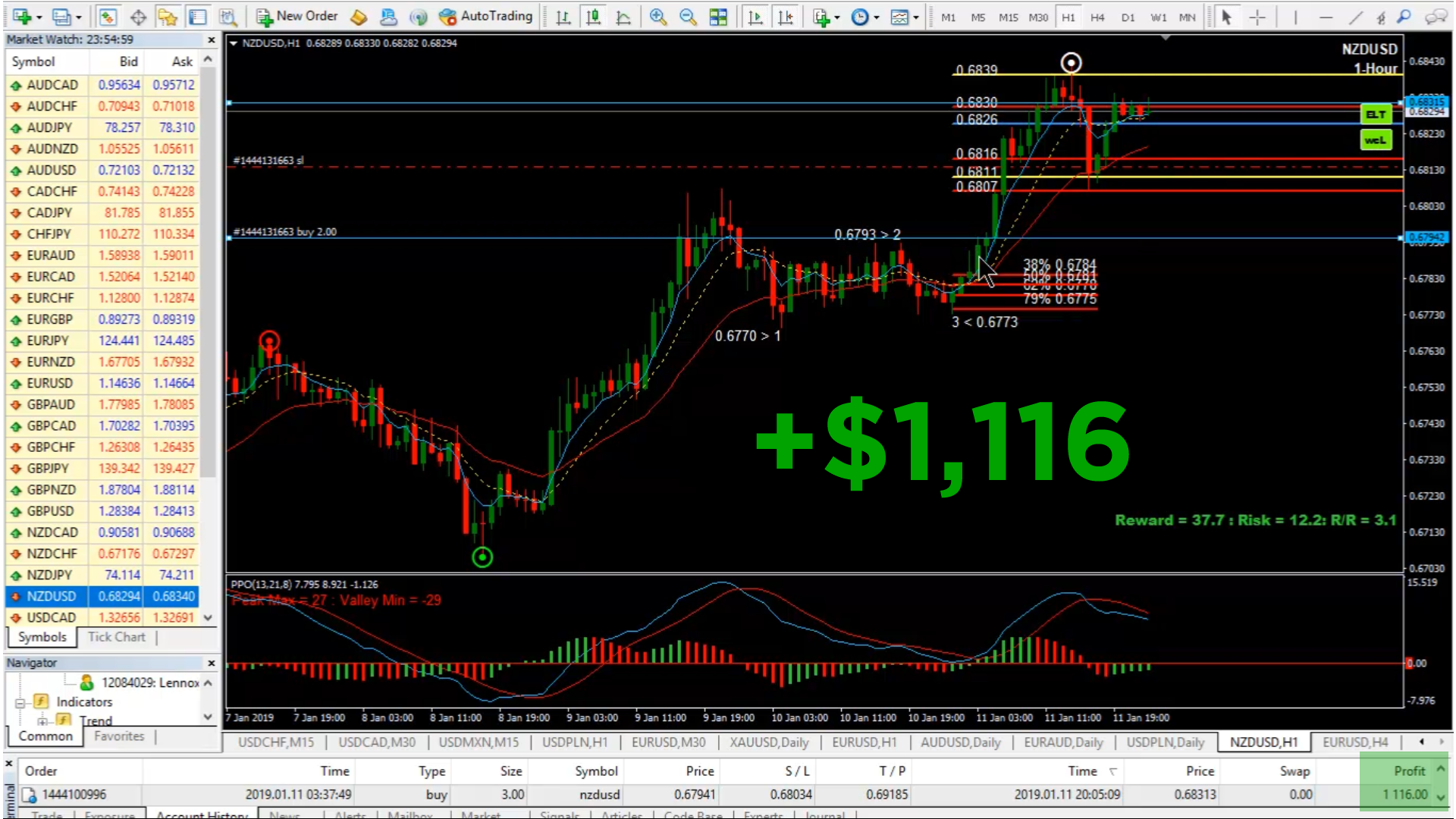 2019-01-11 GBPNZD 1H Sell
+$745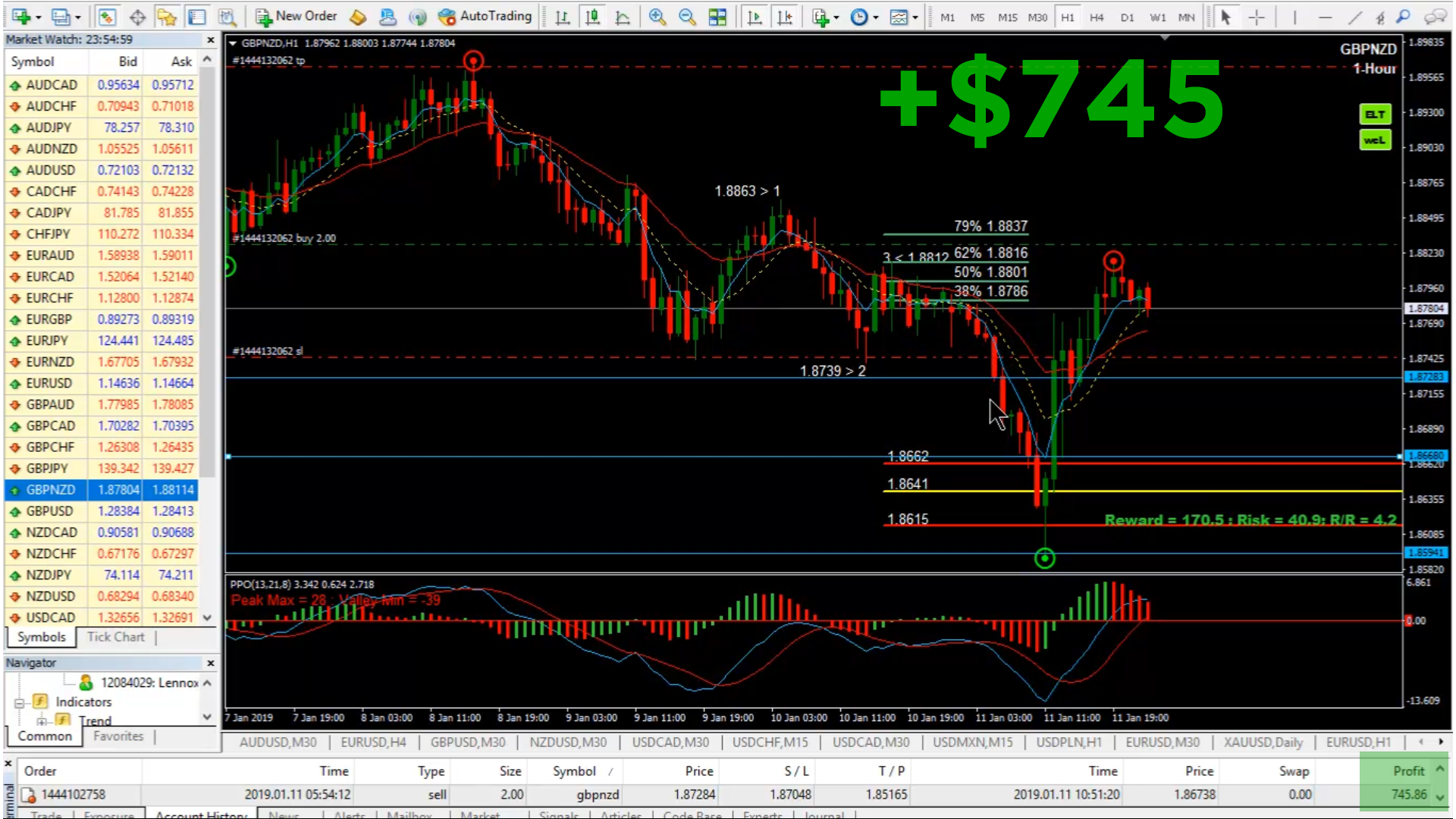 2019-01-09 NZDJPY 1H Sell
+$1,076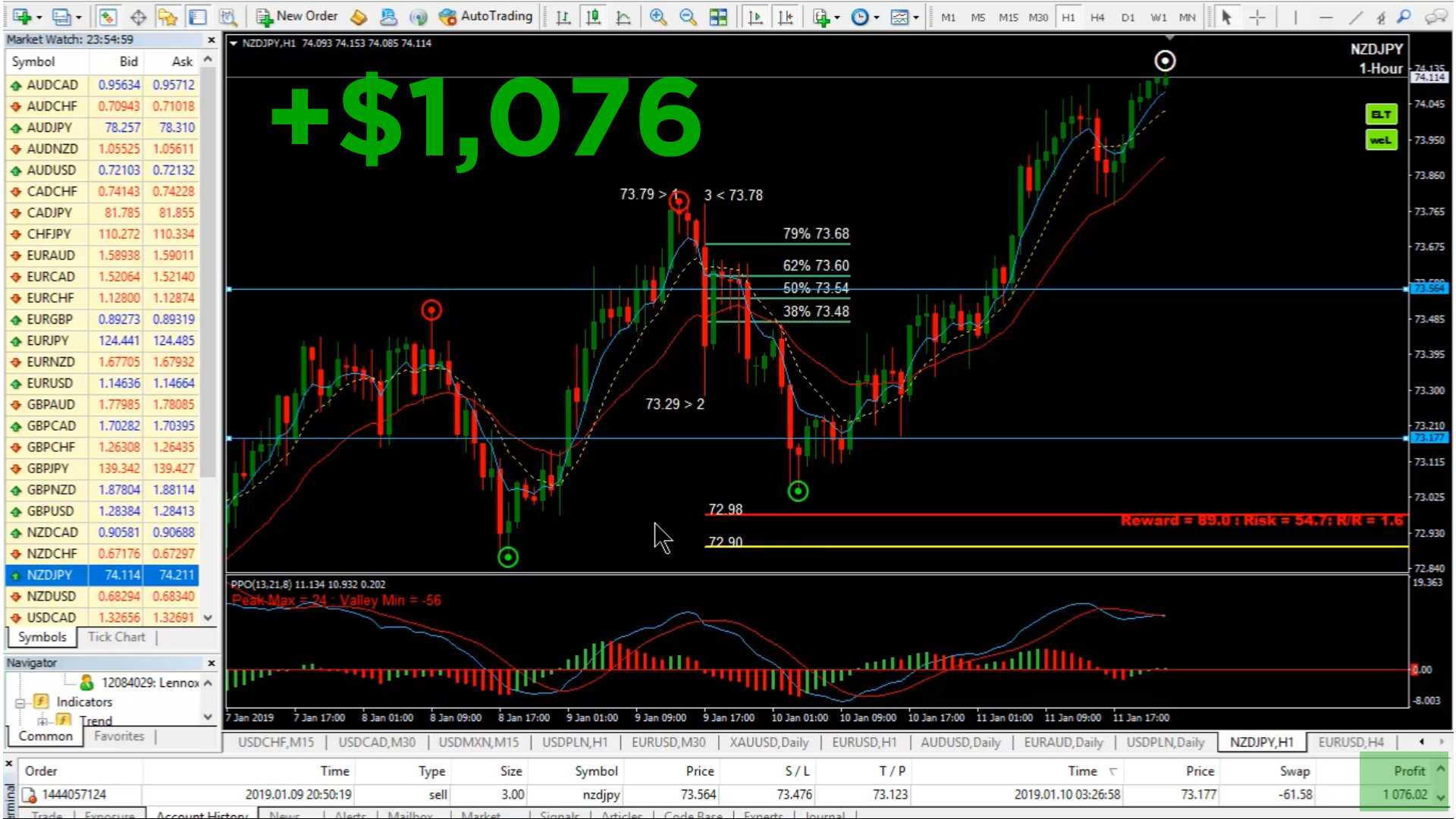 2019-01-09 AUDUSD 1H Long
+$1,470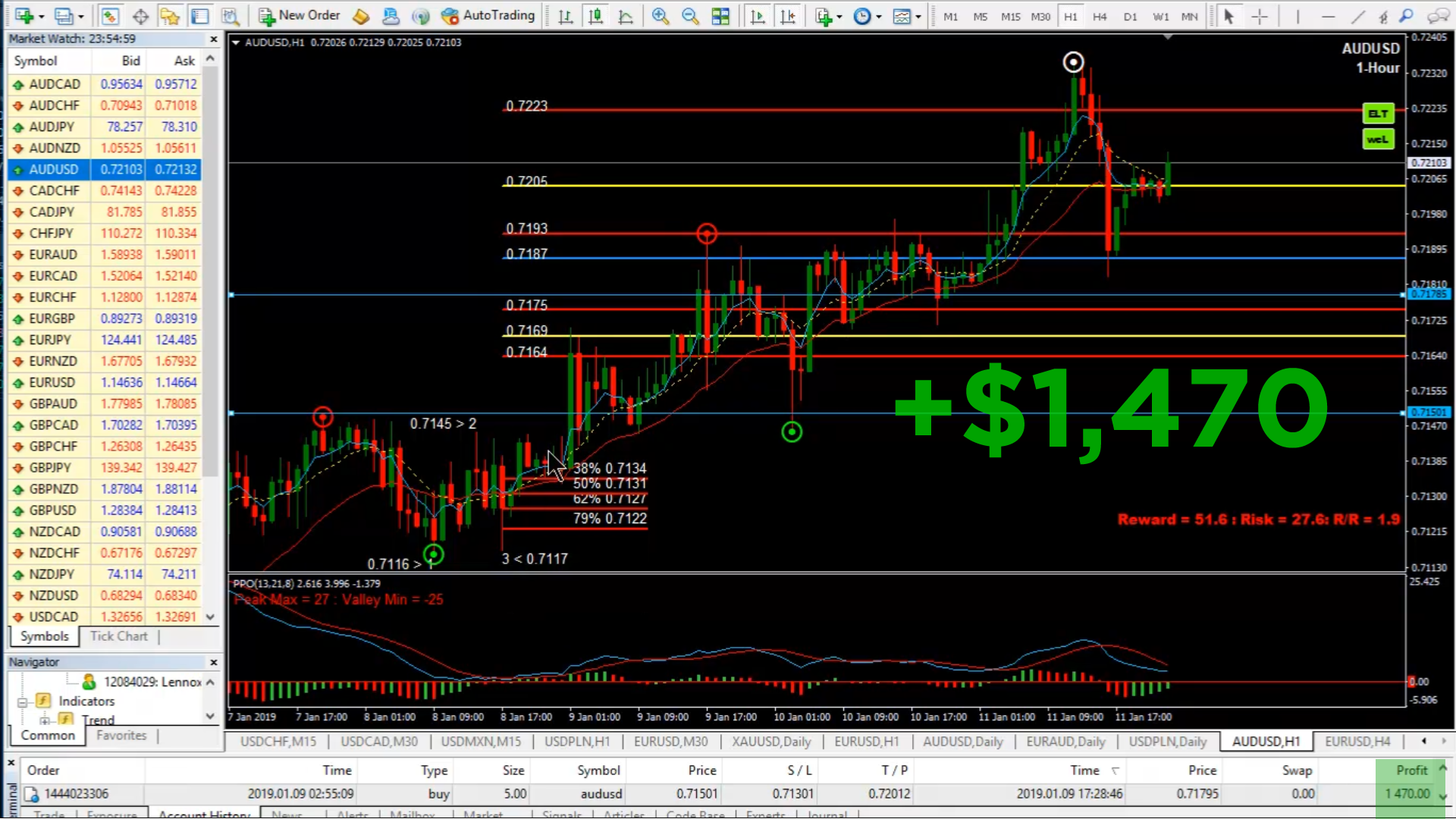 2019-01-07 AUDUSD 1H Long
+$952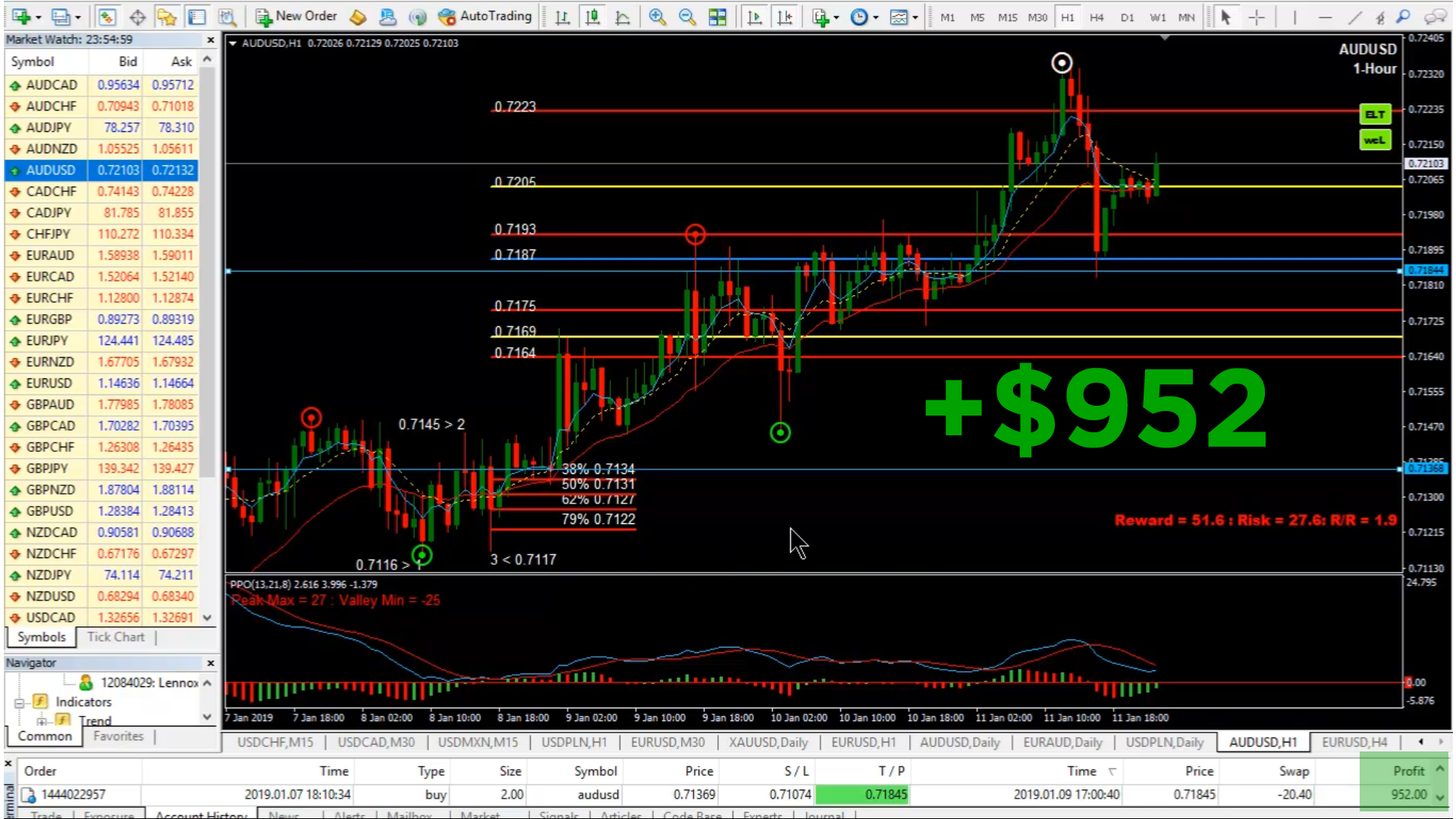 2019-01-04 EURNZD 1H Sell
-$1,105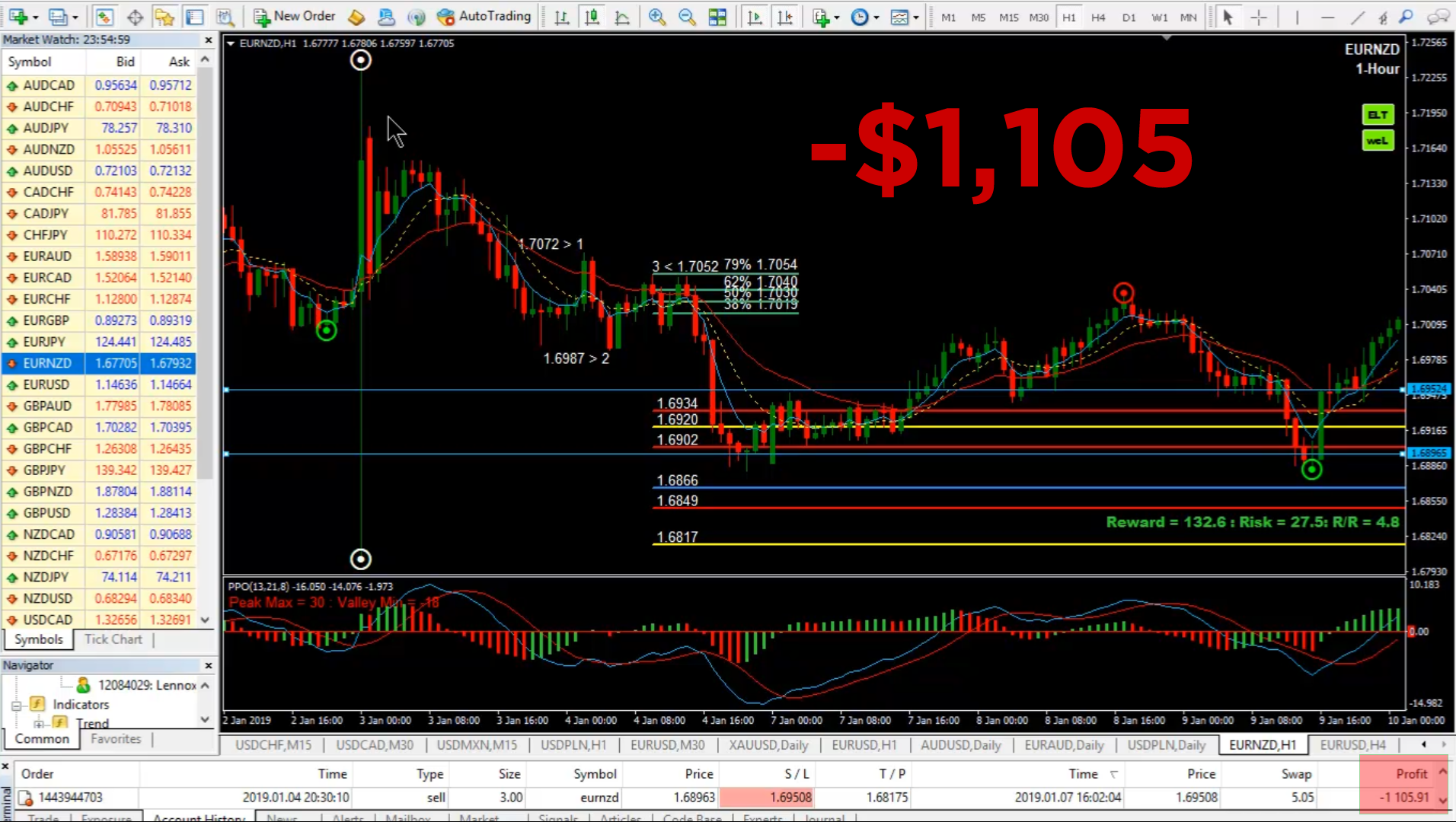 2019-01-03 CADJPY 1H Long
+$1,514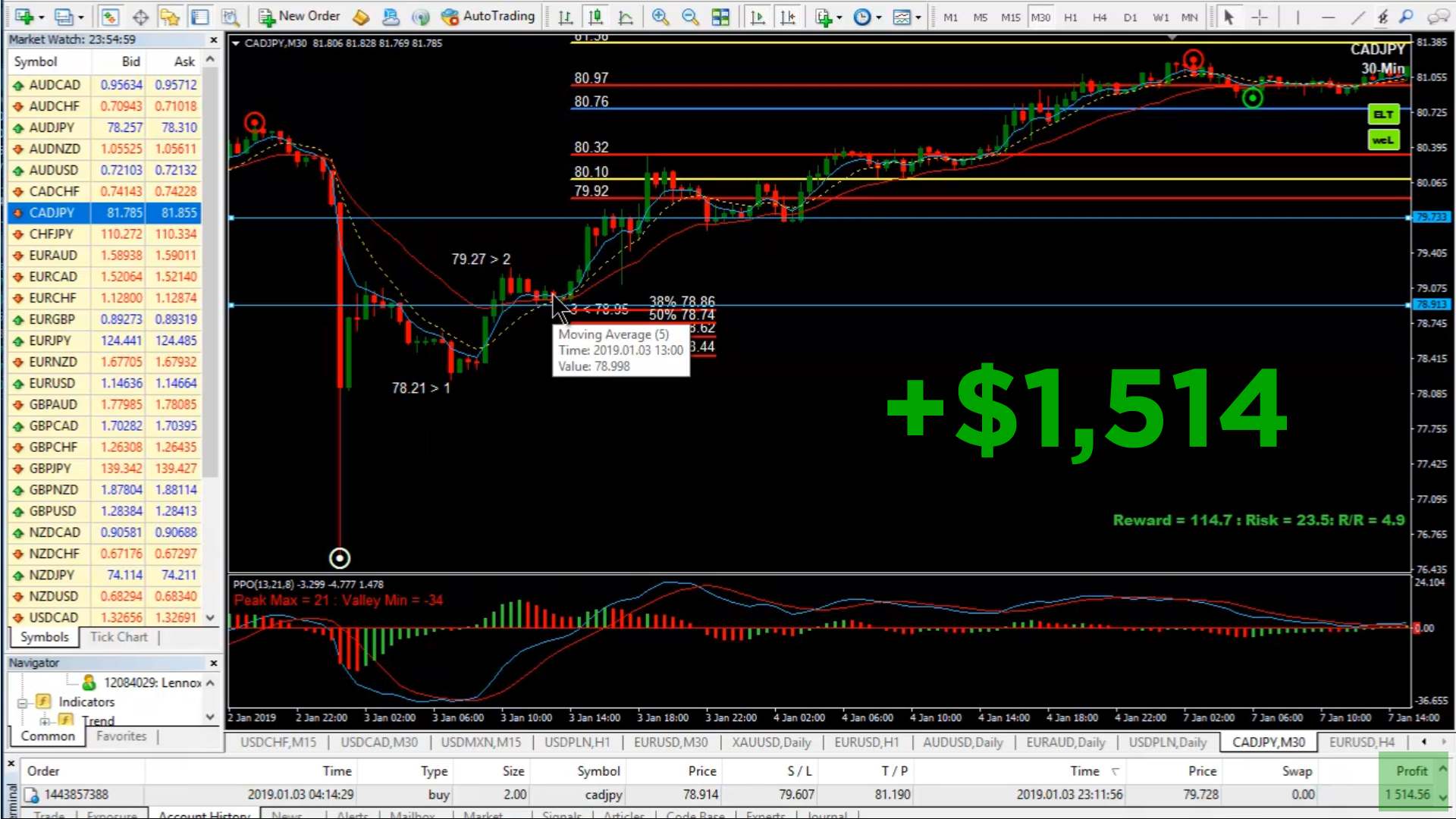 2019-01-02 GBPUSD 1H SELL
+$3,138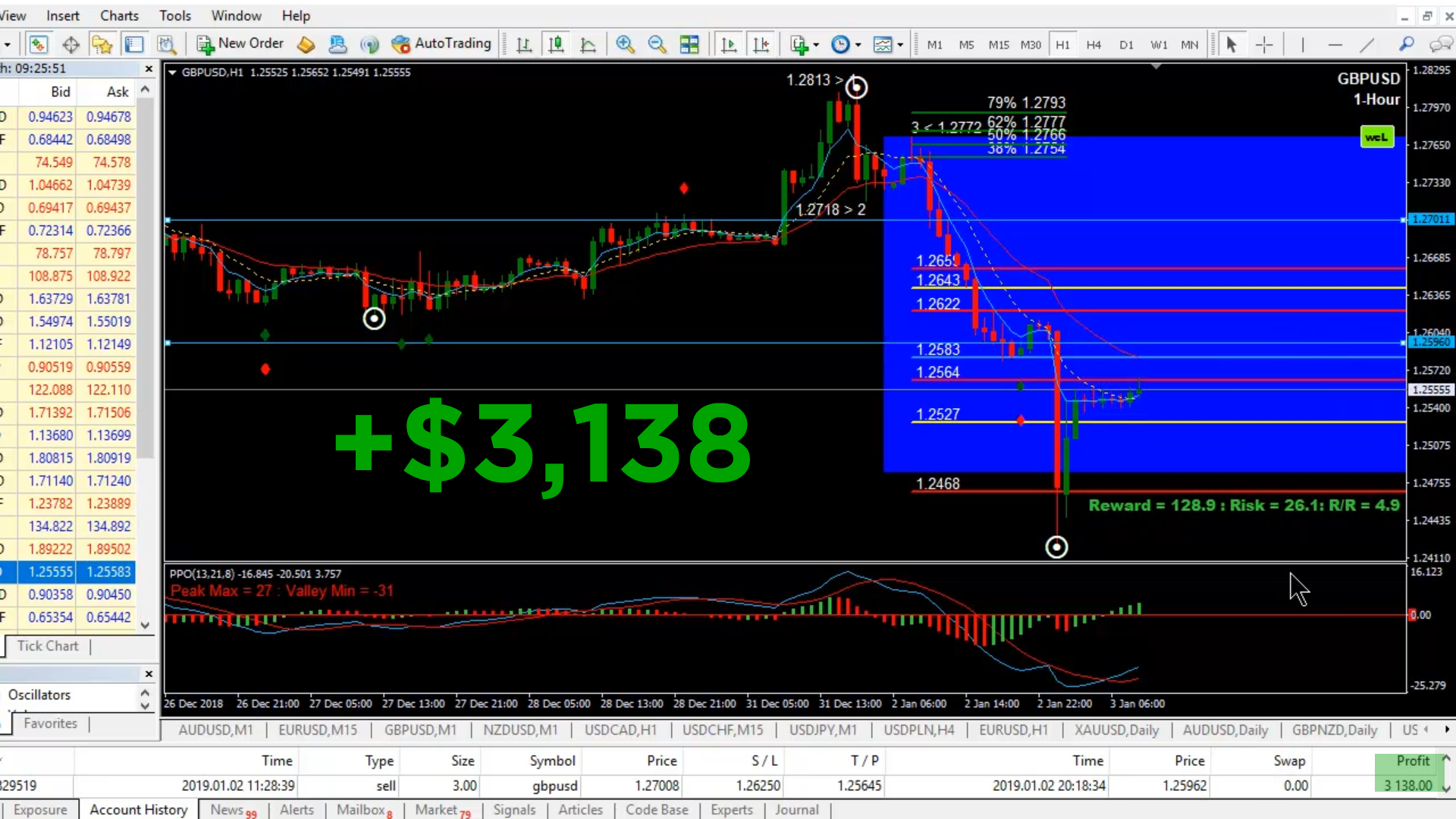 2018-12-07 CADJPY 1H Long Picture Perfect 123 Bottom
+$2,617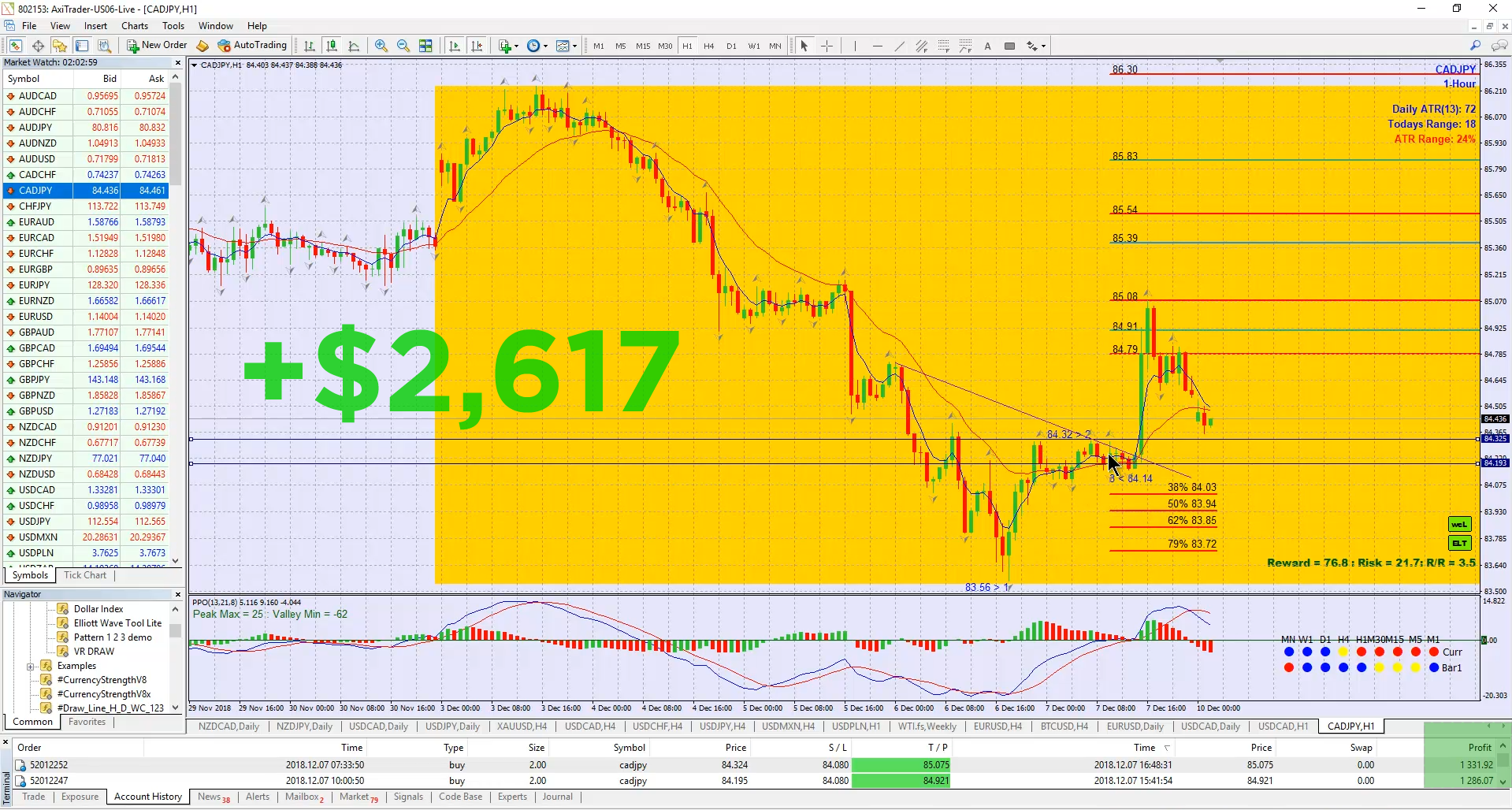 2018-12-05 AUDCHF 1H SELL
+$2,206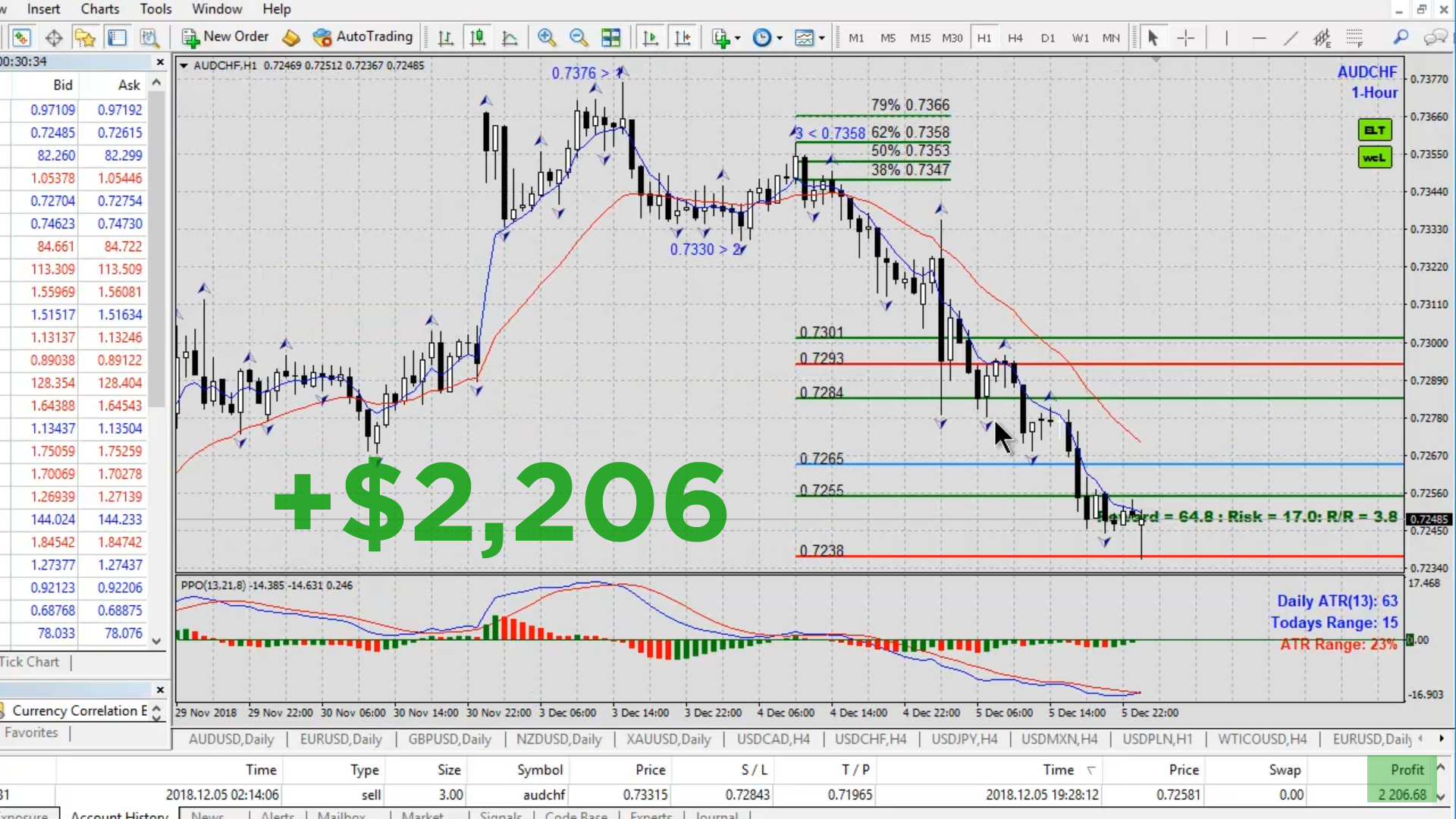 2018-11-28-EURAUD H1 SELL
+$2,518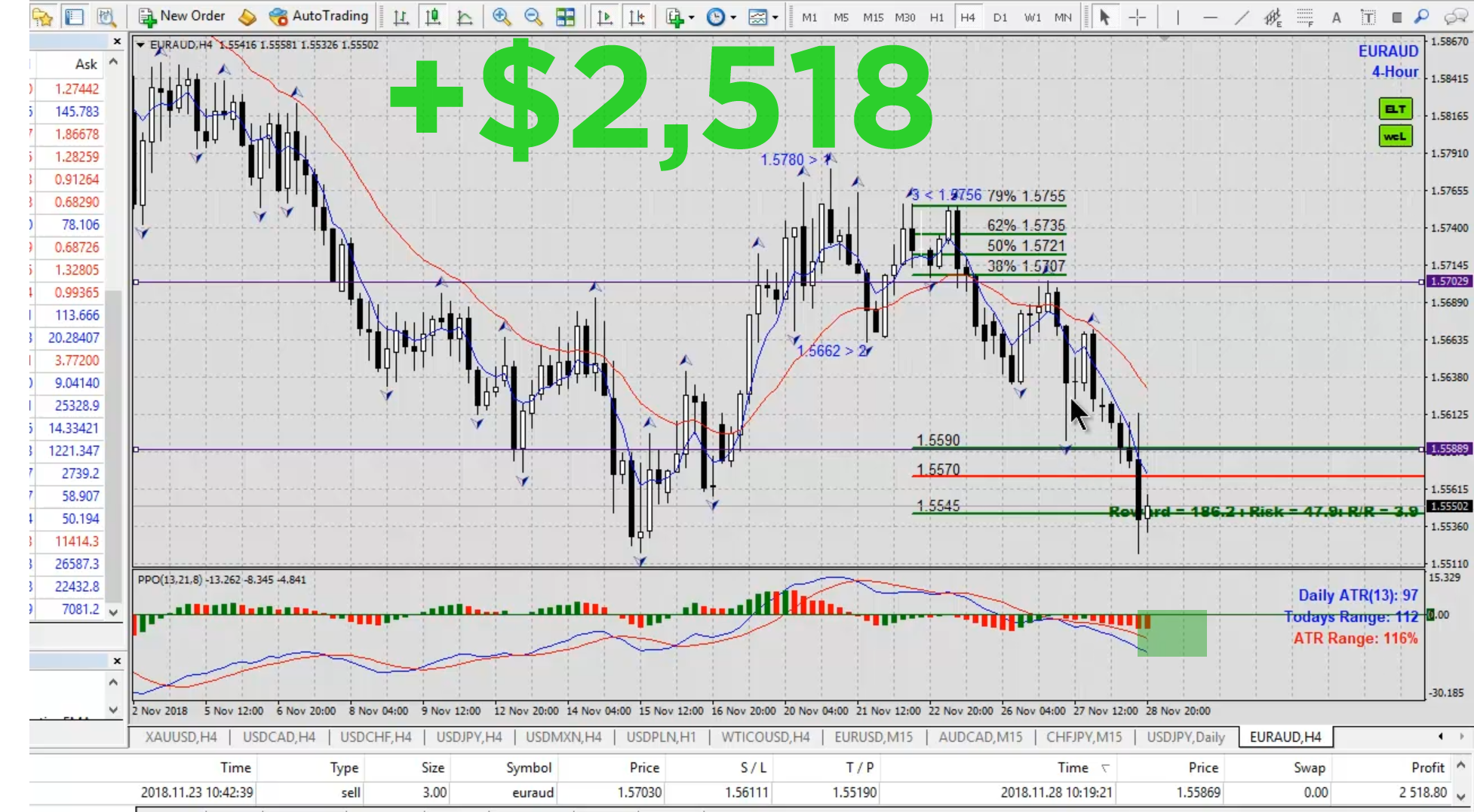 2018-11-28-AUDCAD H1 LONG
+$1,927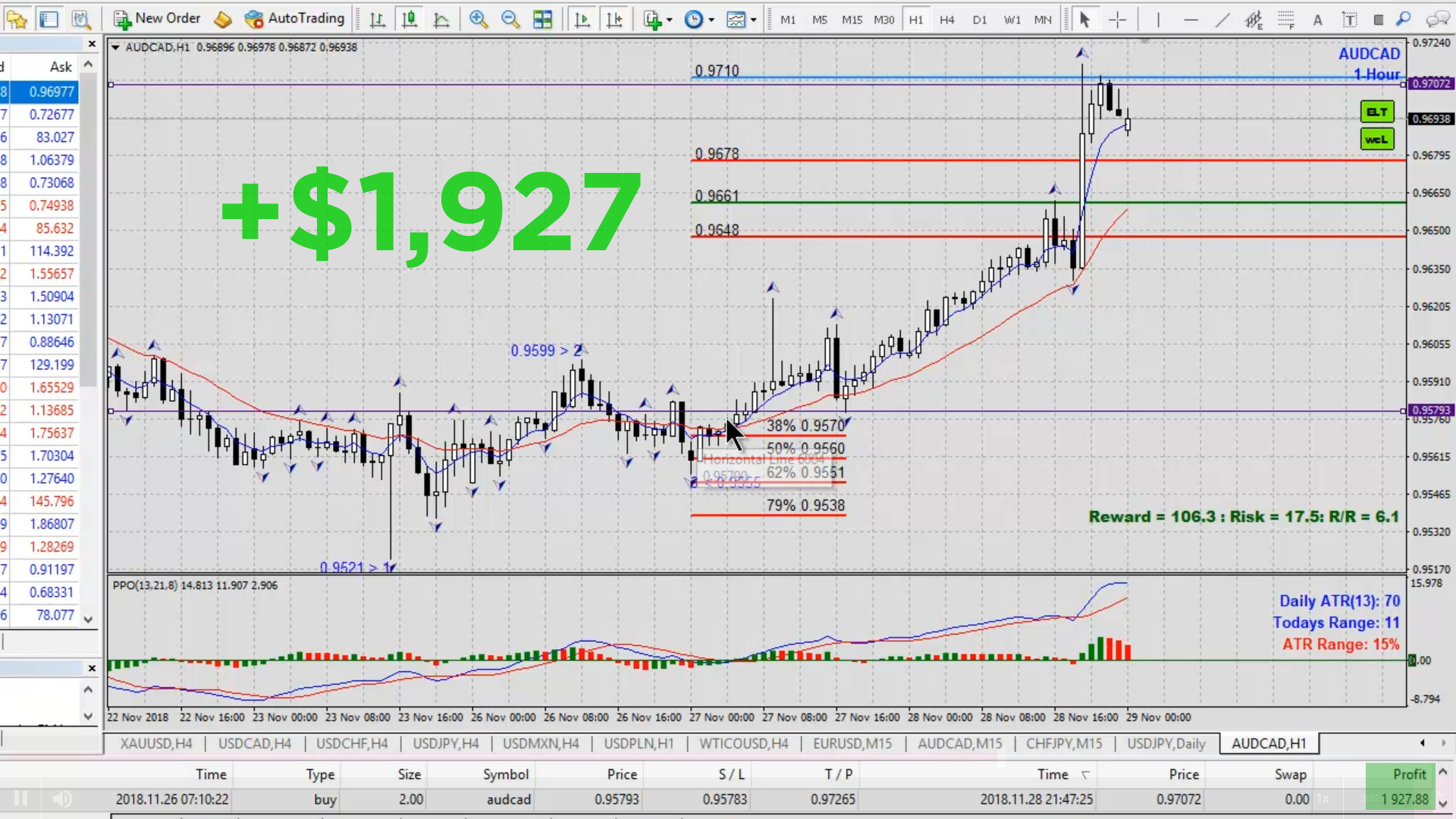 2018-11-18-GBPNZD H1 SELL
+$3,060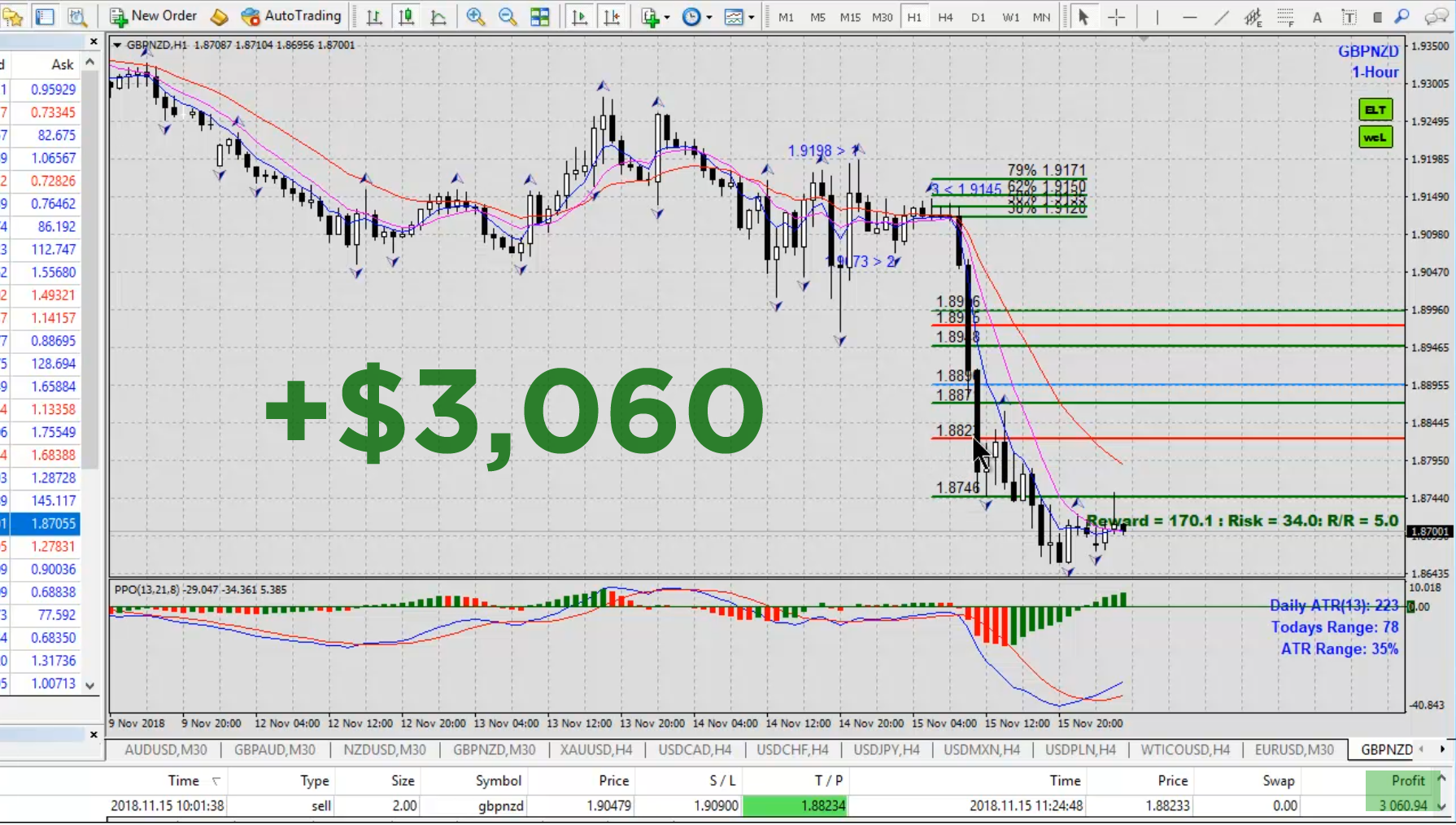 2018-10-25-GBPNZD H1 SELL
+$2,117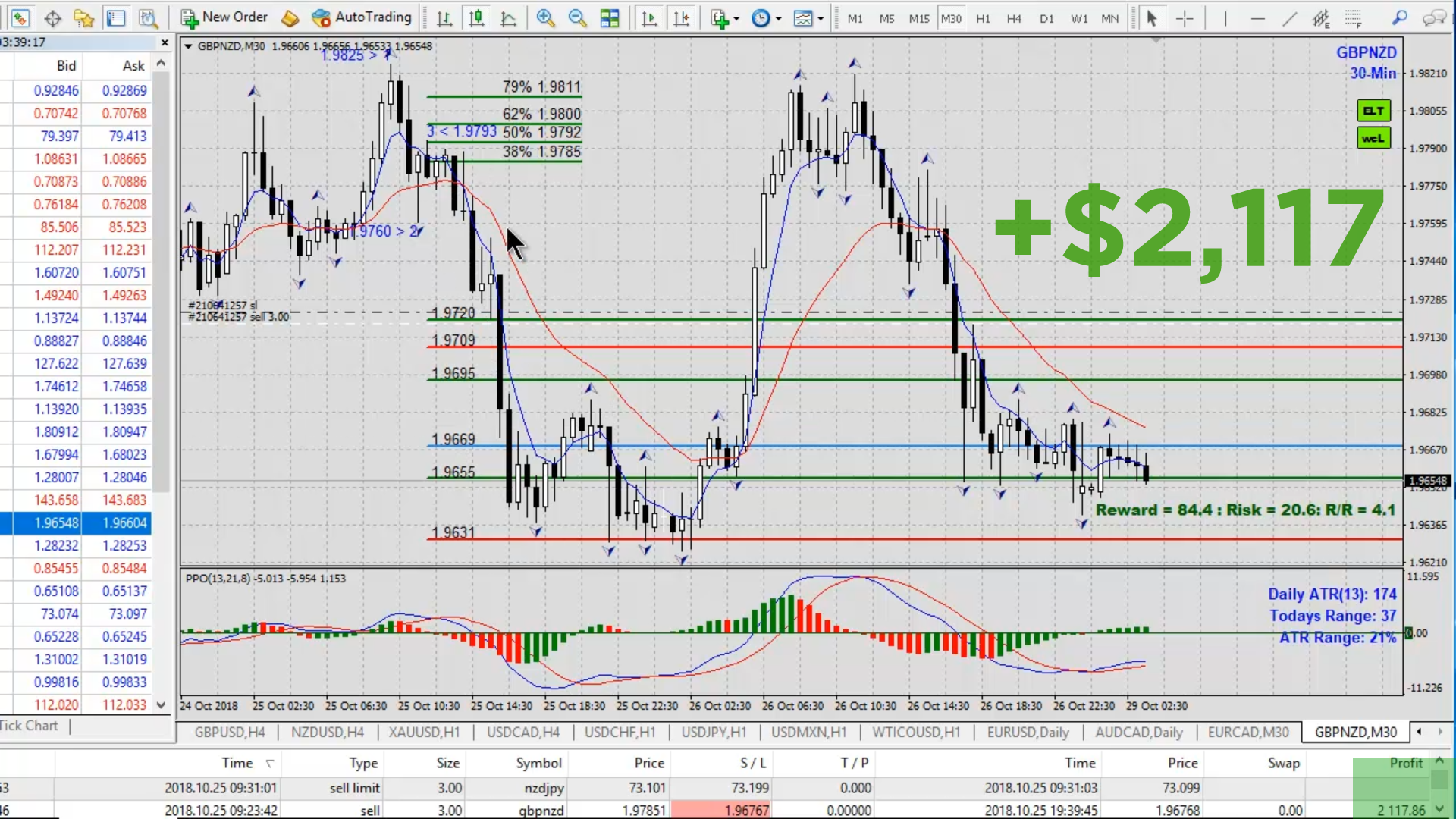 2018-10-17-EURUSD H1 Sell
+$2,253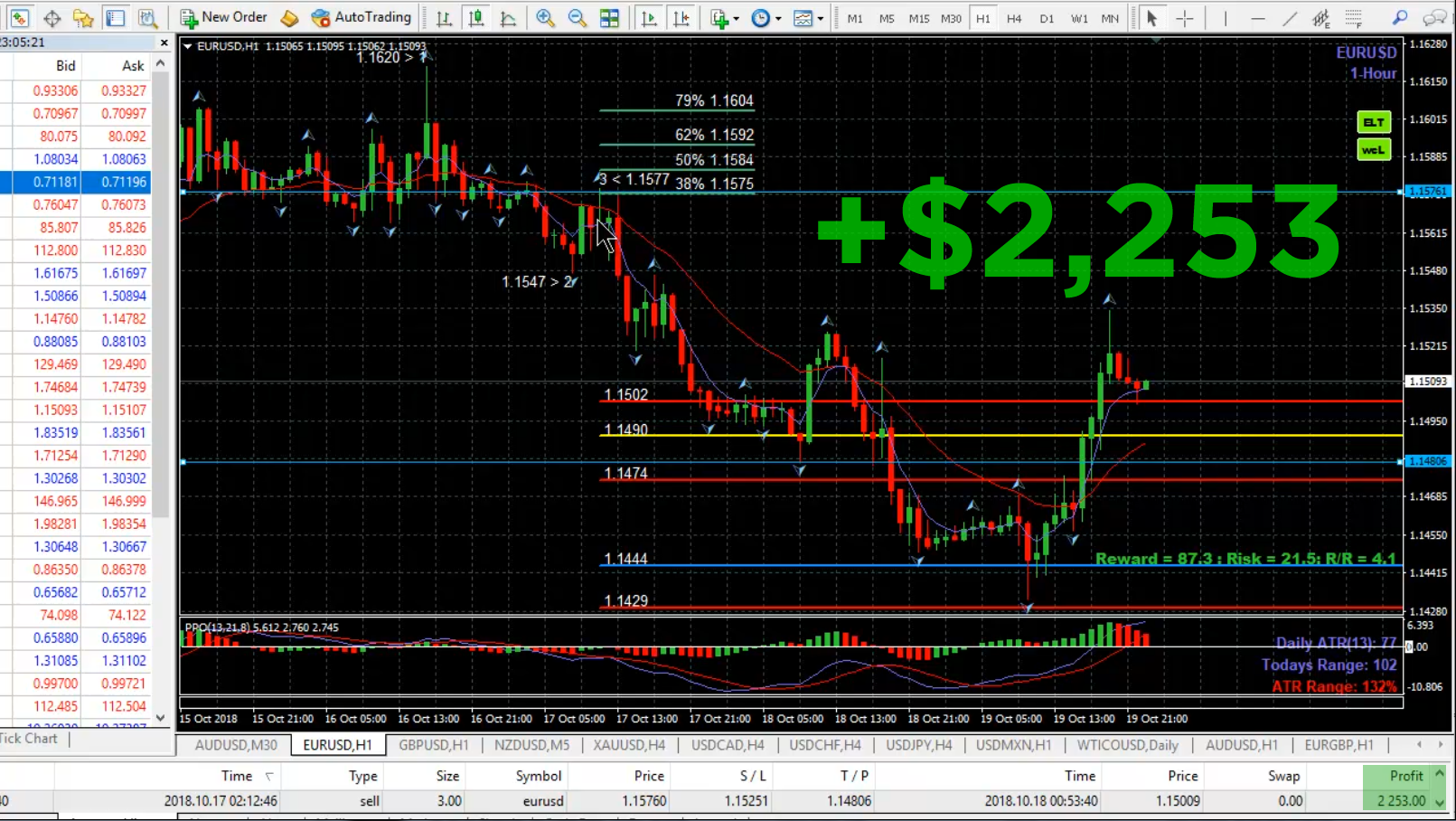 2018-10-10-CHFJPY D1 Sell Part 2
+$4,348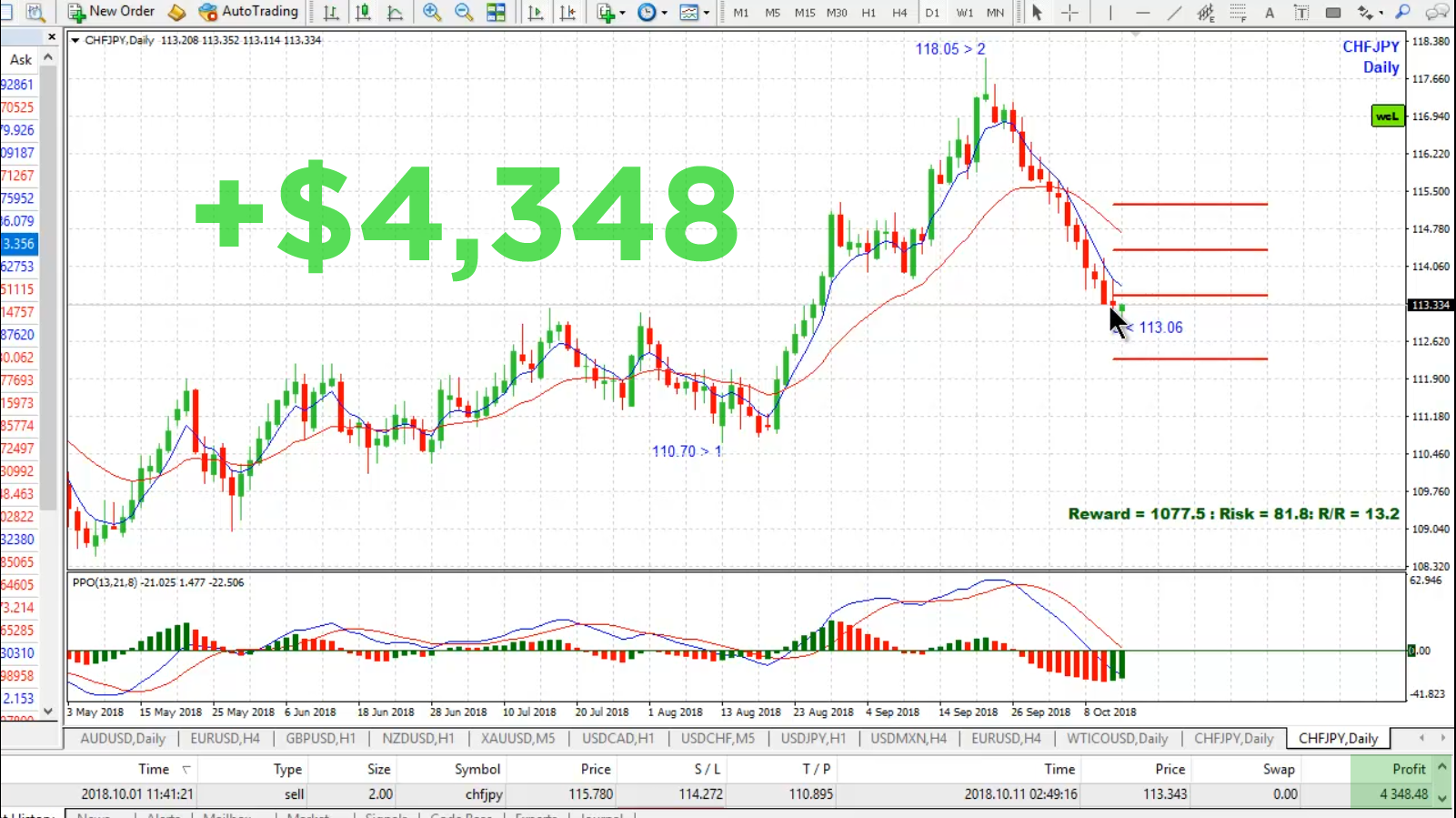 2018-10-10-CHFJPY D1 Sell Part 1
+$5,204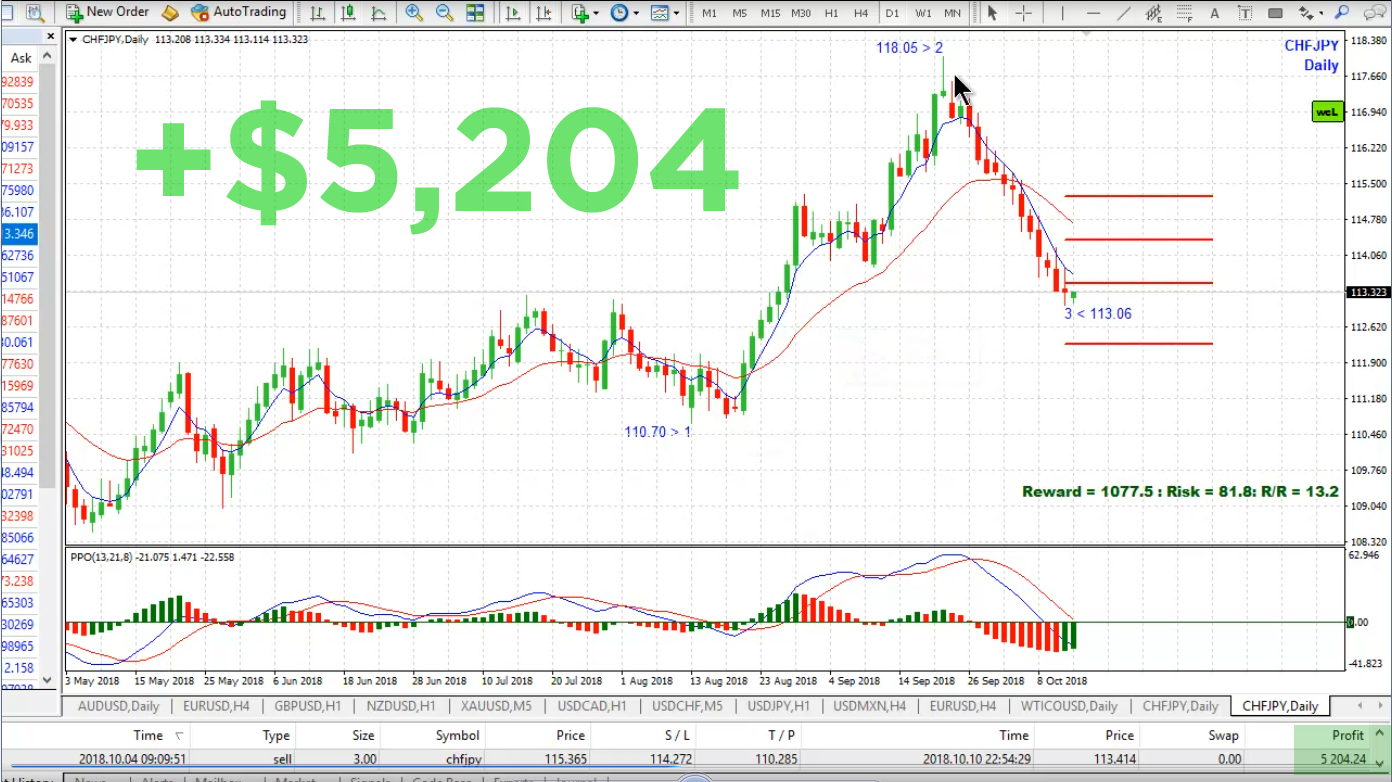 2018-09-28 USDCAD 1H SELL
+$3,479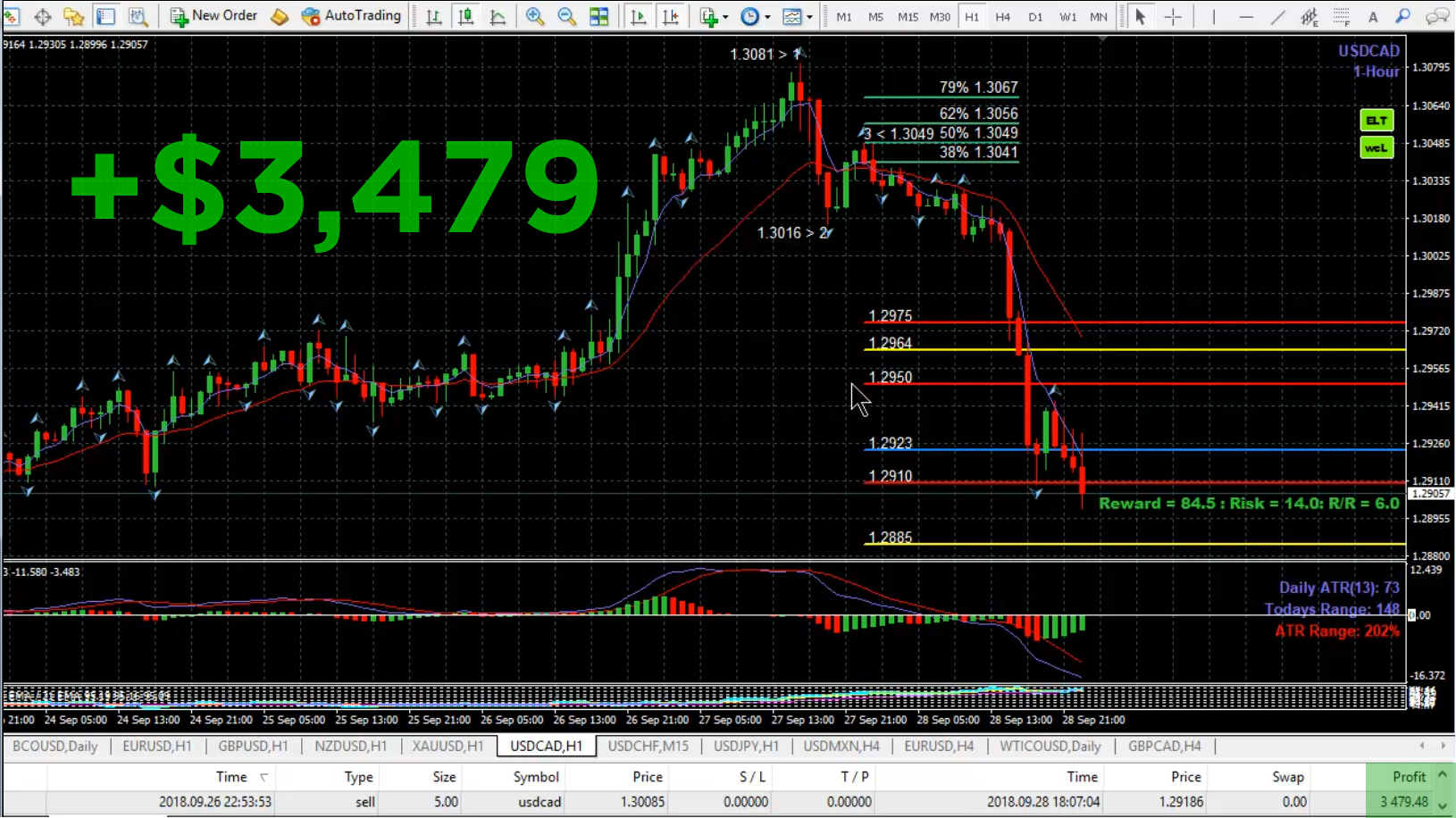 2018-09-28 USDCAD 1H MyFXbook
+$1,559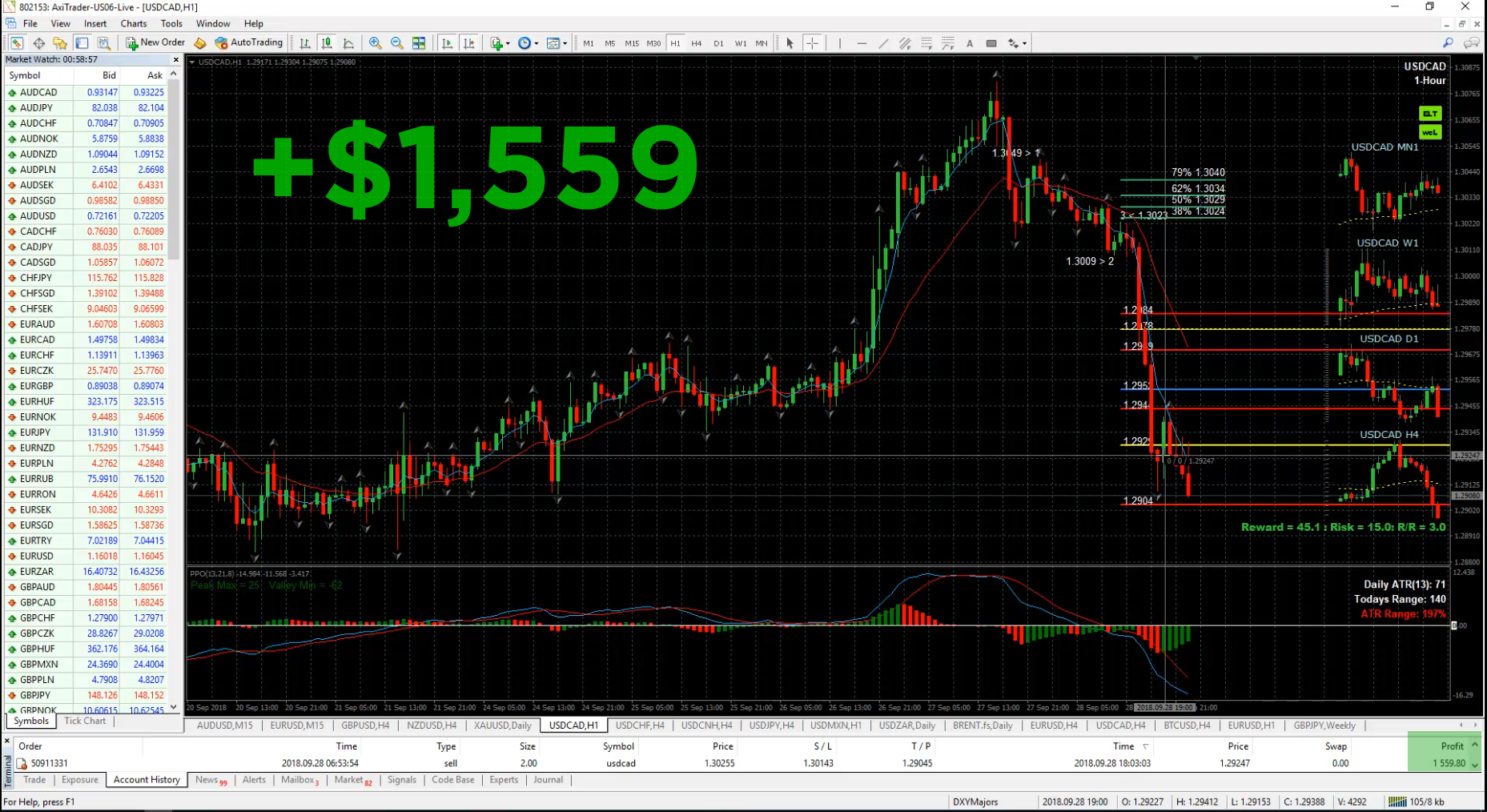 2018-09-22 1H GBPUSD
-$980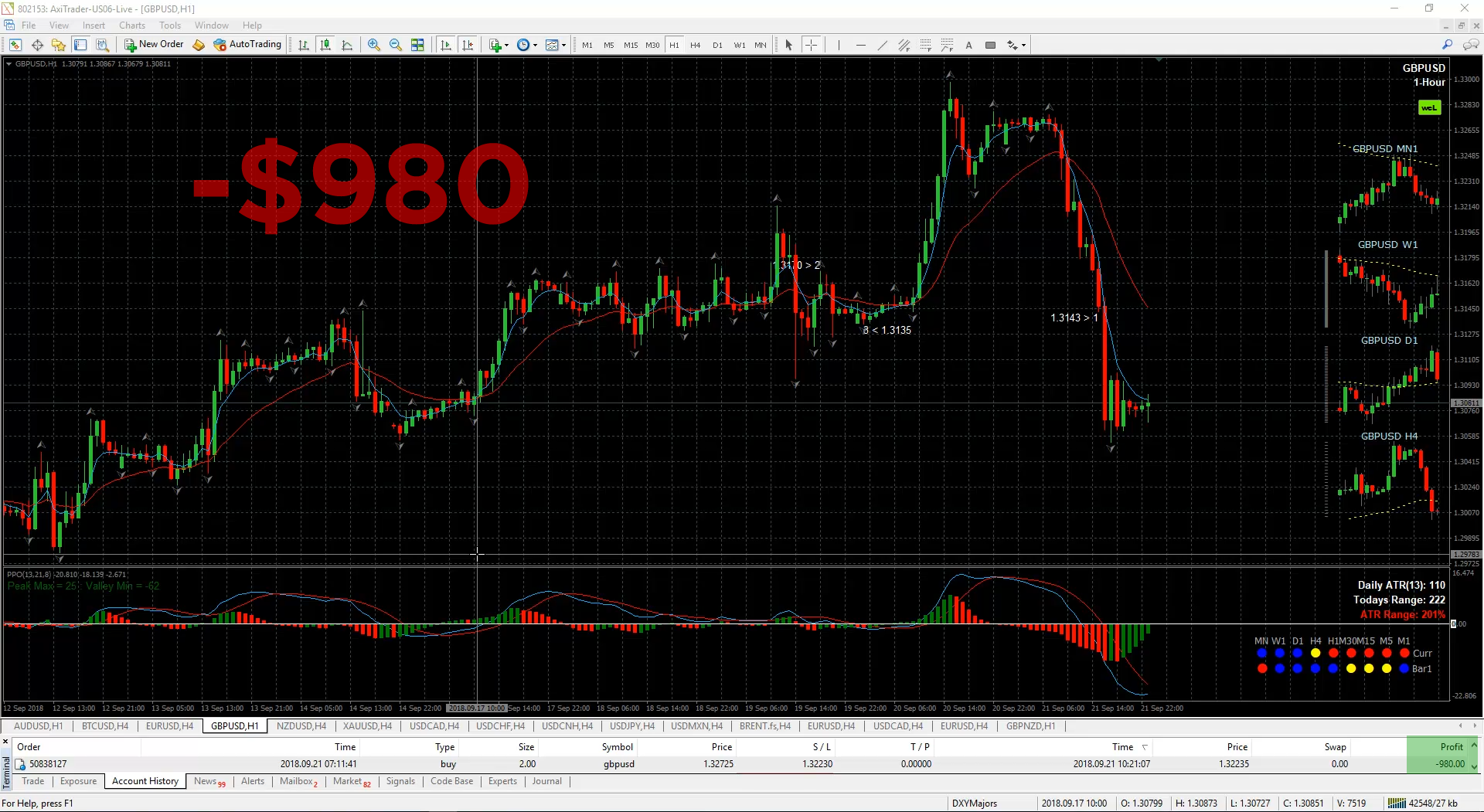 2018-09-22 1H GBPNZD
+$8,236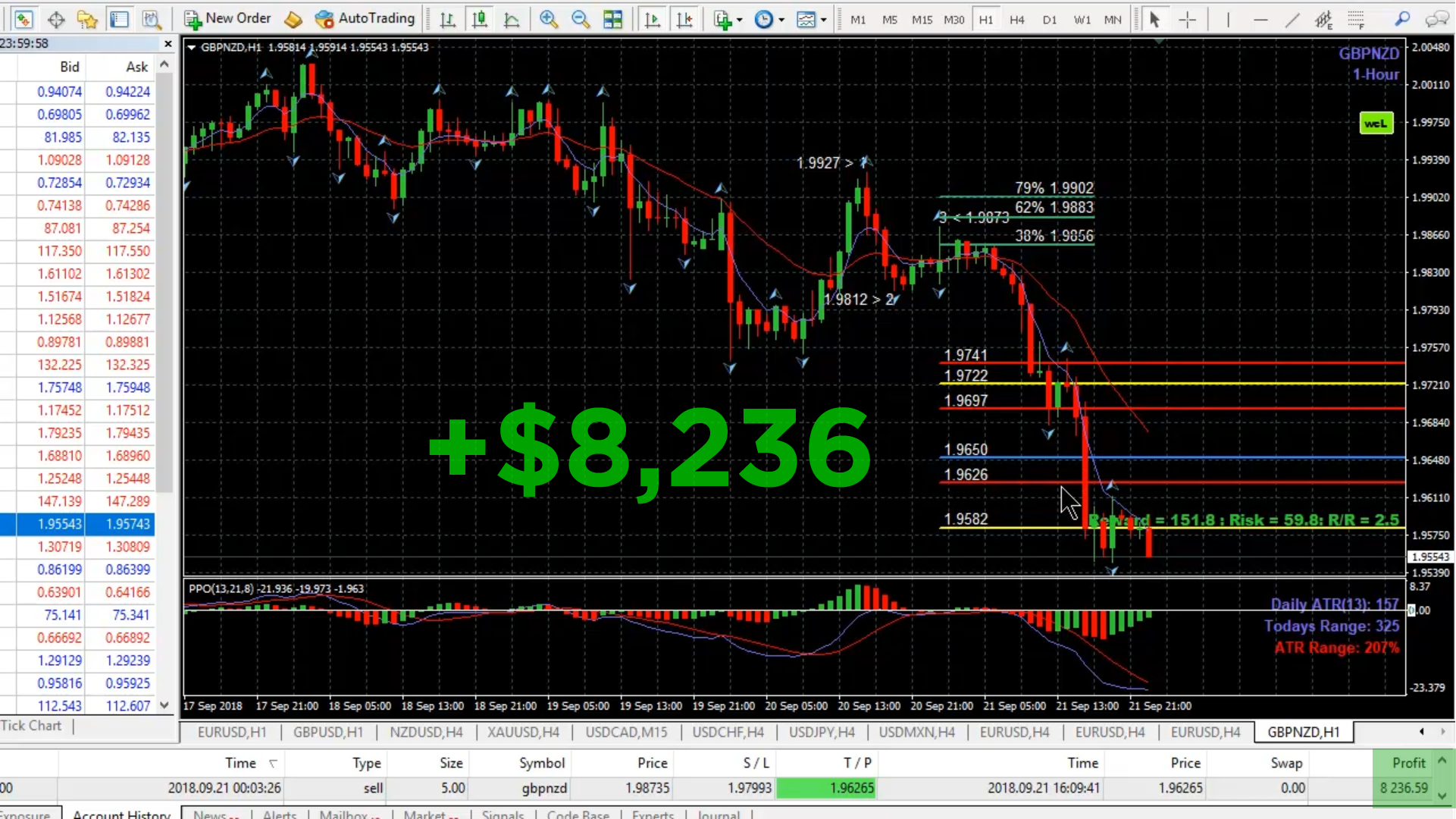 2018-09-20 1H GBPUSD
+$5,340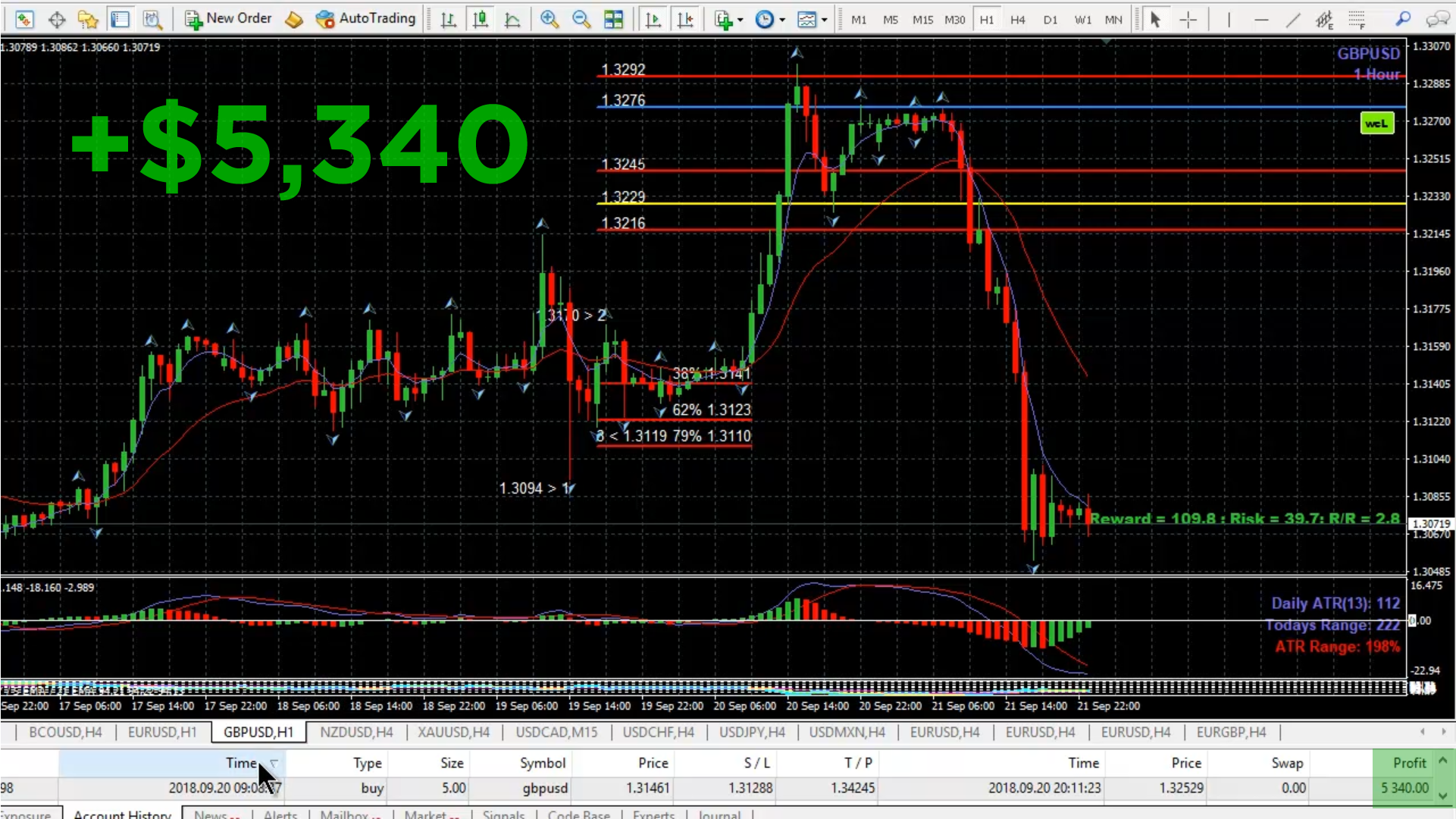 2018-09-20 1H EURUSD
+$4,210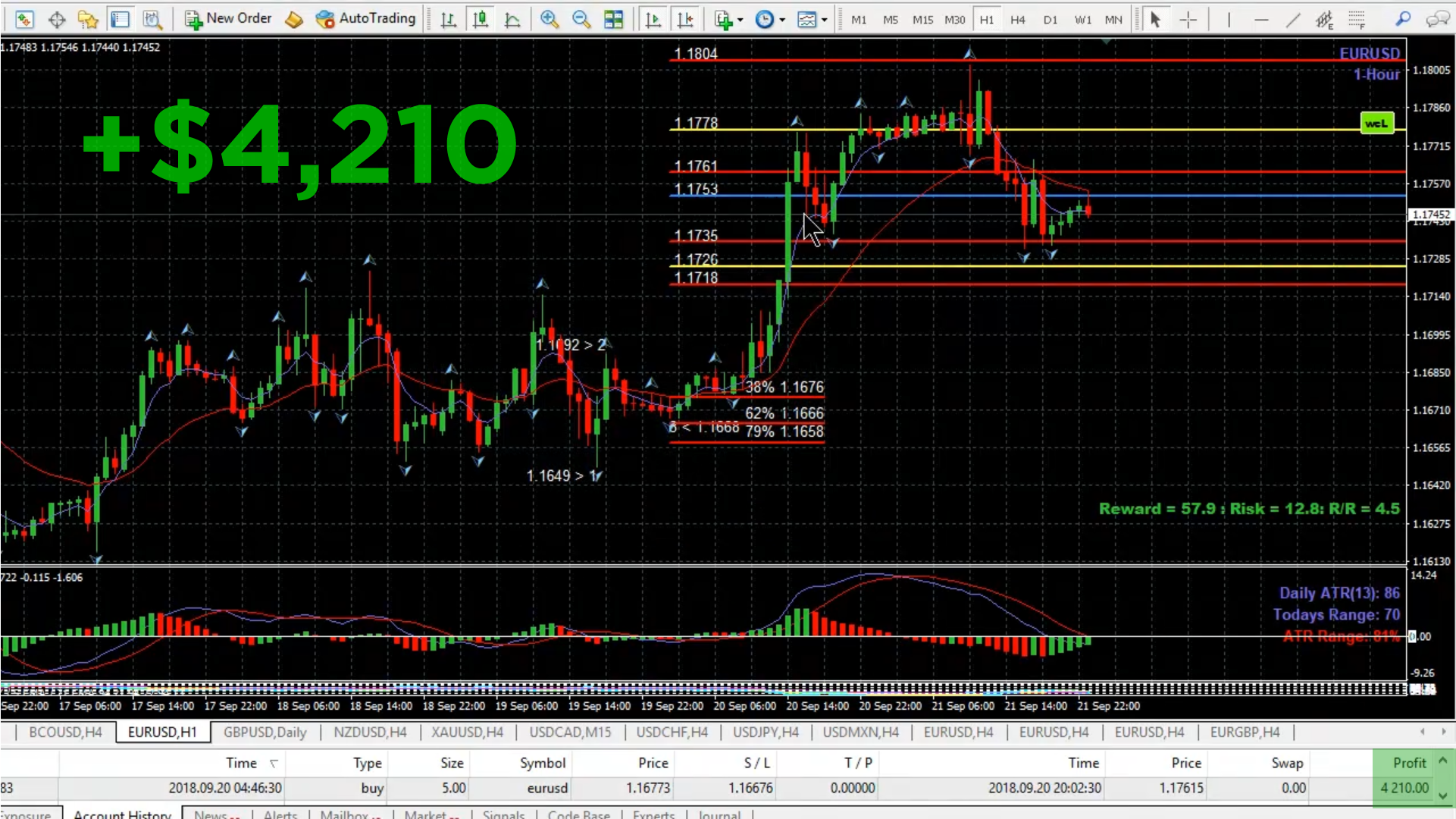 2018-09-12 EURUSD 30M
+$1,542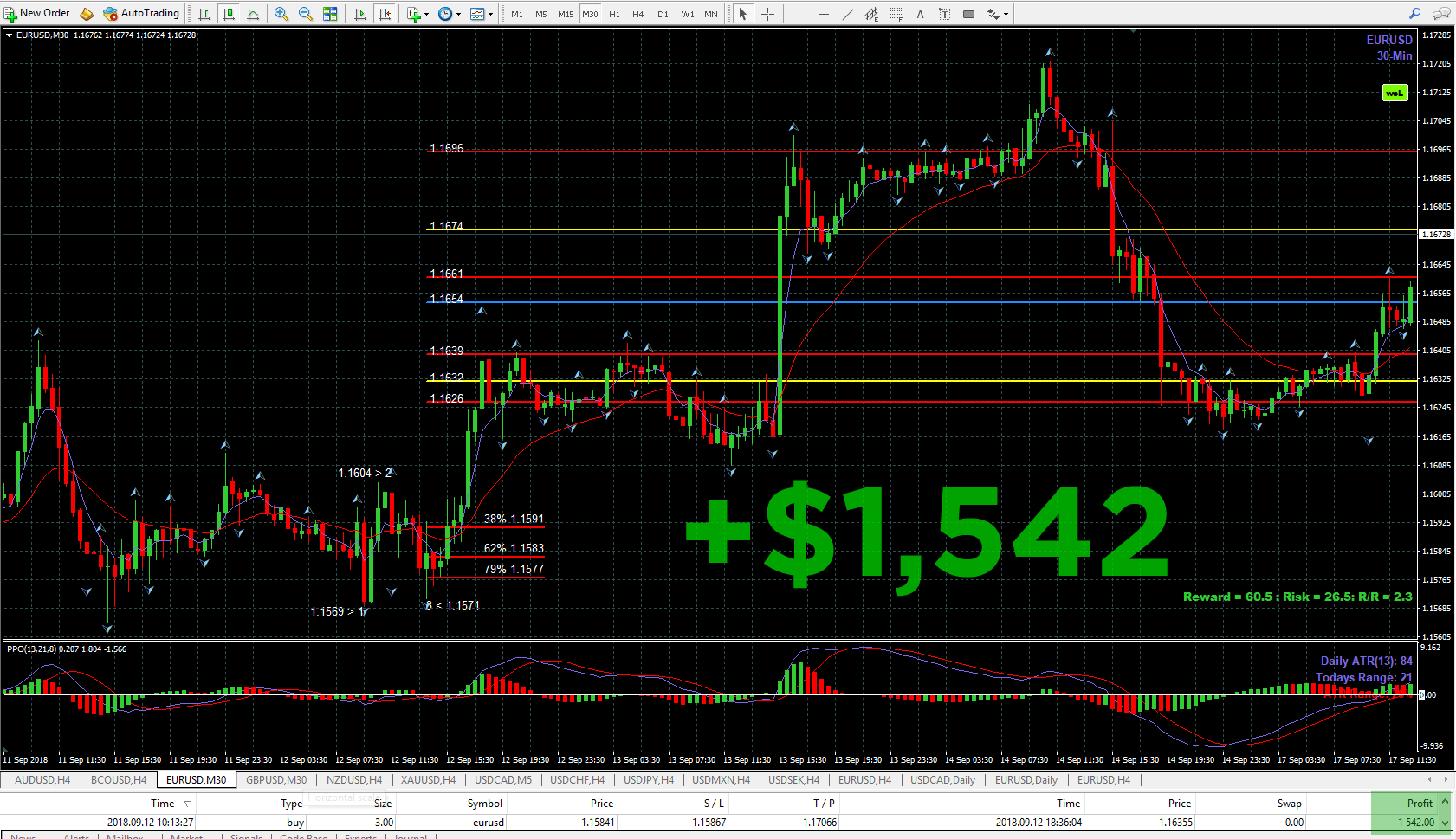 2018-09-12 AUDUSD 1H
+$862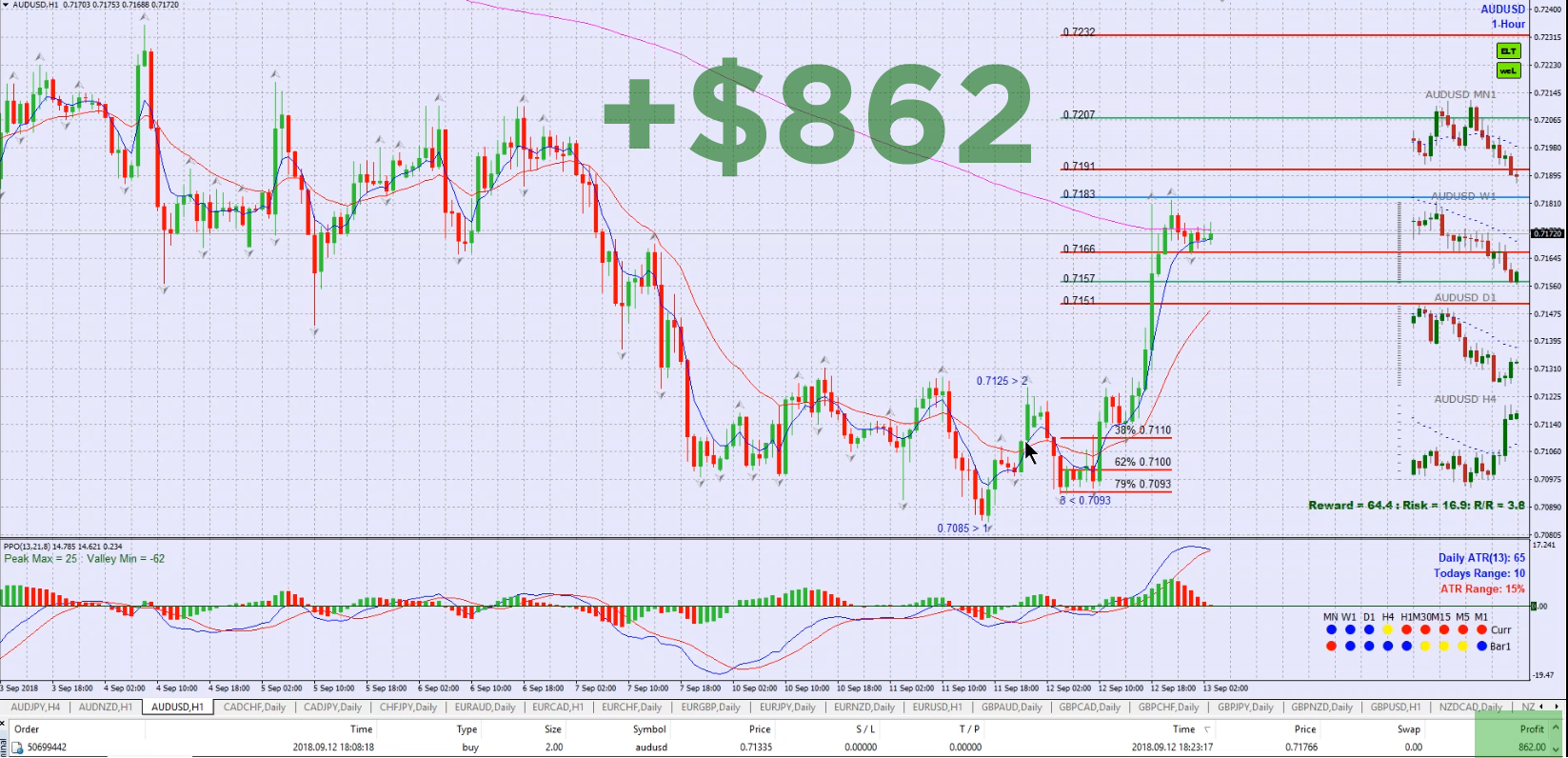 2018-09-10 USDCHF 1H
+$2,502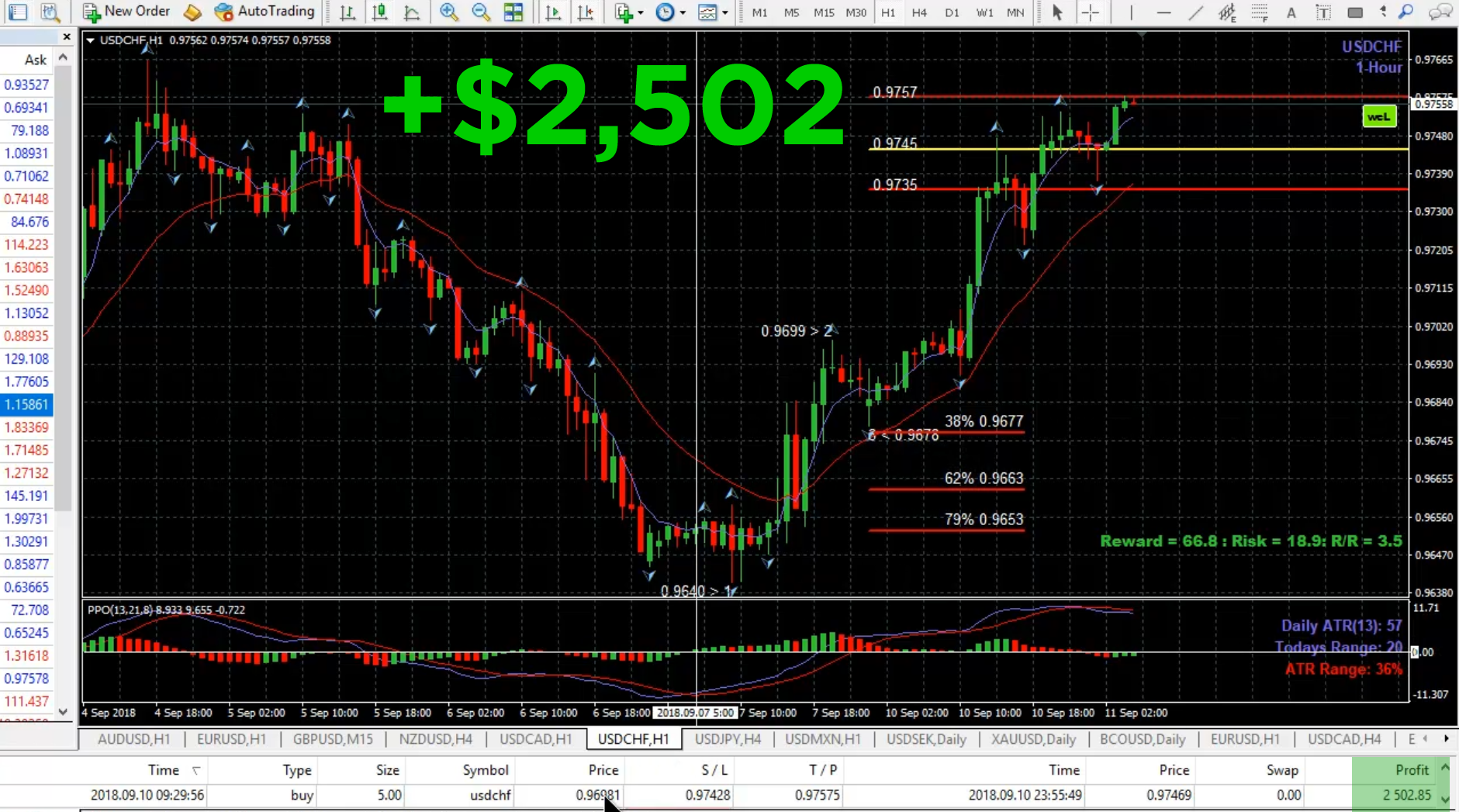 2018-08-08 NZDUSD 1H
+$766
2018-08-08 EURUSD 1H
+$4,400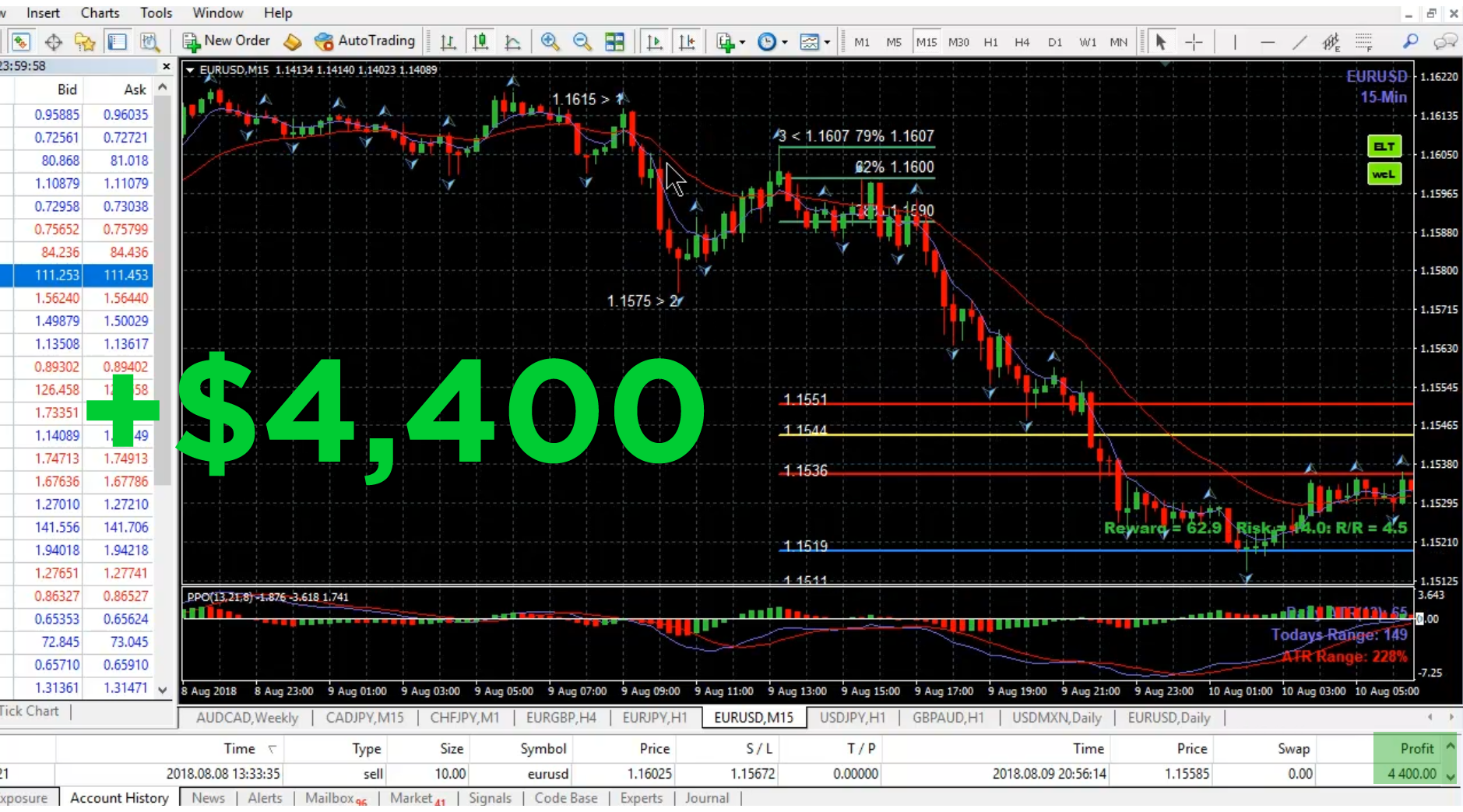 2018-08-07 EURUSD 1H
+$4,400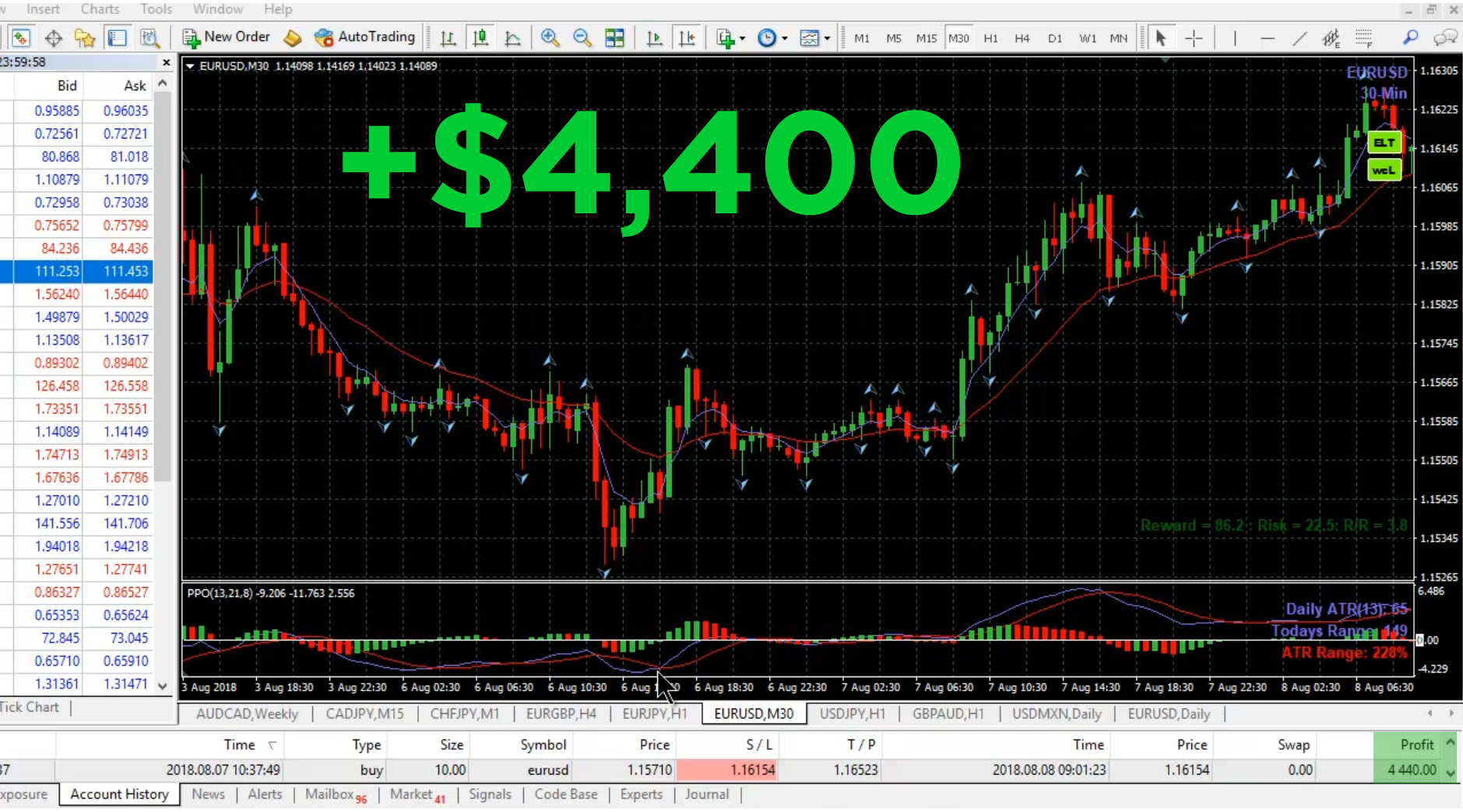 2018-07-31-NZDCAD 1H
+$4,374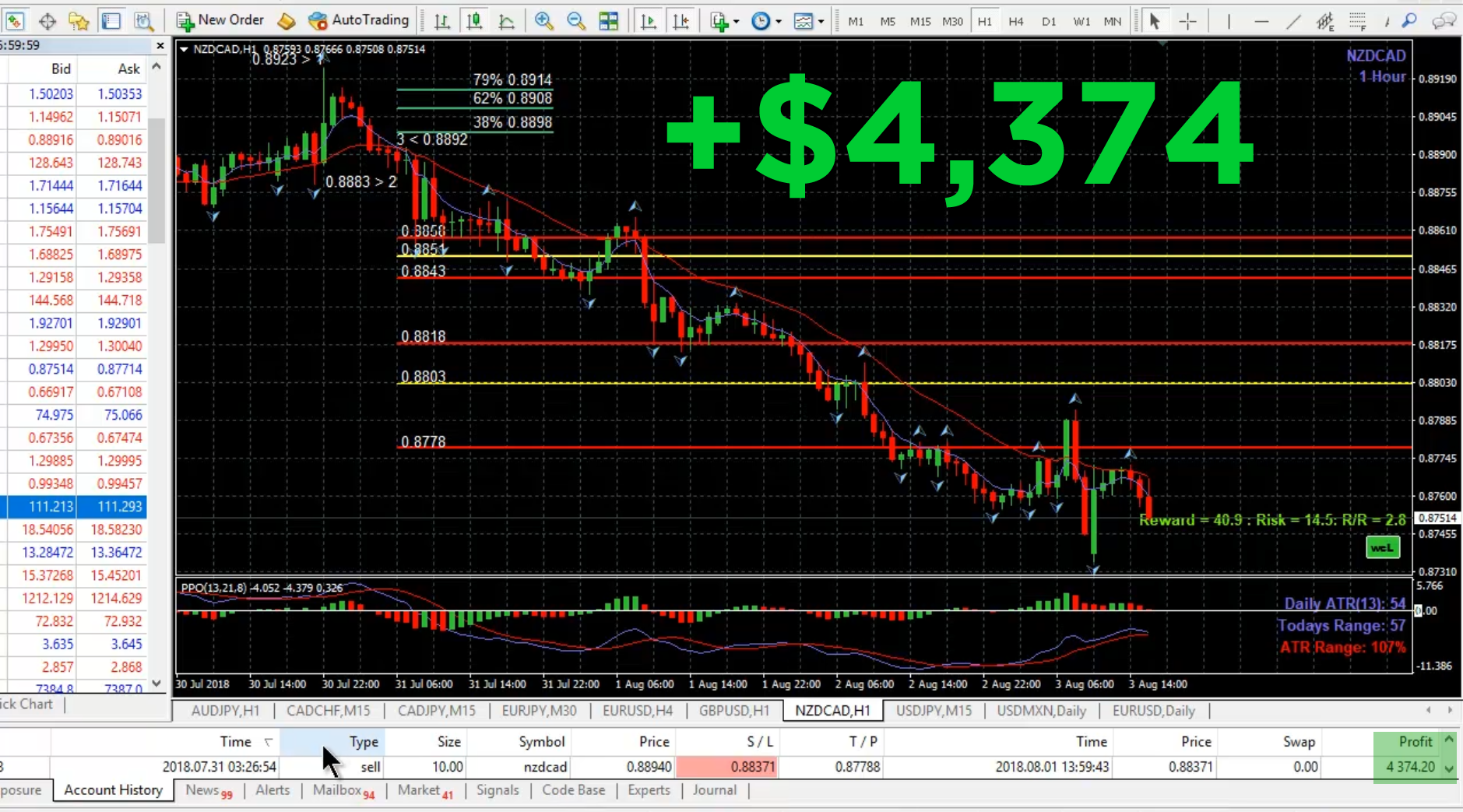 2018-07-18-GBPUSD 1H
+$1,791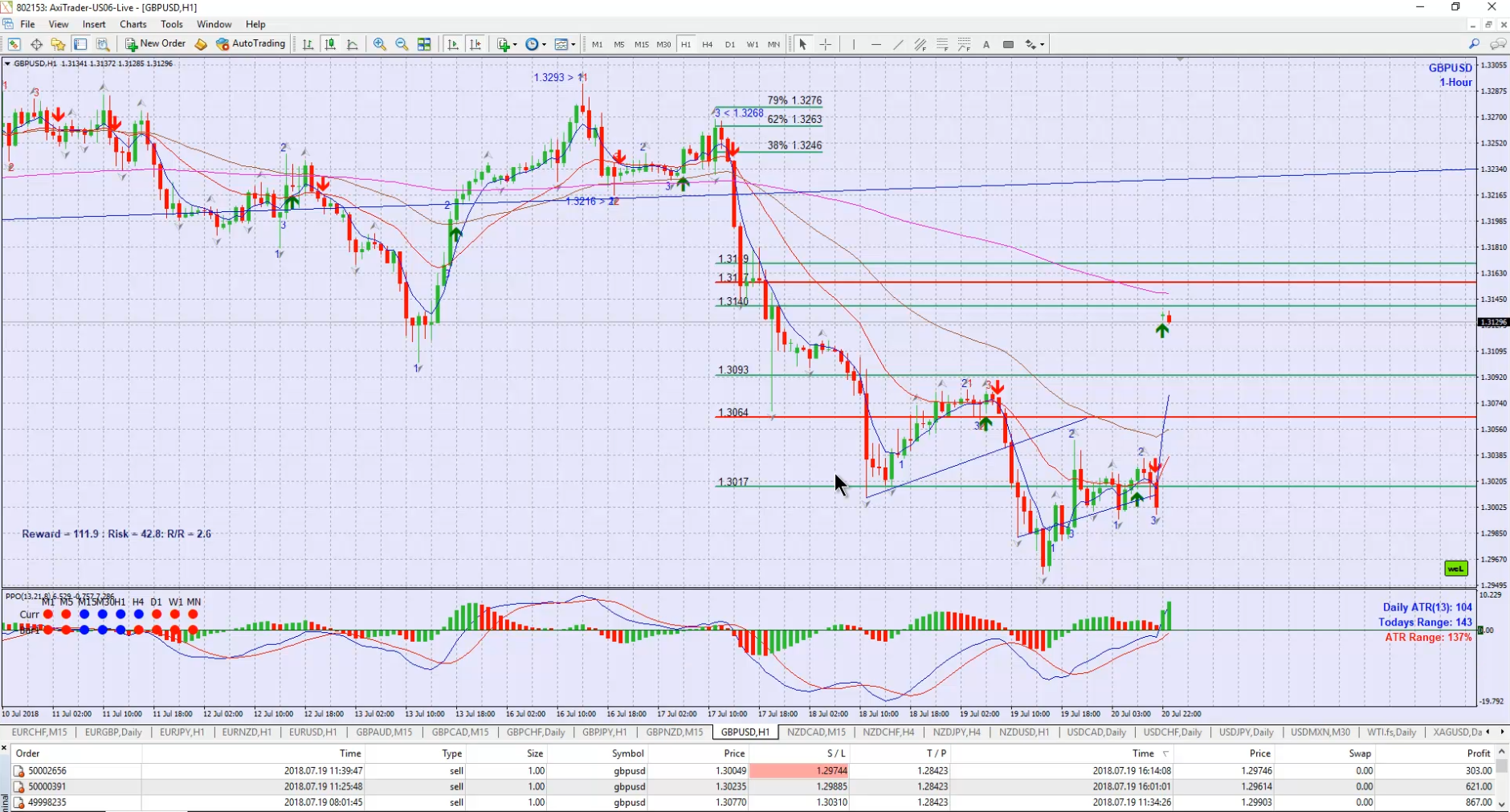 2018-07-16-NZD Pair Trades
+$15,714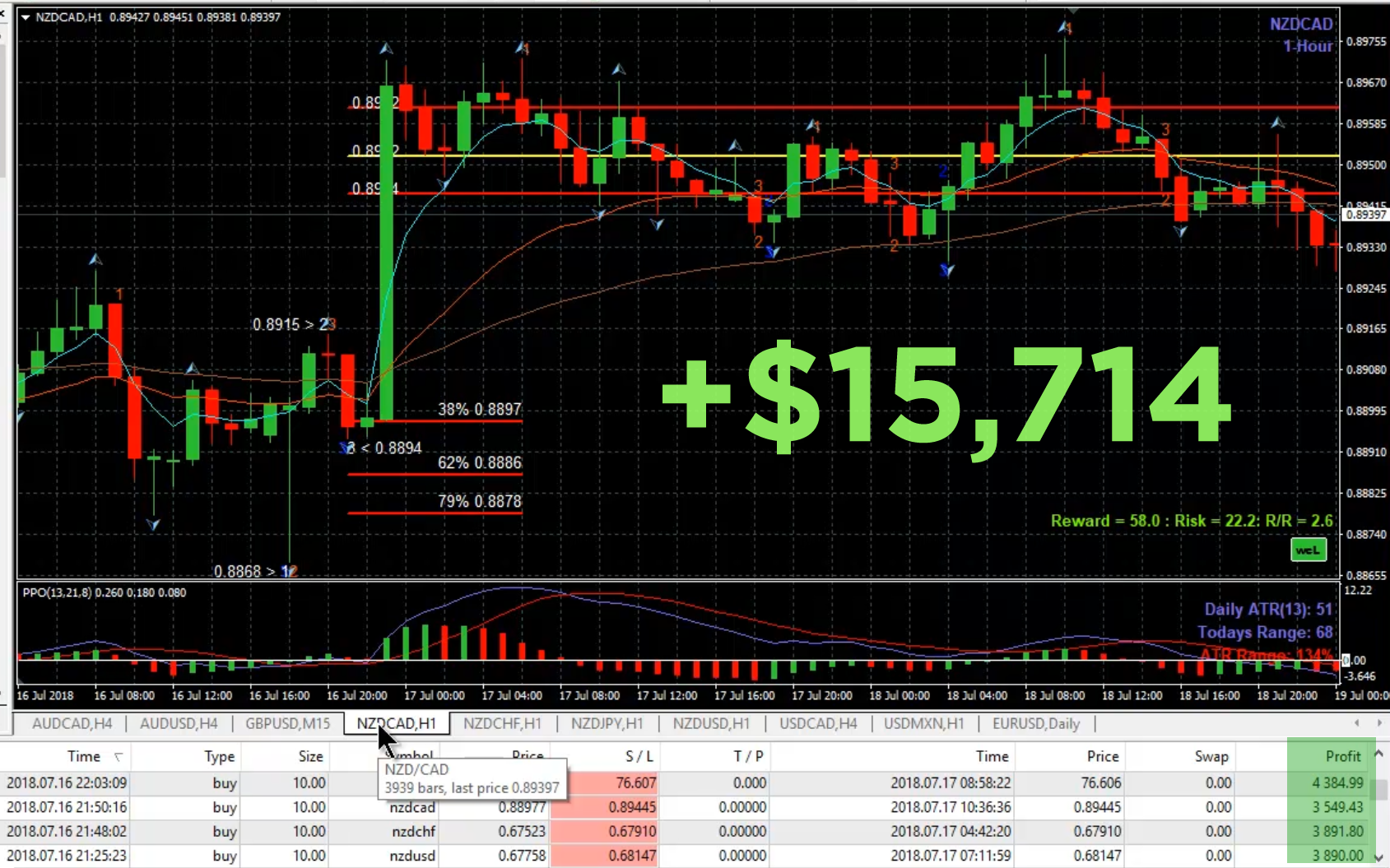 2018-06-14-AUDUSD 4H Short
+$8,160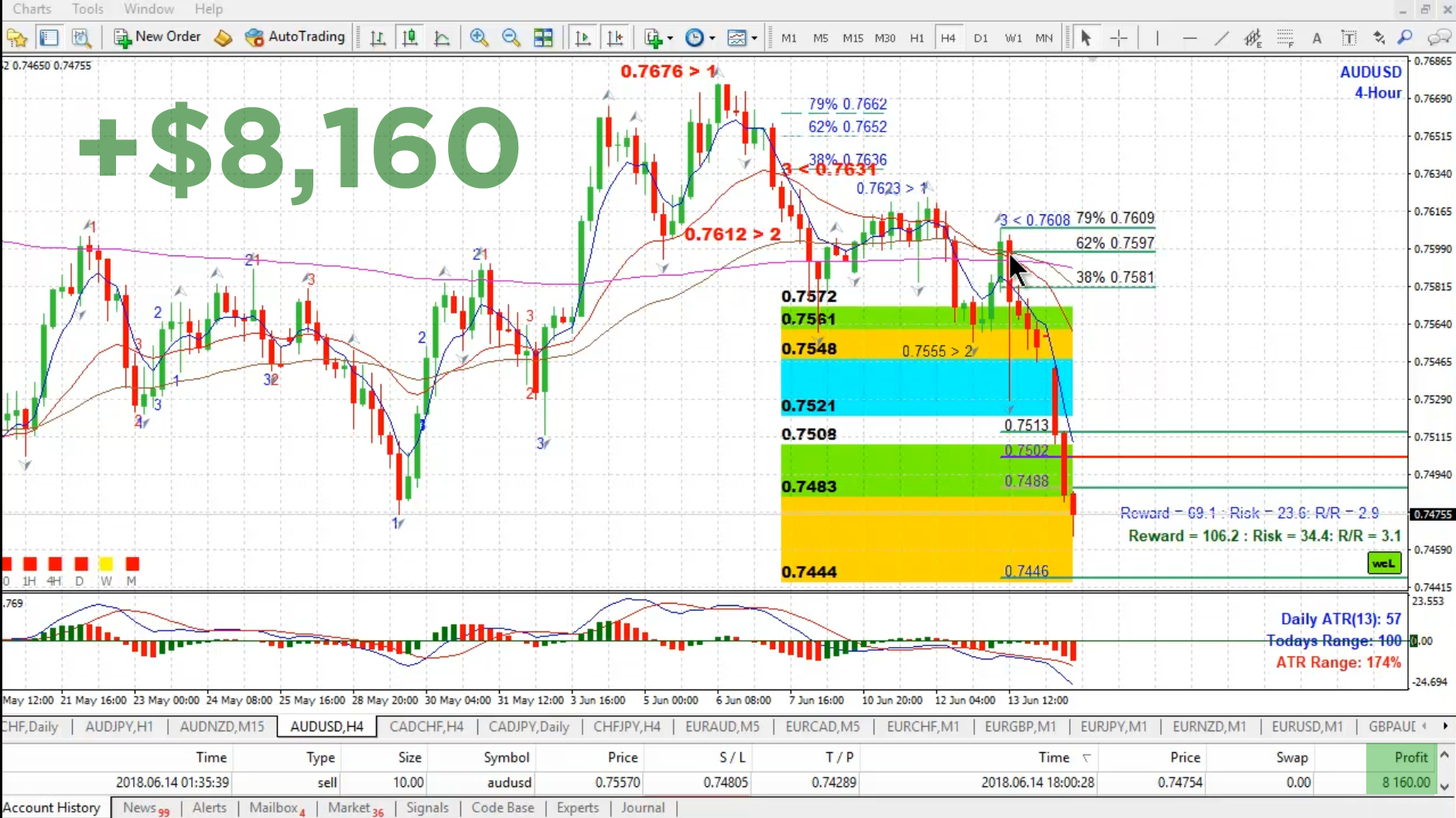 2018-06-08-EURUSD
-$1,220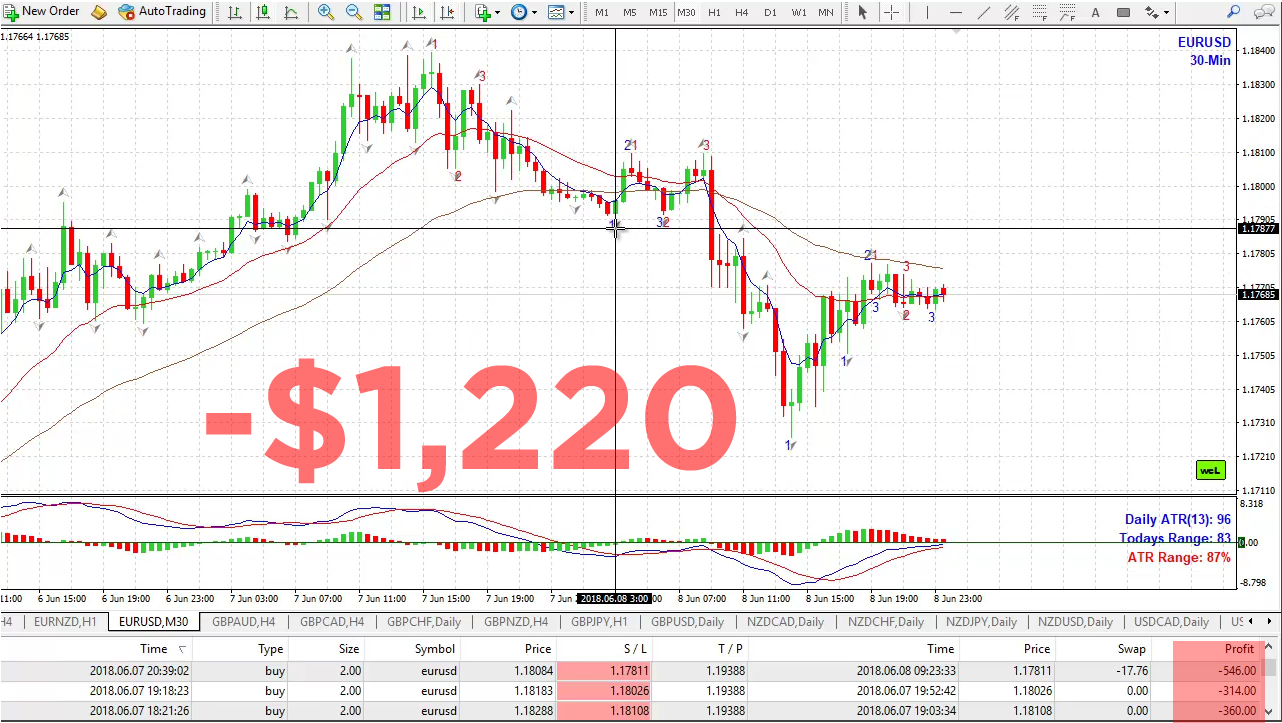 2018-06-08-AUDJPY H4 Short
+$6,238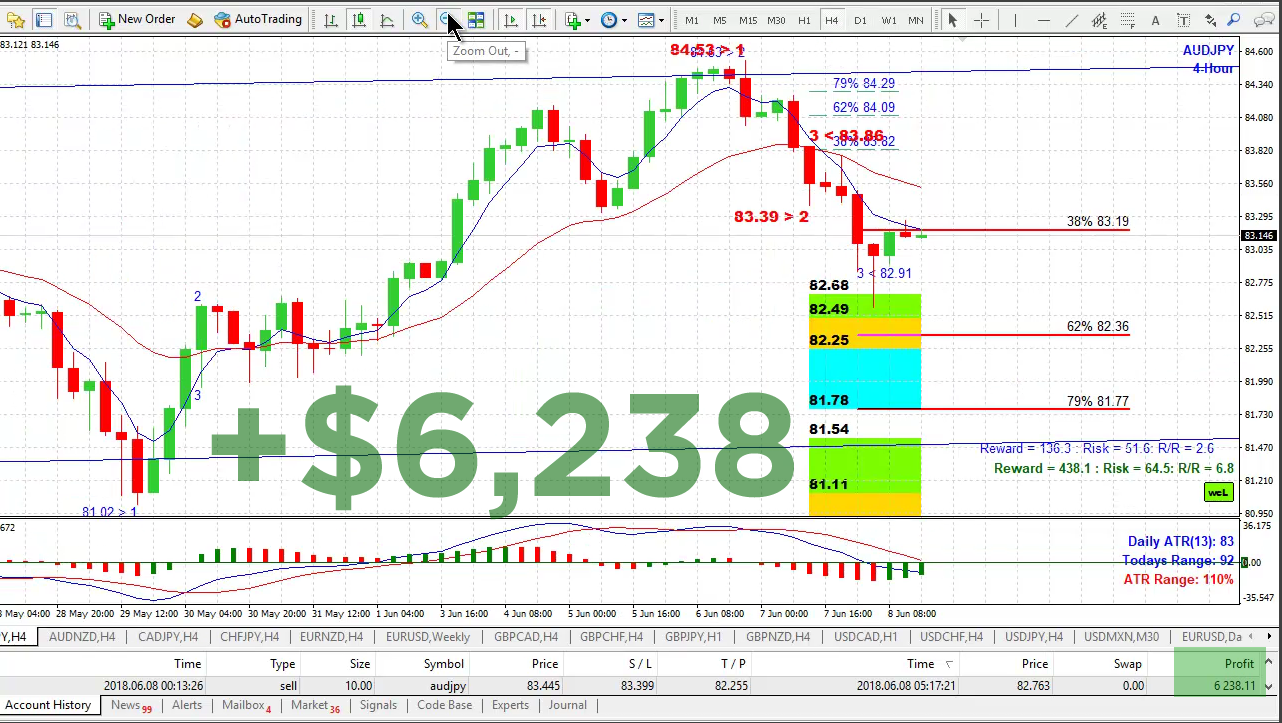 2018-06-04-USDMXN H1 Long
+$6,224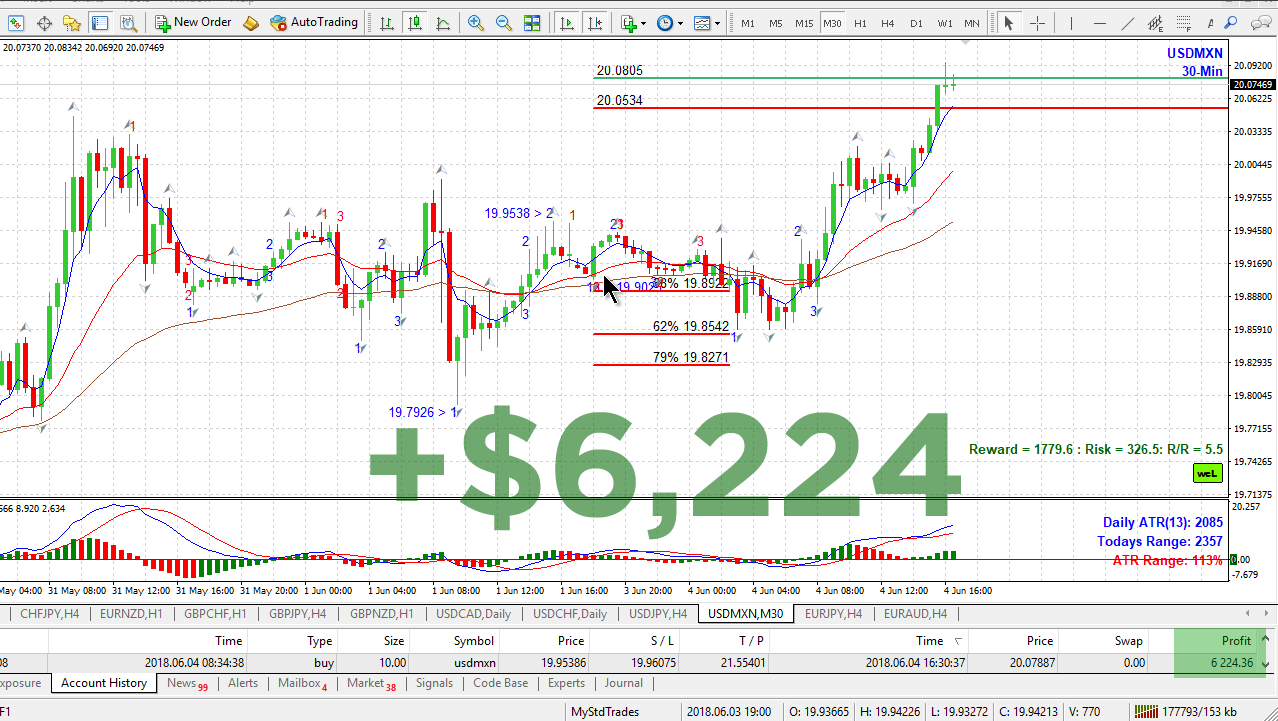 2018-05-22-CHFJPY H4 Long
+$11,353
2018-05-18-CHFJPY H4 Long
+$2,182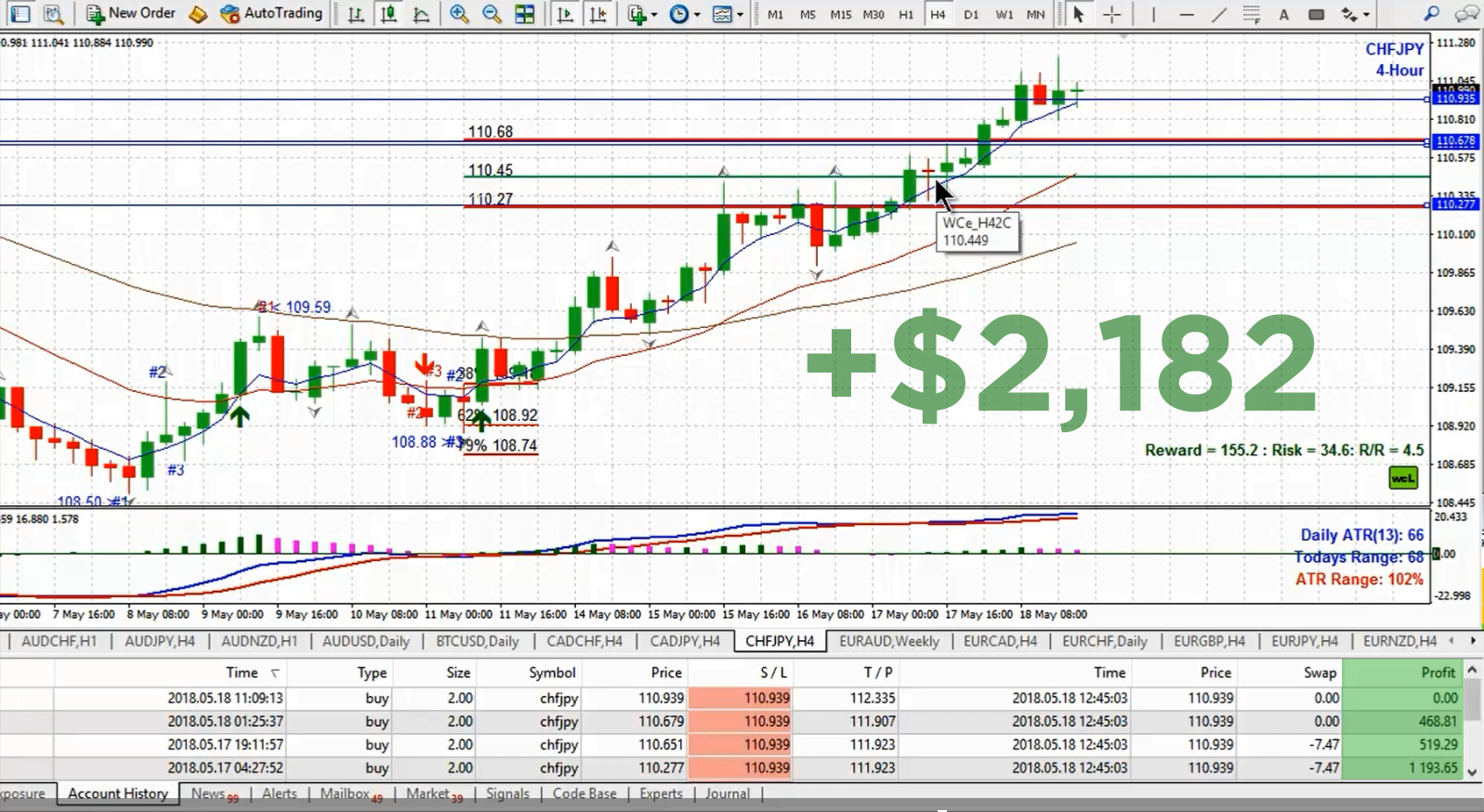 2018-05-03-CHFJPY H4 Short
+$6,864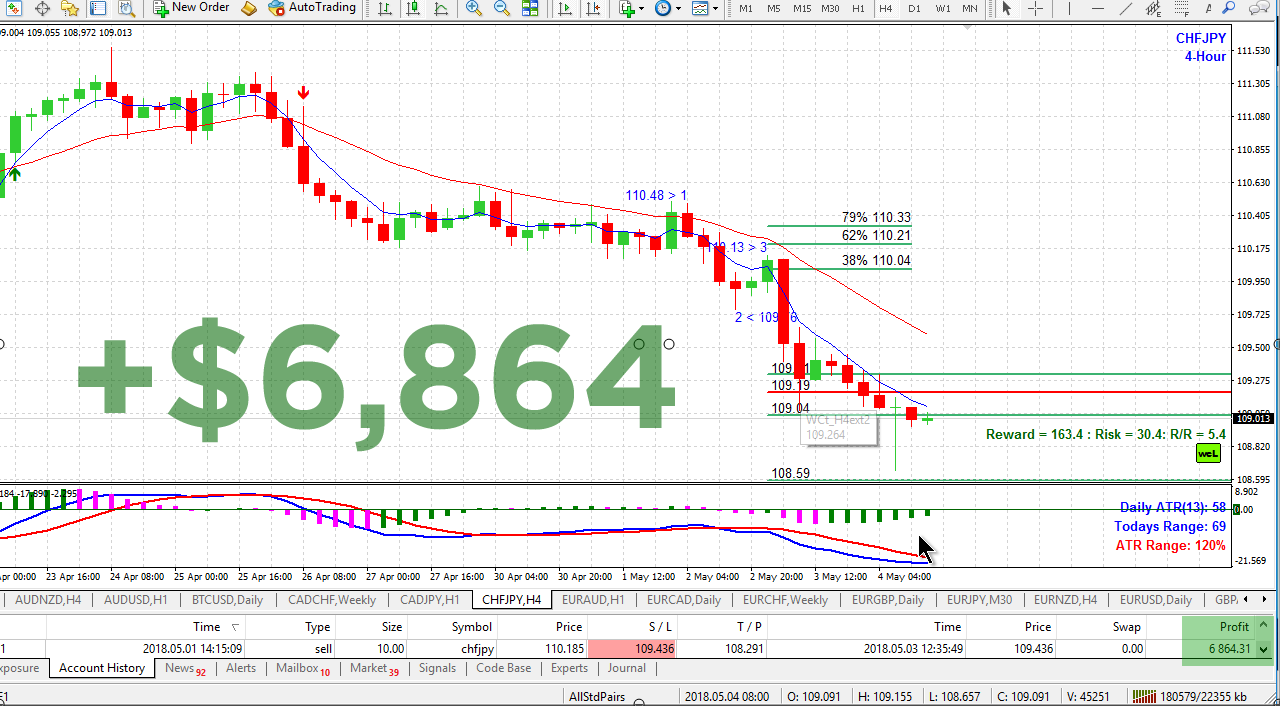 2018-04-25-USDMXN H1 Long
+$7,230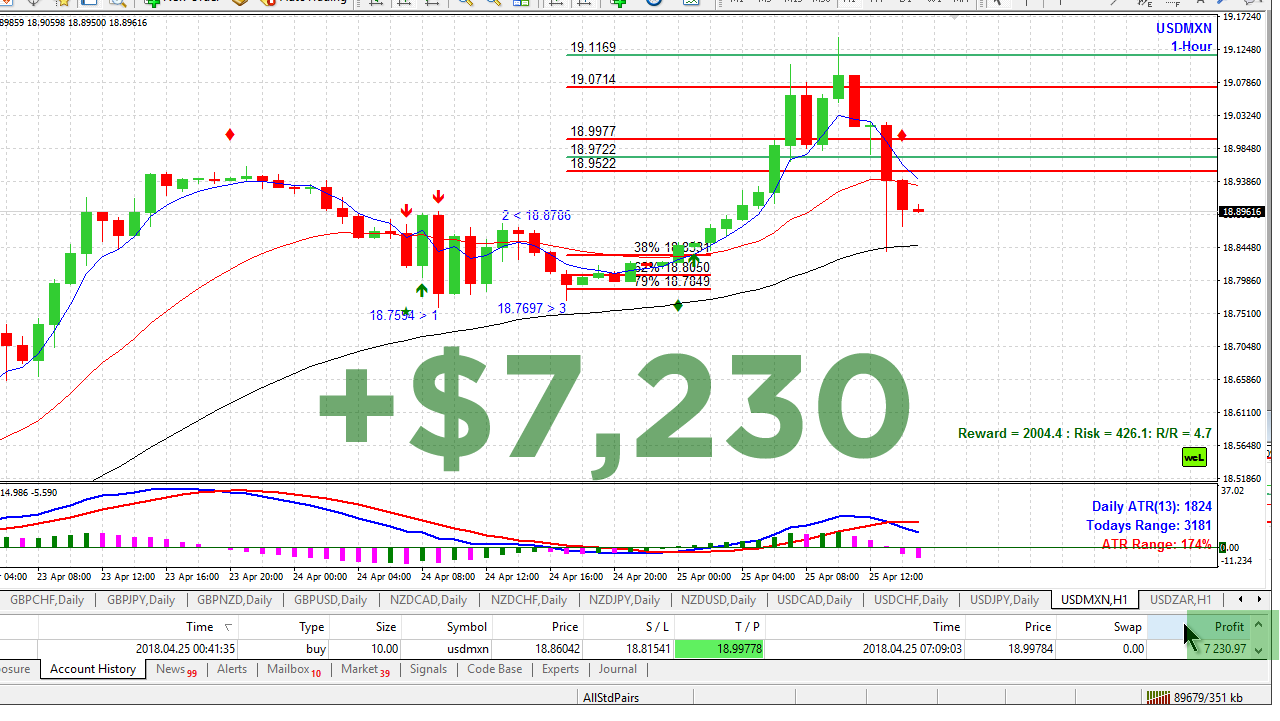 2018-04-24-NZDCHF Daily Short
+$5,975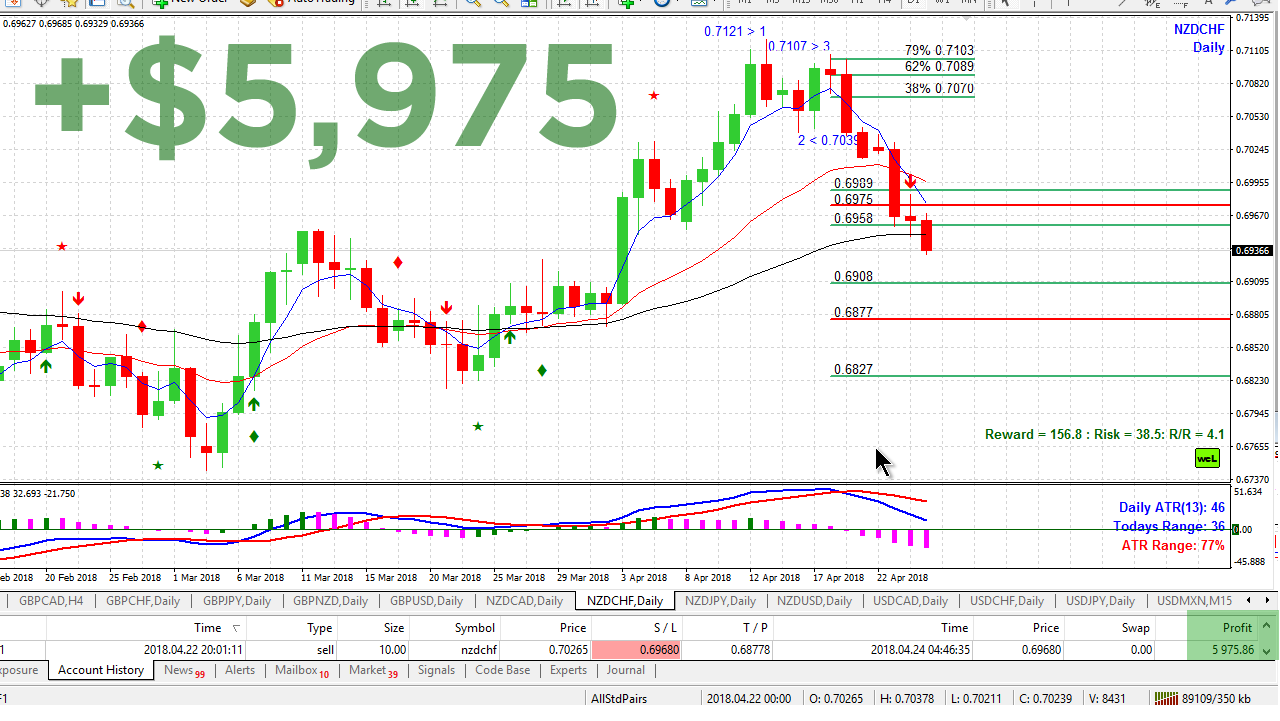 2018-04-18-EURNZD Long Alert Trade
+$10,168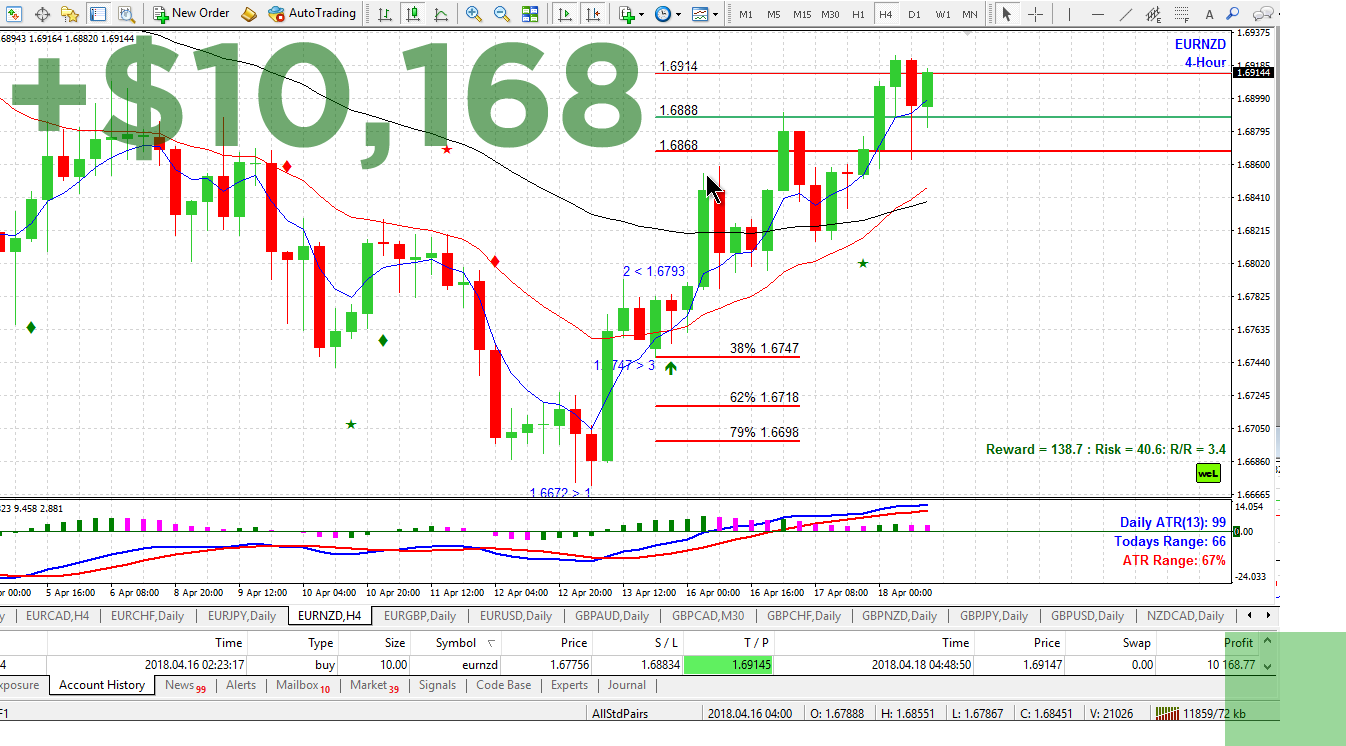 2018-04-12-EURGBP Short
+$7,459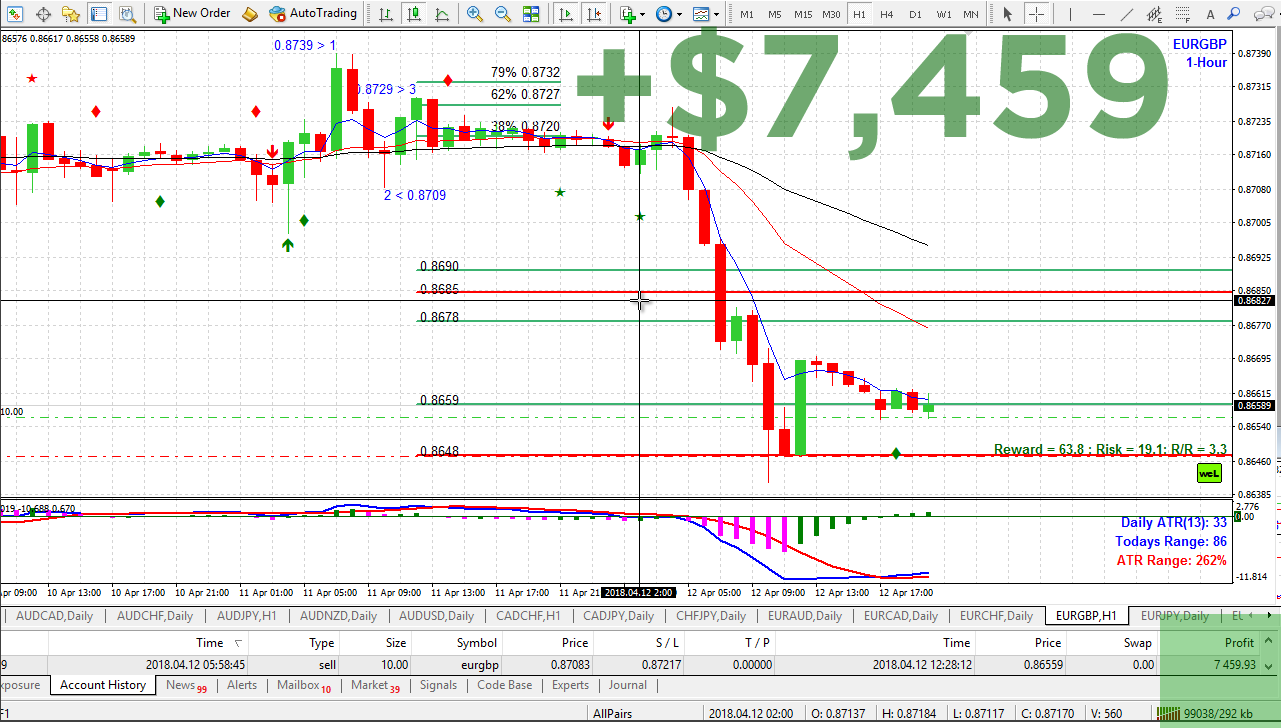 2018-04-11-USDJPY Long
-$748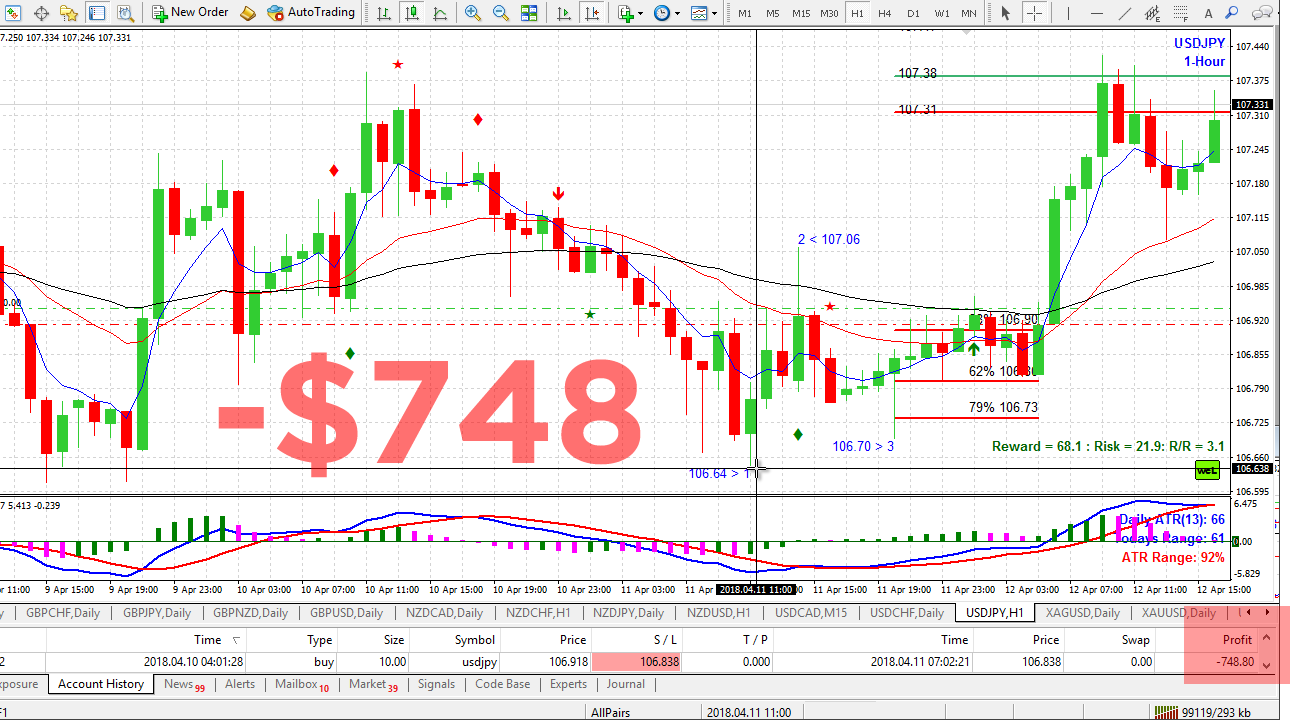 2018-04-06-GBPCAD Daily Sell
+$15,274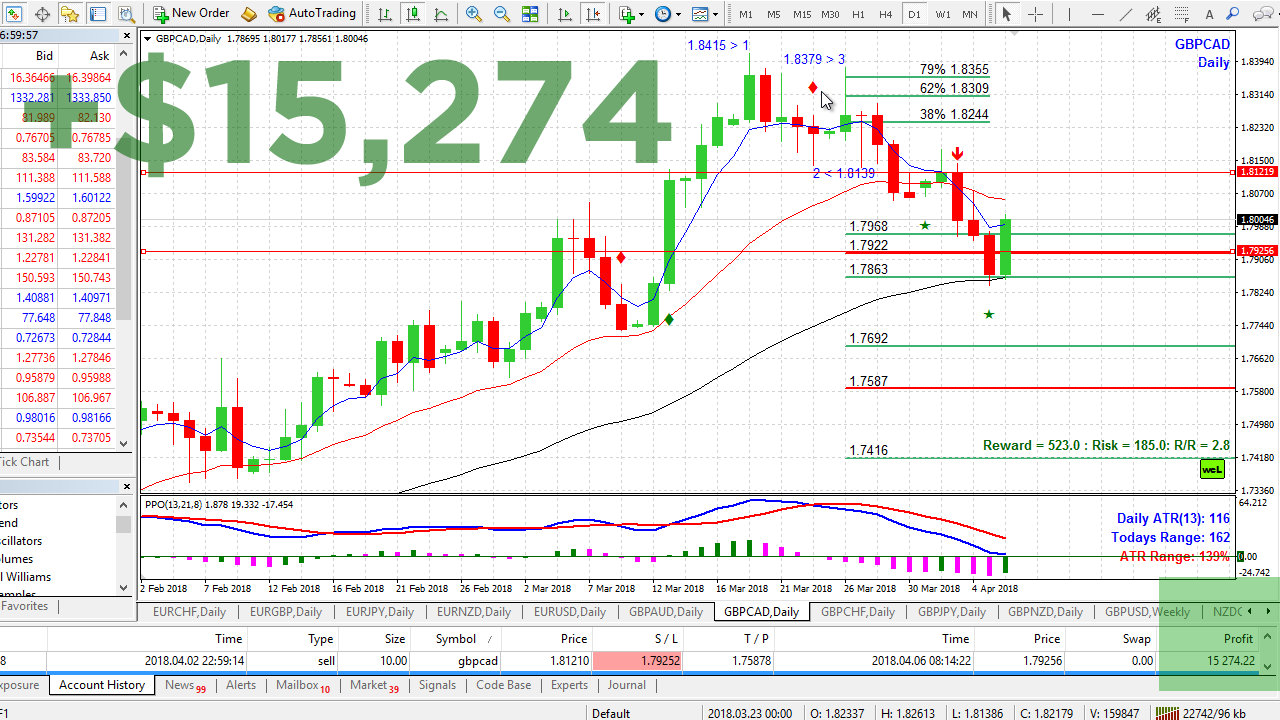 2018-04-05-GBPCHF Long Alert Trade
+$1,694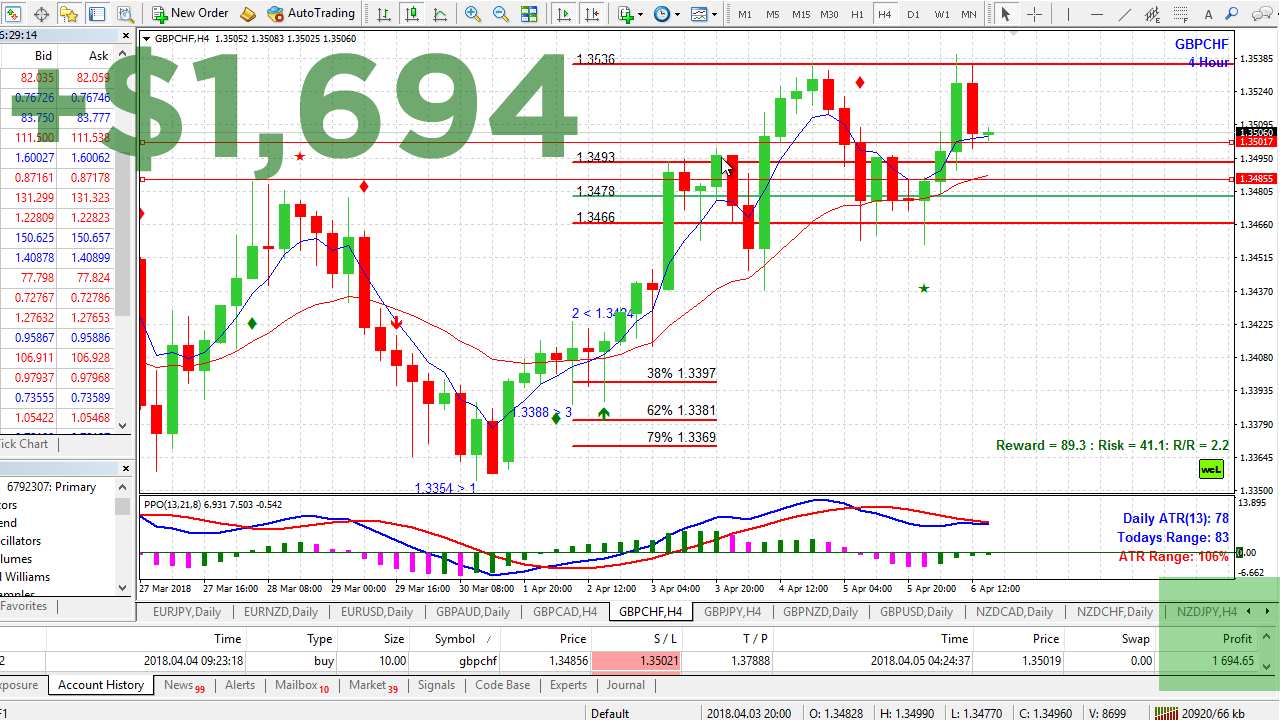 2018-04-03-GBPCHF Long Alert Trade
+$5,757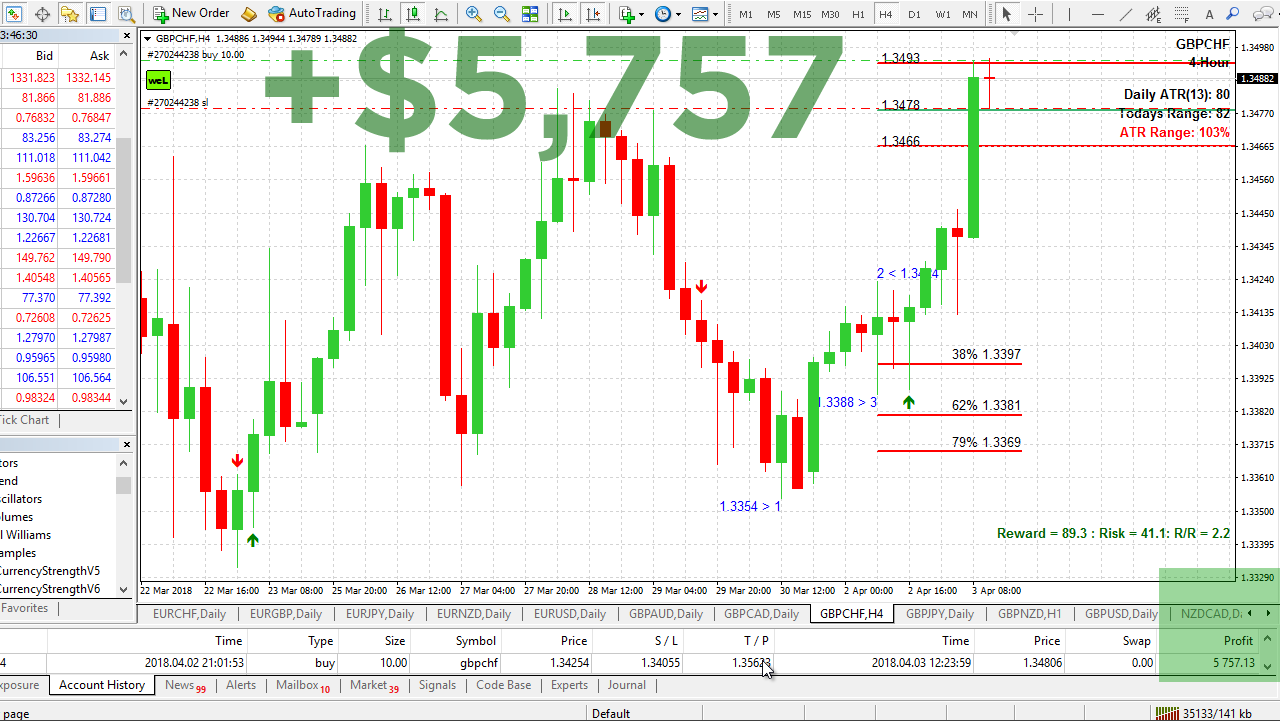 2018-03-29-GBPNZD Long
+$1,063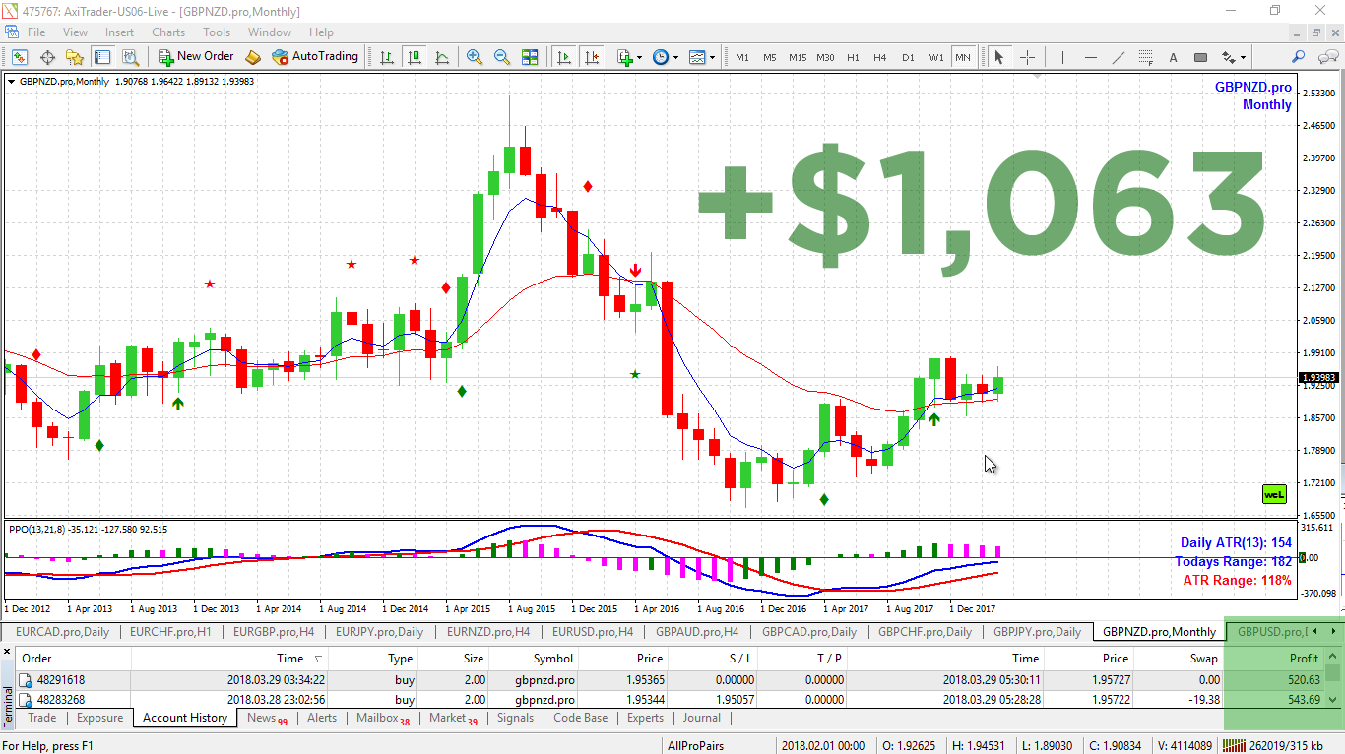 2018-03-23-GBPUSD Long
+$6,114
2018-03-20-USDCHF Long
+$758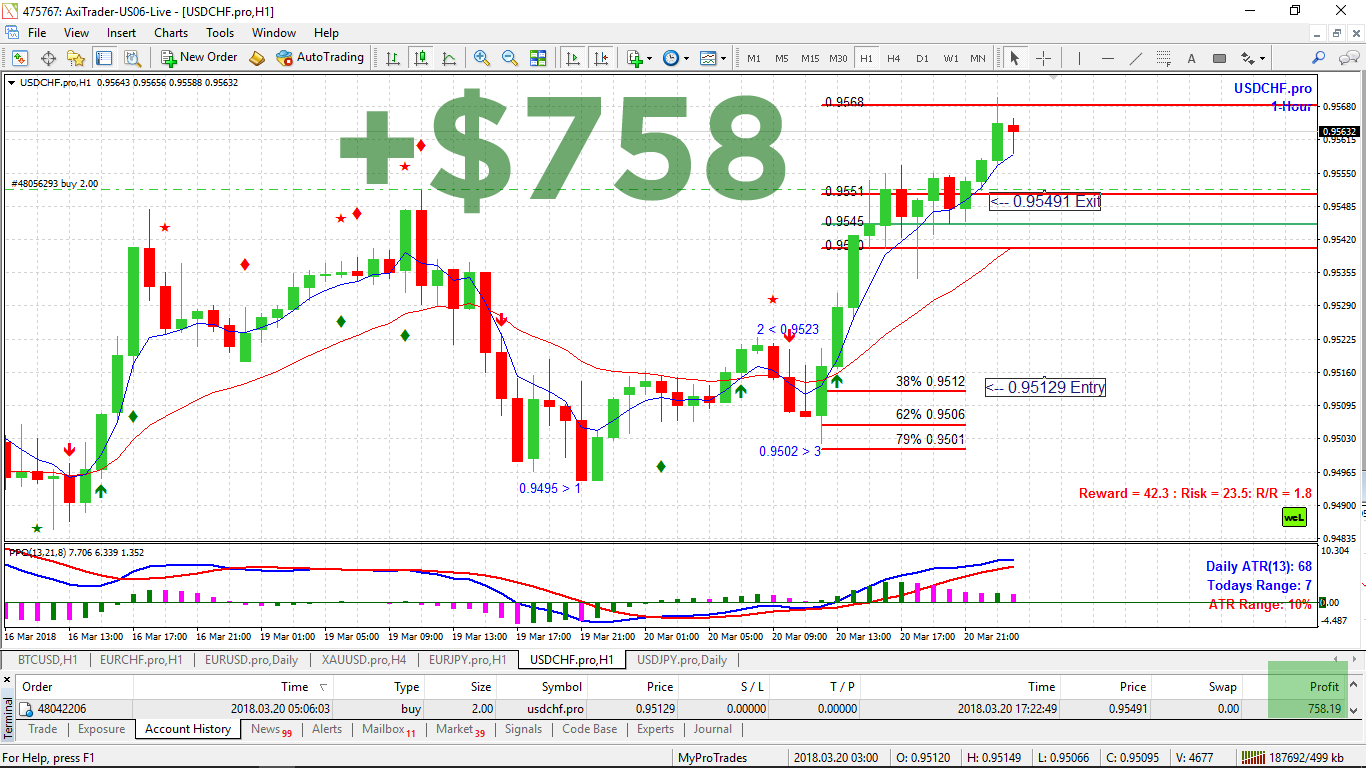 2018-03-16-USDCHF Long
+$1,632
2018-03-15-EURJPY Short 15M
+$1,501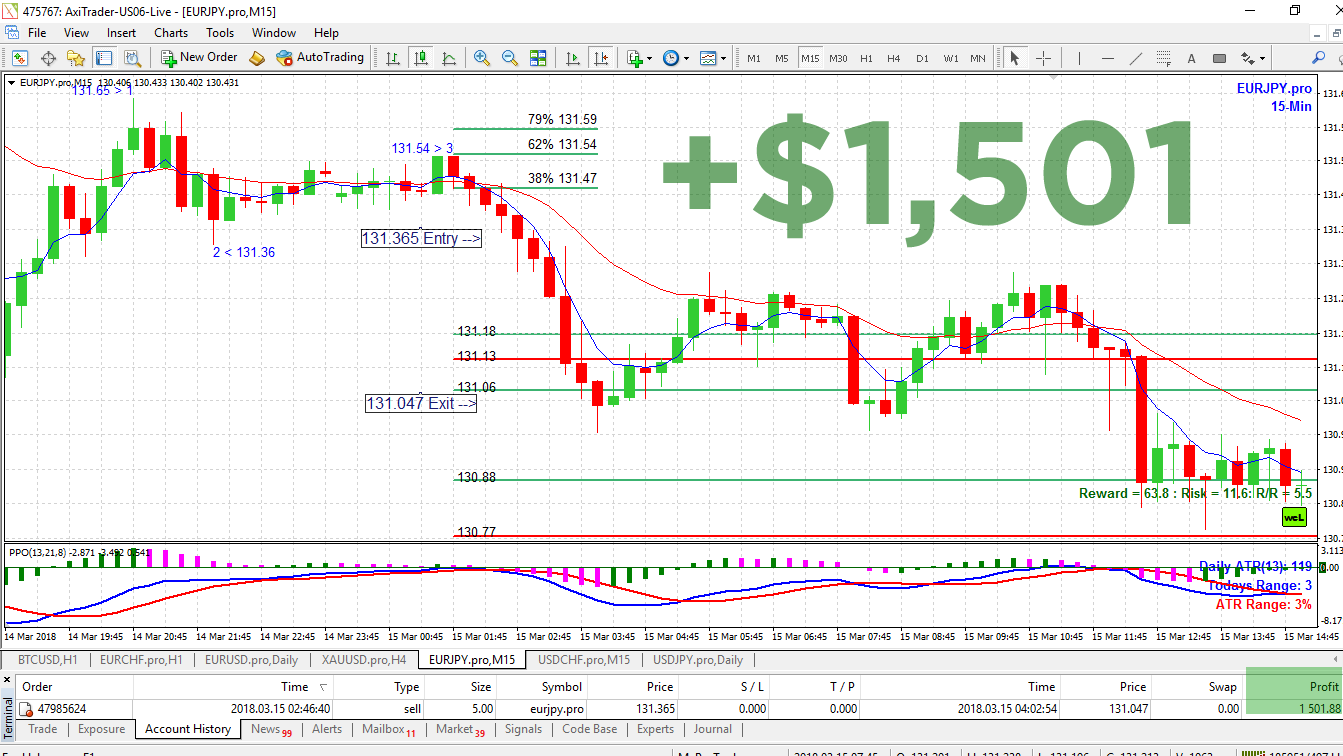 2018-03-08-NZDCHF Long Trade 1
+$1,429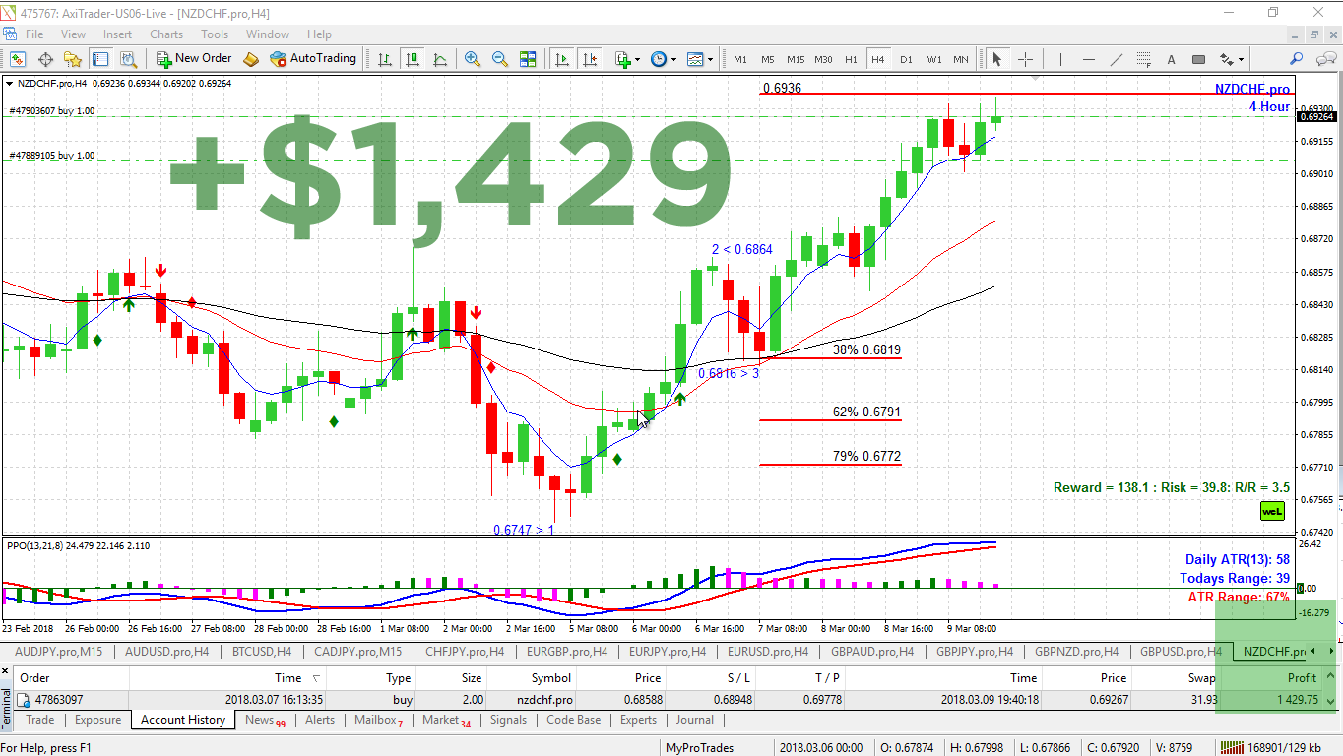 2018-03-06-NZDCHF Long Trade 2:
+$558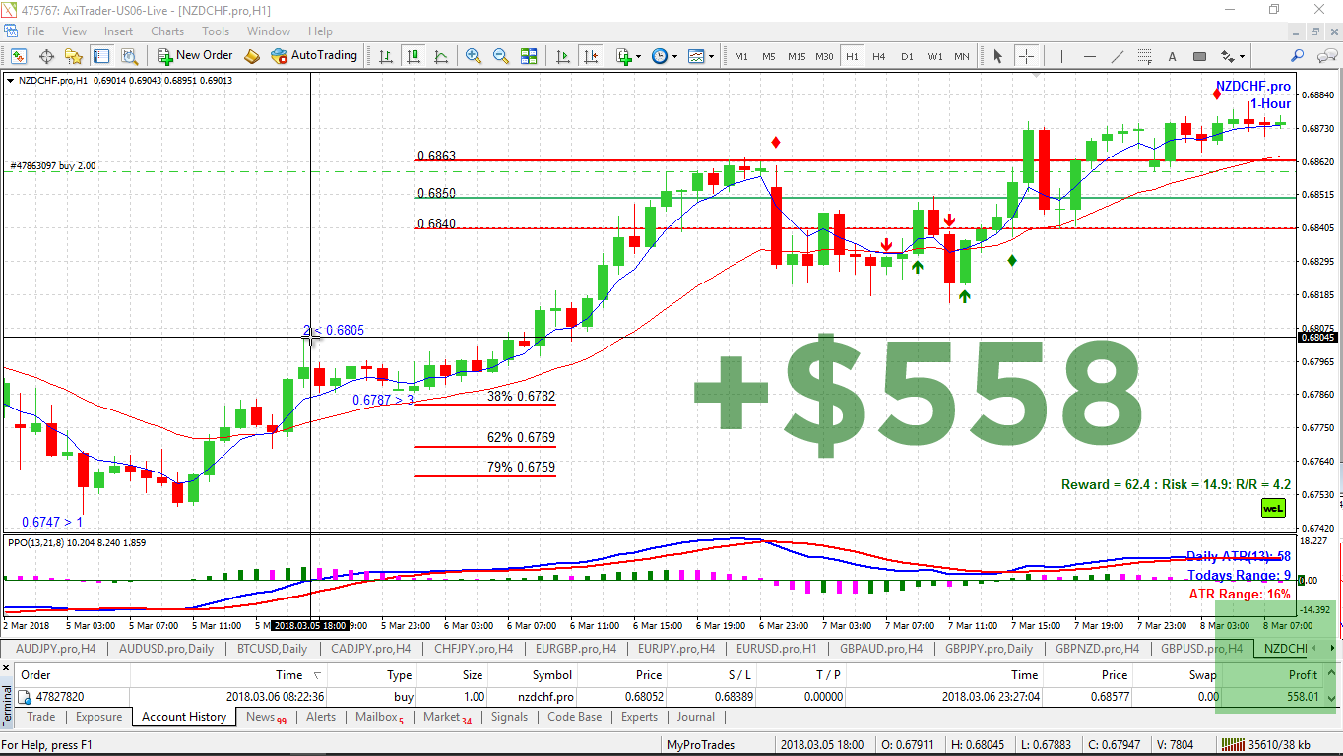 2018-03-06-NZDCHF Long Trade 1
+$1,330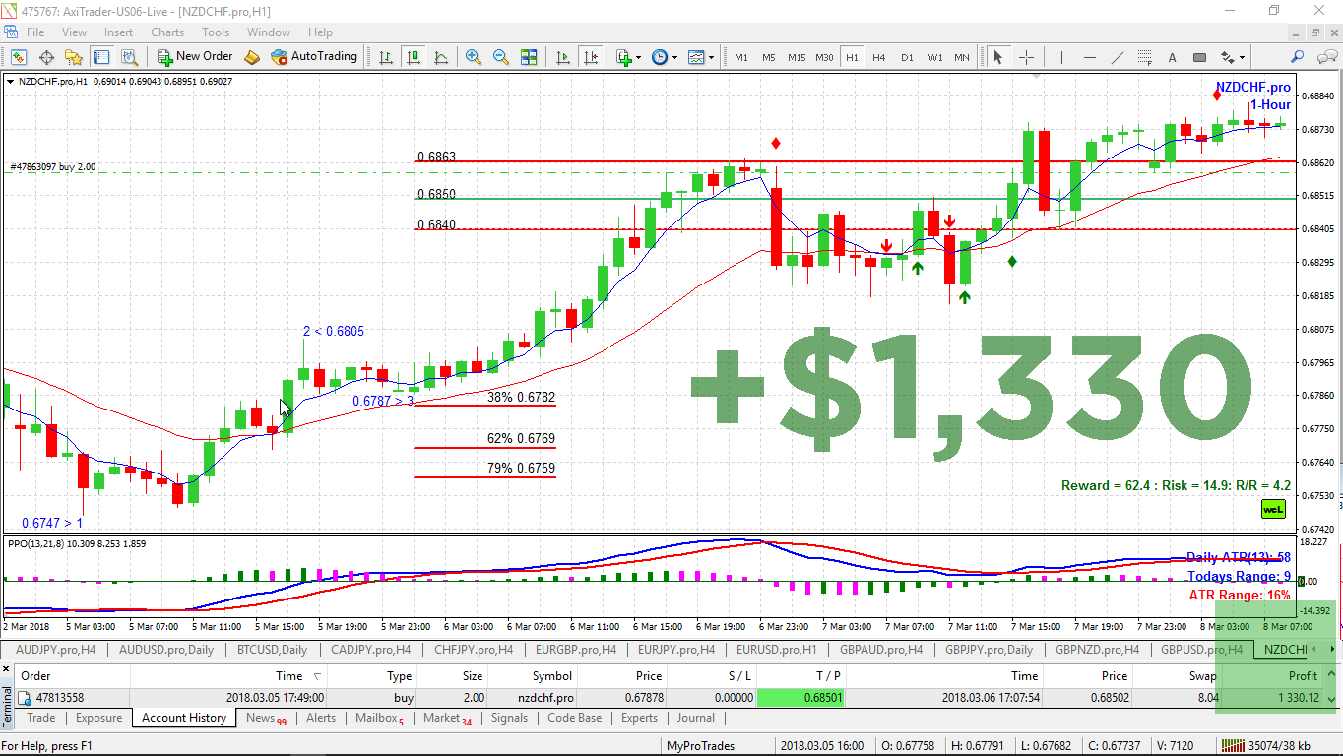 2018-03-05-NZDCHF Long
+$1,167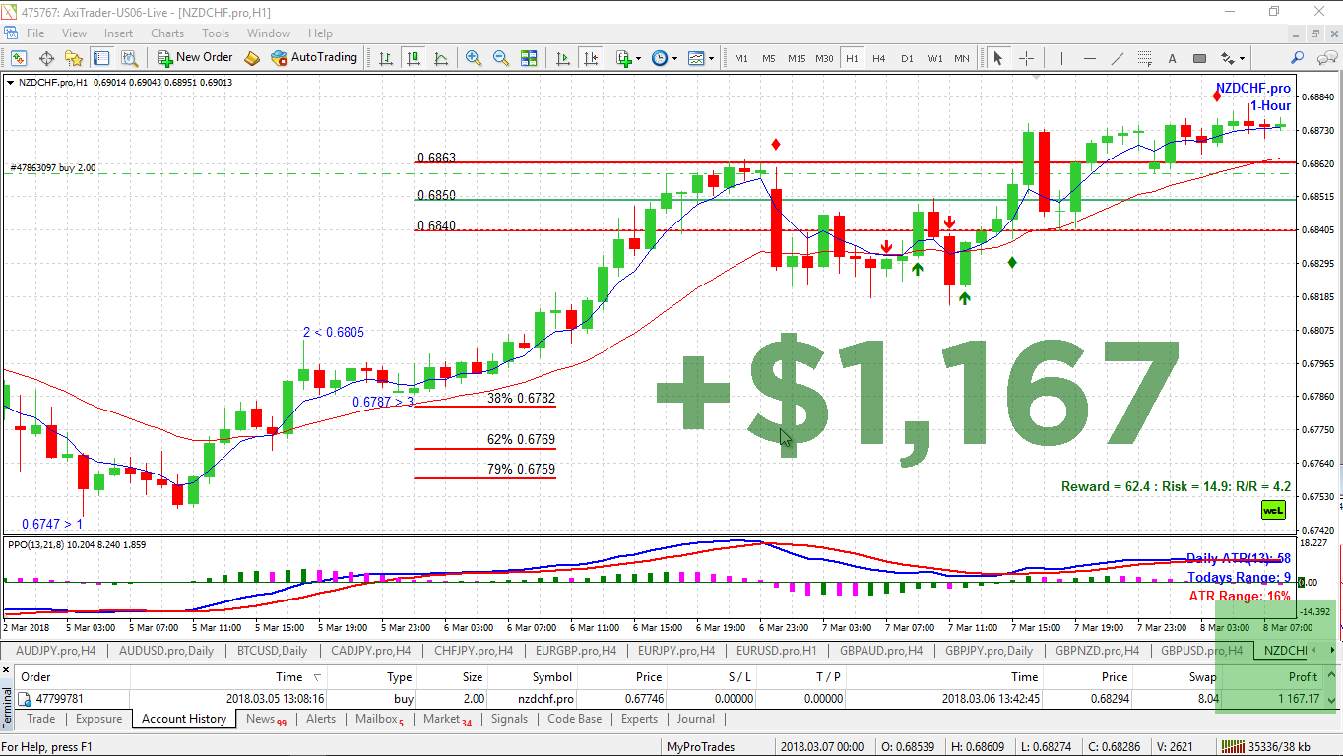 2018-03-02-USDCHF Short
+$2,053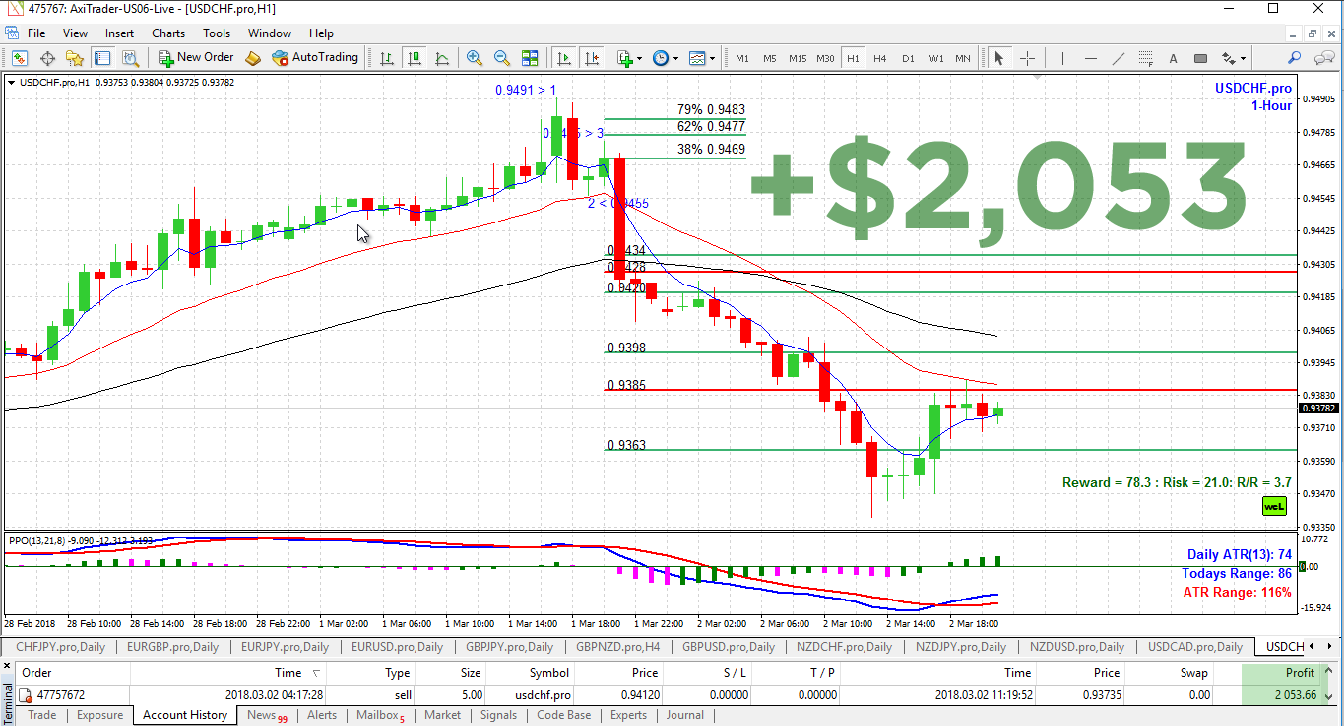 2018-02-23-USDJPY
+$1,114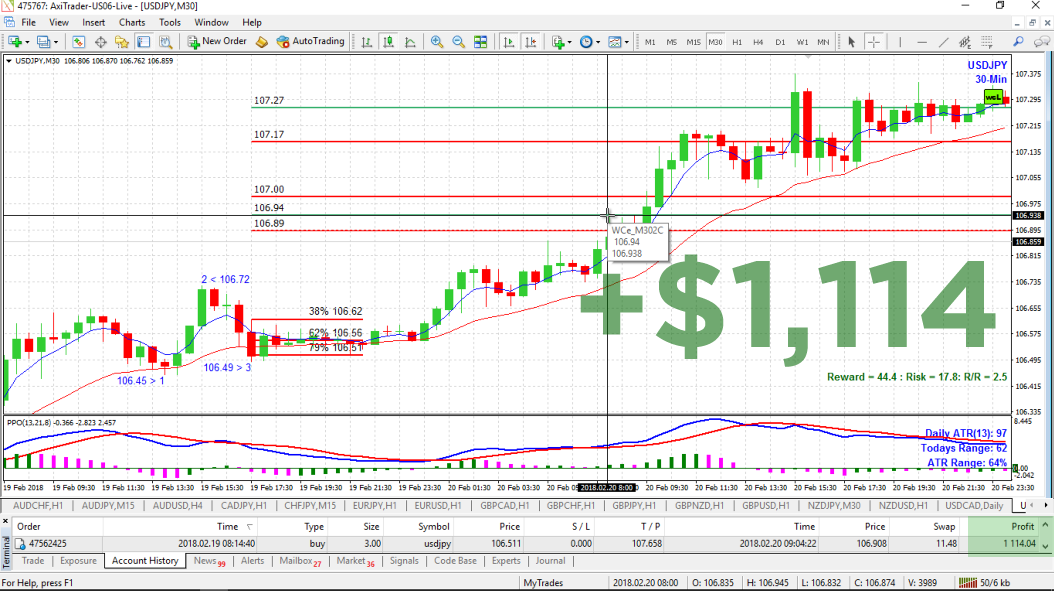 2018-02-22-USDJPY
+$1,484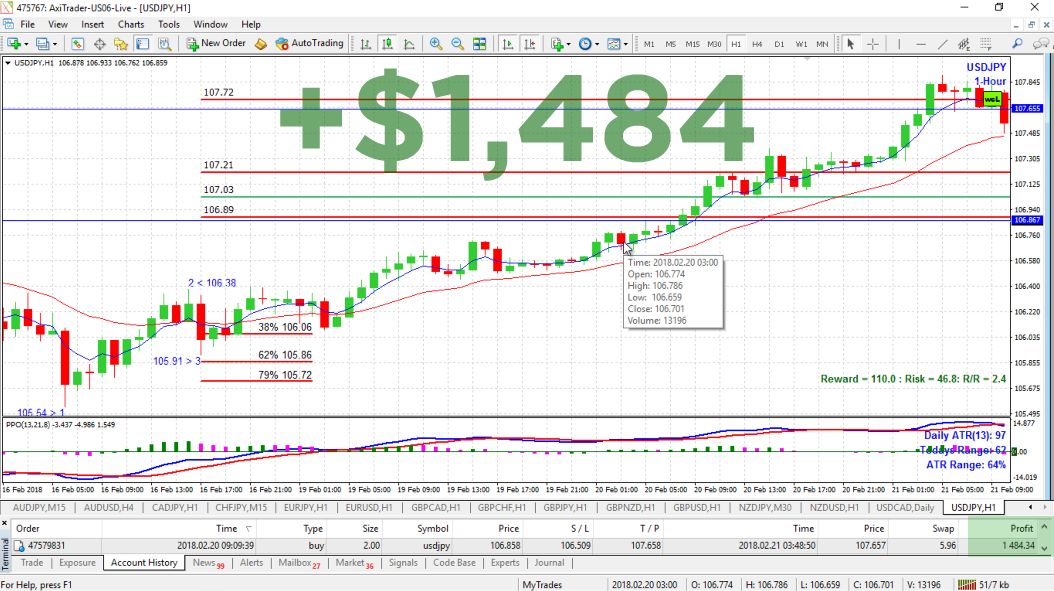 2018-02-15-GBPUSD
+$2,730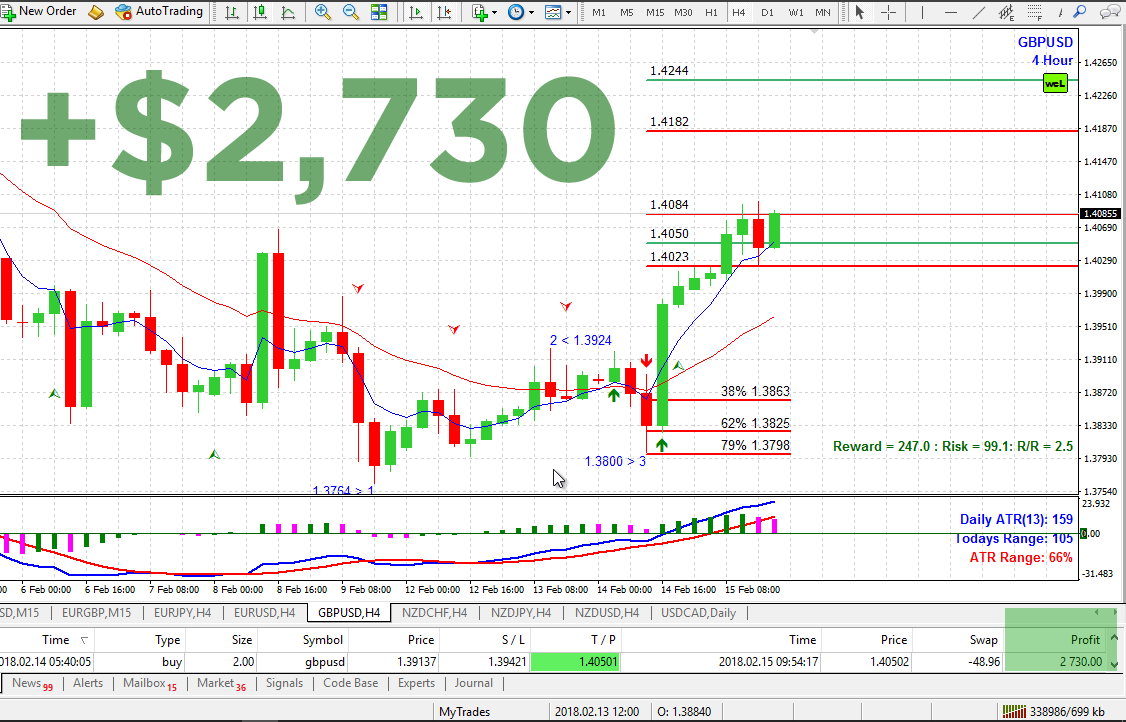 2018-02-06-GBPJPY 2Lots
+$1,190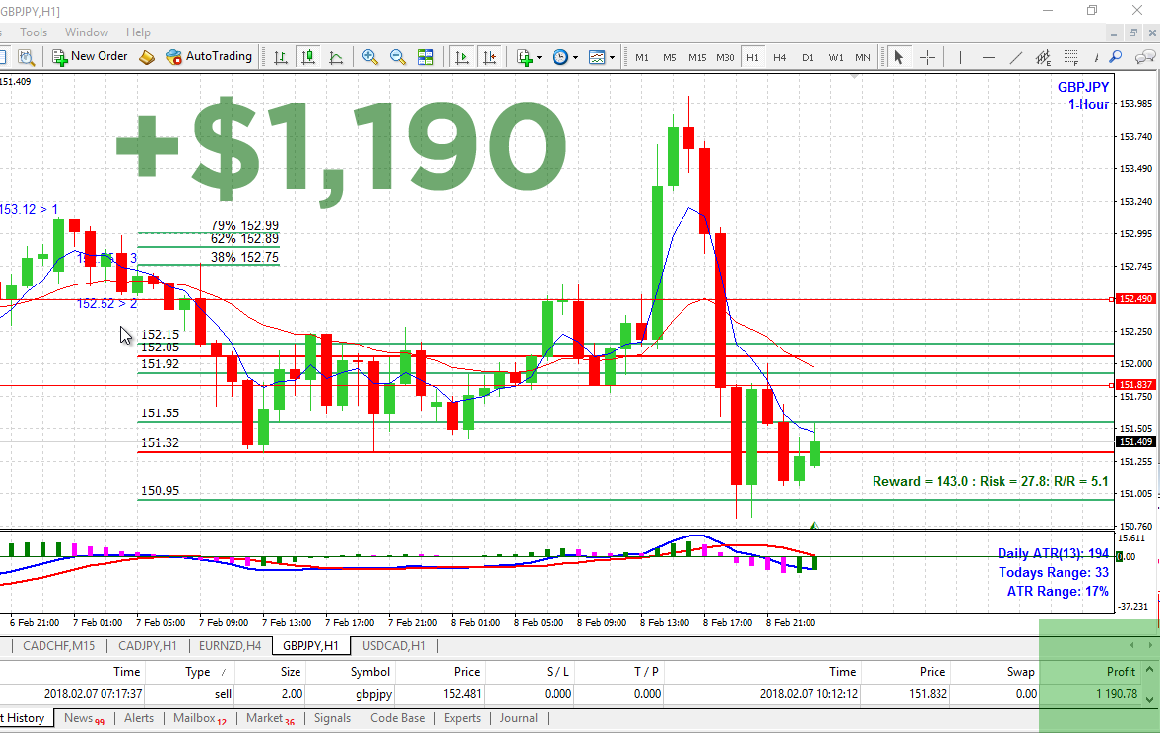 2018-02-06-CADJPY 5M
+$10,269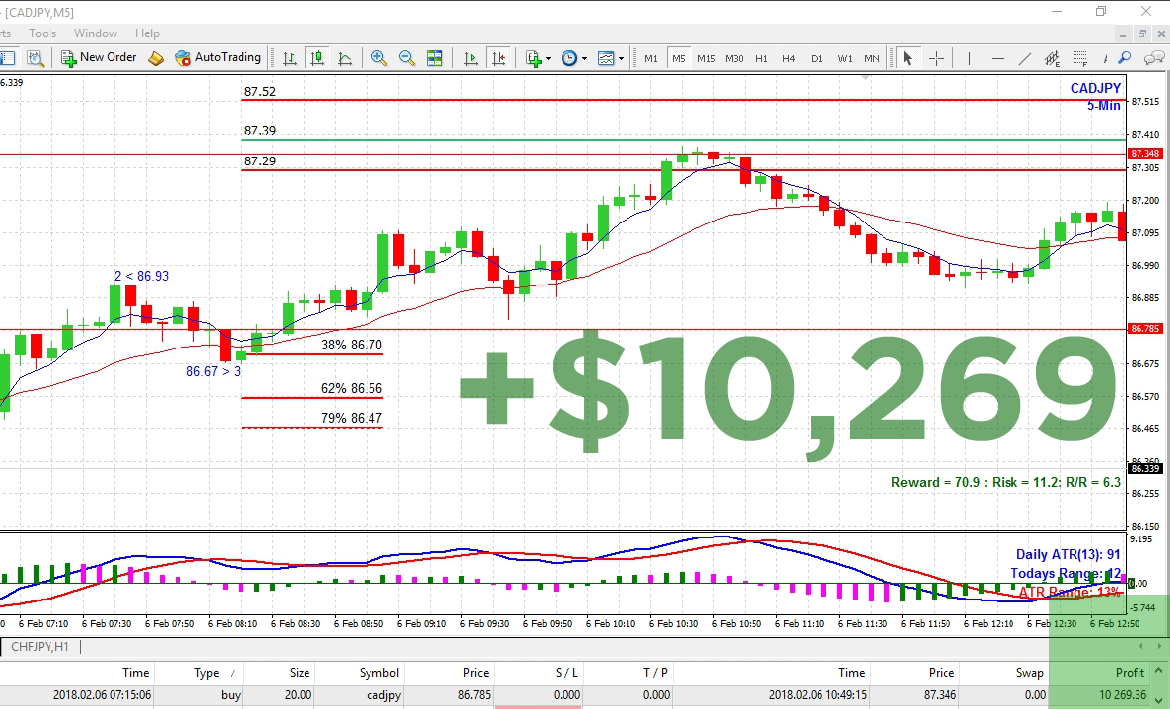 2018-01-25-GBPNZD Daily 5Lots
+$11,086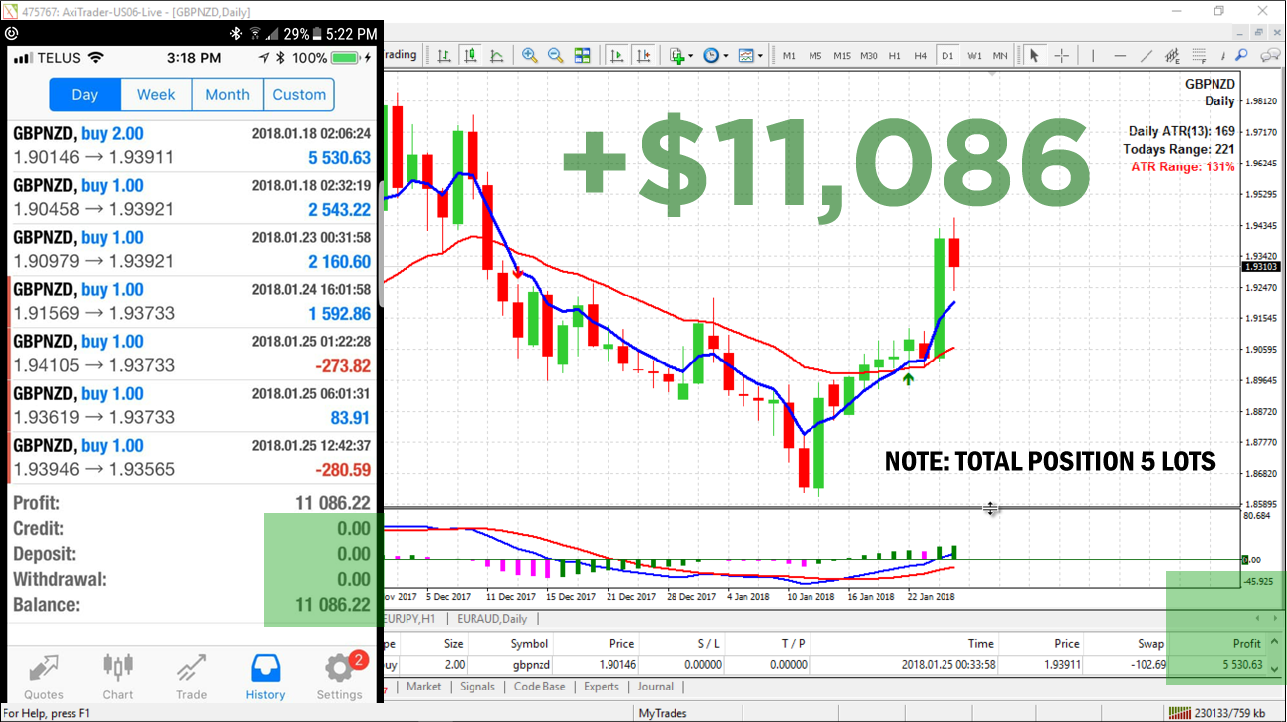 2018-01-24--USDCAD Alert Trade
+$1,901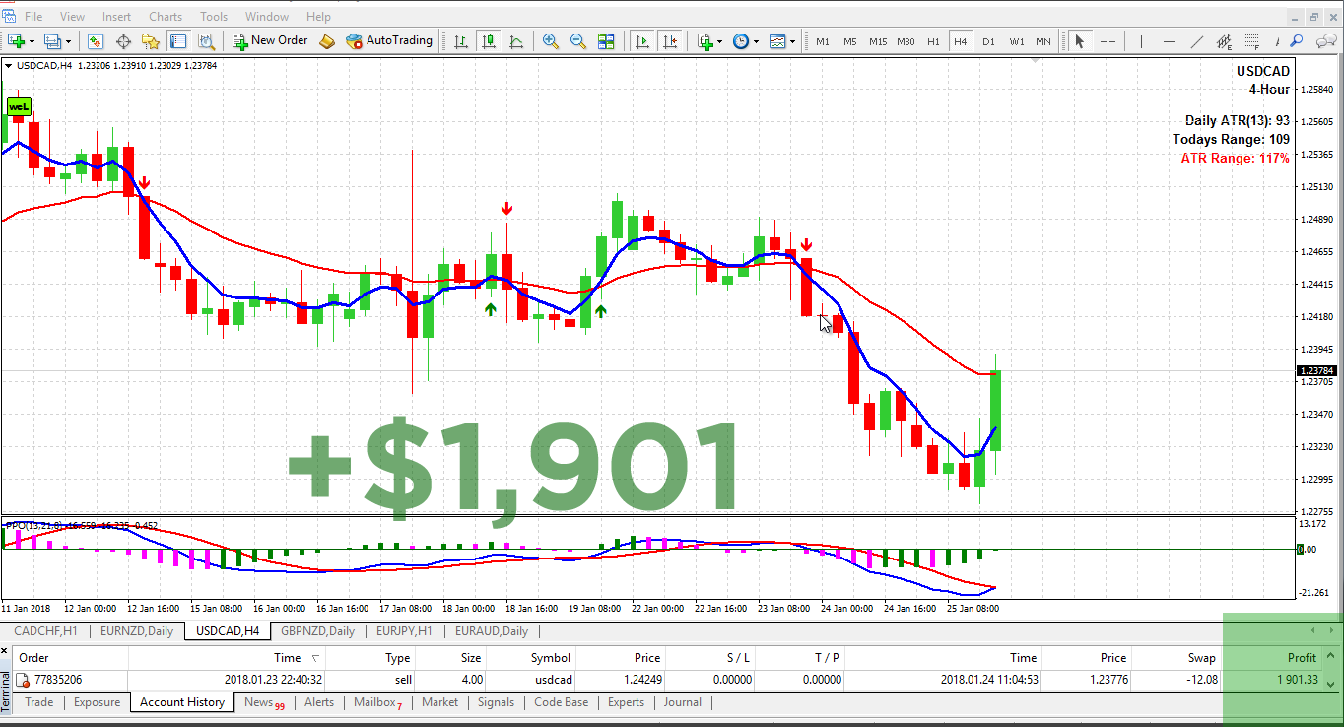 2018-01-17-EURAUD Alert Trade
+$2,319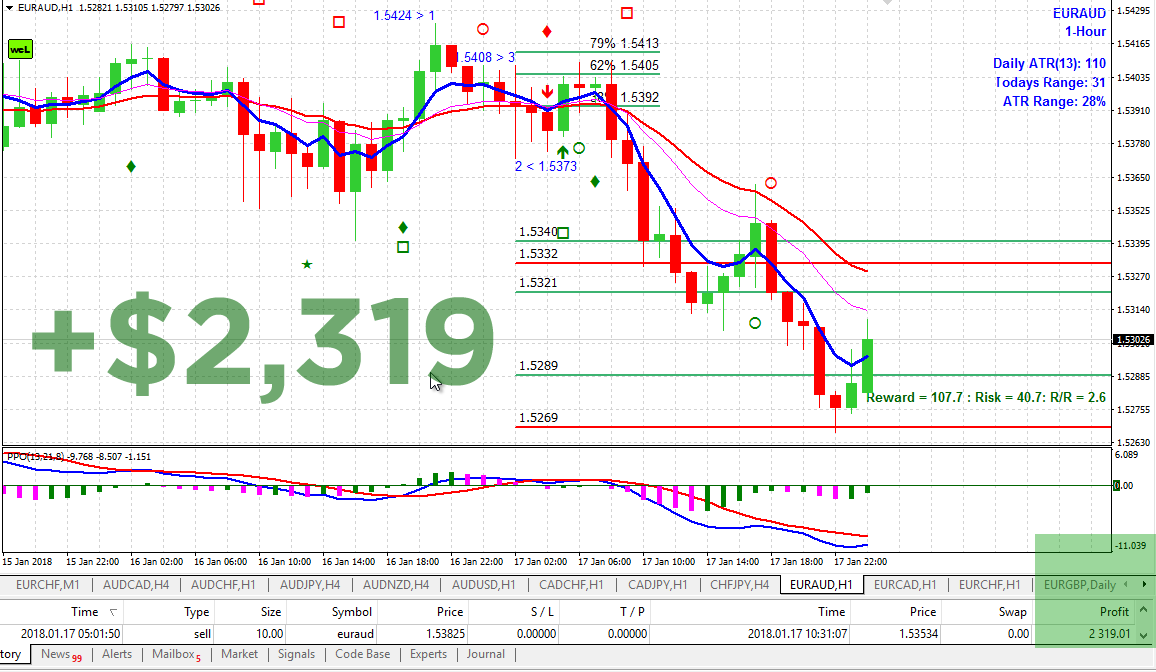 2018-01-12-GBPCHF Alert Trade
+$5,830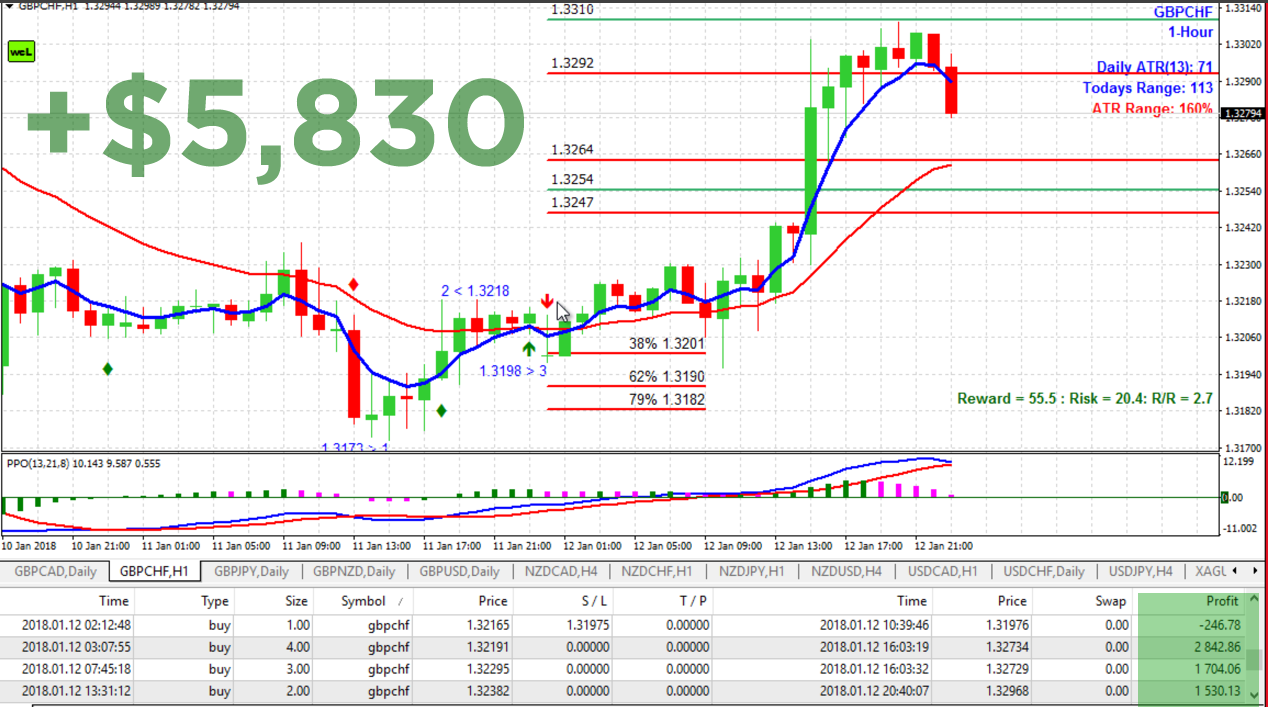 2017-12-27-EURUSD Alert Trade
+$5,230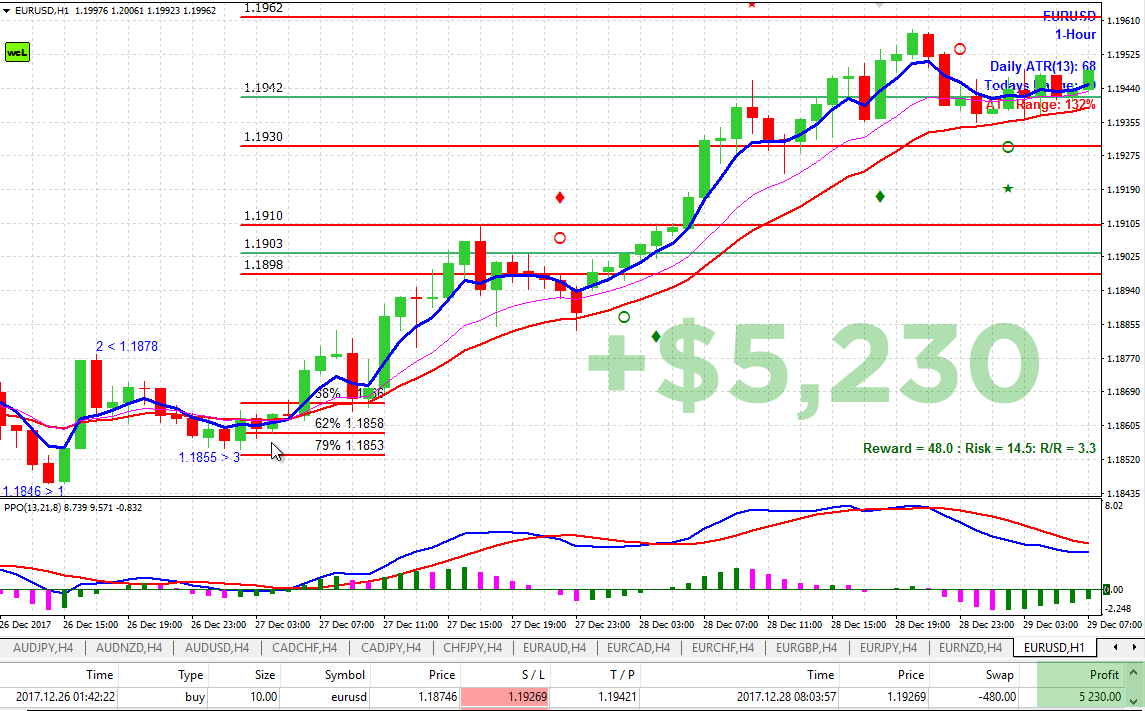 2017-12-22-EURNZD Alert Trade
+$1,983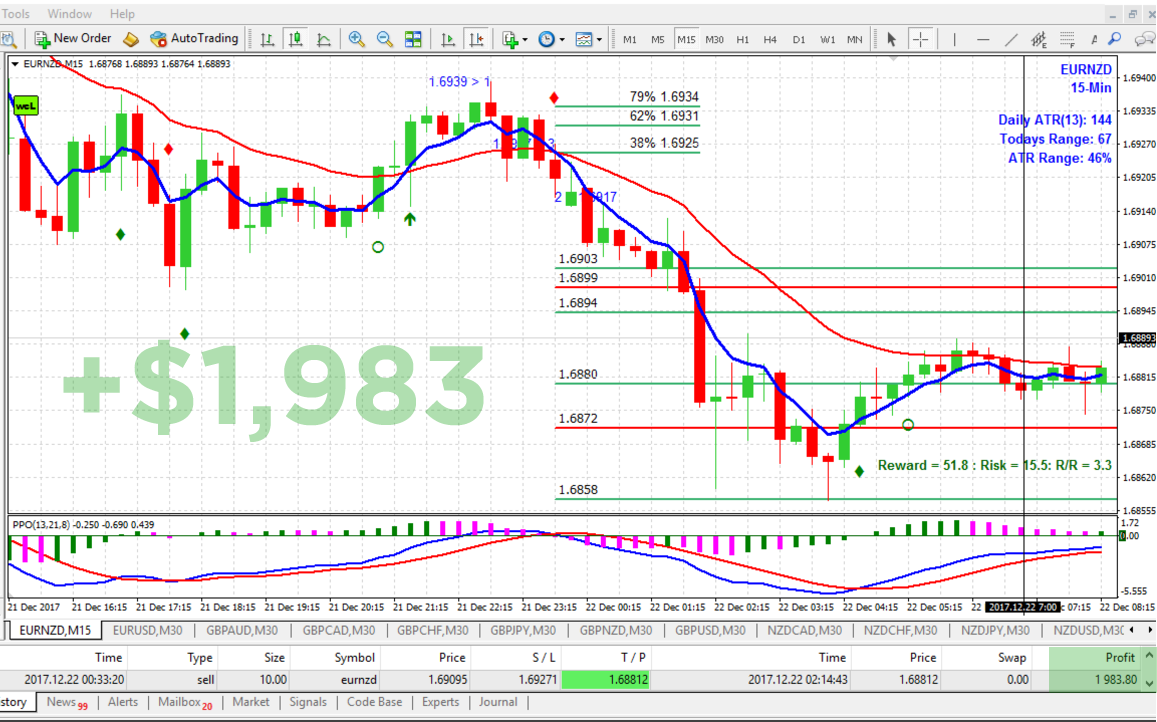 2017-12-21-GBPNZD Trade
+$2,684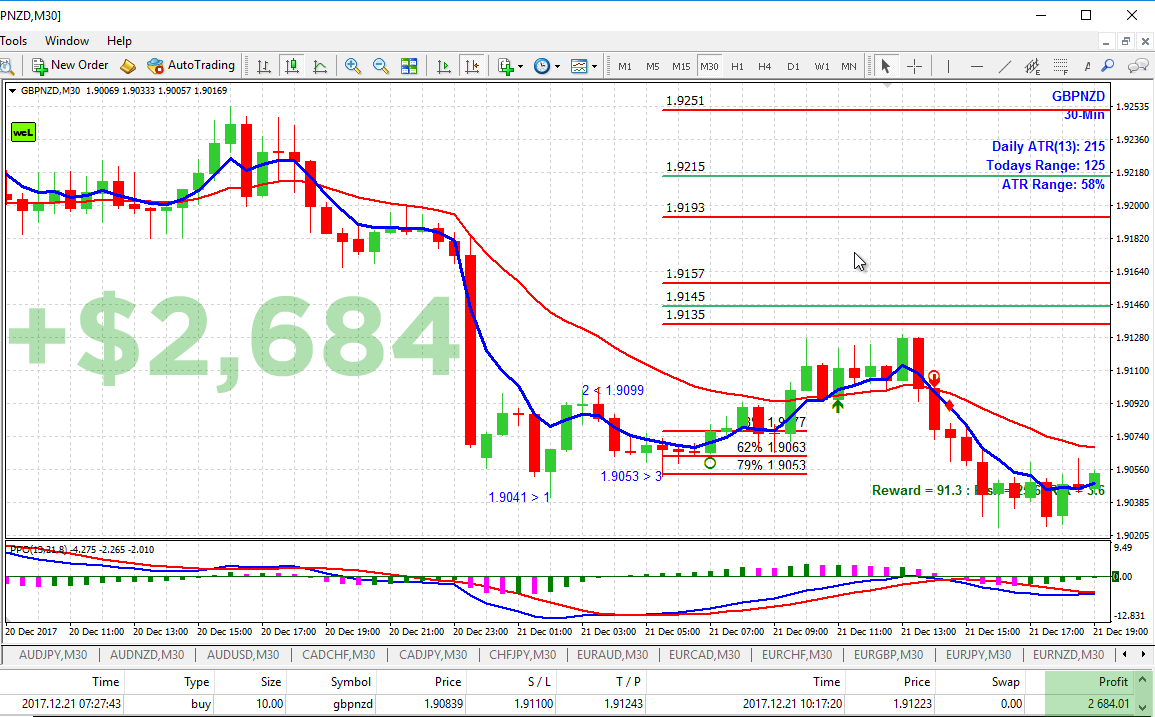 2017-12-19-EURGBP Alert Trade
+$1,162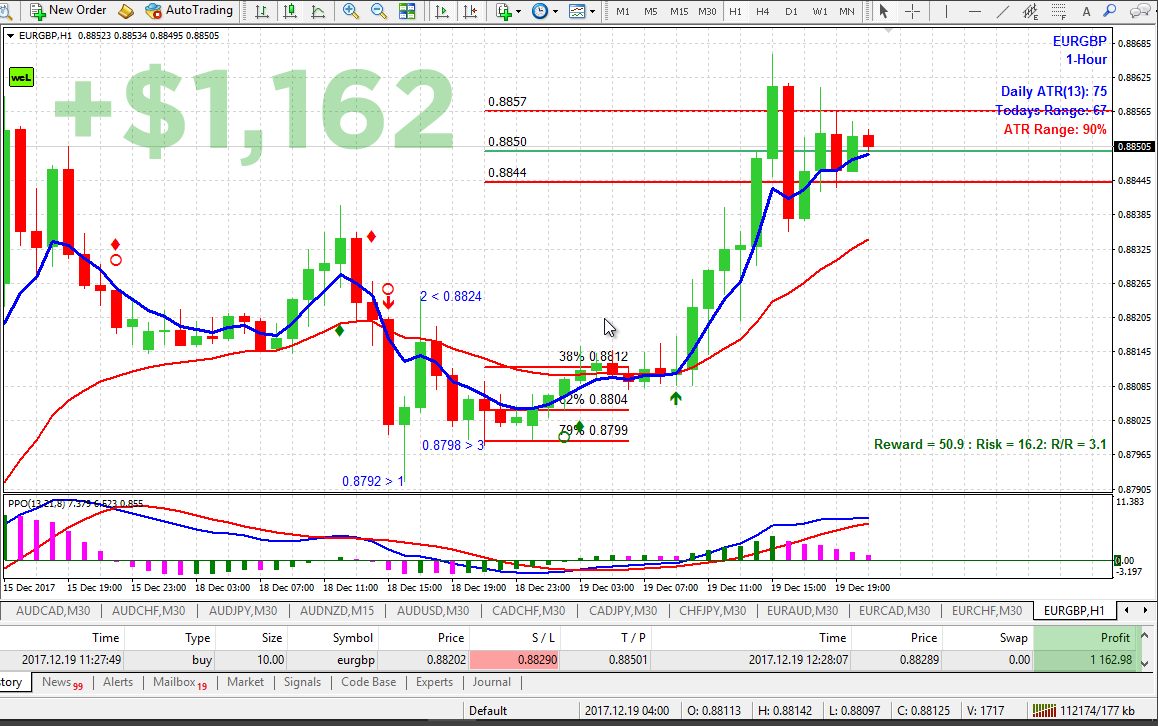 2017-12-19-AUDNZD Alert Trade
+$1,429
2017-12-18-XAUUSD Long
+$2,840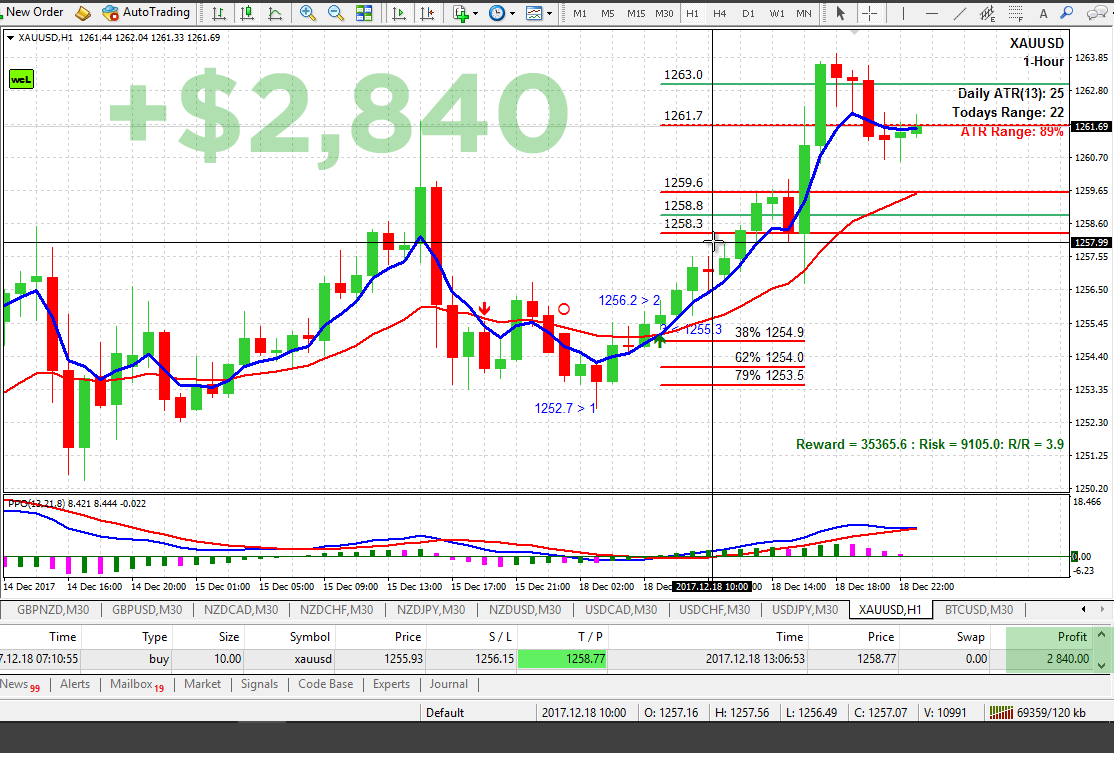 2017-12-15-XAUUSD Long
+$3,170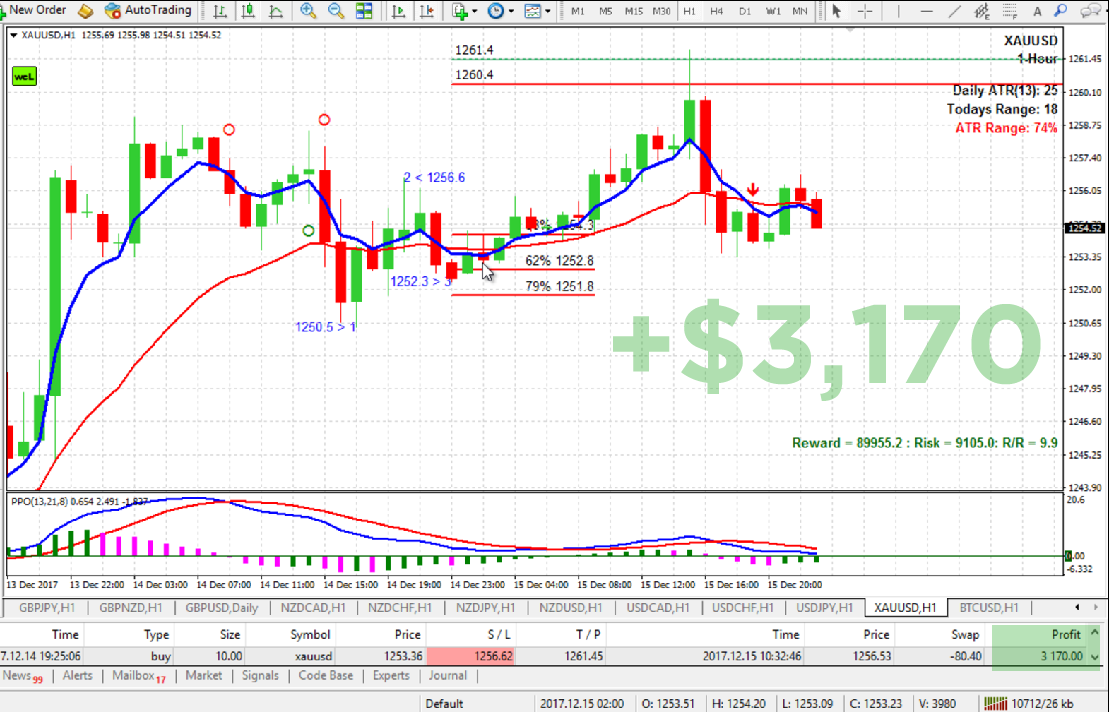 2017-12-15-GBPUSD Long
-$1,640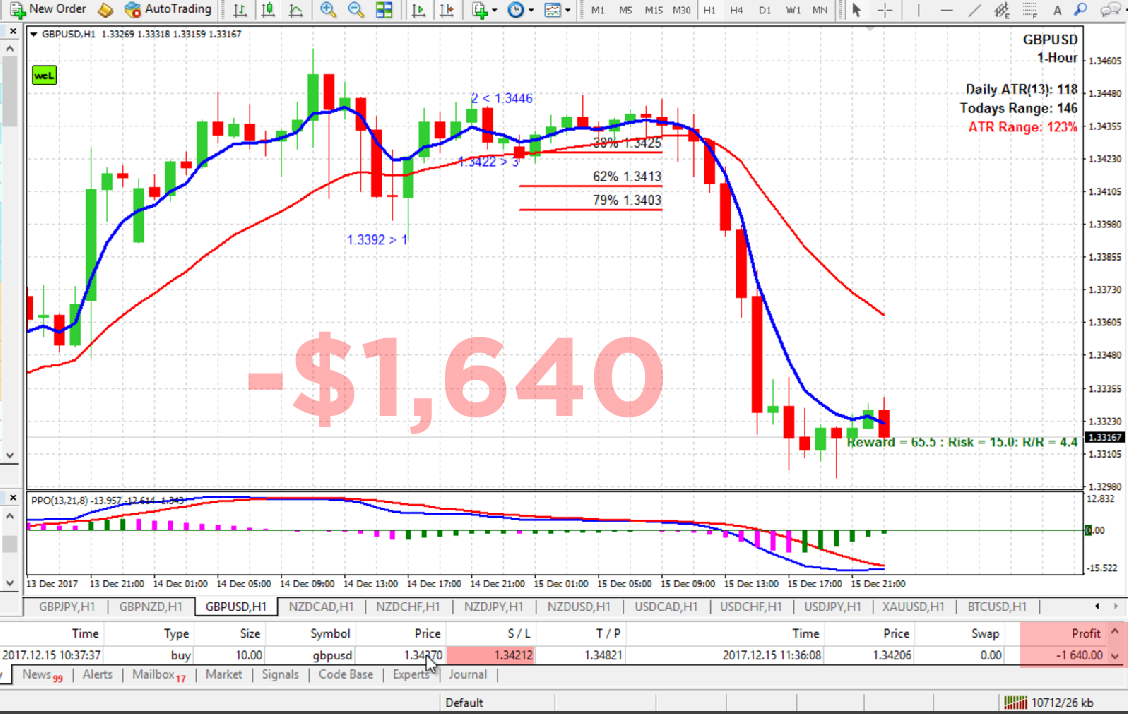 2017-12-15-BTCUSD Long
+$5,917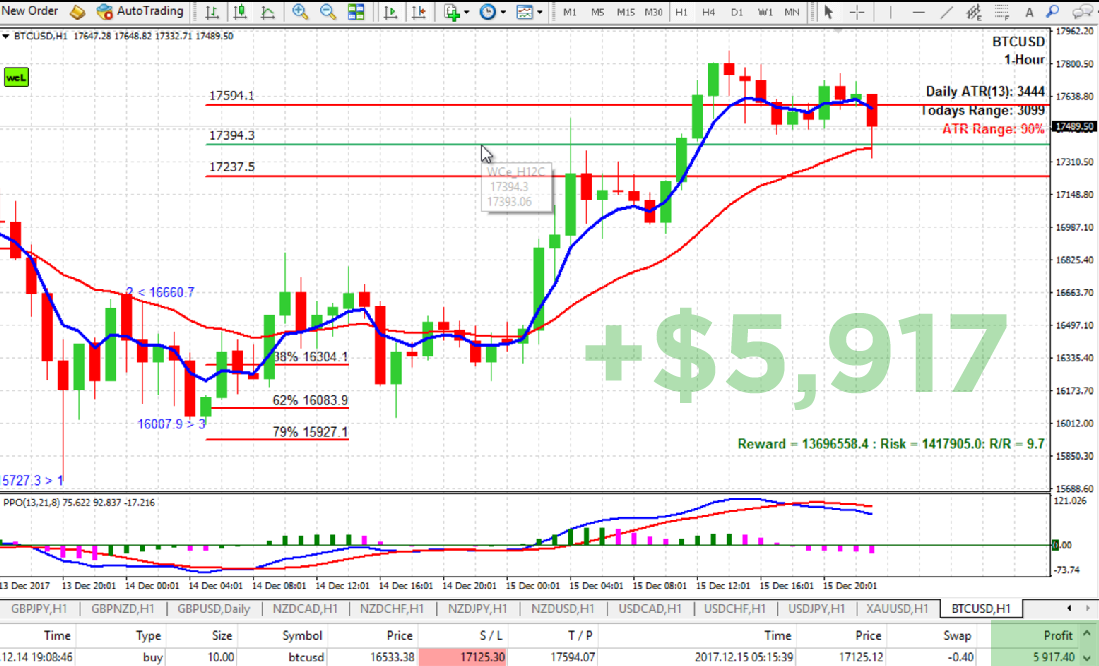 2017-12-13-AUDCAD Long
+$3,913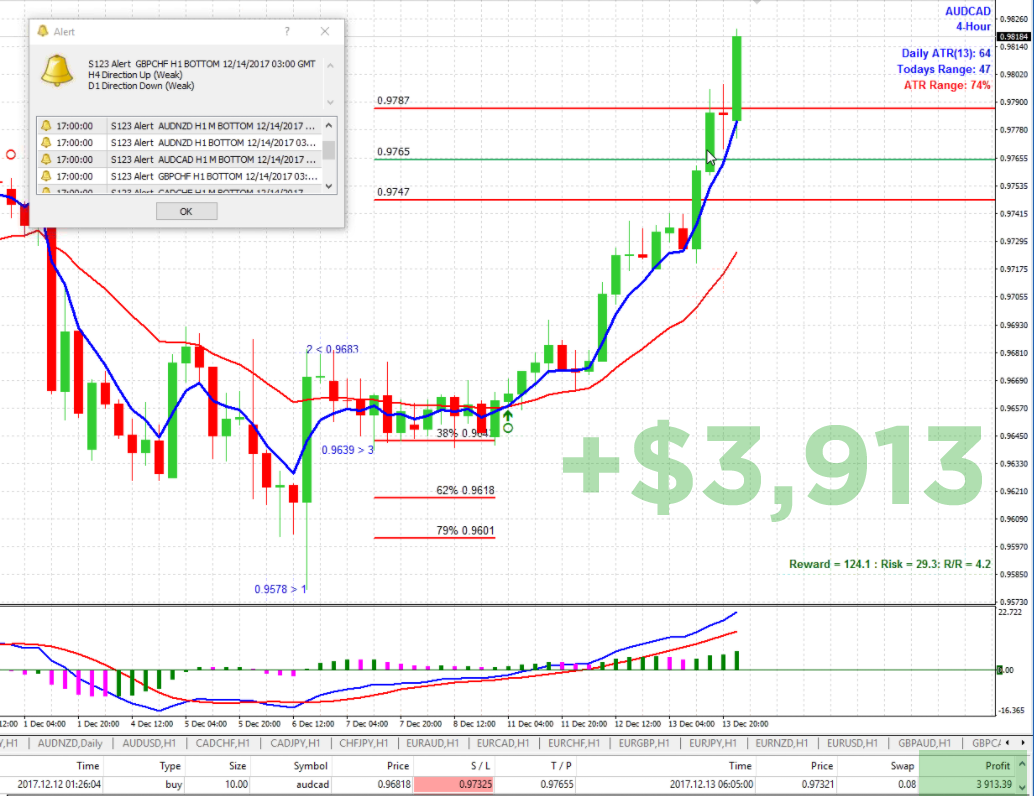 2017-12-08-GBPAUD Long
+$4,078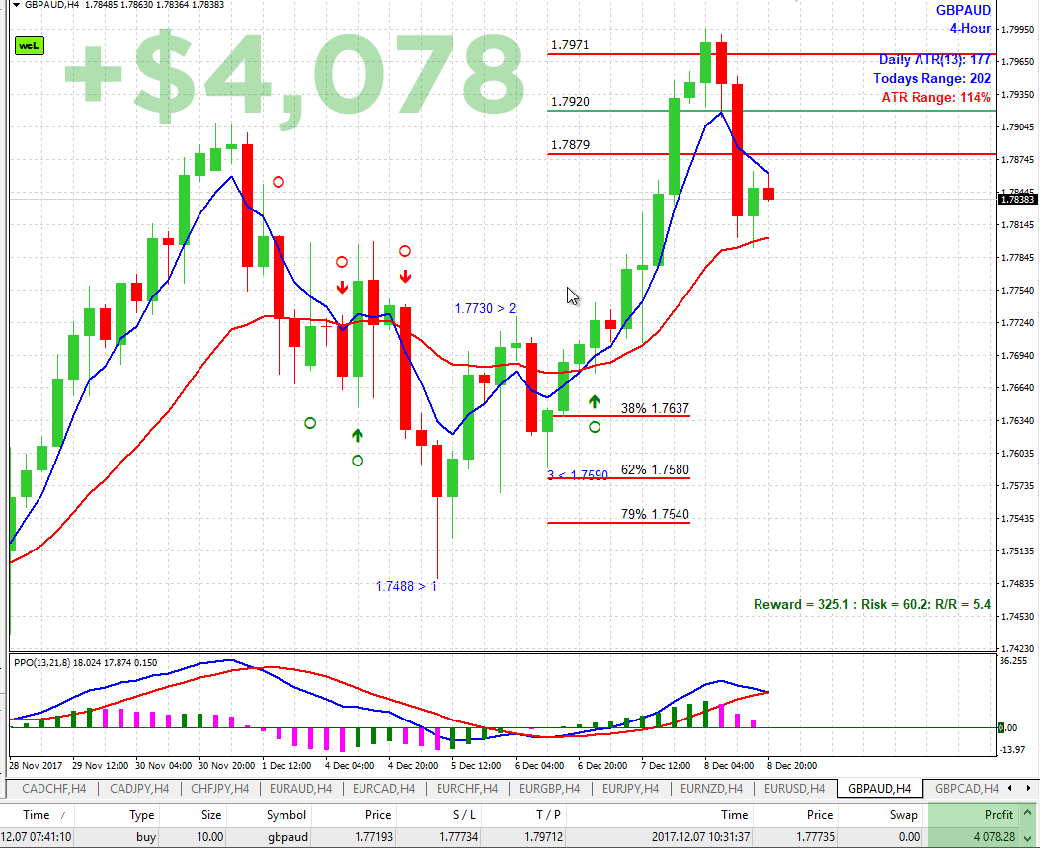 2017-12-05-AUDUSD Long
+$3,480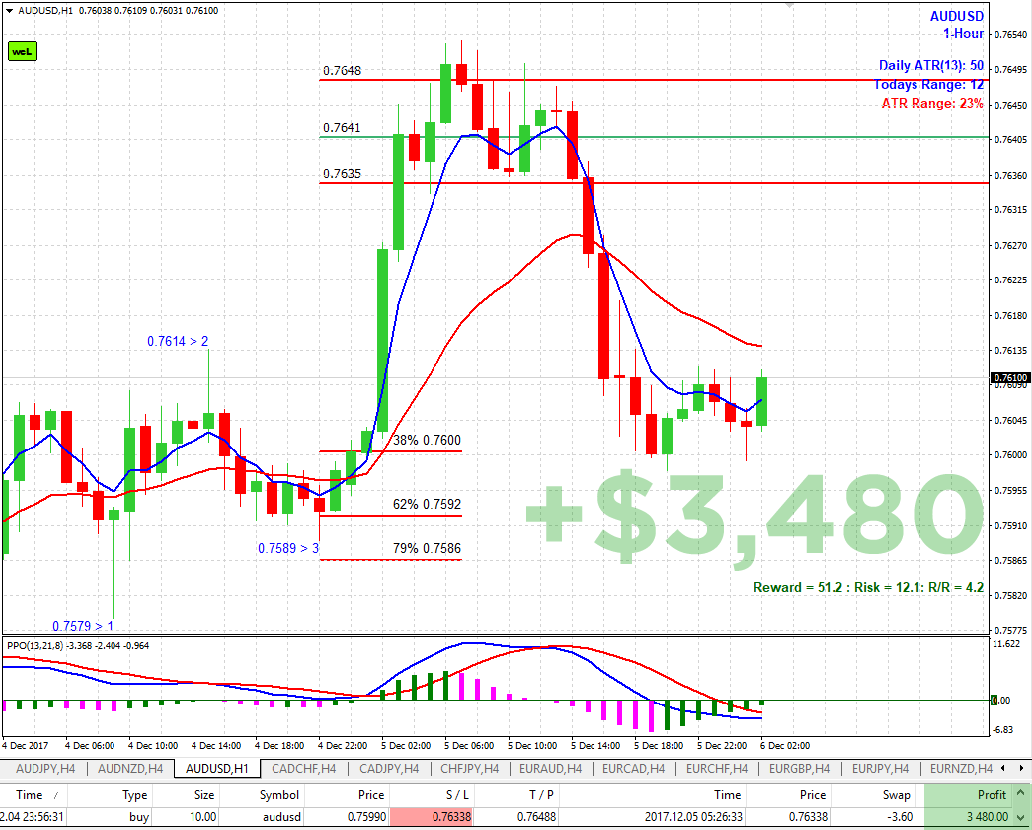 2017-11-30-CADJPY Long
+$1,575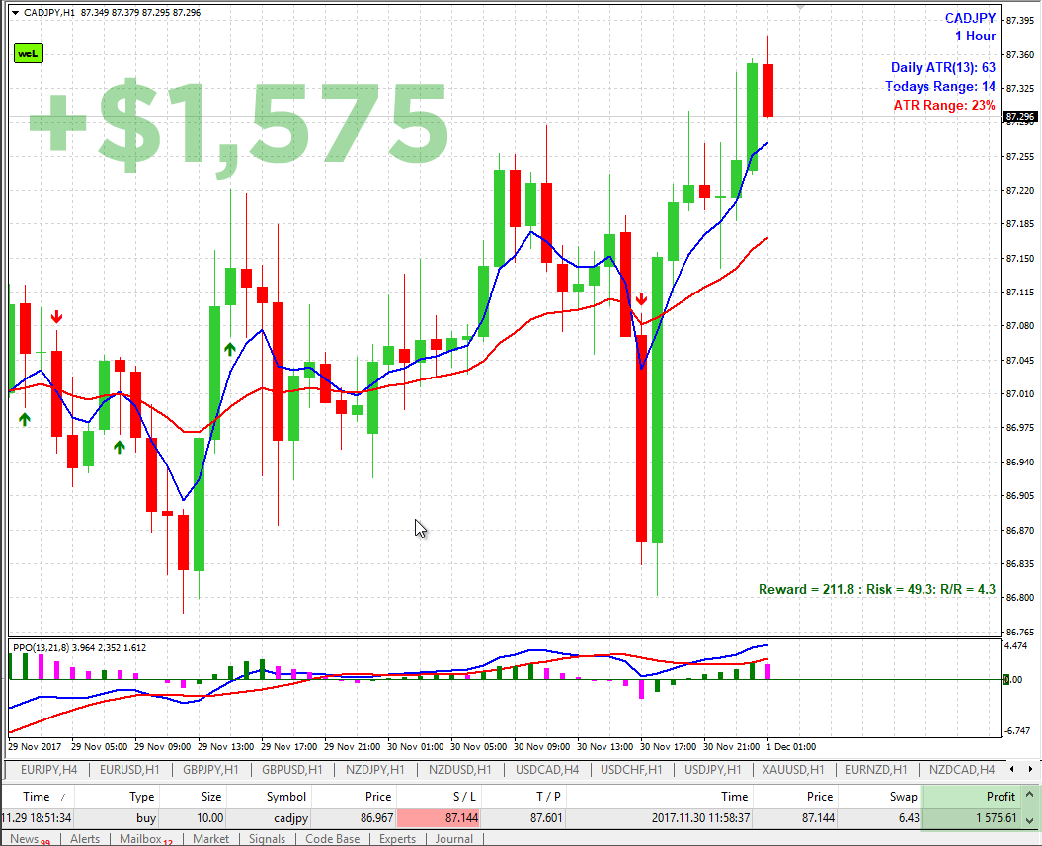 2017-11-29-EURUSD-Alert Trade
-$210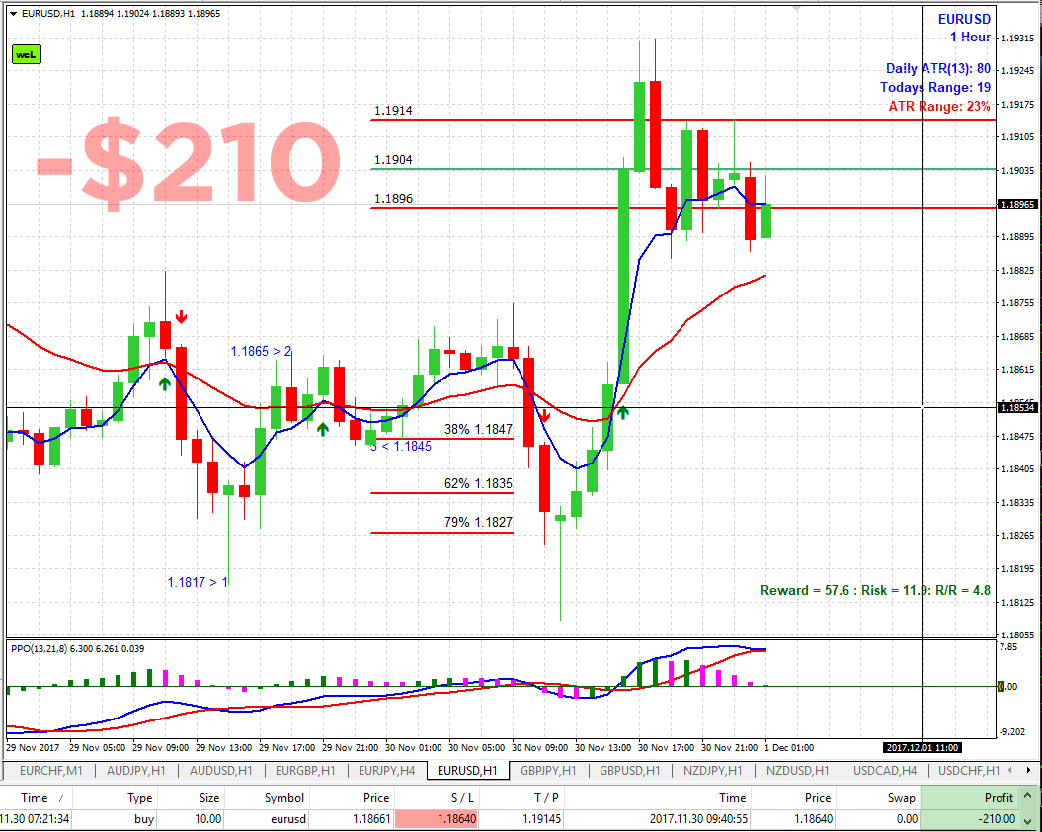 2017-11-27-AUDCAD Long
+$1,488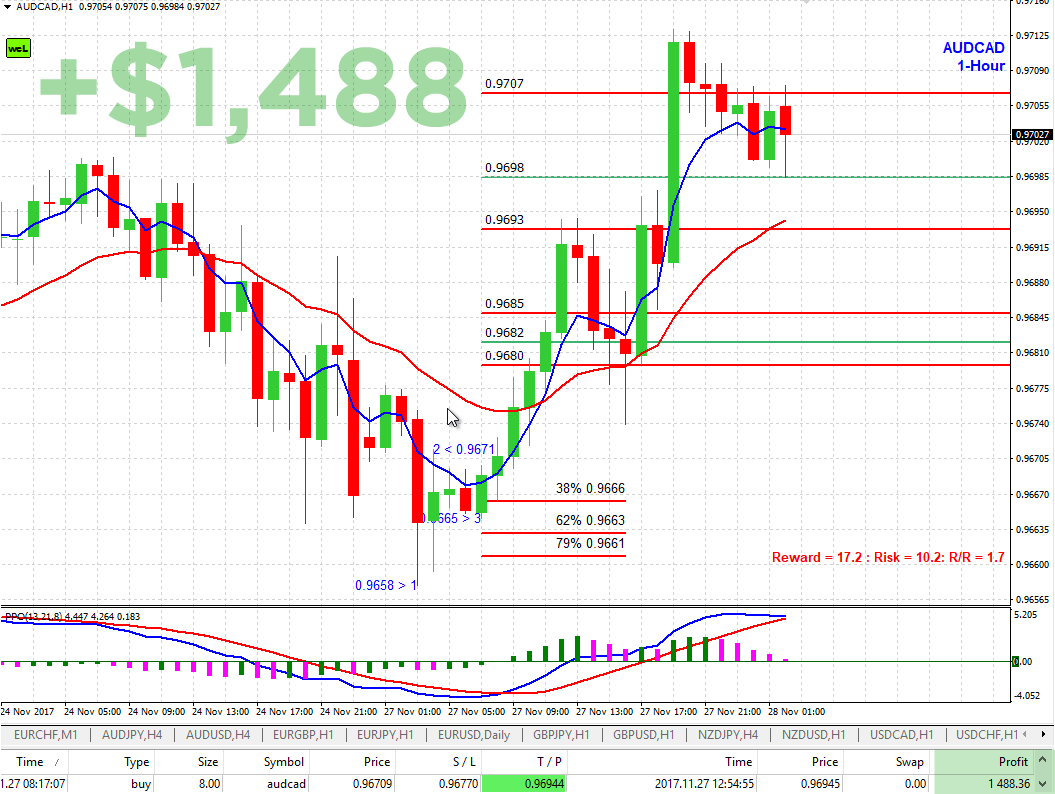 2017-11-24-GBPCAD Long
+$2,629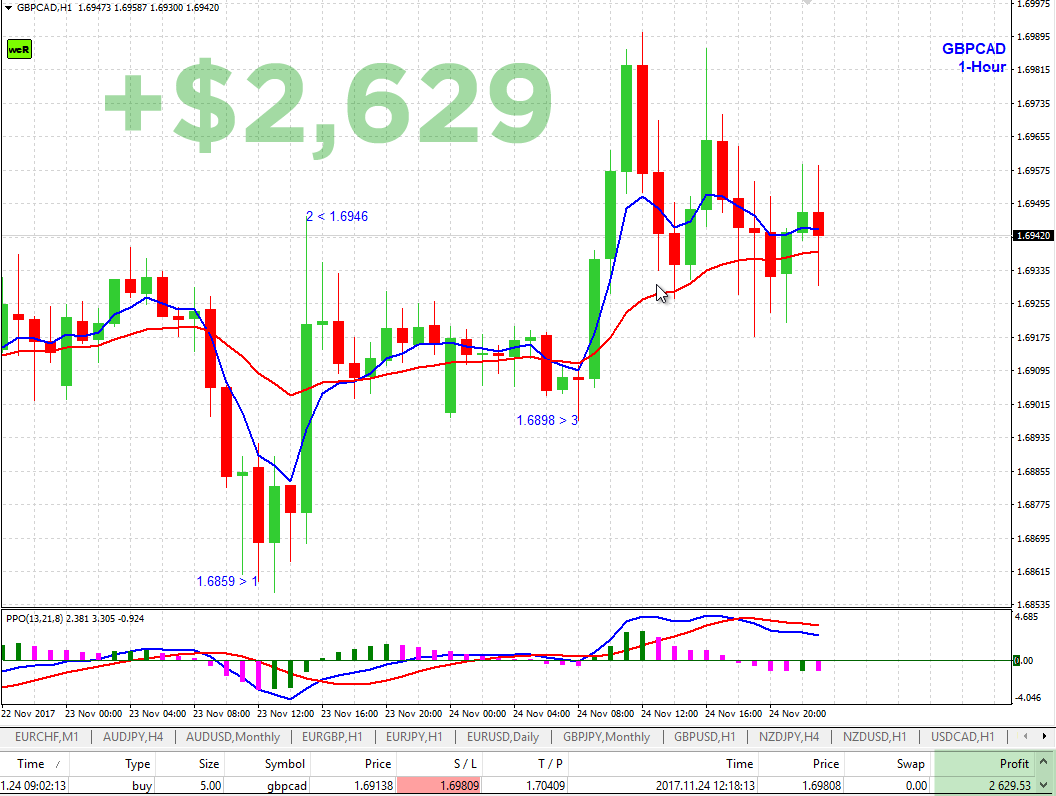 2017-11-23-GBPCAD Long Alert Trade
-$1,383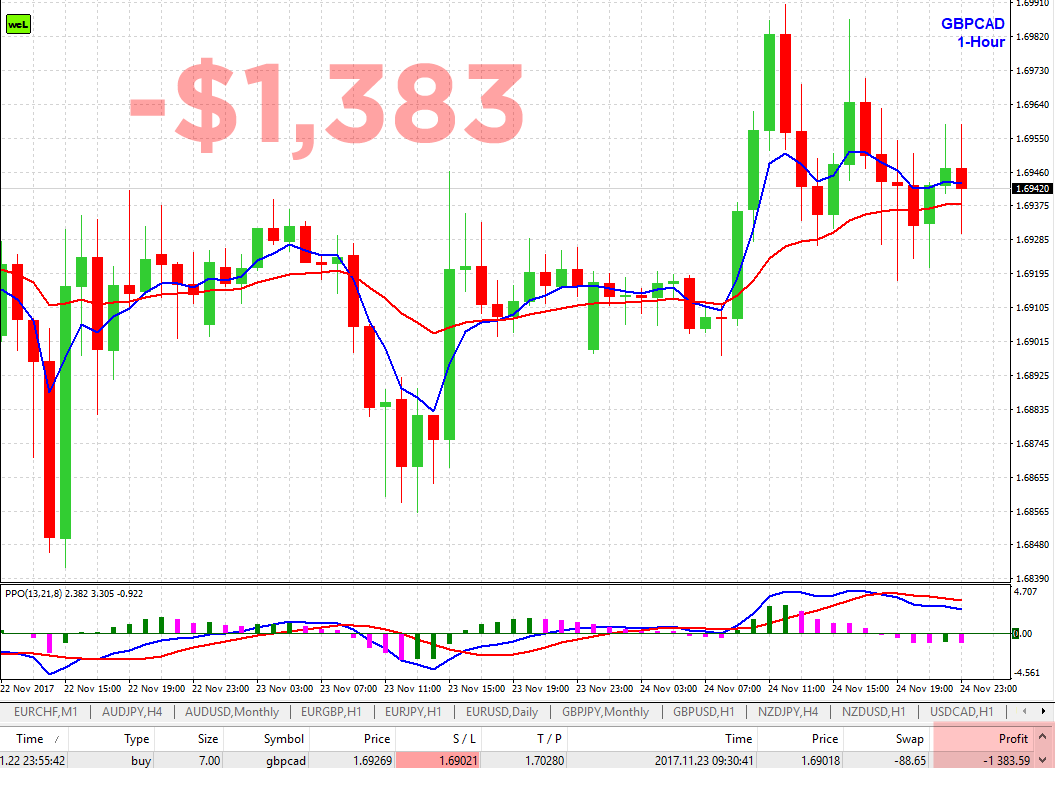 2017-11-20-EURUSD
+$5,080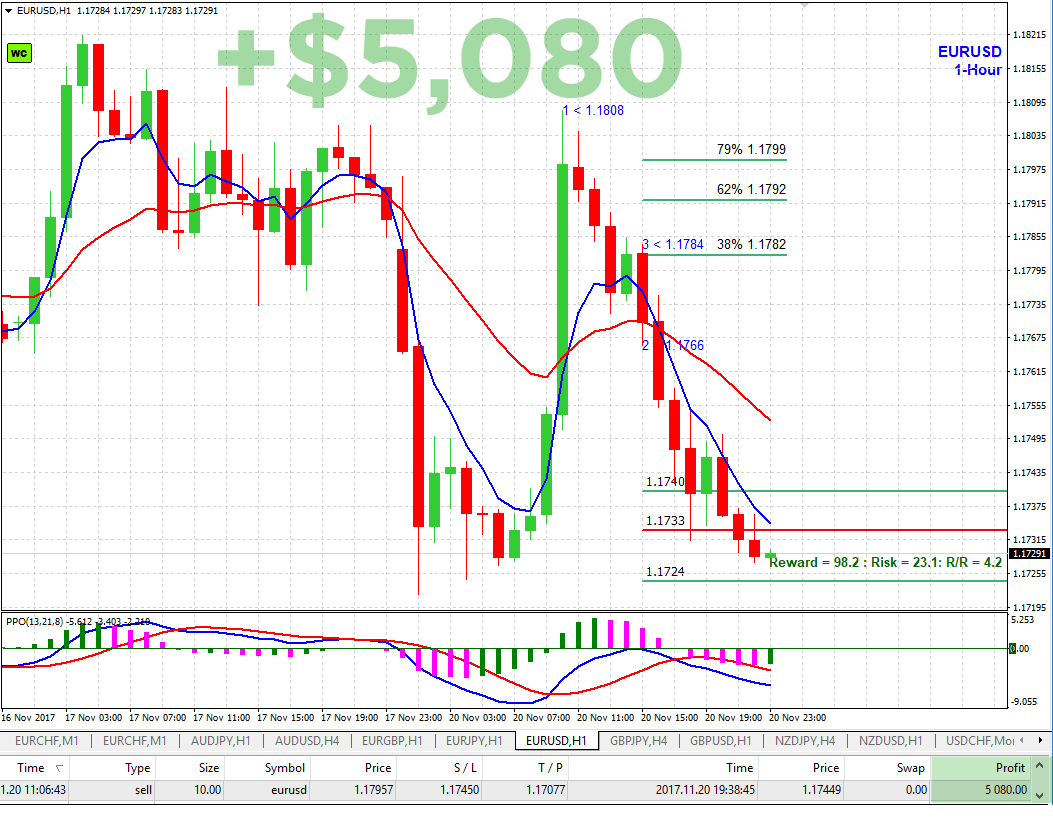 2017-11-17-USDCAD-Short
+$2,531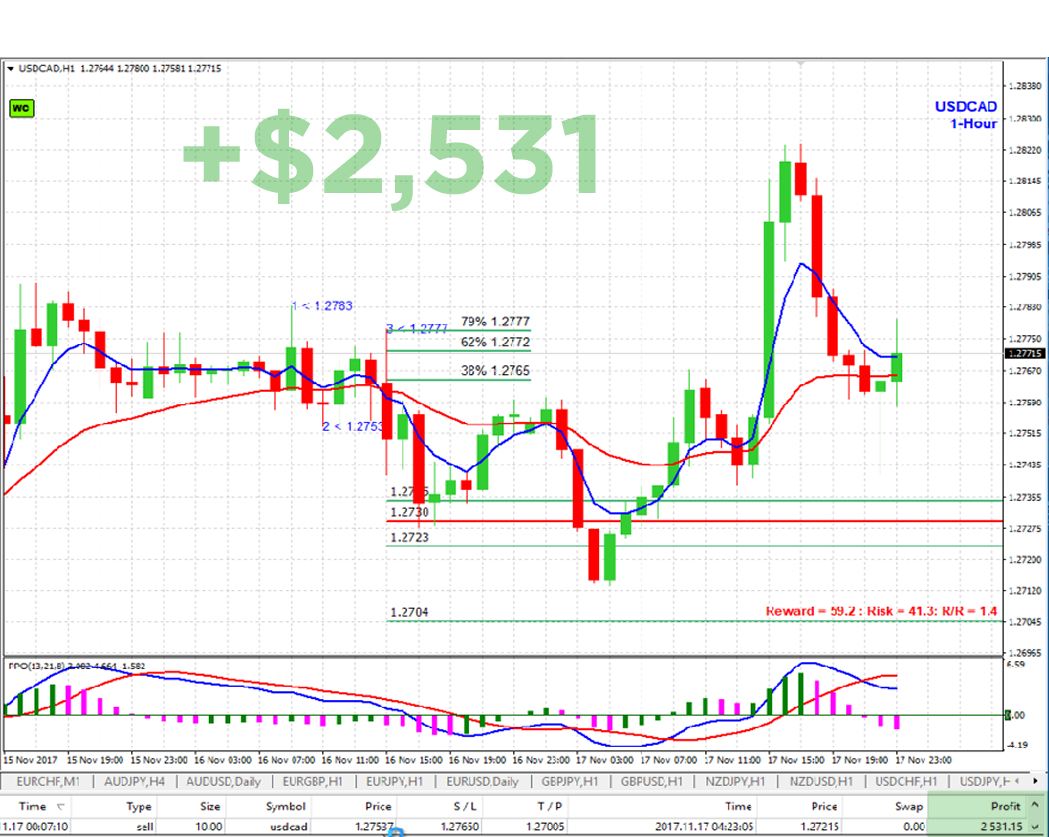 2017-11-16-USDCHF
+$2,761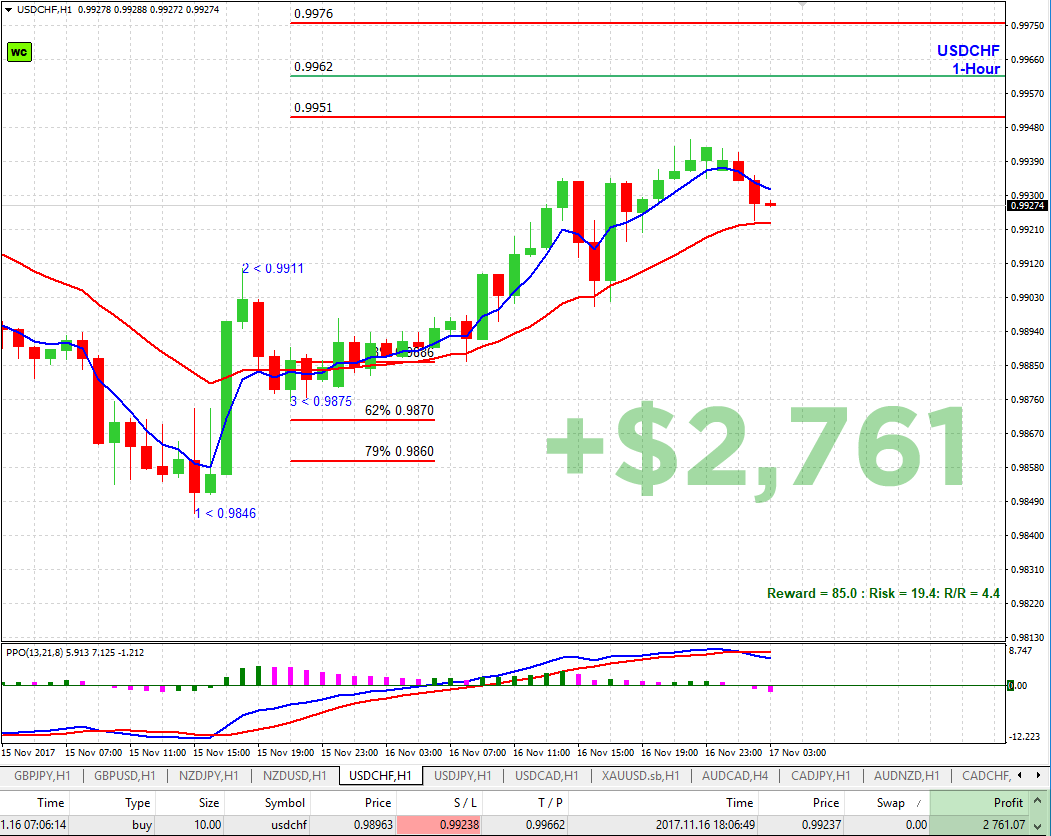 2017-11-16-CADCHF Alert Trade
+$4,993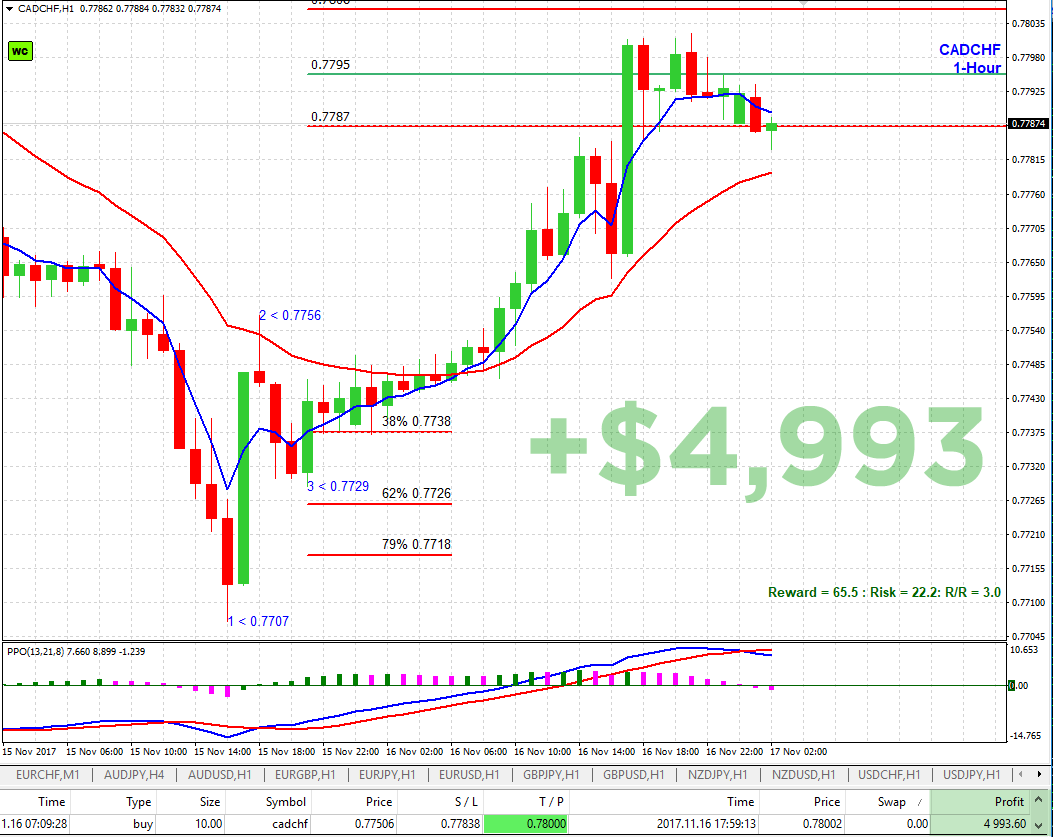 2017-11-14-EURCHF
+$2,638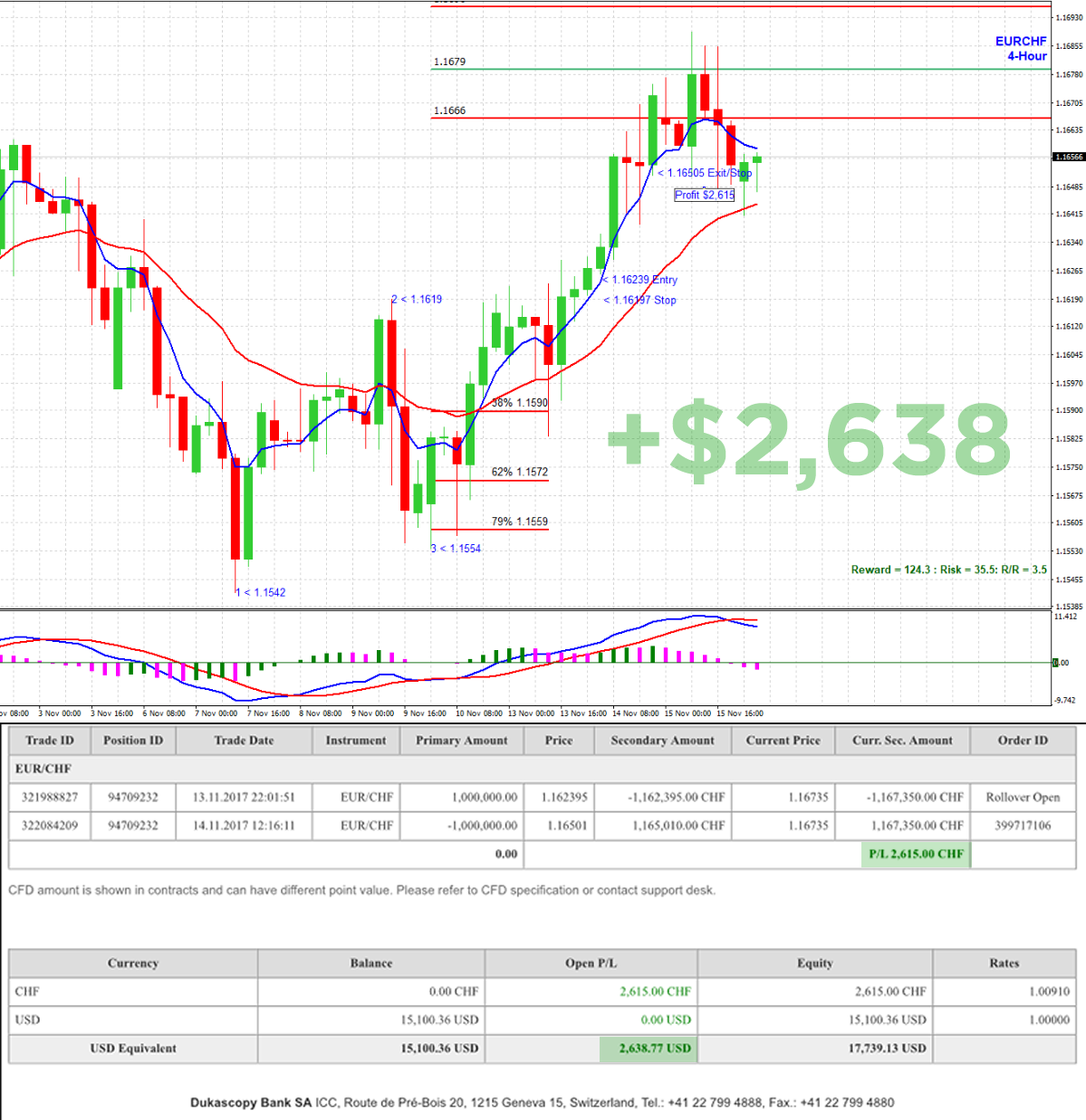 2017-11-09-EURGBP
+$1,187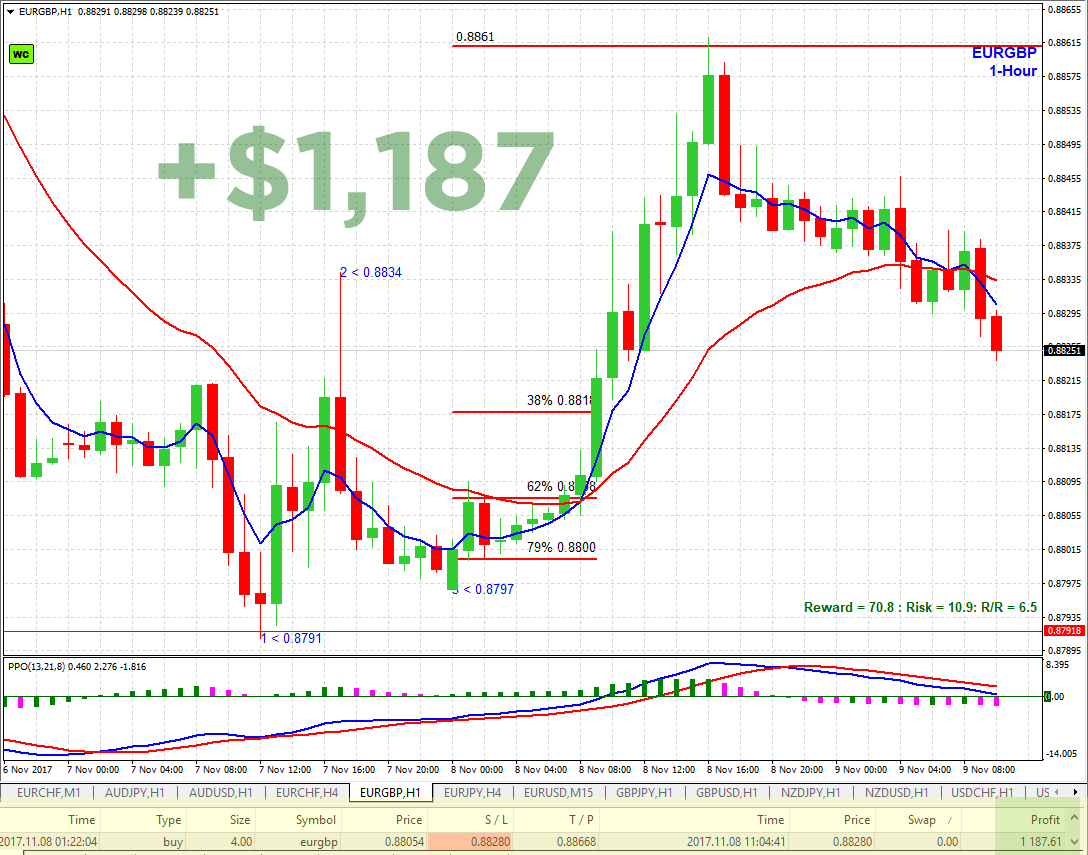 2017-11-06-CADCHF
-$989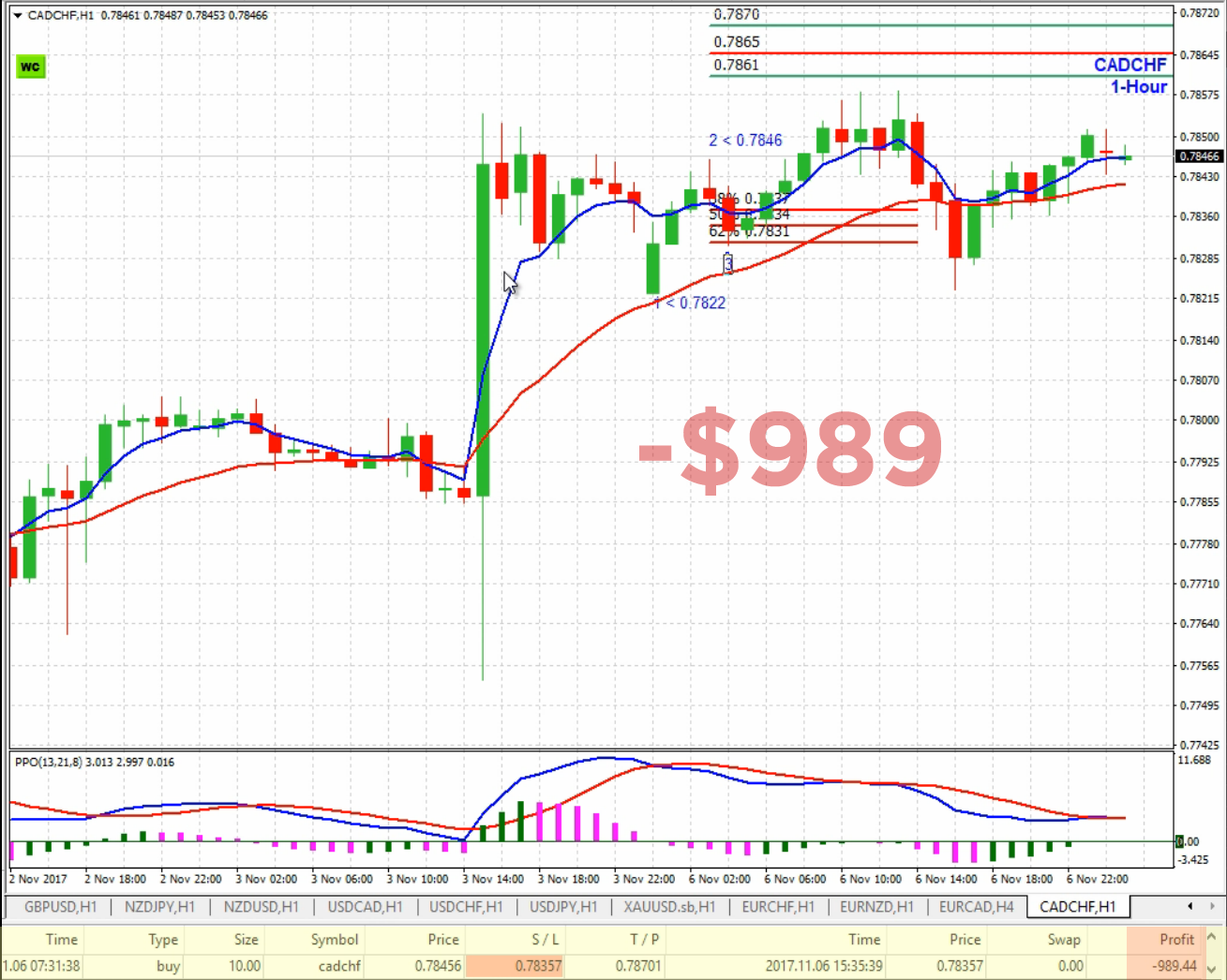 2017-10-30-EURAUD Stop Loss
-$422
2017-10-30 GBPCHF Long
+$4,859
2017-10-27 NZDCAD 4H Alert Trade
+$3,963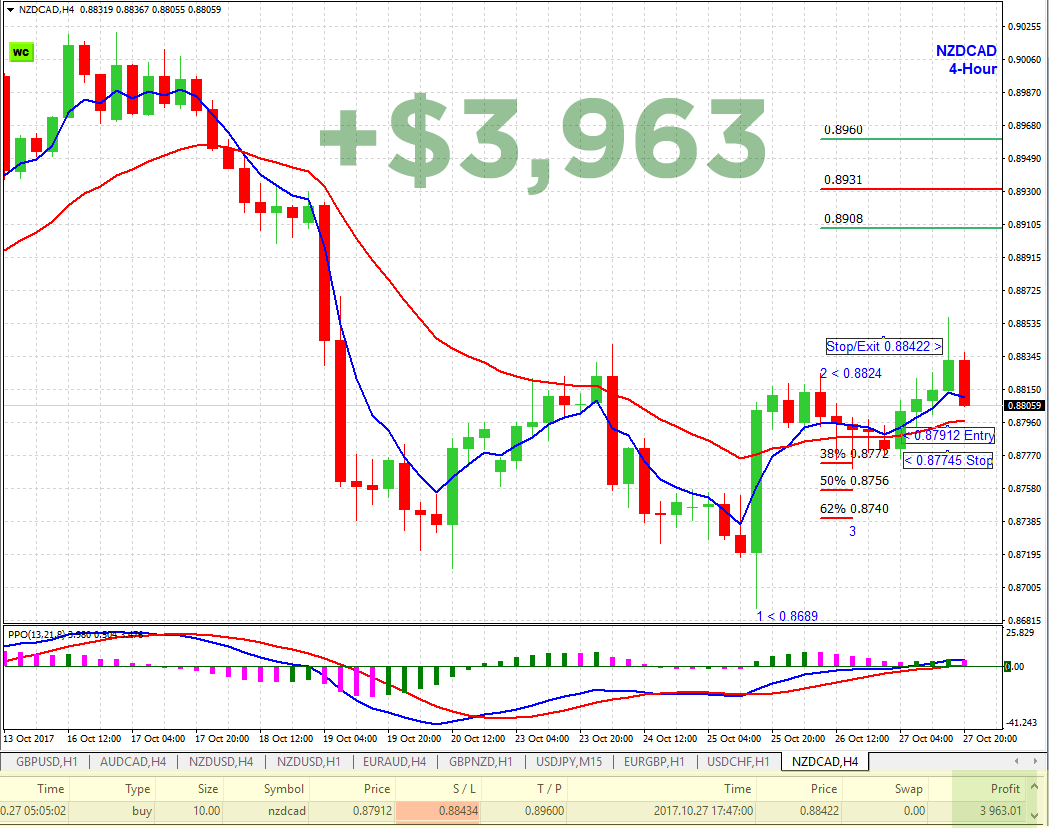 2017-10-26 EURGBP Alert Trade
+$3,433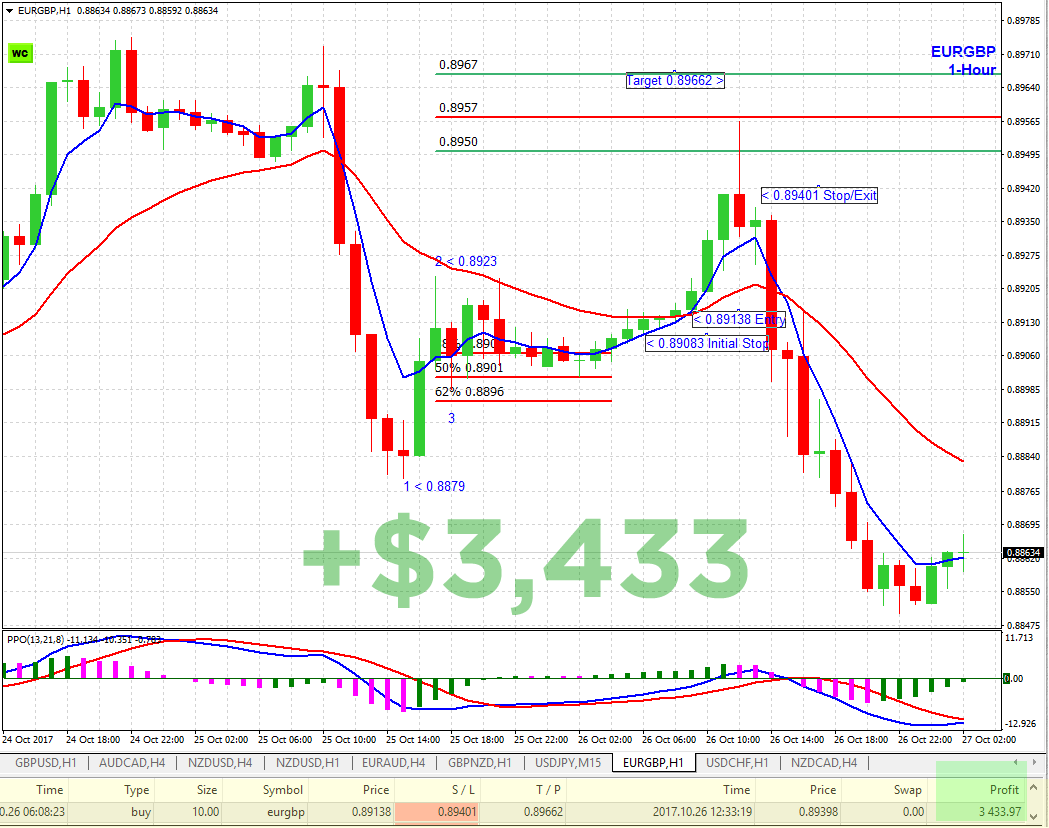 2017-10-24-NZDUSD Alert Trade
+$520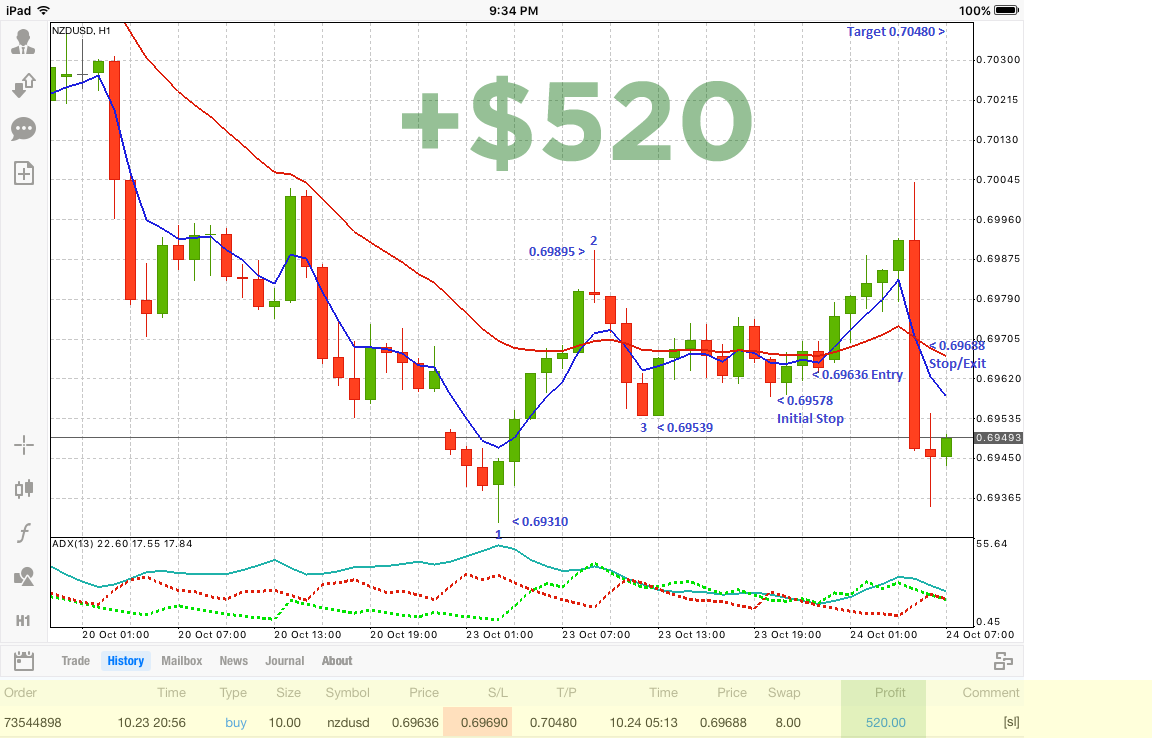 2017-10-24-GBPUSD Alert Trade
-$620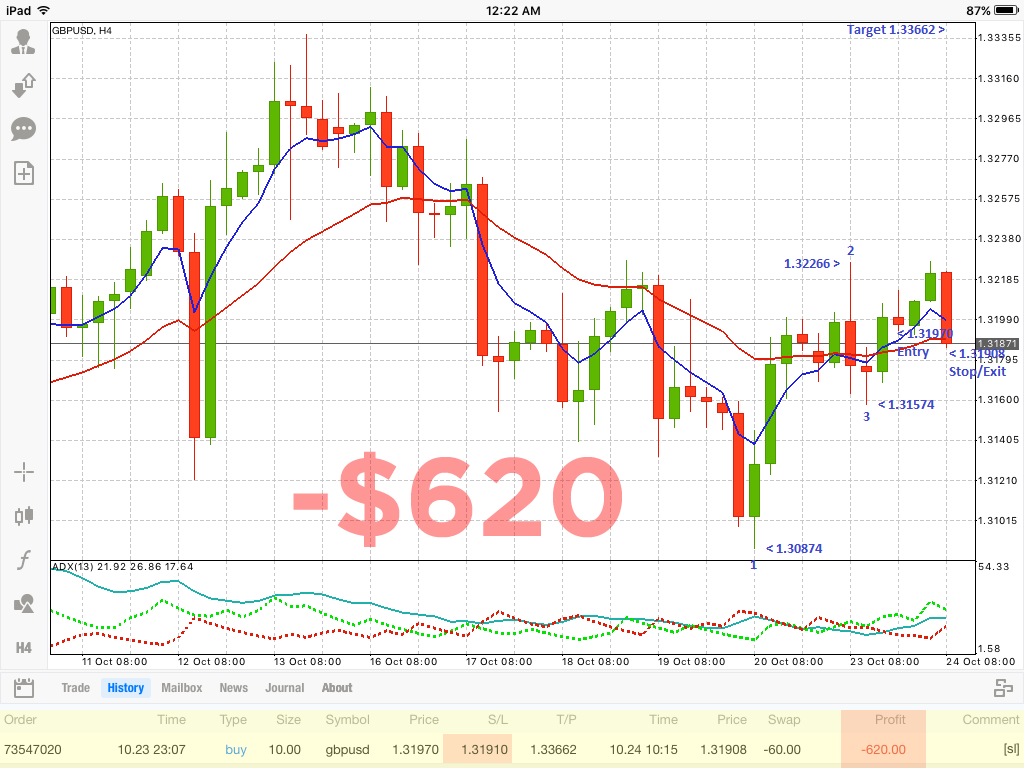 2017-10-19-EURAUD Alert Trade
+$1,811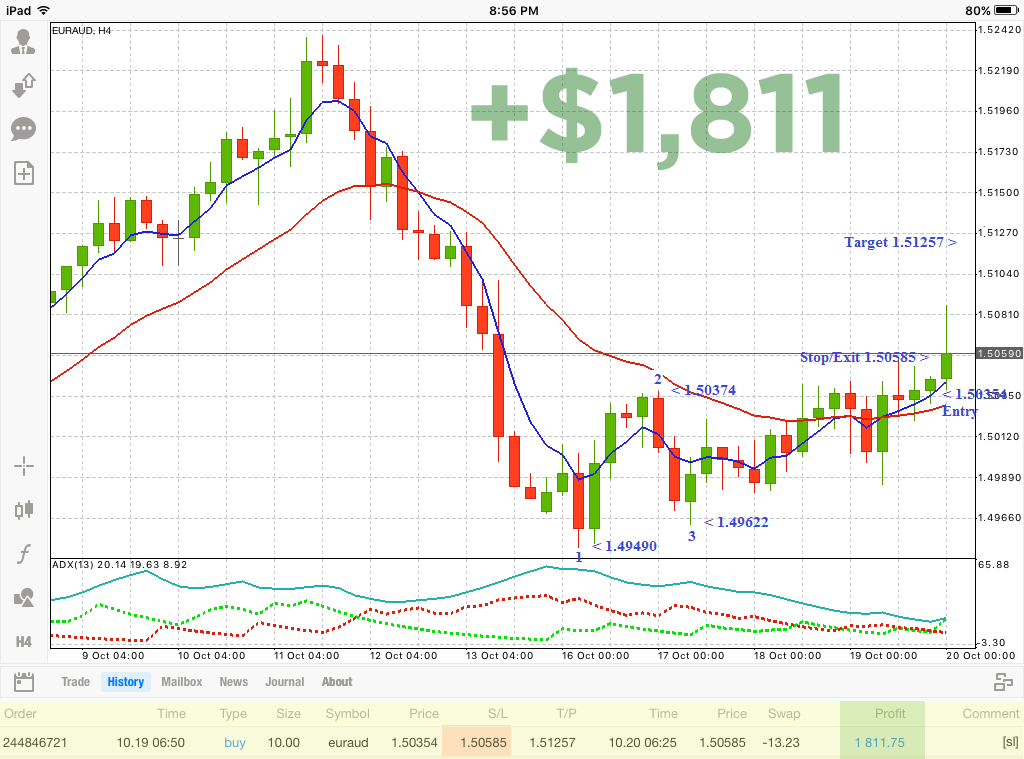 2017-10-19-AUDJPY Alert Trade
+$811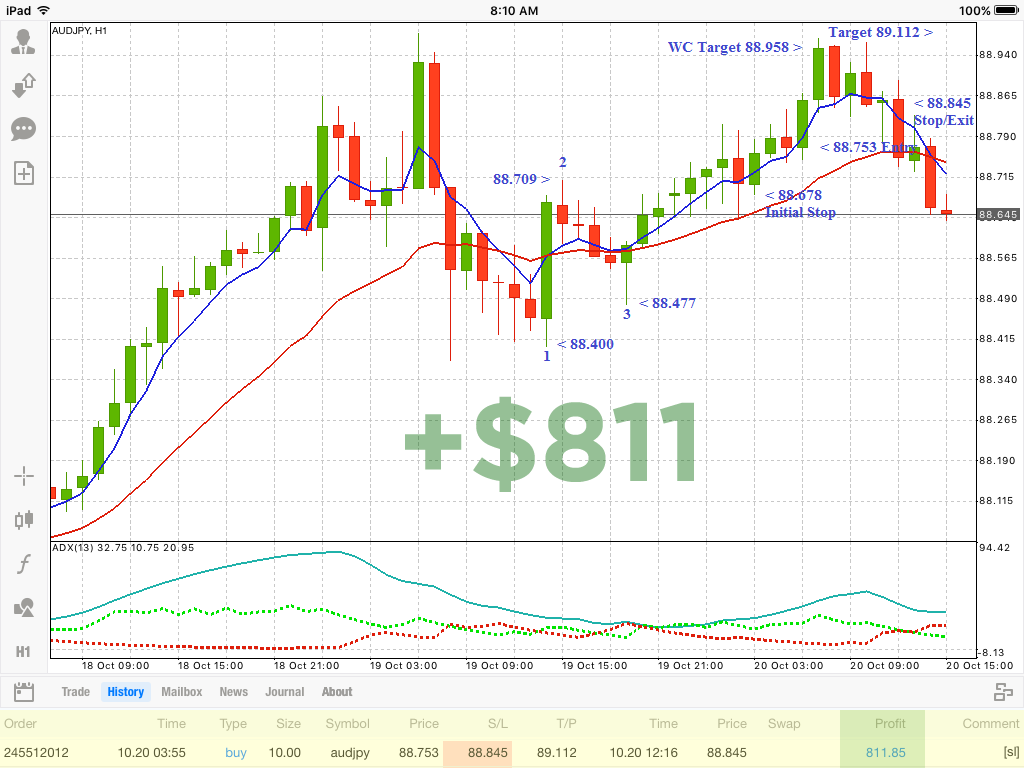 2017-10-18-EURNZD Long
+$1,876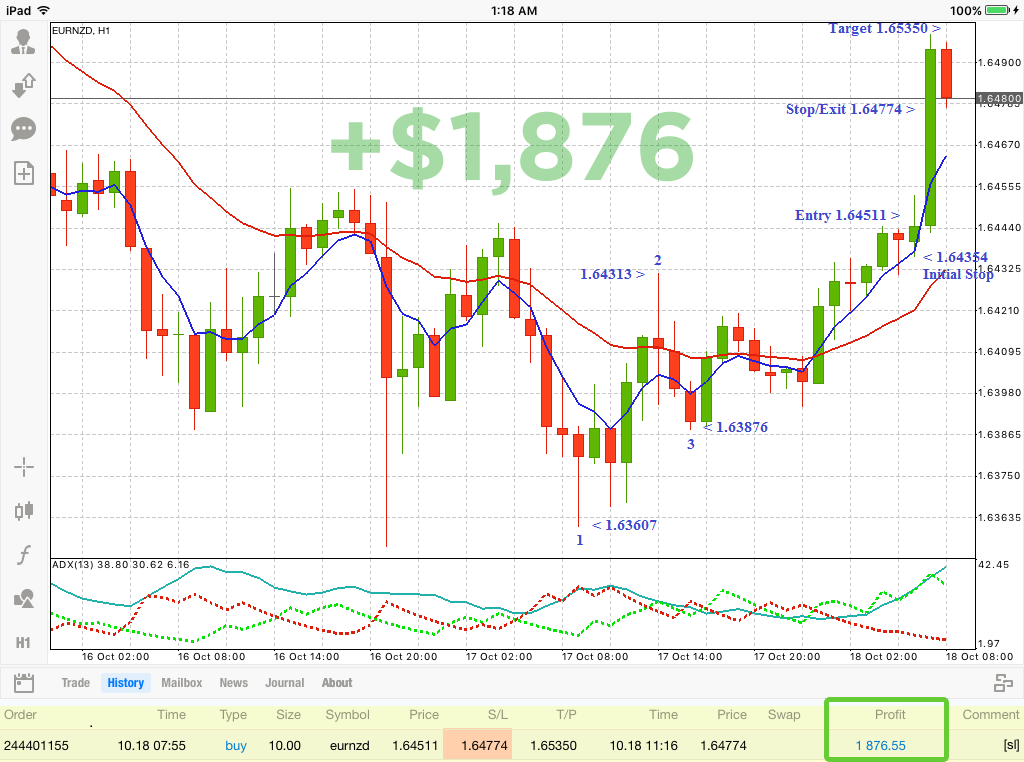 2017-10-18-AUDNZD Long
+$2,147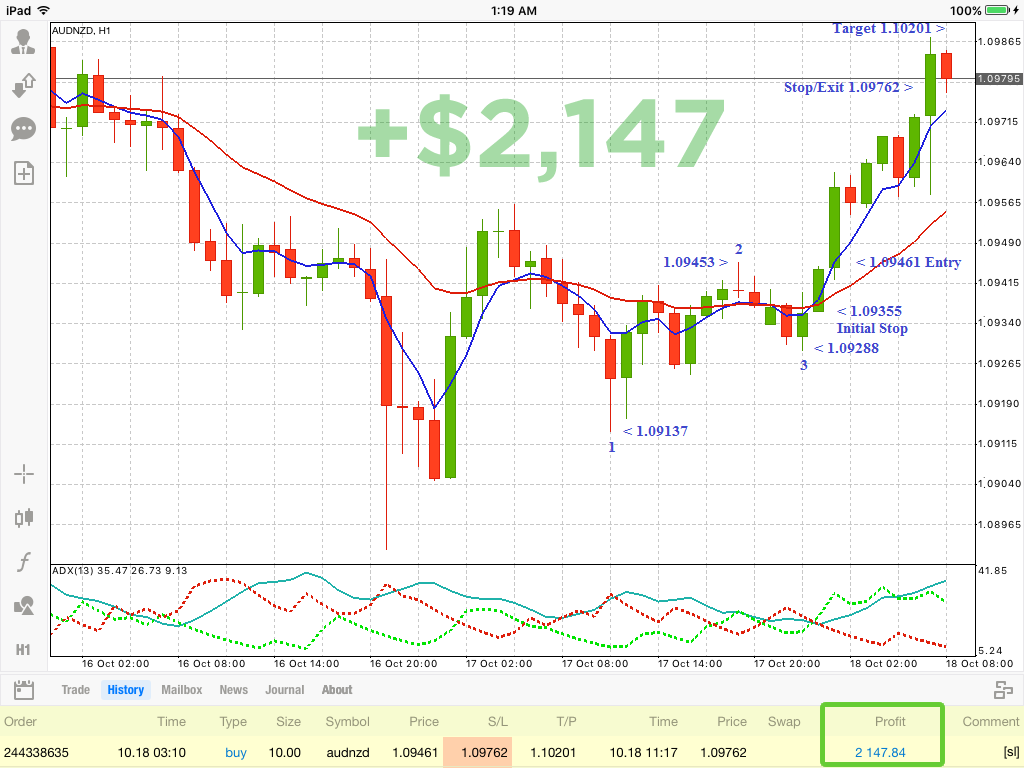 2017-10-17-USDCHF Long
+$1,521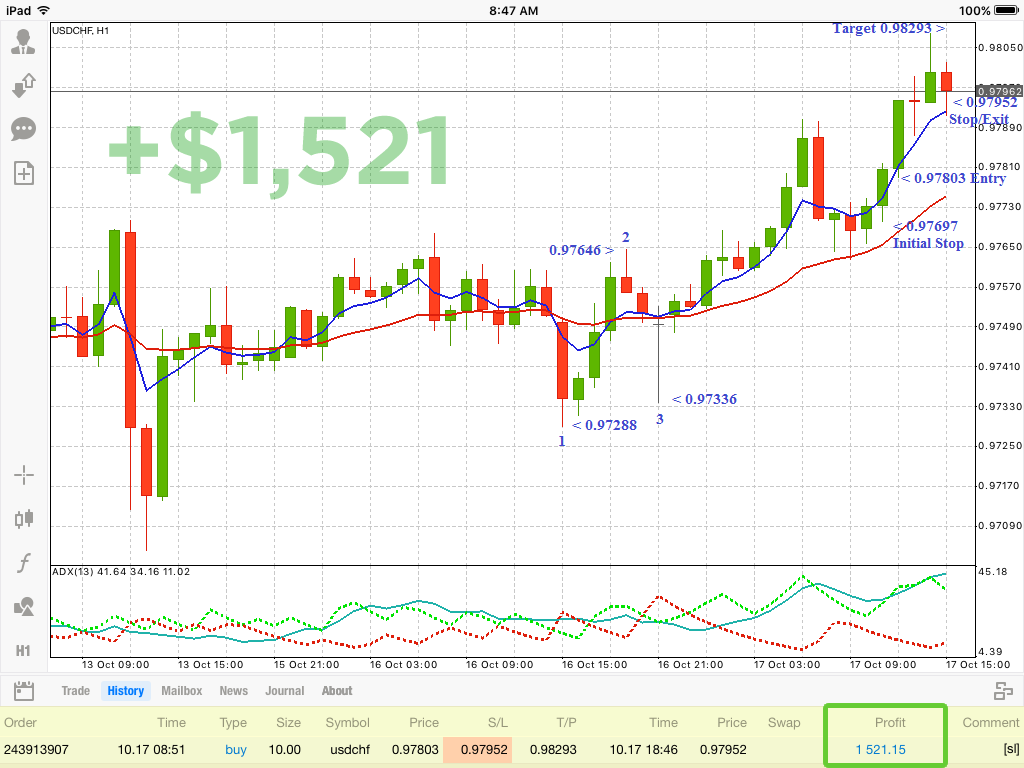 2017-10-13-GBPUSD Long
+$1,710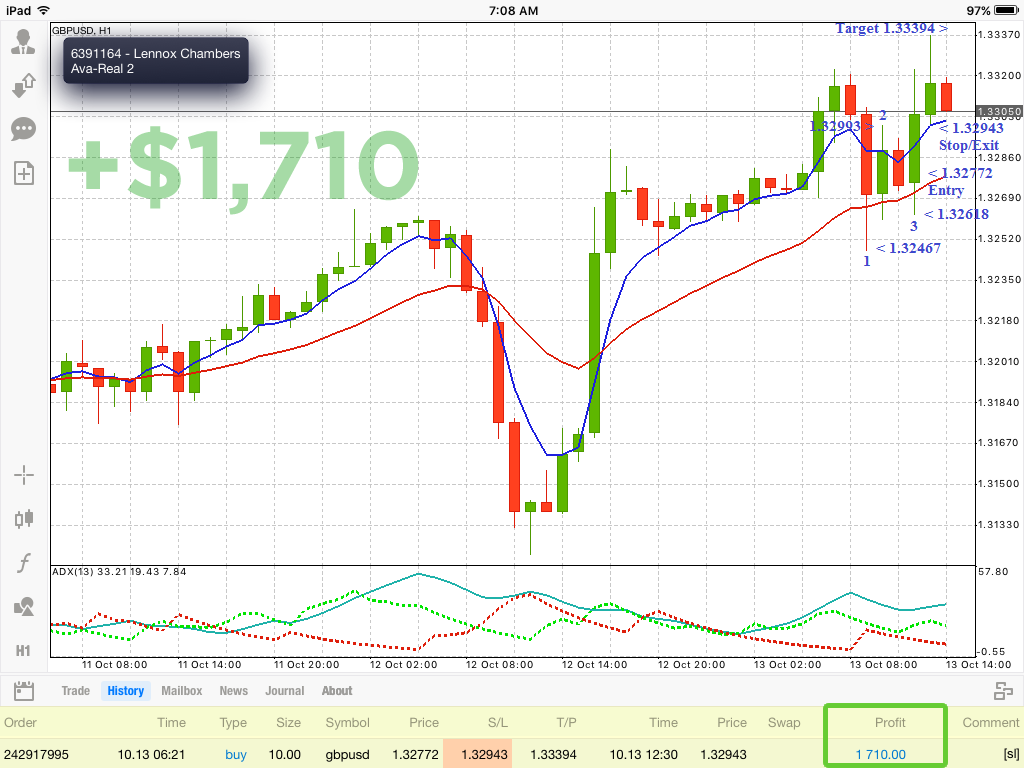 2017-10-13-AUDCHF Long
+$1,096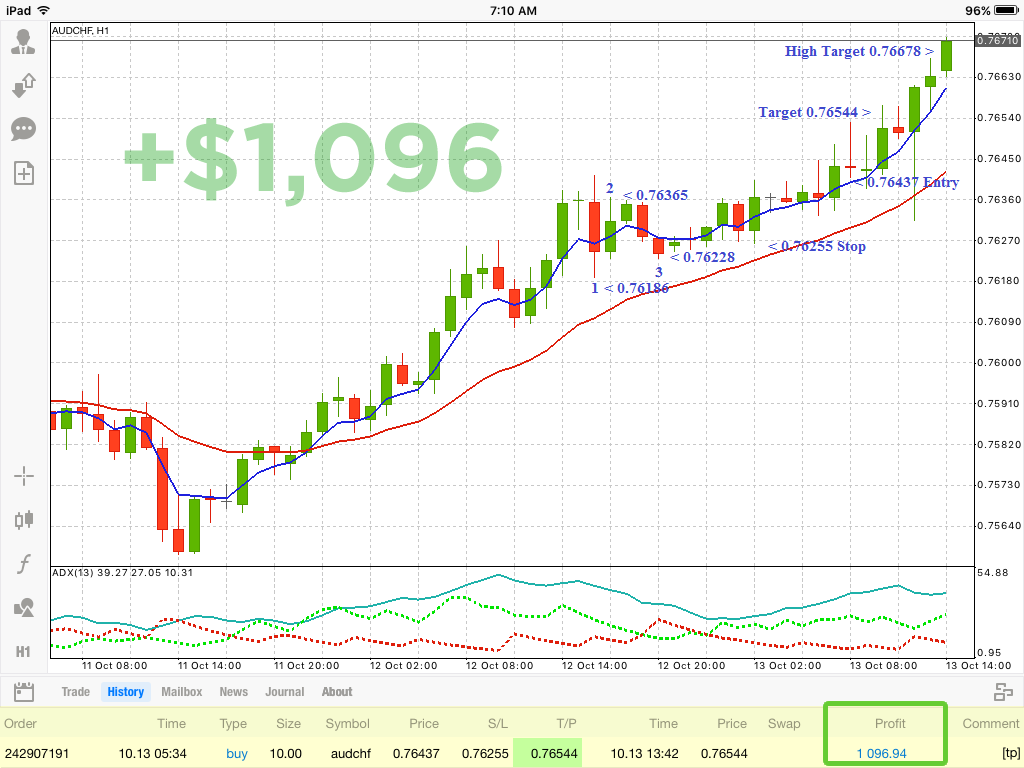 2017-10-10-USDJPY Short
+$2,861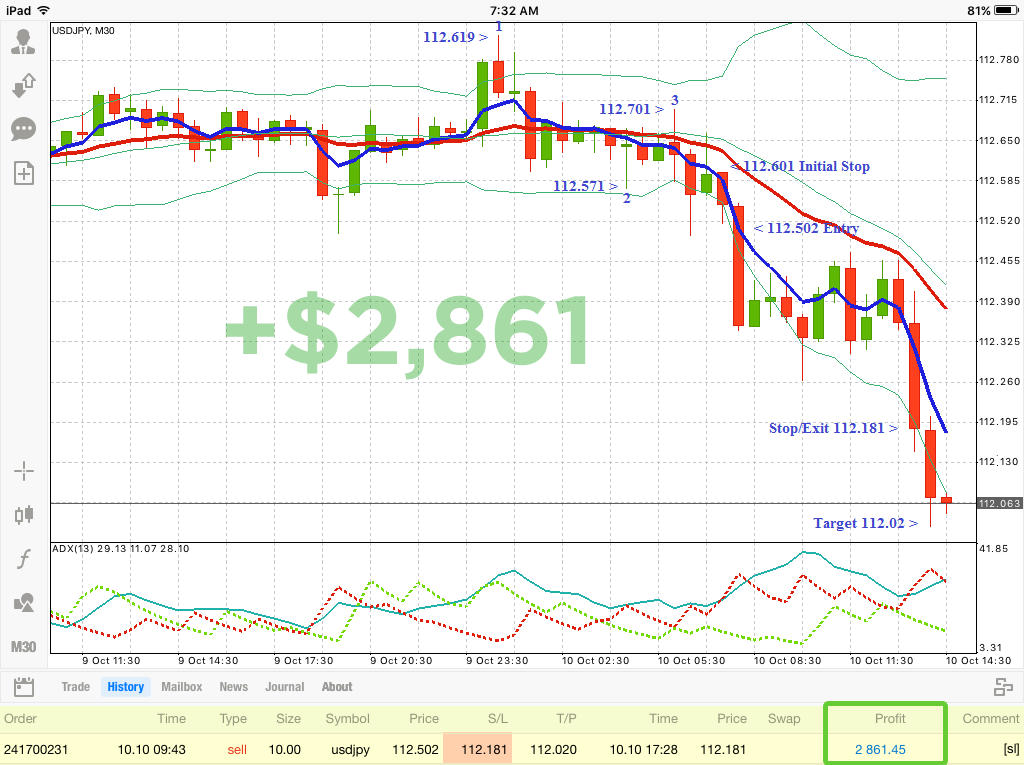 2017-10-10-EURUSD Long
+$2,500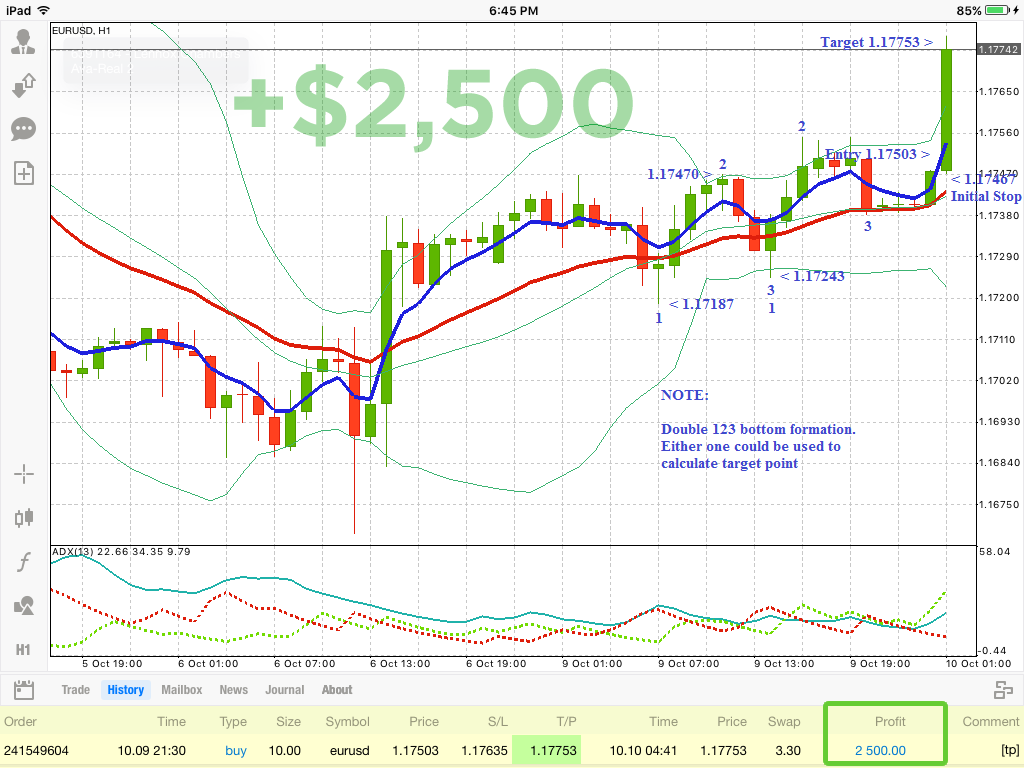 2017-10-10-AUDUSD Long
+$1,690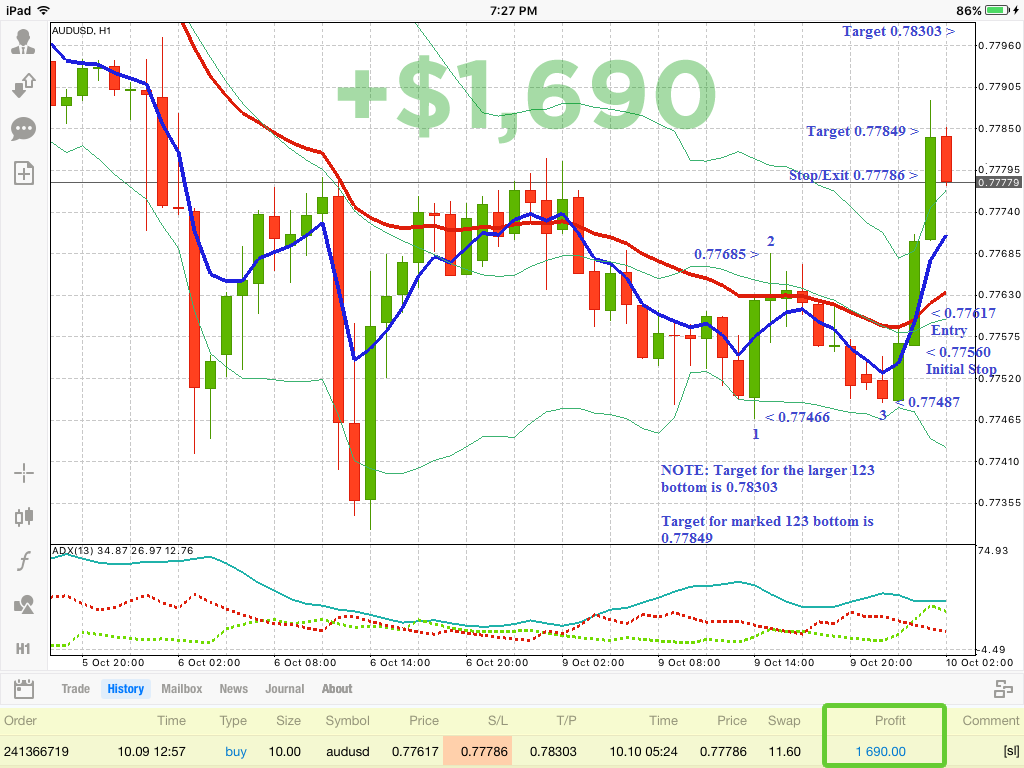 2017-10-09-EURJPY Long
+$1,216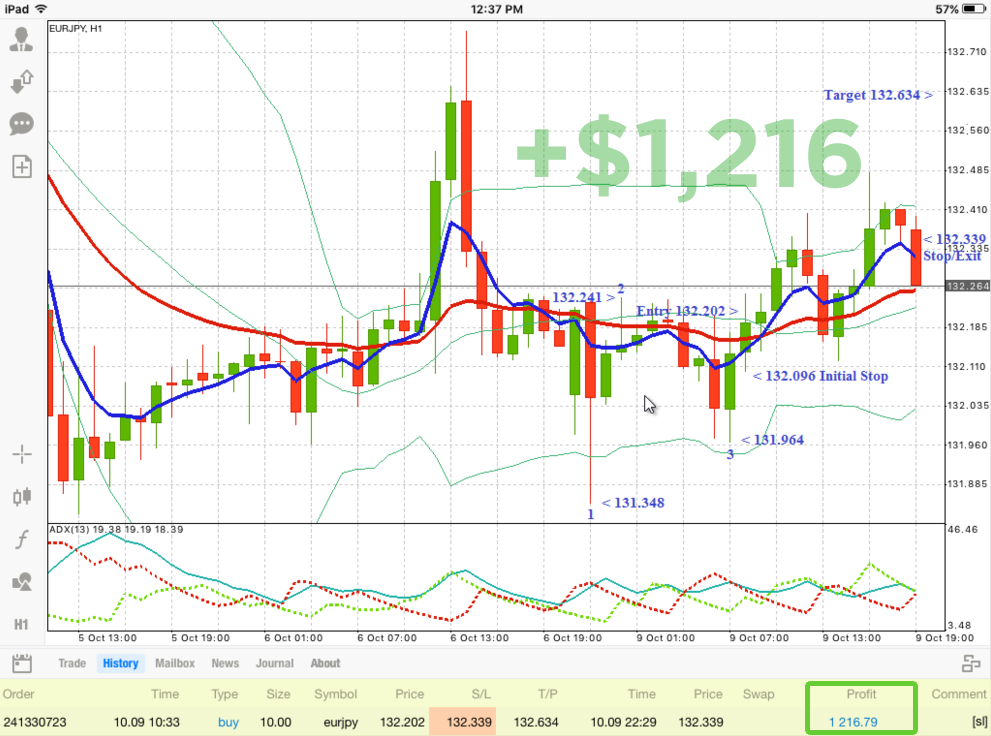 2017-10-09-AUDUSD Long Alert Stop Loss
-$1,630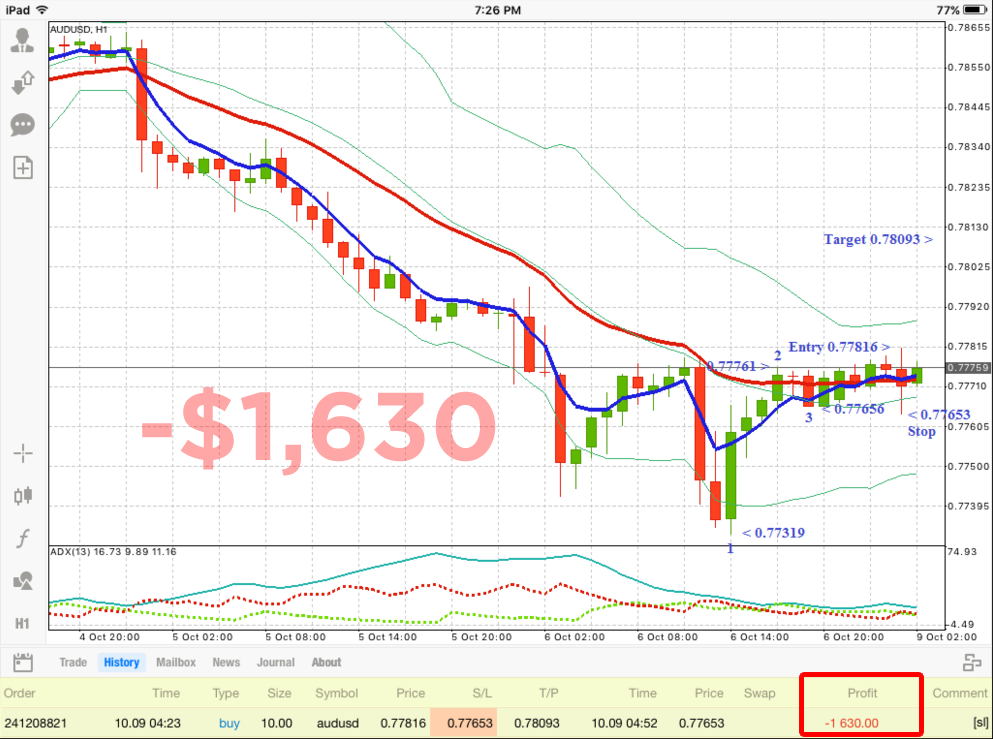 2017-10-05-GBPCHF Short
+$4,750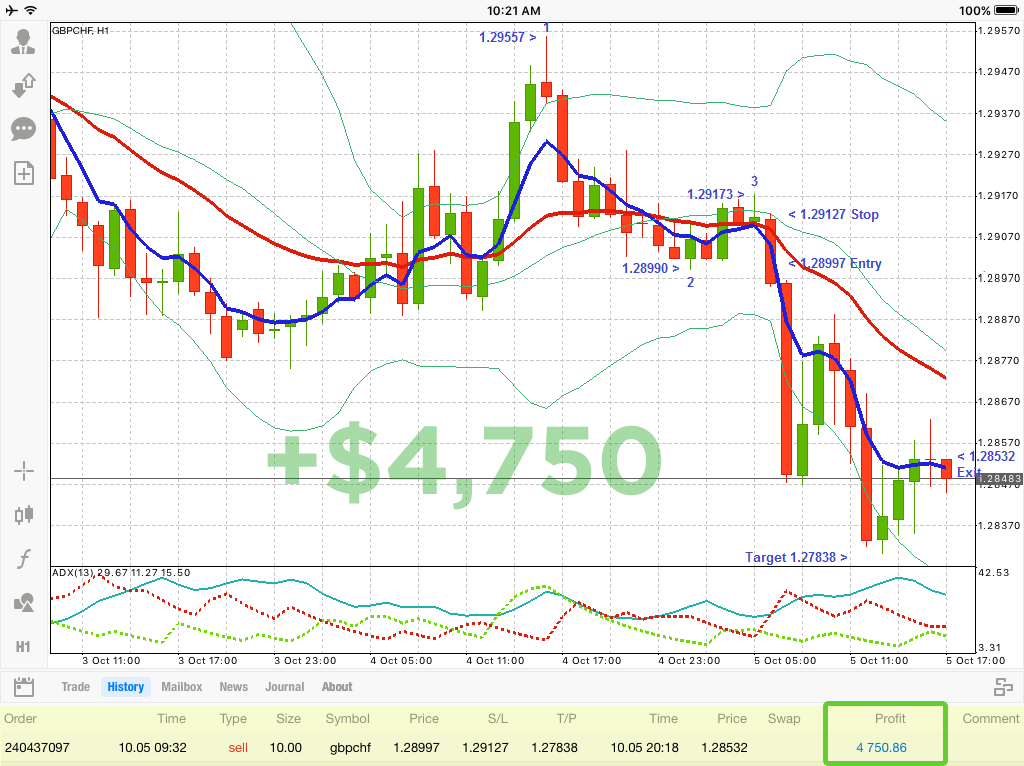 2017-10-05-CADJPY Long Stop Loss
-$1,376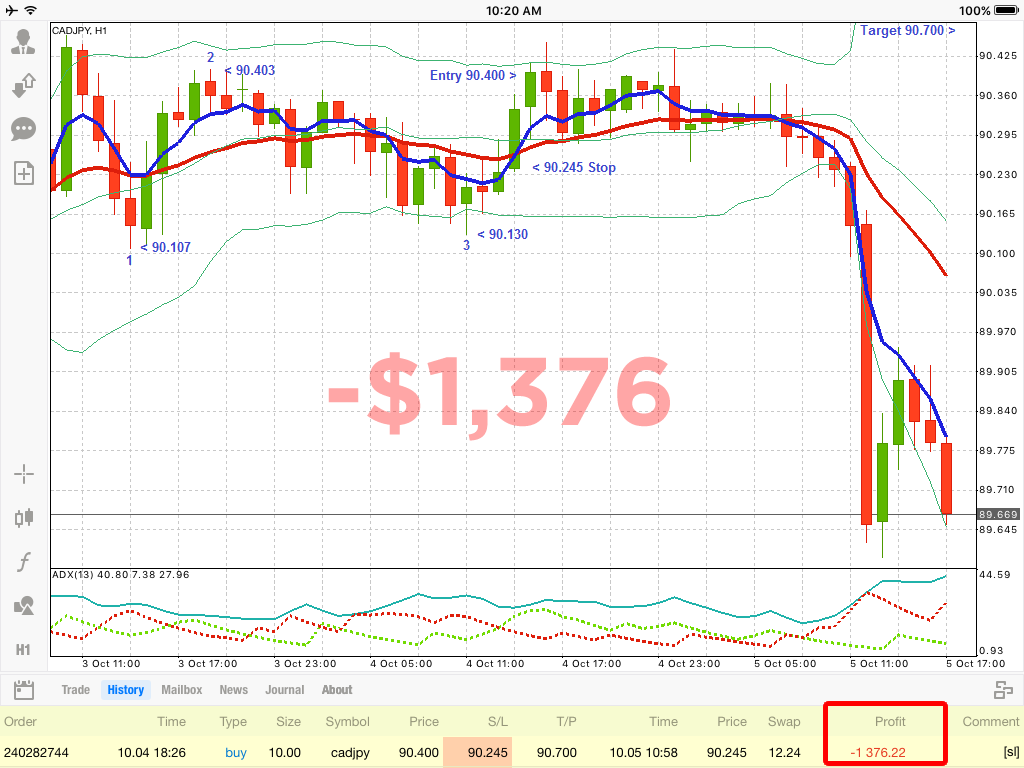 2017-10-02-GBPUSD Short
+$2,290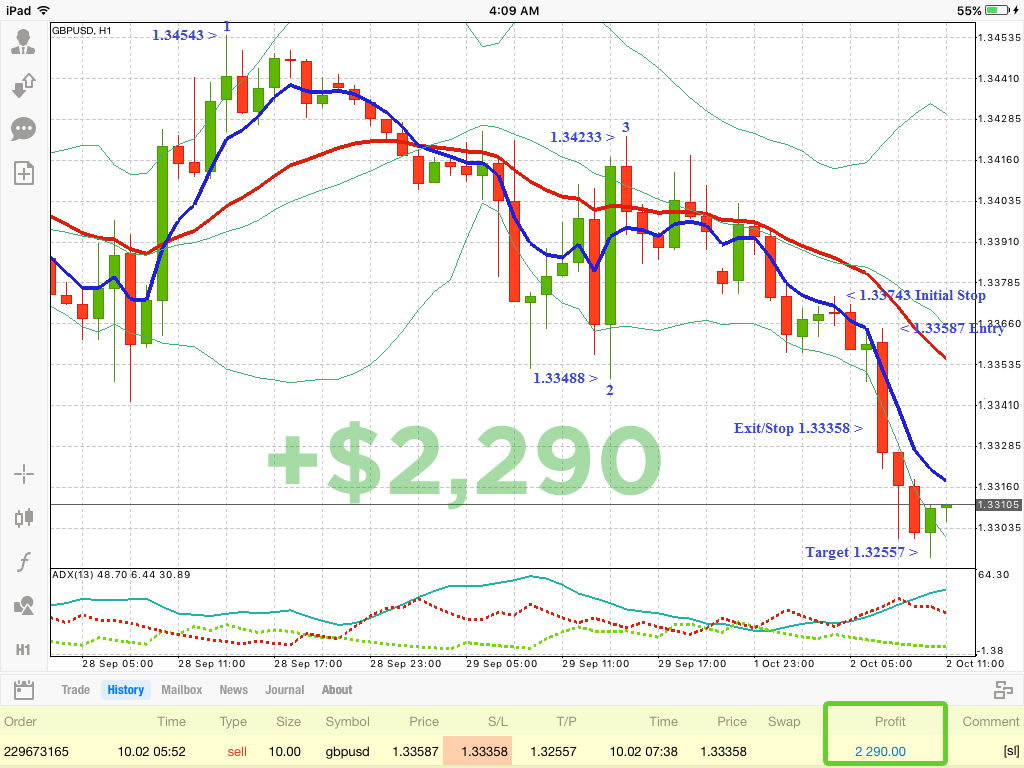 2017-09-25-CADCHF Alert Trade
+$1,521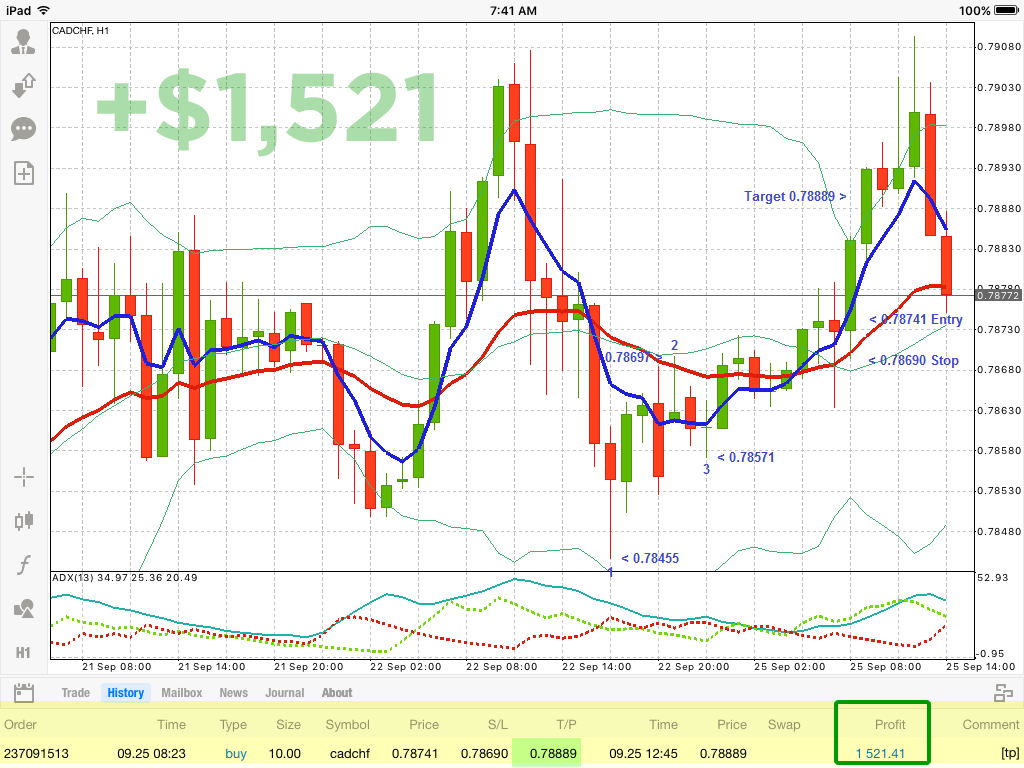 2017-09-22-USDCAD Short
+$3,299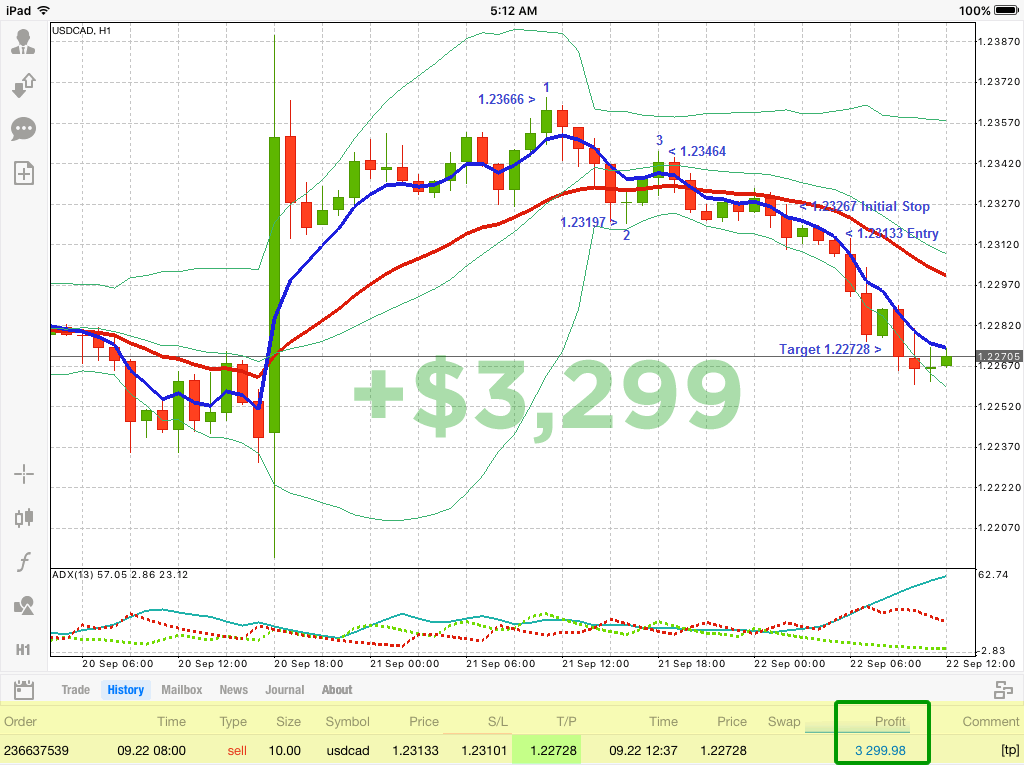 2017-09-22-EURCAD Stop Loss
-$967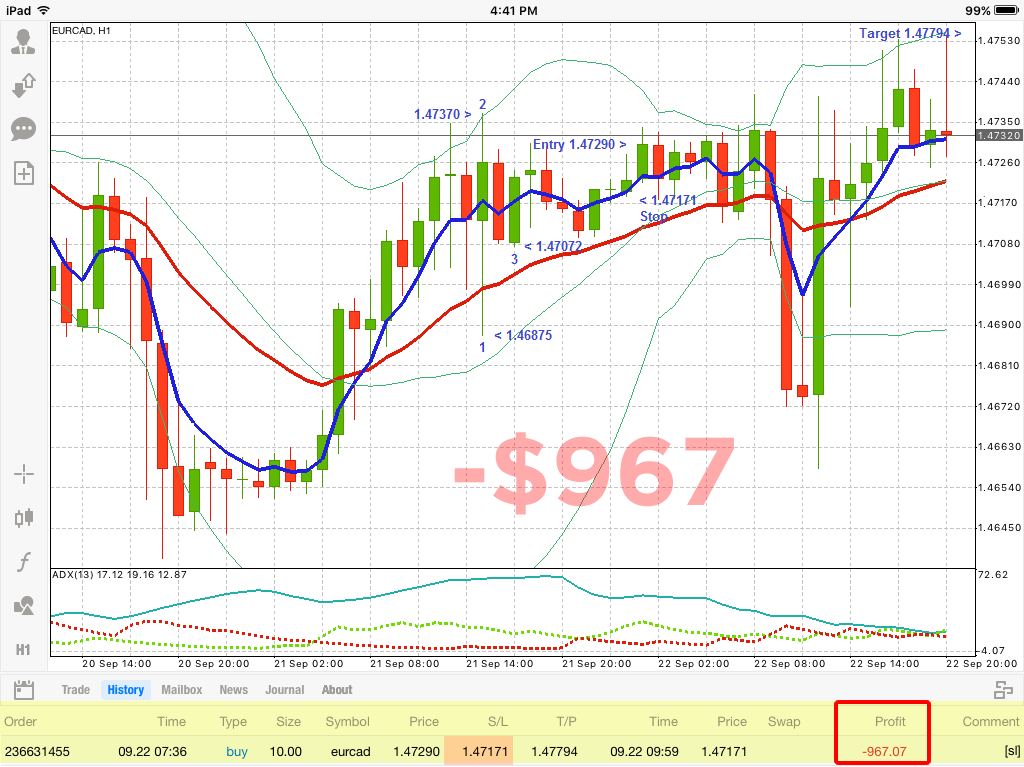 2017-09-21-EURJPY Alert Trade
+$1,961
2017-09-20-CADJPY Long
+$1,995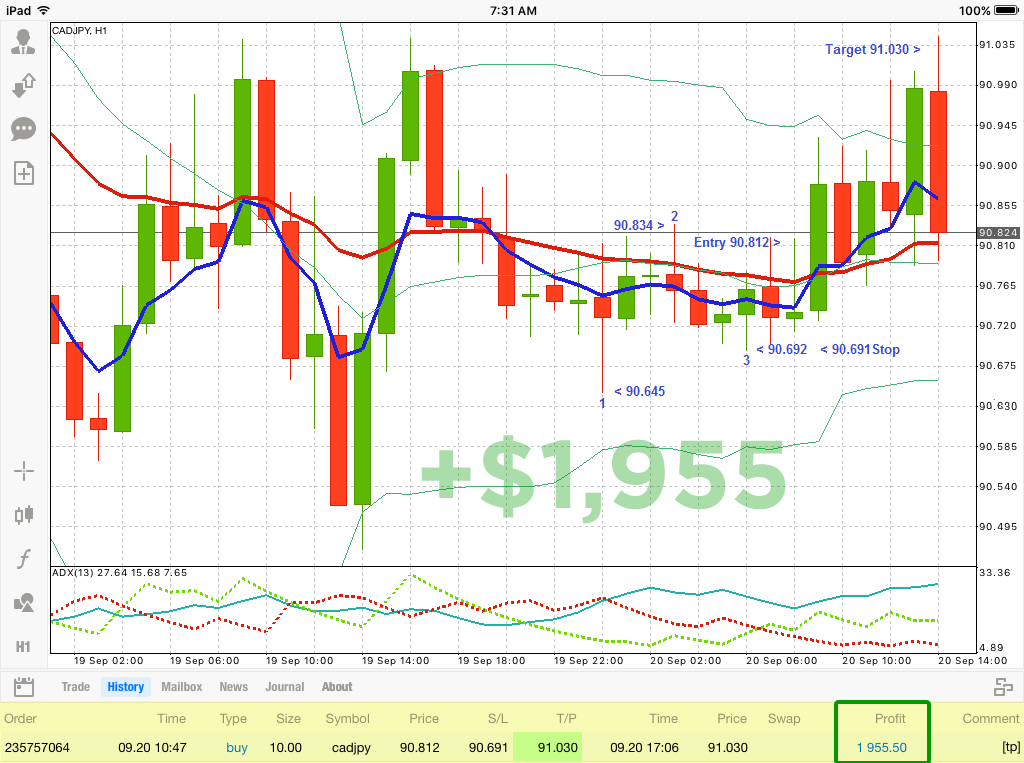 2017-09-18-CADJPY Short
+$4,970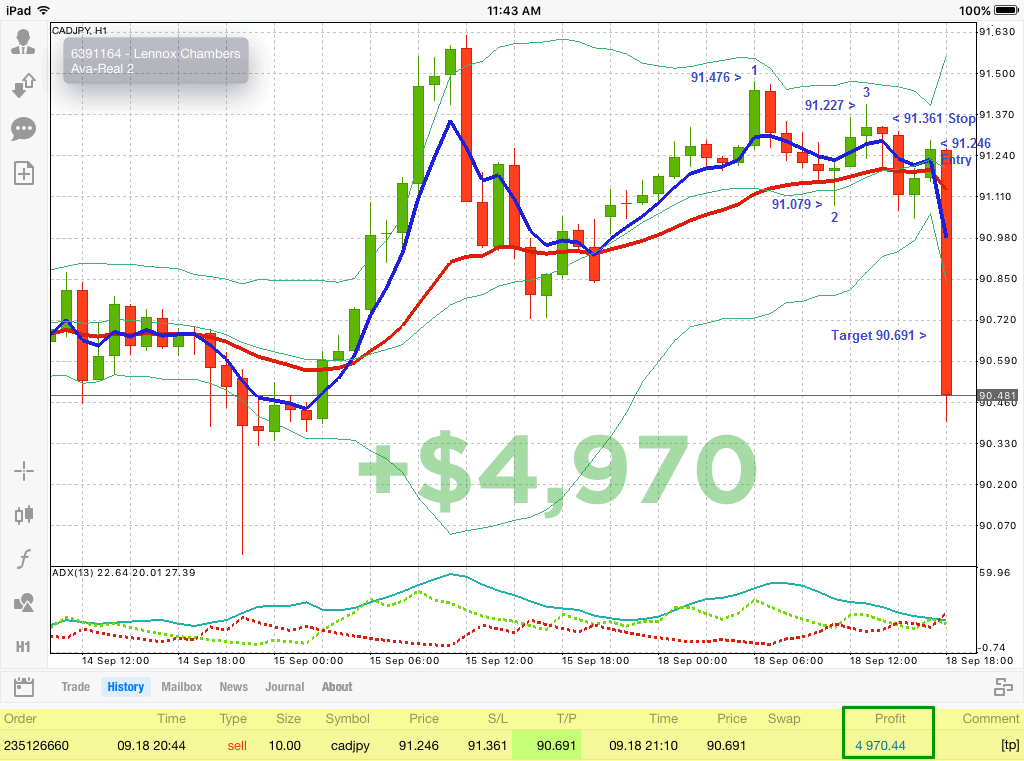 2017-09-15-USDCAD Long Trade
+$2,374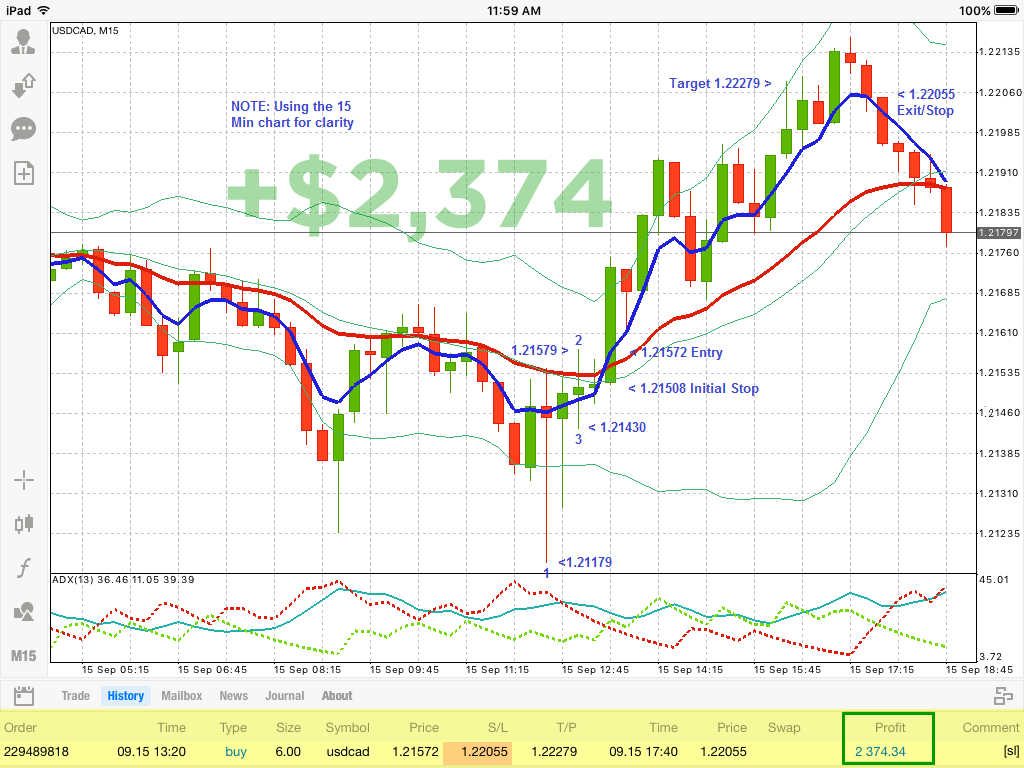 2017-09-15-GBPJPY Long Trade
+$3,346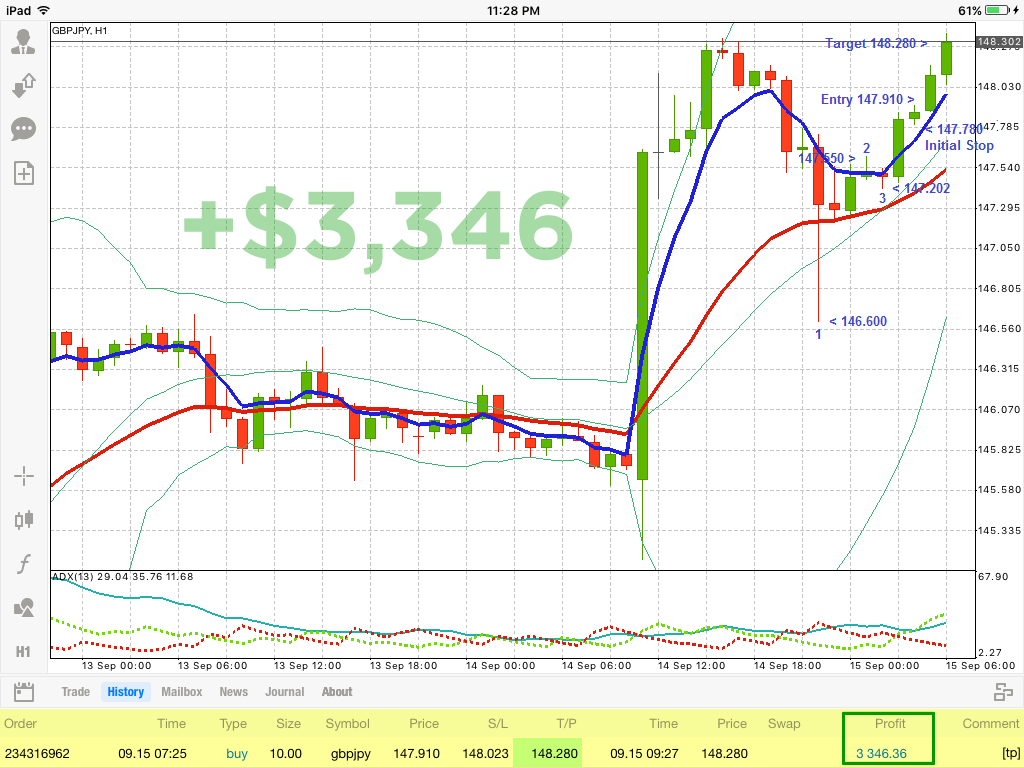 2017-09-14-NZDUSD ShortTrade
+$2,530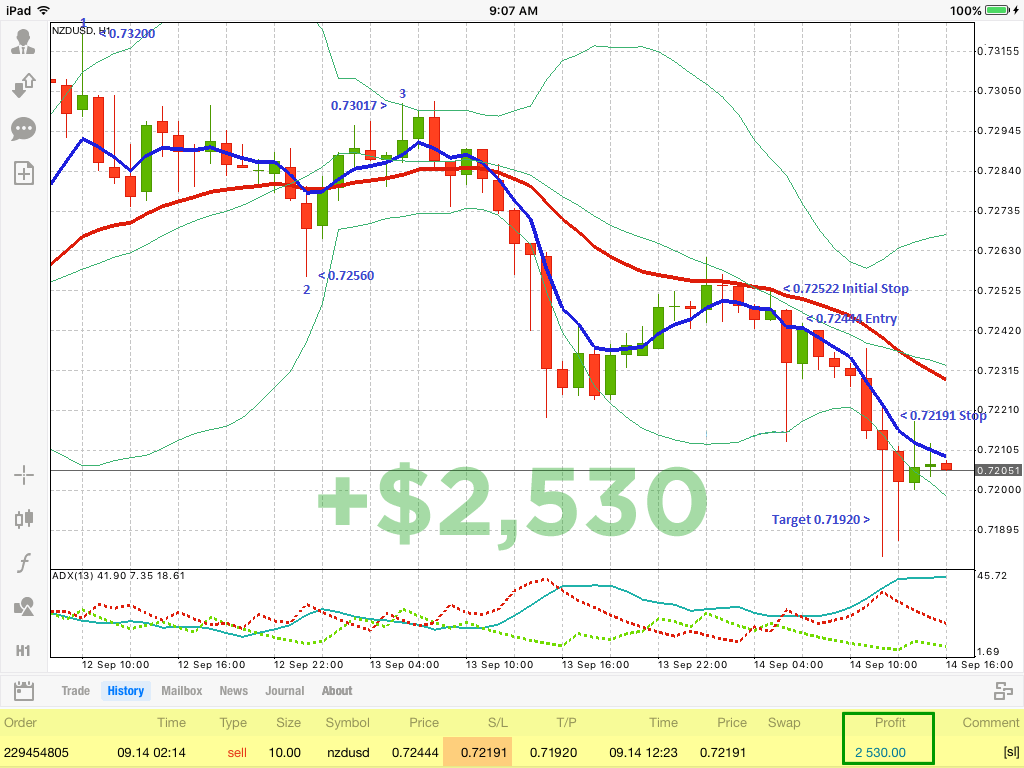 2017-09-13-EURUSD Alert Trade
-$660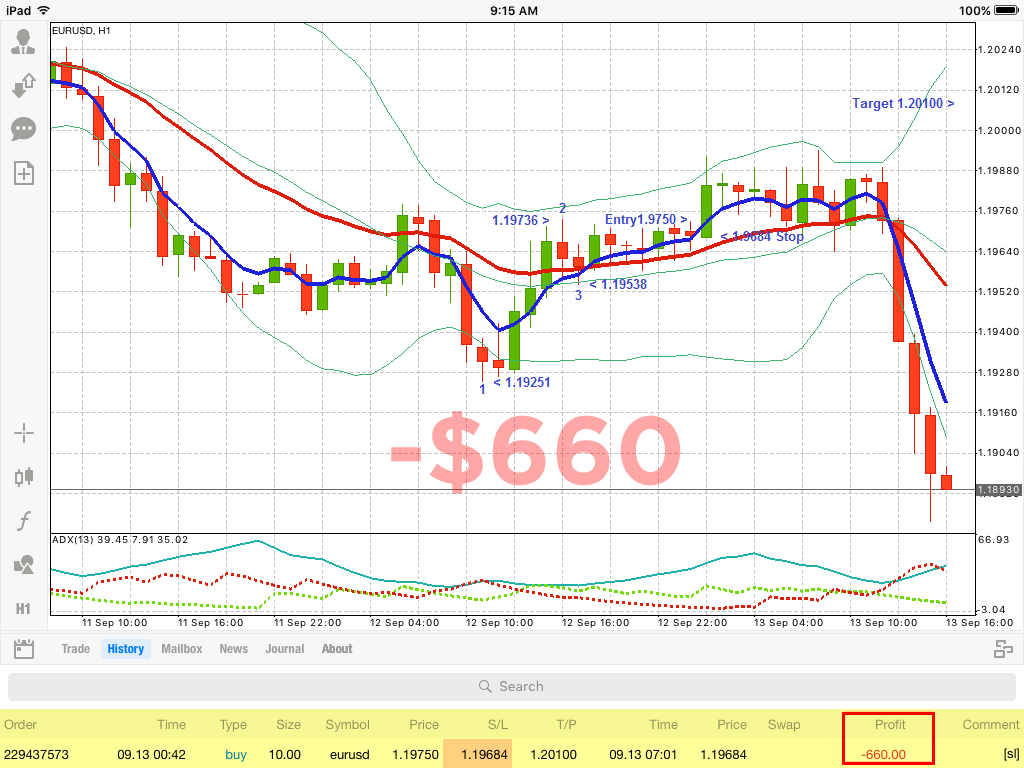 2017-09-12-USDJPY Long Trade
+$3,495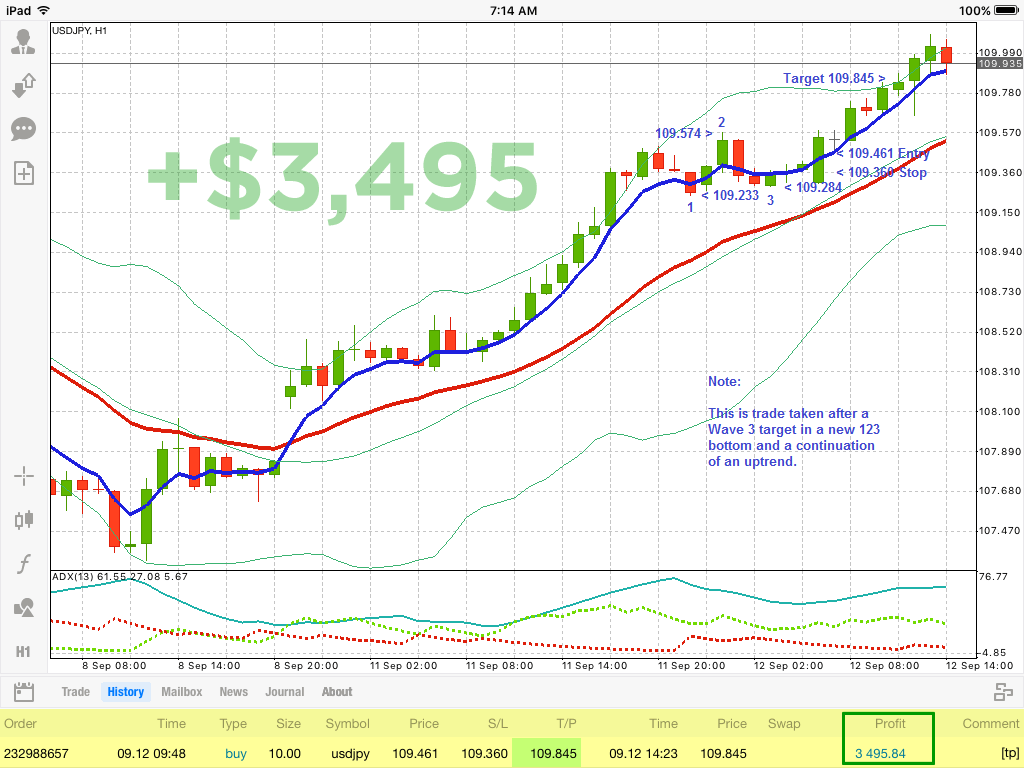 2017-09-11-NZDJPY Long Alert and Trade
+$3,467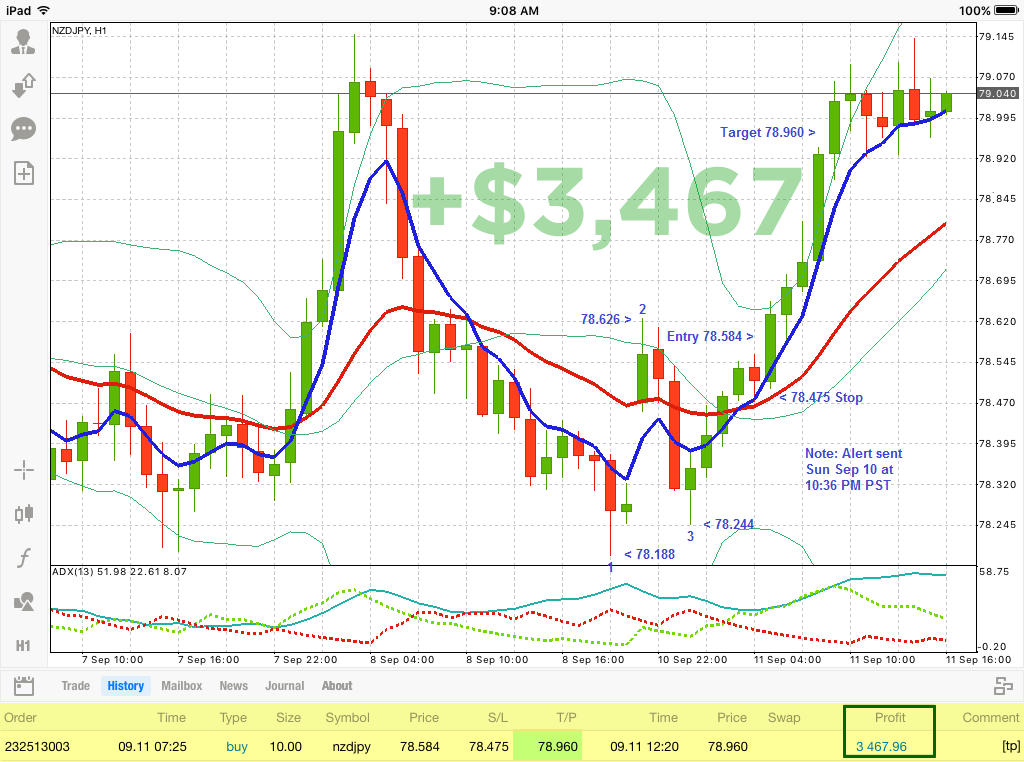 2017-09-08-EURNZD Short Trade
+$2,728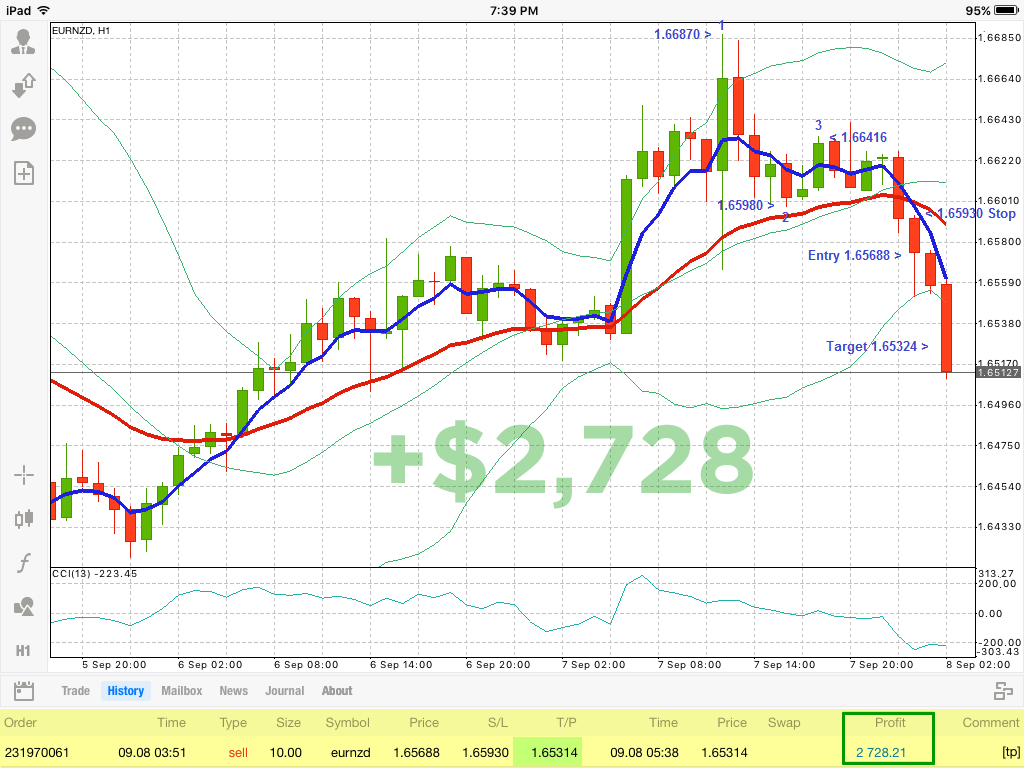 2017-09-07-EURGBP Long Trade
+$2,189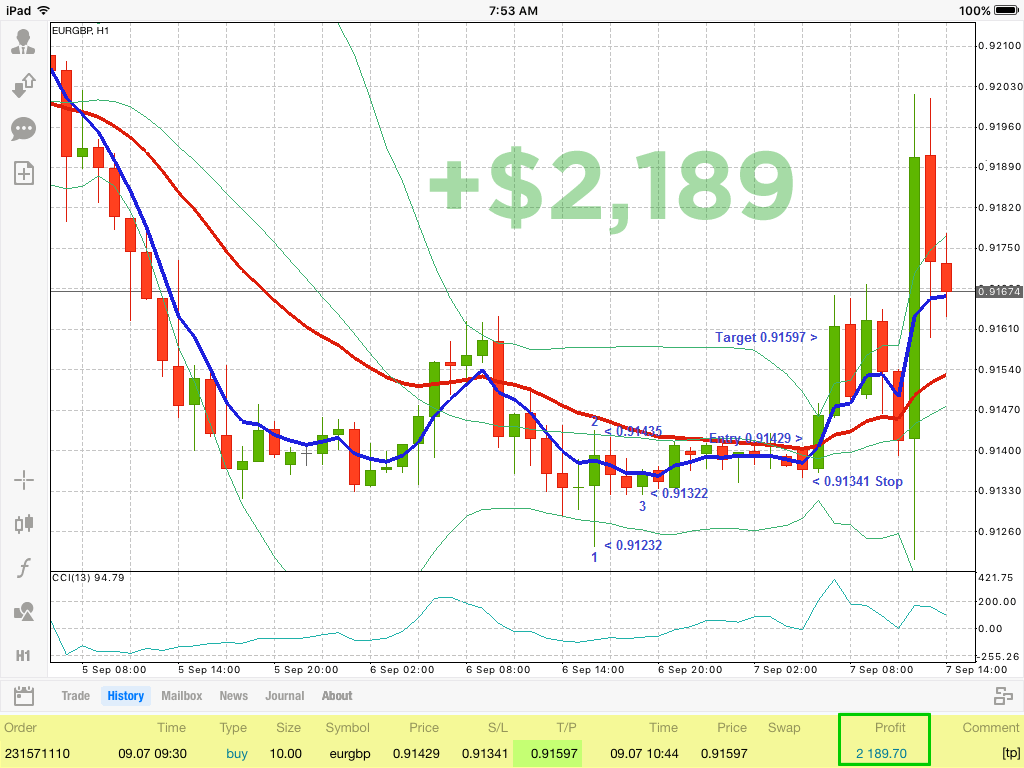 2017-09-06-EURAUD Long Trade
+$1,940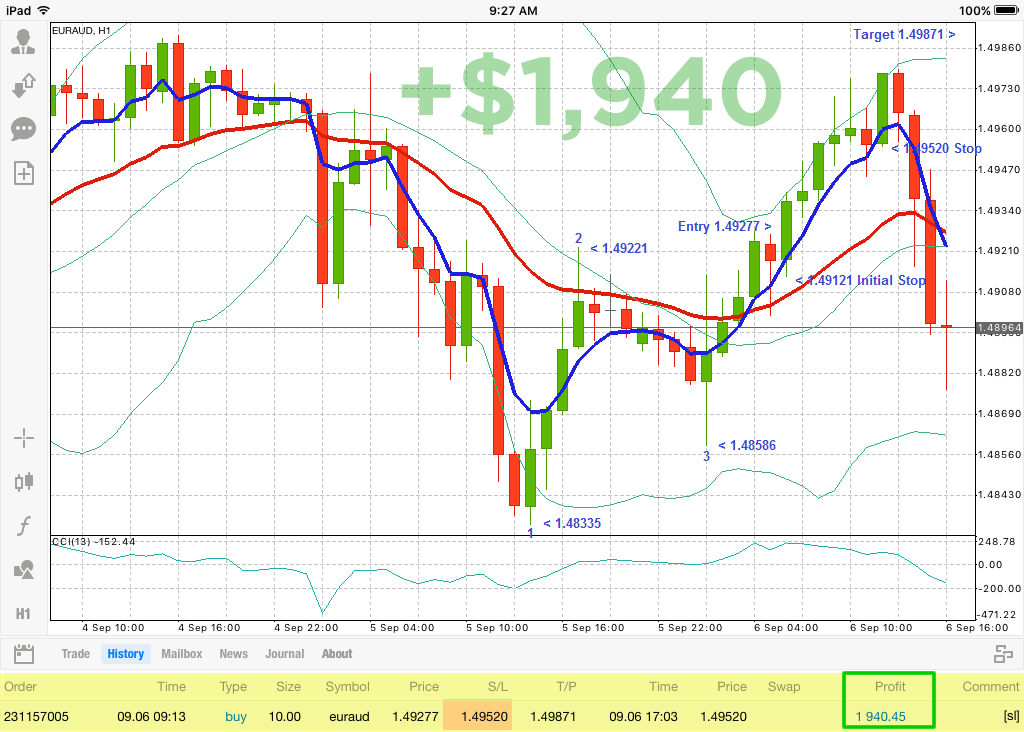 2017-09-05-USDJPY Long Alert Trade
-$670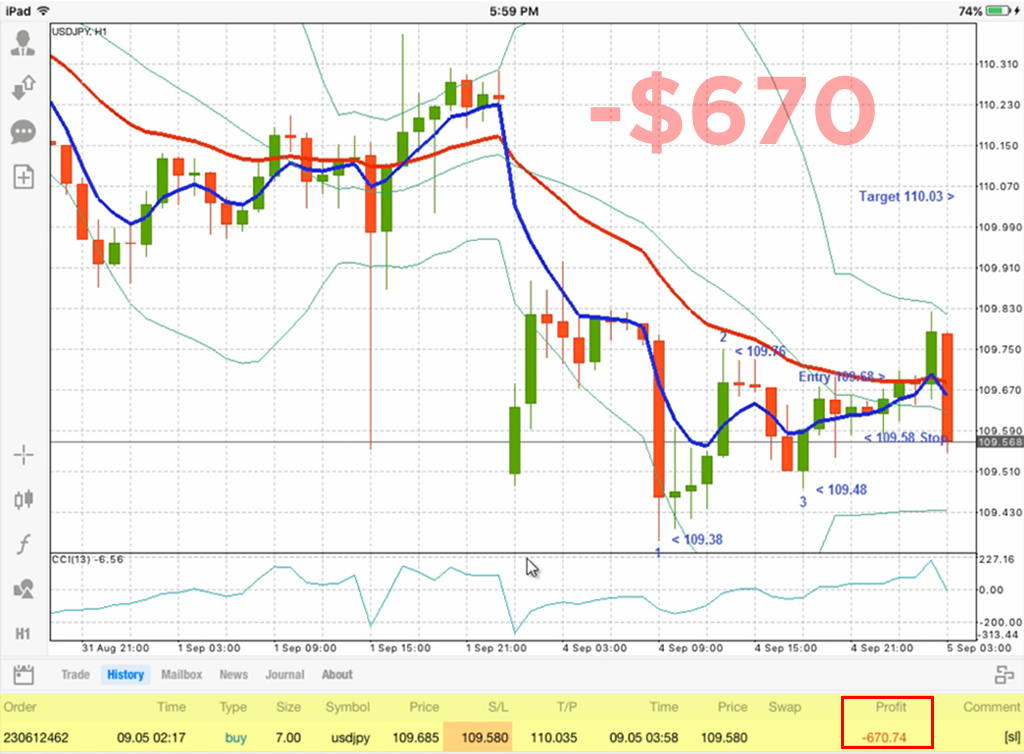 2017-09-01-EURUSD-Alert-Trade by Peter
+$458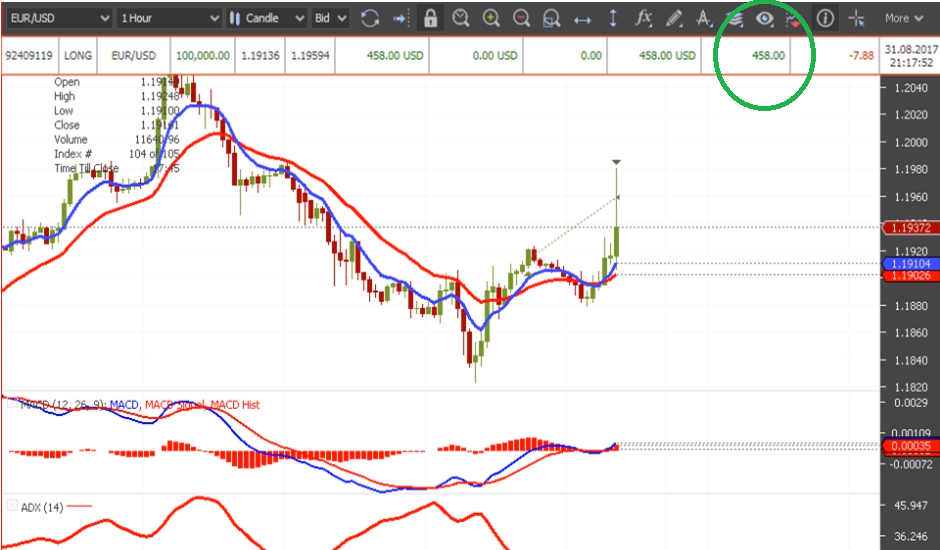 2017-08-30-AUDUSD Long Trade
+$1,780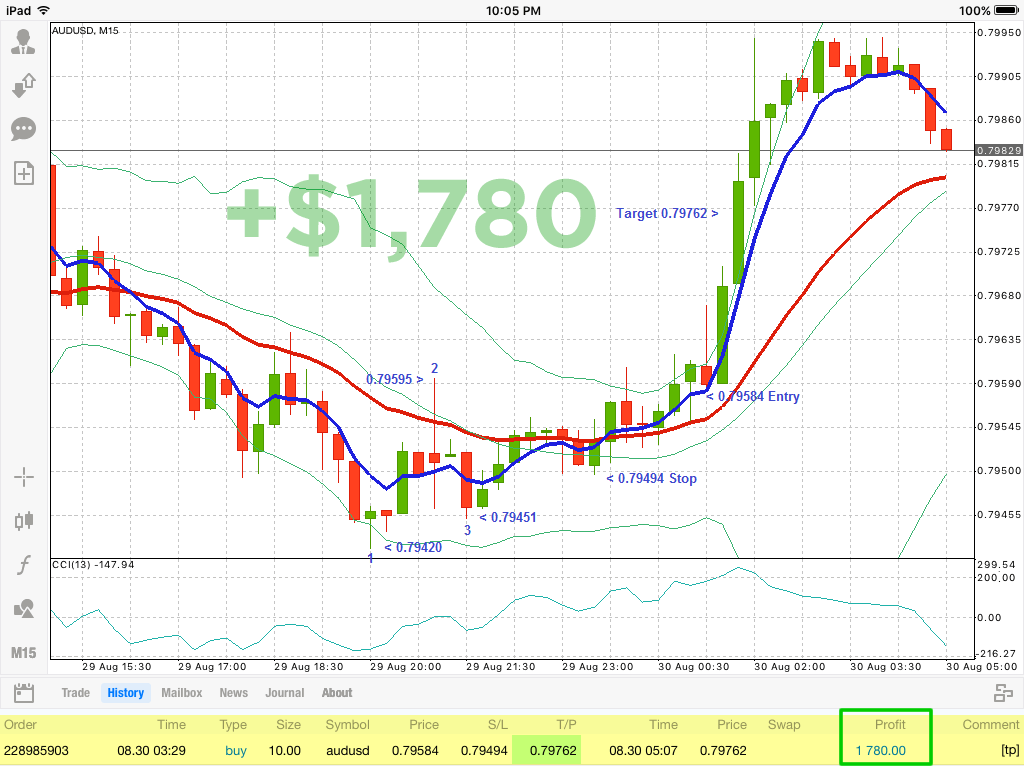 2017-08-29-CHFJPY Long Alert Trade
+$1,706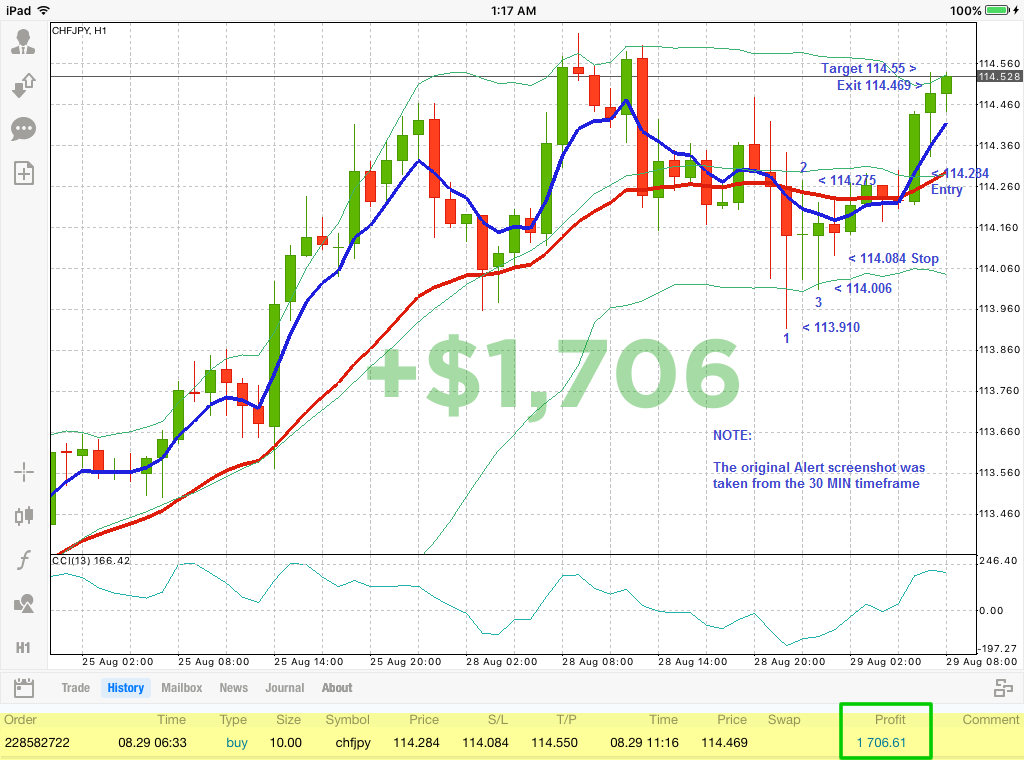 2017-08-28-CADJPY Long Alert Trade
-$1,437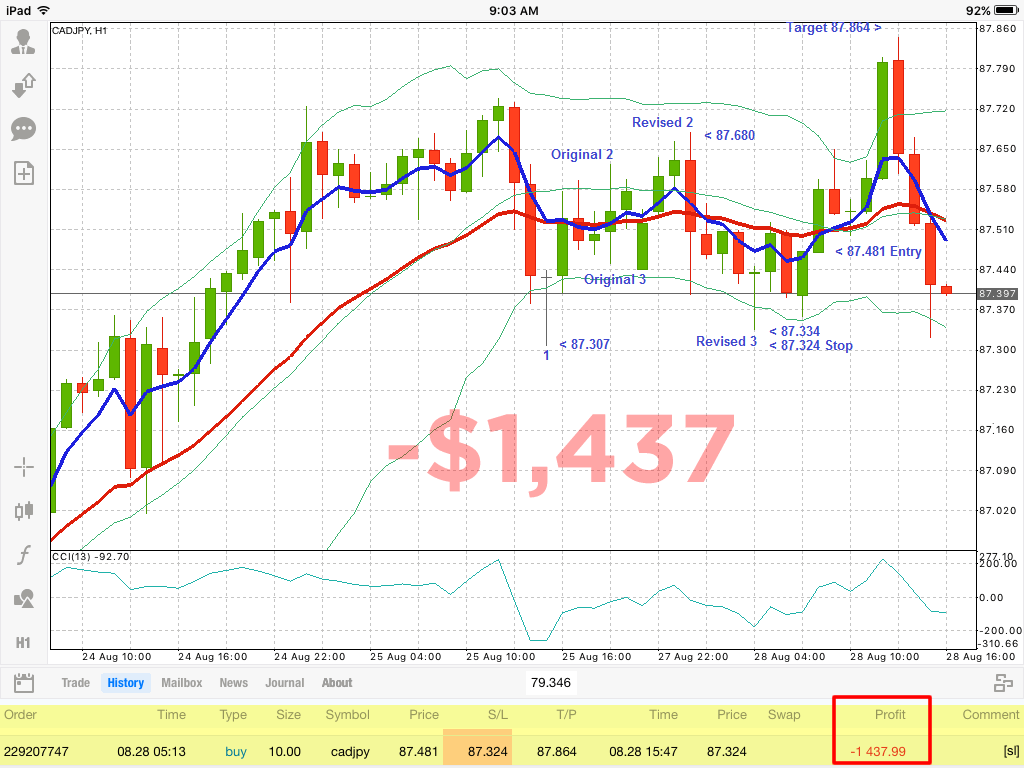 2017-08-25-NZDJPY Long Alert Trade
+$904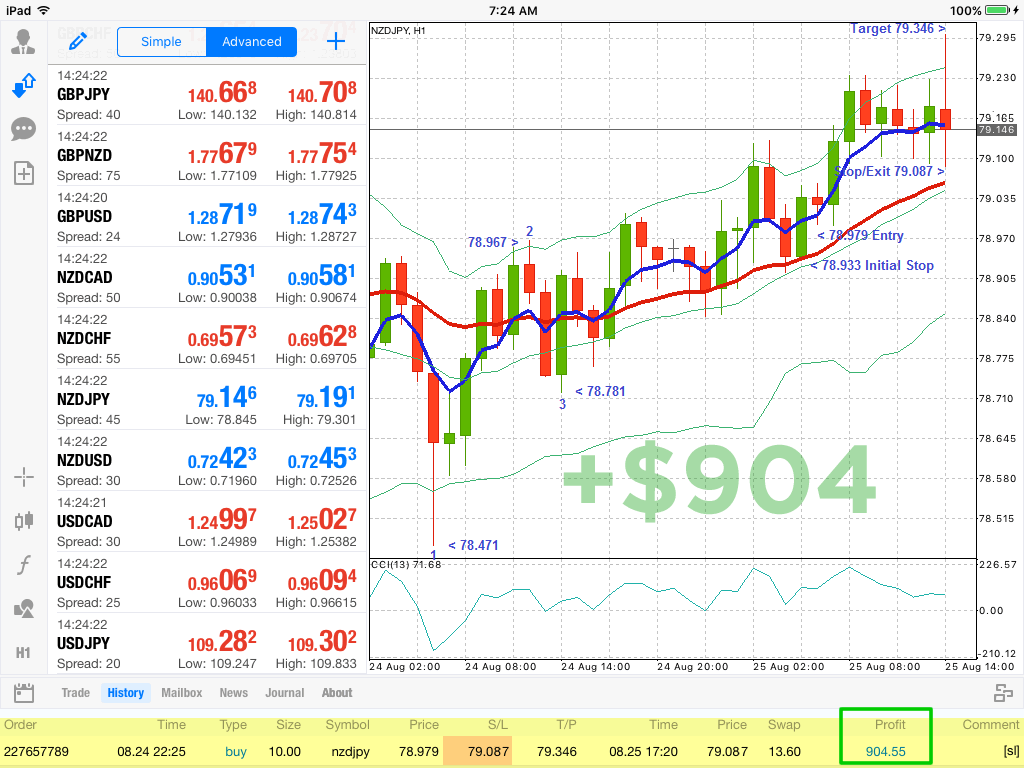 2017-08-24-CADJPY Long Trade
+$1,856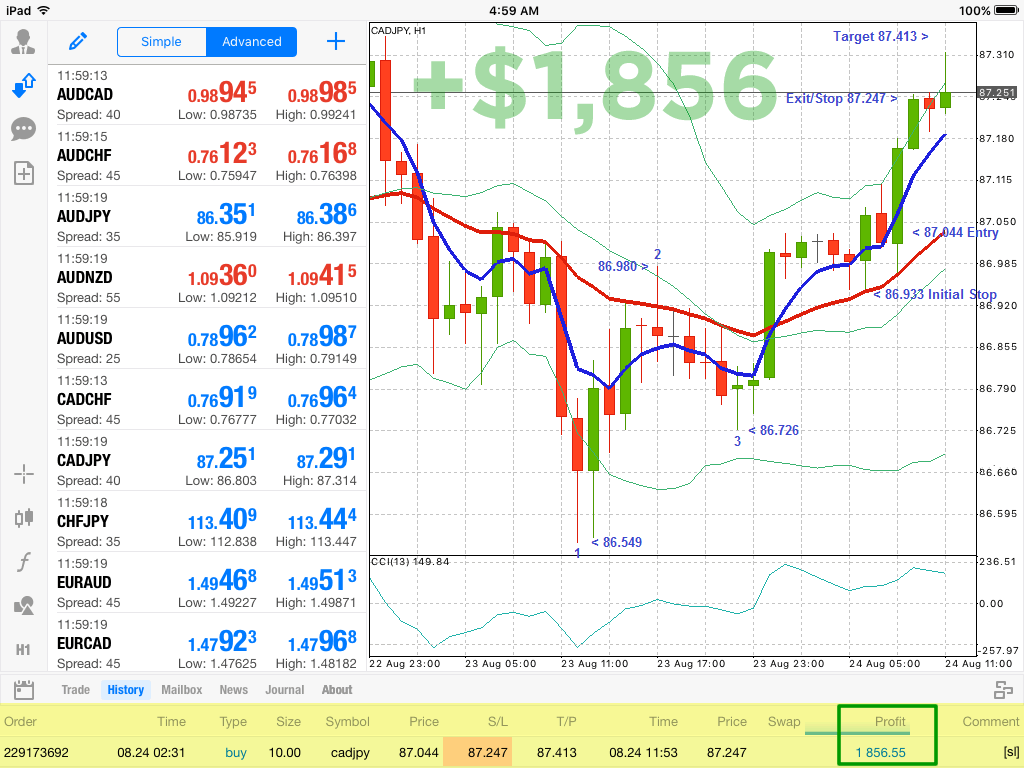 2017-08-23-AUDNZD Long
+$2,840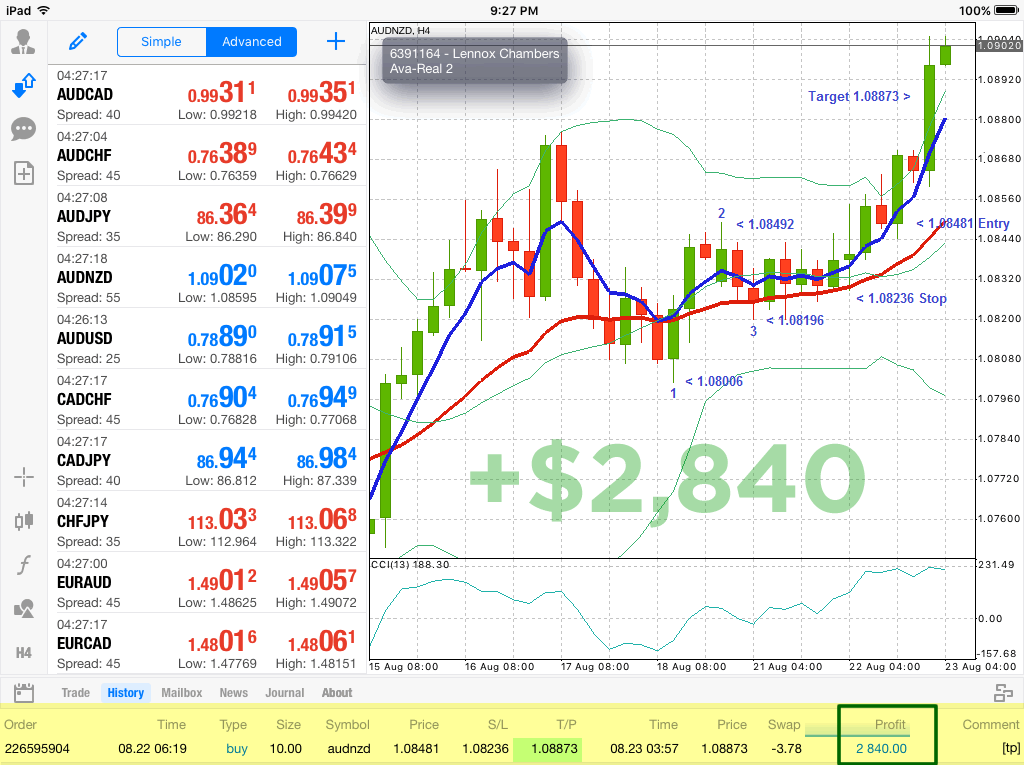 2017-08-22-USDJPY Long Alert Stop Loss
-$808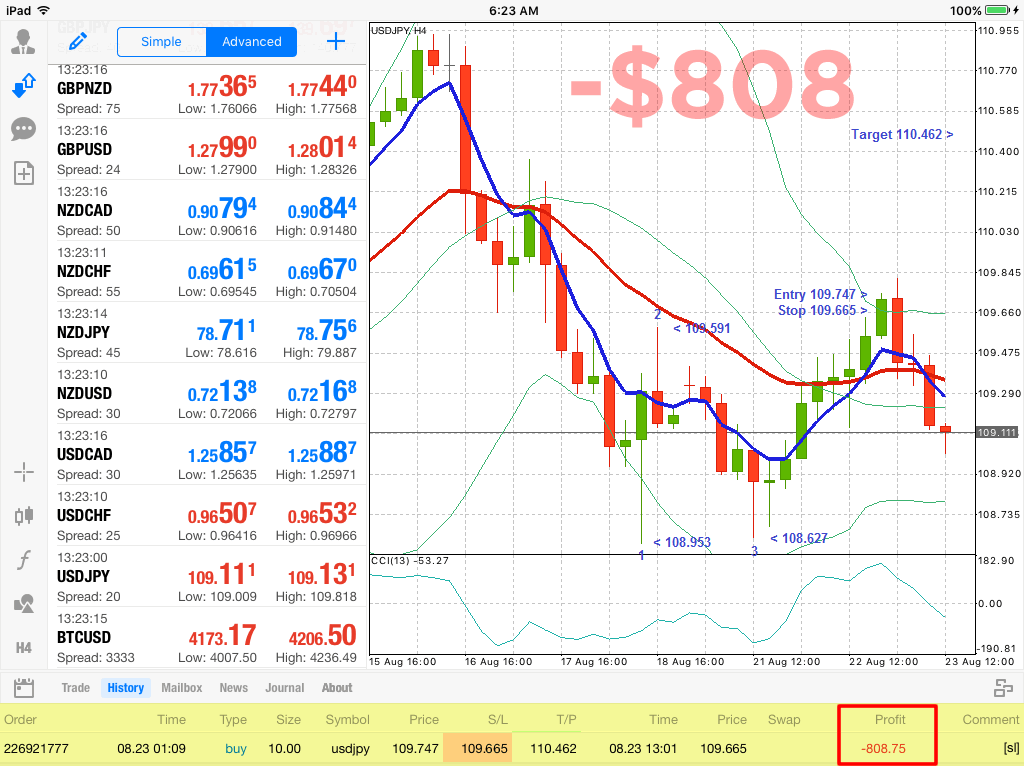 2017-08-22-EURJPY Long
+$1,978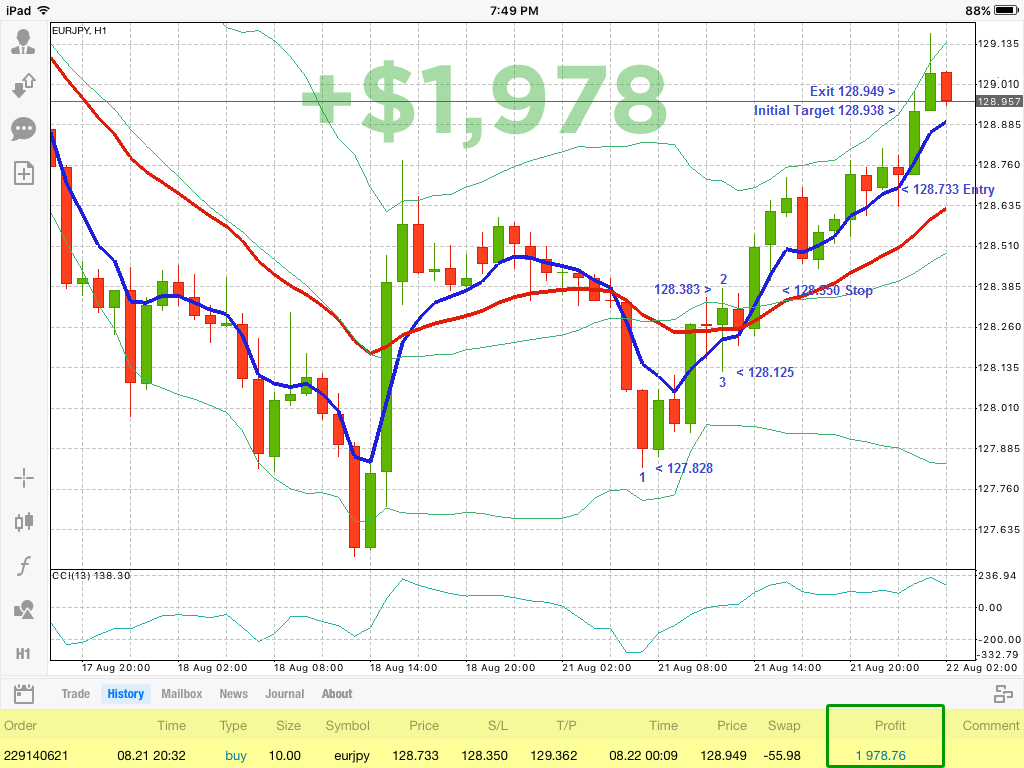 2017-08-22-CADCHF Long
+$1,088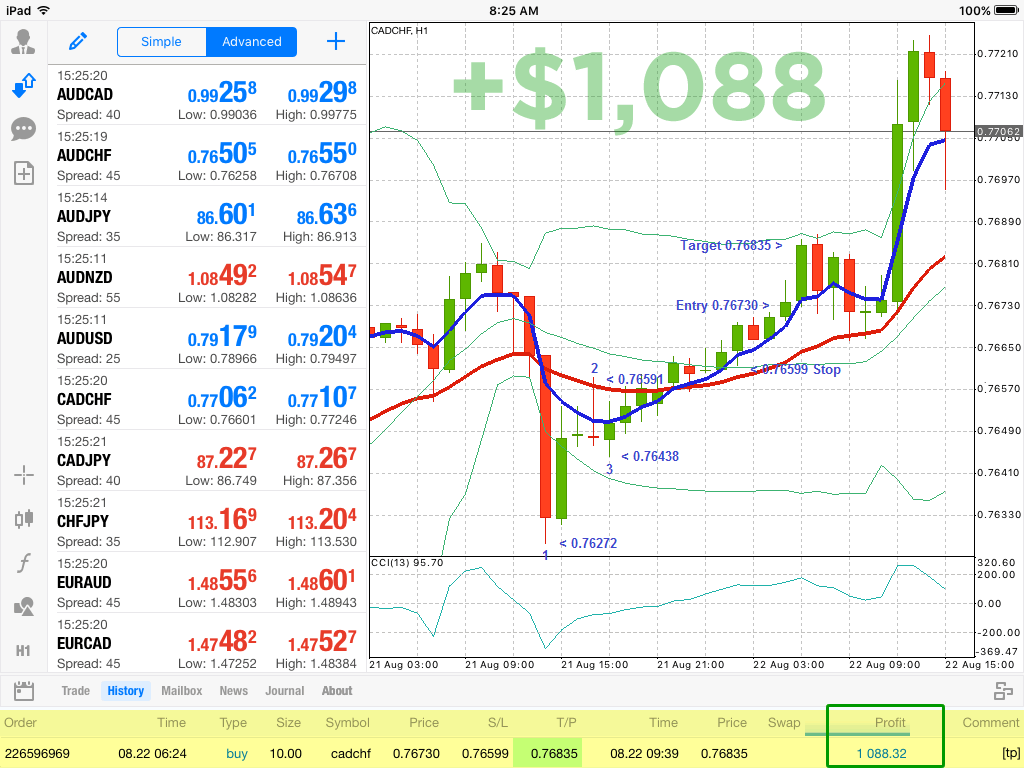 2017-08-21-EURUSD Long Alert Trade
+$3,330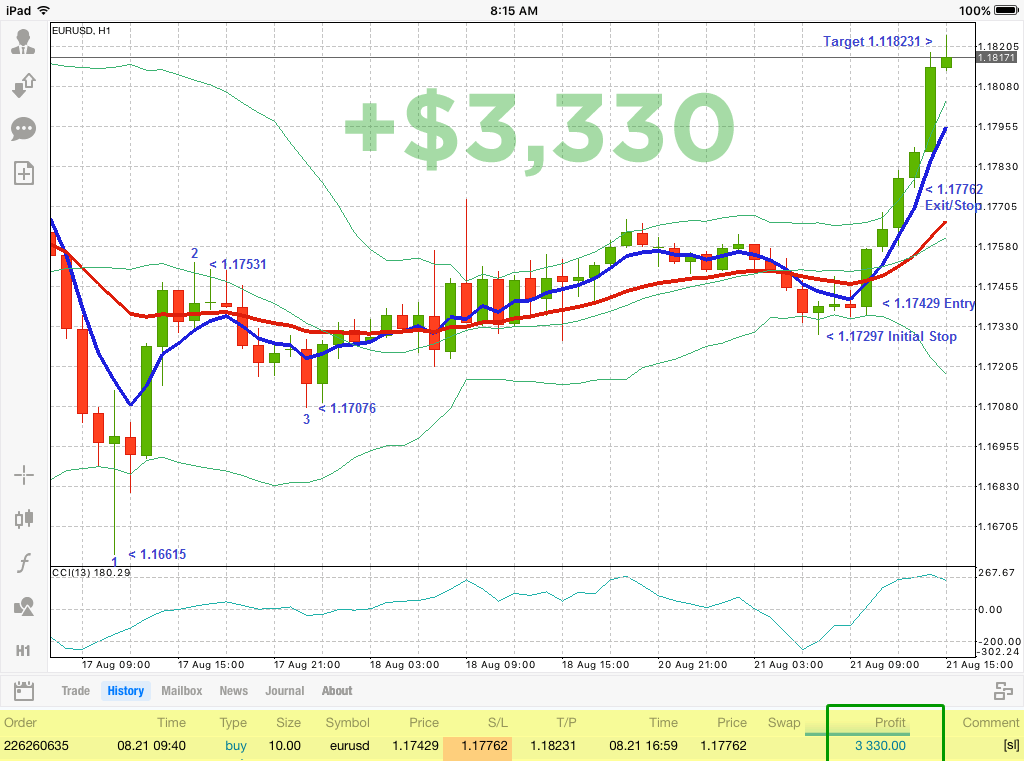 2017-08-18-CADJPY-Long
+$3,933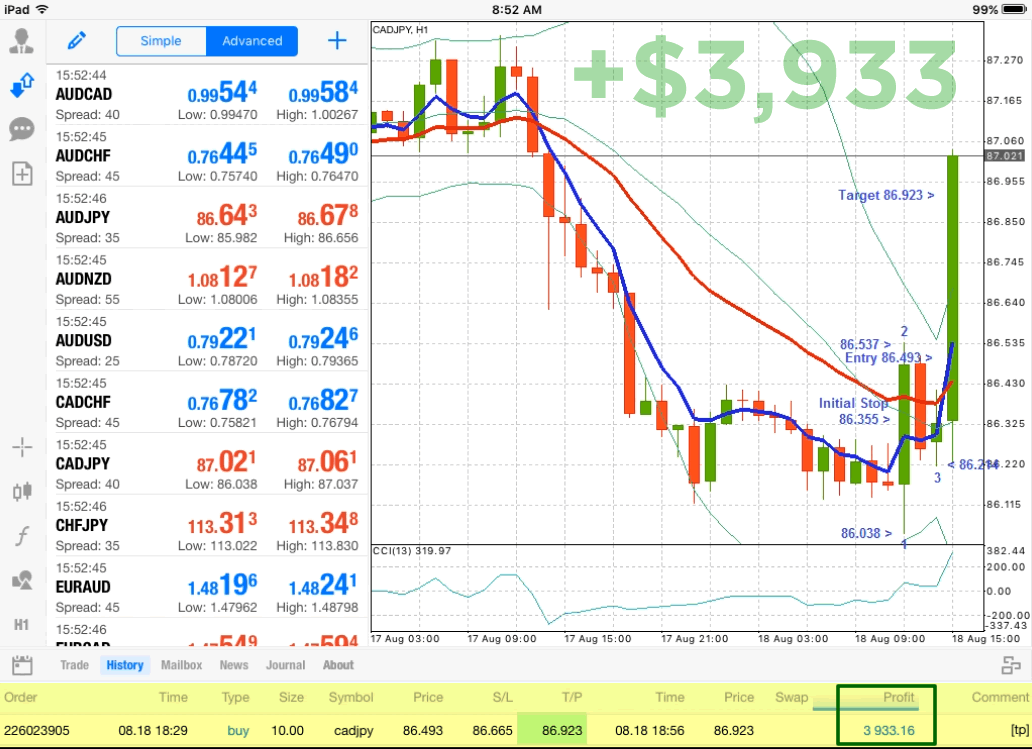 2017-08-17-USDCAD-Long-Alert Trade
+$2,255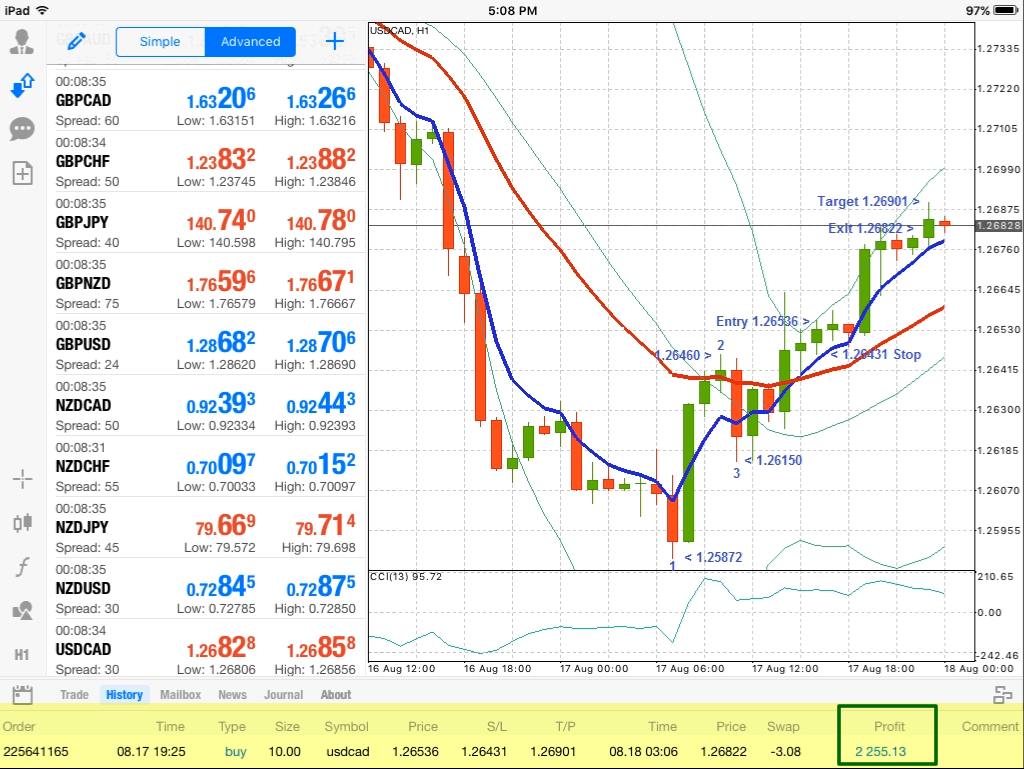 2017-08-17-AUDUSD-Short-Alert Trade
+$3,100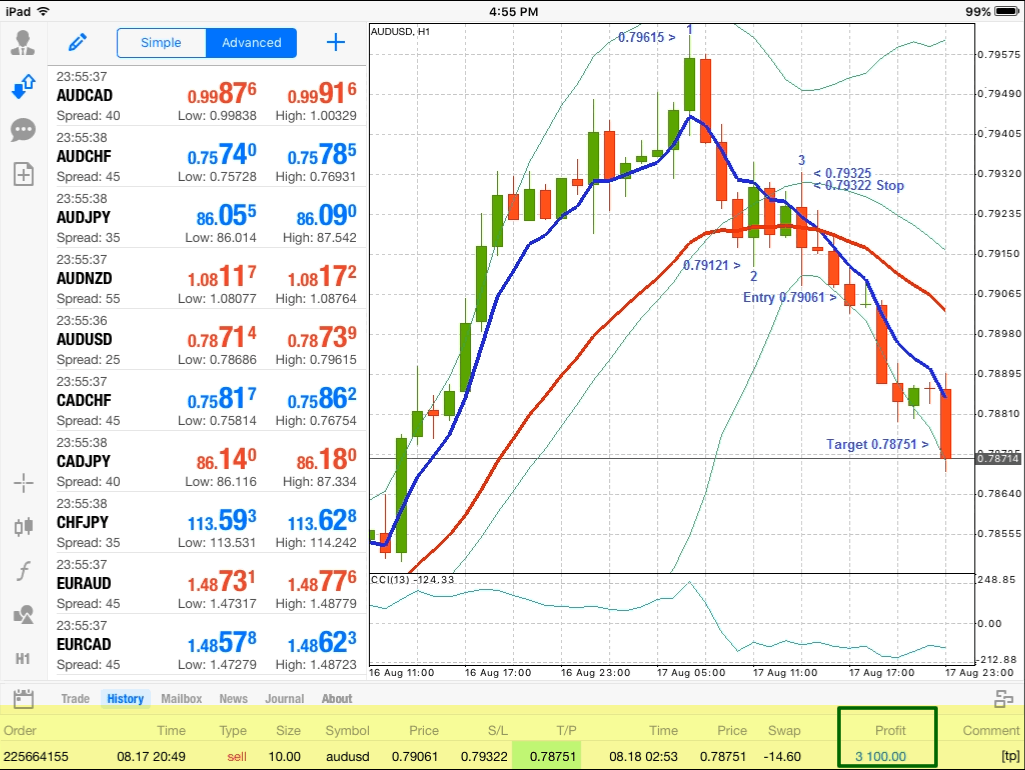 2017-08-16-GBPCHF-Short-Part2-Profit
+$2,546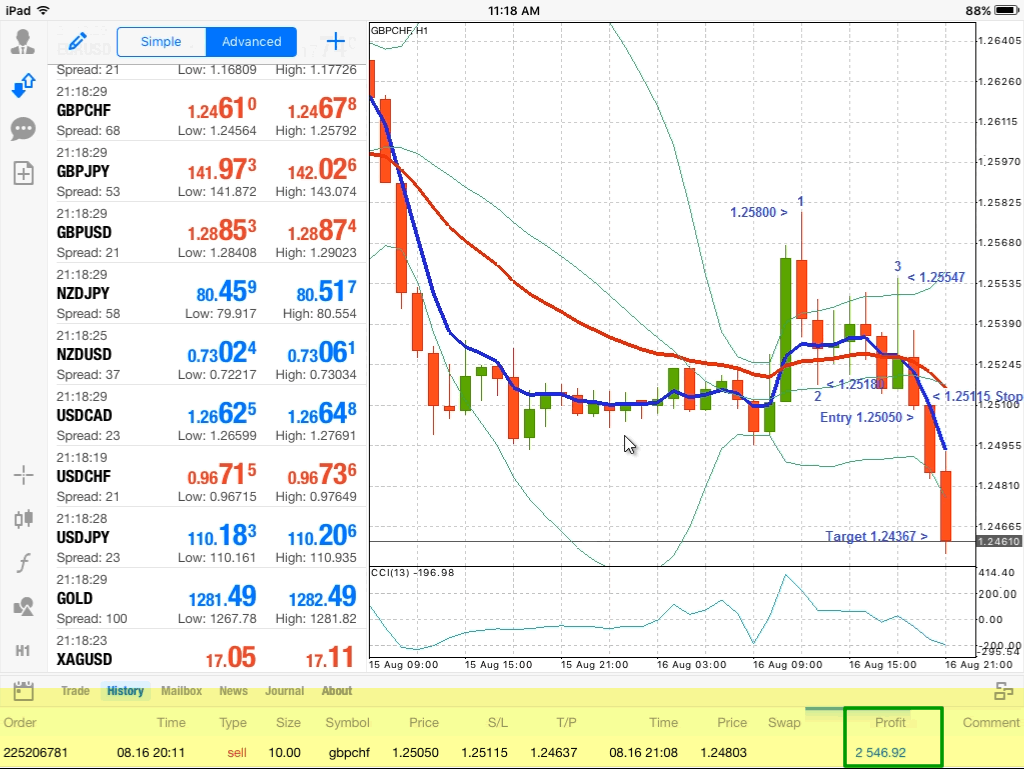 2017-08-16-GBPCHF-Short-Part1-Stopped
-$1,396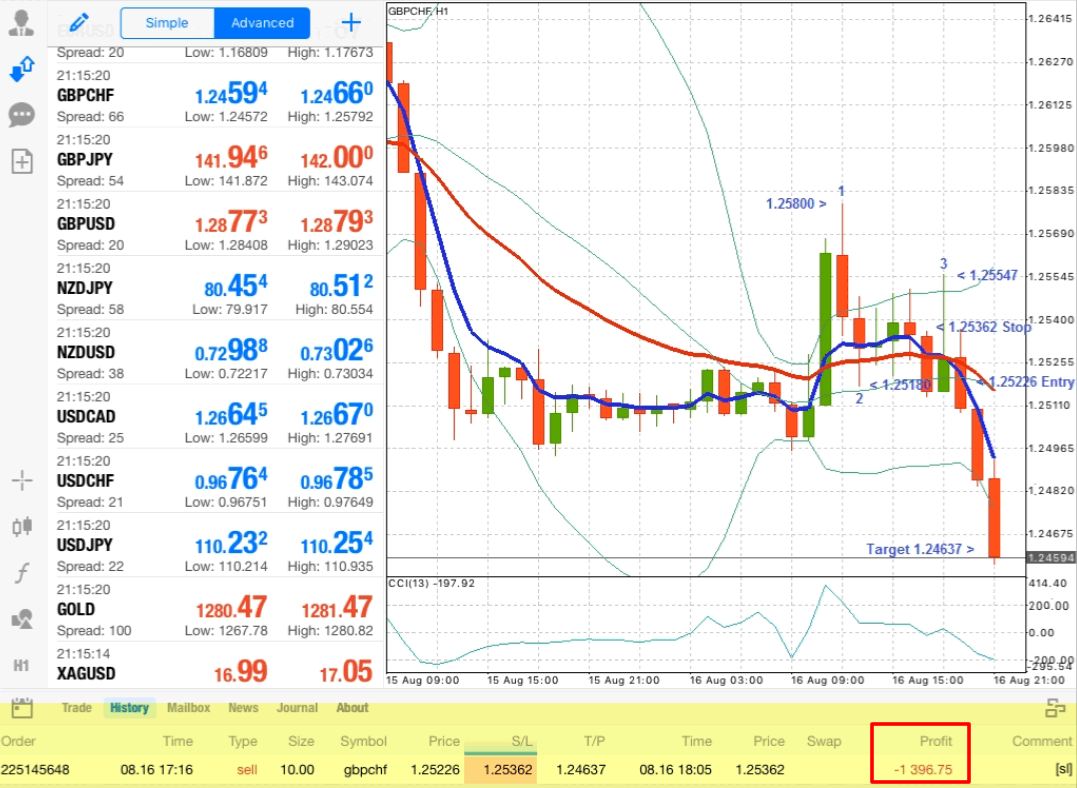 2017-08-14-USDJPY
+$1,881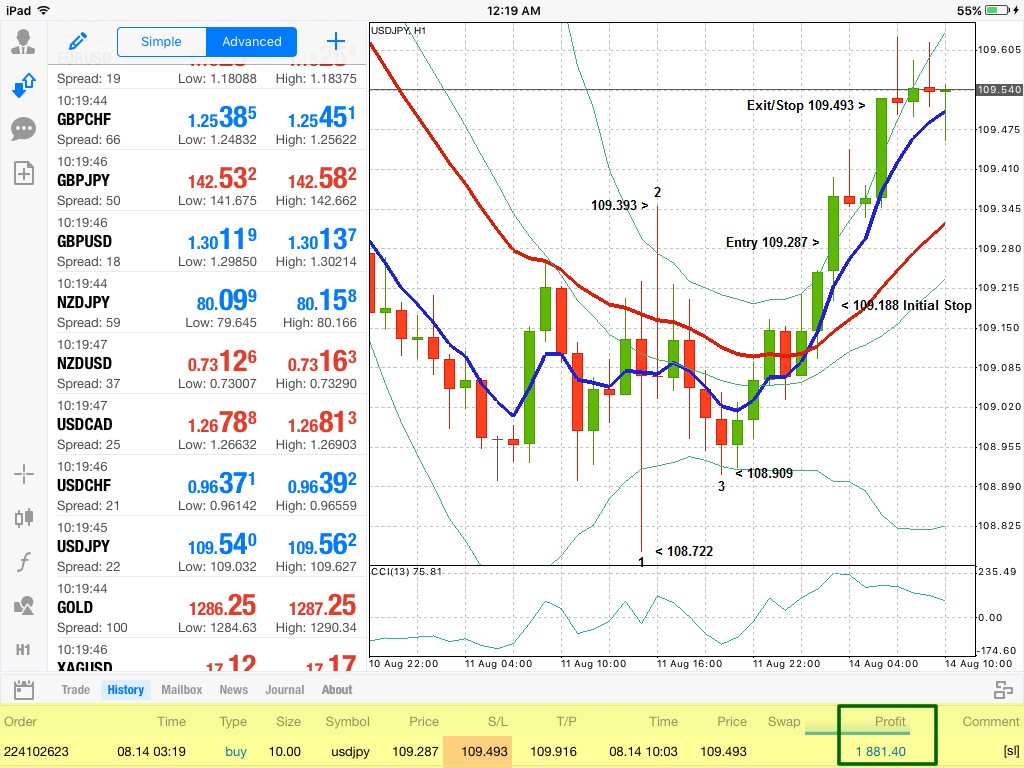 2017-08-14-NZDJPY
+$2,400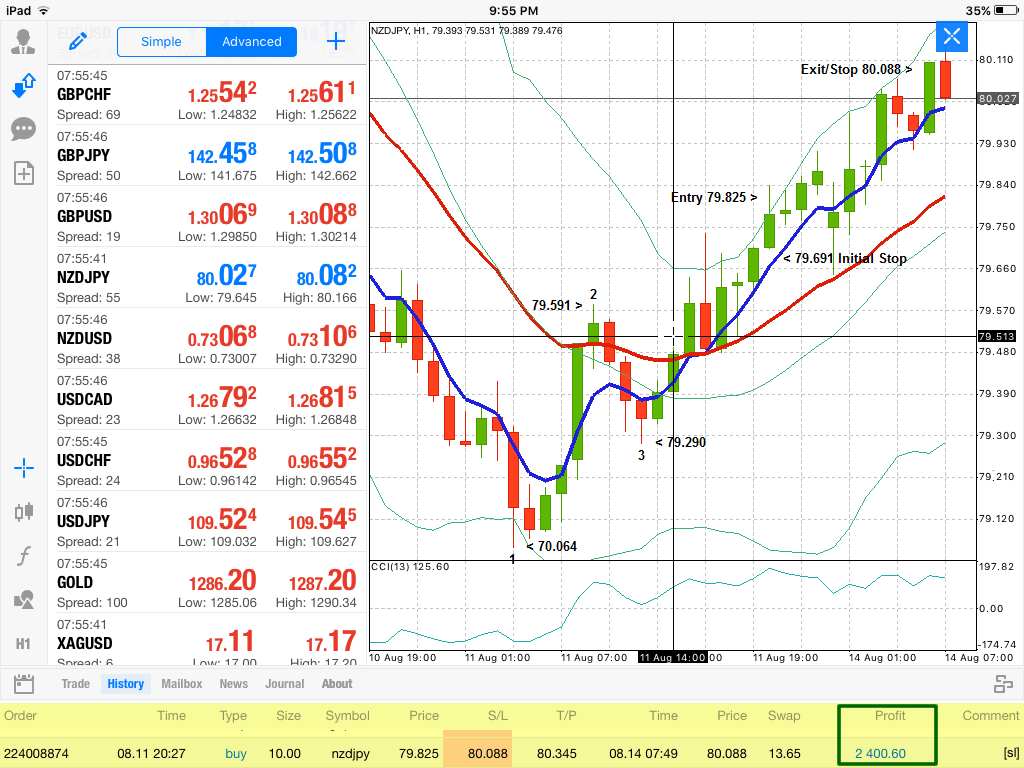 2017-08-14-GBPCHF
+$3,031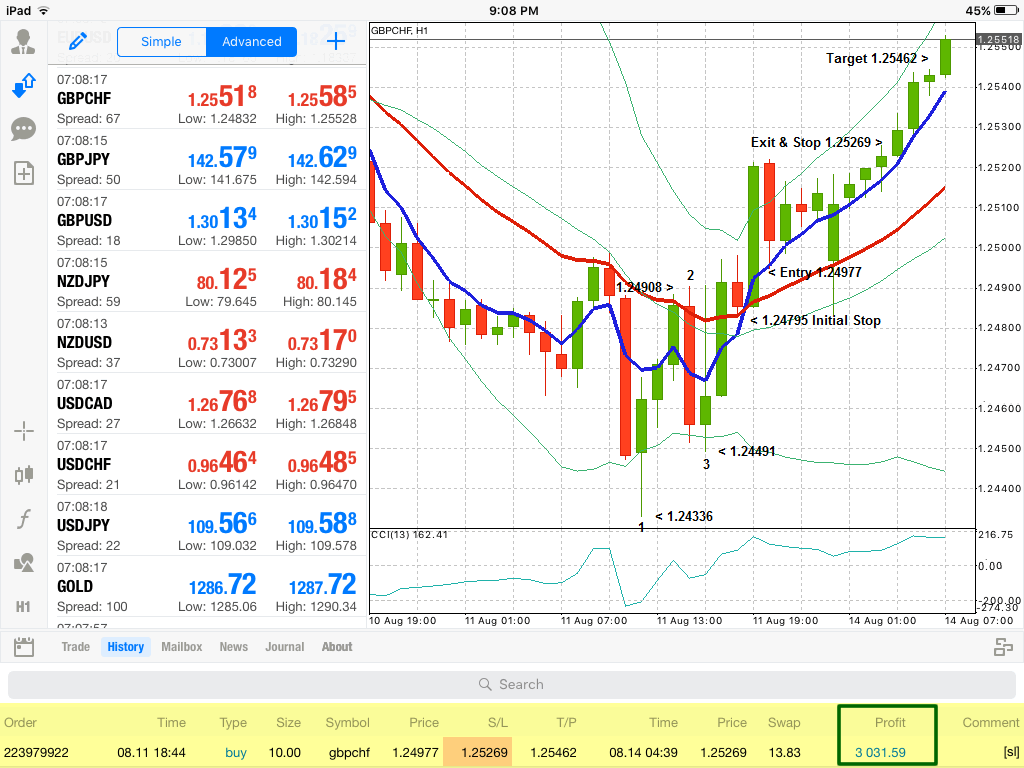 2017-08-11-NZDUSD
+$2,090
2017-08-09-GBPJPY-15m
+$1,273
2017-08-08-CADCHF
+$1,598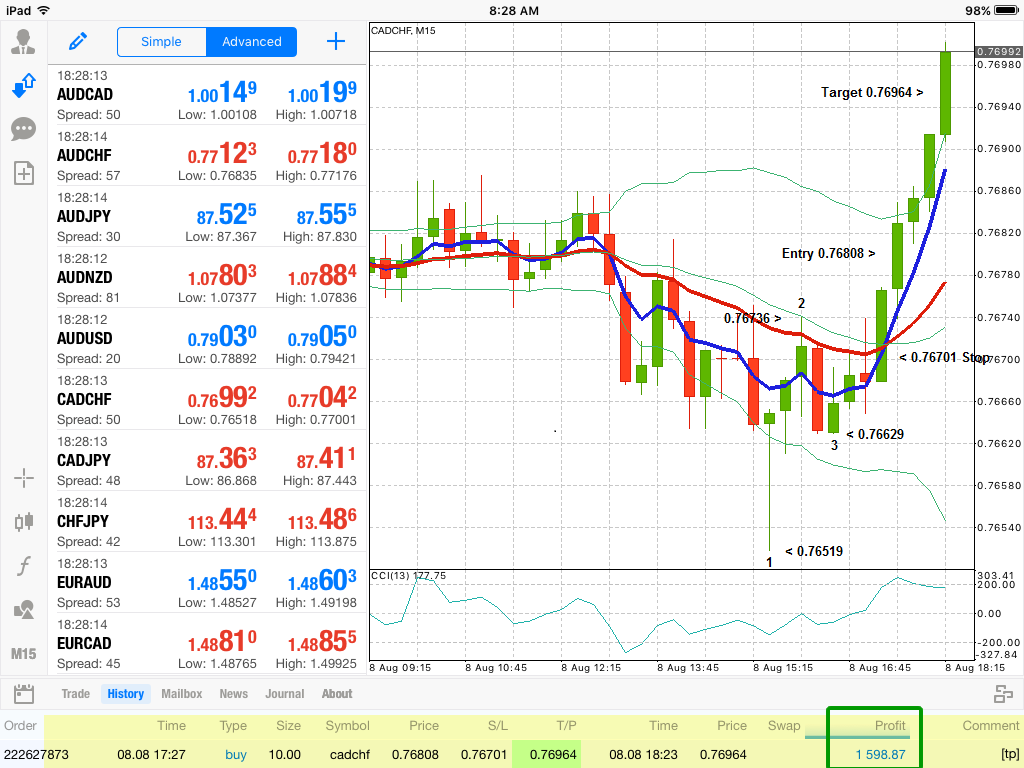 2017-08-02-USDCAD Trade
+$1,111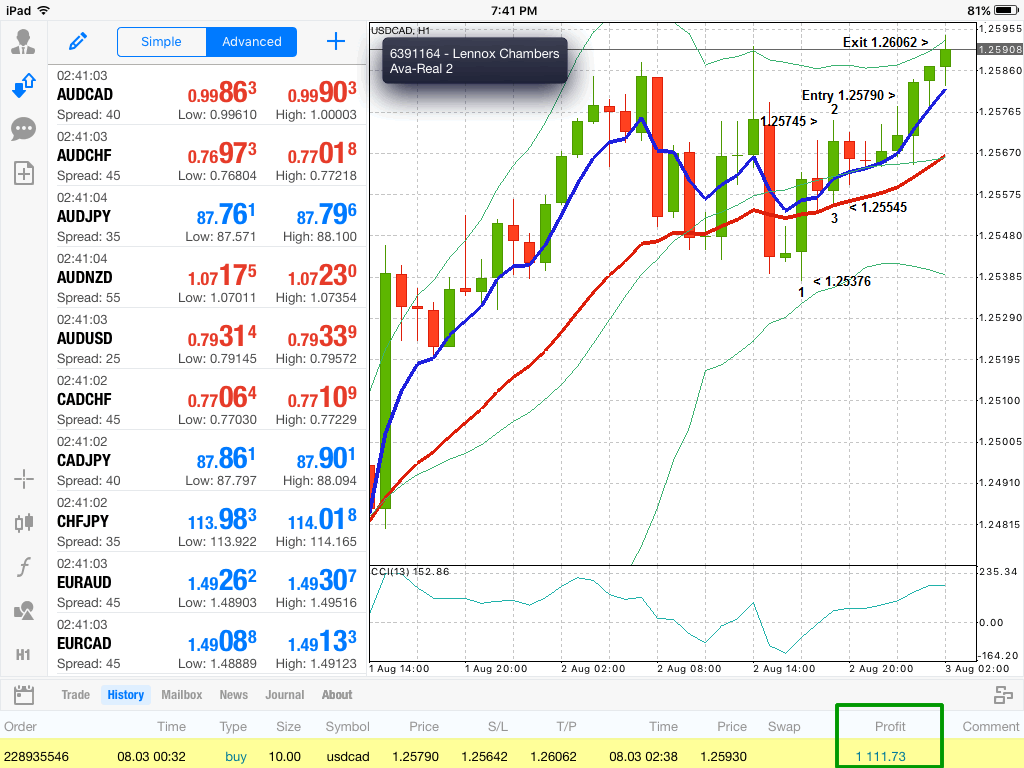 2017-08-02-EURGBP SL Trade
-$3,099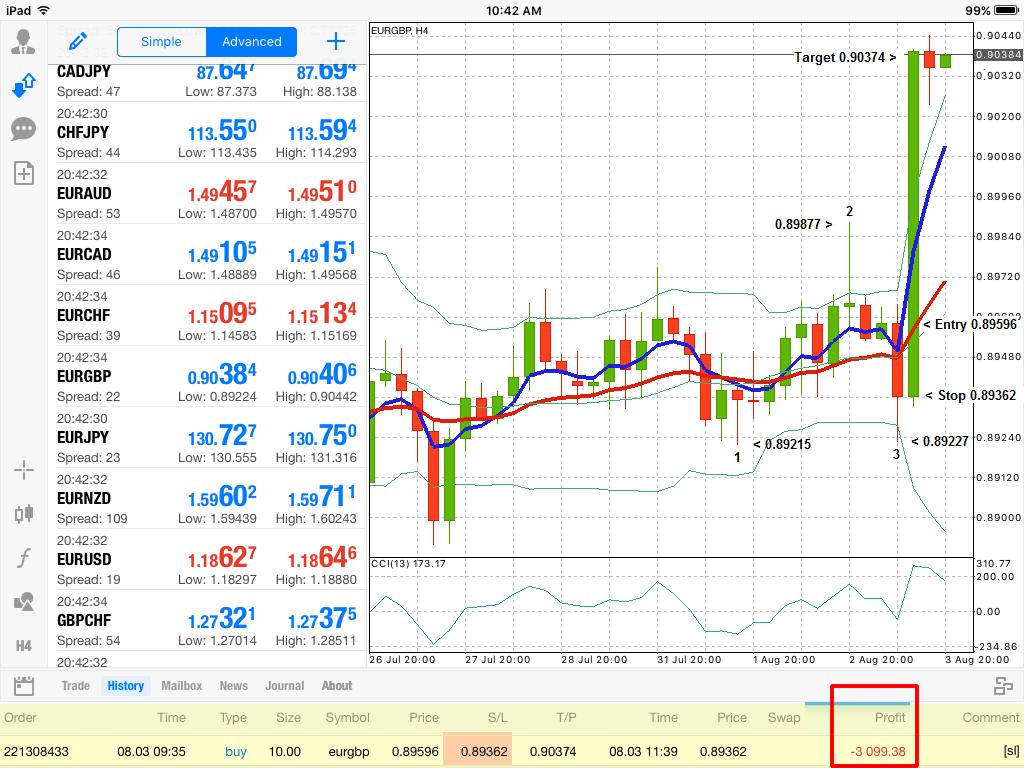 2017-08-01-EURCAD
+$4,061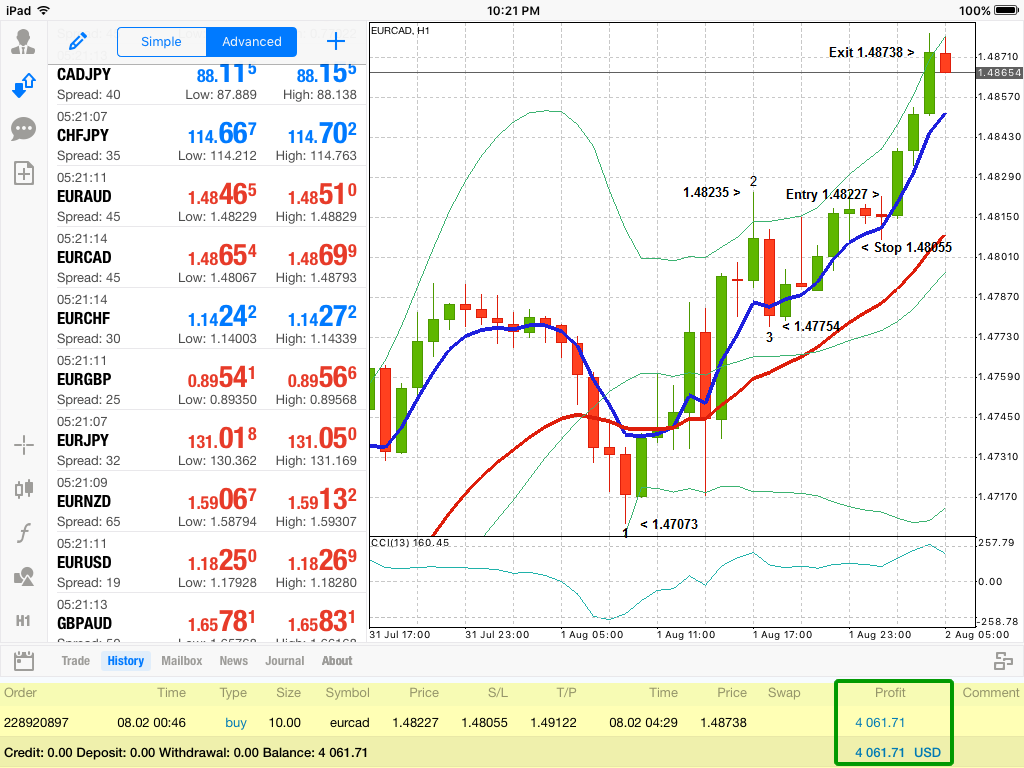 2017-08-01-AUDUSD
+$3,560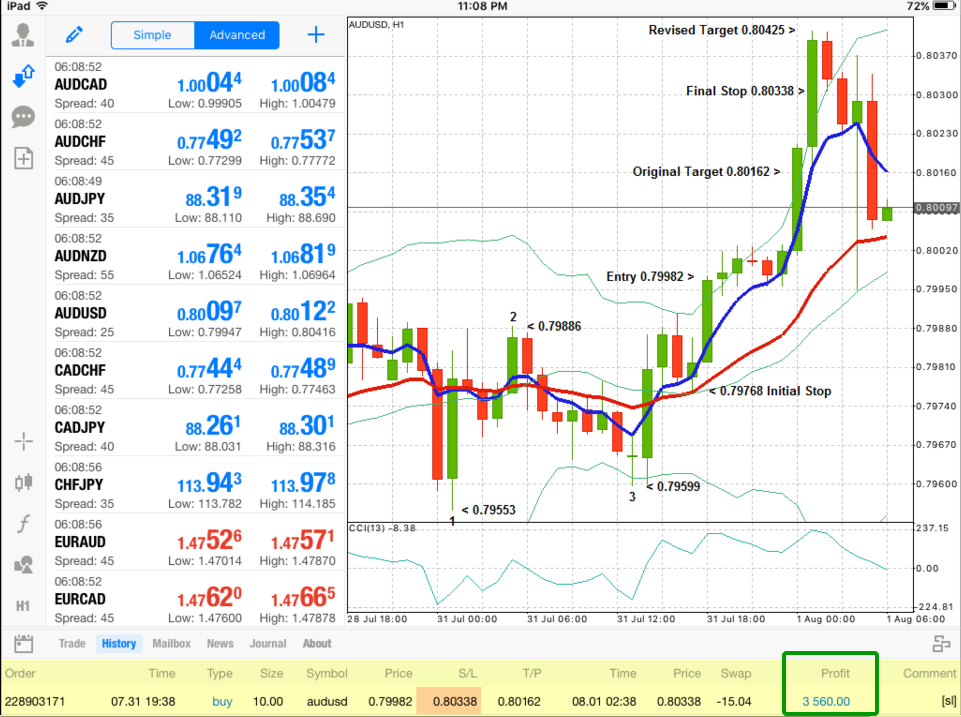 2017-07-31-EURNZD
+$1,699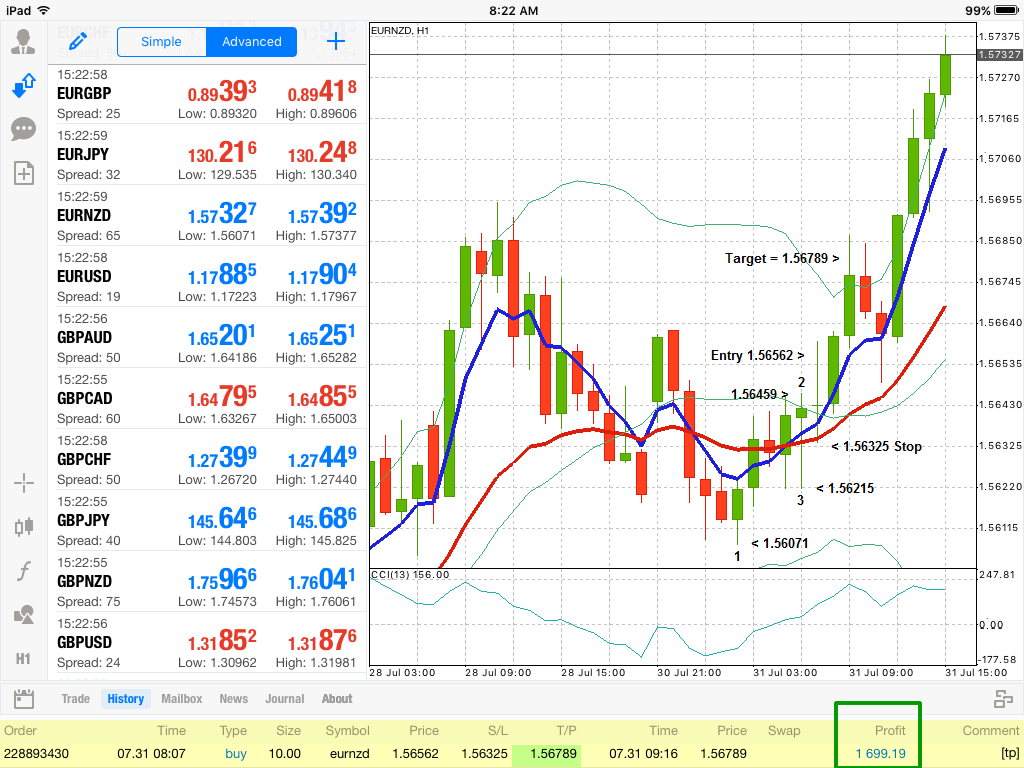 2017-07-31-AUDUSD
+$3,560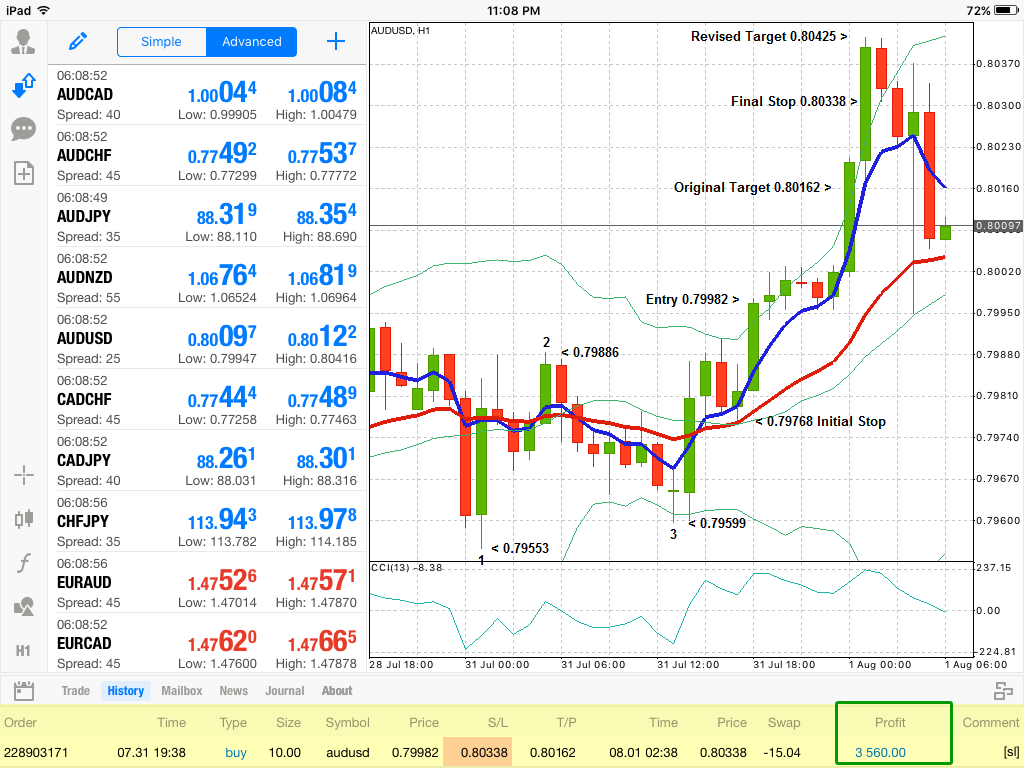 2017-07-28-AUDCHF
+$2,347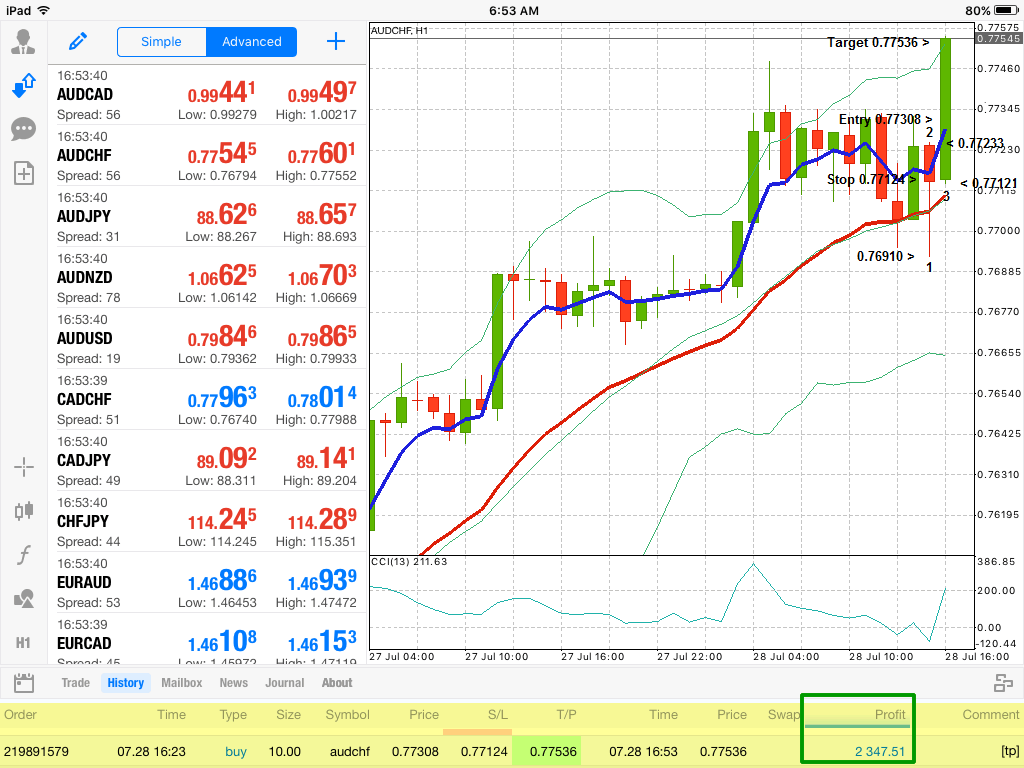 2017-07-27-EURJPY-SHORT
+$2,092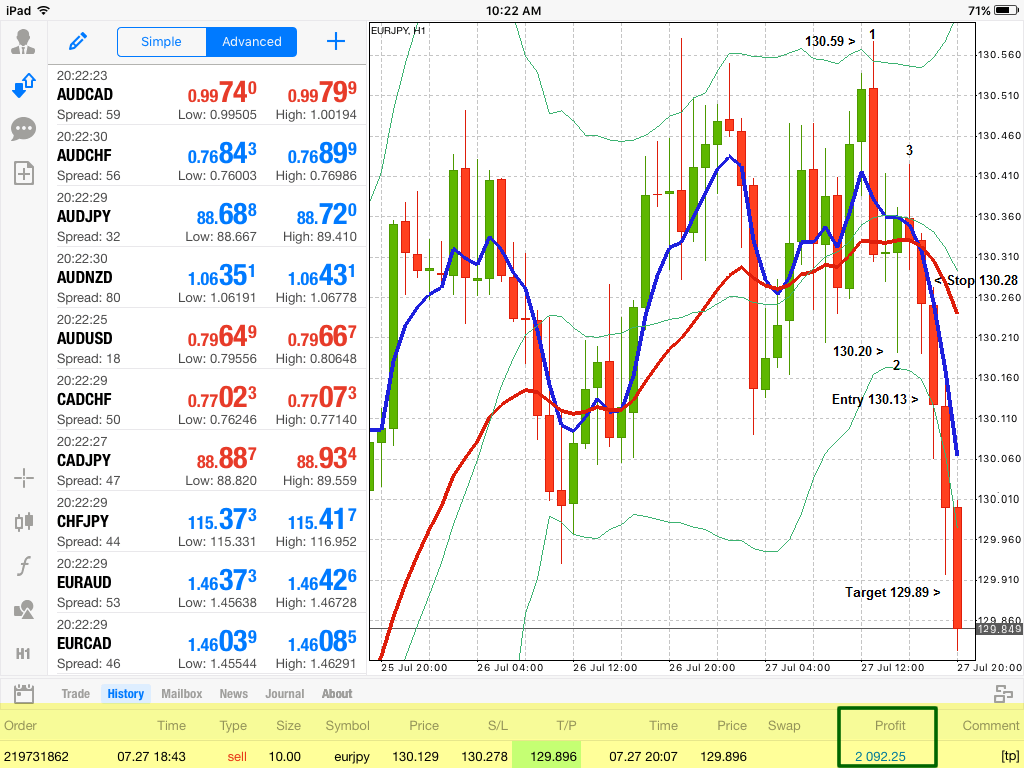 2017-07-26-NZDUSD-LONG
+$2,900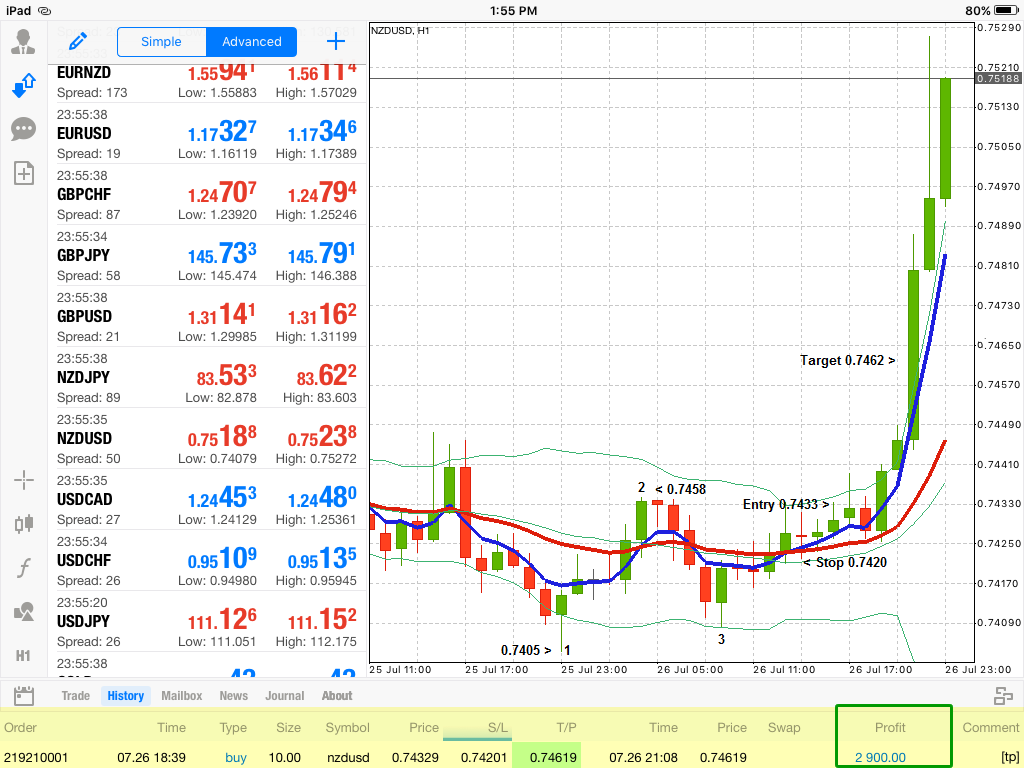 2017-07-07-USDJPY Stop Loss
-$438